Did you know that WordPress drives 14.7% of the top 100 websites? It's not just the domain of bloggers and hobbyists; giants like Forbes, Samsung, the New York Times, and PlayStation have chosen WordPress as their digital backbone. But their appeal continues. WordPress has managed to cast its net wide, from artist portfolios to government websites and revered educational institutions. 
Ensuring your site stands out with such diverse users becomes paramount. One of the most effective ways to achieve this is through optimizing your site's search engine visibility, commonly known as Search Engine Optimization (SEO). But with the myriad of tools available, which ones should you trust to elevate your WordPress website's SEO? 
Dive into our comprehensive guide on the best WordPress SEO plugins and ensure that your site isn't just part of the crowd but stands tall among the elites.
Table of Contents
What Are SEO Plugins?
Navigating the digital terrain of WordPress, it's staggering to consider that there are 59,736 free plugins available in the official WordPress Plugin Directory, and this number is on the rise every day. Just like how bricks and mortar construct a house, in the digital world, the combination of a theme and plugins constructs the essence of a website. 
From Yoast SEO to Elementor, specific plugins, especially those related to SEO, have risen in stature due to their indispensable utility. But what are SEO plugins, and why are they such an integral part of the WordPress framework?
Breaking Down the Basics:
What is SEO?
SEO, or Search Engine Optimization, is the art and science of enhancing a website's visibility on search engines. This entails optimizing website elements like content, structure, and links to attract more organic (unpaid) traffic. The end goal? Ensure your website ranks higher when users search for terms related to your business or content.
Plugins and Their Role in WordPress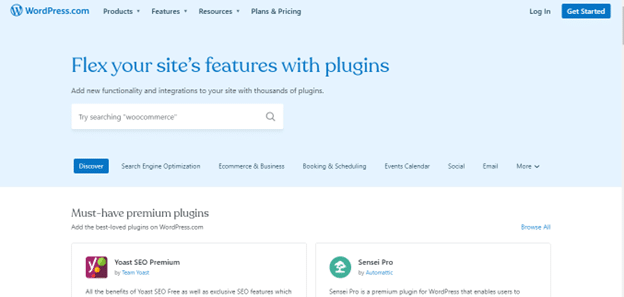 Credit: WordPress
Plugins are like the magic wand of the WordPress platform. They are software additions that embed specific functionalities or features into a website. Think of them as apps for your smartphone. Each has its purpose, augmenting the base capabilities of your site. Popular plugins like Wordfence Security, MonsterInsight, WooCommerce, and WPForms are testimony to the diversity and utility these tools bring to the table.
The Confluence of SEO and Plugins
In the digital realm, where content is abundant and attention spans are fleeting, SEO and plugins intersect with a lighthouse guiding ships safely to the shore. It's a fusion of strategy and technology that can elevate a website's status in the vast ocean of online content.
Why This Union Matters:
The complexity of SEO requires various tasks, from intricate on-page optimizations like meta descriptions and keyword placements to off-page efforts like backlinking. 

Managing all these aspects can be daunting, especially for those new to digital marketing. 

Plugins bridge this gap. They encapsulate these tasks, providing users with intuitive interfaces, automated functions, and real-time feedback, effectively demystifying the intricate art of SEO.
Looking to supercharge your WordPress site's performance while implementing the best SEO strategies? Experience unparalleled speed and robustness with RedSwitches' Bare Metal Servers. Optimize your site's uptime, load times, and overall user experience, ensuring that server-related issues don't compromise your SEO efforts. Dive into RedSwitches today and give your WordPress site the hosting it deserves!
A Symphony of Functionality:
SEO plugins act as an orchestra conductor, ensuring each website element performs harmoniously for the grand show – the coveted top spots on search engine results. 

Whether guiding content creators on keyword density, automating the creation of XML sitemaps, or analyzing the site for broken links, these plugins are constantly at work, optimizing every facet of a website.
1. All-in-One SEO for WordPress (AIOSEO)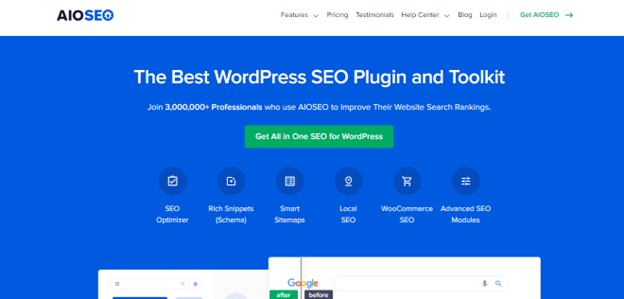 Credit: All in One SEO
Navigating the crowded world of WordPress plugins can be daunting. Still, if you're trying to bolster your website's SEO, "All in One SEO for WordPress (AIOSEO)" stands out as arguably the best SEO plugin for WordPress. Highly lauded for its comprehensive features and user-friendly interface, AIOSEO promises to streamline your optimization processes and bolster your website's visibility.
Key Feature
The hallmark of the All in One SEO for WordPress is its TruSEO On-Page Analysis. This ingenious feature equips users with a holistic view of their content's SEO metrics. Not only does it give a clear snapshot of the current performance, but it also offers actionable recommendations for enhancement. The real value lies in its proactive approach – allowing you to detect and rectify potential SEO pitfalls before they harm your site's visibility.
Some other essential features include: 
Guiding users seamlessly through the initial setup, AIOSEO's intelligent wizard ensures that the most crucial SEO settings are configured without a hitch.
SEO Meta Titles and Descriptions: 
Effortlessly tailor meta titles and descriptions to enhance how your content is presented in search engine results.
This includes:
Keyword analysis for informed decision-making

A robust keyword density checker

Practical keyword suggestions for improved content relevance.
Enhance search engine crawling with automatically generated XML sitemaps.
Boost your content's visibility in search results with integrated schema markup.
Comprehensive tools such as local business schema markup and local keyword suggestions are available to:dominate local search.
Social Media Integration: 
Promote and share content across platforms like Facebook and Twitter, enhancing your digital footprint.
Dive deep into metrics with AIOSEO's detailed analytics, offering insights to refine your SEO strategies.
Benefits of AIOSEO
Harnessing the power of AIOSEO leads to the following:
Higher SEO rankings and improved visibility.

A surge in valuable organic traffic.

Enhanced user experience, leading to increased engagement.

A significant reduction in manual SEO workload, thanks to automation.
Pricing
AIOSEO's transparent pricing caters to a wide array of needs:
Basic:

At $49.60/year, ideal for SEO novices with core features.

Plus:

Priced at $99.60/year, it's tailored for those seeking advanced SEO tools.

Pro

: At $199.60/year, it's a holistic suite with keyword rank tracking and WooCommerce SEO features.

Elite:

The $299.60/year package offers unlimited licenses and white-label branding for agencies and multiple site managers.
Every plan has a 30-day money-back guarantee, letting you explore AIOSEO's offerings risk-free.
Whether you're a newcomer to the SEO world or a seasoned professional, AIOSEO proves its mettle as a top contender in the WordPress SEO plugin arena. Its offerings are tailored to ensure websites rank better and offer unparalleled user experiences.
2. Semrush
Credit: Semrush
Celebrated as a digital marketer's Swiss Army knife, Semrush stands tall in the expansive SEO landscape. Its adaptability and vast feature set extend beyond being merely a contender for the best SEO plugin for WordPress. Instead, it's a powerhouse platform designed to steer any online project to success, from startup blogs to e-commerce giants. A testament to its unrivaled capabilities and widespread appeal is evident in its user base: Semrush boasts a staggering 471,000 active users across free and paid plans. Impressively, the platform added 83,000 customers over the past year alone, reflecting its growing dominance and trustworthiness in digital marketing.
Key Feature
Understanding your position in the digital arena involves more than just introspection. The Backlink Gap Analysis tool stands out for its ability to benchmark your website against competitors. By uncovering the backlink opportunities that competitors have tapped into but you might have missed it creates a roadmap for strategic link-building efforts. Over time, this can be pivotal in inching ahead in search engine rankings.
Some other important features include: 
Semrush delivers a treasure trove of keyword insights by identifying prospective keywords and predicting their potential efficacy through search volume, trend analysis, and competitive data.
Gain an unmatched competitive edge. Delve deep into your rivals' strategies, observing their ad budgets, discerning their most effective keywords, and even uncovering gaps in their tactics ripe for your exploitation.
This tool is akin to a health check-up for your website. It combs through every nook and cranny, identifying everything from broken links to image optimization opportunities.
Discover content gaps, track post engagement, and find out what content resonates best with your audience.
Beyond just number crunching, gain insights into user behavior, bounce rates, and geographical data to understand and harness your global appeal.
Benefits of Using Semrush
Employing Semrush is akin to having a digital oracle offering:
Commanding presence on search result pages, ensuring your brand remains top of mind.

An influx of organic visitors, the lifeblood of digital relevance.

Enhanced on-site experiences, ensuring visitors aren't just numbers but potential brand advocates.

Automation of SEO tasks, meaning less grunt work and more strategy.
Pricing
Semrush's price structure, while segmenting by complexity, offers unparalleled value:
Pro:

Priced at $129.95/month, it's tailored for newcomers to the digital scene or those with limited SEO needs.

Guru:

At $249.95/month, it's a robust suite for SMBs, bloggers, and growing enterprises, bringing in extended data and many advanced features.

Business:

For $499.95/month, large-scale agencies and corporates can leverage premier tools, API access, and Google Data Studio integration.
All tiers are backed by a 7-day refund policy, affirming Semrush's commitment to user satisfaction.
3. WPBeginner Keyword Generator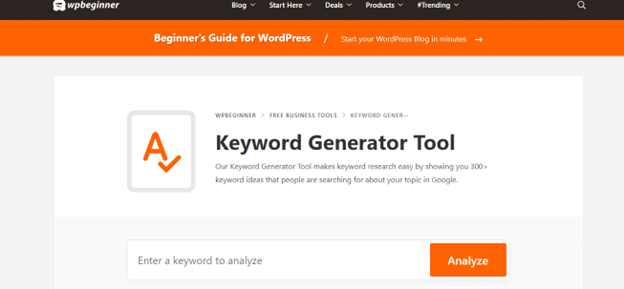 Credit: WPBeginner Keyword Generator
In the ever-competitive world of SEO, finding the right keywords is paramount. WPBeginner Keyword Generator has risen in prominence as an essential tool, especially when considering the best SEO plugins for WordPress.
Key Feature
WPBeginner Keyword Generator
Affordability and efficiency converge with the WPBeginner Keyword Generator. As a cost-free keyword research apparatus, it democratizes SEO for all – be it beginners just dipping their toes into the world of search engine optimization or budget-conscious businesses. Its strength is its simplicity, offering robust keyword insights without associated costs.
Some other important features include: :
Feed the tool with a seed keyword, and watch as it meticulously generates a list of suggestions. Grouped into alphabets, prepositions, and questions, it caters to all potential search intents.
Gain insights into how often a keyword is searched. This aids in identifying high-demand keywords that users frequently seek.
Keyword Difficulty Assessment: 
The tool sheds light on the competitiveness of each keyword. Recognizing which keywords are easily rankable versus those dominated by competition becomes a cinch.
Refined Search with Filters: 
A dedicated filtering system aids users in honing in on the perfect keyword, considering aspects like search volume and difficulty.
Benefits:
Zero Cost:

Unlike many tools with hidden charges, this tool costs nothing.

User-Friendly Interface:

Simplistic design ensures even those new to keyword research can easily navigate.

All-encompassing keyword Suggestions:

From long-tail to question-based keywords, nothing escapes its purview.

In-depth Insights:

Beyond mere suggestions, understand search volume and competitiveness, guiding data-driven decisions.
Pricing:
Absolutely Free! WPBeginner Keyword Generator stands out by offering its many features without any charges. Create endless keyword suggestions without any financial commitments.
In summary, WPBeginner Keyword Generator is not just a tool; it's a companion for those wanting to elevate their content's visibility on WordPress. Both neophytes and seasoned professionals will find immense value in its offerings.
4. Google Search Console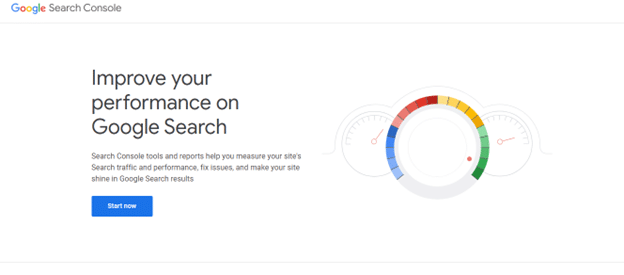 Credit: Google Search Console
Ensuring your site stands out in WordPress's vast and dynamic ecosystem can be challenging. Yet, the difference between an average WordPress site and a top-performing one often lies in its SEO strategy. Among the myriad of tools available, integrating the SEO plugin WordPress best features and utilizing robust tools like WPBeginner Keyword Generator can be a game-changer.
Key Feature
At the helm of search operations, Google provides invaluable insights through the Performance Reports in its Search Console. As a digital health check-up, these reports present granular data about a website's stature in Google Search. Such insights, from click-through rates to keyword positions, empower site owners to track their SEO trajectory, discern growth areas, and recalibrate strategies based on empirical data.
Some other important features include:
Initiate your research with a seed keyword, and this tool dives deep into its database, providing you with an extensive list of related suggestions. These aren't just random terms but are systematically categorized into alphabets, prepositions, and questions. Such granularity ensures your content aligns with a broad spectrum of user intents.
In the competitive realm of SEO, understanding keyword popularity is crucial. With this feature, users get insights into the frequency of searches for each keyword, enabling them to prioritize terms that potential visitors are actively looking for.
Keyword Difficulty Assessment: 
Navigate the complexities of SEO with ease. This tool breaks down how challenging or attainable ranking for specific keywords might be, ensuring you can craft an ambitious and realistic strategy.
The world of keywords is vast. But with WPBeginner's advanced filters, you can swiftly sift through the options and hone in on the terms that resonate most with your goals.
Benefits
Budget-Friendly Excellence:

Access to top-tier features without the burden of a subscription fee.

User-Centric Interface:

Designed with SEO newcomers and experts in mind, its layout is intuitive, ensuring seamless navigation.

In-Depth Keyword Exploration:

Beyond just primary terms, discover long-tail keywords, niche segments, and more to diversify your content strategy truly.

Empirical Decision Making

: With a wealth of data on search volumes and keyword competitiveness at your fingertips, you're empowered to make choices rooted in solid insights.
Pricing:
Absolutely Free! One of the standout attributes of the WPBeginner Keyword Generator is that it provides its premium suite of features without any costs. Dive deep into keyword research without any financial commitments.
5. Yoast SEO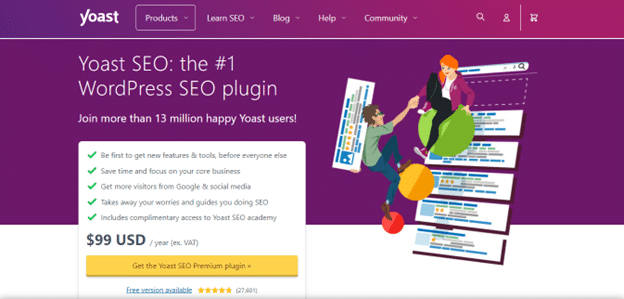 Credit: Yoast Seo
For anyone using WordPress, enhancing website visibility on search engines is crucial. Enter Yoast SEO – one of the best SEO plugins for WordPress designed for WordPress. Its user-friendly interface and comprehensive suite of features make it the best WordPress SEO plugin.
Key Feature
Unlike many SEO plugins, Yoast SEO particularly emphasizes content readability. It evaluates:
Sentence and paragraph lengths

Flesch-Kincaid Reading Ease score (recommended score of 60+)

Provides actionable feedback for content improvement

This key feature ensures that your content is not just optimized for search engines but is also reader-friendly.
Some other important features include: 
Designed for both novices and experts.
Comprehensive SEO Toolbox: 
From keyword optimization, title tags, and meta descriptions to XML sitemap generation.
Keeps up with ever-evolving search engine algorithms.
Benefits
Boosted Search Rankings:

Follow Yoast's suggestions and see a potential improvement in your website's search engine ranking.

Increased Website Traffic:

High-quality, readable content is more shareable and linkable.

Enhanced User Engagement:

Clear, understandable content can increase user retention and conversion rates.
Pricing
Free Version: 
Great for beginners, covering essential SEO tasks.
Premium Version ($99/year): 
A step-up for those serious about SEO with features like:
Keyword Suggestions

Enhanced readability analysis

Social media integration

Priority support
In the landscape of best SEO plugins for WordPress, Yoast SEO shines bright. Whether you're just starting out or are an SEO veteran, Yoast has tools that can assist in optimizing your WordPress site for the best possible search engine performance. Looking to secure your WordPress site as well? Don't miss our article on 14 WordPress Security Issues You Don't Have To Worry About Anymore! [Fixes Inside!].
6. Google Keyword Planner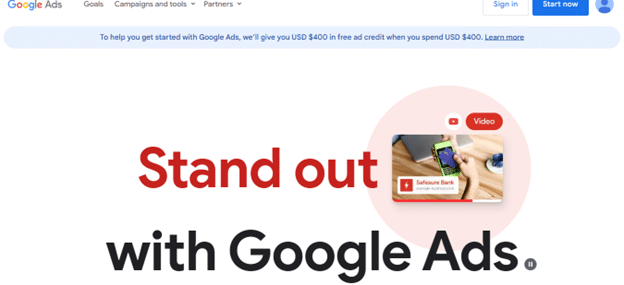 Credit: Google
In the ever-evolving digital landscape, keywords are pivotal in driving organic traffic. Google Keyword Planner, an indispensable tool for digital marketers, aids in identifying those potential traffic-generating keywords. Even when using the best WordPress SEO plugins, integrating insights from the Keyword Planner can significantly enhance SEO efforts.
Key Feature
Integration with Google Ads 
A standout feature, this seamless integration allows advertisers to effortlessly add researched keywords to their Google Ads campaigns and monitor their performance, thereby bridging the gap between keyword research and actual advertisement execution.
Some other important features include: 
It offers one of the most precise estimations of search volume and competition, driven by Google Search data.
Encompasses various keywords catering to varied industries, from broad to niche.
With its intuitive design, even those new to digital marketing can easily navigate and extract valuable keyword insights.
Benefits
Strategic Keyword Discovery

: Enables businesses to pinpoint the optimal keywords that resonate with their target audience.

Informed Bidding Decisions:

Estimating search volume and competition helps advertisers strategize their bidding for better ROI.

Organized Campaign Management:

The ability to create keyword lists streamlines Google Ads campaign management, making tracking and optimizations more efficient.
Pricing
Google Keyword Planner doesn't cost a dime. The only requisite is a Google Ads account to access this wealth of data.
In conclusion, Google Keyword Planner is not just another keyword research tool; it's a comprehensive solution for businesses to effectively shape their search engine marketing strategies.
7. Ahrefs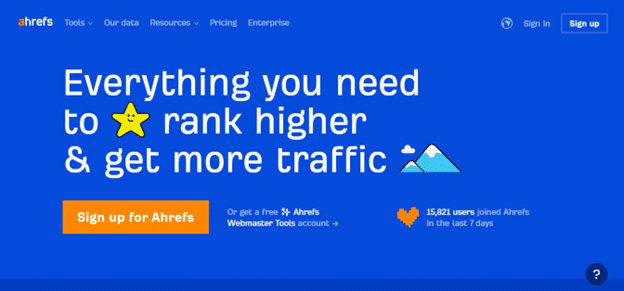 Credit: Ahrefs
For anyone involved in the world of best SEO plugins for WordPress and digital marketing, Ahrefs has emerged as an indispensable tool. Considered a part of the WordPress best SEO suite, this platform caters to the multifaceted demands of the online world. 
Key Feature
At the heart of Ahrefs is its Site Explorer, granting users a panoramic view of a website's SEO dynamics. From evaluating backlinks to understanding organic keyword strategies, this feature stands as Ahrefs' crown jewel.
Some other important features include: 
Making keyword research intuitive by providing insights on volume, competition, and relevancy.
Real-time monitoring of website rankings for desired keywords.
Scouting for quality content gaining traction in your niche.
An invaluable tool that diagnoses a website for SEO health.
Flexibility to incorporate Ahrefs data into custom applications.
Benefits
Enhanced Organic Visibility

: With the insights gleaned, there's a tangible improvement in organic reach.

Brand Positioning

: By identifying quality content, there's an uptick in brand recognition.
Optimized SEO Investment:

Ahrefs ensures that every SEO dollar spent brings measurable returns.
Pricing
Diverse Plans for Diverse Needs:
Lite:

At $99/month, ideal for bloggers and small businesses.

Standard:

Priced at $179/month, tailored for medium-scale operations.

Advanced:

For the larger businesses, it's priced at $399/month.

Agency:

Aimed at SEO professionals and agencies, comes at $999/month.
In a nutshell, for businesses serious about carving a niche in the digital ecosystem, Ahrefs offers tools and a roadmap for success. Whether it's scouting the competition, identifying potent keywords, or rectifying SEO loopholes, Ahrefs has it covered. While you're at it, understand another crucial aspect of online success by reading our article on the Importance of WordPress Hosting over Shared Hosting.
8. SEOPress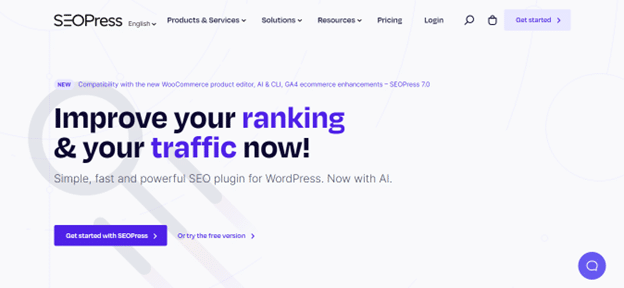 Credit: SEO Press
Navigating the world of best SEO plugins for WordPress Can be daunting, but optimizing a site becomes a seamless process with the right tools. SEOPress is one of the best SEO WordPress plugins available, offering extensive features to boost a site's search engine visibility.
Key Feature
Intuitive User Interface: 
One striking feature that gives SEOPress an edge is its user-friendly dashboard. Even those new to the SEO world can swiftly navigate its settings, making on-site optimization straightforward.
Some other essential features include: 
Schema Markup Integration: 
Enables better search engine understanding of your content.
Ensures images are search-engine friendly.
Boosts the SEO performance of WooCommerce stores.
Caters to global audiences by supporting multiple languages.
Facilitates integration with other tools, enhancing its versatility.
Benefits
Augmented Search Rankings:

Streamlining on-page and technical SEO paves the way for improved search visibility.

Boosted Organic Traffic:

Higher search rankings invariably increase organic site visits.

Enhanced User Experience

: Delivers content that resonates with search engines and users.

Efficiency:

Automated features save time, reducing the manual labor of SEO.
Pricing
Free:

Offers essential SEO functionalities, making it apt for those starting their SEO journey.

Pro:

Extended capabilities include XML sitemap creation and robots.txt optimization.

Insights:

Beyond the Pro plan's offerings, Insights delves deeper into website analytics, tracking traffic patterns and performance.
Whether you're an SEO novice or a seasoned expert, SEOPress offers tools to refine and elevate your WordPress site's search engine performance.
9. Rank Math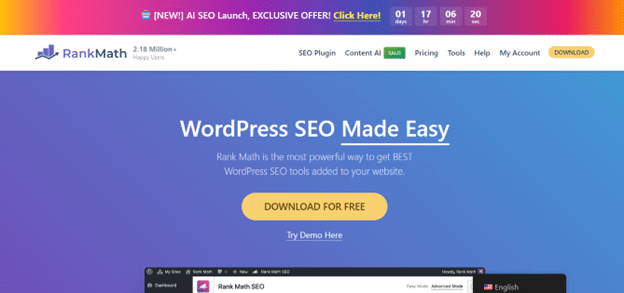 Credit: Rank Math
In the intricate world of WordPress SEO, choosing the right tool can make all the difference. RankMath, often hailed as the best SEO WordPress plugin, provides an all-encompassing solution tailored to boost a website's search engine ranking and visibility.
Key Feature
Intelligent Keyword Analysis
RankMath can recommend keyword placements, making on-page SEO optimization more data-driven and effective.
Some other essential features include: 
Facilitates integration of Schema Markup, helping search engines understand your content better.
In-depth website analysis to pinpoint and rectify potential SEO issues.
Advanced WooCommerce SEO: 
Ensures your e-commerce platform is optimized for better search visibility.
Helps businesses target local customers more effectively.
Benefits
Holistic SEO Improvement

: Covering a wide array of SEO aspects ensures a comprehensive enhancement in the site's search performance.

User-friendly Interfac

e: Designed for users of all expertise levels, making SEO tasks straightforward.

Enhanced Content Creation:

With real-time keyword recommendations, content becomes more SEO-centric.

Seamless Integration:

Works harmoniously with most WordPress themes and plugins.
Pricing
AGENCY
Price: $45.75/month (Billed annually ex VAT), renews at $53.25/month + taxes.

Supports 500 client websites
BUSINESS (Most Popular)
Price: $19.08/month (Billed annually ex VAT), renews at $22.42/month + taxes.

Supports 100 client websites
PRO
Price: $5.75/month (Billed annually ex VAT), renews at $6.58/month + taxes.

Unlimited personal websites
In summary, RankMath embodies a blend of user-friendliness and advanced capabilities, making it a top contender in best SEO plugins for WordPress. It's an essential tool for anyone serious about optimizing their WordPress site to its full potential.
 10. Schema Pro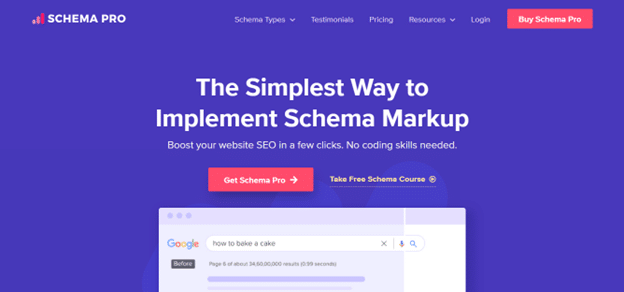 Credit: Schema PRO
Schema Pro is a leading plugin designed explicitly for effortless schema markup integration in the vast array of best WordPress SEO tools. Understanding and implementing structured data can be challenging, but with Schema Pro, you can effortlessly enhance your website's SEO and boost its presence in SERPs.
Key Feature
Automation & Ease of Use: 
Schema Pro's standout feature is its automation. Users can swiftly implement a range of schema types without delving into the intricacies of coding. Accurate schema markup is just a few clicks away, Whether for articles, recipes, or job postings. The live schema testing ensures validity, ensuring your site meets Google's latest guidelines.
Some other important features include: 
Schema Pro supports various schema types, catering to diverse website needs, from books to job postings.
This feature validates the schema's real-time accuracy, ensuring up-to-date and error-free integration.
Benefits
Enhanced SERP Appearance

: Schema Pro enhances your website's appearance in search results, leading to potentially higher click-through rates.

Rich Snippets

: By adding rich snippets, your content gets distinguished, offering users more information from the search results.

Boosted Traffic:

With improved visibility and informative, rich snippets, sites often witness increased organic traffic.
Pricing
Individual License:

$79/year for a single site.

Growth Bundle:

At $249/year, it encompasses Schema Pro alongside other premium plugins and tools, offering a comprehensive toolkit for WordPress enthusiasts.
In conclusion, Schema Pro is a pivotal tool for those aiming for best SEO plugins for WordPress, simplifying the complex task of schema markup integration and maximizing the potential of structured data.
11. KeywordTool.io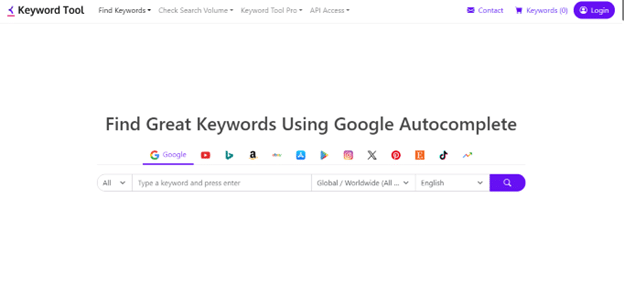 Credit: Keywordtool.io
As you traverse the realm of the best SEO tools for WordPress, "KeywordTool.io" undeniably stands out among the best SEO plugins for WordPress. This renowned online instrument is pivotal for deepening keyword research and optimizing SEO and PPC initiatives.
Key Feature
Google Autocomplete Utilization: 
At its core, KeywordTool.io harnesses the power of Google Autocomplete, churning out an extensive array of relevant long-tail keyword suggestions tailored to diverse topics.
Some other essential features include: 
Multi-Platform Keyword Research: 
Beyond Google, it extends keyword and hashtag research functionalities for platforms like YouTube, Amazon, Instagram, eBay, App Store, and Twitter.
Boasts a stellar uptime, functioning 99.99% of the time.
Benefits
Diverse Keyword Suggestions:

From leveraging Google Autocomplete to generating long-tail keywords, its capabilities are vast.

Frequency Monitoring:

Track how often keywords are being sought after.

Content Creation Aid

: It provides insights into what potential customers or readers are searching for, guiding content creation processes.
Pricing
Free Version:

Offers up to 750+ keyword suggestions for every input.

Keyword Tool Pro

: Priced at $89/month (basic) and $224/month (pro). Annual commitments bring it down to $468/year (basic) and $1,188/year (pro). This advanced variant offers twice the keyword suggestions and integrates additional features.
In summary, whether you're a content marketing agency, an SEO enthusiast, or someone aiming to elevate their SEO and PPC game on WordPress, KeywordTool.io is an indispensable asset.
12. Redirection
Credit: WordPress
Amidst the best SEO plugins for WordPress, the Redirection plugin stands out prominently. Having served the WordPress community for over a decade, it remains a highly recommended and trusted solution for effectively managing redirects on your website.
Key Feature
Efficient Redirect Manager: 
Redirection is engineered to facilitate the seamless management of 301 redirections, track 404 errors, and ensure your site is free from SEO mishaps. 
Whether your WordPress supports permalinks or not, Redirection has got you covered. Its compatibility with regular expressions lets users form redirect patterns fitting multiple URLs. The plugin even has the foresight to monitor post or page permalink alterations, automatically instituting a redirect to the updated URL.
Some other important features include: 
Beyond essential URL matching, Redirection boasts a rich feature set allowing redirects based on conditions like login status, browser type, referrer, and more.
Users can monitor all redirects with a detailed log, offering insights about the visitor, browser, and referral source.
HTTP Headers & 404 Error Tracking:

 
Enhance security or lessen redirect impacts by adding HTTP headers. Plus, stay on top of any 404 errors to ensure smooth user navigation.
Benefits
SEO Boost:

Using Redirection can significantly enhance your site's SEO, improving rankings.

Error Minimization:

Check those pesky 404 errors and ensure visitors experience seamless navigation.

Hassle-Free Management:

With Redirection, managing and implementing redirects becomes a breeze, saving time and avoiding potential SEO pitfalls.
Pricing
One of the most significant advantages of Redirection is its pricing structure – it's absolutely free! This ensures everyone, from individual bloggers to large enterprises, can benefit from its features without financial constraints.
In essence, for those seeking an all-in-one solution for redirects within a WordPress environment, Redirection is a must-try tool.
13. SEOQuake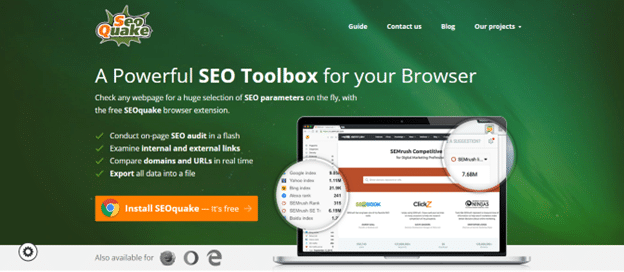 Credit: SEOQuake
For those navigating the vast array of best SEO plugins for WordPress, SEOQuake emerges as a standout choice. Acting as an invaluable SEO toolbox directly within your browser, this tool provides real-time insights and analysis for any webpage you visit.
Key Feature
Whether it's domain details, backlink insights, or on-page optimization aspects, the interactive SEObar offers a consolidated view in a snap.
Some other important features include: 
Avoid potential issues with instantaneous webpage SEO health checks.
Delve deep into external and internal links, gathering insights about URLs, anchor texts, and link types.
Understand search engine results pages better, exporting comprehensive data seamlessly in CSV format.
From a detailed keyword report to an illustrative keyword cloud, SEOQuake ensures you're never in the dark about keyword optimization.
Benefits
Instant On-Page SEO Audits

: Swiftly identify and rectify optimization concerns with modern search engines.

Data-Rich Insights

: Draw from reputable sources like SEMrush and Alexa, integrating vast data seamlessly.

Adaptable Compatibility

: Whether you're a Chrome aficionado, Firefox loyalist, or Opera enthusiast, SEOQuake integrates effortlessly.
Pricing
Despite its extensive capabilities, SEOQuake doesn't dent your pocket. It's free, making it a budget-friendly choice for SEO enthusiasts.
In summary, SEOQuake is not just another tool; it's an essential browser companion for those keen on upping their SEO game. With its rich feature set, it's undoubtedly a worthy addition to any digital marketer's arsenal. As you enhance your SEO strategy, don't forget to ensure your hosting is up to par. Dive into our article on the 9 Point Checklist for Choosing the Best WordPress Hosting Service to learn more.
14. Hubspot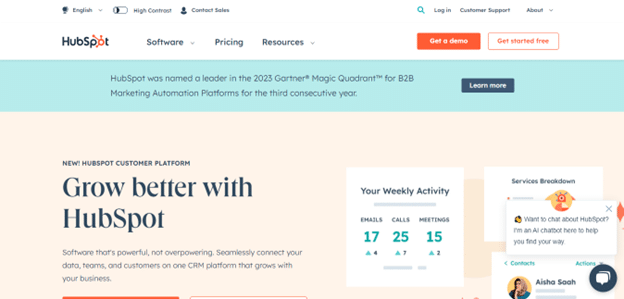 Credit: Hubspot
Navigating the best SEO plugins for WordPress often brings you to comprehensive platforms like HubSpot. Beyond mere SEO, HubSpot extends its prowess to various functionalities that optimize business growth and customer relations.
Key Feature
HubSpot provides a holistic ecosystem, not just about singular tasks. Whether focused on marketing, sales, content management, or customer service, HubSpot's integrated CRM platform ensures you have the requisite tools.
Some other important features include: 
Drive better ROI with high-quality lead generation and strategic marketing endeavors.
Equip your sales team to forge deeper relationships and streamline the sales process.
Customer Service Excellence

: 
Engage and delight customers, transforming them into brand advocates.
Efficient Content Management: 
A dynamic CMS that's marketer-friendly while empowering developers.
Synchronize apps, refine customer data, and usher in efficient operational automation.
Benefits
Customer-Centricity:

At its core, HubSpot emphasizes creating delightful customer experiences, aiding businesses in nurturing and expanding their customer base.

Scalability:

Whether a solo entrepreneur or a vast enterprise, HubSpot is designed to grow with you, ensuring you never outpace its utilities.

Holistic Integration:

HubSpot stands out for its interconnected suite of tools, ensuring seamless transitions between different business functions.
Pricing
Starting with a robust free version, HubSpot's pricing is structured to cater to varying business needs. The Sales and Service Hubs begin at $18/month for two users, while the Marketing Hub starts at $18/month for managing 1,000 contacts. Detailed pricing tiers and variations can be explored on HubSpot's official site.
In conclusion, for those seeking a comprehensive tool that transcends traditional SEO functionalities, HubSpot presents itself as an indispensable asset, ensuring business growth, customer satisfaction, and operational efficiency.
15. Internal Link Juicer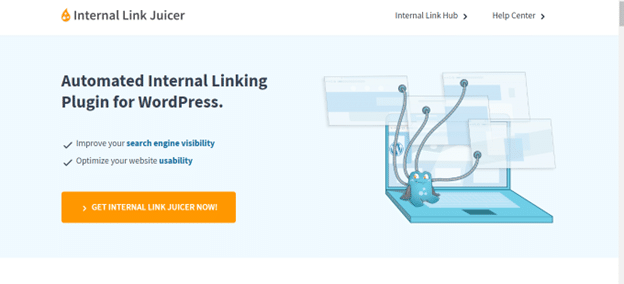 Credit: Internal Link Juicer
When searching for the best SEO plugins for WordPress, Internal Link Juicer emerges as an essential tool. Designed specifically to enhance the internal linking structure of WordPress websites, this plugin boosts both usability and search engine visibility.
Key Feature
Internal Link Juicer excels in automating the process of creating internal links. It identifies and links specific keywords, providing an organic flow while maintaining content quality. Its innovative keyword gap configuration ensures links appear natural and contextually relevant.
Some other important features include: 
The plugin offers keyword suggestions, making creating anchor texts that resonate with the content easier.
You can exclude specific posts, categories, tags, or post types, allowing for tailored internal linking strategies.
It seamlessly integrates with custom post types and supports WooCommerce.
Benefits
SEO Boost:

Strategic internal linking can significantly improve your site's search engine visibility.

Enhanced User Experience:

By interlinking related content, visitors find navigating and accessing information easier, leading to reduced bounce rates.

Organic Link Profile:

Avoid over-optimized, artificial link profiles by leveraging the plugin's smart keyword and gap configurations.
Pricing
Catering to various needs, the plugin offers multiple pricing options:
Single site license at $29.

5-site license for $49.

A comprehensive 25-site license is priced at $99.
In conclusion, Internal Link Juicer is more than just another WordPress plugin. It's one of the best SEO plugins for WordPress vital for those aiming to refine their on-site SEO while ensuring a seamless user experience.
16. MonsterInsights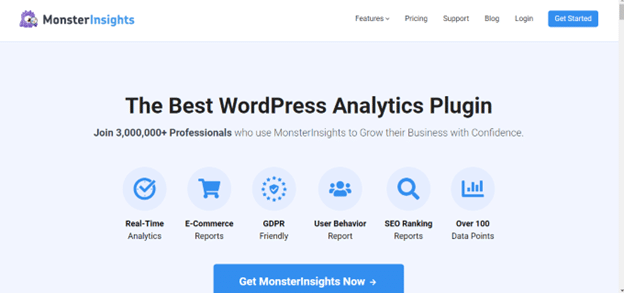 Credit: MonsterInsights
For those searching for the best SEO plugins for WordPress, MonsterInsights stands out as a leading choice. Designed to simplify and amplify the power of Google Analytics for WordPress users, it offers a comprehensive suite of features tailored to optimize your website's performance metrics.
Key Feature
Comprehensive Analytics Integration: 
MonsterInsights seamlessly connects WordPress with Google Analytics. It delivers real-time statistics, e-commerce reports, and insightful metrics directly in the WordPress dashboard, offering users actionable data to improve their site's performance.
Some other important features include: 
One-click tracking integration for popular platforms like WooCommerce and Easy Digital Downloads.
Track the performance of affiliate links to enhance monetization strategies.
Easily set up tracking for authors, tags, categories, and more.
Gauge the performance of forms and embedded videos to understand user engagement.
Benefits
Actionable Insights:

MonsterInsights offers not just data but actionable insights. This can lead to more informed decisions, enhancing site performance and user experience.

Easy Integration:

Its compatibility with various WordPress plugins ensures seamless performance and extensive data tracking.

GDPR Compliance:

Ensure your analytics comply with GDPR and other global privacy regulations.
Pricing
Plus:

Priced at $199.50/year, this plan is ideal for small businesses and bloggers, supporting up to 5 sites.

Pro

: At $199.50/year, this version offers advanced features, making it perfect for commerce sites and businesses that need more detailed insights.

Agency:

Designed for larger businesses and agencies, this plan costs $399.50/year and is tailored for up to 25 sites.
In essence, MonsterInsights isn't just another analytics tool; it's an essential asset for anyone serious about understanding their website's performance and enhancing their SEO strategy within the WordPress ecosystem. If you want to optimize your server capabilities, explore our dedicated server hosting services to elevate your website's performance further.
17. Rankie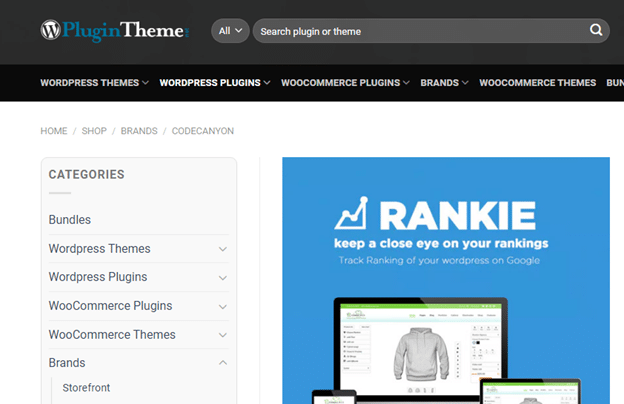 Credit: CodeCanyon
For website owners looking to optimize their digital strategy, the best SEO plugins for WordPress offer invaluable insights. Among these tools, Rankie stands out as an advanced WordPress rank tracker.
Key Feature
Unlike generic analytics tools, Rankie specializes in tracking your website's keywords ranking on Google, providing daily updates to ensure you have the latest data at your fingertips.
Some other important features include: 
Rankie isn't just about tracking; it also suggests keywords that can boost your SEO.
Generate powerful monthly, yearly, or custom reports that display ranking changes clearly and visually.
No manual input is required as Rankie automatically updates keyword rankings daily.
Tailor your rank tracking to specific countries for localized keyword insights.
Benefits
Stay Ahead of the Curve:

With daily updates, you're always in the know about how your keywords perform.

Strategic Decision Making:

With comprehensive data, Rankie enables data-driven SEO decisions.

Cost-Effective

: A one-time payment structure ensures you get a premium tool without monthly subscription costs.
Pricing
Basic:

Rankie offers a one-time payment of $21, granting you lifetime access to the plugin with six months of support.

Extended Support:

Users can extend support for 12 months at an additional $6.38.
In the competitive world of best SEO plugins for WordPress, understanding how you rank is crucial. Rankie provides WordPress users with a comprehensive, user-friendly tool that simplifies rank tracking while offering deep insights. It's an indispensable asset for anyone serious about optimizing their website's search engine performance.
18. WP Rocket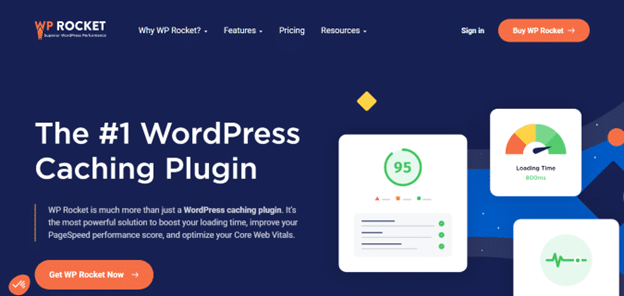 Credit: WPRocket
Amid the extensive array of best SEO plugins for WordPress, WP Rocket has carved out a distinct space as a go-to caching solution that streamlines site performance and accentuates SEO efforts.
Key Feature
Right after installation, WP Rocket implements 80% of web performance best practices. The result? Faster website speed without any tedious tweaking.
Some other essential features include: 
Browser and page Caching:

 
Efficiently store static files and reduce server demands.
Utilize GZIP compression to trim down file sizes.
By delaying JavaScript execution, vital content is prioritized.
Remove surplus CSS, ensuring only essential styling remains.
Condense HTML, CSS, and JavaScript to ensure sleek performance.
Load media elements only when they're in view to ensure a snappy user experience.
Clean the database to reduce its size and boost responsiveness.
Benefits
Boost in Performance:

WP Rocket ensures your website is agile, translating to better user engagement.

SEO Advantages:

A faster site contributes positively to SEO, potentially enhancing your search rankings.

Easy Setup:

A user-friendly interface means even the least tech-savvy can achieve optimized site speeds.
Pricing
Value-Packed Tiers:
Single:

At $49/year, optimize one website.

Plus:

At $99/year, enhance three websites.

Infinite:

The $249/year plan offers unlimited website optimization.
In website optimization, WP Rocket is not just a plugin; it's an essential tool. Delivering an amalgamation of features that drive performance, WP Rocket ensures WordPress sites are primed for success in today's competitive digital landscape.
19. XML Sitemaps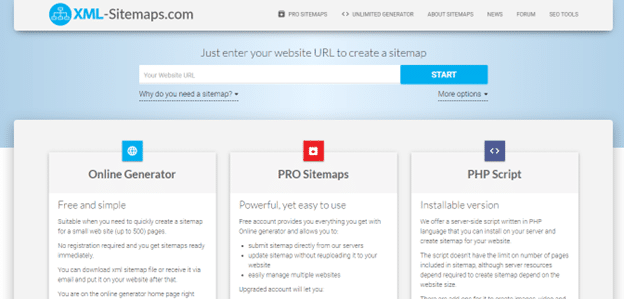 Credit: XML Sitemaps
The vast realm of best SEO plugins for WordPress is incomplete without the mention of XML Sitemaps. A pivotal tool for search engine optimization, XML Sitemaps aids in bridging the gap between your website's content and search engine crawlers, ensuring that your web pages are effortlessly discovered and indexed.
Key Feature
Comprehensive Sitemap Generation: 
Effortlessly creates a detailed XML sitemap that lays out all web pages, ensuring search engines understand the structure of your site.
Some other important features include: 
Apart from XML, generate Text and HTML sitemaps.
Automatically informs search engines once the sitemap is updated.
Easy-to-use online generator tool, simplifying sitemap creation.
Detailed reporting on the crawling of your sitemap.
Benefits
Boosted SEO:

Enhances website discoverability and potentially improves rankings.

Simplified Navigation:

Assists visitors and search engine bots with easy navigation.

Fresh Content:

Ensures that updated content gets noticed and indexed faster.
Pricing
Free Version:

Suitable for smaller websites, up to 500 pages.

PRO Version:

Priced reasonably, it caters to expansive websites with features supporting up to 1,500,000 pages, image sitemaps, video sitemaps, and more.
XML Sitemaps is an essential component in the modern webmaster's toolkit. Structuring a pathway for search engines to traverse underscores the importance of every page on a website, leading to potentially better visibility and organic traffic. While focusing on your site's visibility, ensuring its safety is crucial. Discover How to Backup WordPress Site in Three Easy Ways (Manual + Plugins + WebHost) in our comprehensive guide.
20. Premium SEO Pack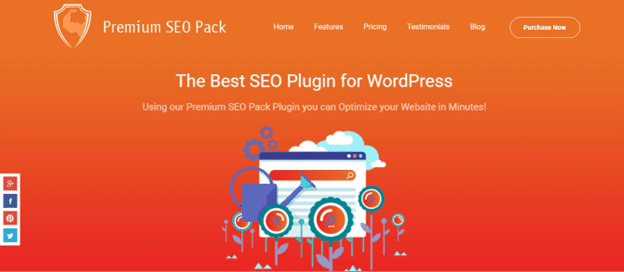 Credit: Premium SEO Pack
Amidst the best SEO plugins for WordPress, Premium SEO Pack is a multifaceted tool that elevates your website's search engine rankings. It epitomizes the integration of optimization and user-friendly design.
Key Feature
Advanced Image Optimization: 
One of the Premium SEO Pack's stellar features is its ability to automate image optimization. It ensures images are SEO-friendly and enticing for the readers, enhancing the user experience.
Some other important features include: 
Delve deep into content specifics, analyzing meta tags, titles, and descriptions.
Personalize SEO settings for each post type, fine-tuning your content's visibility.
Webmaster Tools Integration:

 
Seamlessly connect with Bing Webmaster Tools and Google Search Console, amplifying your website's reach.
Link Builder & Social Stats Module: 
Augment your site's ranking with an efficient link-building tool and boost engagement with integrated social share buttons.
Enhance your search result appearance with added information, making your website stand out in the crowded SERPs.
Benefits
By employing Premium SEO Pack, webmasters can anticipate:
Boosted Site Visibility:

Harness various tools to push your website to the forefront of search results.

Effortless SEO Management:

SEO becomes less daunting with user-centric design and automated processes.

Comprehensive Analysis:

Understand your website's strengths and areas of improvement with in-depth analysis tools.
Pricing
At a competitive price of $44 for a regular license, users can leverage the Premium SEO Pack's extensive features for a single website. This package also comes with quality assurance, periodic updates, and 6 months of dedicated support from the AA Team.
In essence, Premium SEO Pack matches the capabilities of other top-tier SEO plugins and surpasses them, offering users an unparalleled optimization experience.
21. WP Statistics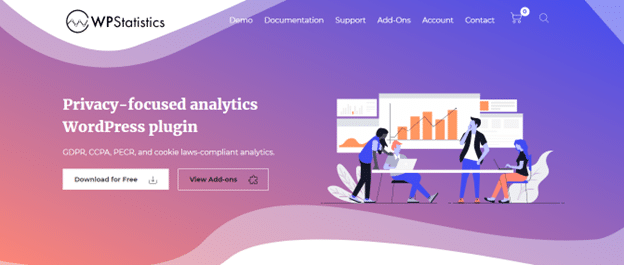 Credit: WP Statistics
In the vast ocean of best SEO plugins for WordPress, WP Statistics emerges as a compelling tool that delves into the intricate data of website visitors, offering invaluable insights to optimize user engagement and website performance.
Key Feature
Detailed Visitor Analytics: 
WP Statistics shines in its ability to capture comprehensive visitor data. It presents a holistic view of the audience interacting with your website, from geographical locations and browsers used to the search engines they came from.
Some other important features include: 
Graphical Representation:

 
Beautiful graphs and visual statistics present data in an easy-to-understand format.
Dive deep into statistics based on categories, tags, and authors, providing a content-centric perspective.
Understand your audience's demographics with country and city recognition.
Versatile data export options in TSV, XML, and CSV formats, complemented by email statistical reporting.
Extended Premium Capabilities: 
The premium version amplifies data analysis capabilities from real-time statistics to UTM parameter tracking.
Benefits
Actionable Insights:

Understand and tailor your strategies based on the detailed data presented.

User Privacy:

Being GDPR compliant, WP Statistics maintains user data privacy.

Enhanced User Engagemen

t: With data, tweaking website elements to cater to the audience becomes a calculated move, leading to better engagement.

Integrated Analysis:

With widget support and compatibility with popular WordPress plugins, WP Statistics ensures a seamless analytical experience.
Pricing
WP Statistics is free, making it accessible to many users. 
WP Statistics is a potent analytical tool, making complex visitor data comprehensible and actionable for website owners and SEO enthusiasts.
22. The SEO Framework
Credit: SEO Framework
Regarding the best SEO plugins for WordPress, The SEO Framework stands out with its robust white-hat SEO techniques, adhering strictly to Google's guidelines.
Key Feature
Real-time Content Feedback: 
One of The SEO Framework's standout features is its ability to offer immediate feedback on your content. This interactive guidance ensures that your content is continually optimized for search engines as you create it.
Some other important features include: 
Streamline your SEO process by auto-generating vital SEO meta tags, eliminating manual effort.
Comprehensive SEO Checks:

 
With over 70 checks in place, the plugin ensures every facet of your content is primed for optimal search engine performance.
The built-in SEO attack protection guarantees that only the best version of your page is indexed, safeguarding your site from potential SEO threats.
Versatile Builder Support:

 
Whether you use Elementor, Divi, or Gutenberg, The SEO Framework seamlessly integrates with various page builders.
Advanced API Integration: 
The API system offers smooth cache integration for those looking at cache solutions.
Benefits
Optimal Performance:

Ensure your website's top-notch performance, leading to an enhanced user experience.

Insightful Engagement Metrics:

Understand your user's behavior better and tweak your strategies for maximum engagement.

Security:

Rest easy knowing your website is protected from potential SEO attacks.

Holistic SEO Solution:

With a spectrum of features from meta tag generation to content checks, The SEO Framework offers a comprehensive SEO solution.
Pricing
The free SEO Framework ensures that quality SEO isn't a premium. With the added advantage of periodic updates and dedicated support, it offers great value to its users.
In essence, The SEO Framework provides a holistic, efficient, user-friendly SEO solution, making optimizing your WordPress site a breeze. Once your site's SEO is on point, take the next step in simplifying your setup process. Delve into our article on Simplify WordPress Installation with Docker Compose: A Comprehensive Tutorial to further enhance your WordPress experience.
23. LiteSpeed Cache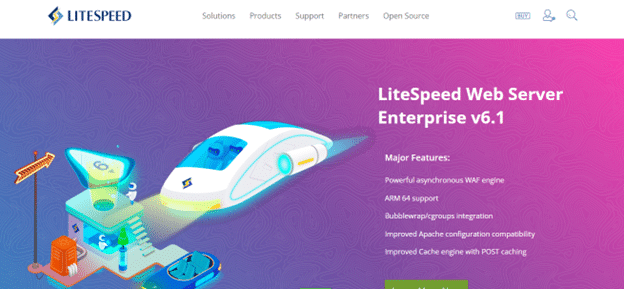 Credit: LiteSpeed Cache
Amidst the best SEO plugins for WordPress, LiteSpeed Cache (LSCache) has carved its niche as a potent dynamic content acceleration tool. Born from the prowess of LiteSpeed server products, this tool goes beyond conventional cache utilities by extending its reach to dynamic content and not just PHP pages.
Key Feature
Dynamic Content Acceleration
The centerpiece of LiteSpeed Cache is its unparalleled capability to accelerate a wide spectrum of dynamic content. The resultant effect is a remarkable reduction in page load times and an elevated user experience.
LiteSpeed Cache primarily comes with the LiteSpeed server products. The pricing metrics depend on the chosen LiteSpeed server product and its licensing nuances. Exploring the official LiteSpeed Technologies platform or initiating a dialogue with their sales department is advisable for a precise cost breakdown.
Some other important features include: 
Seamlessly supports multiple object caching strategies, including Memcached, LSMCD, and Redis.
Intelligent Image Optimization

: 
Both lossless and lossy image optimization techniques are available.
Ensures CSS, JavaScript, and HTML files are succinct and efficiently loaded.
Lazy-Loading & Responsive Image Placeholders:

 
Enhances loading times by deferring certain assets and providing quick-loading image previews.
Compatibility with multiple CDNs streamlines static asset delivery.
Tools that cleanse and optimize the database for superior performance.
Comprehensive optimization tactics to boost your website's PageSpeed score, even focusing on Core Web Vitals.
Reduces loading time with proactive CSS/JS delivery and external resource optimization.
Benefits
Faster Web Performance:

Experience tangible improvements in website loading speeds.

Optimized Resources:

Ensure assets, from images to scripts, are efficiently loaded.
Enhanced User Experience:

Faster loading times contribute to user retention and engagement.

Database Efficiency:

Maintain a streamlined and responsive database.

Comprehensive Integration:

The versatility to work seamlessly with other prominent plugins.
Pricing
Experience top-notch performance and cache acceleration for web apps like WordPress and Joomla.
WEB ADC
High-performance HTTP load balancer offering more flexibility than its peers.
Starting at: $65/month

Plans: Monthly | Yearly | Owned
SUPPORT SERVICES
Web Server Installation: $150.00 USD

On-Demand Support: $150.00 USD/hr

WP-Cache Optimization: $100.00 USD

Ongoing WP Optimization: $1200.00 USD semi-annually
In essence, LiteSpeed Cache is not just an optimization tool but an all-encompassing solution that revamps how your website interacts with its audience. Its expansive feature set makes it a must-have for those serious about web performance.
24. Squirrly SEO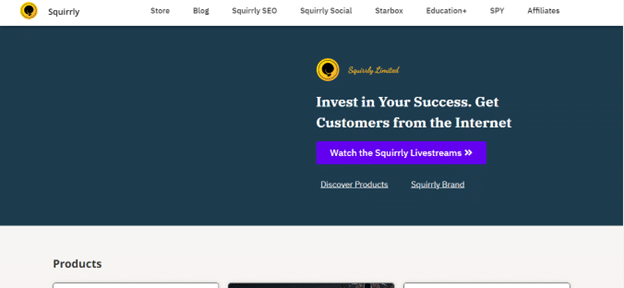 Credit: Squirrly SEO
In the realm of best SEO plugins for WordPress, Squirrly SEO emerges as a frontrunner with its unique blend of AI-driven features and an expansive suite of optimization tools. This plugin has been meticulously crafted to facilitate an intuitive and productive SEO experience for WordPress users.
Key Feature
What distinguishes Squirrly SEO is its AI consultant, which offers tailored tasks for enhancing rankings and furnishing lucid, actionable steps for execution. The Focus Pages feature directs attention to high-priority pages, ensuring they are primed for optimal ranking. Users are constantly encouraged through success alerts and progress achievements.
Some other important features include: 
With support for 140+ languages, Squirrly simplifies keyword exploration through its robust research tools, providing invaluable insights into search volume and competition.
The content becomes a potent tool with Squirrly's optimization suggestions. The SEO Live Assistant ensures content aligns with SEO standards in real-time.
Gauge your website's SEO health with comprehensive audits and detailed metrics. Squirrly provides an overview of top-ranking pages and source-specific traffic inflow.
Squirrly has been engineered for seamless compatibility with WordPress and other platforms and services.
Benefits
Strategic Content Creation

: Produce content that resonates with search engine algorithms and your target audience.

Informed Decisions

: Comprehensive analytics enable data-driven strategies.

Holistic SEO Management:

With Squirrly, every aspect of SEO, from keyword identification to performance tracking, is within reach.

User-Friendly Interface:

Thanks to its intuitive design, even SEO novices can easily navigate the platform.
Pricing
Squirrly SEO offers a complimentary version for users seeking foundational features. For those requiring a more extensive toolkit, Squirrly has priced versions tailored to diverse needs. The specifics of these plans can be sourced directly from the Squirrly platform or their sales representatives.
Squirrly SEO isn't just another plugin; it's an all-encompassing SEO suite that empowers website owners to conquer the ever-evolving landscape of search engine optimization.
25. WPSSO Core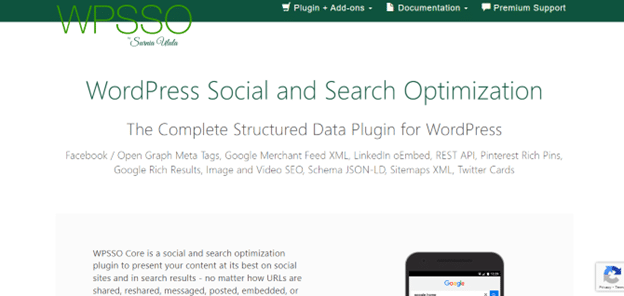 Credit: WPSSO Core
In the ever-evolving world of digital marketing, WPSSO Core stands out as one of the best SEO plugins for WordPress. It has been meticulously developed to ensure that your content is showcased in its finest form, whether on social platforms or in search engine results.
Key Feature
WPSSO Core precisely crafts structured data to optimize and tailor your content for platforms like Facebook, Google, and Twitter. This feature enables search engines and social networks to understand and display your content in the best possible manner, enhancing its visibility and click-through rates.
Some other important features include: 
WPSSO Core provides actionable insights to optimize your content. It helps streamline keyword usage, meta tags, and the overall presentation of your pages in SERPs.
Track and analyze your website's performance with in-depth metrics, detailed SEO audits, and insights to foster continuous improvement.
Integration Capabilities: 
WPSSO Core has been crafted for seamless integration with WordPress and other platforms, ensuring optimal performance across the board.
Benefits
Enhanced Content Presentation:

Ensure your content shines across search engines and social media platforms.

Comprehensive SEO Toolset:

From keyword research to performance tracking, WPSSO Core covers every facet of SEO.

Error-Free Content:

Bid adieu to common SEO errors, ensuring your content consistently meets the gold optimization standard.
Pricing
WPSSO Core provides users with a basic free version, granting access to foundational features. For those who seek a more immersive SEO experience, the paid version unveils a plethora of additional functionalities.  The premium version of WPSSO Core is available for $110.00. Detailed pricing can be gleaned directly from the WPSSO Core platform or customer representatives.
In essence, WPSSO Core isn't merely a plugin; it's a comprehensive SEO toolkit, adeptly merging functionality and user experience to cater to the holistic needs of digital marketers.
Conclusion
Navigating the intricate landscape of SEO can be challenging, but optimizing your WordPress site becomes significantly more manageable with the Best SEO Plugins for WordPress in your arsenal. The SEO above plugins are the cream of the crop, each offering distinct features to enhance your website's visibility in search results. 
However, a plugin is only as good as the hosting it's on. RedSwitches, a premier hosting company, ensures your SEO efforts aren't hindered by slow site speeds or downtime. With their robust infrastructure and unparalleled uptime, RedSwitches provides the reliable backbone your WordPress site needs to shine in search results truly. 
So, as you invest in top-tier SEO plugins, ensure your hosting matches up. We offer the best dedicated server pricing and deliver instant dedicated servers, usually on the same day the order gets approved. Whether you need a dedicated server, a traffic-friendly 10Gbps dedicated server, or a powerful bare metal server, we are your trusted hosting partner.
FAQs
Q. Is an SEO plugin necessary for WordPress?
While WordPress is SEO-friendly, an SEO plugin provides advanced tools and functionalities that can help improve a site's visibility in search results.
Q. What is the cheapest SEO plugin for WordPress?
Many SEO plugins offer free versions, including Yoast SEO and All in One SEO Pack. The "cheapest" would depend on the specific premium features one needs.
Q. What are the best SEO plugins for WordPress in 2023?
You can choose from several best SEO plugins for WordPress in 2023. Some popular options include Yoast SEO, All in One SEO Pack, Rank Math, SEOPress, and Schema Pro. These plugins offer various features and functionalities to help optimize your website for search engines.
Q. How can I improve my SEO using WordPress plugins?
To improve your SEO using WordPress plugins, follow these steps: 
Install and activate a reliable SEO plugin like Yoast SEO or All in One SEO Pack. 

Configure the plugin settings according to your website's needs. 

Use the plugin to optimize your content by adding meta title, description, and keyword tags. 4. Utilize the plugin's features to create XML sitemaps, manage breadcrumbs, and add social media metadata. 

Regularly analyze your website's SEO data provided by the plugin and make necessary optimizations based on the insights. 
Q. What is the best SEO plugin for WordPress?
The best SEO plugin for WordPress may vary based on individual preferences and requirements. However, some highly recommended plugins in 2023 include Yoast SEO, All in One SEO Pack, and Rank Math. These plugins offer comprehensive SEO features that help you optimize your website effectively.
Q. Can you recommend a powerful SEO tool for WordPress?
Yes, there are several powerful SEO tools available for WordPress. One popular option is Yoast SEO, which provides extensive features for content optimization, readability analysis, XML sitemap generation, and more. Another notable tool is Rank Math, which offers advanced SEO capabilities and functionalities like 404 error monitoring, redirection management, and rich snippets support.
Q. How do I use an SEO plugin on my WordPress site?
To use an SEO plugin on your WordPress site, follow these steps: 
Install and activate the SEO plugin of your choice. (e.g., Yoast SEO or All in One SEO Pack) 

Access the plugin settings through your WordPress dashboard. 

Configure the plugin settings based on your website's requirements. 

Utilize the plugin's features to optimize your content, generate sitemaps, manage metadata, and improve overall SEO. 

 
Q. Are there any free SEO plugins available for WordPress?
Yes, there are several free SEO plugins available for WordPress. Some popular options include Yoast SEO, All in One SEO Pack, and Rank Math. These plugins offer free versions with basic SEO functionalities that can still significantly enhance your website's SEO performance.
Q. What are the most popular SEO plugins for WordPress in 2023?
The most popular SEO plugins for WordPress in 2023 include Yoast SEO, All in One SEO Pack, Rank Math, and SEOPress. WordPress users highly regard these plugins and offer extensive features to optimize websites for search engines.
Q. Can I find the best WordPress SEO plugins and tools in one place?
You can find the best WordPress SEO plugins and tools in several resources. You can visit reputable WordPress plugin directories like the official WordPress Plugin Repository or independent websites that provide curated lists and reviews of SEO plugins and tools.
Q. Is Yoast SEO the best WordPress plugin for SEO?
Yoast SEO is considered one of the best WordPress plugins for SEO due to its comprehensive features, user-friendly interface, and continuous updates. However, the best plugin for SEO may vary depending on your specific needs and preferences.
Q. How can I optimize images for SEO inside my WordPress website?
To optimize images for SEO inside your WordPress website, you can follow these best practices: 
Choose descriptive filenames for your images that include relevant keywords. 

Compress and resize the images to ensure optimal loading speed. 

Add alt text to your images, describing the image's content using target keywords. 

Utilize image captions and titles, if applicable, to provide additional context. 

Ensure your images are correctly formatted and compressed, reducing the file size without sacrificing quality.