Welcome to our detailed comparison of Weebly and WordPress, two of the most widely used website-building tools. In this article, we will examine the 12 main distinctions between these platforms to help you choose the one that best meets your needs. Whether you're an aspiring business owner, a creative professional, or an experienced blogger, knowing the intricacies of Weebly or WordPress will enable you to build a customized website to your unique objectives.
After reading this comparison, you'll know what is necessary to select the ideal platform for your online presence. Let's go in and compare Weebly vs WordPress in detail.
Table of Contents
What Is Weebly?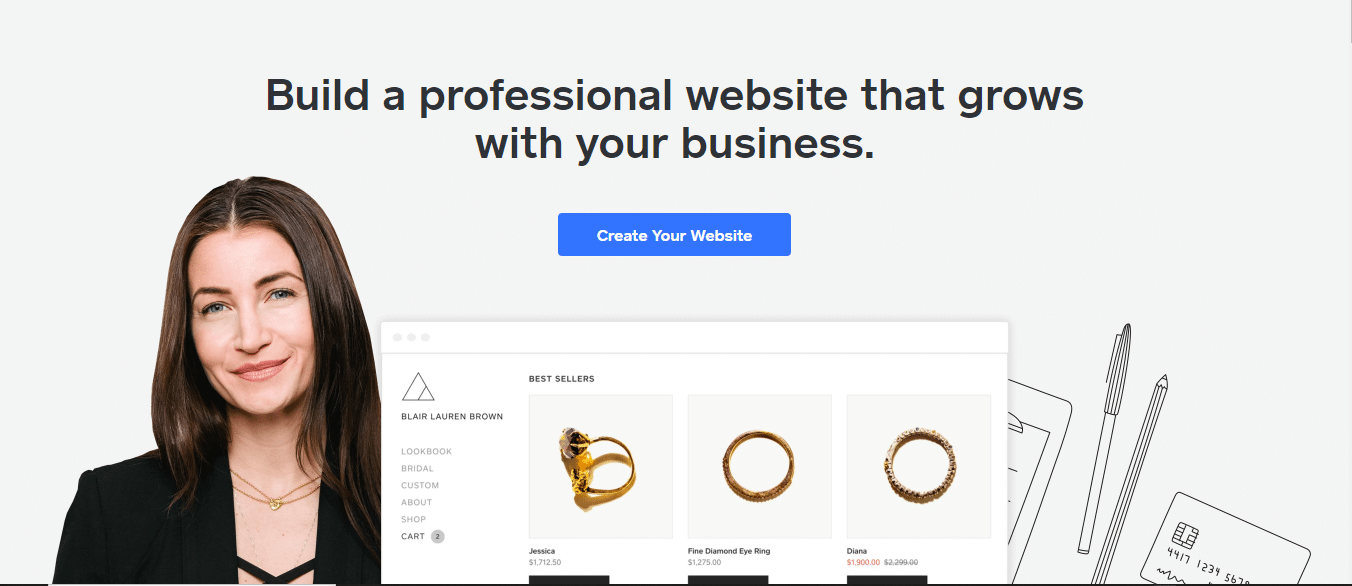 Credits: Weebly
One of the easiest site builders on the market, Weebly offers a free option and premium plans starting at $10 per month with annual billing. It provides limitless storage and bandwidth for most plans, SEO, email, social media marketing tools, and a mobile-responsive site. Let's begin with the Pros.
Advantages
User-Friendly Interface
Weebly's simple drag-and-drop interface allows users to easily design and customize websites without technical experience. Because of its simplicity, novices and small enterprises wishing to create an internet presence can use it.
Vast Selection of Templates
Weebly provides a wide range of well-created templates. Users can select a layout that best meets their demands from various industries and purposes catered to by these templates. Every template has customization features that offer design versatility.
No Technical Maintenance
Because Weebly is a fully hosted platform, users are relieved of dealing with technical issues such as software upgrades, hosting, and security. Weebly handles these problems, freeing users to concentrate only on producing and overseeing their content.
Mobile responsiveness
Weebly templates are mobile responsive, which means that websites display and work correctly on tablets and smartphones. This feature is essential for reaching a wider audience because more people are using their mobile devices to browse the internet.
App Centre
Weebly provides a range of connectors and apps that increase the platform's capabilities. Without knowing any code, users may improve their websites with features like marketing tools, social network integration, e-commerce possibilities, and more.
Built-in E-commerce
Weebly comes with integrated e-commerce features that make it simple for users to create online stores. Through the platform, users may add products, control inventory, accept payments, and take care of shipping and taxes. This function is beneficial for companies that want to sell goods online.
SEO Tools
Weebly provides users with simple SEO tools so they may optimize their websites for search engines. Customizing URLs, titles, and descriptions allows users to improve their website's search engine ranking and draw in more natural traffic.
Dependable Customer Assistance
Weebly offers phone, email, chat assistance, and other channels. When having problems or seeking direction, users can get help, making creating and maintaining websites easy.
Affordability
Weebly provides affordable plans, including a free tier with limited functionality. Because of its price, it's a desirable choice for people and small businesses on a tight budget because it enables them to build websites that seem professional without having to shell out a lot of money.
Resources and Community
Weebly boasts a thriving community and copious documentation. Users can learn more about the platform and acquire insights into web design and internet marketing by participating in forums, reading lessons, and watching video courses.
Disadvantages
Limited Design modification
Weebly's limited design modification choices are one of its major drawbacks. Users have little control over the layout and design components, even though it offers a wide selection of templates. This lack of adaptability may irritate customers who wish to design a distinctive, highly personalized website.
Not the Best for Complex Websites
Simple websites and portfolios are the ideal use cases for Weebly. It lacks the powerful capabilities and adaptability needed for big e-commerce sites or intricate websites. Businesses that need precise customizations or have large product catalogs may find Weebly's capability and scalability to be limited.
Weebly Branding on Free Plan
Weebly places its branding and a tiny Weebly advertisement at the bottom on your website when you use the free plan. This can give the impression that your website is less professional, which is a big disadvantage for people and companies trying to build a strong online presence.
Restricted E-Commerce Features
Weebly has certain e-commerce features, but not as many as more specialized platforms like Shopify or WooCommerce. Weebly's e-commerce tools are limited. Therefore, companies needing more sophisticated online shop functionality would find them inadequate.
Furthermore, Weebly levies transaction fees on its more affordable e-commerce options, which can mount up and impact the company's overall profitability.
Limitations on SEO
Regarding search engine optimization (SEO), Weebly has some restrictions. Although users can optimize headings, descriptions, and meta titles, advanced SEO strategies are limited. Businesses may find it difficult to draw in organic traffic as a result of this, as it may have an impact on the website's visibility and rating on search engine results pages.
Restricted App connectors
Weebly has a limited ecosystem of third-party apps and connectors to other website builders like WordPress. Users may be prevented from adding sophisticated features to their websites by this lack of variation. It could be challenging for companies that depend on particular services or products to connect them with their Weebly website quickly.
Problems with Data Portability
Building a website on Weebly and then transferring it to another platform can be difficult. The design and content of your website cannot be easily exported from Weebly to another platform. If you ever choose to move to a new content management system or website builder, this lack of data portability may be a big problem.
Limited Customer Help
Weebly does offer customer help. However, it might not always be up to users' standards. Customers with free plans have less access to customer service, and even those with paying plans may have trouble receiving prompt, efficient assistance. This restriction might be annoying, particularly for those who have serious problems with their websites.
Challenges with Mobile Responsiveness
Although Weebly's templates are made to be responsive on mobile devices, users may encounter difficulties making sure that their modifications are compatible with smaller screens. It can be challenging and time-consuming to modify the layout and design aspects, especially for mobile devices.
Key Features of Weebly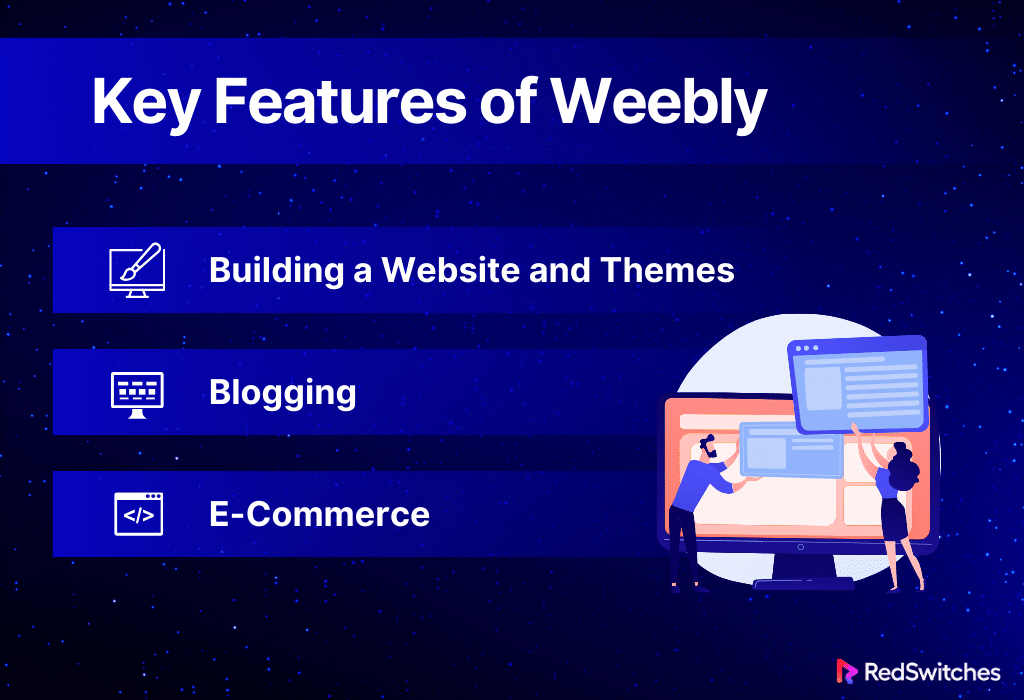 Before jumping on the Weebly vs WordPress debate, first, let us understand the critical features of Weebly.
Building a Website and Themes
You must first register with Weebly to utilize it. Either a website or an online store are options. You can choose from more than 38 themes if you build a website. You can choose from 15 themes to build an online store.
Simply change the text and graphics once you've chosen your theme to make your website unique. With the press of a button or a mouse drag, portions can be added, removed, and moved about.
The themes on Weebly are responsive, so they will change to fit any screen size. Additionally, you can always switch to the HTML/CSS Editor if you want more control over the appearance of your website.
Blogging
Using the blog that comes with Weebly, you can quickly add blog posts to your website. You can password-protect specific articles or pages on your website in order to keep them private. You could, for instance, include a password to a post that contains a private video lesson that is only accessible to paying customers or newsletter subscribers.
E-Commerce
Weebly can help if you want to set up an online store. It provides all the necessary tools to get going, including a shopping cart, product pages, and the ability to accept payments through Square or other third parties. Additionally, it has already been integrated with well-known payment gateways like Stripe and PayPal.
What Is WordPress?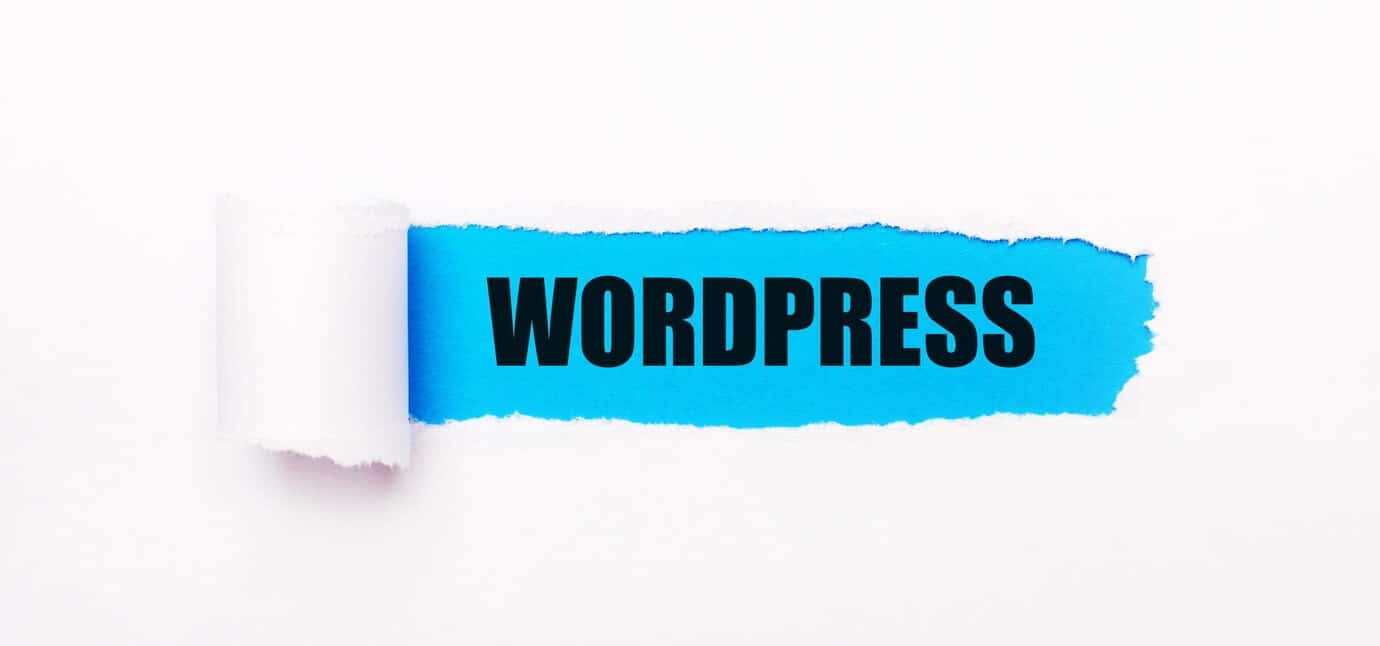 Credits: Freepik
Before moving into the Weebly vs WordPress debate, first, let's understand the definition of WordPress.  WordPress is a free, open-source platform for website building. Explicitly speaking, WordPress is a PHP-based MySQL database-based content management system (CMS). WordPress is the most straightforward and productive blogging and website builder obtainable today, in non-geek terms.
WordPress is an excellent platform for creating a variety of websites. WordPress is a flexible CMS that can create websites for companies, portfolios, and e-commerce. WordPress is a great option for both big and small websites because it was created with usability and flexibility in mind.
Advantages
User-Friendly Interface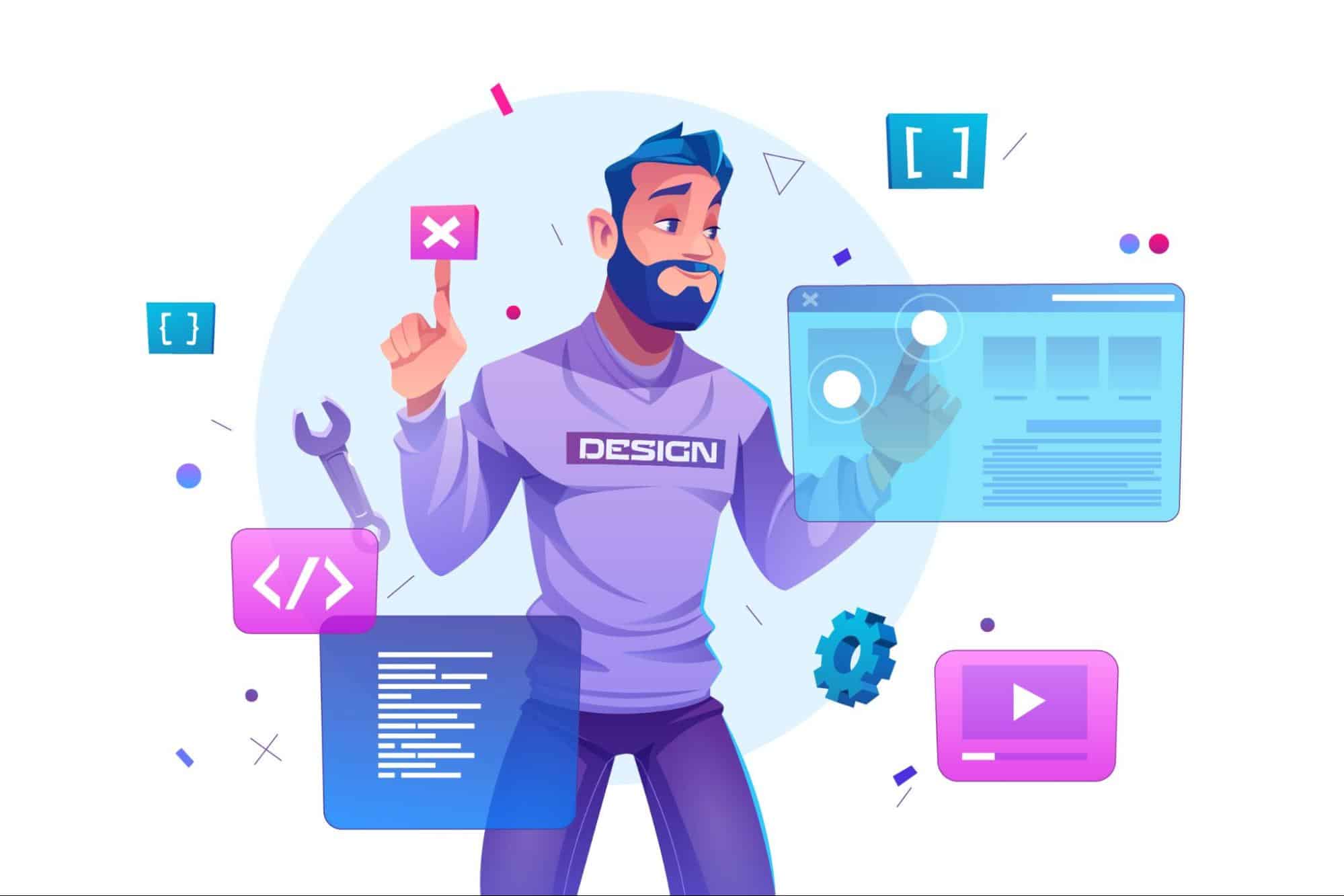 Credits: Freepik
WordPress's user-friendly interface is one of its main benefits. Because it doesn't require sophisticated technological expertise, both novice and seasoned users can utilize it. Users can easily create, update, and publish material with the help of the intuitive dashboard, making website maintenance quick and easy.
Rich Customization Options
With WordPress, users may personalize their websites to suit their unique requirements from a wide library of themes and plugins. Plugins provide functionality, and themes oversee the overall appearance. There are innumerable themes and plugins available to customize your website to your exact specifications, whether you want it to be a blog, online store, portfolio, or company website.
Community Support and Documentation
A sizable and vibrant user, development, and design community exists within WordPress. This active community offers a wealth of assistance via forums, guides, and documentation. By using this abundance of information, you may rapidly find answers to any problems or inquiries you may have.
SEO-Friendly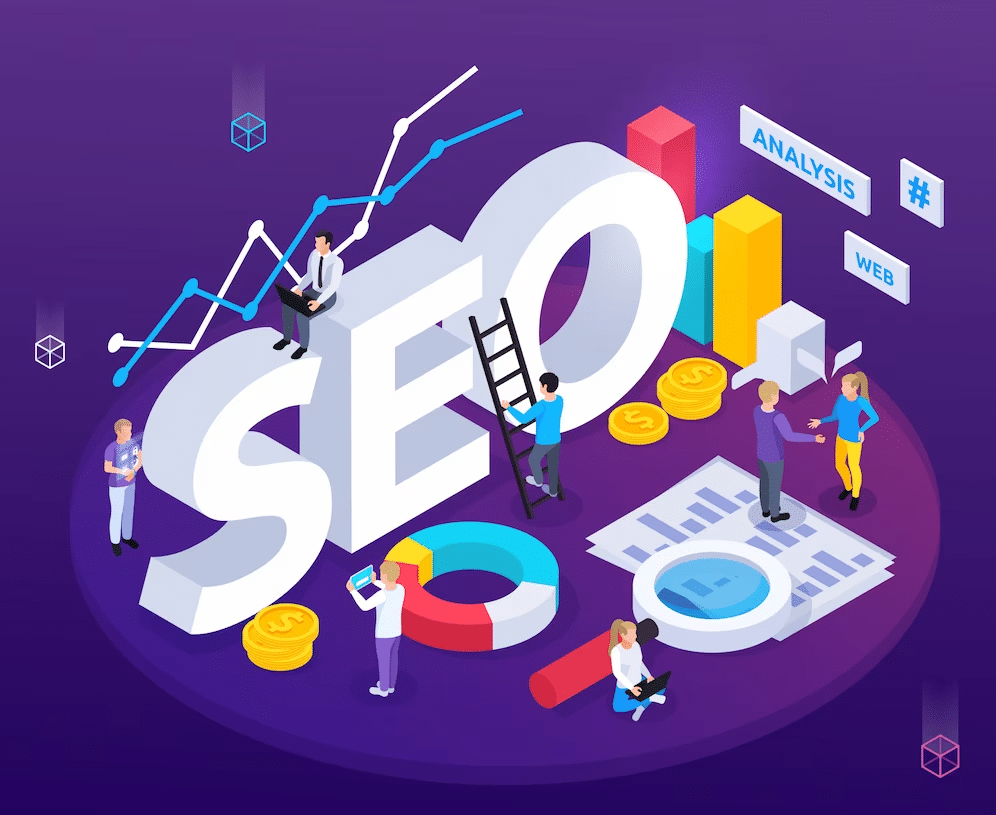 Credits: Freepik
WordPress has clean, optimized code that search engines adore, making it naturally SEO-friendly. Furthermore, users can enhance their website's visibility in search engine results by optimizing their content, meta tags, and other SEO aspects using multiple SEO plugins, such as Yoast SEO and All in One SEO Pack.
Scalability
WordPress can accommodate websites of any size due to its excellent scalability. WordPress can manage your needs, whether you're running a big e-commerce site or a personal blog. With a variety of plugins and extensions, you can simply grow your site's functionality and handle more visitors as it gets bigger.
Frequent Updates and Security
To address problems, optimize performance, and strengthen security, WordPress core, themes, and plugins undergo frequent updates. Additionally, WordPress has a specialized security team that strives to fix vulnerabilities quickly. You can keep your website safe and reliable by updating the plugins and WordPress installation.
Multilingual Support
With WordPress, users may develop websites in numerous languages thanks to its multilingual support. WPML (WordPress Multilingual) plugins, for example, make translation and localization simple and allow you to share your content with a worldwide audience.
Disadvantages
Learning Curve for Sophisticated Customization
Although WordPress is easy to use for simple tasks, it frequently requires familiarity with HTML, CSS, and PHP for sophisticated customization. The learning curve for users wishing to create custom plugins or alter themes may be high, requiring technical know-how or the employment of a developer.
Security Threat Vulnerability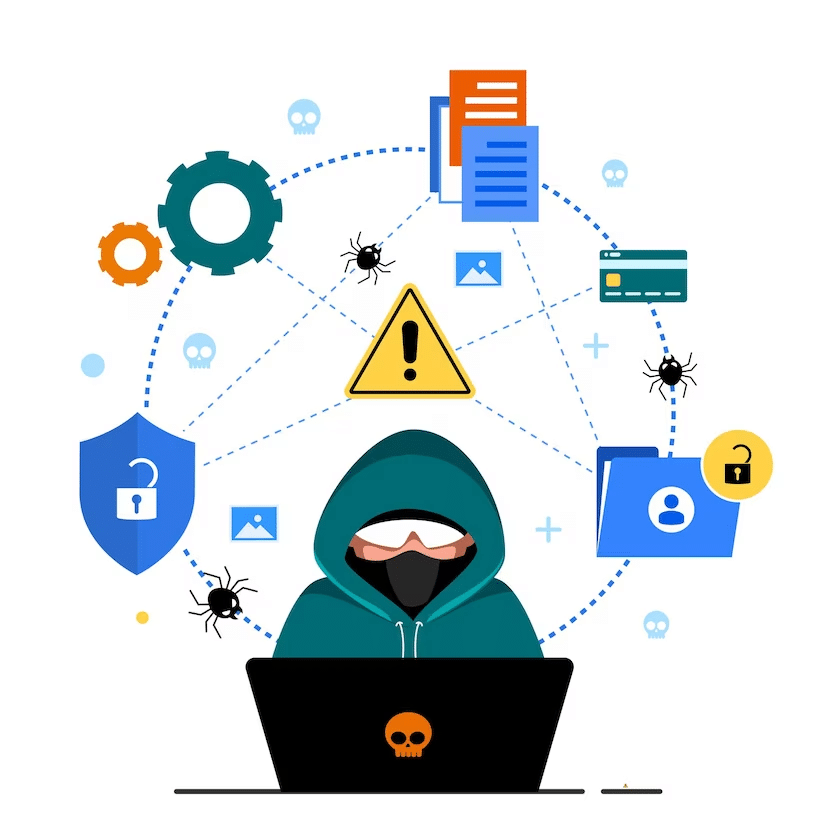 Credits: Freepik
Because of WordPress's widespread use, hackers and harmful software target it. Websites with out-of-date core files, plugins, or themes are especially weak. Website owners must remain alert and proactive to maintain security, even though security plugins and routine upgrades help reduce dangers.
Performance and Speed Optimisation
WordPress websites may not be optimized for speed and performance right out of the box. Excessive plugins, badly developed themes, and large graphics can cause the website to load slowly. Technical expertise or the usage of caching plugins, image optimization tools, and other speed-enhancing technologies are frequently needed for performance optimization.
Problems with Plugin Compatibility
Although plugins increase WordPress's capability, not all of them are well-written or kept up-to-date. Conflicts between plugins or between plugins and the WordPress version might result in unexpected behavior, crashes, or errors on the website. To prevent incompatibilities, users need to pick their plugins wisely and keep them updated.
Updating and Maintenance
WordPress websites require frequent updates. This covers the core, themes, and plugin updates for WordPress. Updates are essential for performance and security, but occasionally, they break key features or designs, necessitating more time and work to fix problems and guarantee the website works as intended.
Support Quality Variability
WordPress offers a large community and a wealth of resources, yet the level of support varies. Users of free plugins and themes may have to rely on community forums as they may not receive dedicated assistance. Although support for premium themes and plugins is frequently higher, quality varies among suppliers.
Dependency on Third-Party Services
To enable features like email marketing, payment gateways, and social media integration, WordPress websites frequently rely on third-party services. Relying on outside services may put you in danger if there are interruptions or outages in such services. Selecting trustworthy service providers is crucial to reducing any problems.
Key Features of WordPress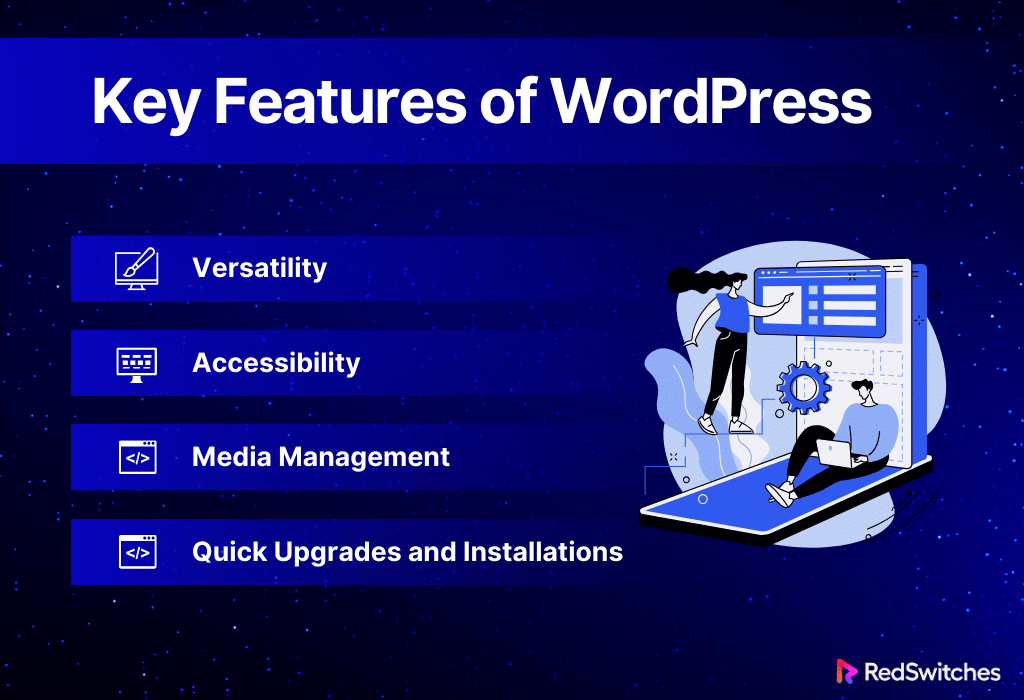 Before going into our core section of the Weebly vs WordPress debate, let's learn about the key features of WordPress.
Versatility
You may build any kind of website using the WordPress platform, including personal blogs, corporate blogs, photoblogs, travel blogs, news sites, etc. WordPress plugins and themes are available for use in website development. With WordPress, you can pick from more than a thousand plugins and themes to improve the look and feel of your website. Plugins can be set up in a matter of minutes.
Accessibility
You may quickly and easily install and set up a WordPress site without any technological expertise. Here, you can quickly set up a blog and maintain and customize your websites with ease. Your content management is made simple with WordPress. You can schedule and publish your blogs here as you choose. Additionally, you have chosen to create your own material.
Media Management
You can choose from and quickly upload images and movies in the WordPress media library. It improves the depth of the content on your website. Drag the media content from your PC and drop it into the uploader to have it posted if you want to add content or photographs. Audio, video, image, and document media files can be dropped, dragged, filtered, ordered, and customized.
Quick Upgrades and Installations
The installation and upgrade processes for WordPress are quick and easy. As a result, installing and upgrading is simple. Thanks to one-click installers provided by web hosting, you may install WordPress with only one click.
11 Differences Between Weebly vs WordPress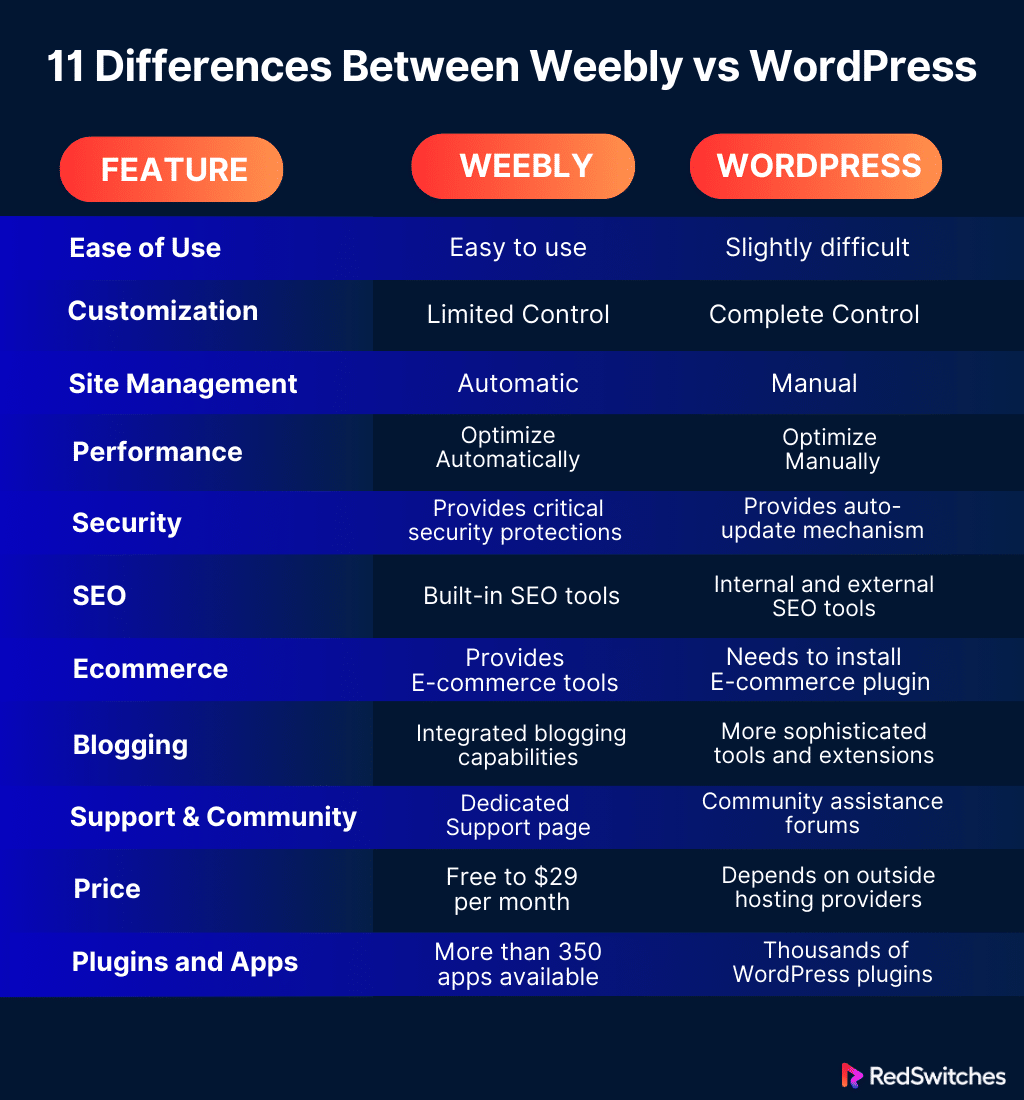 Now, coming to the core focus of our blog, in this section, we are going to explore 11 key differences that are important for our Weebly vs WordPress argument.
Weebly vs WordPress: Ease of Use
In the Weebly vs WordPress debate, the first critical difference between Weebly and WordPress is the user-friendliness of both website-building platforms.
Weebly
The Primary argument that favors Weebly in the Weebly vs WordPress debate is that one of the easiest website builders available for beginners is Weebly. Thanks to the platform's contemporary plug-and-play themes, user-friendly drag-and-drop design interface, and basic capabilities for altering fonts and colors, anyone can create and launch a beautiful Weebly website in a matter of hours.
Additionally, adding and categorizing standard pages, blog entries, and product pages is simple. Custom drop-down menus can also be made.
Users can get started with great ease by using the platform's templates. These sleek, expertly crafted themes are responsive, guaranteeing that websites display well across various gadgets, including PCs, tablets, and smartphones.
Users can select a plug-and-play template from Weebly's selection that matches their brand or personal preferences, as the platform caters to several industries and styles.
WordPress
WordPress has the steepest learning curve out of all the best website builders for individuals and small businesses. Setting up a WordPress website takes time, and decision-making and research are usually involved. You must first choose a hosting company, a theme, and whether to utilize a page builder plugin or the built-in WordPress page editor capabilities.
After installing WordPress, users are presented with options for themes and plugins. Even if the site has a huge collection of themes, customers must choose one that suits their tastes and requirements.
Another level of complication is choosing between using the integrated WordPress editor and a page builder plugin. Similar to Weebly, page builders offer drag-and-drop capability; however, to select the best one, compare features, usability, and compatibility with themes and plugins.
Weebly vs WordPress: Customization
When it comes to customization in the Weebly vs WordPress debate, WordPress offers greater flexibility.
Weebly
While you can change the look of your Weebly website, you might not be able to change certain elements or capabilities. You are limited to what Weebly allows you to do.
Additionally, Weebly has a marketplace where users may purchase extra integrations and apps to increase the functionality of their websites. However, the selection of apps may not be as wide or diverse as what is offered by the WordPress ecosystem.
Although the platform includes necessary functionality, individuals with particular or unusual requirements may discover that Weebly's restrictions restrict their options.
WordPress
Conversely, you have complete control over your site and tool functionality while using WordPress.
The vast ecosystem of plugins available for WordPress is one of its key benefits. Thousands of plugins are accessible, and each one has a distinct function. There is probably a plugin out there that can fulfill users' expectations, whether related to social network integration, e-commerce capabilities, membership systems, or sophisticated SEO tools.
With the help of these plugins, users can add features and capabilities that are specifically matched to their needs, greatly expanding the fundamental capability of WordPress.
Weebly vs WordPress: Site Management
Regarding site management in the Weebly vs WordPress argument, Both offer significant benefits.
Weebly
Weebly's ability to handle most upkeep responsibilities is a significant benefit of using the platform to create a website. You don't need to routinely update the software or check your website for security flaws because Weebly performs these tasks for its users.
This builder also enables you to change website configurations from the editor's Settings. It allows you to manage cookies, manually enable SSL, set the date and time format, archive posts and pages, and set up 301 redirects.
WordPress
You may customize practically every aspect of the site management process using WordPress.
The primary choices, including General, Writing, and Reading, are found in the Settings menu, accessible from the dashboard. Additionally, you can modify several site setup options, such as changing the permalinks for your posts and pages, choosing the site's language, and enabling or disabling comments.
Weebly vs WordPress: Performance
A good platform must provide consistent performance. Pages on a well-performing website load rapidly for a seamless user experience. Let's understand how performance differs in the Weebly vs WordPress debate.
Weebly
You mainly depend on the platform to maintain your website's speed because Weebly optimizes your website automatically.
By adopting an optimized theme and avoiding adding too many apps, Weebly website owner can speed up their website. Additionally, consider routinely performing website audits with programs like PageSpeed Insights.
By selecting a lightweight and practical optimized theme, Weebly website owners can further increase the speed of their website. It's also essential to refrain from using plugins and apps excessively, as each adds to the website's complexity and affects its functionality.
Users can proactively address performance issues by doing regular website audits and identifying areas that require improvement with tools like Google's PageSpeed Insights.
WordPress
With WordPress, you should pick a web host with reliable server performance and cutting-edge technologies. This is crucial if you use your website to host large files or run resource-intensive operations.
An eCommerce website, for instance, requires more resources, whereas a personal website can function on a shared hosting package at the beginning level.
Apart from picking a reliable hosting company, users may further optimize their WordPress websites by selecting well-coded and lightweight themes. To improve the speed and responsiveness of their websites, users can also use caching solutions, content delivery networks (CDNs), and performance-oriented plugins.
Weebly versus WordPress: Security
When you don't put enough security measures in place, websites may become susceptible to cyber attacks. For instance, a website might be compromised if you use obsolete systems, install pirated software, or misuse login credentials. You run the risk of deleting your website files and disclosing private data as a result.
Which platform provides the most security measures? Let's find out in our Weebly vs WordPress security debate.
Weebly
Weebly is a managed service, so your website already has critical security protections implemented. Additionally, all plans on this platform come with a free SSL certificate, and the servers are secured with frequent virus scans. However, as Weebly is responsible for the security of the websites it hosts, there are no settings you may change to suit your preferences.
Secure Traffic, for example, may be purchased from the Weebly App Centre and other apps that can defend your website from unwanted visitors and block IP addresses.
WordPress
Although the WordPress core software is secure, anytime a new release is made, upgrading the CMS version is imperative.
This is because out-of-date software, such as third-party themes and plugins, is a significant driver of cyber threats. To ensure that the website is running the most recent versions of the third-party software, activate WordPress auto updates.
WordPress's core program has an auto-update mechanism activated for maintenance and security updates.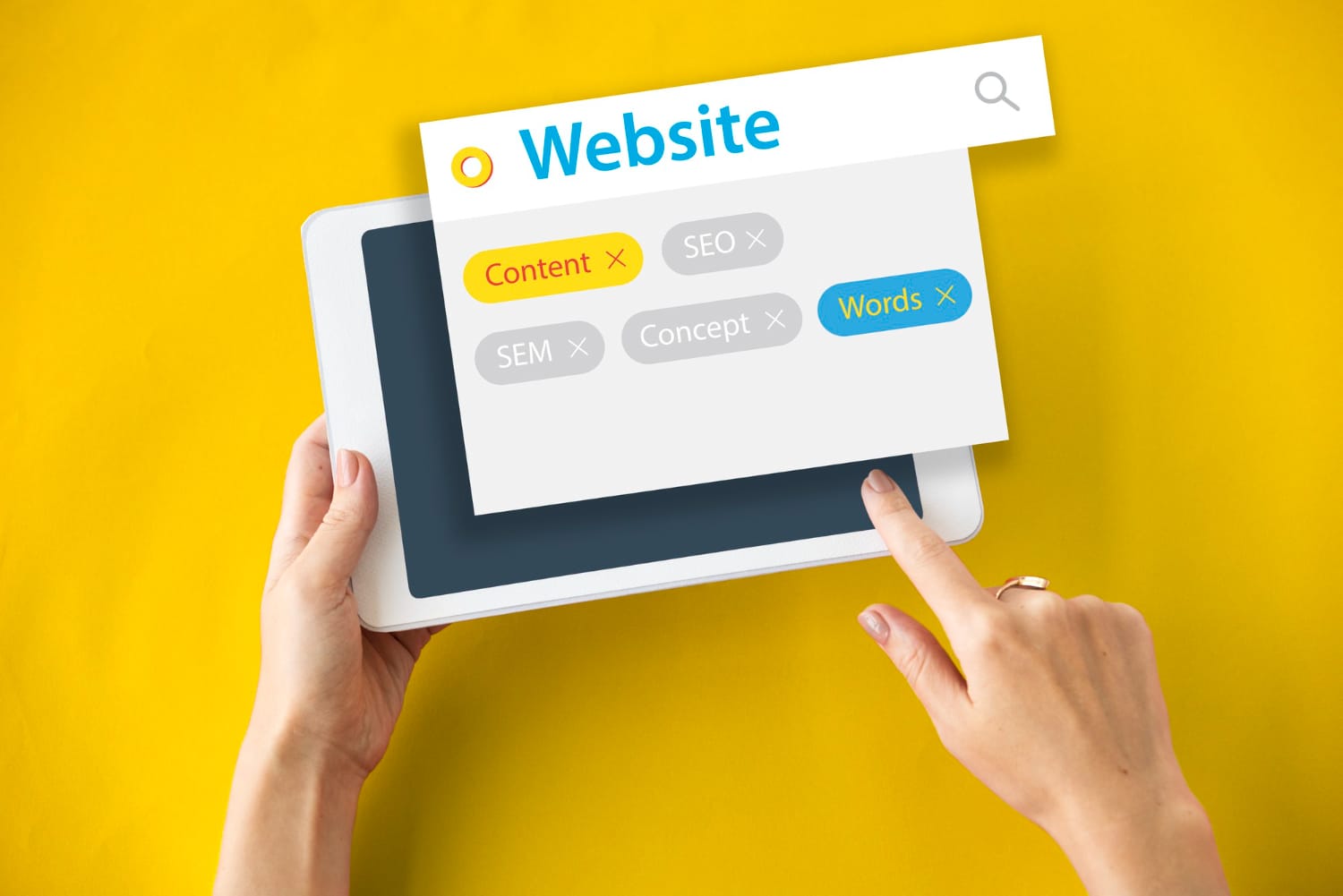 Credits: Freepik
Weebly vs WordPress: SEO
After developing your website, the following step is ensuring your target audience can find you. SEO is one of the best organic marketing strategies you can use for your website. The first-placed article on search engine results pages (SERPs) is 10 times more likely to be clicked on. Let's go through our Weebly vs WordPress debate about SEO.
Weebly
With few options, Weebly's essential built-in SEO tools are practical. You can customize page permalinks, alt text for pictures, canonical tags, and 301 redirects. You can also customize page titles and descriptions. Additionally, this site builder has an HTML layout that is search-engine friendly.
Installing apps from the Weebly App Centre, such as Traffic Booster, will provide you access to extra SEO capabilities. Unfortunately, most of them are expensive apps, and very few of them have good reviews.
WordPress
WordPress provides a wide range of internal and external SEO tools. You'll be able to get more organic traffic by utilizing them and adhering to the most excellent WordPress SEO practices.
For instance, install the Yoast SEO plugin to support your optimization efforts. It is the most well-liked freemium SEO plugin with canonical URLs, meta tags, sophisticated sitemaps, and Schema integration features.
As you're writing your content, Yoast's on-page SEO analysis feature can assist you in optimizing it. Giving you a score for your post, it advises which key phrases to concentrate on and how readable they are overall.
Weebly vs WordPress: Ecommerce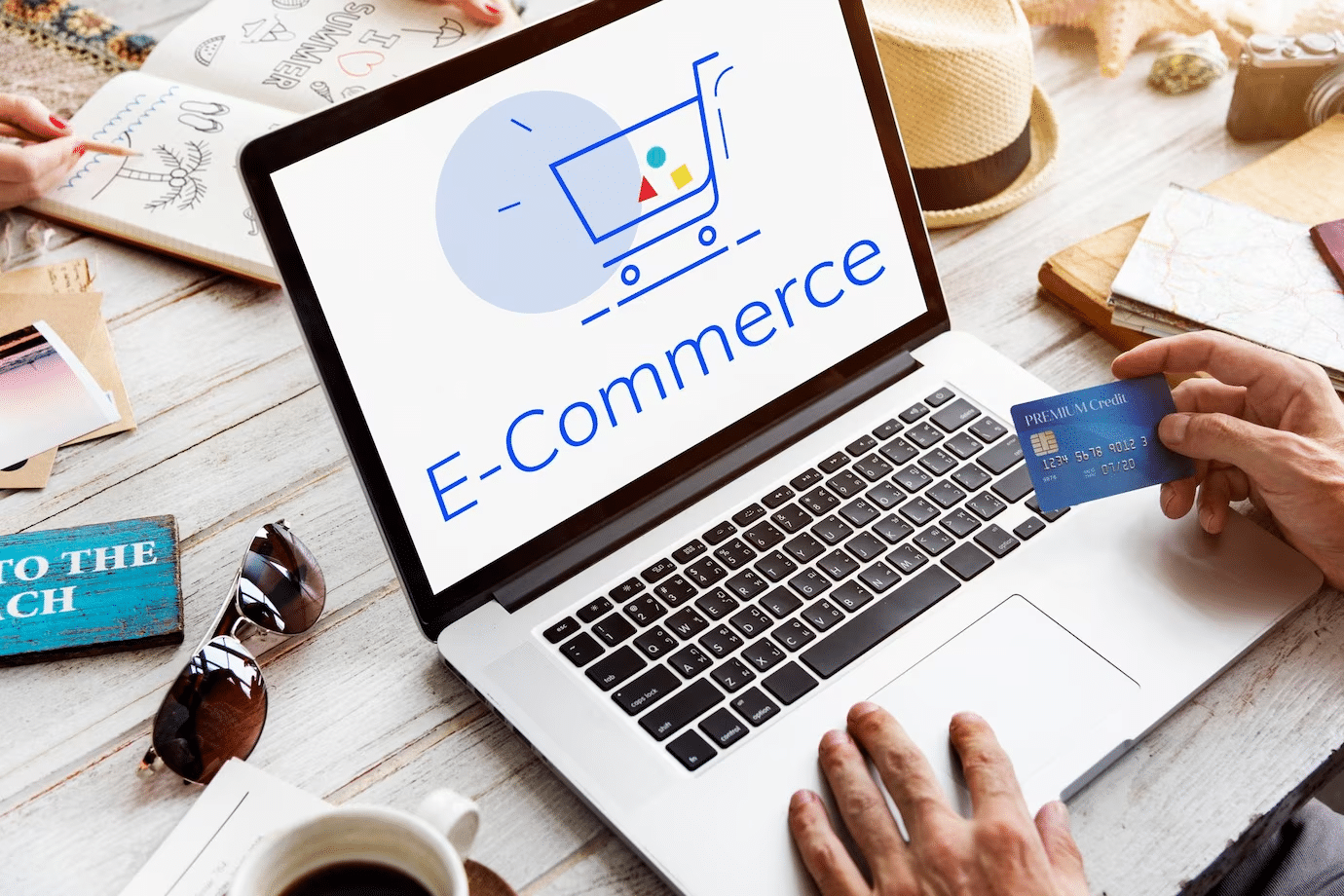 Credits: Ecommerce
Selecting a hosting package with eCommerce-specific features is crucial if you intend to sell goods or services on your website. A solid online store plan should include a shopping cart, payment gateways, shipping choices, inventory management, and an automatic tax calculator.
Regarding Ecommerce, let's understand which is better, Weebly vs WordPress.
Weebly
The plans offered by Weebly include fundamental eCommerce capabilities, including inventory control, limitless goods, an automatic tax calculator, item badges, shopping carts, and choices for in-store pickup.
Weebly's mid-range plan, Personal, includes additional eCommerce tools like digital items, shipping calculations and labels, and pop-up notifications. It only allows you to connect to a custom domain name from a different registrar.
You must select the most expensive plan, Performance, which costs $26/month when paid annually, to receive a free domain name and advanced eCommerce features like abandoned cart emails, item reviews, PayPal payments, and in-depth eCommerce insights.
WordPress
To start an online store, you must install an eCommerce plugin on your WordPress website. One of the most incredible options is WooCommerce because it has a wide range of capabilities, including an adaptable storefront interface, customizable branding, and inventory optimization.
WooCommerce is open-source, adaptable, and developer-friendly software, much like WordPress. After installation, you can start building an online store. People who know how to code can alter WooCommerce to suit their tastes.
Weebly vs WordPress: Blogging
Credits: Freepik
Any website that publishes frequent and pertinent content will profit from blogging tools.
Writing blog entries for your company can help you reach your consumers, discuss product updates, and generate new prospects.
Weebly vs WordPress: Whose blogging capabilities are better? Let's understand.
Weebly
Weebly has several integrated blogging capabilities that are simple to use and cover all the essentials.
Adding and customizing blog post content is more straightforward with its drag-and-drop editor. Additionally, Weebly offers sidebar customization, categories, and tags. These tools make organizing your posts and changing the sidebar's content easier.
Additionally, it has comment management features that enable you to control and link the Facebook and Disqus comment sections.
WordPress
Since blogging was the original purpose of WordPress, it offers all the functions offered by Weebly in addition to many more sophisticated tools and extensions.
You'll have more control over your blog if you use WordPress. For instance, WordPress allows you to define and manage user roles and permissions. Additionally, you may set a password for articles and pages and customize the blog category.
You can import content into WordPress from other blogging platforms, including Blogger, Drupal, and LiveJournal. In addition, you can control website comments using the Discussion Settings.
Weebly vs WordPress: Support & Community
A solid website platform should have a support group to assist users with problems and inquiries. The support staff should ideally be available around the clock, speak several languages, and provide live chat or phone help.
This section will contrast the customer assistance offered by Weebly vs WordPress.
Weebly
A dedicated Support page on Weebly includes a knowledge base and tutorials. Additionally, it offers Weebly Blog and Inspiration Centre sections with advice and tutorials to assist you in developing your own website or online store.
Additionally, this website builder features an automated chat feature that may assist you with various queries, from billing to eCommerce problems. You will converse with a bot who can only respond to the questions listed in the pop-up window.
If that doesn't work, you'll have to email their customer care, who will respond during regular business hours.
WordPress
A customer service department does not serve customers of WordPress. However, you can ask for help from the customer support staff of the web host firm.
WordPress also offers various community assistance forums that users use to assist one another. If you feel more comfortable asking questions in your native tongue, it also offers several forums that are localized.
However, you might not get a prompt answer since volunteers rather than WordPress professionals vet these articles.
Weebly vs WordPress: Price
So which one is cheaper or which one is more costly? Let's understand the cost aspect in the Weebly vs WordPress argument.
Weebly
Weebly offers price plans that vary from free to $29 per month, and purchasing yearly for paid plans can save you about 10%. Although the free plan places Square branding on your website and store pages and has storage restrictions, all plans offer e-commerce sales tools.
In addition to unlimited storage, a free domain name for a year, more store features, and priority phone assistance, paid options also remove the Square logo.
Weebly applications can be added to provide functionality like membership sales, built-in shipping labels, and SEO tools, but most apps have yearly or monthly fees.
WordPress
Even though WordPress is a free content management system, you still need a hosting company to store and run your website. However, for e-commerce sites, business websites, and monetized blogs, premium hosting with unlimited storage and security features is a superior option.
Paid hosting costs and features vary, but reputable companies typically provide budget-friendly starter plans with monthly costs between $1 and $40.
Most plans include a domain name, backups, basic design themes, and built-in security. Although many offer free basic versions, adding plugins might raise the cost of your WordPress site.
Weebly vs WordPress: Plugins and Apps
Concerning plugins in the Weebly vs WordPress argument, WordPress looks like the ideal choice.
Weebly
More than 350 apps are available in the Weebly app store, which enhances Weebly stores' sales capabilities, performance, and user-friendliness. A few are cost-free, while most involve one-time, ongoing, or yearly fees.
Weebly applications work with the existing sophisticated Weebly platform to allow you to create distinctive user experiences, increase marketing efforts, and more effectively manage posts, pages, and online transactions.
WordPress
There are thousands of options for WordPress plugins, which provide a wide range of functionality to a WordPress website. Although each plugin is a distinct tool with a different learning curve, it enables WordPress to be incredibly versatile in terms of design, user experience, content management, sales capabilities, and scalability. Since many provide free versions, experimenting with different plugins is relatively affordable.
Conclusion
Website owners must pick the best platform and understand what to expect. Weebly and WordPress are excellent choices for novices, but each has advantages and disadvantages
Weebly's drag-and-drop editor makes it simpler to use than WordPress. WordPress, meanwhile, provides Weebly with less performance and customization choices.
In conclusion, Weebly is a good option for beginners who wish to build straightforward websites. WordPress is a superior choice to scale your site while maintaining its uniqueness.
Regardless of your decision on Weebly vs WordPress, RedSwitches guarantees dependability, security, and excellent performance for your website, which may be easily linked with both platforms.
We power your Weebly or WordPress website so you can confidently concentrate on developing engaging content and attractive designs. Make the most of your online experience by choosing a platform that supports your objectives, and give us the task of taking your web presence to new heights.
FAQs
Q. Is Weebly better than WordPress?
The choice depends on your preferences; Weebly is user-friendly with a drag-and-drop interface, ideal for beginners. WordPress offers greater versatility and customization for those with more technical needs.
Q. Weebly vs WordPress: Which is cheaper?
For novices, Weebly might be more affordable, although WordPress gives a more extensive selection of pricing alternatives based on your needs.
Q. Does Weebly host your website?
Yes, Weebly includes hosting as part of its service. This means that when you use Weebly to build your website, you don't need to search for a web host or manage server hosting alone. Weebly takes care of the hosting aspect, simplifying the overall website management process for users.
Q. How many plugins does WordPress contain?
WordPress boasts over 59,000 plugins, one of the largest libraries globally, enabling extensive customization and functionality additions to cater to diverse website requirements.
Q. What are the key differences between Weebly and WordPress?
Weebly is a drag-and-drop website builder that makes it easy to build a website, whereas WordPress is more flexible and offers more customization options.
Q. Is Weebly free to use compared to WordPress?
Weebly offers a free plan, but additional features and functionality may cost anywhere from a few dollars to a monthly subscription fee. On the other hand, WordPress software is free to use, but you may need to pay for hosting and additional plugins to fully customize your site.
Q. How do Weebly and WordPress compare in terms of website building?
Weebly is known for its intuitive drag-and-drop interface, making it easy for beginners to create a site. However, WordPress offers more customization options and is often preferred by users looking for greater design and development control.
Q. Can I build an online store using Weebly or WordPress?
Yes, both Weebly and WordPress offer eCommerce capabilities. Weebly has a built-in store feature, while WordPress requires the use of plugins or integrations to set up an online store.
Q. What are the advantages of using WordPress over Weebly?
WordPress is an open-source platform with a vast directory of themes and plugins, allowing for extensive customization and scalability. Additionally, WordPress powers a significant portion of websites on the internet, providing a strong community and support network.
Q. In terms of flexibility, which is better, Weebly or WordPress?
WordPress is more flexible in terms of design and functionality, as it offers endless customization possibilities through themes and plugins. Weebly, while user-friendly, is a bit more limited in terms of customization options.
Q. Is WordPress hosting free compared to Weebly?
WordPress itself is free, but you will need to pay for hosting services to make your website accessible on the internet. Weebly offers both free and premium hosting options, depending on your specific needs.
Q. What makes Weebly stand out in comparison to WordPress?
Weebly's drag-and-drop website builder and user-friendly interface make it a great choice for individuals and small businesses looking to quickly set up a website without the need for technical skills or extensive customization.
Q. What are the primary differences in the dashboard interface between Weebly and WordPress?
Weebly provides a simple, all-in-one dashboard where users can manage their site content, design, and settings. In contrast, WordPress offers a more complex dashboard that provides extensive control over various aspects of the website, catering to users with diverse requirements.
Q. Can I easily migrate from Weebly to WordPress or vice versa?
While both platforms allow for data export and website migration, the process may vary in complexity and may require technical expertise, depending on the size and complexity of the website. It's advisable to seek professional guidance or assistance when considering a migration between Weebly and WordPress.