If we fast forward to a few years back, the website-building task was time-consuming, hectic, and expensive. With the advent of the digital revolution, building a website couldn't be simpler.
As more and more businesses moved online, there was a need for more robust and user-friendly website builders. Today, there are countless best eCommerce website builders available where entrepreneurs can build an eCommerce website free of cost.
This guide will review what a website builder is and explore the top 10 website builders with eCommerce prowess to help readers determine what is the best eCommerce website builder for their specific needs and requirements.
Table of Contents
What is an eCommerce Website Builder?
Before discussing the best website builders with eCommerce expertise, it is essential to review what an eCommerce website builder is and why businesses must use a website builder with eCommerce capabilities.
An eCommerce website builder can be described as a platform or software that allows eCommerce businesses to build websites. Since website building requires a profound understanding of the steps of creating a website, it may be impossible for an individual without experience building a website to excel at this task.
Website builders with eCommerce expertise help bridge this technical knowledge gap by offering users a convenient and effortless way to design, customize, and launch a high-quality website.
Through a website builder with eCommerce capabilities, businesses can design a stellar website in a fraction of the time it used to take.
If you have not used a website builder before and are wondering why you must use eCommerce website builders, here are some compelling reasons:
Why Use eCommerce Website Builders?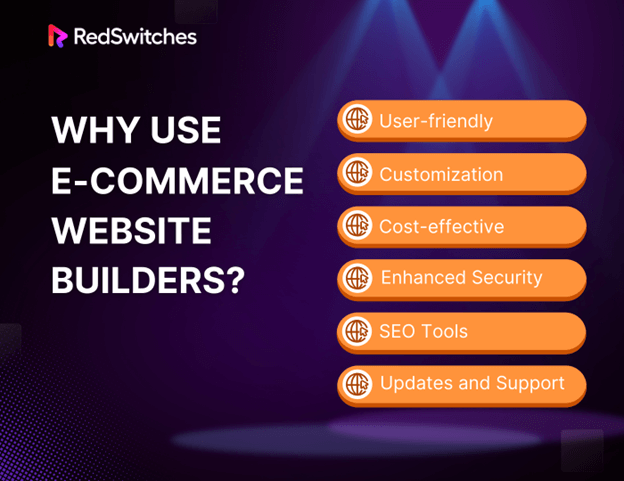 One of the primary reasons one must use eCommerce builders to create their website is the ease of use that comes with website builders.
Website builders come equipped with several unique design features like pre-designed templates and drag-and-drop interfaces that add an element of ease and convenience to website building.
The pre-designed website templates allow users to pick a template that best fits their brand and overall vision. Each template on these website-building platforms caters to a different aesthetic and industry.
This helps ensure that every user – whether looking to build a website for a business in the fashion or healthcare industry – can find an appropriate website design that fits their brand's aesthetics.
The drag-and-drop interfaces add a new layer of convenience and ease to the website-building process. This feature allows users to easily arrange elements on their website, eliminating the need for coding.
Another impressive feature of website builders with eCommerce potential is their ability to offer extensive customization options. For example, users can custom-create unique website layouts through website builders by incorporating new sections or rearranging elements.
One can also incorporate branding elements like unique color schemes, fonts, and logos into their website layout through website builders. These features empower users to leverage color psychology and visuals to create high-performance websites.
Building an eCommerce website without using website builders with eCommerce expertise can incur significant costs. This task requires one to hire professionals like web developers and designers.
Website builders with eCommerce potential can be cost-effective, allowing one to build websites for free or with minimal fees. When researching website builders, individuals have two choices. They can choose a free online eCommerce website builder or a website builder featuring cost-effective subscription plans.
While free website builders are ideal for individuals on a budget, they may come with minimal customization features. For example, WordPress is free, but you must buy separate hosting with it.
Shopify has a free trial, but it comes with terms and conditions. For example, if you add apps to your store during the free trial period, you must pay the app-related charges on your next invoice.
Website builders with subscription plans can be excellent for individuals willing to spend minimal funds for website builders' subscriptions in return for advanced features and customization options.
Web security is a critical consideration for anyone building a website. Businesses that don't prioritize website security risk their data integrity and the spread of malware attacks on other websites, IT infrastructures, and networks. This is why an important element of website creation is to add all essential security measures to keep cyber thieves and hackers from accessing sensitive information.
Many website builders with eCommerce prowess have security features like SSL certificates and encryption. This allows businesses to create secure websites and have the peace of mind that all sensitive information and customer data are protected from hackers.
When building a website, one primary aim that most eCommerce businesses want to achieve is high visibility on search engines. SEO (Search Engine Optimization) tools and implementations can help businesses achieve this.
Many website builders with eCommerce capacity offer built-in SEO features like alt text, meta tags, etc. These features can help businesses integrate SEO elements into their website layout during the design process.
Some website builders also allow users to integrate third-party SEO plugins. This can significantly help users boost their website's search engine rankings and ensure it remains competitive in the search results.
The digital landscape is constantly evolving. This makes it essential for businesses to remain updated on the software changes and updates in the latest technologies. Most website builders with eCommerce expertise prioritize updating their customers on the latest technologies and features, allowing them to maintain a competitive edge.
Some website builders platforms also go the extra mile by offering 24/7 support to their clients. This will enable them to achieve the title of the best website builder for eCommerce and ensure customer satisfaction. The ability to get support during website creation and management removes stress from the task of website creation and management.
Best eCommerce Website Builders: Top 10 Recommendations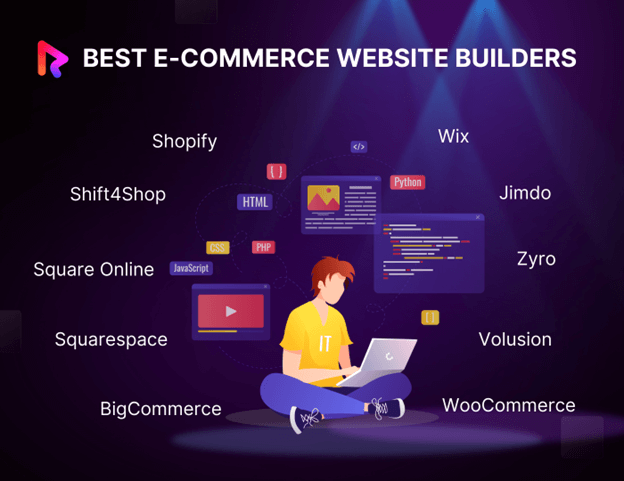 With countless website builders with eCommerce potential available online, it can become difficult and overwhelming for businesses to decide which eCommerce website builder is best for them.
Deciding which website builder will be ideal for you requires you to weigh the pros and cons of the website builder and consider factors like pricing.
Below is a comprehensive list of the top 10 best eCommerce website builders to determine the answer to 'what is the best website builder for eCommerce':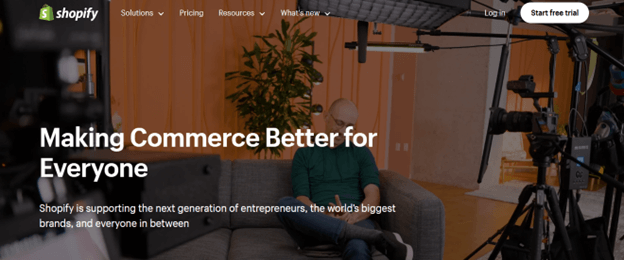 Shopify ranks number one among the website builders with eCommerce capabilities. It is known for offering comprehensive drag-and-drop website-building tools and features. Users can conveniently use Shopify to build online and offline stores. Below is a detailed list of the pros and cons of using Shopify:
Pros vs Cons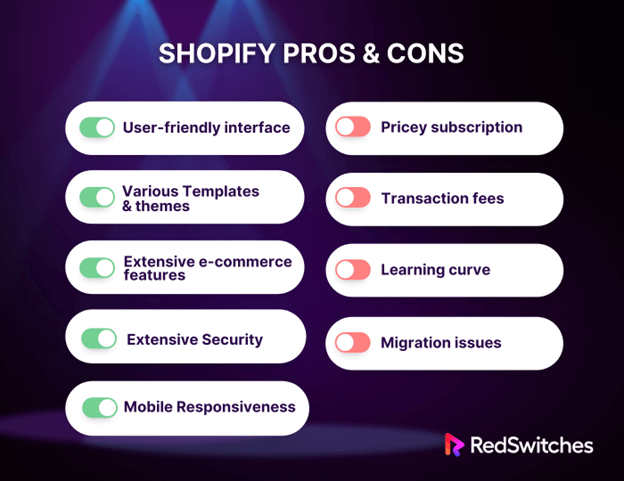 Pros
User-Friendly Interface: Shopify is an incredibly easy-to-use eCommerce website builder. Its user-friendly interface has features like an intuitive drag-and-drop builder, a user-friendly dashboard, and straightforward navigation. This makes it accessible to even the least tech-savvy users.
Various Templates: Shopify offers countless design templates and store-front themes catering to different industries and styles. Users can effortlessly browse and choose visually appealing store designs and create unique online stores.
Extensive eCommerce Features: From product variations and inventory management to secure payment processing and shipping options, Shopify boasts a comprehensive list of eCommerce functionalities.
Security: Shopify includes extensive security features like fraud protection, encryption, and SSL certification. This allows businesses to ensure the safety of customer data and transactions.
Mobile Responsiveness: Shopify allows businesses to ensure their online stores are mobile-friendly. This feature empowers businesses to provide optimal shopping experiences to their customers across various devices, like tablets and smartphones.
Scalability: Shopify is the best eCommerce site builder for small and large businesses. It offers plans that fit all budgets and are suitable for small startups and large corporations -making it a scalable solution.
Cons
Pricey Subscription: Shopify is not free. Although it offers several pricing plans to accommodate different budgets, it can be more expensive for smaller businesses than other website builders.
Transaction Fees: Shopify charges transaction fees besides the monthly subscription fees. Users can be charged transaction fees even when not using Shopify Payments.
Learning Curve: While Shopify is user-friendly, it can be challenging to understand for users who may be entirely new to eCommerce. Some users may struggle to understand the platform's features and settings.
Migration issues: Moving an existing store from Shopify to another platform can be difficult and time-consuming. Businesses may have to deal with data transfer issues during migration.
Pricing
Users can try out Shopify for free for the first three days and then avail of $1/month for three months. The platform offers three pricing plans:
Basic: The Basic Plan is for individuals and small businesses. Its monthly subscription price is USD 25.00. The plan includes basic reports, 1,000 inventory locations, and two staff accounts.
Shopify: The Shopify plan is ideal for small businesses. It is priced at USD 65 per month. It includes features like professional reports, 1,000 inventory locations, and five staff accounts.
Advanced: The advanced plan is targeted toward catering to the needs of medium to large businesses. It is priced at USD 399.00 per month. The plan includes advanced features like a custom report builder, 1,000 inventory locations, and 15 staff accounts.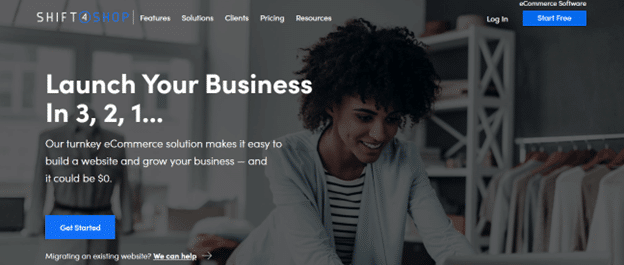 Shift4Shop, formerly known by the name 3dcart, provides eCommerce software to online businesses. The platform empowers businesses to build eCommerce websites free of cost. It has a free end-to-end plan (only accessible to US-based entrepreneurs).  Below is a detailed list of the pros and cons of using Shift4Shop:
Pros vs Cons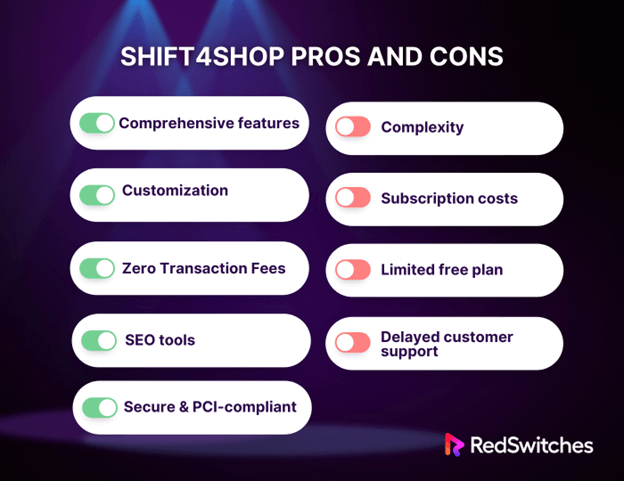 Pros
Comprehensive features: Shift4Shop offers extensive features for building and managing an online store. It includes everything from product catalog management and payment processing to order processing and marketing tools.
Customization: Shift4Shop comes with various customization features and designs. Businesses can experiment with features like parallax sliders and homepage banners. Users can also access over 40 professionally designed themes.
Zero Transaction Fees: Unlike other website builders, Shift4Shop doesn't charge transaction fees on sales. This feature can be ideal for small businesses looking to cut costs.
SEO Tools: Themes on Shift4Shop include mobile-friendly interfaces and SEO tools that meet Google's core update requirements. These features allow businesses to improve their reach naturally.
Secure and PCI-Compliant: Shift4Shop prioritizes security and is a PCI-compliant platform, which allows it to keep customer payment information secure.
Cons
Complexity: Various user reviews suggest Shift4Shop to be a complex platform for beginners. The extensive features offered by the platform may demand a steep learning curve.
Costs: Although Shift4Shop doesn't charge transaction fees, it does come with monthly subscription costs. Users are required to pay a monthly subscription fee to access the advanced features.
Limited Free Plan: While Shift4Shop offers a free plan, the free plan is quite limited. Free plan users can access only a handful of features and themes, forcing them to subscribe to the paid plan to use the more advanced features.
Delayed customer Support: While the platform offers 24/7 customer support for its users, some users have shown dissatisfaction with Shift4Shop's customer support due to issues like delays in response times.
Pricing
One can use Shift4Shop free of cost if they use Shift4 as their payment processor. The platform charges transaction fees (2.9% plus 30 cents for each transaction) and any credit card processing fees charged by the card provider.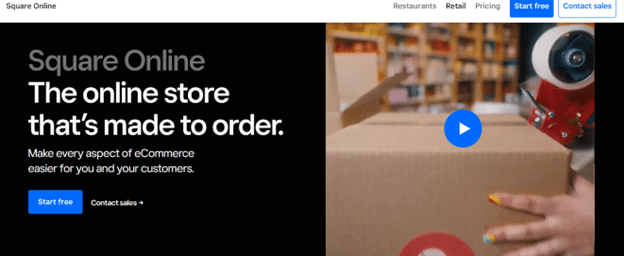 Square Online is among the top website builders with eCommerce capabilities due to its features, like the availability of free plans and built-in inventory management. The availability of a free plan makes Square Online the best small business eCommerce website builder for entrepreneurs looking for answers to 'how to create an eCommerce website for free.' Below is a detailed list of the pros and cons of using Square Online:
Pros vs Cons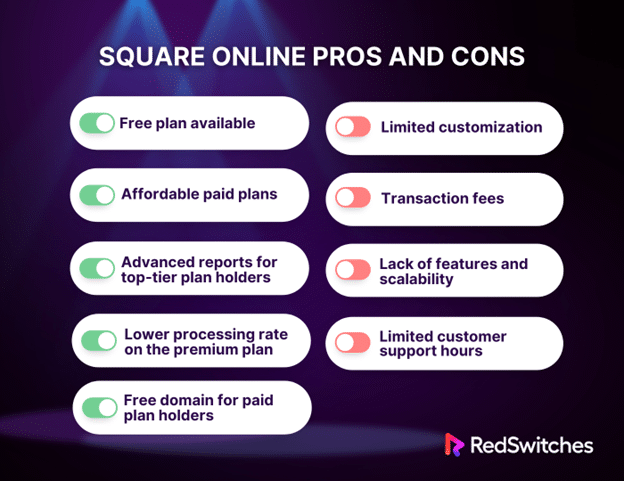 Pros
Free plan available: Square Online allows businesses to use their services free of cost through a free plan. This makes it ideal for individuals looking to create free eCommerce sites.
Cost-effective paid plans: Unlike competitors like Shopify, Square Online offers cost-effective payment plans, empowering even small businesses with tight budgets to enjoy advanced website-building features.
Advanced reports on top-tier plans: Top-tier plan holders gain access to advanced information, offering them comprehensive insight into their business's mechanics.
Lower processing rate on the Premium plan: Although premium plan holders may have to pay higher monthly subscription costs, they can avail of lower processing rates, saving significant funds in the long run.
Free domain for paid plan holders: Paid plan holders who might not already own a custom domain and might not be prepared to pay for a custom domain can create a free subdomain for your Square Online Site.
Cons
Limited Customization: Although users will find templates and customization options on Square Online, it may not provide the same flexibility as other website builders. This can limit users' ability to create website designs that fit their vision and brand.
Transaction Fees: Square Online users must pay transaction fees on top of its standard pricing. These fees can significantly add to users' overall expenses and exert financial strain on businesses with a high volume of online sales.
Lack of Features and Scalability: Square Online may be better suited for small to medium-sized businesses. The platform might lack the advanced features and scalability needed for large enterprises.
Limited Customer Support Hours: Customers have reported dissatisfaction with the customer service offered by Square Online due to issues like limited support hours and days.
Pricing
Users on Square Online can sign up on the platform for free. The platform offers three plans:
Free: The free pricing plan is ideal for users establishing their business. While users don't have to pay monthly subscription costs, there is a deduction (2.9% + 30¢) per transaction. The free plan includes features like a website builder with SEO tools, pickup, local delivery & shipping, selling on social media, etc.
Plus: The Plus pricing plan comes with a $29 monthly subscription. Users also have to pay 2.9% + 30¢ per transaction. The plan includes expanded site customization, uploading custom fonts, the ability to connect to a custom domain, etc.
Premium: The premium plan subscription costs $79 per month. Premium plan holders are charged 2.6% + 30¢ per transaction. The plan includes advanced features like lower processing rates, real-time shipping rates, premium customer support, etc.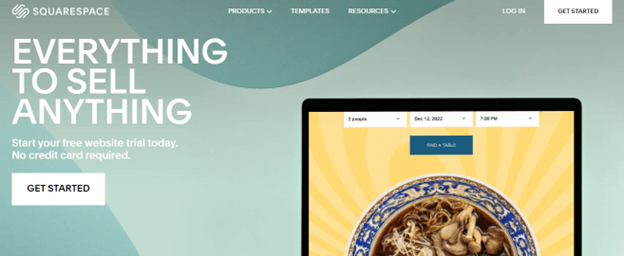 Squarespace is a promising platform among website builders with eCommerce capabilities. It is known for its ability to constantly evolve and update, offering users new features every few months. Below is a detailed list of the pros and cons of using Squarespace:
Pros vs Cons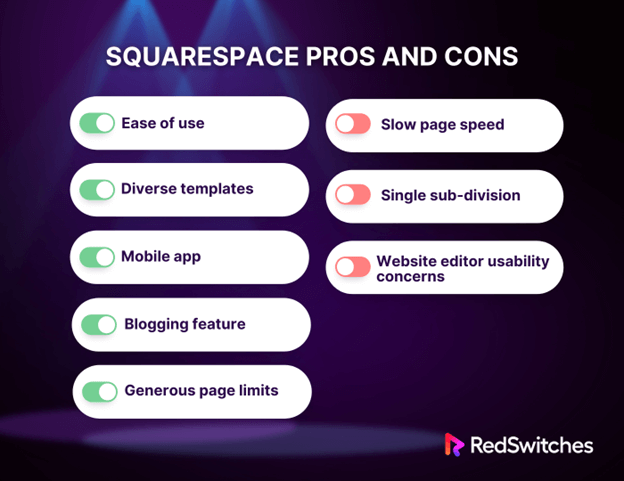 Pros
Ease of use: Users have reported Squarespace as an easy-to-use platform. Several user reviews show users appreciate that they can make edits on the platform.
Diverse templates: Squarespace features a diverse selection of over 140 themes. The themes on the platform are optimized for mobile devices. These templates are also customizable through the Design menu.
Mobile app: Squarespace offers four mobile apps. The primary app is available for both Android and iOS. This app allows comprehensive editing of various website elements, including blogs, online stores, and pages.
Blogging feature: Squarespace is ideal for businesses looking to incorporate a blog into their website. The platform offers a feature-rich blogging platform with options like multi-author collaboration, commenting, AMP support, etc.
Generous page limits: Squarespace sets itself apart from competitors by offering generous page limits. It can accommodate up to 1,000 pages. The platform recommends limiting websites to around 400 pages for optimal performance.
Support: Squarespace prioritizes prompt support through a live chat feature. Their support team is also known to go the extra mile by creating informative screencasts to guide users through specific complex tasks.
Cons
Slow page speed: Squarespace templates received low scores from the Google Page Speed Tool. Slow-loading templates can negatively influence important elements like SEO rankings and user experience.
Single sub-division: Squarespace lacks support for deep menu hierarchies. This limits the platform's ability to sustain larger websites.
Website editor usability concerns: User reviews suggest improvements for the website editor's usability through features like a sitewide undo button and autosave.
Pricing
Squarespace offers new users free of cost services for the first 14 days. Users can subscribe to four pricing plans:
Personal: The personal plan costs $16 monthly. The plan offers users access to features including customizable templates, mobile-optimized websites, free custom domains, etc.
Best value: The best value plan is $23 per month. It includes mobile-optimized websites, advanced website analytics, fully integrated eCommerce, etc.
Commerce (Basic): The commerce (basic) plan is priced at $27 per month. Save 25% annually. It includes features like Advanced website analytics, fully integrated eCommerce, 0% transaction fee, etc.
Commerce (Advanced): The commerce (advanced) plan costs $49 monthly. It includes advanced features like no transaction fees and all requirements by an advanced seller.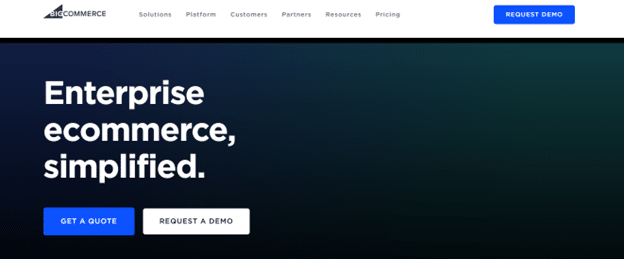 BigCommerce empowers businesses to build and design unique online stores.  The platform provides all essential elements, including a database for your products, storefront design, and inventory management to help businesses set up high-performance online stores. Below is a detailed list of the pros and cons of using BigCommerce:
Pros vs Cons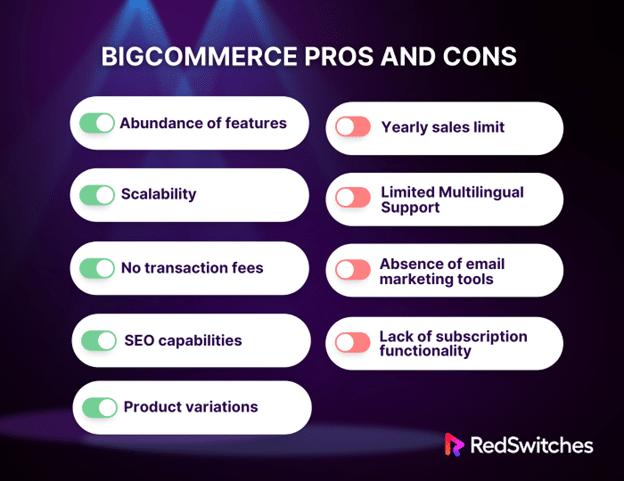 Pros
Abundance of features: BigCommerce is among the top website builders with eCommerce capabilities offering diverse features. The availability of various features allows users to cut costs related to other third-party applications.
Scalability: BigCommerce prioritizes serving both small and large businesses. The platform seamlessly scales to accommodate growth as an online store expands.
No transaction fees: BigCommerce does not charge transaction fees on their plans. This cost-saving benefit can be beneficial for small businesses with slim profit margins.
SEO capabilities: BigCommerce ranks number one in terms of SEO capabilities compared to other website builders with eCommerce The platform includes robust tools that can help users enhance their online presence.
Product variations: Creating product options and variants is straightforward on the platform. The platform doesn't restrict the number of products users can generate.
Cons
Yearly Sales Limit: Every BigCommerce plan has an annual sales limit. If a business's yearly sales surpass this limit, the platform automatically upgrades the business to a higher-tier plan, potentially incurring unexpected expenses.
Limited Multilingual Support: BigCommerce does not inherently provide multilingual options. Users might have to use a third-party application for this purpose.
Absence of Email Marketing Tools: Unlike its competitors, BigCommerce does not offer diverse email marketing tools. Users looking for email marketing features may have to invest in a third-party app for email marketing purposes.
Lack of Subscription Functionality: Users wishing to sell subscriptions or accept recurring payments must procure a third-party app, as this feature is not included in BigCommerce's offerings.
Pricing
BigCommerce offers users free services for the first 15 days. Users can subscribe to four different pricing plans:
Standard: The Standard plan costs $39 (currently on sale for $29) monthly. Small businesses can start selling their products online through a unique custom-created online store.
Plus: The Plus plan is BigCommerce's most popular plan. It costs $105 (Currently on sale for $79) per month. It allows businesses to grow their online store through marketing tools.
Pro: The Pro plan costs $399 (currently on sale for $299) per month. It includes a comprehensive set of features ideal for medium to large businesses.
Enterprise: The Enterprise plan features custom pricing that interested individuals can find out about by contacting BigCommerce representatives.
Wix is a prominent name in the world of website builders with eCommerce prowess. The website builder provides a comprehensive solution, including SEO features, marketing tools, business features, etc. Below is a detailed list of the pros and cons of using Wix:
Pros vs Cons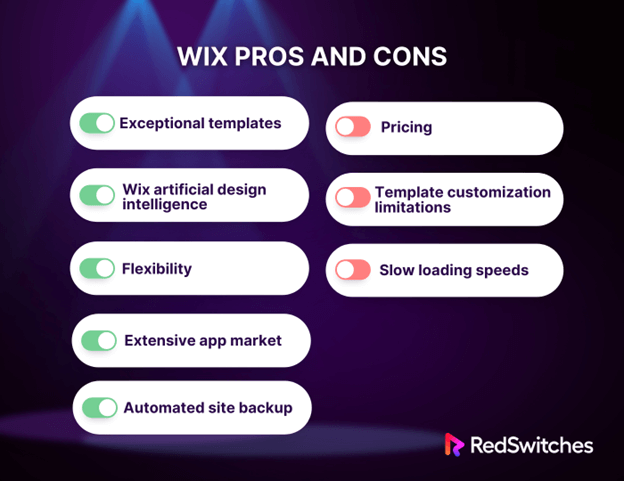 Pros
Exceptional Templates: Wix stands out from other website builders with eCommerce potential for its remarkable templates. The platform includes pre-built designs tailored to various industries.
Wix Artificial Design Intelligence: Wix offers a website creation assistant that is helpful for projects like yoga websites and portfolios. This feature helps streamline image and content generation tasks, contact form creation, and social media integration, helping relieve some of the workload from business owners.
Flexibility: While other website builders with eCommerce potential impose limitations on the elements that users can move around, Wix offers users more freedom and flexibility to customize their websites.
Extensive App Market: Wix includes a wide range of website apps, like online booking, tools for newsletters, etc. These apps can be seamlessly integrated into a Wix website.
Automated Site Backup: Wix automatically generates backup points for a website. This helps ensure the security of essential data.
Cons
Pricing: Wix offers an ad-free plan called 'Light.' The plan costs $16 per month. This price point can be considered relatively higher when compared to Wix's premium plans.
Template Customization Limitations: Users can only modify the design within the template once they have selected their initial Wix template. Wix doesn't allow users to switch to an entirely new template once a template is chosen.
Slow Loading Speeds: Although Wix has worked on their loading speeds, as acknowledged by Google, the mobile loading speeds are still questionable. Many of their templates rely on media and graphics for visual appeal, creating a trade-off between aesthetics and performance.
Pricing
Wix offers eight pricing plans:
VIP: The VIP plan is priced at $24 monthly and includes several advanced features.
Unlimited: The unlimited plan is for entrepreneurs and freelancers and costs $12 monthly.
Combo: The Combo plan is ideal for personal use and is priced at $8 monthly.
Connect domain: The Connect Domain plan is priced at $4 per month and is the most basic plan offered by Wix.
Business VIP: The Business VIP plan is priced at $35 monthly and includes comprehensive features.
Business Unlimited: The Business Unlimited plan costs $25 monthly and is labeled the most popular on the Wix website.
Business Basic: The Business Basic plan costs $17 monthly and allows users to accept online payments.
Corporate packages: These Corporate packages are suitable for larger corporations. Their pricing can vary depending on several factors. Interested businesses can talk to the Wix representatives to get a price quote.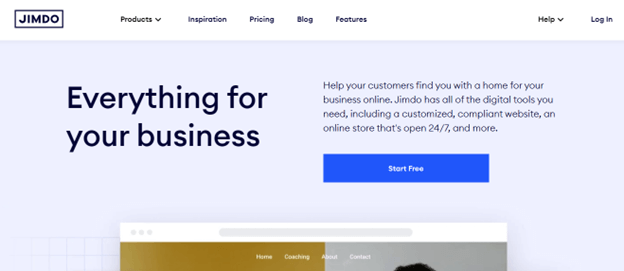 Image Title: Jimdo Website
Jimdo is an established website builder often labeled as the best web builder for eCommerce by users. The platform has been used over 20 million times for website creation. Below is a detailed list of the pros and cons of using Jimdo:
Pros vs Cons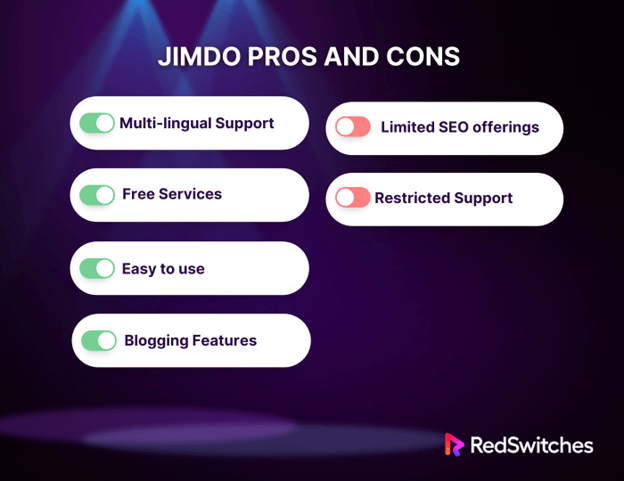 Pros
●  Multi-lingual Support: Jimdo website builder offers multi-lingual support for website building. The platform supports around nine different languages.
● Free Services: Users have access to a free website builder on Jimdo, which they can use to create a website with high functionality.
● Easy to use: The platform is well-structured and easy to operate. Users can easily add and remove elements, which allows them to create customized websites that fit their brand's aesthetics.
● Blogging features: Jimdo includes excellent blogging features, which can be great for individuals looking to explore the world of content.
Cons
●  Limited SEO offerings: The SEO options included in the lowest plans are basic compared to the offerings of other website builders.
●  Restricted Support: Jimdo users not subscribed to a premium plan may get limited support offerings, with waiting times of up to one to two days.
Pricing
Jimdo offers three pricing plans:
Unlimited: This is the best-selling pricing plan on Jimdo available at $39/month.
Grow: The pricing plan is $15/month and is ideal for a business website.
Start: The pricing plan is $9/month and is excellent for a personal website.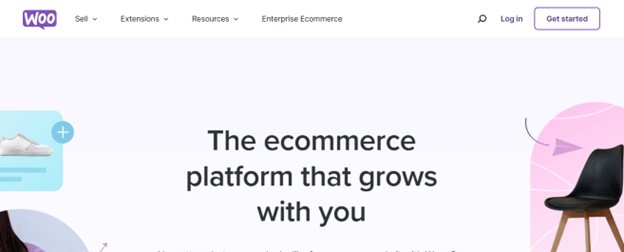 WooCommerce is a top-rated eCommerce platform that allows businesses to transform their websites into high-performance online stores. Below is a detailed list of the pros and cons of using WooCommerce:
Pros vs Cons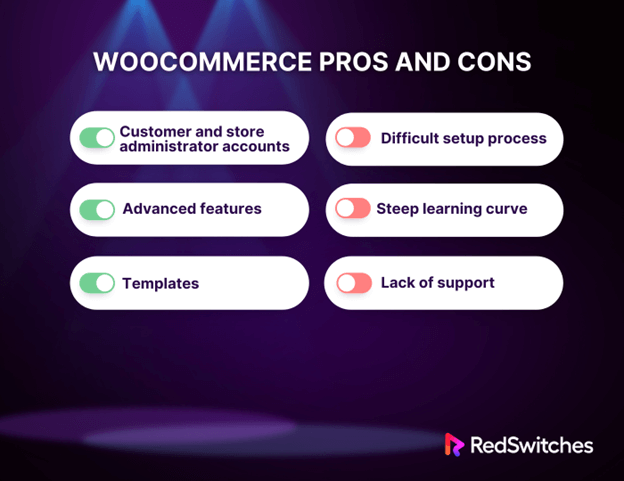 Pros
Customer and store administrator account: WooCommerce enables users to create customer and admin accounts with different rights. Customers can opt for a guest check-out without having to create an account.
Advanced features: WooCommerce offers many features, like extensions and plugins, to help businesses make their online stores more powerful.
Templates: Users can access an abundance of paid and free themes. The themes can also be modified to fit user visions and preferences.
Cons
Difficult setup process: Although users can start with a pre-installed version, the setup process can be complex and time-consuming for users without prior experience using such platforms.
Steep learning curve: WooCommerce can be slightly difficult for less tech-savvy individuals to understand and navigate.
Lack of support: WooCommerce doesn't offer central support. Each element, like plugins and templates, comes with varying support channels.
Pricing
While WooCommerce is a free website builder with eCommerce capabilities, users must pay specific fees to get started. The platform charges $12/year for a domain name ($5-$25 monthly). Other additional costs include extensions and plugins (from $25 each), developer charges ($20-$150/hr), and templates (~$59).
Users will also require external hosting for WooCommerce. WooCommerce and WordPress users recommend reliable hosts like RedSwitches.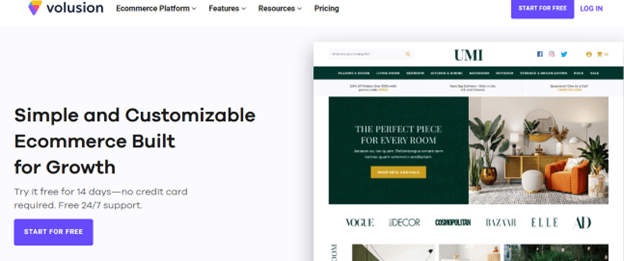 Volusion is known as the oldest provider in the realm of website builders, with eCommerce prowess. The website builder was founded in Austin, Texas in 1999. The website builder claims to support over 30,000 online stores. Below is a detailed list of the pros and cons of using Volusion:
Pros vs Cons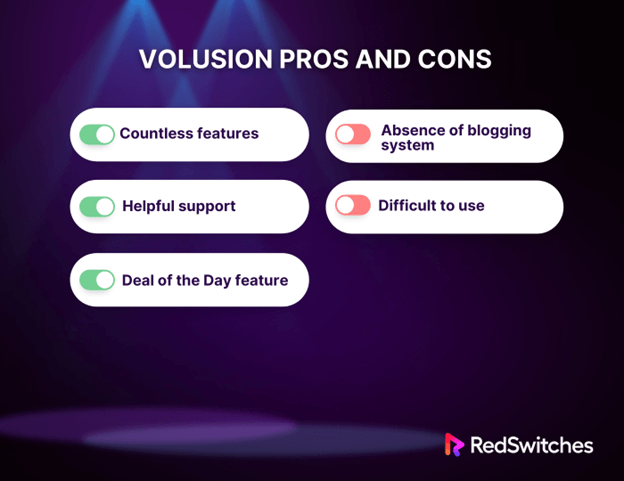 Pros
Countless features: Volusion offers impressive features. It includes all essential features like custom themes and marketing tools that businesses or store owners need.
Helpful support: The platform prioritizes support by offering articles, extensive tutorials, etc. Users can also talk to support representatives anytime they encounter an issue or need a query answered.
Deal of the day feature: Volusion comes with a deal of the day feature that empowers businesses to promote a specific product in their store. It lets users add a promotional landing page to their store's navigation.
Cons
Absence of a blogging system: Volusion lacks a blogging system, which can be a deal breaker for businesses looking to dip their toes into content marketing.
Difficult to use: Volusion may be considered a difficult-to-use platform compared to its competitors like Shopify. New users may have to rely on support and research to understand how the platform works.
Pricing
Volusion offers four pricing plans for its users:
●  Personal: The pricing plan costs $35 monthly and is ideal for small stores that don't exceed annual sales of 100 products and a maximum of $50,000.
●  Professional: The plan is priced at $79 and is suitable for businesses that sell over 5,000 products and a maximum of $100,000 annual sales.
●  Business: The business plan costs $299 and best suits large online stores. It includes no product limit.
●  Prime: The prime plan is for large enterprises that require support. It comes with no annual sales limit. Interested businesses must contact sales to get a price quote.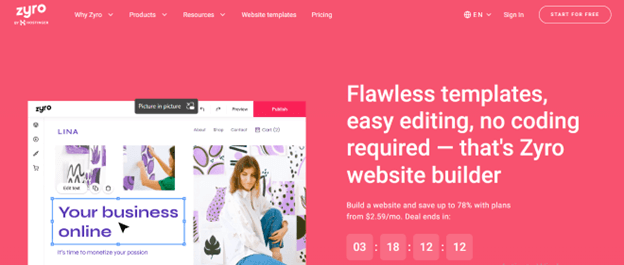 Zyro is labeled the best website builder with eCommerce potential. It features a drag-and-drop layout that simplifies the website creation process for users. Below is a detailed list of the pros and cons of using Zyro:
Pros vs Cons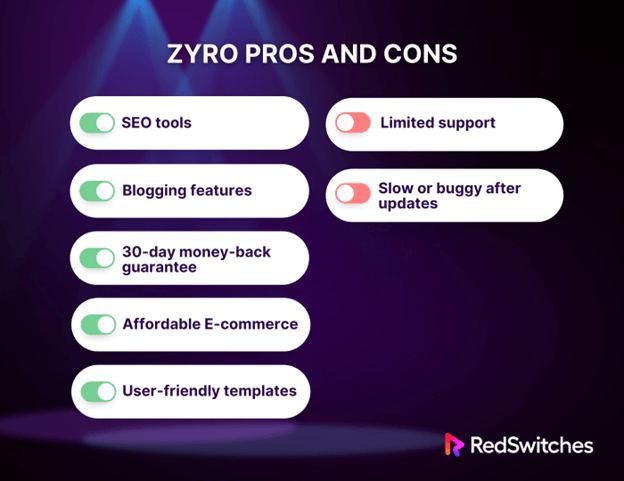 Pros
SEO tools: The website builder features SEO tools like an AI generator that produces SEO-friendly content.
Blogging features: Zyro allows users to feature blogs on their websites with the help of unique blogging tools.
30-day money-back guarantee: Unlike competitors, Zyro offers users a 30-day money-back guarantee offer that allows them to unsubscribe to the platform without losing their funds if they are unhappy with the services provided.
Affordable eCommerce: Zyro is ideal for businesses looking to build online stores without paying significant funds.
User-friendly Templates: Zyro features a user-friendly interface and templates that are also made to be beginner-friendly. Even the most inexperienced entrepreneurs can create unique websites through Zyro.
Cons
Limited support: Users have reported dissatisfaction with the support offered by Zyro. The platform offers limited support, and users must wait several hours for support representatives' assistance.
Slow or Buggy: The platform can be slightly buggy after updates. Users may experience issues uploading videos and images.
Pricing
Zyro offers two pricing plans:
Website: The website plan costs $2.59 (VAT may apply) per month and is ideal for creating blogs or personal use.
Business: The Business plan is priced at $3.59 (VAT may apply) per month and is suitable for companies looking to start selling products or services.
How to Choose an eCommerce Website Builder?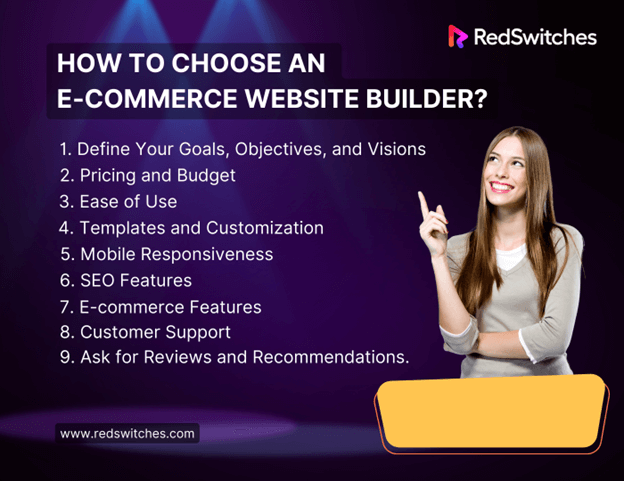 Now that we've discussed the best website builders with eCommerce, it's essential to go over a common query 'how to choose an eCommerce website builder.' Below is the answer:
Define Your Goals, Objectives, and Visions
The first step to choosing an eCommerce website builder is to define your goals, objectives, and visions. A straightforward way to do so is to ask the following questions:
What will be the website's primary purpose? Will it serve as a blog, a portfolio, or an online store?
What features do you need? List essential features like eCommerce functionality, a blog, or image galleries.
Who is your target audience? Consider factors like interest, demographics, and preferences of the potential visitors.
How much are you willing to spend on your website? Factor in domain registration and hosting
Will you need scalability? Determine whether you will need to expand and grow your website in the future.
Understanding your goals, objectives, and visions will empower you to narrow your options and select a website builder that aligns with your needs and requirements.
Different website builders feature varying pricing structures, like free and subscription-based plans. When choosing a website builder with eCommerce potential, it is important to determine your budget to evaluate which website builder best fits your budget. This can help narrow your choices and make the decision-making process more manageable.
Website builders can vary in user-friendliness, with some being easy to use and others being more complex. This makes it critical for users to determine their level of tech-savvyness before choosing a website builder.
Entrepreneurs who might not be tech-savvy must go for website builders featuring a user-friendly interface – while tech-savvy users can go with website builders with more complex layouts and features.
Templates and Customization
Most website builders feature templates that users can leverage to create a foundation for their website. For individuals creating a website for the first time, it is best to stick to a website builder that offers multiple templates that resonate with their brand and vision.
Besides the availability of templates, it is also essential to consider the level of modification the website builder offers. Can you modify fonts, layouts, and colors to create website layouts that match your brand?
Mobile commerce has taken the eCommerce landscape by storm. Today, most buyers prefer to browse eCommerce websites through their phones. This makes it important for businesses to ensure their eCommerce websites look and function well on smartphones and tablets. If a website doesn't integrate well into different screen sizes, that can cause users to click off it.
When deciding which website builder to choose, select one that offers responsive and mobile-friendly designs that automatically adapt a website's layout to different screen sizes. This ensures a positive user experience regardless of the visitor's device.
SEO is critical in increasing a website's reach and visibility on search engines like Google. Looking for a website builder that offers built-in SEO features or allows for hassle-free integration with third-party SEO plugins is a convenient way of enhancing your SEO optimization capabilities. This can improve your website's chances of ranking higher in search results.
Businesses planning to sell products and services online must look for website builders with eCommerce expertise. The website builder must include features like secure payment processing, inventory management, and customizable product pages.
It is also important to verify if the website builder integrates with popular payment gateways (PayPal, Stripe, or Square) for the areas a business serves.
Consider the level and quality of customer support the website builder provides. Do they offer 24/7 customer support and responsive channels like live chat, email, or phone support? Reading reviews on trusted forums can provide valuable insights into whether the users are happy with the customer support provided by the website builder.
Ask for Reviews and Recommendations.
Before deciding, conducting thorough research by reading reviews on trusted platforms is important. Getting recommendations from peers or fellow entrepreneurs with experience with website builders can also be an excellent strategy to ensure you choose the best website builder.
Insights from others with real-life experience with website builders can provide valuable information, fostering informed decision-making.
Conclusion
To summarize, with a diverse range of website builders with eCommerce potential available, businesses must weigh the pros and cons of each website builder to determine which is best suited for their needs and preferences.
Businesses can achieve a powerful online presence with a seamless collaboration of website builders with eCommerce prowess and RedSwitches. Boost your eCommerce business with RedSwitches today!
If you're looking for a robust server for your projects, we offer the best dedicated server pricing and deliver instant dedicated servers, usually on the same day the order gets approved. Whether you need a dedicated server, a traffic-friendly 10Gbps dedicated server, or a powerful bare metal server, we are your trusted hosting partner.
FAQs
Q What is the purpose of an ecommerce website builder?
An ecommerce website builder is a platform that allows you to create and manage your own online store. It provides tools and features to help you build, customize, and grow your ecommerce site.
Q How can I find the best ecommerce website builder?
To find the best ecommerce website builder, you can research and compare the different options available. Look for features like drag-and-drop site builder, ecommerce functionality, templates, and payment options. Also, consider your business needs and budget when choosing the right ecommerce website builder.
Q Which ecommerce website builders are best for small businesses?
Some of the best ecommerce website builders for small businesses are Shopify, Wix, BigCommerce, and Squarespace. These platforms offer easy-to-use tools and features specifically designed to help small businesses build and run their ecommerce stores.
Q Do ecommerce website builders offer free trials?
Yes, many ecommerce website builders offer free trials for a limited period. It allows you to test the platform and its features before deciding. Take advantage of free trials to see if the builder meets your requirements.
Q Can I build an ecommerce site without any coding knowledge?
Yes, most ecommerce website builders provide a drag-and-drop site builder that requires no coding knowledge. You can easily create and customize your online store using pre-designed templates and intuitive interfaces.
Q Are there any free plans available for ecommerce website builders?
Yes, some ecommerce website builders offer free plans with basic features. These plans are suitable for small businesses or startups with minimal needs. However, keep in mind that free plans may have limitations on features and scalability.
Q What are some key features to look for in an ecommerce website builder?
When choosing an ecommerce website builder, look for features like secure payment gateways, customizable templates, inventory management, SEO tools, mobile responsiveness, and integration with popular ecommerce tools like Google Analytics and social media platforms.
Q How can an ecommerce website builder help me grow my business?
An ecommerce website builder provides tools and features to help you optimize your online store, increase sales, and expand your customer base. It offers features like marketing tools, SEO optimization, abandoned cart recovery, and integration with email marketing platforms to help you grow your business.
Q Can I switch ecommerce website builders after launching my online store?
Yes, it is possible to switch ecommerce website builders after launching your online store. However, migrating your products, data, and settings to the new platform may require manual work. Consider the effort and potential impact on your business before making a decision.
Q Which ecommerce website builders are considered the best in 2023?
The best ecommerce website builders in 2023 include Shopify, BigCommerce, Wix, Squarespace, and WooCommerce. These platforms offer a wide range of features, flexibility, and scalability to meet the needs of different businesses.