Seventy-one percent of businesses now have a website in 2023. That's a significant jump from past years, driven by changes from the Covid-19 pandemic. Now more than ever, online presence is crucial for reaching audiences and staying ahead in the digital world.
Whether it's a bustling digital marketplace, a portfolio showcasing our passion, or a diary of our daily musings, our websites are our modern-day castles. But with choices like Squarespace and WordPress, which is best for building your online space?
This article breaks down the differences between Squarespace and WordPress, helping you decide which platform best fits your needs. Let's dive in and see which one reigns supreme.
Table of Content
What is Squarespace?
Imagine having the tools to build a stunning online masterpiece without the technical jargon. That's where Squarespace comes into the picture. Squarespace is a user-friendly website builder that started in Maryland in 2003.
Originally a blog hosting service, it quickly grew, hitting $1 million in revenue by 2006. Today, it allows anyone without coding knowledge to create impressive websites. Squarespace offers built-in eCommerce features, custom domain names, SSL security, and simple design tools.
Pros And Cons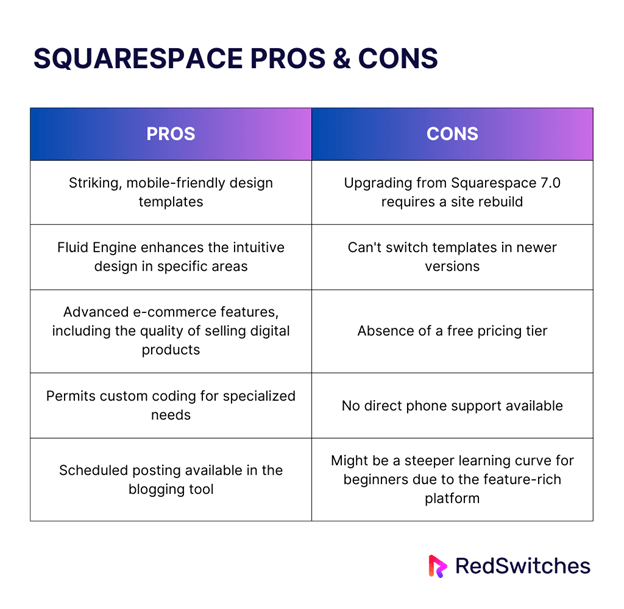 Who It Is For?
Navigating the world of website building can be a daunting experience, but Squarespace is designed to simplify that journey. So, who stands to benefit most from this platform?
Beginners & Enthusiasts: Squarespace offers a streamlined and intuitive approach to website creation for those stepping into the digital realm for the first time and unfamiliar with the intricacies of coding.
Small Business Owners: Whether it's a local café, boutique, or consultancy, Squarespace provides the tools necessary for businesses to establish an online presence, enabling features like reservations, product showcases, and client testimonials.
Creative Professionals: For individuals like photographers, graphic designers, and writers, a digital portfolio is indispensable. Squarespace's emphasis on aesthetic appeal makes it an ideal platform for showcasing work in a visually striking manner.
Event Organizers: With tools tailored for announcements, ticketing, and RSVPs, those planning events — from workshops to weddings — will find Squarespace meets their unique needs.
E-commerce Ventures: Those looking to set up online stores, especially on a smaller scale, can use Squarespace's e-commerce capabilities, from showcasing products to processing transactions.
In essence, Squarespace is your go-to platform for a sleek website without the back-end bother. However, for tech enthusiasts seeking intricate customizations or large enterprises requiring expansive e-commerce solutions, other platforms might be better suited to those needs. Additional features will be discussed further in the blog.
What is WordPress?
Ever wonder how the digital world ticks? A big hint: WordPress powers a massive 42.8% of it. Born in 2003 as a humble blogging platform, WordPress has grown up, now reigning as the world's go-to Content Management System (CMS).
A significant section of its success can be attributed to its dedication to evolution. With around three major updates yearly, WordPress is like that friend who's always leveling up, ensuring it remains ahead of the curve and a favorite for many. Want to simplify your WordPress installation? Dive into our comprehensive tutorial on using Docker Compose for a hassle-free setup.
Pros And Cons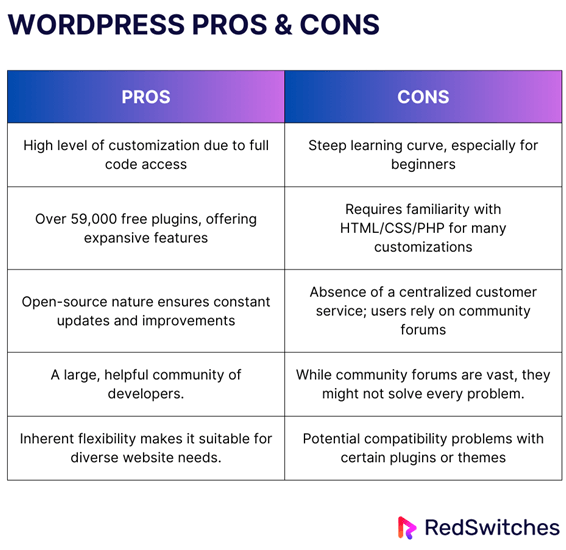 Who It Is For?
Diving into WordPress can feel like opening a book filled with endless possibilities. So, who finds their story best told through this platform?
Budding Bloggers & Seasoned Writers: WordPress began its journey with bloggers in mind. Its intuitive content management makes it a favorite for those wanting to share narratives, personal tales, or journalistic pursuits.
Businesses of All Sizes: WordPress offers tools that cater to every scale, whether you're a local artisan bakery dreaming of an online showcase or a multinational corporation aiming for a sleek digital front.
Tech Enthusiasts & Developers: For those who relish diving deep into the digital tapestry, WordPress provides a canvas that can be tweaked, tuned, and transformed. Its open-source DNA means endless customization.
Creative Professionals: Photographers, artists, and designers seeking a digital stage to spotlight their work will find WordPress themes tailored for visual appeal and portfolio presentation.
E-commerce Entrepreneurs: Venturing into online sales? With plugins like WooCommerce, WordPress facilitates the transition from a brick-and-mortar store to an online marketplace.
Educators & Online Coaches: In an era leaning towards online learning, WordPress aids educators in creating platforms for courses, webinars, and interactive content.
Non-profits & Community Groups: Organizations aiming to make a difference can utilize WordPress to build awareness, rally support, and even manage donations.
In essence, WordPress, with its adaptability and vast ecosystem, beckons many users. Its strength lies in its ability to remodel itself around the user's vision, ensuring everyone, from novices to experts, finds a digital home. Additional features will be discussed further in the blog.
Squarespace vs WordPress: Ease of Use
Choosing a suitable hosting platform for your website can feel like a big decision, especially if you're new to the whole website-building scene. Ready to make the right choice for your hosting needs? Explore our comprehensive guide on How to Choose the Best Server Hosting.
If ease of use is what you're after, you might be torn between Squarespace vs WordPress. Both have loyal fans, but which one will have you up and running with the least fuss? Let's break it down.
Squarespace
●       Focused Choices
Squarespace believes in 'less is more'. The platform doesn't bombard users with endless choices, a boon for beginners. With its streamlined approach, even someone with zero website-building experience can craft and publish content effortlessly.
●       Intuitive Editor
Squarespace's editor mirrors some similarities to WordPress. It uses a block system, ensuring adding media – be it images, videos, or audio – is more straightforward than on WordPress. Plus, each block comes with layout controls, making customization a breeze.
●       Visual Customization
Squarespace empowers users to tweak templates and pages via a visual editor. However, this power comes with a catch – you're confined to the options in the customizer owing to Squarespace's controlled environment.
WordPress
●       Stronger Learning Curve
Yes, WordPress is intuitive, but it doesn't mean you'll become a pro overnight. There's a slight learning curve involved. Newbies must grasp concepts like the difference between posts and pages or how categories differ from tags. It's essential to understand the dynamics of themes and plugins.
●       User-Friendly Editor
WordPress' default block editor simplifies content creation. With easy-to-use blocks, users can construct captivating layouts with rich media content. And if the terminology feels overwhelming? In our experience, most users catch on fairly quickly.
●       Boosted Flexibility
Need more design flexibility? WordPress introduces plugins like SeedProd, enabling you to conjure custom designs from scratch – no coding necessary!
The Final Winner: Squarespace
Regarding ease of use, Squarespace takes the cake regarding pure simplicity and getting a website up quickly. Its user-centric design approach ensures that even those without technical know-how can craft a beautiful site.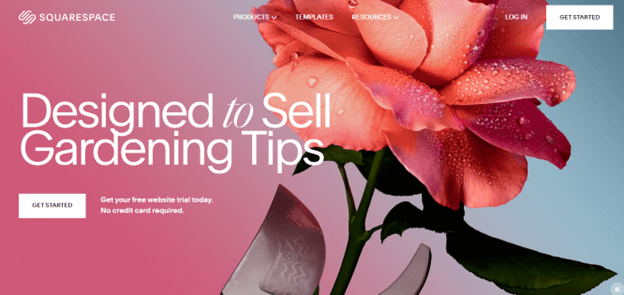 Credit: Squarespace
Squarespace vs WordPress: Key Features
Choosing the right platform for your website demands more than just evaluating cost or popularity; understanding the core features is crucial. In the ongoing debate of WordPress vs. Squarespace, both platforms offer an array of functionalities, yet they cater to different user needs. Let's dive deep into the key features of Squarespace vs WordPress to determine which one triumphs.
Squarespace
●       Designer Quality Templates
Squarespace shines with its polished, modern templates collection. These are visually appealing and responsive, automatically adjusting and looking stellar on any device.
●       Integrated E-commerce
For those looking to open an online storefront, Squarespace offers built-in e-commerce capabilities. This means you can set up a shop without additional plugins or tools.
●       Drag-and-Drop Builder
The platform is user-friendly thanks to its functionality. This feature is particularly beneficial for those who prioritize ease of use and want to design without the complexities of coding.
●       Built-in Analytics
Without integrating third-party tools, Squarespace offers analytics that provide insights into website traffic, audience behavior, and more, allowing users to make informed decisions.
●       SSL Certificate
Every Squarespace website comes with a free SSL certificate, ensuring that data transfer on your site remains secure, a crucial aspect for e-commerce and retaining user trust.
WordPress
●       Extensive Customization with Themes
WordPress boasts an extensive range of free and premium themes. These themes cater to virtually every niche and can be customized to fit exact user specifications, offering more flexibility.
●       Plugin Powerhouse
WordPress's most defining feature is its library of over 50,000 plugins. Whether you want SEO tools, e-commerce solutions, or social media integrations, there's likely a plugin.
●       Gutenberg Editor
WordPress has streamlined its content creation process with the help of Gutenberg block editor. This feature makes it easier to design intricate page layouts without relying on a page builder plugin.
●       Search Engine Optimization (SEO)
Out of the box, WordPress is SEO-friendly. Moreover, with SEO-focused plugins like Yoast, optimizing your content for search engines becomes a walk in the park.
●       Support Of Communities
WordPress has a vast, global community as an open-source platform. This means users can access countless tutorials, forums, and professionals, ensuring that help is always available.
The Final Winner: Tie
In the faceoff of WordPress vs. Squarespace, deciding the winner isn't straightforward, as both platforms offer features catering to different audiences. Squarespace is undeniably simpler, offering a streamlined experience for those who want a no-fuss approach to website design.
However, WordPress takes the lead when evaluating the sheer range of features, flexibility, and customization possibilities. Its vast theme and plugin library, combined with a robust support community, make it a platform powerhouse. Thus, WordPress emerges as the winner for those seeking a platform that can evolve and adapt to diverse needs over time.
Squarespace vs WordPress: Design & Templates
Design is a visitor's first impression on a website. In the digital age, both aesthetics and functionality matter. The debate of Squarespace vs. WordPress in designing and templates is ongoing. Let's delve into their offerings.
Squarespace
●       Variety in Templates
Squarespace brings to the table a curated collection of templates catering to diverse niches – personal blogs, portfolios, or professional services like online stores and launch pages.
●       Aesthetically Pleasing Designs
Squarespace templates exude versatility when adopting a modern and minimalistic approach. For businesses, options like the Crosby template meld beautifully with various eCommerce niches, courtesy of its striking grayscale palette.
●       Consistent User Experience
Squarespace ensures its templates are responsive. This adaptability ensures that no user, whether on desktop or mobile, feels left out. They all enjoy a consistent and delightful browsing experience.
●       Maintenance-Free Templates
One of the main advantages is the in-house design team's oversight. With Squarespace, there's no fretting over template updates or security. It's all taken care of behind the scenes.
WordPress
●       Limitless Themes
WordPress's expansive theme repository dwarfs most competitors. The possibilities are virtually limitless, with options from the official directory and third-party sources like Colorlib, ThemeForest, or Template Monster.
●       Versatility in Design
Where WordPress truly outshines its vast array of design aesthetics. WordPress has it all, whether one desires a professional look or a more playful design, like the Kids Heaven theme for children-oriented sites.
●       Functionality-Boosting Themes
Many WordPress themes pack features that enhance site functionality beyond aesthetics. For instance, the PeakShops theme offers a built-in product filter, something not present in Squarespace's eCommerce offerings.
●       Theme Quality Control
While the variety is immense, it's crucial to be discerning when selecting WordPress themes. Given the open-source nature, always prioritize themes with good reviews, high ratings, and recent updates.
The Final Winner: WordPress
The debate of Squarespace vs WordPress for blogging and website design ends in favor of WordPress. Squarespace offers elegant, designer-crafted templates, making it a strong contender. However, when it comes to sheer variety, adaptability, and functionality-packed themes, WordPress emerges as the undisputed champion. With its extensive theme collection that caters to myriad styles and requirements, it offers users an unparalleled design playground.
Squarespace vs WordPress: Pricing
Regarding developing a strong online presence, pricing can be pivotal. Budget constraints can steer decisions, but it's essential to understand what you're getting for your money. The debate between Squarespace vs WordPress pricing reveals the unique attributes of each platform. Here's a comprehensive comparison.
Squarespace
●       A Comprehensive Offering in Each Package
Squarespace prides itself on the comprehensive nature of its plans. Regardless of which category you opt for, you'll receive robust features. A complimentary domain awaits users in their first year. Additionally, the assurance of an SSL certificate ensures that site security is never compromised.
Moreover, there are no hidden clauses regarding bandwidth or storage; it's unlimited. Constant support ensures that you're never left in the dark. And if you're hesitant? A 14-day trial allows you to test the waters.
●       Tailored Packages for Varied Needs
The platform caters to a broad scale of users. Here's a rundown:
Personal ($12/month): You're granted access to the platform's fundamental tools at this tier. It fits individuals who wish to maintain blogs or showcase portfolios.
Business ($18/month): Scaling up, the Business plan adds enhanced features. It's not just about getting online but thriving there. From in-depth marketing tools to e-commerce utilities, it's all there. However, a slight transaction fee applies.
Commerce Basic ($26/month): A step further, this plan offers an elevated e-commerce experience. Key perks include no transaction fees and detailed sales analytics, among others.
Commerce Advanced ($40/month): This plan packs a punch for those seeking the crème de la crème. Premium tools, such as mechanisms to retrieve abandoned carts and facilitate third-party integrations, set it apart.
●       An All-Inclusive Approach with a Premium Price Tag
While Squarespace's pricing may offer clarity, it does come at a higher cost. Their inclusive package structure ensures you're well-equipped, but the prices tend to be higher than several competitors.
WordPress
●       Free at First Glance
While the foundational software of WordPress doesn't have a price tag, the actual expenditure reveals itself in additional services.
●       Finding a Home
Since you'll have to host your WordPress site independently, the hosting landscape offers a wide price range. Affordable providers serve the essentials, ensuring seamless WordPress integration and updated security. You can also protect your WordPress site with ease! Read this helpful article with three simple methods for backing up your website.
●       Staking Claim with a Domain
Every site needs its unique address. While popular ones like .com might dent your wallet by around $9.99/year, there are frugal choices, like .xyz, up for grabs, too.
●       Dressing Up with Themes and Adding Functions
WordPress's world boasts many themes and plugins. While countless freebies are available, splurging on premium variants can enhance site capabilities. The range is vast, from $15 plugins to themes that might ask for $38 or more.
The Final Winner: WordPress
Pitting Squarespace against WordPress shows that WordPress emerges as the more adaptable contender. While Squarespace offers a neat, all-inclusive package that simplifies decision-making, its pricing can be a tad heavy on the pocket and less varied.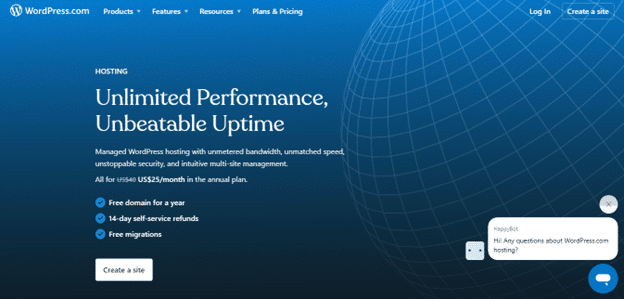 Credit: WordPress
Squarespace vs WordPress: Apps & Plugins
When evaluating Squarespace vs WordPress to power your online presence, the availability and range of apps, extensions, or plugins become crucial factors to consider. This is where Squarespace and WordPress vie for dominance, each offering a unique spectrum of options. Let's delve into the world of apps and plugins to see how these platforms compare.
Squarespace
●       Ease of Integration
Squarespace, known for its simplistic and user-friendly interface, offers around two dozen extensions tailored to integrate seamlessly with third-party services. The platform ensures both free and premium extensions to meet various demands.
●       Business-Centric Offerings
The strength of Squarespace's extensions lies in their focus. With a primary tilt toward business and marketing, these extensions cater significantly to freelancers, entrepreneurs, and established businesses.
Key mentions include Freshbooks, facilitating streamlined invoicing and accounting, and Spocket, which aids in connecting with dropshipping suppliers from regions like the US and Europe.
●       Cost Implications
The extensions come in a range of price points, starting from as little as $9/month and stretching up to $75/month. The flexibility in pricing ensures businesses of varying scales find a suitable fit.
WordPress
●       Open-Source Advantage
The open-source nature of WordPress is its USP. This structure has paved the way for an ecosystem where developers continuously contribute, resulting in an impressive repertoire of over 58,000 free plugins available in its official directory. This figure doesn't account for the myriad available on third-party platforms such as CodeCanyon.
●       Diverse Functionalities
The sheer volume of WordPress plugins translates to unparalleled versatility. Whether you're looking at enhancing the user experience through drag-and-drop functionalities with plugins like Visual Composer or aiming to bolster your site's speed using W3 Total Cache, WordPress has got you covered.
The platform isn't just about business and marketing plugins; it offers tools for virtually every conceivable website need.
●       The Need for Caution
However, with great choices come great responsibilities. Due to the vast sea of options, users must be discerning when choosing plugins, especially those sourced from third-party platforms. Some plugins might introduce vulnerabilities or incompatibilities to your site despite being free.
The Final Winner: WordPress
Competing WordPress vs. Squarespace in the arena of apps and plugins, WordPress clearly shines with its unparalleled breadth and depth of offerings. It's a playground for customization, ensuring that there's hardly any feature or functionality out of reach with the right plugins.
Squarespace vs WordPress: eCommerce Comparison
In the ever-evolving digital landscape, deciding on the ideal platform to power your online store is crucial. Both Squarespace and WordPress have risen to prominence with distinct eCommerce offerings. Let's delve into their pricing structures and functionalities to ascertain which provides the best bang for your buck.
Squarespace
●       All-Inclusive Packages
Squarespace isn't just a website builder. It presents a cohesive eCommerce environment for those venturing into online sales, especially for subscribers of its Business, Commerce Basic, and Commerce Advanced plans.
●       What Stands Out
Product Diversity: Squarespace's capacity to host unlimited products ensures you're never boxed in from tangible items to digital downloads and services. Plus, selling subscriptions becomes a breeze for those on the higher-tier plan.
Efficient Stock Management: With smart inventory tools, you're always aware of stock levels and can set up alerts for when supplies run low.
Engaging Product Displays: Personalize the shopping experience with tools ranging from image zoom to in-depth product descriptions.
Streamlined Transactions: Multiple payment methods are supported. However, a noteworthy aspect for Business plan users is the 3% fee on each transaction and a slightly longer checkout process due to redirection.
●       Caveats
While Squarespace provides various tools, it's essential to be wary of transaction fees and checkout redirections for Business plan users. Higher-tier plans might offer better value for those aiming to sell at a larger scale.
WordPress
●       The Power of Plugins
WordPress's strength doesn't lie in built-in eCommerce capabilities; it's in the platform's ability to adapt through plugins. Among these, WooCommerce dominates, being both user-friendly and feature-rich.
●       What Stands Out
User-Centric Onboarding: The WooCommerce setup wizard simplifies the initial store configuration for novices.
Broad Product Offerings: From digital goods to physical items, WooCommerce is versatile.
Holistic Store Management: Tools for monitoring sales and understanding consumer behavior are integrated.
Varied Payment Options: WooCommerce supports a range of payment gateways, with its processor as a notable mention.
●       Additional Considerations
WooCommerce's free core functionalities can be amplified with paid extensions. However, it's crucial to remember that PCI compliance isn't out-of-the-box, requiring users to adjust settings for optimal security.
The Final Winner: WordPress
Upon comparing Squarespace vs WordPress, WordPress's flexibility and expansive ecosystem tip the scales in its favor. Squarespace, with its robust integrated features, offers an efficient eCommerce solution. However, some advanced features reserved for its pricier packages is a limiting factor.
On the other hand, WordPress, with plugins like WooCommerce, offers an expansive canvas to novices and seasoned sellers. The ability to mold one's store without financial constraints or feature restrictions makes WordPress a more appealing choice for many. Don't settle for limitations – explore why WordPress Hosting is the key to your website's success.
Squarespace vs WordPress: Data Portability
In today's fast-paced digital world, the fluidity and freedom to shift, grow, and adapt are paramount. This is where the concept of data portability enters the picture. Comparing two giants in this space, WordPress and Squarespace, gives a clearer perspective on this vital aspect.
Think of it as your digital moving van. If you decide to shift platforms, data portability ensures you can take all your content, designs, and assets. It's about ownership and flexibility – the affirmation that your content is yours to command, irrespective of the platform it's housed on.
WordPress
●       Ease of Use
A hallmark feature of WordPress is its user-centric design. The platform inherently understands the value of data portability.
●       Highlights
Comprehensive Export Tools: You're not just exporting articles and images with WordPress. The platform goes above and beyond, allowing you to back up integral aspects like themes, plugins, and the entire database.
Flexibility in Transition: This isn't just about creating backups. The export functionality ensures the process is straightforward if you ever wish to transition to another CMS.
Squarespace
●       Ease of Use
Squarespace offers a sleek and intuitive interface known for its drag-and-drop features. However, regarding data portability, it's not as expansive as WordPress.
●       Highlights
Selective Export: Unlike WordPress, Squarespace's export functionality has its bounds. Users can export primary content like pages, galleries, and a single blog page along with its content.
The Caveats: If you're a content-rich platform, Squarespace has its restrictions. Elements like product pages, album pages, specific multimedia blocks, and other content types don't make it to the export file, which can be a bottleneck for businesses looking to transition seamlessly.
The Final Winner: WordPress
Regarding WordPress vs Squarespace, both platforms have their strengths, but the lens of data portability casts a shadow on Squarespace's limitations. The essence of online business lies in the ability to adapt, grow, and move when the need arises. In this realm, WordPress stands tall, not just by offering the tools to back up but by ensuring that when it's time to move, no piece of content gets left behind.
Squarespace vs WordPress: Languages
In the era of globalization, the language accessibility of your website can influence your reach and audience engagement. This begs the question: which platform offers the most comprehensive language support between Squarespace and WordPress? Let's delve into the linguistic capabilities of both platforms, especially considering the wordpress vs squarespace for blogging debate that many creators find themselves entangled in.
WordPress
●       Ease of Use
Accommodating a diverse audience is a breeze with WordPress. Its ecosystem is built to cater to users from different linguistic backgrounds.
●       Highlights
Broad Translation Library: WordPress proudly flaunts translations into numerous languages, ensuring a global reach.
User-Centric Language Selection: Users can personalize their language settings on a WordPress site. It adds a touch of personalization to the browsing experience.
Themes and Plugins: Most WordPress themes are primed for translation. Similarly, popular plugins have multilingual translations, fortifying the WordPress vs Squarespace argument favoring the former.
Going Beyond Single Language: While WordPress doesn't natively support multi-language sites, it has a robust plugin ecosystem that offers exceptional tools for crafting SEO-friendly, multilingual websites.
Squarespace
●       Ease of Use
Squarespace provides a user-friendly platform but is somewhat constrained regarding linguistic capabilities.
●       Highlights
Limited Native Translations: Squarespace's platform is fully available in six primary languages. This limitation can hinder businesses looking for a global footprint.
Localization Options: Squarespace allows you to adjust your site language and select different time zones and countries, aiding localization efforts.
E-Commerce Restrictions: If you're venturing into the online retail space, Squarespace limits you to currencies supported by Stripe or PayPal.
Multilingual Hurdles: Squarespace's approach to multilingual sites involves duplicating pages, which isn't the most efficient method. Moreover, if you're leaning towards separate sites for each language, each comes with its billing. An alternative is to invest in Weglot for translations, which incurs additional costs.
The Final Winner: WordPress
Addressing the 'Squarespace vs WordPress' dilemma regarding language, it's clear that WordPress offers a more accommodating platform for those eyeing a diverse audience. With its broad spectrum of translations and the flexibility of plugins, WordPress presents a canvas for creators to paint their content in as many languages as they desire.
Squarespace vs WordPress: A Quick Summary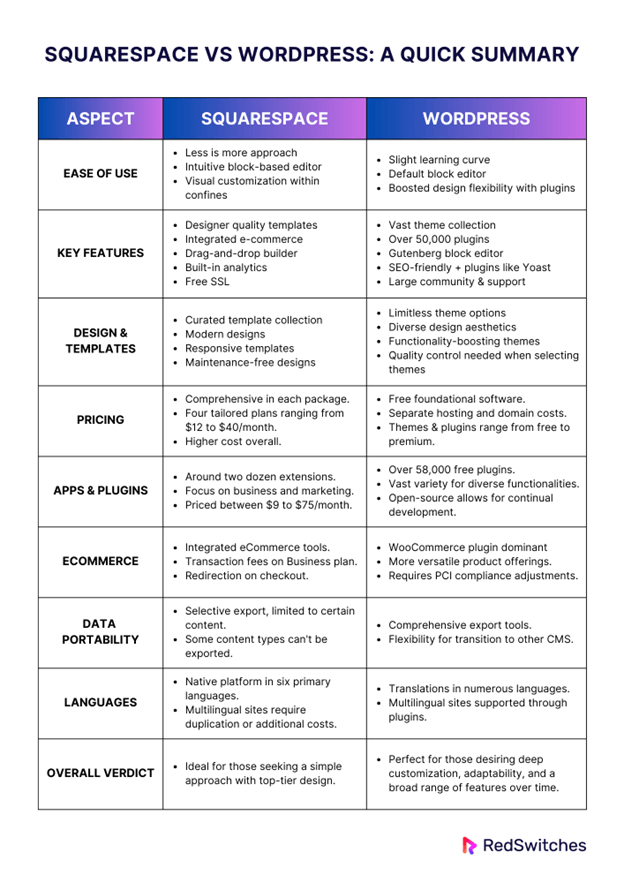 Conclusion
In the Squarespace vs WordPress showdown, it's clear that WordPress takes the lead. While Squarespace offers simplicity and elegance, WordPress brings versatility and limitless possibilities.
Regardless of whether you're launching a simple blog or an expansive online store, we guarantee peak performance for your site around the clock. With cutting-edge infrastructure, unrivaled uptime, and a dedicated support team, your online pursuits are in expert hands.
Debating between Squarespace vs WordPress? Whichever you choose, power it with RedSwitches offer the best dedicated server pricing and deliver instant dedicated servers, usually on the same day the order gets approved. Whether you need a dedicated server, a traffic-friendly 10Gbps dedicated server, or a powerful bare metal server, we are your trusted hosting partner.
FAQs
Q-1) Is Squarespace better than WordPress?
Squarespace offers simplicity and ease of use, but WordPress is preferred for its flexibility, customization options, and larger plugin ecosystem.
Q-2) Which is more popular, Squarespace or WordPress?
WordPress is more popular, powering a significant portion of the internet due to its extensive user base and versatility.
Q-3) Is WordPress less expensive than Squarespace?
WordPress can be more cost-effective, especially with free hosting options, although it may require more technical know-how.
Q-4) Which is good for SEO, Squarespace or WordPress?
Both platforms can excel in SEO, but WordPress provides greater control over SEO customization and plugins, making it a preferred choice for many.
Q-5) What is the difference between Squarespace and WordPress?
Squarespace and WordPress are website builders but have different features and capabilities. Squarespace is a user-friendly platform that provides all-in-one solutions, while WordPress is a highly flexible and customizable content management system.
Q-6) Is it easy to use WordPress?
WordPress is known for its user-friendly interface and intuitive design. Even individuals with little to no technical experience can quickly learn how to use WordPress and create a professional website.
Q-7) Can I use WordPress for my website?
Absolutely! WordPress is a versatile platform suitable for various types of websites, including blogs, business websites, e-commerce stores, portfolio sites, and more.
Q-8) How do I migrate from Squarespace to WordPress?
Migrating from Squarespace to WordPress involves exporting your content from Squarespace and then importing it into WordPress. You can use plugins or manual methods to transfer your website data and preserve your SEO rankings.
Q-9) What advantages does WordPress give me over Squarespace?
WordPress gives you greater flexibility and freedom to customize your website. With thousands of themes and plugins available, you can create a unique design and add advanced functionality to your site.
Q-10) Can I transfer my Squarespace website to WordPress?
Yes, it is possible to migrate your website from Squarespace to WordPress. By following the migration process, you can move your content, design, and settings from Squarespace to a WordPress site.
Q-11) Is WordPress easier to use than Squarespace?
The ease of use depends on individual preferences and needs. While Squarespace provides a more streamlined and beginner-friendly interface, WordPress offers greater flexibility and customization options, which some users may prefer.
Q-12) Can I install WordPress on my Squarespace plan?
No, Squarespace and WordPress are two separate platforms. If you want to use WordPress, you will need to sign up for WordPress hosting and install the software on your hosting provider. Squarespace does not support WordPress installation.