Dedicated web hosting is a service offered by hosting providers. It's a platform allowing you to host your website or application and publish it on the internet.
Dedicated web hosting is a paid service, and it's priced higher than other hosting solutions such as shared and VPS hosting.
Dedicated servers are very powerful and their features allow them to outperform other hosting types.
So, is the price worth the advantages you get with dedicated web hosting? Keep on reading to find out.
What Is a Dedicated Web Hosting Server?
A dedicated web server is a single-tenant hosting solution. Dedicated web hosting runs on bare-metal servers, which is another name for dedicated servers.
Dedicated or bare-metal hosting servers offer high performance for your website because their hardware and software are not shared with other users like with shared or VPS hosting.
Having dedicated hardware means you will not be sharing the hosting space with other websites. Your website will have full and unlimited access to the server resources.
Dedicated web hosting is preferred by website owners because of its unmatched performance, high security, and flexible hardware.
Why Use Dedicated Web Hosting?
Dedicated web hosting offers many advantages over other web hosting types. Having dedicated hardware and single-tenancy gives dedicated web hosting an edge over shared and virtual private servers (VPS).
Hosting your website on a dedicated server will have the following advantages:
Speed. Your website can utilize 100% of the hardware with dedicated web hosting, making your web pages load fast. No other users can host their websites on the same server, and there is no hypervisor layer using up resources on your dedicated server.
Security. Dedicated servers are the most secure hosting solution you can get on the market. Because you don't have any hosting neighbors on a dedicated server, you don't have to worry about anyone breaching the security of your website. Plus, you can configure your security system to maximize the security of your website.
Control. You get full control of your website using a dedicated server. With root access, you can configure any software settings on your dedicated server to optimize your website. And from a hardware perspective, you are free to customize your dedicated server at any time to improve the performance of your website.
Flexibility. Dedicated servers can support the growth of your website because they are flexible and scalable. You can upgrade your dedicated server to accommodate new users when your website traffic is increasing. Or, you can downgrade some components in periods of low activity. Dedicated web hosting allows for ultimate flexibility.
How Much Does Dedicated Web Hosting Cost?
The cost of dedicated web hosting starts at $100 per month. This is the monthly fee you will pay for a baseline dedicated server.
Dedicated web hosting pricing is affected by several different factors:
Length of contract. Dedicated hosting providers often offer discounted pricing depending on the length of your hosting contract. If you pay for your dedicated server on a quarterly or annual basis, you might be eligible for a discount. This pricing model is beneficial for hosting users. However, beware of hosting providers that offer an introductory price for the first year of your hosting contract. They might lock you in your contract for several years, and you will have to pay the full price after your first year of hosting.
Server specifications. This one is a given – the price of your dedicated server will vary depending on the hardware you choose to be installed. Opting for more storage, higher RAM, an upgraded CPU, or unmetered bandwidth will increase the monthly cost of your dedicated server.
Additional services. Dedicated hosting pricing will also depend on additional services you opt-in for. Managed support can set you back around $30/month, and a Windows Server license will cost you about $20. Backup services can come in at an additional monthly cost too.
When you choose dedicated web hosting, you are paying the hosting provider a fee for renting one of their servers. You also have the option to buy your dedicated server. Here's how the pricing models of renting vs buying a dedicated server compare: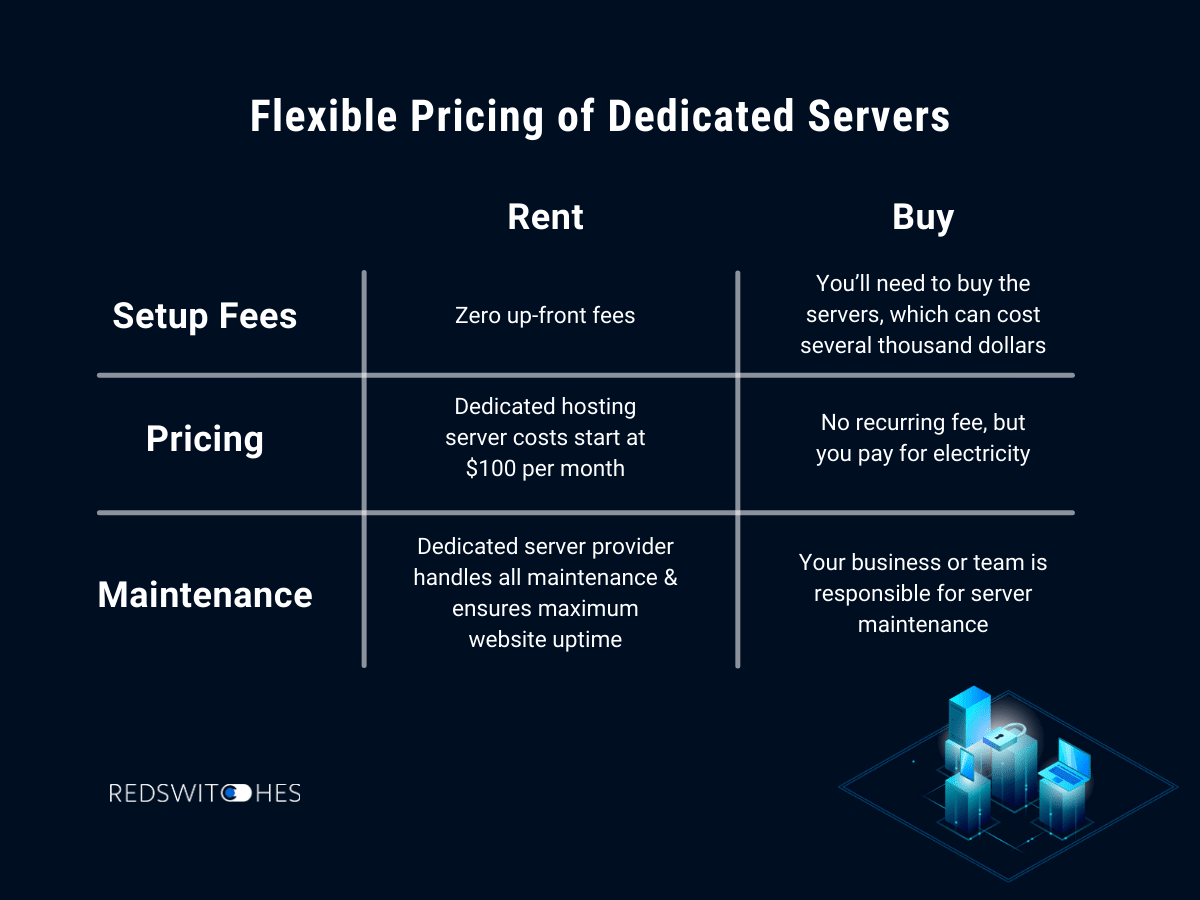 Dedicated Web Hosting Features
These are the main dedicated web hosting features you should pay attention to:
Storage. Most server providers offer SSD, NVMe, or HDD storage drives of different capacities. SSD and NVMe drives are more expensive but have much faster read and write speeds, while HDDs are cheaper but have slower speeds. If file loading speeds are crucial to your website, choose SSD or NVMe storage. And if your website has lots of media files, HDD storage is a better option for you. You can also get different types of storage in your server.
RAM. Depending on the size of your website, you should choose the right amount of RAM for your dedicated server. For most small to medium-sized websites, 8 or 16GB of RAM is a good starting point. If your website is growing or you already have a large site, you will need at least 32GB of RAM.
Network. The options you can choose from for your network configuration are network uplink and bandwidth amount. Hosting providers offer 1/10/100GE uplinks which provide different network speeds. And you can get metered or unmetered bandwidth depending on how much traffic your website generates. Unmetered bandwidth is useful for large e-commerce sites, streaming sites, and news outlets that work with large media files and generate lots of traffic.
CPU. The CPU will supply your server with computing power. Most websites aren't very power-hungry, so any CPU will do a good job in web hosting servers. Look for the clock frequency of the CPU as well as the number of cores it has. A CPU with a higher frequency count will perform operations faster, and multiple cores will allow it to perform different tasks at the same time.
RedSwitches Dedicated Web Hosting
RedSwitches offers the best-in-class dedicated web hosting servers. Our bare-metal hosting solutions are built to deliver ultimate hosting speeds and outperform the competition.
We have fully customizable dedicated web hosting plans fit for any kind of website. Choose your server specifications with the help of our expert engineers and upgrade at any time as your website grows.
Choose a quarterly, bi-annual, or annual payment plan and get a discounted price for your dedicated hosting plan.
Use your preferred payment method from a variety of options like Bitcoin, credit and debit cards, Apple Pay, PayPal, and more.
Contact us today to learn more about our dedicated web hosting services!
Related Articles
More From RedSwitches