Did you know that WordPress is used by approximately 43.2% of sites on the internet? WordPress is a prominent name among the globe's most user-friendly and popular content management systems that power countless blogs and sites.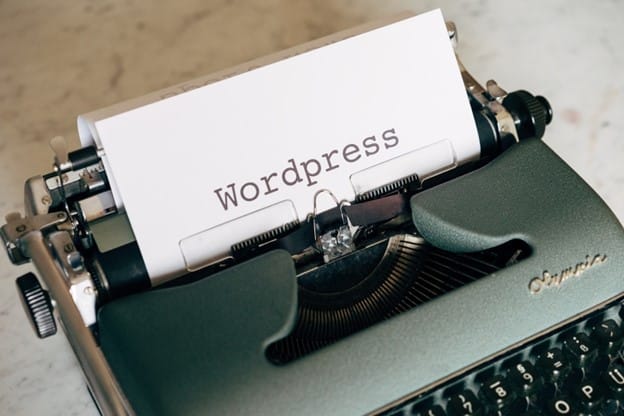 Credits: Pexels
One of the significant reasons behind WordPress's popularity is its potential to extend beyond the boundaries of functionality through plugins. WordPress plugins add a layer of functionality to your website, offering a straightforward way to enhance SEO, boost site speed, build an online store, etc.
This piece will explore the significance of plugins in WordPress and introduce you to the 23 best WordPress plugins that can improve your site's capabilities.
Table of Contents
What are Plugins in WordPress?
WordPress plugins can be described as software that can be layered onto your WordPress website to incorporate new features and improve functionality. They are apps or add-ons that you can conveniently download and activate within your WordPress dashboard.
WordPress plugins empower users to tailor their websites to their needs without the hassle and expenses of extensive development work or coding. They are ideal for anyone looking to cut costs, simplify website management, and improve their website capabilities.
Why Are Plugins Important?

Before we dive into the list of best WordPress plugins, it is critical to discuss why plugins are important.
WordPress plugins do all the work for you. They are pre-built software that seamlessly integrates into any WordPress site, boosting its usability and capabilities. Below are a few reasons why WordPress plugins are important:
Added Features: Plugins can add new features to your website, like social media integration, SEO, and e-commerce functionality, allowing you to make the most of it.
Customization: Plugins allow you to customize your website without changing its core code. This is a significant feature since altering the core code of WordPress can be risky – leading to security vulnerabilities and compatibility issues.
Ease of use and Efficiency: Instead of creating complex functionalities from scratch, you can leverage the easy-to-use plugins to save time and effort. WordPress plugin's ease of use feature is also ideal for users new to the website building and management landscape.
Scalability: As your website grows and expands, you can download and activate the necessary changes through plugins and add new features to improve your site's functionality.
Now that we have discussed the plugins' importance let's explore the best WordPress Plugins.
Best WordPress Plugins
With hundreds of plugins available on WordPress, it can be difficult for users to find the best WordPress plugins. Instead of downloading any plugin you find, only installing the best WordPress plugins from trusted sources is essential. Installing outdated or poorly coded plugins can introduce security vulnerabilities.
To free you from the extensive research process, we have compiled a list of the best plugins for WordPress below.
1. WPForms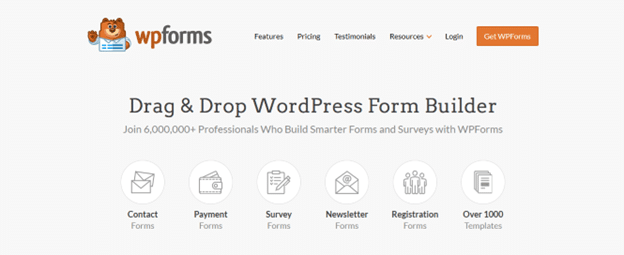 Credits: WPForms Website
WPForms is the best WordPress plugin available today. It was created to streamline the form creation process for your website. With WPForms, you can effortlessly create subscription, contact, and payment forms tailored to your unique needs.
Key Feature
The feature that makes WPForms rank number one among the best WordPress plugins is its user-friendly approach to form building. It features an intuitive drag-and-drop form builder. This tool allows users to create diverse forms without significant effort.
With WPForms, the challenges associated with form creation have become virtually non-existent. The plugin is accessible to both beginners and seasoned website administrators.
The beauty of WPForms' drag-and-drop builder is its simplicity. It enables users to construct various forms, including contact forms, subscription forms, payment forms, and much more.
Pricing
WPForms offers four premium plans, including:
Elite: $299/month
Pro: $199/month
Plus: $99/month
Basic: $49/month
Testimonials
"WPForms makes creating a form easy. I am fairly new to the software however, the experience is just getting better. Even when you think a certain feature does not exist, there is always a plugin that will achieve what you are attempting."
– Phil D.
"Great plugin, worked with it through out the years and its grown up to be very solid. Gotta have it!"
– Omnionsite (Source)
2. All-in-One SEO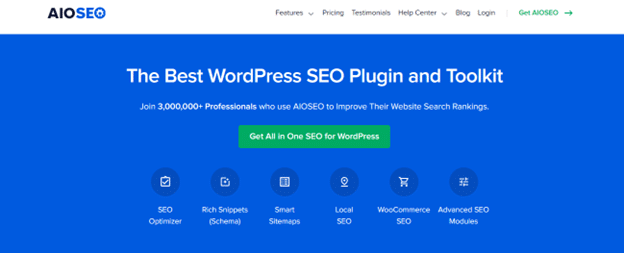 Credits: All-in-One SEO Website
All-in-One SEO is among the WordPress best plugins for users looking to enhance their website's SEO capabilities. It includes all essential SEO features that can help website owners improve their ranking on the search engine. The Plugins can help users set up all advanced WordPress SEO features in under 10 minutes.
Key Feature
The main feature of the All-in-One SEO that ranks it high among the best WordPress plugins for SEO is its user-friendly SEO optimization toolkit. This toolkit empowers website owners and content creators to improve their ranking and overall search engine visibility.
The SEO-optimization toolkit includes advanced features like meta-tag optimization, XML sitemaps, schema markup, and social media integration, allowing users to manage on-page SEO elements easily.
By leveraging the All-in-One SEO toolkit, users can tailor their content to perform well in search results, driving more organic traffic to their website and improving its overall online presence.
Pricing
All-in-One SEO offers four premium pricing plans, including:
Plus: $99/month
Basic: $49/month
Note! All four All-in-One SEO pricing plans come with a 14-day money-back guarantee.
Testimonials
I'm a professional SEO and used many tools and extensions. Regarding simplicity, individuality, and configurability All in One SEO Pro is by far the best SEO plugin out there for WordPress."
-Joel Steinmann
Great plugin and service support. Was deliberating between a few SEO pro plugins. Just really glad i chose AIOSEO. It was not only a useful and powerful SEO tool but the service support is always there will clear guides and instructions. This is what i think makes the diff for me. shoutout to Prab and team: thanks!!!
-Louischuach (Source)
3. SeedProd

Credits: SeedProd Website
SeedProd can be described as a landing page builder plugin. It has become the go-to choice for WordPress users due to its ability to be accessible to all types of users, from novices to veterans. It allows users to craft visually stunning and responsive landing pages remarkably easily.
Key Feature
SeedProd's most attractive feature that wins it the third position in our best WordPress plugins list is its drag-and-drop functionality. The plugin lets you build and design a WordPress website while integrating a customized WordPress theme and landing pages without coding.
Users can also access various professionally curated theme templates catering to different website niches. This can significantly help cut down the time you spend building your site.
Pricing
SeedProd offers four pricing plans, including:
Basic: $39/month
Plus: $99/month
Pro: $199/month
Elite: $239/month
Note! All four SeedProd pricing plans come with a 14-day money-back guarantee.
Testimonials
I've used SeedProd several times and each time it works great! It saves me a lot of work when my site is down and need to perform maintenance. Thanks SeedProd for your product.
-Gaycarnes
Seedpod is what you need to cover your rising creation
Before your project is fully baked, you need something to cover your assets. Seedpod should be your first consideration.
-Mbucherl (Source)
4. HubSpot

Credits: Hubspot Website
HubSpot's WordPress plugin is an innovative integration that smoothly connects your website with HubSpot's CRM (Customer Relationship Management) system.
This integration brings about a world of possibilities, allowing you to manage customer relationships, execute email campaigns, evaluate analytics, and track leads directly from your WordPress website.
Key Feature
The key feature that makes HubSpot WordPress best plugin is its CRM integration capability. The plugin is a centralized platform for enhanced customer interaction and lead management.
It empowers businesses to build meaningful relationships with their audience and customers, boosting customer loyalty and turning prospective customers into regular clients.
Pricing
While Hubspot is a free plugin available to everyone, it does offer a few pricing plans for users seeking advanced features:
Testimonials
We chose HubSpot as our marketing automation system because our team was scaling quickly, and it's intuitive and easy to integrate HubSpot with our data and marketing tech stack. Using HubSpot with Netlify to run our web infrastructure is a highly performant and powerful combination.
-LAUREN SNELL – VP of Marketing
The move [to Service Hub] gives us the visibility we were missing and helps us distribute the work more efficiently among teams…we created [a new approach] to take the pressure off our support team. HubSpot gave us the flexibility to make these kinds of changes on the fly and navigate everything smoothly.
-MARI LUKE – Director of Marketing (Source)
5. WooCommerce
Credits: WordPress Website
WooCommerce is among the best WordPress plugins for business setup, catering to the needs of individuals venturing into the e-commerce landscape within the WordPress ecosystem. It is a powerful tool that transforms your WordPress website into a feature-rich online store.
The WooCommerce WordPress plugin includes all essential features, including secure payments, product management, and streamlined shipping solutions.
Key Feature
WooCommerce's most striking feature is its transformative e-commerce prowess. It is counted among the best WordPress plugins that allow you to conveniently transform your standard WordPress website into a fully functional online store.
By leveraging WooCommerce, you can seamlessly sell services, products, and digital goods online. The WordPress plugin is an all-round e-commerce solution, offering everything from product catalogs to secure payment gateways.
Pricing
WooCommerce is among the best WordPress plugins (free) with zero subscription plans.
Testimonials
We have nothing but success with this plugin! It works flawlessly and we've gotten a ton of reviews from it. The automation is key, great job team!
-Presidentao
Great program – easy to set up and just works!
-Steveholder (Source)
6. MonsterInsights

Credits: WordPress Website
MonsterInsights is a tailor-made Google Analytics plugin thoughtfully crafted with WordPress users in mind, earning its well-deserved place among the best WordPress plugins.
This plugin simplifies the intricate task of tracking website performance, providing profound and invaluable insights into user behavior and your website traffic sources.
Key Feature
The key feature that makes MonsterInsights rank high in the list of WordPress best plugins is its easy-to-use Google Analytics integration. This tool directly integrates with Google Search Console and bridges the gap between intricate analytics data and daily users, making it understandable for beginners.
MonstrInsights can produce user-centric insights and comprehensive user reports, empowering website owners to make data-driven decisions.
Pricing
MonsterInsights offers three pricing plans, including:
Pro: $199/month
Plus: $99/month
Testimonials
Great Easy to Use and Simple!
This plugin is simple, easy to use, and a great way to look at analytics.
-Ncasares
I am impressed with the function that this plugin can make. It helps alot faster and easier.
-Juvin (Source)
7. OptinMonster

Credits: WordPress Website
OptinMonster emerges as one of the best WordPress plugins for lead generation, designed to boost your email marketing efforts. By leveraging this plugin, you can effortlessly create attractive pop-ups and opt-in forms that expand your email list and improve conversion rates.
Key Feature
OptinMonster stands out with its formidable lead generation potential. It allows you to design attention-grabbing opt-in forms and strategically timed pop-ups that effectively engage your website visitors. By harnessing the power of OptinMonster, you can convert casual visitors into loyal customers, brand advocates, and subscribers.
Pricing
Testimonials
Don't wait another second to implement this tool. If you've laid the foundation for your website with an intuitive digital strategy designed to build a qualified audience, OptInMonster will tip the scales in your favor. In less than two weeks, we closed a lead from OptinMonster worth $294,435.
-Lindsey Kelley – Digital Marketing Manager
I could not believe how many email signups we were getting on a weekly basis just from Optinmonster. It's really a no-brainer for our organization. It is super easy to use and set up. Easy connections to our email marketing software and Google Analytics enables us to get a ton of data about our leads and easily integrate Optinmonster data into our broader marketing reporting. When it comes to organic lead generation for our organization, OptinMonster is the driving force.
-David Muller – Senior Digital Marketing Manager (Source)
8. Smush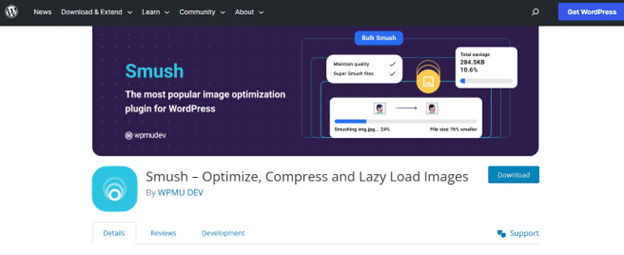 Credits: WordPress Website
Smush, one of the best WordPress plugins, is an image optimization masterpiece meticulously crafted to amplify your website's performance without compromising image quality. It works diligently behind the scenes by resizing and compressing images to improve your website's loading speed and overall user experience.
Key Feature
Smush's image optimization potential is among its key features. The plugin can reduce the file size of images while ensuring their visual integrity. This can help significantly improve a website's speed and ensure visitors don't click off due to issues like slow-loading pages.
Pricing
Although Smush offers a free version, users looking for advanced features can subscribe to one of their monthly pricing plans, including
Pro Freelancer: $13/month
Agency (Unlimited Sites): $33/month
Testimonials
Excellent plugin. It has been a benefit to my site for over a year now, and is intuitive and easy to use. I highly recommend this plugin. Thank you smush!
-1driver5x5
It's great useful plugin to compress image, especially need to use easily.
-Wonbird (Source)
9. Borderless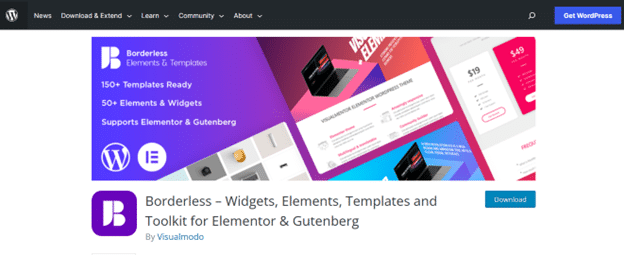 Credits: WordPress Websites
Borderless is a strong contender among the best WordPress plugins for multi-page building. It works by expanding the capabilities and options of your existing WordPress editing tools. With the free addition of widgets and blocks on your website, you can create professional layouts with countless powerful shortcodes.
Key Feature
The key feature of the Borderless multi-page builder WordPress plugin is its ability to integrate into any page builder, allowing users to craft visually appealing, complex, customizable web pages without technical expertise or coding skills. This makes website design and layout customization accessible to a broader audience.
Pricing
Borderless offers two pricing plans, including:
Borderless Pro: $59/month
Visualmondo Pass: $111/month
Testimonials
This is a game-changer for creating stunning websites without the need for coding. Its intuitive interface and focus on customization make it an excellent choice for both beginners and experienced developers. Whether you're building a personal blog, an online store, or a corporate website, Borderless provides the tools you need, allowing users to start their projects quickly.
-Luisinho010
The system of importing pre build pages helped me a lot while starting in WordPress, this plugin and elementor site builder saves me a lot of time, thank you for the tool
-Segurosorocabaauto (Source)
10. iThemes Security
Credits: iThemes Website
iThemes Security is a security-focused WordPress plugin. It is engineered to enhance your website's defenses against potential threats. iThemes Security offers robust security features like malware scanning and two-factor authentication to safeguard your website from vulnerabilities.
Key Feature
The key feature differentiating iThemes Security from competitors and highlighting it among the best WordPress plugins is its unique approach to protecting your WordPress website. The plugin offers a multi-layered security solution, including monitoring of login attempts, real-time malware scanning, and two-factor authentication.
By implementing these features, iThemes Security helps prevent threats like unauthorized access and efficiently detects and mitigates security risks.
Pricing
iTheme Security offers three pricing plans, including:
Testimonials
My company has been building websites for 23 years. When we discovered iThemes Security Pro, it solved so many daily problems that we were "jooked.: My team sleeps better at night, knowing that hackers are thwarted. Plus, they have the friendliest support team we've encountered in the WordPress world!
-Sue Polinksy
iThemes' products and training have created the foundation for both, full-time work and my freelance/small agency work for clients. As a self-professed, introverted 'geek,' it has also helped me begin to develop friendships in the WordPress community.
-Erica Eide (Source)
11. Pretty Links Pro
Credits: Pretty Links Website
Pretty Links Pro is an impactful link management plugin that streamlines creating, managing, and tracking branded and shortened links on your WordPress site. This versatile tool can be helpful for bloggers, businesses, and affiliate marketers looking to maintain a consistent and professional online presence.
Key Feature
The top feature of Pretty Links Pro – one of the best WordPress plugins – is its ability to create clean and branded links. These links can help you improve your website's user experience, helping build trust with your audience.
It offers link tracking and analytics to help you monitor the performance of your links, offering data on click-through rates and conversion data. Pretty Links Pro also provides automatic link cloaking and redirection to make complex URLs aesthetically pleasing and user-friendly.
Pricing
Pretty Link Pro offers three pricing plans, including:
Super Affiliate: $199/month
Testimonials
There are a lot of useful and time-saving features that make Pretty Links a great product. Their Support Team is also very responsive to bugs/requests and posts updates very quickly.
-David B.
The best plugin for shortening your links! I've been using this plugin for years. It's especially helpful for sharing links to affiliate products.
-Karmen K. (Source)
12. SearchWP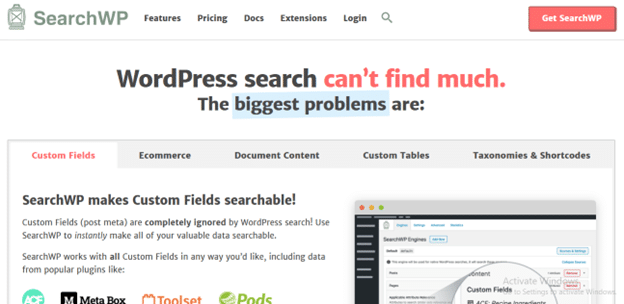 Credits: SearchWP Website
SearchWP is an advanced search enhancement plugin. It supplements the default WordPress search functionality by adding a wide array of features and customization options to help your users find the most relevant content on your website quickly and efficiently.
Key Feature
The distinguishing feature of SearchWP is its potential to deliver accurate and relevant search results. The plugin achieves this through powerful search algorithms, which factor in post popularity, keyword relevance, and custom field data.
By leveraging SearchWP, you can optimize search results, prioritize specific content types, and even exclude certain pages or posts from search results.
Pricing
SearchWP offers three pricing plans, including:
Testimonials
"Having run a site with tons of content in it, search is important to my readers. I've tried so many plugins for search that, well, that just didn't cut it. When I hit upon SearchWP my "search" was over. Excellent results and control."
-Bob D.
"SearchWP delivers the search experience WordPress should out of the box. The way it combs through Advanced Custom Fields (ACF) is class leading. It's an excellent product and a terrific value."
-John S. (Source)
13. WP Sticky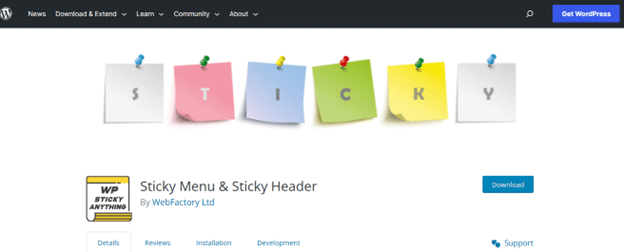 Credits: WordPress Website
WP Sticky is an exceptional plugin that allows you to produce and manage sticky elements on your WordPress website, enhancing user engagement and navigation. It is ideal for highlighting important information, like contact details and menus.
WP will help you ensure users see all the important information you want them to notice as they scroll down your pages or posts.
Key Feature
The most appealing feature of WP Sticky is its ability to make any element on your website sticky. By leveraging the plugin, users can make everything from menus and headers to sidebars and custom widgets sticky.
WPSticky offers flexible positioning options, allowing you to decide where and when the sticky elements become active, ensuring a smooth user experience.
Pricing
WP Sticky offers three pricing plans, including:
Testimonials
"I only started building my website last week and this plugin has been super helpful to me so far. It's easy to use and straightforward, even if you don't understand basic HTML/ CSS"
-Hyggecrochetlife
"This plugin is very helpful in easily adding some great functionality to a site. Plus, the plugin appears to be well supported by its author – which is worthy of applause all by itself!"
-Copernicus (Source)
14. MetForm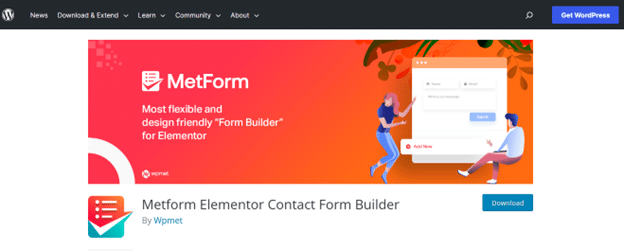 Credits: WordPress Website
MetForm is a robust form builder plugin that provides advanced form customization options, making it an ideal choice for creating a wide range of forms, including contact forms, surveys, registration forms, and more. It's designed to be user-friendly, even for those with limited coding knowledge.
Key Feature
The standout feature of MetForm is its extensive form customization capabilities. It offers a drag-and-drop form builder, allowing you to create forms easily.
MetForm also supports conditional logic, enabling you to show or hide specific form fields depending on user responses. Integration with popular email marketing services and CRM tools further enhances its functionality.
Pricing
Although MetForms offers a free plugin, it also includes three categories of pricing plans for users requiring advanced features.
Yearly
Personal: $39
Professional: $87
Agency: $179
Lifetime
Personal: $119
Professional: $259
Agency: $489
Bundle
5-in-1 Yearly Pack: $399
5-in-1 LTD Pack: $699
Testimonials
Excellent customer support and a very useful plugin!
Considering the fact that this plugin is free, it is very useful. My site pages benefit from it as it gives me a better understanding of my audience and customers. Whenever I have contacted the support team for a technical issue, I received excellent customer support with individualized service. Please accept my sincere thanks!
-Krystynanaryzhna
This is a quality extension that allows you to work directly on the "form" and automatically insert it into Elementor. All this with great time savings.
-Roxpoz (Source)
15. XML Sitemaps

Credits: WordPress Website
XML Sitemaps is a WordPress plugin that generates XML sitemaps for your website. The plugin was created to make it easier for search engines to crawl and index your content.
Sitemaps provide a structured overview of your website's pages, enabling search engines to understand your website's overall structure and content hierarchy.
Key Feature
The primary feature of XML Sitemaps, which places it among the best WordPress plugins, is its role in improving SEO (Search Engine Optimization). The plugin automatically produces and updates your sitemaps.
This allows it to ensure search engines always have access to your latest content. XML Sitemaps can lead to quicker indexing, enhanced search rankings, and better visibility in SERPs (Search Engine Results Page).
Pricing
XML Sitemaps is free for up to 500 pages. Its paid plans start at $4.19/month, allowing users to optimize anywhere between 1,000 to 1.5 million pages.
Testimonials
-Salem80
Happy with the way the plugin works.
-O_Breda (Source)
16. PushEngage

Credits: PushEngage Website
PushEngage is a push notification plugin that allows website owners to engage and re-engage their visitors through browser notifications. It's an impressive tool for boosting user engagement, conversions, and website traffic.
Key Feature
PushEngage's most prominent feature that ranks it among the best WordPress plugins is its ability to send real-time push notifications to your website visitors.
These notifications can be customized to deliver announcements, special offers, or other personalized content. The plugin also offers advanced targeting features, allowing website owners to ensure all important messages reach the target audience.
Pricing
PushEngage offers four pricing plans, including:
Premium: $22/month
Growth: $34/month
Note! All four PushEngage pricing plans come with a 14-day money-back guarantee.
Testimonials
7.17% more conversions from cart abandon reminders
PushEngage is quick and easy to implement. It provides results promptly and the analytics presents them in a clear and understandable fashion. The ability to tailor your target audience is particularly impressive as you are able to increase your engagement rates as you use the software.
-Alex Avery
39% increase in repeat visitors
With a very simple and fast integration we've been able to re-engage the users and increase amazingly traffic and conversions of our site.
-Montse Yélamos (Source)
17. Sucuri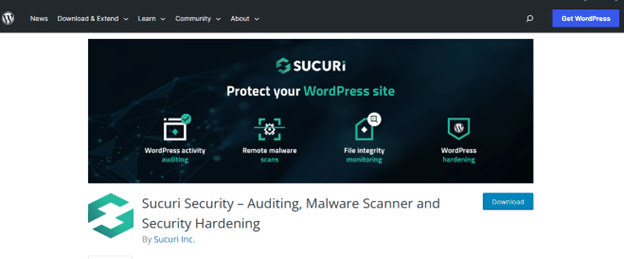 Credits: WordPress Website
Sucuri is a comprehensive website security plugin that provides firewall protection, real-time monitoring, and malware scanning to protect your WordPress website against various online vulnerabilities.
Key Feature
The primary feature of Sucuri is its ability to monitor your website for suspicious activity and potential threats round-the-clock. If the plugin detects a security breach or malware, Sucuri offers a rapid and effective response by removing malware and conducting a cleanup.
The plugin's firewall protection capabilities serve as a proactive approach to website security by blocking any malicious traffic before it reaches your site.
Pricing
Sucuri offers four pricing plans, including:
Basic Platform: $199/year
Business Platform: $499/year
Multi-site & Custom Plans: Price upon request. Interested individuals can dial 1–888–873–0817.
Testimonials
With more than 300,000 daily pageviews, WPBeginner uses Sucuri to improve performance, speed, and availability in the face of attacks and traffic spikes.
-Syed Balkhi – Founder & CEO (Wp Beginner)
iThemes was receiving DDoS-like attacks from bots scraping their feed, hindering efforts to bring a more comprehensive security solution to its client base.
-Cory Miller – Founder & CEO (iThemes) (Source)
18. Google Workspace (formerly G Suite)

Credits: Google Workspace Website
Google Workspace – formerly known as G Suite – is a collection of productivity tools that smoothly integrate within your WordPress site. The plugin offers everything from cloud storage and professional email to features and collaboration, making it an essential tool for businesses and organizations.
Key Feature
The standout feature of Google Workspace, making it one of the best WordPress plugins, is its ability to offer a wide range of productivity tools, including Google Drive, Google Docs, Gmail, and more.
It enables you to create a professional email using your domain name, offers cloud storage for smooth file sharing, and simplifies real-time collaboration on presentations and documents.
Pricing
Google Workspace offers four pricing plans, including:
Business Starter: $6/month
Business Standard: $12/month
Enterprise: The pricing for this plan can vary. Interested users can contact sales by dialing 855-720-6978 for more information.
Testimonials
End-users can quickly adopt and deploy it, as it is similar to the free Gmail service.
-Andrei
Google Workspace is easy to setup, has all the features that any company (big or small) will need. It can be integrated with other software (Salesforce, Project Management). It's pretty easy to use and it's rarely / never offline.
-Patrick (Source)
19. Semrush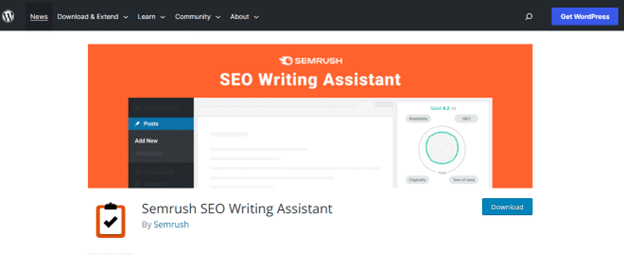 Credits: WordPress Website
Semrush is among the best WordPress plugins for SEO and marketing created to help you boost your site's performance, conduct competitor analysis, track keyword rankings, and improve your overall online presence.
Key Feature
Semrush's leading feature that has enabled it to be known among the best plugins WordPress has ever seen for writers is its potential to offer in-depth insights into your website's SEO performance and identify opportunities for further refinement.
By leveraging this feature, you can optimize your SEO performance and keep improving your website, which can significantly boost traffic.
Pricing
Semrush offers three pricing plans, including:
Guru: $249/month
Business: $499/month
Note! Individuals looking to use Semrush for the long-term can consider paying annually to receive 17% off on each pricing plan.
Testimonials
"It's unfortunate that so many people have given this a bad review because they can't use it without a subscription, which is expensive. Those aren't reviews of the plugin. That said, I already have a subscription, which for my business I find worthwhile for the money. This is a fantastic tool to help me optimize my pages without having to copy and paste the content into SEMRush.…."
-SocialSparkMedia
Pros: I like the addition of this tool. It adds another dimension, research, and validating tool to the content arena. It helps me see what we forgot to include sometimes.
Cons: The backlink suggestions are rarely useful. We often see our own sites listed in the generated template doc of how competitors use the keywords."
-Show Up Strong (Source)
20. LiveChat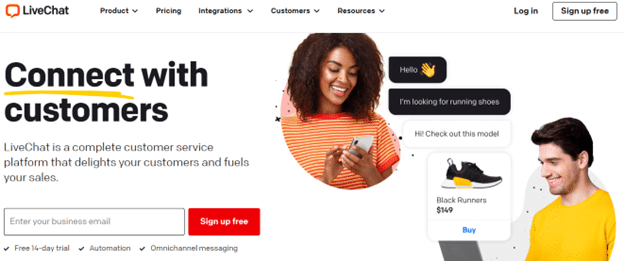 Credits: LiveChat Website
LiveChat is a top contender among the best WordPress plugins for live chat and customer support. It allows you to remain connected with website visitors in real-time.
Through LiveChat, e-commerce businesses can provide instant assistance and support to their visitors. It is a highly valuable tool for businesses looking to improve customer service and conversions.
Key Feature
The most sought-after feature of LiveChat that makes it one of the best plugin WordPress users can download is its live chat functionality. LiveChat enables real-time communication between your support team and website visitors to boost visitor satisfaction and lead-generation opportunities.
The plugin offers chat routing, customization options, and integration with the leading CRM systems to provide a smooth customer support experience. LiveChat also provides analytics and visitor tracking to help you understand user behavior and preferences.
Pricing
Live Chat offers a 14-day free trial for interested users. Users who wish to continue to use the plugin can subscribe to any one of the four pricing plans, which include:
Starter: $20/month
Team: $41/month
Business: $59/month
Enterprise: Enterprise is an individual contract with annual billing. Interested individuals can request a call with the Live Chat customer service representatives to learn more about the pricing plan.
Testimonials
Really good working plugin for all live-chat users embeds live-chat effortless to your wordpress website.
-Danielpat
I am a one-person business, and LiveChat has saved my if you know what I'm saying! I can easily set up auto-replies, integrate with other apps and other messaging platforms, and I can turn the my status on and off. I can see how useful this would be for a company that has multiple agents/multiple seats, but it works just fine for me as a one-person shop. Best of all, I don't need to worry about using telephone tag to deal with people!
-Madmetalmage (Source)
21. DragDropr

Credits: DragDropr Website
DragDropr is a user-friendly page builder plugin that simplifies the task of designing and customizing web pages on your WordPress website. It offers a drag-and-drop interface, streamlining the web design process for users of all skill levels.
Key Feature
The most enticing feature of DragDropr that secures its place among the best WordPress plugins is its intuitive drag-and-drop functionality.
The plugin's drag-and-drop feature makes it incredibly easy for anyone to design and customize pages effortlessly. You can add elements like images, videos, text, and widgets to your site to enhance its performance. This feature allows users to enjoy a smooth web design process and eliminates the need for complex coding.
Pricing
DragDropr offers three pricing plans, including:
Testimonials
-Nichlas Brandon (Source)
22. BuddyPress

Credits: WordPress Website
BuddyPress is among the best WordPress plugins for social networking that aims to help you foster a community or social networking platform within your site. The plugin provides features like messaging, groups, user profiles, and activity streams.
Key Feature
BuddyPress's key feature is its potential to turn your WordPress website into a vibrant online community. You can foster social interactions and user engagement through this plugin and build a network of users who share common interests – all within your WordPress website.
Pricing
BuddyPress is a free and open-source plugin.
Testimonials
I find it very good plugin with basic features, but in reality, you need better design and more features / options.If you want to save time to make your site look decent or not so good at coding yourself, I recommend you to go with paid themes.
-Naovy G
It already has many features, great dev team and it is highly extendable. The UI might not be great, but using a BP-supporting theme can change that.
-Giannis4 (Source)
23. WPCode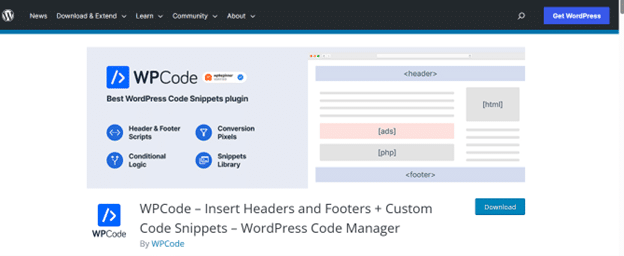 Credits: WordPress Website
WPCode is one of the best WordPress plugins designed for developers and advanced users who need to add custom code to their WordPress site. It provides a secure and organized way to insert code snippets, including HTML, CSS, JavaScript, and PHP.
Key Feature
The key feature of WPCode is its code management system, which ensures that custom code snippets are integrated seamlessly into your WordPress site without compromising website security or performance. This is especially valuable for developers who want to maintain control over their website's codebase.
Pricing
WPCode offers four pricing plans, including:
Testimonials
I have yet to plumb the depths of this tool, but to the extent I have used it, whenever I hit a snag I get terrific support from the developers.
-Jimgrey
After long time of using several other plugins, I finally found this All in one plugin.
-Petrj (Source)
Are you looking for information on WordPress plugins for site backup? Read our informative blog: How To Backup WordPress Site In Three Easy Ways (redswitches.com).
Conclusion
Plugins serve as the foundation of WordPress's functionality and flexibility. By incorporating the best WordPress plugins discussed above, you can take your WordPress website to another level.
These plugins cater to diverse users, including anyone looking to build a community, optimize for conversions, run an online store, or customize code. Before exploring the features of these plugins, it is important to evaluate your specific needs and consider their pricing to ensure you choose the ideal plugins for yourself.
To ensure that your WordPress website performs at its best and smoothly integrates these plugins, it's important to have reliable hosting services. That's where RedSwitches comes into play.
By choosing RedSwitches as your hosting service provider, you will gain access to a wide range of hosting solutions designed to optimize WordPress performance, ensuring that your website remains secure, loads optimally, and can handle the demands of these robust plugins.
With RedSwitches by your side, you'll have the ideal foundation for your WordPress website, allowing you to fully utilize the capabilities of these plugins and provide a stellar online experience for your visitors.
So, as you explore the world of the best WordPress plugins, consider RedSwitches for a complete and reliable web hosting solution. Visit our site today to learn more.
FAQs
Q. What is SEO and why is it important?
SEO (Search Engine Optimization) is the practice of optimizing your website to improve its visibility and ranking on search engine results pages. It is important because it helps increase organic traffic to your website and improves your website's chances of being discovered by potential visitors.
Q. Which plugin is best for SEO in WordPress?
All-in-One SEO is number one among the best WordPress plugins for SEO. It includes all important SEO features needed to optimize a website to its full extent.
Q. What are the most used plugins in WordPress?
The most used plugins include WPForms, All in One SEO, SeedProd, HubSpot, WooCommerce, MonsterInsights, OptinMonster, Smush, Borderless, and iThemes Security.
Q. Which are the best free WordPress plugins in 2023?
Some of the best free WordPress plugins in 2023 include Yoast SEO, WP Super Cache, Jetpack, WooCommerce, Contact Form 7, All in One SEO Pack, and Akismet.
Q. How can WordPress plugins improve my website?
WordPress plugins can improve your website in many ways. They can add new functionalities, enhance security, optimize performance, improve SEO, and provide better user experiences.
Q. Are there any popular WordPress plugins that every website needs?
Yes, there are several popular WordPress plugins that are considered essential for almost every website. Some of these include Yoast SEO, Jetpack, Akismet, WooCommerce, and Contact Form 7.
Q. What is the best WordPress plugin for SEO?
One of the best WordPress plugins for SEO is Yoast SEO. It offers a range of features and tools to help optimize your website for search engines and improve its visibility.
Q. Is there a WordPress plugin to improve website speed?
Yes, there are several WordPress plugins available to help speed up your site. Some popular options include WP Super Cache, W3 Total Cache, and WP Rocket.
Q. Are there any WordPress plugins for backing up my website?
Yes, there are several WordPress plugins available for website backup. Some popular options include UpdraftPlus, BackWPup, and Duplicator.
Q. Can you recommend a WordPress plugin for creating forms?
Yes, one popular WordPress plugin for creating forms is Contact Form 7. It is user-friendly and offers a range of customization options.
Q. Are all WordPress plugins available for free?
No, not all WordPress plugins are available for free. While there is a wide range of free plugins, there are also premium plugins that come with advanced features and premium support.
Q. How can WordPress plugins help grow my business?
WordPress plugins can help grow your business by providing tools and functionalities to enhance your website's performance, attract more visitors, improve SEO, streamline processes, and increase conversions.