Have you ever visited a stunning website so user-friendly that it left you wondering, 'How did they create this digital masterpiece?' Well, you're not alone. WordPress has established itself as a powerful platform for website creation, with a market share of 63.5% in 2023.
In fact, as of 2022, WordPress powers 43% of the entire internet—that's 835 million websites!
Nevertheless, 14.7% of the world's top sites of Fortune 500 companies use WordPress as their preferred CMS. But sometimes, you need more than the standard features to bring your digital vision to life. That's where WordPress page builders come into play.
In this comprehensive guide, we'll dive into what a WordPress page builders is, why you should consider using one, and then explore the best page builders for WordPress available in the market, along with their details.
Table of Contents
What is a WordPress Page Builder?
A page builder is like a toolbox for making a website. It helps you create a website by letting you move things around easily and using ready-made parts. For instance, you can click on a button to add a contact form, put it wherever you like on your page, and change how it looks and works. Just drag-and-drop is what you have to do!
A WordPress page builder empowers you to design and structure web pages visually without extensive coding knowledge. These drag-and-drop builders provide an intuitive interface that allows users to add, arrange, and customize various elements on a webpage effortlessly.
You can check out this comprehensive tutorial to install WordPress with Docker Compose.
Why Use a WordPress Page Builder?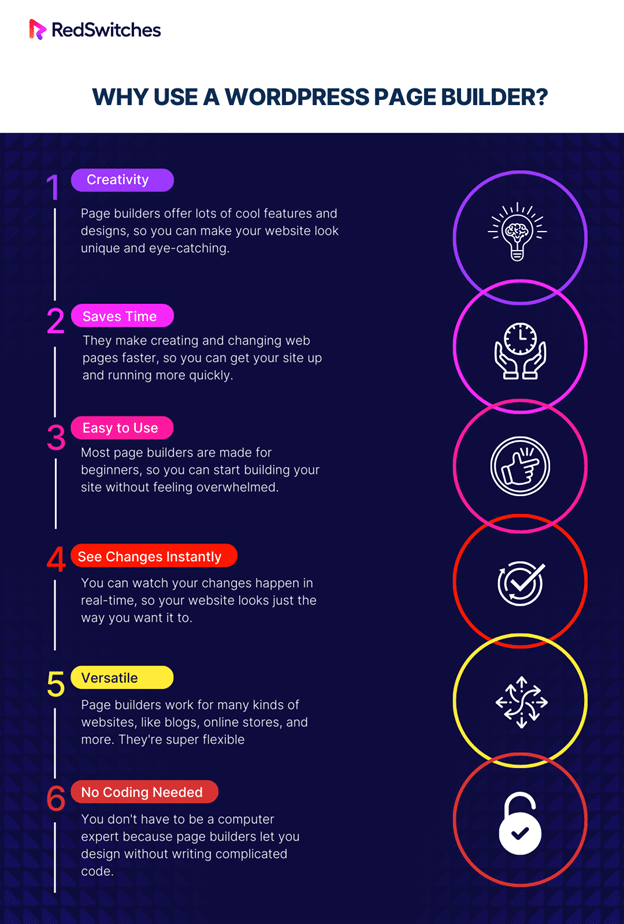 Using a WordPress page builder is a smart choice for several reasons:
Creativity
Page builders offer lots of cool features and designs, allowing you to make your website look unique and eye-catching.
Saves Time
They streamline creating and modifying web pages, enabling you to get your site up and running faster.
Easy to Use
Most page builders are designed with beginners in mind. This means you can start building your
site without feeling overwhelmed by technical details.
See Changes Instantly
The advantage of real-time editing ensures that you can watch your changes happen instantly, ensuring your website looks precisely the way you envisioned.
Versatility
Their versatility is commendable. Whether you're working on blogs, online stores, or any other type of site, page builders offer the flexibility you need.
No Coding Needed
One of their biggest draws is that you don't have to be well-versed in computer languages. Page builders let you design and structure without the need to write complicated code.
You can also check our blog to see what expert digital geek Warren Laine-Naida says about WordPress page builders.
Key Features to Choose The Best Page Builders for WordPress
When choosing the best page builder for WordPress, it's essential to consider several key features to ensure it aligns with your website-building needs:
Drag-and-Drop Interface: Look for an intuitive interface that allows you to drag and drop elements onto your pages easily.
Template Library: A robust library of pre-designed templates can save you time and serve as inspiration for your projects.
Responsive Design: Ensure the builder supports responsive design to guarantee your site looks great on all devices.
Customization Options: The ability to customize fonts, colors, spacing, and other design elements is crucial for creating a unique website.
Third-Party Integrations: Compatibility with third-party plugins and extensions can enhance your site's functionality.
Now that you know what to look for in the best page builder for WordPress, let's explore WordPress's top 15 page builders. We have listed down its key features, pricing, and ease of use for you to choose what suits your business the best:
1. Breakdance Page Builder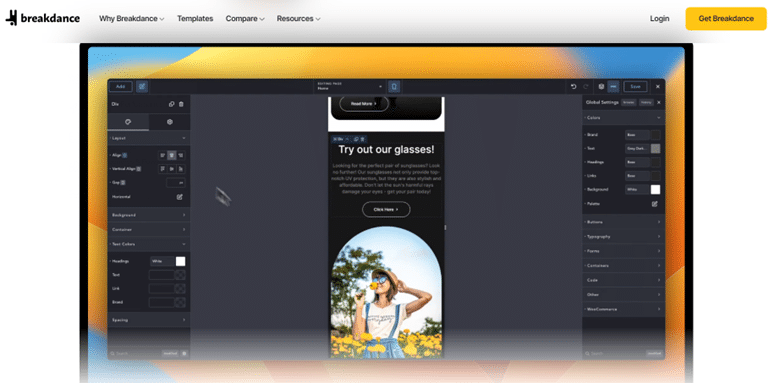 Breakdance Page Builder is a dynamic and user-friendly tool that empowers you to create stunning and functional websites. Whether you're a novice or an experienced web developer, Breakdance Page Builder offers a seamless website-building experience without coding expertise.
With Breakdance Page Builder, you have the tools to create a visually captivating and user-friendly website, whether starting from scratch or enhancing an existing one. It's your gateway to a digital masterpiece. This page builder comes with a Design Library of its own, as well as global styles, dynamic data, and conditions. It is also responsive so that webpages will look amazing on any device.
Key Features
Breakdance Page Builder offers a wide range of features to enhance your WordPress website-building experience, from e-commerce support to performance optimization and design flexibility.
WooCommerce Store Elements
Offers over 20 WooCommerce elements that allow for detailed customization of your online store.
Boasts 120+ Premium Elements across seven categories, making site-building even more efficient.
Empower your design process by visually designing headers, footers, templates, and other site elements.
Enables the creation of various forms such as contact forms, login panels, and registration setups.
Simplify the process of building responsive menus and explore diverse header styles with ease.
Implement consistent font styles, color schemes, and layouts across your entire website.
Ensures optimal performance with full compatibility with CDNs and an optimized approach to image handling.
Gain access to a collection of professionally designed templates, making customization a breeze.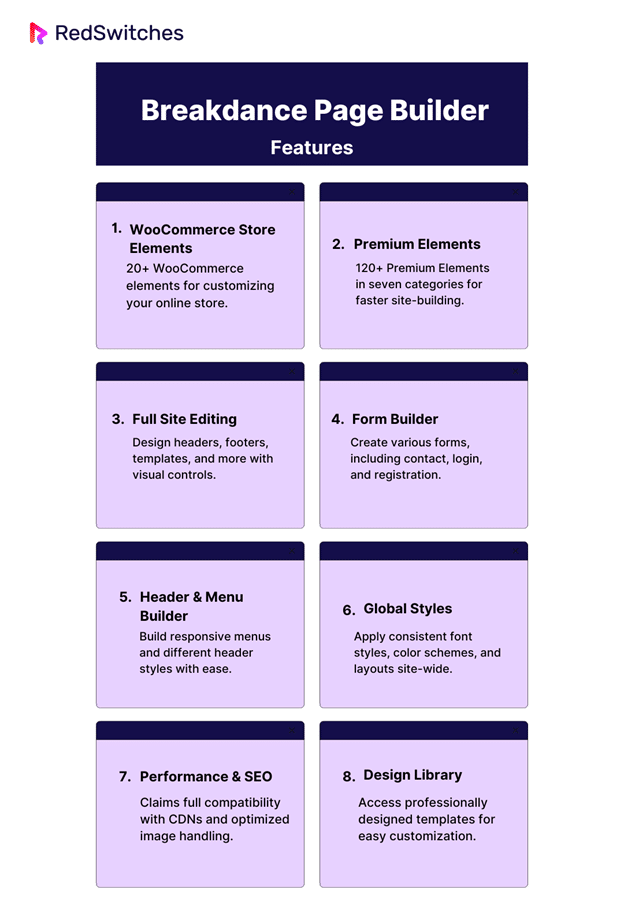 Pricing
The pricing structure to join the Breakdance page builder revolution starts with their free plan. Yes, they offer a free plan to quickly build incredible WordPress websites using their essential features for free.
Next, they offer premium plans: Breakdance Pro for one website costing you $99.99/year, and Breakdance Pro offers unlimited websites starting at $199.99/year.
2. Elementor Page Builder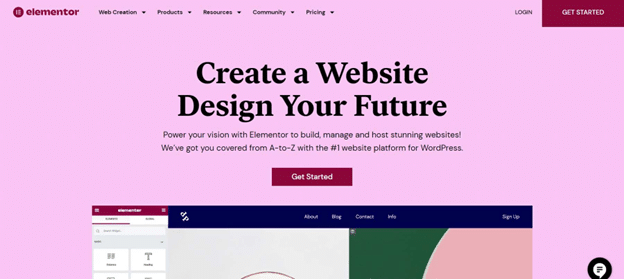 Elementor is one of the best page builders for WordPress, with a powerful and user-friendly page builder plugin for WordPress that empowers you to create stunning websites easily. It is trusted by millions of users worldwide, making it a reliable choice for anyone looking to design a visually appealing and functional WordPress website. Whether you're a beginner or an experienced developer, Elementor's versatility and drag-and-drop interface make it an excellent tool for creating digital masterpieces.
Elementor seamlessly integrates with popular WordPress plugins such as Wordfence, Smush, Yoast, and WooCommerce. With over 20 WooCommerce widgets at your disposal, Elementor empowers you to design and customize your eCommerce pages to meet your specific needs, making it a valuable tool for building powerful and attractive websites.
Key Features
Visual Drag-and-Drop Builder
Craft stunning websites with ease using an intuitive, visual drag-and-drop interface.
Dive into a selection of over 100 design widgets, allowing you to customize your web pages to your exact specifications.
Start your design journey on the right foot with access to a rich library of 300+ pre-made templates.
Keep your website's look and feel consistent by setting global design preferences for styling throughout.
Engage your visitors with custom popups. The builder offers advanced triggering options based on user behavior or specific events.
If you're in the e-commerce space, rejoice! The builder seamlessly integrates with WooCommerce, ensuring you can design custom WooCommerce pages with the same ease and flair.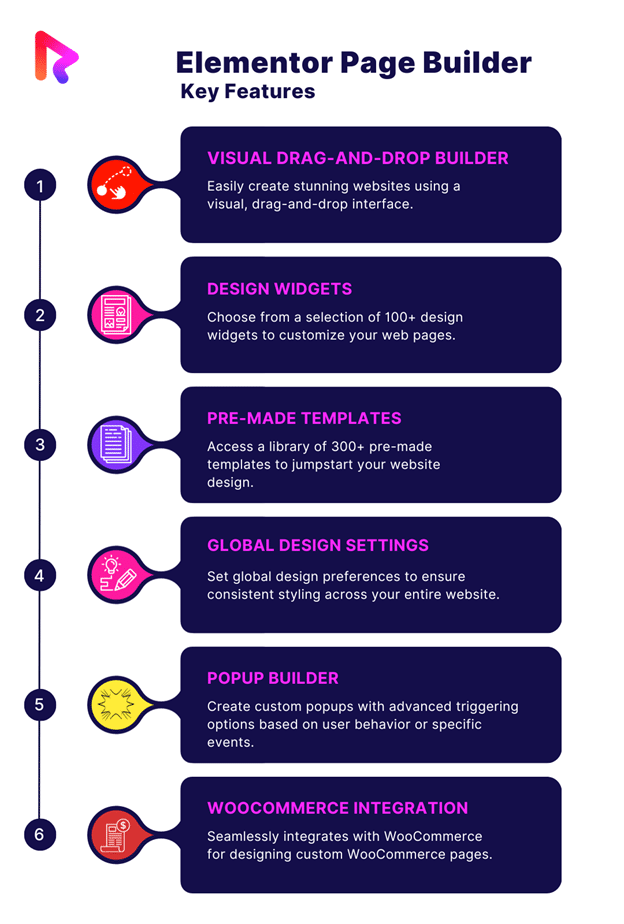 Pricing
The pricing plan for the Elementor page builder plugin for WordPress offers three plans:
Essential plan: Allows 1 Pro Website, costing USD 59/Year
Expert plan: Allowing 25 Pro Websites, costing USD 199/Year
Agency plan: Allowing 1000 Pro Websites, costing USD 399/Year
3. Beaver Builder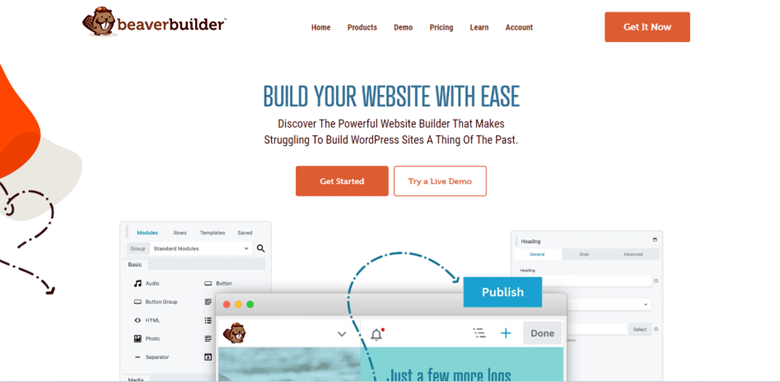 Beaver Builder is one of the best page builder for WordPress that simplifies the website creation process. It offers both a page builder plugin and a framework theme. While it may take some time to familiarize yourself with its interface and its relatively smaller element library, once you do, you'll find Beaver Builder to be a robust and dependable tool.
Notably, it sets layouts directly using HTML and CSS instead of generating shortcodes, which allows you to maintain your layouts, offering a distinct advantage for long-term website management and customization. Whether building a personal blog, business website, or online store, Beaver Builder provides the tools to bring your digital vision to life.
Key Features
Drag & Drop Front End Builder
Streamline your design process with an easy-to-use visual, drag-and-drop interface, enabling you to craft your website precisely how you envision it.
Ideal for agencies, Beaver Builder allows for customization to showcase your brand, ensuring a professional appearance to your clients.
Jumpstart your website creation with access to pre-designed templates tailored for crafting engaging landing pages.
Offer a touch of autonomy to your clients by granting them access to edit specific content. At the same time, this feature ensures the integrity of the overall design remains protected.
For pages demanding rich content, make use of specialized templates, enabling efficient creation without compromising on quality.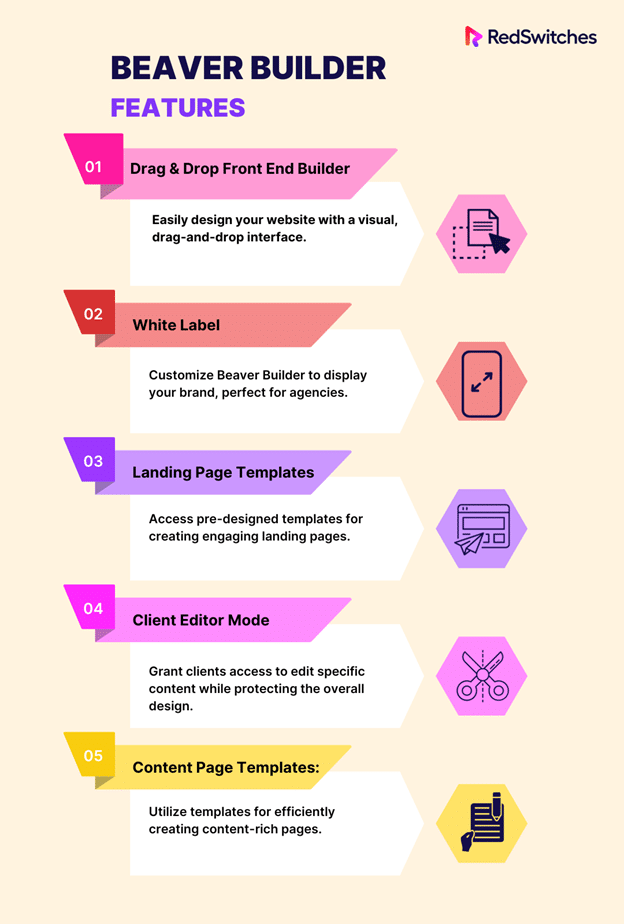 Pricing
Beaver Builder offers a range of pricing options to cater to different needs, from individual website builders to agencies looking for advanced features and branding capabilities.
Free Version: Beaver Builder offers a free version for basic website building.
Standard Plan ($99/year):
Includes the page builder plugin, modules, and templates.
One year of support.
Can be used for an unlimited number of websites.
Pro Plan ($199/year):
Includes all features in the Standard plan.
Multi-website capability.
Includes the Beaver Builder theme.
Agency Plan ($399/year):
Includes all features in the Pro plan.
White labeling for branding customization.
Ultimate Plan ($546/year):
Comprehensive plan with all features, including white labeling.
Exact details beyond what's in the Agency plan may vary, so checking the latest offerings is recommended.
4. Brizy Page Builder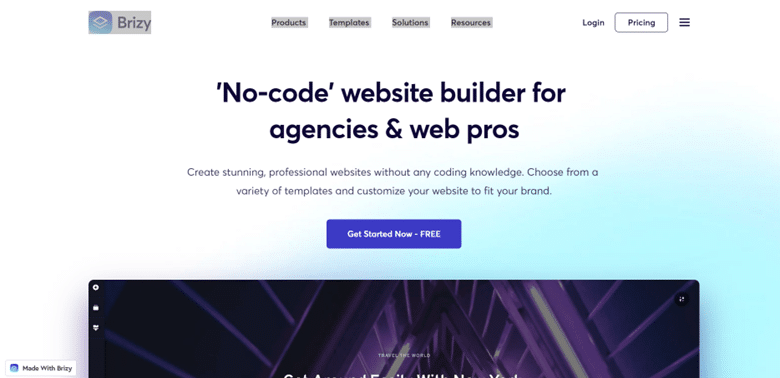 Brizy is an impressive WordPress editor plugin focusing on modernity and user-friendliness. It stands out as the best page builder for WordPress. Built on React, it offers a refreshing approach to website design with an array of high-quality templates to kickstart your creative projects. Brizy's seamless front-end editing experience sets it apart, allowing you to make changes directly on your website without navigating complex menus.
Brizy's intuitive interface facilitates the swift creation of new page elements and column layouts, ensuring a smooth and dependable website-building process. For those seeking advanced customization options for headers, footers, and role management, Brizy Pro provides a convenient solution with minimal effort.
Key Features
Experience the convenience of editing your website content and witnessing the changes instantly, reflecting exactly how your visitors would see them in real-time.
The theme's user-friendly interface allows for effortless creation and customization of your website layout. Simply drag and drop elements to bring your design vision to life.
Dive into a comprehensive library of over 400 professionally crafted templates. These are perfect for giving your website projects a head start.
Maintain a consistent and cohesive design language across your entire website. The theme's global styling settings allow you to apply changes that impact various elements simultaneously.
Enhance both the functionality and aesthetics of your website with access to an extensive collection of 36+ potent design elements.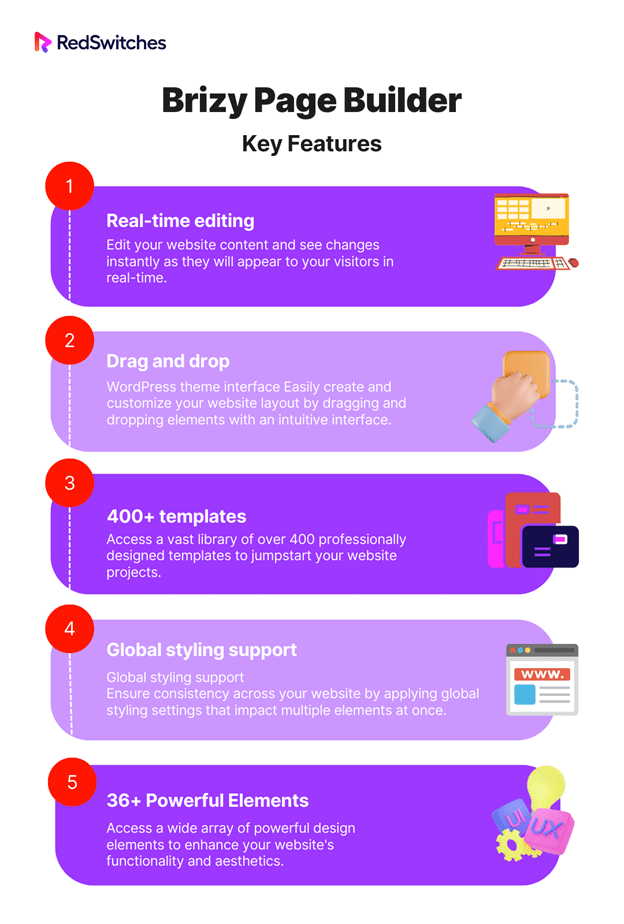 Pricing
Brizy pricing structure offers a free plan for its users to try if they want to pay for this page builder or not. Other than that, they offer four premium plans with premium features:
Personal plan (1 website): charged at $60/yr, $5/mo billed yearly
Freelancer plan (25 websites): charged at $108/yr, $9/mo billed yearly
Agency plan (50 websites): charged at $192/yr, $16/mo billed yearly
White Label plan (100 websites): $300/yr, $25/mo billed yearly
5. BoldGrid Page Builder
BoldGrid Page Builder is the best page builder for WordPress, a versatile and user-friendly WordPress plugin designed to simplify the website creation process. It empowers users of all skill levels to craft visually stunning and fully functional websites with ease.
Built on the WordPress platform, BoldGrid is the best wordpress site builder that offers a seamless integration that allows you to harness the power of WordPress while benefiting from an intuitive and efficient page-building experience.
Key Features
Simplify designing, building, testing, and sharing WordPress websites. Enjoy the added convenience of resetting any mistakes with just a single click.
Jumpstart your web projects with access to over 200 industry-specific templates, each with content and visuals tailored to your needs.
Efficient Block-Based Editing
Speed up your website creation with pre-designed blocks. These blocks come filled with editable content, facilitating both visual editing and adjustments to HTML/CSS.
Leverage the combined power of BoldGrid themes and the Page Builder plugin. With these tools, crafting visually captivating landing pages and promotional content becomes a breeze.
Give your website a competitive edge in search rankings. The builder's SEO tools are intuitive, guiding you step by step in generating content favorable to search engines.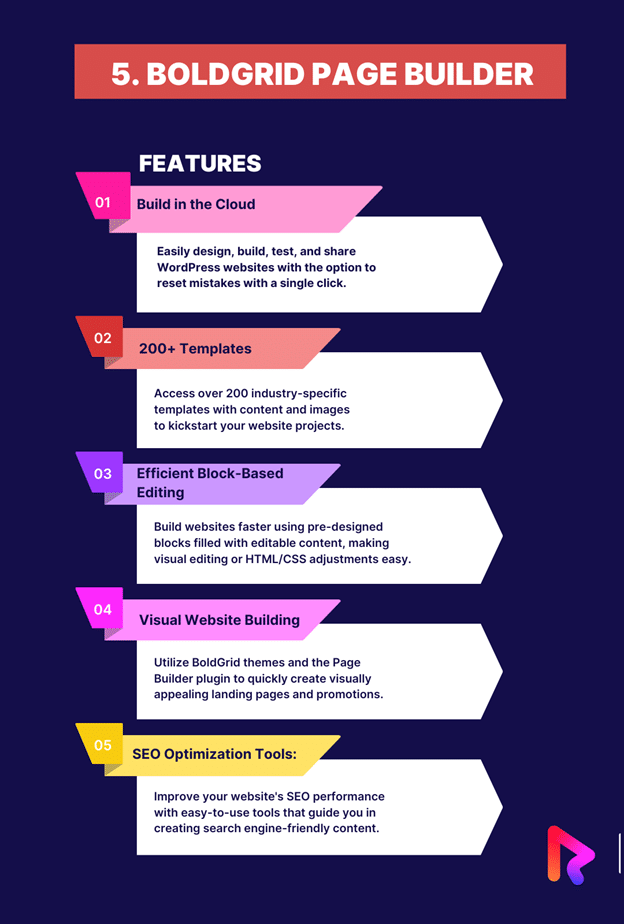 Pricing
BoldGrid page builder offers two premium pricing plans starting from as low as $2.50/mo to $5/mo, offering increased premium features with a price increase.
6. SiteOrigin Page Builder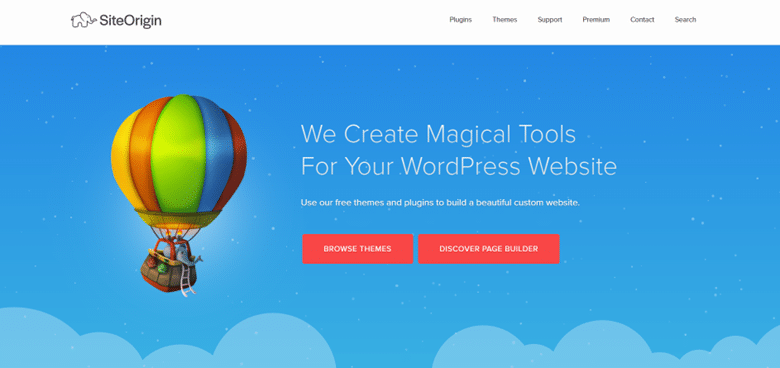 With the ability to download the SiteOrigin widget bundle without requiring an email address or additional fees, this best page builder for WordPress simplifies content creation. One of its standout features is the diverse range of widgets available, including Google Maps, headlines, image grids, price tables, post carousels, and more.
SiteOrigin Page Builder is one of the best page builders for WordPress. It employs a user-friendly drag-and-drop system, incorporating grid-based technology and seamless integration with SiteOrigin and third-party widgets. The page builder offers live front-end editing, allowing you to see changes in real time. A convenient toolbar at the top of your content offers quick access to adding widgets, rows, prebuilt modules or reviewing your editing history.
Key Features
Construct web pages effortlessly using a straightforward drag-and-drop interface. This feature eradicates the need for intricate coding, making the process accessible to all.
The builder is designed for harmony, integrating seamlessly with any WordPress theme you choose. This ensures that as your design tastes evolve, your content remains consistent and portable.
Use Your Favorite Widgets
Benefit from the builder's flexibility as it not only supports native WordPress widgets but also integrates smoothly with a range of plugins. This provides an expansive spectrum of customization avenues to explore.
Enhance your website-building experience with the inclusion of a live editor. This tool lets you preview and modify content in real-time, refining the overall process and output.
Infuse your layouts with a touch of uniqueness using custom row and widget styles. Personalize every aspect, from spacings and paddings to borders, and even delve into advanced CSS options if needed.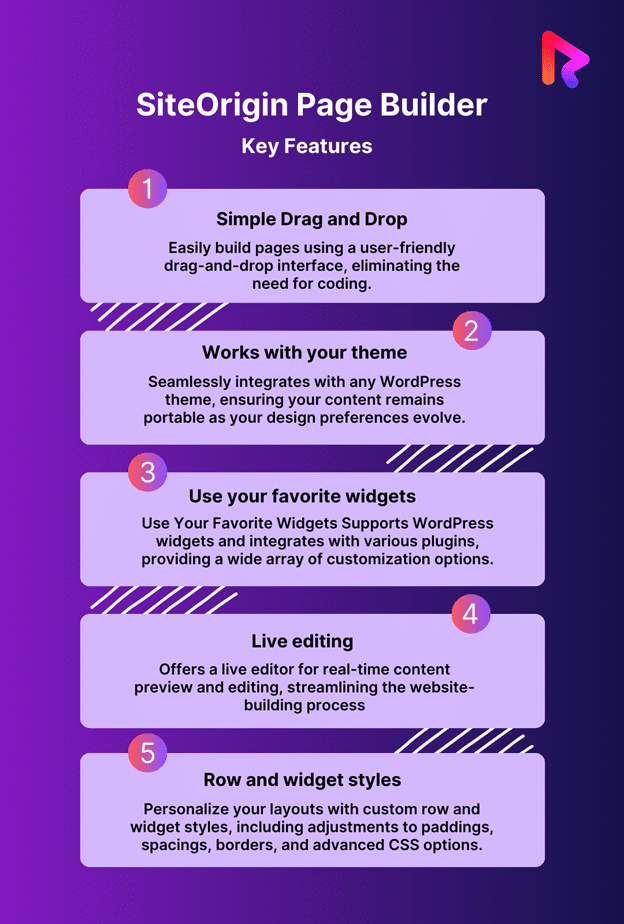 Pricing
SiteOrigin Page Builder offers both a free and a premium version starting at $29, making it an accessible choice for website creators of all levels.
The premium version has three plans:
Personal plan: costs $29 for one website only
Business plan: costs $49 for 5 websites
Developer plan: costs $99 for unlimited websites
7. SeedProd Page Builder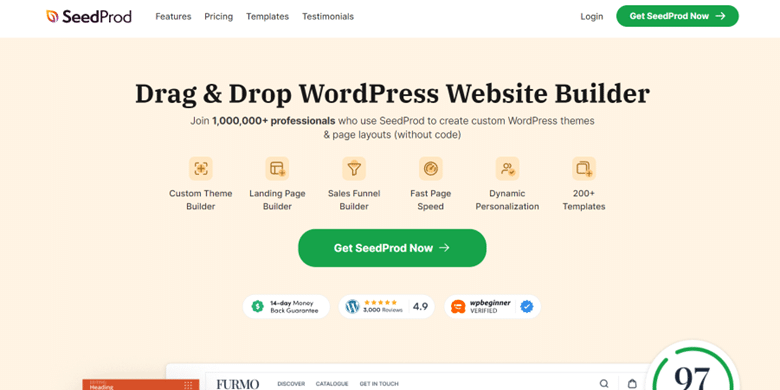 SeedProd stands out as a premium WordPress theme and page builder plugin that redefines it as the best page builder for WordPress. What sets it apart is its unique ability to empower users to craft custom WordPress themes entirely from scratch without needing to delve into complex coding.
Moreover, SeedProd offers an impressive collection of over 150+ built-in website kits and templates catering to various needs, including landing pages, sales pages, thank you pages, webinar registration pages, coming soon pages, maintenance mode pages, 404 pages, eCommerce product pages, and much more. Whether you seek convenience with pre-designed layouts or aspire to craft a unique online presence, SeedProd provides the tools and flexibility to bring your vision to life.
Key Feature
150+ Ready-Made Templates
Dive into a robust library of over 150 pre-designed website kits and templates. Catered for a variety of needs, you'll find templates for landing pages, sales pages, thank you pages, webinars, and many other purposes.
Performance is paramount. The builder prioritizes website speed, ensuring pages load rapidly and contribute positively to SEO rankings.
Streamline your design process with a system that facilitates the reuse of various elements. This includes color schemes, font pairings, custom blocks, page templates, and entire sections, saving you invaluable time.
Equip your website with a diverse array of content blocks. From opt-in forms and social profiles to countdown timers, contact forms, and interactive buttons, the builder has you covered.
Accelerate your design phase with the convenience of 1-click block templates. These templates cater to a multitude of content elements, ensuring a cohesive look and feel.
Enjoy the capability to create micro-sites within your WordPress environment using custom domain mapping. This feature is especially beneficial for managing multiple clients' landing pages under one roof.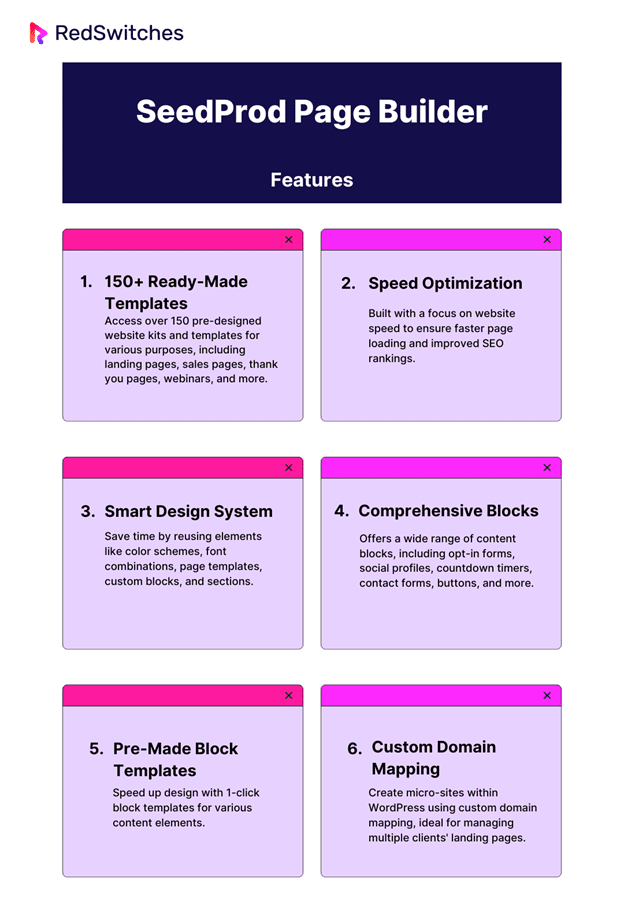 Pricing
Each premium plan offers varying levels of features and benefits, allowing users to choose the one that best suits their specific needs and budget.
Basic Plan (1 site): Costs $39.50/year
Plus Plan (3 site): Costs $99.50/year
Pro Plan (5 site): Costs $199.50/year
Elite Plan (Unlimited site): Costs $ 239.60/year
8. Visual Composer

Initially overshadowed by the introduction of WPBakery Page Builder (which already stands out as the best page builder for WordPress), Visual Composer has undergone significant transformation. It has evolved from a WordPress page builder to a comprehensive site builder. This transformation means that Visual Composer now offers a visual editor, enabling users to modify content without any coding expertise and change various layout aspects of their WordPress website.
Visual Composer empowers users to edit both content and layout directly on the front end, providing access to numerous customizable elements. Its user interface is modern, with the option of either a docked or floating interface.
Key Feature
True Drag and Drop Website Builder
Unleash your creativity using a swift drag-and-drop editor. This feature provides unparalleled freedom, enabling both website and landing page creation devoid of any design restrictions.
Frontend Builder with Instant Content Update
Revel in the power of live design paired with inline editing. This What You See Is What You Get (WYSIWYG) experience ensures you can instantly customize elements like colors, fonts, and additional options, mirroring the end product in real-time.
500+ Templates, Elements, Addons, and Blocks
Dive into the Visual Composer Hub, a cloud-centric marketplace brimming with an array of elements, templates, and add-ons. With weekly updates, you're guaranteed a continually refreshed toolkit for all your web design endeavors.
Supercharge your Visual Composer journey with a suite of advanced add-ons. Notable mentions include Global Templates, Import/Export functionalities, Gutenberg Block templates, Popup Builder, and several others.
Elevate the visual appeal of your projects with integrated access to a plethora of stock images and lively GIFs from GIPHY, all directly within the editor, ready for both personal and commercial applications.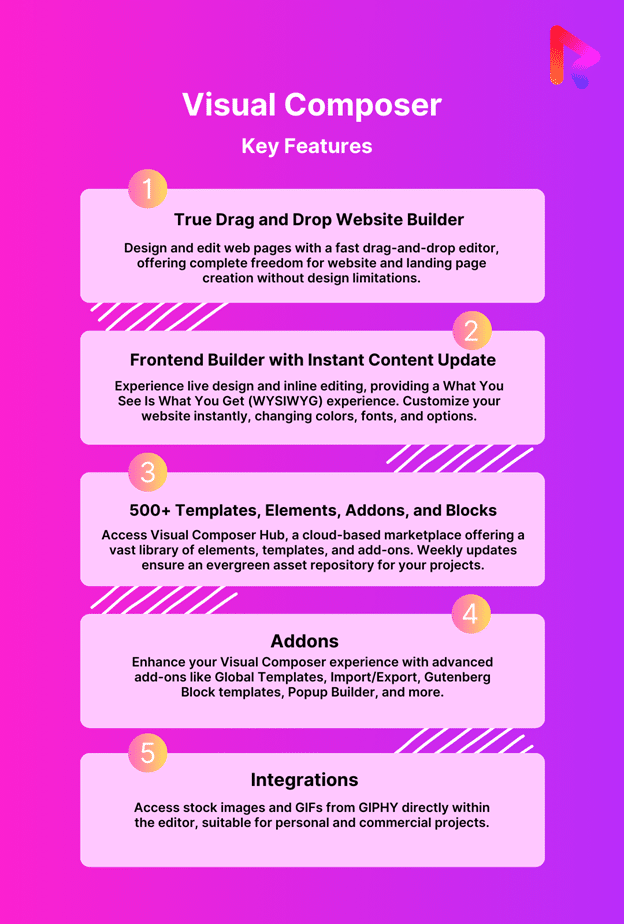 Pricing
The pricing structure of the Visual Composer page builder is divided into Annual, lifetime, and Hosted sets for the user's ease.
Annual Plan:
Annual plans are further categorized into
Single plan – $49/year for one website
Plus plan – $99/year for 5 websites
Accelerated plan – $149/year for 20 websites
Agency plan – $349/year for 1000 websites
Lifetime Plan:
Hosted Plan: 
$19.99/mo for one website
9. WPBakery Page Builder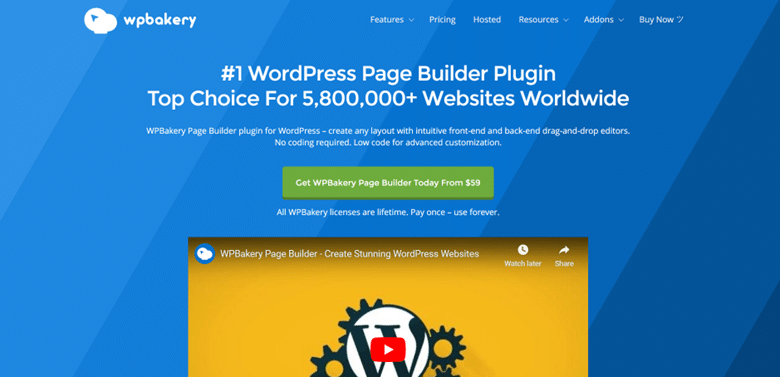 WPBakery Page Builder, formerly known as Visual Composer, is currently one of the best page builders for WordPress plugins. WPBakery Page Builder offers both front-end and back-end capabilities, facilitating the creation of responsive designs. With an array of templates and extensive flexibility, it is a reliable choice for website builders. WPBakery has a rich history, resulting in many integrated layouts and building blocks.
Furthermore, its compatibility extends to various themes and integrates seamlessly with essential plugins such as WooCommerce, thanks to its reliance on shortcodes. While its interface remains user-friendly, it may not be as up-to-date as some competitors, requiring manual saving and offering a slightly slower experience.
Key Feature
Feature-Rich Drag-and-Drop Builder
Immerse yourself in one of the most comprehensive drag-and-drop page builders in the WordPress ecosystem. This builder's notable popularity stems from its premium features, facilitating the creation of websites, blogs, portfolios, and portals without the need for coding.
Intuitive Inline Frontend Editor
Delight in the transparency and efficiency of true inline editing. The What You See Is What You Get (WYSIWYG) frontend editor ensures that you can immediately visualize any changes made to your content.
Award-Winning Backend Editor
Employ a highly esteemed WordPress backend editor tailored for content-rich layouts. It also offers a schematic mode, ensuring content creation is both streamlined and efficient.
Downloadable Templates from Template Library
Harness the power of an ever-expanding template library. Updated every week, this repository allows users to download pre-crafted layouts, significantly accelerating the website creation process.
Embark on a journey of enhanced functionality with over 50 unique add-ons. These are specifically designed to bolster your page-building capabilities, ushering in a plethora of new features.
Skin Builder for Custom Website Skins
Infuse your website with a touch of personalization. The Skin Builder grants you the liberty to customize website skins, providing design options for elements like color and padding. This ensures a consistent representation of your brand's identity.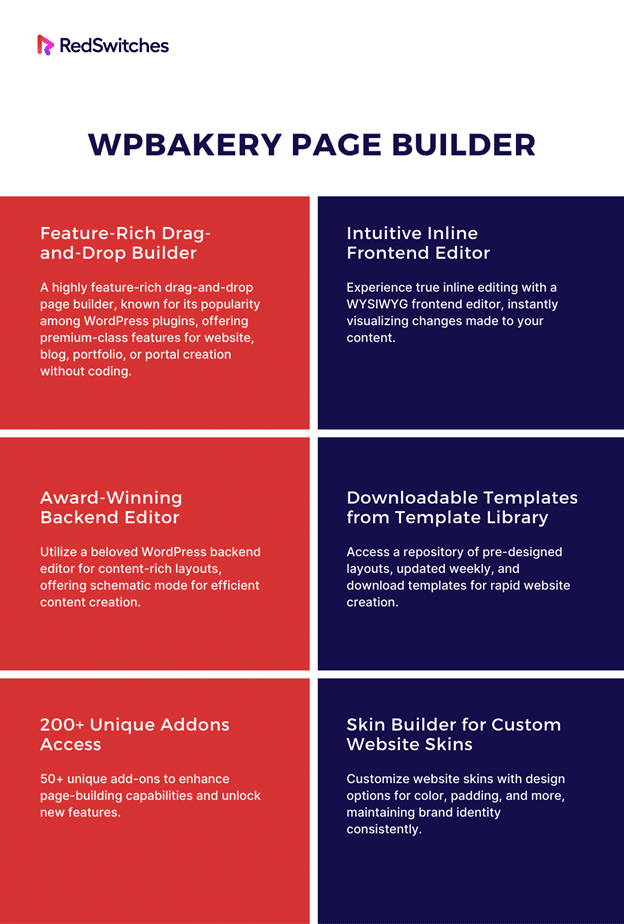 Pricing
The pricing structure for WPbakery offers lifetime license plans for its users:
Regular License
Price: $59 (Lifetime)
Usage: Valid for a single site
Included Benefits:
Free updates
1 Year Premium support
1 Year Access to Template Library
5 Sites License
Price: $256 (Lifetime)
Usage: Valid for up to 5 sites
Included Benefits:
Free updates
1 Year Premium support
1 Year Access to Template Library
10 Sites License
Price: $499 (Lifetime)
Usage: Valid for up to 10 sites
Included Benefits:
Free updates
1 Year Premium support
1 Year Access to Template Library
10. Zion Page Builder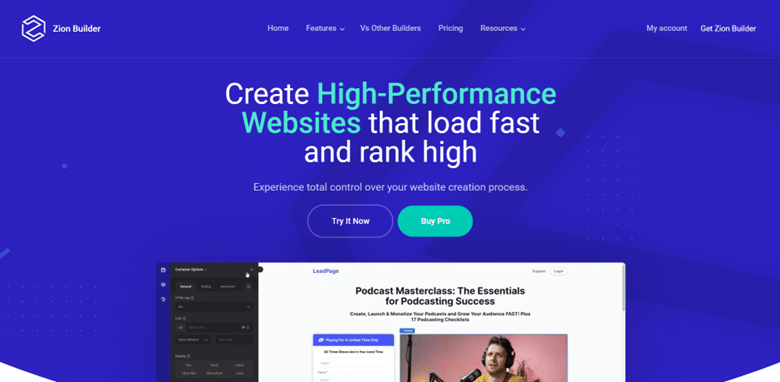 Zion Builder is your ticket to crafting high-performance websites that load swiftly and secure a top spot in search engine rankings. It highlights you and your creative vision, providing a seamless and intuitive experience.
But Zion Builder doesn't stop at creativity – it's a powerhouse of speed and efficiency, making it the best page builder for WordPress for you. This builder is built for speed, ensuring your website visitors enjoy a lightning-fast performance. From a collection of stylish templates to a user-friendly interface, it equips you with the tools needed to unleash your imagination. Its robust options system lets you customize your digital masterpiece exactly the way you envision it.
Key Feature
Elements and Templates at Your Fingertips
Streamline your design process by effortlessly adding elements and templates directly from the page builder popup. This includes a myriad of options like pre-configured columns, individual elements, and a comprehensive library of pre-established elements and templates.
Maintain a cohesive look and feel across your website with Global CSS Classes. These can be easily adjusted from either the page options panel or the Element options panel, eliminating the need for intricate coding.
Pioneering Design Features
Elevate your designs with a suite of advanced features, including:
Flexbox control for dynamic layout arrangements.
Pseudo-selectors to target specific element states.
Blending background for creative overlay effects.
Element's motion control for interactive animations.
Filters for image and content adjustments.
Transform capabilities to reshape and position elements.
Harness the power to craft unlimited headers and footers using the integrated Theme Builder. Furthermore, you can effortlessly assign these custom headers and footers to any chosen page, ensuring a unique touch across different sections of your website.
Refine and customize content for various page types, including blog pages or product pages. The theme builder tool allows for enhanced customization, elevating the appearance of pages like product archives, individual product details, blog archives, and many others.
Blog Archive & Blog Post Builder
Simplify the construction of both blog archives and individual blog pages. Craft custom layouts infused with dynamic content and easily assign them to your blog pages using the integrated theme builder.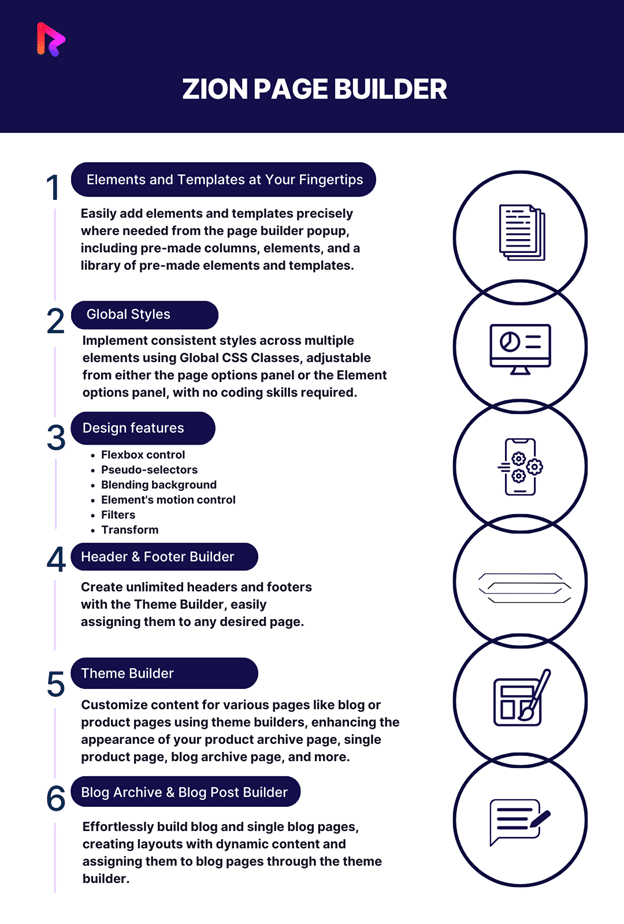 Pricing
The pricing details of Zion page builder has four premium plans:
Personal plan: costing $39 – 1 WEBSITE / YEAR
PRO plan: costing $79 – 3 WEBSITES / YEAR
Extended plan: costing $169 – UNLIMITED WEBSITES / YEAR
Lifetime plan: costing $249 – UNLIMITED WEBSITES / LIFE
11. Ultimate Blocks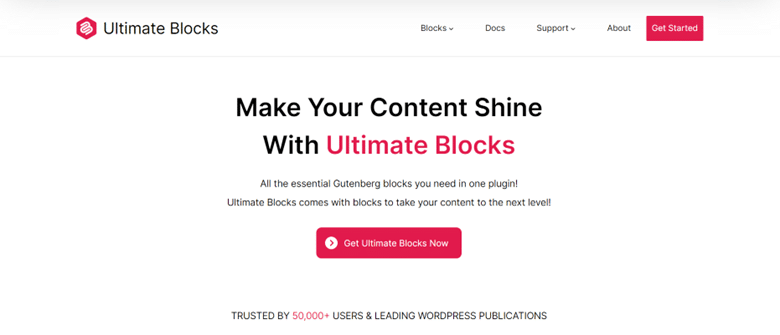 Ultimate Blocks is more than just a Gutenberg blocks Plugin; it's a dedicated tool page builder for WordPress designed for bloggers and marketers. Our mission is to empower you to craft superior and captivating content within the Gutenberg editor effortlessly.
With Ultimate Blocks, you'll experience a seamless content creation journey within the Gutenberg block editor. Whether you're a seasoned blogger looking to enhance your posts or a marketer seeking to create engaging content, our plugin simplifies the process.
Key Feature
Prioritize user accessibility by enabling them to swiftly filter content according to their preferences. This feature aids in enhancing the overall user experience by streamlining content navigation.
Add depth to your product or service reviews with Schema Markup-enabled review blocks. These can encompass key details like product names, standout features, concise summaries, actionable buttons, and a clear star rating, ensuring comprehensive coverage of product attributes.
Captivate your audience and spur them into action with meticulously designed call-to-action boxes. These feature customizable buttons, crafted to effectively engage and direct users towards desired actions or destinations.
Simplify content presentation by organizing it in an accordion-style toggle format. This allows visitors the convenience of expanding sections to view concealed content, ensuring a clutter-free content layout while retaining comprehensive information availability.
Amplify your content's reach by seamlessly integrating social share buttons on posts and pages. This feature offers a plethora of customization options, ensuring that sharing mechanisms align with the aesthetic and functional requisites of your site.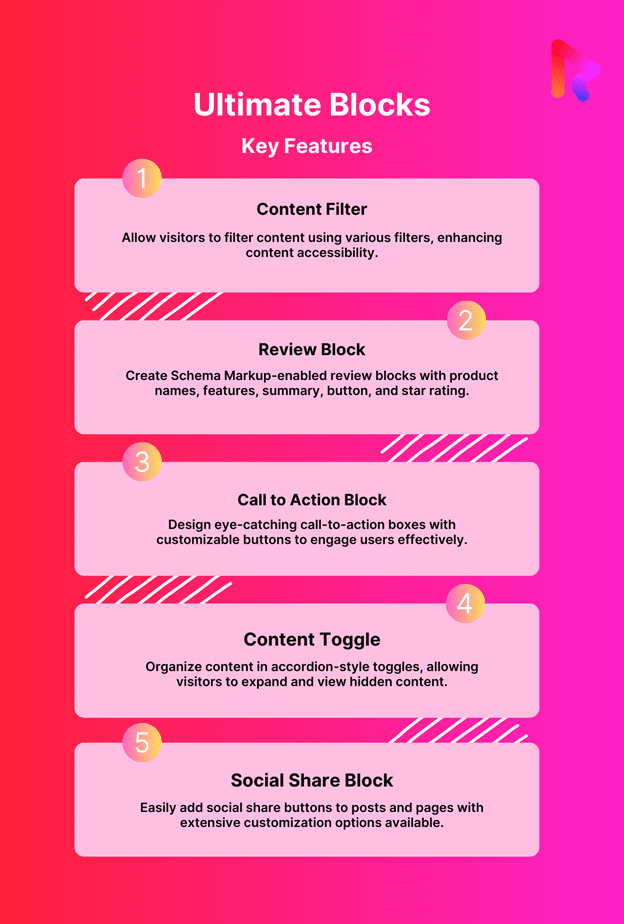 Pricing
The Ultimate blocks pricing tier offers three premium plans, that are:
Lifetime: $174.50/ 1 time
Unlimited Sites: $34.50/ Year
Single Site: $24.50/ Year
12. Spectra
Spectra Page Builder seamlessly enhances your WordPress website-building journey, combining the power of page-building with the familiar and intuitive WordPress block editor. Designed with beginners in mind, this best page builder for WordPress adds a user-friendly layer to the default WordPress block editor, making it accessible to everyone.
One of Spectra's standout features is its exceptional speed and stability, making it the best wordpress builder. This page builder relies solely on the native WordPress editor without any external dependencies. Website security and integration are paramount in Spectra. What sets Spectra apart is its native WordPress interface. It effortlessly merges into the WordPress editor you're already familiar with, providing an intuitive and consistent website-building environment.
Key Feature
Visual Builder With Complete Design Control
Dive deep into the world of customization and obtain full command over every visual detail. Tailor your website to echo your unique style and vision, ensuring a distinctive online presence.
Navigate the complexities of design with ease using the tool's flexible containers. These allow you to effortlessly devise layouts suitable for a myriad of website types and niches, making the design process both intuitive and efficient.
Performance-focused Page Builder
Propel your website to the zenith of search engine rankings with the builder's performance-centric features. In-built SEO capabilities and automatic schema markup are a testament to its dedication to optimized digital performance.
Supercharge Your WordPress Block Editor
Elevate the capabilities of your WordPress Block Editor by tapping into a vast collection of innovative page-building blocks and design alternatives. This ensures swift and aesthetically pleasing website creation.
Optimized Workflow For Faster Web Creation
Jumpstart your design process with an array of creative blocks and adaptable templates. This streamlines and accelerates the web development trajectory, enabling you to realize your digital aspirations swiftly.
Flexible & Feature-Rich Container Layouts
Embrace the modernity and precision of Flexbox Containers. These facilitate the creation of pixel-perfect layouts bolstered by lean markup, significantly enhancing the visual appeal of your website.
Pricing
The pricing structure of Spectra page builder is categorized into:
Spectra Pro, starting from $49
Essential Toolkit: starting from $79
Business Toolkit: starting from $149
13. Gutenberg by Kadence Blocks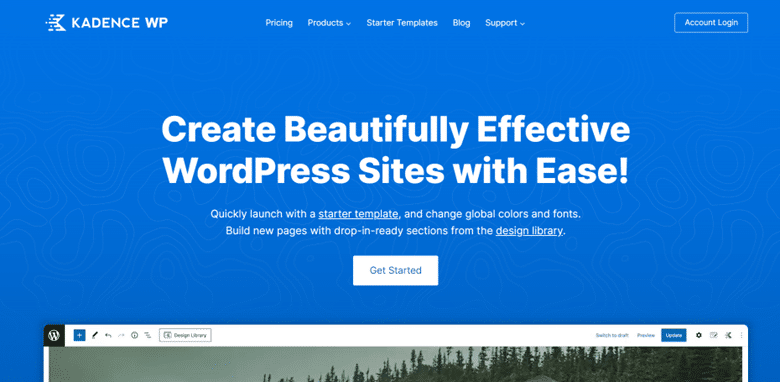 Gutenberg by Kadence Blocks is the best page builder for WordPress for enhancing the capabilities of the WordPress block editor, making website creation a breeze, even if you're not a coding expert. With Kadence Blocks, you have a versatile toolkit at your fingertips that empowers you to craft visually stunning content without the need for complex code.
This best page builder for WordPress supercharges the default Gutenberg editor, elevating it to the level of traditional page builder plugins. You gain access to a range of custom blocks and enhanced editing options, enabling you to bring your creative visions to life.
Key Features
Stay ahead in the game of web optimization with the feature of Intelligent Load. It's designed to load CSS and Javascript selectively, ensuring resources are used judiciously. By minimizing unnecessary resources, this feature substantially boosts performance, making your website swift and user-friendly.
Adaptability is key in today's digital realm. With Responsive Controls, adjust and tailor your designs seamlessly for a myriad of screen sizes. The real-time previews in the WordPress editor act as a valuable aid, ensuring your content looks impeccable across devices.
Color & Background Controls
Dive deep into aesthetic customization with extensive color and background controls. From captivating gradients and overlays to dynamic parallax backgrounds and defining borders, unleash your creativity to carve out a unique digital presence.
Enhance efficiency with the Configurable Defaults feature. By allowing you to set default configurations, this feature ensures a consistent design approach. Once set, these defaults automatically come into play each time you add blocks, simplifying the development process.
Setting Visibility Controls
Precise design demands exact adjustments. With Setting Visibility Controls, fine-tune paddings and margins to your exact specifications. Whether you're dealing in pixels, ems, or percentages, achieve impeccable spacing that resonates with responsive design principles.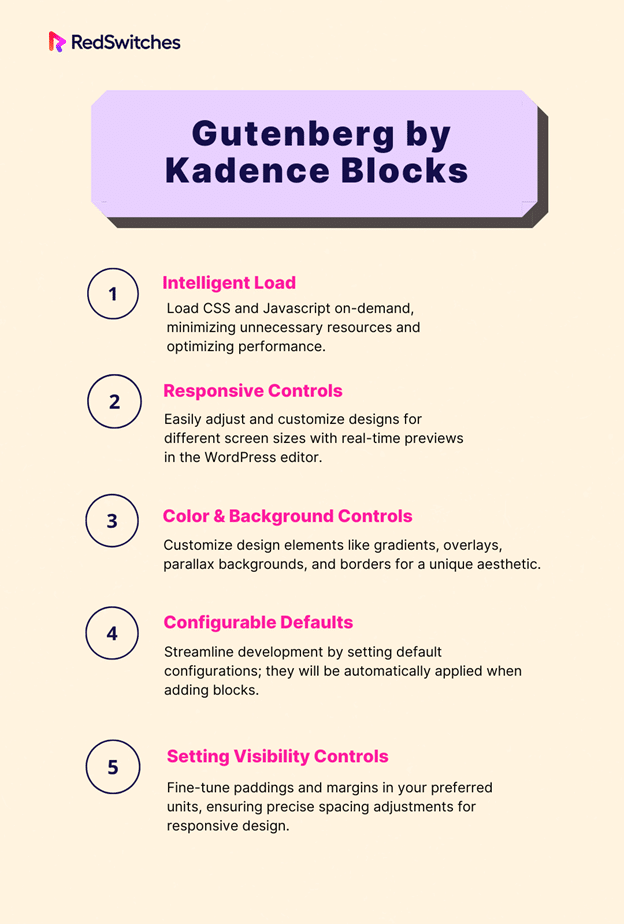 Pricing
Kandence blocks pricing tier includes three premium plans for its users:
Kadence Blocks Pro: costs $69
Essential bundle: costs $129
Full bundle: costs $199
All plans are paid on an annual basis.
14. Themify Builder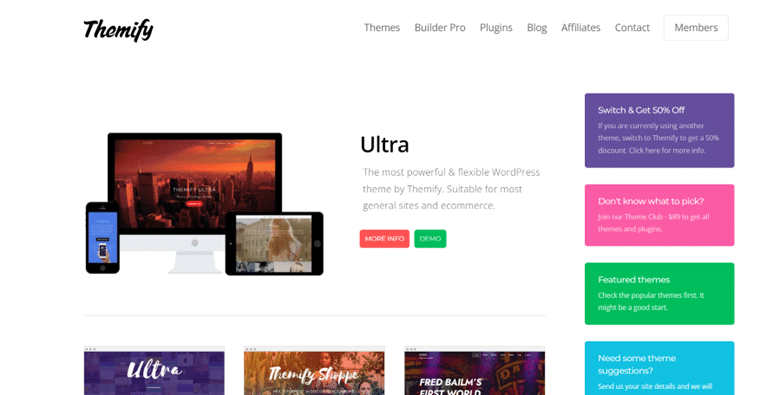 Themify Builder is one of the finest free WordPress page builders, offering the best page builder plugin for WordPress that seamlessly integrates with any WordPress theme of your preference.  And if you're looking for expert guidance, you can also find it bundled with Themify themes – making it the best website builder for WordPress.
With this best page builder for WordPress, you can bring your wildest layout dreams to life effortlessly. The process is as simple as selecting elements, dragging and dropping them into place, and witnessing your stunning website take shape in real time, all without the need for a single line of code. Whether you're looking to create a blog, portfolio, or a complex e-commerce site, Themify Builder equips you with the tools to craft your digital masterpiece with ease.
Key Features
Expansive Design Library

40+ Pre-designed Layouts: Access an extensive library of ready-made layouts. Whether you're building a business website, portfolio, or personal blog, find the perfect design to set the stage for your content.
Unparalleled Layout Flexibility

Support for Rows, Columns, and Grids: Forge dynamic layouts that respond to your content's needs. Mix and match rows, columns, and grids to create the optimal structure for every page.
Layout Parts Creation: Introduce consistency and efficiency to your projects. Design unique layout sections, save them, and repurpose across various parts of your website, ensuring a coherent design language.
Dynamic Website Elements

60+ Animation Effects: Enhance user engagement by introducing subtle or bold animations. From hover effects to parallax scrolling, let your website tell a dynamic story.
Custom Styling: Every brand is unique, and so should be its online presence. Personalize colors, fonts, spacings, and more to echo your brand's identity.
Enhanced Functionalities for Modern Needs

Variety of Add-ons: Don't limit your website's potential. Integrate a plethora of add-ons, each designed to supercharge your website with more functionalities, ensuring it remains contemporary and user-friendly.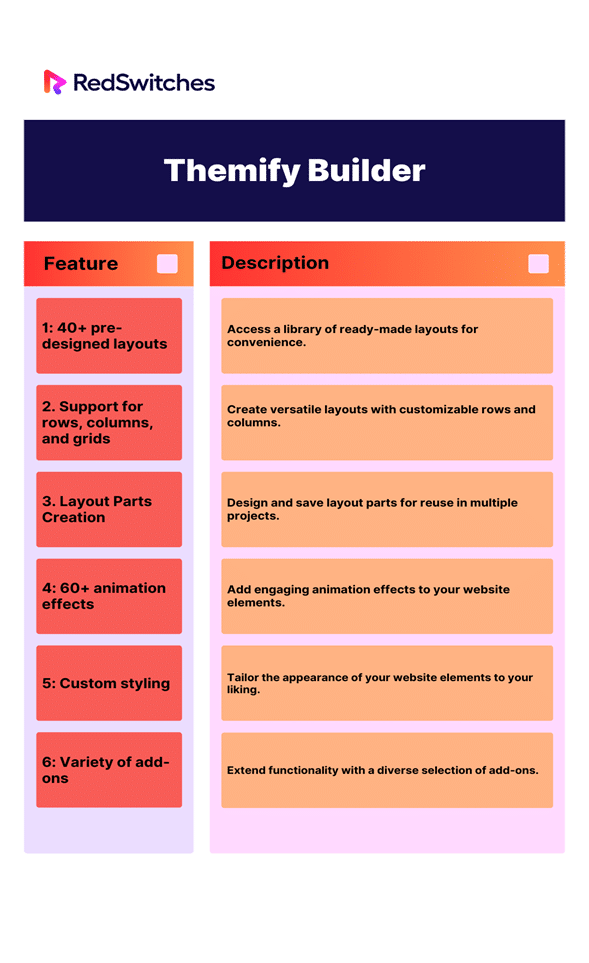 Pricing
Themify offers simple pricing with three plans:
Simple Themes: Buy 1 theme for $59
Master Club: Total 42 Themes with Photoshop Files + 11 Plugins + 24 Builder addons + 5 PTB addons in $89
Lifetime Club: Lifetime access to all 42 Themes with Photoshop Files + 11 Plugins + 24 Builder addons + 5 PTB addons in $249
15. Live Composer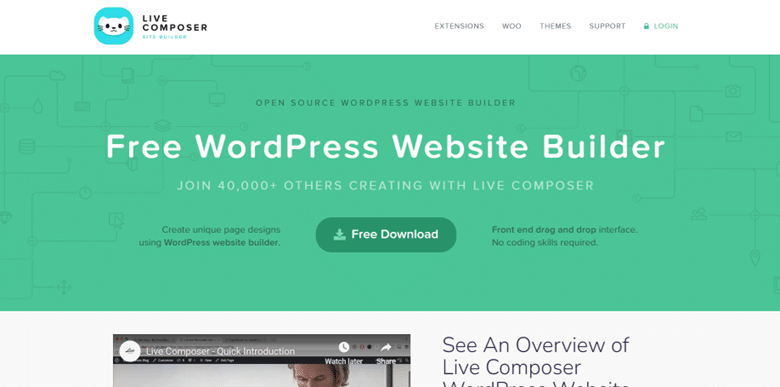 In the digital panorama of WordPress tools, Live Composer emerges as the epitome of the best website builder WordPress has on offer. Esteemed not only for its open-source distinction but also for its unyielding dedication to user-centricity, Live Composer simplifies the website creation journey.
By merely visiting their platform, users can effortlessly download what many regard as the best WordPress page builder plugin, all by providing just their name and email. Beyond its accessibility, what truly sets Live Composer apart from other best WordPress page builders is its intuitive design.
Boasting a front-end drag-and-drop interface, it ensures that users, irrespective of their coding expertise, can craft aesthetically pleasing and functional websites with ease, underscoring its reputation as a paramount choice for those venturing into website design.
With Live Composer, the best WordPress website builder, your website design experience is taken to the next level. The editor ensures responsive design, ensuring your site looks impeccable on any device. To streamline your development process, Live Composer includes a diverse array of over 40 content modules, simplifying creation of engaging web content.
Key Features
Intuitive WordPress Design Experience

Design-Oriented WordPress Website Builder: Engage in a design process that emphasizes aesthetics, ensuring your websites not only function optimally but also look stunning.
User-friendly Web Page Creation

Drag & Drop Visual Page Composer for WordPress: Unchain your creativity without getting tangled in code. With live editing features, you can visualize and make changes to your website in real-time, streamlining the design process.
Comprehensive and Adaptable Functionality

Powerful, Responsive, and Solid: Whether you're a seasoned developer or a beginner, benefit from over 40 content modules. With Live Composer, create pages that are not only functional but also responsive and robust.
Cost-Effective and Efficient Design Solutions

Free Responsive Page Builder: Dive into a world where powerful design tools meet cost-effectiveness. Experience an intuitive drag-and-drop interface that adapts to various screen sizes, ensuring a consistent user experience.
Free Alternative to Visual Composing Plugins:

Revolutionize your design approach: Edit content directly on the front end, enjoying a real-time preview of your design. This efficient process reduces the need for tab switching, offering a more direct and engaging design experience.
Pricing
Here's a breakdown of Live Composer's pricing and what you can expect:
Extensions Overview: All extensions are bundled into a single plugin.
Pricing Range: Prices for the bundled plugin range from $49 to $99.
Management Ease: Users can seamlessly manage all extensions directly from the WordPress admin dashboard.
Update Convenience: Allows for single-click downloads of updates.
16. Page Builder Sandwich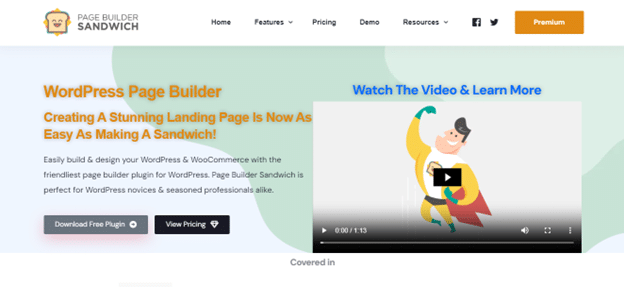 Credit: Page Builder Sandwich
Page Builder Sandwich stands out as the best page builder for WordPress designed primarily for the creation of striking landing pages. With over 2,000 downloads and a commendable 4.5/5 rating, it has established its footprint in the realm of WordPress plugins.
Key Features
Landing Page Templates:

Comprehensive Collection: This plugin boasts a plethora of landing page templates and pre-crafted sections, simplifying the process of creating an elegant site.
Diverse Applications: With an array of full-page templates, users can effortlessly craft diverse websites, be it for hotels, restaurants, or online forums.
Customization at its Best: Modify templates effortlessly by tweaking the color schemes or substituting images to resonate with your brand's ethos.
Shortcode Mapping:

Streamlined Process: This feature alleviates the need for manual shortcode input, paving the way for a more efficient page-building process.
Extensive Database: Page Builder Sandwich is home to a rich collection of shortcodes from renowned plugins, including JetPack, bbPress, and ACF.
Theme Compatibility:

Versatile Integration: Seamlessly pair with themes, whether they hail from the WordPress repository or premium platforms like ThemeForest and StudioPress.
High-Resolution Vector Icons and Media Embedding:

Crisp Visuals: Augment your webpage's appeal with clear and sharp vector icons.
Easy Media Integration: Enhance the content richness by effortlessly embedding media files using just their URLs.
Responsive-Mode Editing:

Adaptability: Craft pages that render beautifully across various device sizes, ensuring a consistent user experience.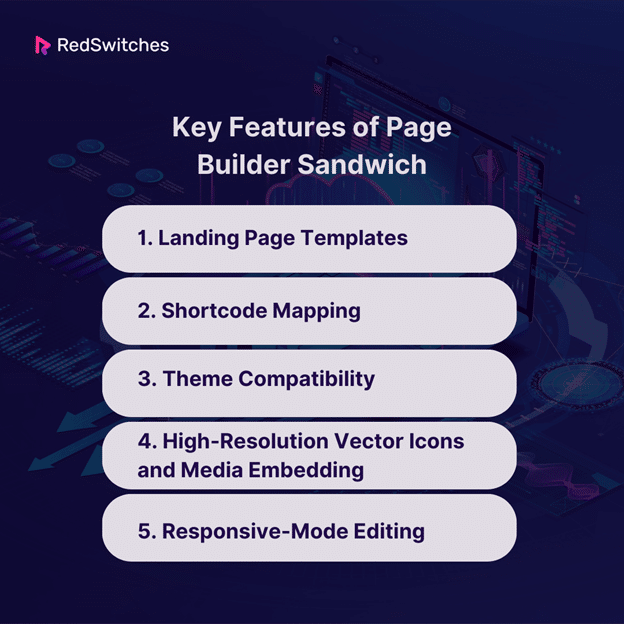 Pricing
Page Builder Sandwich provides users with a free version that packs a punch. However, to truly harness its capabilities, an upgrade to the premium version is recommended, which unlocks:
Advanced features like carousels, countdown timers, and captivating animations.
The Standard License of Page Builder Sandwich is available in two distinct packages:
Single Site: At $39/year, this package is ideal for individual site owners.
Unlimited Sites: For professionals or businesses handling multiple sites, the $89/year package offers excellent value.
Regardless of the chosen package, users are guaranteed:
Access to updates for a full year.
Prompt and efficient email-based customer support.
Advanced customization capabilities.
A suite of premium content elements.
In conclusion, Page Builder Sandwich is your go-to WordPress page builder for crafting visually stunning and functional landing pages in a jiffy.
17. Fusion Page Builder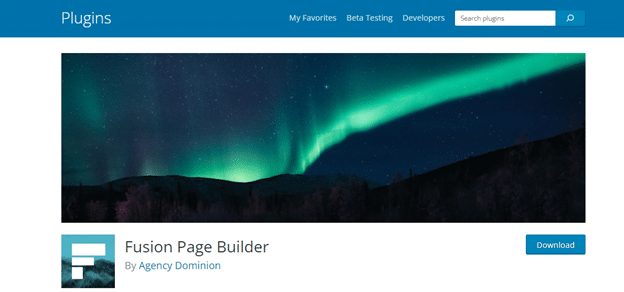 Credit: WordPress
Fusion Builder emerges as a minimalist yet best page builder for WordPress. With a commendable record of over 6,000 downloads and an impressive rating of 4.5/5, Fusion Builder is particularly revered for its core functionality focus and compatibility with all WordPress themes.
Key Features
Core Functionality Focus:

Clutter-Free Experience: Fusion Builder, with its dedication to core functionalities, provides a streamlined interface devoid of unnecessary features, ensuring swift and straightforward operations.
Content-Centric Customization: The plugin is primarily designed to refine the content area of any WordPress theme, keeping the essence of content enhancement at its core.
Extensions and Compatibility:

Tailored Extensions: The plugin may appear lean at first, but it houses a variety of extensions for users to install based on specific requirements.
All-Encompassing Theme Compatibility: Fusion Builder stands out with its adaptability to seamlessly integrate with all WordPress themes.
Fusion Base Theme:

Limitless Customization: Fusion Builder introduces the 'Fusion Base' theme, a blank slate purpose-built to sync flawlessly with the Fusion Builder plugin, enabling boundless design possibilities.
Component Creation & Multi-Column Layouts:

Reusable Components: The builder facilitates the crafting of components—layout fragments that can be recurrently used across various pages and templates.
Dynamic Layouts: Fusion Builder supports multi-column page designs, permitting intricate layout patterns while retaining a user-friendly interface.
Rich Element Repository & Customization:

Diverse Element Catalog: From galleries, blogs, texts, maps to sidebars and menus, Fusion Builder encompasses a plethora of essential elements.
Extensive Design Options: Every element is paired with a comprehensive styling tab that houses numerous customization possibilities. This includes adjustments to margins, paddings, text colors, alignments, font sizes, and even the provision to integrate CSS classes for elaborate design customizations.
Pricing
Fusion Builder is distinct in offering its services entirely free of charge, ensuring affordability. Furthermore, it assures:
Zero hidden fees when integrating or creating custom plugins.
A complementary theme in 'Fusion Base' for unbridled customization endeavors.
In essence, Fusion Builder is the best page builder for WordPress enthusiasts seeking a simple, yet potent, page-building tool without breaking the bank.
Conclusion
Selecting the best page builder for WordPress ultimately comes down to your specific needs and preferences. As we've explored in this blog, there are several best WordPress builders available, each with its own set of features, advantages, and pricing structures.
Nevertheless, building a website is just one step forward. Your website's performance, reliability, and security also depend on the hosting solution you choose. That's where RedSwitches comes in.
RedSwitches offers fully managed dedicated hosting that not only provides unparalleled performance but also an easy-to-use control panel and automated backup services. Contact us today to get your website building sorted seamlessly.
FAQs
Q-1) Which page builder is best in WordPress?
The best WordPress page builder can vary depending on your specific needs and preferences. Popular choices include Elementor, Beaver Builder, Divi, and others. Evaluating each based on your project requirements and design preferences is advisable to determine the best fit.
Q-2) What is the fastest page builder for WordPress?
Elementor and Beaver Builder are often considered among the fastest WordPress page builders. However, the speed of your website also depends on various factors, such as hosting, theme optimization, and content, so it's essential to consider the entire website ecosystem for performance.
Q-3) Is Elementor better than Divi?
The choice between Elementor and Divi often concerns personal preference and project requirements. Both are highly regarded WordPress page builders, each with its strengths and features. Elementor is known for its extensive third-party integrations and vibrant user community, while Divi offers an all-in-one theme and builder solution. It's advisable to try both and decide based on your specific needs and preferences.
Q-4) How can I choose the best WordPress page builder for my website?
To choose the best WordPress page builder for your website, consider the following factors:
– Your specific needs and requirements
– Ease of use and user interface
– Available features and customization options
– Compatibility with your theme and plugins
– Pricing and licensing options
– User reviews and ratings
Take your time to evaluate these factors and compare different page builders to find the one that suits your needs the best.
Q-5) What are the benefits of using a WordPress page builder?
Using a WordPress page builder offers several benefits, including:
– Easy and intuitive drag-and-drop interface
– No coding skills required
– Time-saving and efficient page building process
– Freedom and flexibility to create unique page layouts
– Wide range of design and customization options
– Compatibility with various WordPress themes and plugins
– Ability to create responsive and mobile-friendly pages
– Enhanced control over the visual appearance of your website
– Ability to iterate and make changes easily
– Option to save and reuse templates and designs
Q-6) Are there any free WordPress page builders available?
Yes, there are several free WordPress page builders available. Some popular free options include:
– Elementor
– SiteOrigin Page Builder
– Beaver Builder Lite
– Brizy
– Page Builder by SiteOrigin
– Live Composer
– WP Page Builder
– KingComposer
These free page builders offer a range of features and can be a good starting point for beginners or those on a tight budget.
Q-7) Can I use a page builder with any WordPress theme?
Most page builders are compatible with a wide range of WordPress themes. However, it's always recommended to check the compatibility of a page builder with your chosen theme before making a final decision. Some page builders offer specialized compatibility and integration with certain themes for optimal performance and seamless design integration.
Q-8) What is a drag-and-drop WordPress page builder?
A drag-and-drop WordPress page builder is a tool or plugin that allows you to create and design webpages by simply dragging and dropping elements onto a visual canvas. It eliminates the need for manual coding and provides an intuitive and user-friendly interface for building webpages. With a drag-and-drop page builder, you can easily rearrange and customize elements, add images, videos, text, and other content to create visually appealing and functional webpages.
Q-9) How can a powerful WordPress page builder enhance my website?
A powerful WordPress page builder can enhance your website in several ways:
– It provides more design and layout options, allowing you to create visually stunning pages
– It improves the user experience with intuitive drag-and-drop functionality
– It enhances website performance by optimizing code and improving page speed
– It offers advanced customization options for creating unique page layouts
– It can integrate seamlessly with other WordPress plugins and themes
– It allows you to save time by providing pre-designed templates and layouts
– It enables you to make changes and updates easily, without the need for coding
– It gives you the freedom to experiment with different designs and styles
Q-10) Are there any page builders specifically designed for free WordPress themes?
While there aren't any page builders specifically designed for free WordPress themes, most are compatible with free and premium themes. The compatibility of a page builder generally depends on the theme's underlying functionality and coding standards. Therefore, regardless of whether you are using a free or premium theme, you should be able to find a suitable page builder that meets your requirements.
Q-11) How do I ensure that my website built with a page builder is fast and optimized?
To ensure that your website built with a page builder is fast and optimized, follow these guidelines:
– Choose a fast and lightweight page builder plugin
– Optimize your images and media files for web
– Minimize the use of third-party scripts and plugins
– Cache your website to improve page load times
– Optimize your website's code and remove any unnecessary elements
– Use a reliable hosting provider with good performance
– Regularly update your page builder plugin and other WordPress components
By following these steps, you can improve the performance and loading speed of your website.
Q-12) Can I use multiple page builders on the same WordPress website?
While it's technically possible to use multiple page builders on the same WordPress website, it's generally not recommended. Each page builder may have its own set of styles, layouts, and functionalities, which can lead to conflicts and inconsistencies in the design and functionality of your website. It's best to choose one page builder that suits your needs and stick with it throughout your website.