In the vast universe of the internet, websites have become the modern meeting places for communities, businesses, and passionate individuals. WordPress, as a platform, stands at the forefront of this digital movement, powering countless sites across the globe.
A staggering fact illustrates this: over 409 million people view over 20 billion pages on WordPress monthly. Choosing the best WordPress membership plugin is paramount for building a membership-based website or adding a member's members-only section. This is where the best WordPress membership plugins come into play.
Whether you aim to create exclusive content for subscribers, set up a paid course, or provide a more personalized experience for your loyal audience, a membership plugin can be a game-changer. But with an array of options available, how do you discern which is the best WordPress membership plugin for your needs?
In this article, we will dive deep into the leading plugins in the market, comparing features, ease of use, and scalability. So, buckle up and prepare to transform your WordPress site into a thriving online hub!
Table of Contents
What is a WordPress Membership Plugin?
The core functionality of WordPress is expansive, allowing users to create various websites, from blogs to e-commerce. However, plugins come into play when you want to add specific features. Among these plugins, membership holds particular importance for those wishing to build a community or offer exclusive content.
Definition:
A WordPress membership plugin is a specialized tool that integrates with your WordPress site, enabling you to restrict access to some or all of your content, products, or services. These plugins transform a regular website into a membership-driven platform.
Core Features:
Access Control: You can limit content visibility based on membership levels or user roles. For example, premium articles might be viewable only by paying subscribers.
Registration & Profile Management: Provides tools for users to sign up, manage their profiles, reset passwords, and more.
Subscription Management: Often integrated with payment gateways to allow for paid memberships, renewals, and subscription cancellations.
Content Dripping: Enables the gradual content release over time, useful for online courses or learning modules.
Communication Tools: Features for emailing members, notifications, and announcements.
Why is it Important?
Considering the sheer magnitude of WordPress's usage, with versions like WordPress 6.3 garnering an impressive 59,381,083 downloads, it's evident that people are constantly seeking ways to maximize the platform's potential. Here's where membership plugins shine:
Monetization: Websites can generate consistent revenue by offering premium content or features.
Community Building: They allow passionate followers or customers to gather, discuss, and interact under a unified platform.
Exclusive Content: Aids in offering a unique experience for members, making them feel valued.
Increased Engagement: Regular updates, exclusive offers, or member-only content can boost website traffic and user retention.
WordPress membership plugins are integral tools for anyone aiming to transform their site into a gated community or a premium content platform. With a robust plugin, you can create a dynamic space that offers value, fosters community, and generates revenue.
What to Look for in a WordPress Membership Plugin?

Choosing the best WordPress membership plugin ensures your membership site's smooth operation and success. With the array of plugins available, it can be challenging to pinpoint the one that aligns with your specific requirements. Here's a detailed guide on what to consider when searching for the ideal membership plugin.
1. User-Friendliness
Intuitive Interface: The plugin should have a clear and understandable dashboard, ensuring that even those with minimal technical expertise can easily navigate and utilize it.
Guided Setup: Look for plugins that offer a step-by-step configuration or setup wizard, helping you kickstart your membership site without hassles.
2. Flexibility & Scalability
Customization Options: The best plugins offer a range of customization features, letting you tweak and adapt the user experience according to your brand or site's aesthetics.
Growth Potential: As your membership base grows, the plugin should be able to handle increased traffic and additional content without slowing down or crashing.
3. Access Control
Multiple Membership Levels: Whether you're offering free, premium, or multiple tiers of content, the plugin should allow for varied membership levels with distinct access privileges.
Content Dripping: This feature lets you release content over a set period, perfect for courses or serialized content.
Restriction Options: Beyond just locking content, some plugins offer partial content restriction or teaser content for non-members, enticing them to join.
4. Payment Integrations
Multiple Gateways: Ensure the plugin supports popular payment gateways like PayPal, Stripe, and others relevant to your audience.
Recurring Payments: The plugin should handle automatic renewals and reminders for subscription-based models.
Secure Transactions: Prioritize plugins emphasizing security and protecting members' payment details.
5. Communication & Engagement
Email Integration: Connect with your members through newsletters, updates, or promotional offers. Plugins integrated with email services can streamline this process.
Interactive Features: Look for plugins that support forums, chats, or other community engagement tools.
Automated Notifications: Inform members about subscription renewals, content updates, or site changes automatically.
6. Support & Documentation
Responsive Support: A responsive support team can be invaluable, especially when encountering unforeseen issues.
Comprehensive Guides: The plugin should come with detailed documentation, tutorials, or videos to assist in every step of the setup and utilization process.
Choosing the best WordPress membership plugin is about understanding your site's needs and anticipating future growth. By focusing on user-friendliness, flexibility, payment options, and robust support, you can ensure a seamless experience as an administrator and your valued members. And while you're optimizing your site, ensure it runs on a robust infrastructure for the best performance. Check out RedSwitches Dedicated Server Hosting for top-tier hosting solutions tailored to your needs.
The Best WordPress Membership Plugins in 2023
Navigating the constantly evolving world of WordPress can be challenging, especially when seeking the most efficient tools to enhance your site. As we dive into 2023, the demand for building community-centric platforms and offering exclusive content has never increased. Several plugins have emerged to cater to this demand, each claiming superiority. But which ones truly stand out? In this section, we'll unveil the best WordPress membership plugins of 2023, ensuring you're equipped with the top tools to elevate your website's membership experience.
1. MemberPress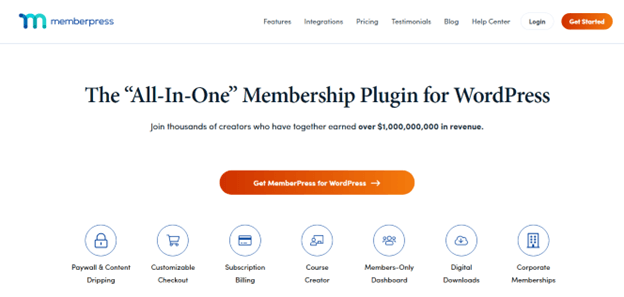 Credit: MemberPress
In the bustling market of WordPress plugins, MemberPress stands out as a prime contender for the title of the best WordPress membership plugin and the best WordPress subscription plugin. Designed to transform standard websites into powerful membership platforms, MemberPress offers various features tailored to both novices and seasoned webmasters. Let's delve into the pros and cons to provide a clearer picture of its capabilities.
Pros:
● Ease of Use
Even for those new to WordPress, navigating MemberPress is a breeze. Its user-friendly interface ensures a smooth setup and management experience.
● Content Protection
One of its core strengths is restricting content seamlessly. Whether it's exclusive articles or premium resources, MemberPress ensures that only entitled members can access them.
● Diverse Payment Options
Supporting a multitude of payment gateways, MemberPress ensures flexibility for your members when it's time to subscribe.
● Customizable Membership Tiers
From basic to premium, craft membership levels that resonate with your offerings and audience.
● Broad Integrations
Whether you're looking to integrate email marketing tools or learning platforms, MemberPress has got you covered.
●  Stellar Support
Reliable and timely support ensures you're never left in the dark.
Cons:
●  Pricing Concerns
Being a premium tool, MemberPress might seem a tad expensive for some, especially startups or individual bloggers. Costs range from $179.50/year for the Basic plan, scaling up to $399.50/year for the Pro tier.
●  Trial Limitations
While it doesn't offer a free version, MemberPress does try to cushion the blow with a 14-day money-back guarantee, allowing users to test the waters without a long-term commitment.
Pricing:
MemberPress offers three pricing tiers:
Basic Plan at $179.50/year, ideal for small membership sites with core features.
Plus Plan at $299.50/year, suitable for growing sites with additional integrations.
Pro Plan at $399.50/year, designed for larger platforms needing advanced functionalities. Though there's no free trial, a 14-day money-back guarantee provides some reassurance for new users.
 2. Thrive Apprentice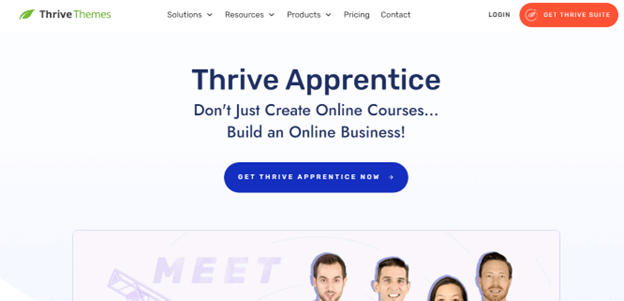 Credit: Thrive Apprentice
Thrive Apprentice is more than just a plugin; it's a comprehensive solution for those looking to venture into online course creation. Nestled within the Thrive Suite, a package teeming with potent WordPress tools, Thrive Apprentice has garnered attention as the best WordPress membership plugin and a stellar contender for the title of best subscription plugin for WordPress.
Pros:
●  User-centric Design
Beginners will rejoice at its intuitive drag-and-drop interface. Added are templates and pre-set content that paves the way for quick course creation.
●  Course Dripping
A boon for structured learning, allowing content to be paced over time.
●  Assessments
In-built quizzes and assignments to gauge and enhance learner engagement.
●  Certifications
Reward your learners with certificates upon course culmination.
●   Smooth Integrations
With WooCommerce, PayPal, and more, monetizing courses is a breeze.
●  Cost-Effective
At $147 as a standalone or $299/year with the Thrive Suite, its pricing is a lure for many.
Cons:
●  Feature Constraints
Unlike rivals like LearnDash, it misses gamification and social learning aspects.
●  Speed Concerns
Course creation and edits occasionally lag, a minor hiccup in the experience.
●  Support Limitation
Premium support is exclusive to paid membership holders.
Pricing:
You can harness Thrive Apprentice either stand-alone at $147 or bundle within the Thrive Suite membership for $299 annually, granting access to an array of Thrive Themes plugins and themes.
3. Easy Digital Downloads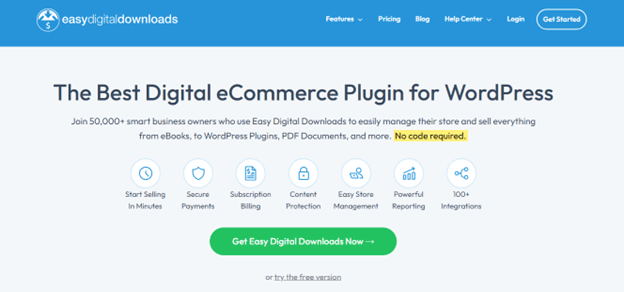 Credit: Easy Digital Downloads
In the realm of WordPress plugins tailored for selling digital goods, Easy Digital Downloads (EDD) holds a prominent position to be the best WordPress membership plugin. But is it the right fit for your digital storefront? Let's weigh its pros and cons.
Pros:
●  User-Friendly Interface
With its intuitive design, Easy Digital Downloads ensures that even the least tech-savvy users can easily set up and manage their digital store.
●  Robust Content Protection
EDD empowers you to limit access to specific digital content, ensuring that only legitimate customers or subscribers can download or view them.
●  Diverse Payment Solutions
Catering to a global audience? No problem. EDD integrates with various payment gateways, giving you and your customers flexibility.
●  Product Customization
Whether bundling multiple products, offering varied product versions, or introducing discount codes, EDD has covered you.
●  Seamless Integrations
EDD's compatibility with popular third-party services simplifies your digital sales journey from email marketing tools to other systems.
Cons:
●  Academic Constraints
Those looking to sell structured academic courses might find EDD lacking. It doesn't support features like graded quizzes or detailed assignments, making it unsuitable for in-depth academic offerings.
●  Cost Implications
While feature-packed, EDD can be a bit heavy on the pocket. Its pricing tiers range from $99/year for the Personal plan to $499/year for the All Access plan.
Pricing Overview:
EDD offers multiple pricing tiers:
Personal Plan: $99/year
Extended Plan: $199/year
Professional Plan: $299/year
All Access Plan: $499/year
 4. MemberMouse
Credit: Member Mouse
MemberMouse has carved its niche as one of the foremost solutions for creating and monetizing membership sites in the expanding universe of WordPress plugins. Let's dissect its offerings to determine if it truly stands as the best WordPress membership plugin for your needs.
Pros:
● User Simplicity
MemberMouse is renowned for its straightforward setup, making it a favorite for novices and experts.
●  Diverse Capabilities
Membership Mastery: Craft distinct membership tiers, set access rules, and employ content dripping to enhance user engagement.
Multiple Payment Options: Integrations with significant payment platforms like Stripe and PayPal ensure seamless transactions.
Promotional Tools: Boost sign-ups using versatile discounts and coupon systems.
Insightful Analytics: Gain a comprehensive understanding of your memberships through detailed reports and metrics.
●  Expandability
A vast array of add-ons empowers you to tailor MemberMouse to your precise requirements, from affiliate marketing to course management.
●  Top-notch Support
Reliable and timely assistance ensures you're always in control.
Cons:
●  Pricing Concerns
Its premium features come with a premium price tag, making it less accessible for some users.
●  Feature Gaps
While robust, MemberMouse lacks certain functionalities like gamification, found in other membership plugins.
Pricing:
Following are the plans for this plugin:
Basic Plan: $199/year
Plus Plan: $299/year
Pro Plan: $399/year
Elite Plan: $1,199/year
MemberMouse brings a lot for those aiming to establish a thriving membership site. However, its pricing and some feature limitations might lead potential users to weigh other options before settling.
As you consider the best tools for your WordPress journey, ensuring your site's security and data integrity is paramount. Don't miss our comprehensive guide on How to Backup a WordPress Site in Three Easy Ways (Manual + Plugins + WebHost) to safeguard your site against unforeseen challenges.
5. WishList Member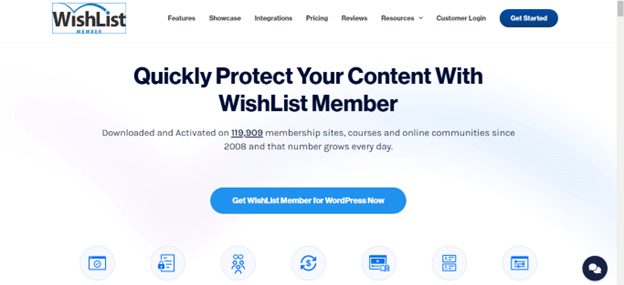 Credit: WishList Member
The landscape of WordPress plugins designed for membership websites is vast, but WishList Member stands tall among them. With a substantial user base of active installations, it poses a strong contention for the title of the best WordPress membership plugin. Here's a deep dive into what it offers.
Pros:
●  User-Centric Design
Even if you're a WordPress novice, WishList Member's user-friendly interface ensures a hassle-free experience.
●  Feature-Rich Environment
Membership Mastery: Craft diverse membership tiers with distinct pricing, access regulations, and content dripping.
Varied Payment Solutions: Whether it's Stripe, PayPal, or Authorize.net, integrating your choice of payment gateway is effortless.
Promotional Tools: Boost member sign-ups by leveraging discounts and coupon systems.
Insightful Reporting: Understand your members and sales better with comprehensive analytics.
● Expandable Ecosystem
With myriad add-ons, from affiliate programs to email marketing integrations, tailoring it to your needs is a breeze.
●  Cost-Effective
Given its robust feature set, WishList Member offers impressive value for money.
Cons:
● Support Concerns
Its support system caters primarily to paying members, which can be limiting for some users.
Pricing Overview:
Starter Plan: $149.50/year (Regular Price $299). Ideal for newcomers, this plan offers essential tools for single-site membership creation.
Advanced Plan: $249.50/year (Regular Price $499). Designed for scaling, this plan is best for those with multiple membership sites and prioritizes faster support.
6. Paid Memberships Pro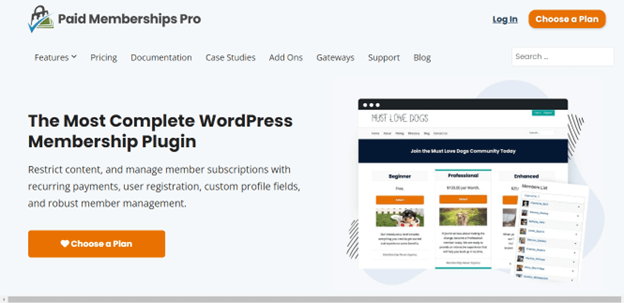 Credit: Paid Memberships Pro
In the quest for the best WordPress membership plugin, Paid Memberships Pro has emerged as a robust solution tailored for those looking to set up and monetize a membership-driven platform. Let's delve into this popular plugin's strengths, weaknesses, and value propositions.
Pros:
●  Simplicity at its Core
With an intuitive design, even WordPress novices can navigate and utilize Paid Memberships Pro effortlessly.
●  Content Governance
Take control of your content. Define who gets access, ensuring exclusivity for paid subscribers or specific member tiers.
●  Payment Versatility
From Stripe to PayPal, integrate your preferred payment gateway seamlessly.
●  Membership Customization
Design membership tiers that align with your business model and audience needs.
●  Seamless Integrations
Beyond payment gateways, integrate tools for email marketing, LMS, and more, fortifying your membership site's capabilities.
●  Budget-friendly
Paid Memberships Pro offers a competitive pricing model compared to some premium counterparts.
Cons:
●  Lacks Advanced Academic Tools
This might not be the perfect fit for those envisaging an academic platform with graded assignments.
●  Absence of a Free Tier
While there's no free version, the 100-day money-back guarantee provides a risk-free exploration period.
Pricing Insight:
Following are the pricing plans for this plugin:
Standard Plan: Priced at $247/year, this offers a foundational setup for your membership site.
Plus Plan: At $397/year, it adds more advanced features suitable for growing platforms.
Enterprise Plan: Starting from $5,000/year, this is tailored for large-scale, enterprise-level operations.
Paid Memberships Pro brings a balanced blend of essential features and affordability. However, potential users with academic course aspirations might want to explore further before finalizing their choice. On another note, if you're keen on ensuring your WordPress site remains secure, don't miss our in-depth guide on 14 WordPress Security Issues You Don't Have To Worry About Anymore! [Fixes Inside!]. Stay informed and keep your website safe!
7. JetEngine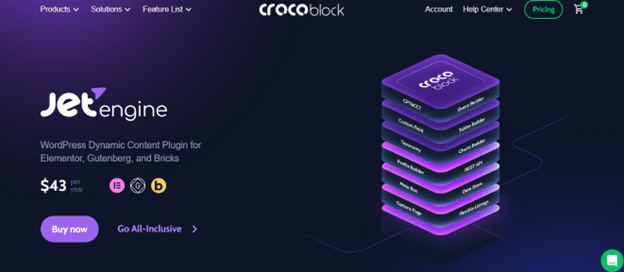 Credit: Croco Block
JetEngine stands out as a specialized part of the JetPlugins suite among the myriad tools available for enhancing WordPress sites. Tailored for those utilizing the Elementor page builder, this Crocoblock-developed tool enriches your website with custom content types.
Once JetEngine is up and running, custom content types can be curated within its dashboard. Post-creation, these types can be easily integrated into any Elementor design. Whether you're embedding dynamic calendars or custom fields, JetEngine ensures the design remains untouched, offering widgets for convenient embedding.
But does it qualify as the best WordPress membership plugin? Let's explore.
Pros:
●  Designed for Elementor
JetEngine seamlessly integrates with Elementor, ensuring ease of design and functionality.
●  Versatile Custom Content Types
The offerings are vast, from dynamic maps and calendars to custom post types and taxonomies.
●  Ease of Use
Whether you're creating custom fields or taxonomies, the process is straightforward with JetEngine's backend dashboard.
●  Efficient Dynamic Content Management
Adjust dynamic content without tampering with the design integrity of your Elementor-built pages.
Cons:
●  Dependency on Elementor
While its integration with Elementor is a strength, it can be limiting for those using other page builders.
●  Modules Need Activation
Some custom content types necessitate module activation, which might not be instinctive for all users.
Pricing Overview:
JetEngine comes with an annual pricing model of $43, presenting an affordable alternative to tools like ACF Pro, priced at $49/year.
 8. Restrict Content Pro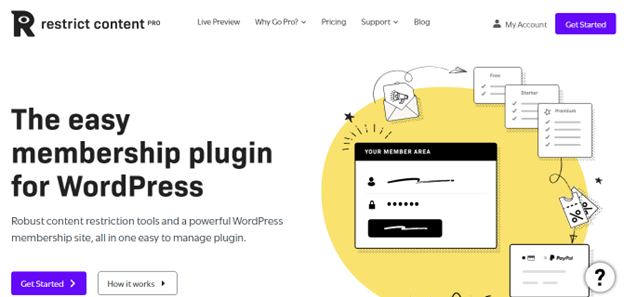 Credit: Restrict Content Pro
Restrict Content Pro has positioned itself as a comprehensive solution in the realm of WordPress plugins focused on membership management. But how does it fare in the race to be the best WordPress membership plugin? We've broken down its features, advantages, and potential shortcomings.
Pros:
● Unlimited Membership Levels
Customize as per your needs with an array of free or paid memberships.
●  Payment Flexibility
Options range from one-time payments, recurring subscriptions, and free trials to one-time sign-up fees.
● Content Control
Exercise authority over content visibility, individually or in bulk, based on categories, tags, or post types.
●  Advanced Content Tools
Features content dripping and expiration functionalities.
●  Multiple Payment Gateways
Integration options include Stripe, PayPal, Braintree, and more.
●  Holistic Integrations
Beyond payment, sync with email marketing tools, CRMs, and renowned plugins like WooCommerce and LearnDash.
Cons:
●  Design Limitations
Frontend dashboards and registration pages may need custom CSS for better aesthetics.
●  Limited Marketing Features
While fundamental, some might find the marketing functionalities a tad limiting.
●  Membership Rule Management
There's no unified space to view all restriction rules for a membership level, which might be cumbersome for some.
Pricing Overview:
Personal: At $99, suitable for a single site.
Plus: Priced at $149, apt for up to five sites.
Professional: For $249, it covers unlimited sites.
Restrict Content Pro emerges as a potent choice for those diving into membership management on WordPress. Its broad feature set, combined with its user-friendly interface, makes it a contender. However, weighing its offerings against your precise needs is essential, like all tools.
9. Ultimate Member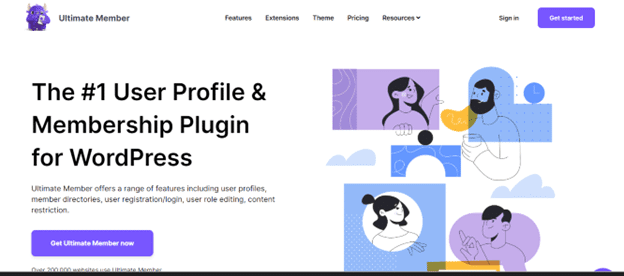 Credit: Ultimate member
When managing memberships on WordPress, Ultimate Member is a name that often comes to the fore. Celebrated for its user-friendly interfaces and comprehensive features, this plugin has cemented itself as one of the best WordPress membership plugins, especially considering it's free.
Pros:
●  Intuitive Form Builder
Craft customized login experiences with custom form fields enhanced by a drag-and-drop builder.
●  User Profiles
Offer frontend profiles complete with bios, cover photos, and more for a holistic user experience.
●  Membership Management
From role selection to varied profile access, ensure tailored user experiences.
●  Email Notifications
Automate your member communications from registration to account changes.
●  Extensions
Diverse extensions like reCAPTCHA, Instagram integration, and content privacy.
●  Flexible Extensions
Purchase what you need or opt for a bulk deal with the Extension Pass.
●  Integrated Theme
A dedicated theme that pairs seamlessly with the plugin, ensuring design coherence.
Cons:
● Pricey Extensions
Some users might find individual extensions a bit costly, especially when they start adding up.
Pricing Overview:
Core Plugin: Absolutely free.
Individual Extensions: Typically around $40 per site.
Extension Pass: Access all 20 extensions at $249 annually.
If you're on the hunt for the best free WordPress membership plugins, Ultimate Member should top your list. Its combination of a free core plugin, supplemented by optional paid extensions, ensures scalability and customization to suit various needs. The added flexibility of building as you grow makes it a compelling choice for startups and established businesses alike.
10. LearnDash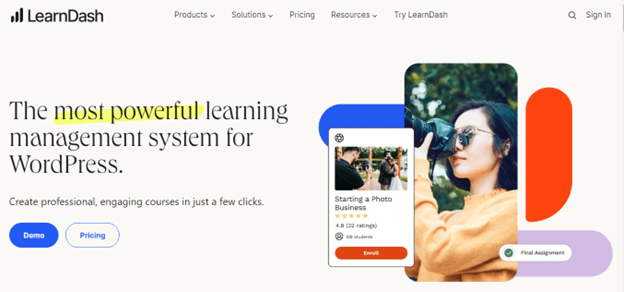 Credit: LearnDash
Redefining the e-learning landscape on WordPress, LearnDash emerges as a premium Learning Management System (LMS) tailored for educators. Whether you're an individual instructor or a large-scale educational institution, LearnDash brings robust features and flexibility to the table, ensuring a seamless and engaging learning experience for your students.
Pros:
●  Comprehensive Course Builder
The intuitive course builder makes it easy for users to create detailed courses without requiring any technical expertise.
●  Engagement Boosters
Features like quizzes, certificates, and assignments ensure that students are not only consuming content but are actively engaged and assessed.
● Flexibility
LearnDash supports multimedia lessons and offers a plethora of integrations, making it a versatile tool for varied e-learning requirements.
●  Affordability
Compared to other premium LMS solutions, LearnDash offers competitive pricing, especially given its range of features.
●  Scalability
With different pricing plans, LearnDash can cater to both individual educators and large institutions, making it easy to scale as your audience grows.
● Renowned User Base
Being trusted by well-known brands adds a layer of credibility to the plugin.
Cons:
● Learning Curve
While designed for ease, first-time users might require some time to familiarize themselves with all the functionalities.
●  Add-on Costs
While the core plugin offers substantial features, some essential functionalities might need separate add-ons, which can increase costs.
● Design Limitations
Customizing the look and feel might require additional tools or expertise, especially if one is aiming for a unique design.
● Dependence on WordPress
As a WordPress-specific solution, migrating to or from a different platform could be challenging.
Pricing Breakdown:
WordPress Plugin Plans:
Basic: At $199/year, this plan caters to a single site.
Plus: Priced at $399/year, it extends support to 10 sites and includes ProPanel access.
Pro: For businesses scaling their courses, this $799/year plan offers 25 site licenses with ProPanel access.
Cloud Hosting Services:
Starter: At $25/month (annual billing), it's perfect for beginners keen on building courses.
Growth: For $41/month (annual billing), get added multimedia storage and bandwidth.
Pro: For established e-learning platforms, this $83/month (annual billing) plan offers boundless access to active classes.
Touted as the best WordPress membership plugin in the e-learning niche, LearnDash ensures a comprehensive platform for educators, empowering them to design, manage, and scale their online courses with remarkable ease and efficiency.
11. Teachable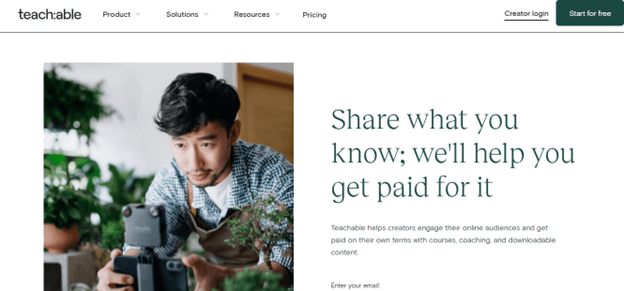 Credit: Teachable
Teachable has established itself as a leading platform in the online course industry, offering a streamlined solution for educators and businesses to deliver content efficiently. Is it the best WordPress membership plugin? Let's delve into its features, pros, cons, and pricing.
Pros
● Comprehensive Course Creation
Easily craft courses using the drag-and-drop editor. Incorporate multimedia like videos, audio, and quizzes to make lessons engaging.
● Marketing & Sales Tools
Teachable equips you to drive sales effectively, from email marketing integrations to promotional codes.
● Video Hosting
Unlimited bandwidth ensures smooth course delivery.
● Third-party Integrations
Connect with tools like Zapier and Stripe to extend functionalities.
● Customizations
Add custom CSS code and integrate with Google Analytics to make your courses truly yours.
● User-friendly Interface
Even without technical knowledge, creating courses is a breeze.
●  Flexibility
From pricing models to course content, you have complete control.
●  Global Reach
With courses taught in over 80 languages, it caters to a global audience.
Cons:
● Cost Structure
The transaction fees, especially on the free plan, can be high.
●  Limited Design Tools
Advanced design customizations might require additional coding or third-party tools.
Pricing:
Free: At $0/month, it includes essential features with a $1 + 10% transaction fee.
Basic: At $39/month (billed annually), it offers extended features with a 5% transaction fee.
Pro: At $119/month (billed annually), it provides advanced tools without any transaction fee.
Pro+: At $199/month (billed annually), it's designed for fast-growing businesses with zero transaction fees.
Business Plan: Tailored for extensive requirements with unlimited courses and additional features. Priced at $665/month.
In conclusion, while Teachable offers a robust course creation and management platform, whether it stands as the best free WordPress membership plugin depends on individual needs and budgets. Before investing, it's wise to weigh its features against its costs and compare it with other options in the market.
For those considering a WordPress-based site, it's crucial to understand hosting choices. To understand the significance of your hosting decision, be sure to read our article on the Importance of WordPress Hosting over Shared Hosting.
 12. WooCommerce Memberships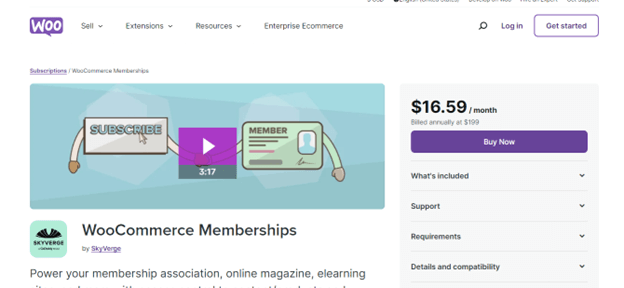 Credit:  WooCommerce Memberships
WooCommerce Memberships is a robust extension to the popular WooCommerce plugin, allowing website owners to create and manage membership-based eCommerce sites. Recognized as one of the best WordPress membership plugins, it seamlessly integrates with WooCommerce, enabling you to leverage the power of memberships and eCommerce together.
Pros:
● Diverse Membership Options
Create an array of membership plans independent of the products. The flexibility is commendable whether you want to grant access as part of a product purchase or sell it as a standalone item.
● Content Dripping
Ensure your members value the content by scheduling its release. This allows for more prolonged engagement and can significantly reduce the churn rate.
● Restrict Access
Keep your premium content exclusive to your members. With WooCommerce Memberships, you can easily restrict access to specific posts, pages, or content types.
● Integrated Approach
Fully integrates with WooCommerce, making the management of memberships and eCommerce fluid.
Cons:
● WordPress Exclusive
Limited to WordPress websites.
● Requires Investment
While powerful, it comes with an annual cost.
●  Frequent Updates
Updating the plugin is essential, which might be cumbersome for some.
● Learning Curve
It might take time for absolute beginners to understand all features.
● Support Limitations
Lack of phone support might deter some.
Pricing:
WooCommerce Memberships are priced at $199 annually and $16.59 monthly, which gives access to all its features, updates, and support. Considering its breadth of features and seamless integration with WooCommerce, it presents considerable value for money.
Final Thoughts
Membership plugins have transformed how businesses and content creators engage with their audience, providing valuable content in a structured, exclusive manner. The WordPress ecosystem offers many such tools, each bringing its unique features and capabilities to the table. As we've explored some of the finest membership plugins in this article, it's evident that choosing the best WordPress membership plugin can dramatically impact the growth and success of your online venture.
However, just having a powerful membership plugin isn't the endgame. The foundation of any WordPress site, including those that run membership plugins, is robust, reliable hosting. That's where RedSwitches comes into the picture.
As a renowned hosting company, RedSwitches ensures that your membership site runs smoothly, with faster load times, high uptime, and impeccable security measures.
Ready to provide your membership site with a rock-solid foundation? Dive into the world of RedSwitches and experience hosting like never before.
FAQs
Q. What is the best WordPress membership plugin?
The "best" WordPress membership plugin often varies based on specific needs, but plugins like MemberPress, LearnDash, and WooCommerce Memberships are among the top choices for many users.
Q. What is the best free membership plugin for WordPress?
"Ultimate Member" and "Simple Membership" are among WordPress's best free membership plugins.
Q. Is WordPress VIP good?
WordPress VIP is good for large enterprises or websites requiring high scalability, security, and premium support. However, its high costs make it more suited for big businesses than small to medium-sized enterprises.
Q. What is WP-Members?
WP-Members is a popular WordPress membership plugin that allows you to easily create, manage, and restrict access to content on your website. It offers features like user registration, custom user fields, email integration, and more.
Q. How do I create a membership site in WordPress?
To create a membership site in WordPress, you can use a membership plugin like WP-Members or MemberPress. These plugins provide features and tools to create and manage membership levels, restrict access to content, handle payments, and more.
Q. How can I create unlimited membership levels?
Many membership plugins for WordPress, including MemberPress and Paid Member Subscriptions, allow you to create unlimited membership levels. This means you can offer different access levels and benefits to your members based on their subscription.
Q. What is the best membership plugin for WordPress?
The best membership plugin for WordPress can vary depending on your specific needs and requirements. Some popular options include MemberPress, Paid Member Subscriptions, and WooCommerce Memberships. It's important to evaluate each plugin's features, pricing, and compatibility with your website.
Q. How do I build a membership site with WordPress?
To build a membership site with WordPress, you need to choose a WordPress theme that supports membership functionality. Then, install a membership plugin, create your membership levels, set up payment gateways, and configure access restrictions for your content.
Q. How do I choose the right membership plugin for my WordPress site?
When choosing a membership plugin for your WordPress site, consider factors such as your site's specific needs, budget, integration requirements, and ease of use. Compare features, read reviews, and try out demos or free versions before making a decision.
Q. What are the best free WordPress membership plugins?
Some of the best free WordPress membership plugins include WP-Members, Paid Member Subscriptions (free version), and Restrict Content. These plugins offer basic membership functionality and can be a good starting point for small to medium-sized membership sites.
Q. How can membership plugins help me find the best WordPress membership features?
Membership plugins can help you find the best WordPress membership features by offering features like content restriction, user management, payment integration, email communication, and more. These features can enhance the user experience and provide value to your membership site.
Q. Where can I find the best membership plugins available for WordPress?
To find the best membership plugins available for WordPress, you can search the WordPress plugin repository, browse through popular WordPress blogs and review sites, or ask for recommendations in WordPress communities and forums.