As you embark on your e-commerce journey to achieve your marketing goals, you may stand at the threshold of a critical choice: Wix or Shopify. The Shopify vs Wix comparison isn't merely software selection. It runs deeper.
A recent US retail e-commerce survey forecasted $940.9 billion growth for the global industry in 2023. This growth is over a third of China's total and is expected to rise in the coming years. For an entrepreneur, now is the time to make the move required to increase conversions, traffic, and reach.
As you sculpt your digital empire, you may want to weigh the attributes of Wix, Shopify, or other web hosting platforms to determine the ideal choice. This will eventually affect your online business' aesthetic, functionality, and profitability.
Here are some factors to consider to determine a winner in the Shopify vs Wix debate;
Table of Contents
What is Shopify?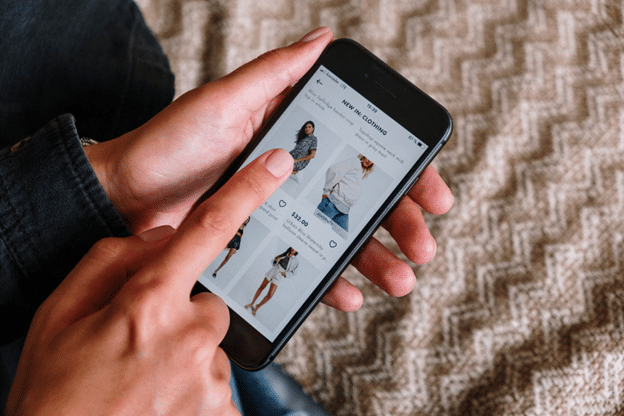 Credits: Pexels
Shopify is a leading cloud-based e-commerce platform designed for businesses of all sizes to set up and run online stores, manage products, accept payments, and handle various other operations related to online retail.
Shopify is utilized by a wide variety of businesses, from entrepreneurs launching their first startups to established brands branching into the online marketplace. Its scalability allows it to cater to both small stores and businesses with thousands of products.
Key Features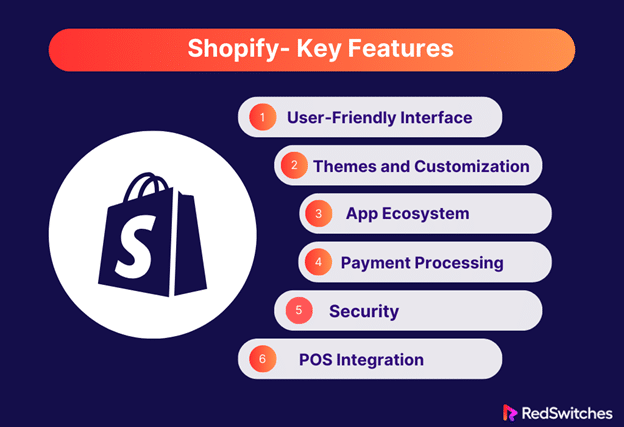 User-Friendly Interface:
Shopify offers a drag-and-drop interface, allowing even those without technical expertise to design and launch a professional-looking online store.
Themes and Customization:
There's a wide range of customizable themes, both free and paid, suitable for various industries.
App Ecosystem:
Shopify's App Store contains thousands of third-party apps that can extend the functionality of an online store, ranging from SEO tools to inventory management integrations.
Payment Processing:
Shopify has its payment gateway, Shopify Payments, but also integrates with numerous other payment processors.
Security:
The platform is PCI DSS compliant, ensuring that transactions are secure. It also provides SSL certificates for all hosted stores.
POS Integration:
Shopify offers a Point Of Sale (POS) system, allowing businesses to sell not just online but also in physical locations using Shopify's POS hardware and software.
24/7 Customer Support:
Users can access customer support through email, phone, and live chat.
Need help with the intricacies of web hosting? This insightful article can help you explore all the technicalities before you begin the Shopify vs Wix comparison.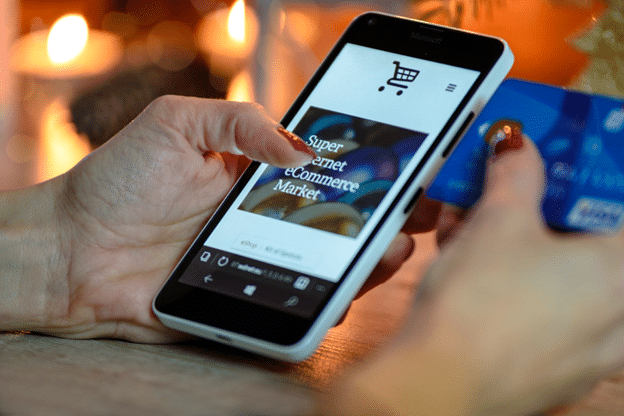 Credits: Pexels
Pros vs. Cons
Wix e-commerce vs. Shopify might take much work for first-time users to compare. However, viewing the platforms through the pros and cons can help you make an educated decision. Here are some common pros and cons associated with this platform:
Pros
Let's dive in;
1. It's Easy to Use!
You might want to build your online e-commerce platform, but only a few entrepreneurs consider digging into the technicalities worthwhile.
Shopify is your best bet if you don't want to deal with the back-end, front-end, and coding requirements of building a website! It is easy to use, has a straightforward interface, and offers many tools for your e-commerce needs.
2. It's Creative!
Although the free version of Shopify offers just ten free templates, you could purchase the premium version to unlock more options. You can explore the free themes and decide whether to invest in Shopify.
Once you begin building your website, you get to explore several theme options broken down into different global industries.
3. It Makes Accounting Simple.
Shopify is especially useful for its plugins that allow customers to carry their e-commerce business in their pockets. It offers multiple applications that help you manage accounting, inventory, reporting, customer service, etc.
Entrepreneurs no longer need to invest their valuable time in exporting their sales details and importing them to an accounting software or handing them over to an accountant. They can simply use Shopify's tool providers and software developers that tweak their services according to your requirements.
Although Shopify offers many advantages, there's a reason the Shopify vs Wix comparison exists. Often, entrepreneurs prefer switching to Wix to avoid some of its cons.
Cons
Here are a few you should consider:
1. Cost
Besides its monthly subscription, there are additional costs for certain third-party apps and premium themes. Also, if not using Shopify Payments, additional transaction fees may apply.
2. Support Services
Although Shopify is easy to use, it can be challenging to ask for help sometimes. This is because technical support is only offered in some regions.
While US, UK, New Zealand, and Australian users may be able to contact support teams in their regions, other global users might not. So, if you plan to expand your business overseas and travel abroad regularly, you might have to rethink your plans.
3. Transaction Fees
Shopify's transactional fees vary based on the chosen plan: 2% for the Basic Shopify plan, 1% for the Standard Shopify plan, and 0.5% for the Advanced Shopify plan. However, these additional fees can be completely avoided if you use Shopify's in-house payment gateway, Shopify Payments.
Who It's For?
Shopify is considered one of the best platforms for all kinds of businesses. Its flexibility has allowed small and large companies to come out on top. This has been achieved through the variety of features offered, the opportunity to avail discounts, different price points, and more.
Managing small accounting transactions doesn't require extensive software for a small business. They can opt out of this feature and still receive most of Shopify's benefits.
At the same time, Shopify works for any large business looking to manage its transactions, inventory, products, and customers. It allows them to benefit from the extra features by investing in and buying their platform.
In the comparison between Shopify vs Wix, Now let's delve deeper into Wix and its unique features.
What is Wix?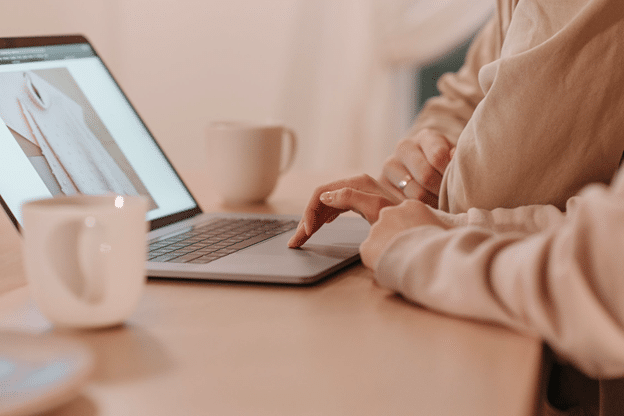 Credits: Pexels
Wix is a cloud-based website builder that has gained popularity since its inception in 2006. It allows businesses worldwide to create stunning websites without any prior coding knowledge or experience.
It's known for its simple interface and wide range of customizable templates, making it easy for individuals without coding knowledge to design professional-looking websites. Wix offers a free version with basic features, but users can upgrade to premium plans to access advanced functionalities, remove Wix advertisements, and more.
Besides website building, Wix offers features like e-commerce, contact forms, email marketing, and search engine optimization (SEO) tools.
Before comparing Shopify vs Wix through the features that set them apart, let's discuss some of its key features and pros and cons to help you decide if its the right platform for you.
Key Features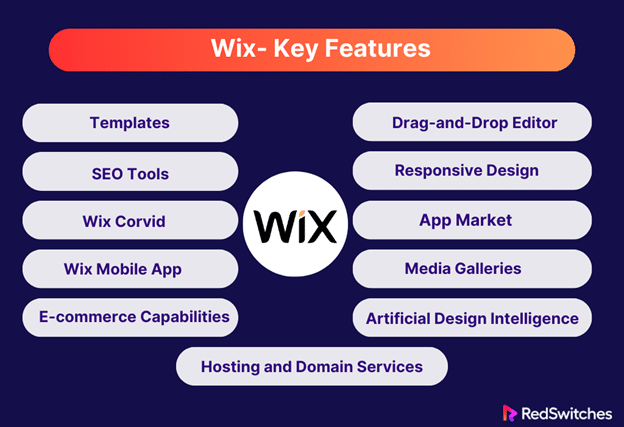 Drag-and-Drop Editor:
Wix's intuitive drag-and-drop interface allows users to easily add, remove, and customize elements on their web pages.
Templates:
Wix offers a wide range of customizable templates for different industries and purposes, which can be used as a starting point for creating a website.
Wix ADI (Artificial Design Intelligence):
For users who want an even simpler setup, Wix ADI can automatically create a website based on answers to a few questions about the user's needs and preferences.
Responsive Design:
Websites built with Wix are responsive, automatically adjusting to look good on desktops, tablets, and mobile devices.
App Market:
Wix has an app market where users can find and install applications to extend the functionality of their websites, such as adding an e-commerce store, booking system, or live chat.
SEO Tools:
Wix provides built-in SEO (Search Engine Optimization) tools to help websites rank higher in search engine results, including customizable meta tags, URL structure, and more.
E-commerce Capabilities:
For businesses looking to sell products or services online, Wix offers e-commerce solutions with features like multiple payment methods, inventory tracking, and tax and shipping management.
Media Galleries:
Users can display images, videos, and text in a variety of gallery layouts.
Wix Mobile App:
The Wix mobile app allows website owners to manage their sites on the go, including live chat with visitors, manage orders, and receive real-time updates.
Hosting and Domain Services:
Wix includes secure and reliable web hosting, and users can also purchase domain names directly through Wix.
Wix Corvid:
For more advanced users, Wix Corvid (formerly Wix Code) allows the integration of custom JavaScript and APIs into Wix websites, offering more flexibility and functionality.
Pros vs. Cons
Here's all you need to know:
Pros
Although some of the pros of Wix may overlap with Shopify, the intensity varies. For example, Wix is a lot easier to use when compared with Shopify;
User-Friendly Drag-and-Drop Builder:
Wix offers an intuitive drag-and-drop interface that enables even those without technical knowledge to craft a professional-looking website. It's particularly beneficial for beginners.
Wix allows you to build your website by arranging a few elements on a canvas. You can add your text, images, videos, forms, and much more with a button. This makes it much easier for beginners.
Additional Applications
Wix allows you to integrate many additional applications into your website. Add-ons and plugins can enhance your website's functionality.
Whether you need a simple e-commerce store or a website that can manage your bookings and even SEO integration, Wix has got you covered.
Mobile Optimization
Wix allows users to work on user experience by editing their website and ensuring it looks great on a mobile device. This allows you to capture a broader demographic with your marketing campaigns.
Cons
Wix doesn't come without its share of cons. Here are a few to note;
1. No Code Export
One of the least preferred features of Wix is the restriction placed on switching away from Wix in the future. If you want to, you won't be able to export your website's code.
This means that if you wish to leave Wix, you may have to abandon your website. By using Wix, you are locked into the Wix ecosystem, which might not be ideal for certain users looking for scalability.
2. Ad Banner on Free Plan
In the Shopify vs Wix debate, it isn't uncommon to come across the argument that although Wix offers more features in their free plan, they also come with ads.
Wix branded ads on your website might make it appear unprofessional, especially if you are a small business looking to create a reputation.
3. It May Be Slow
Wix might be slower than some of the other alternatives available in the market. Some users have noted that Wix websites can experience performance lags, which might affect user experience and SEO.
It isn't ideal, but it might be the best you can get if you are looking for an e-commerce platform creation and hosting service that allows you to skip the technicalities.
Who It's For?
Wix is a versatile platform that can be used for different purposes. However, like Shopify, it is especially well-suited for small businesses that require an attractive and functional website without incurring some of the high costs associated with web development.
Wix also considers an entirely new yet fast-emerging target audience: creatives looking to showcase their work (or sell it) through the platform. Wix's easy-to-use interface allows entrepreneurs to add blogs to their websites, sell products and services, and take care of the transactions all in one place.
Now, let's dive into the main differences between Shopify and Wix that can help you pick the right platform for your business in 2024.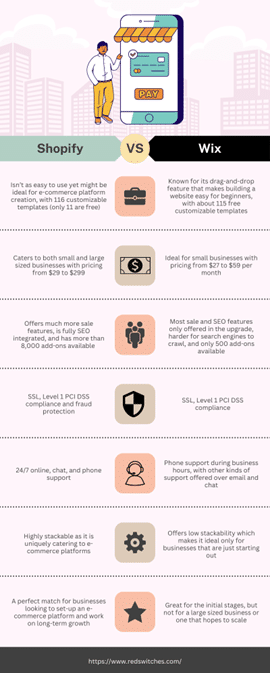 Shopify vs Wix: Ease of Use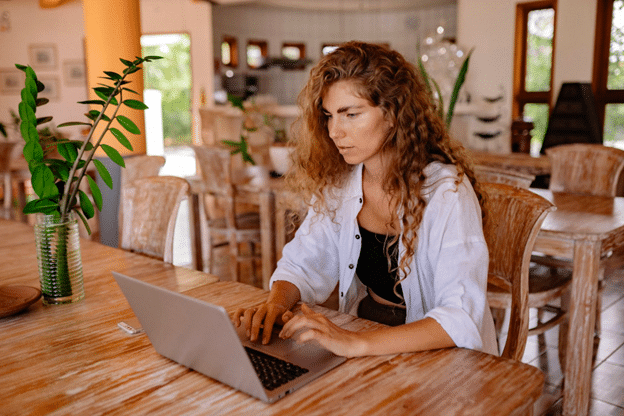 Credits: Pexels
For budding entrepreneurs and small businesses, the question of where to build their website is crucial. The common dilemma they face is choosing between platforms like Wix or Shopify. Which one is more suitable? Below is a comprehensive guide that compares Shopify vs Wix, to help you make an informed decision.
Understanding Your Business Needs
Business Type and Goals:
Are you looking to set up a dedicated e-commerce platform or a basic business website?
If it's strictly e-commerce, then Shopify is your best bet.
For a content-rich site with minimal e-commerce functionality, Wix might be more apt.
Platform Overview and Target Audience
Wix:
Primary Usage: Ideal for content-based websites or businesses with limited e-commerce needs.
User-friendly: Intuitive platform suitable for beginners.
Main Strength: Drag-and-drop editor, enabling users to create sites without any coding expertise.
Shopify:
Primary Usage: Tailored for e-commerce, making it an excellent choice for online stores.
E-commerce Features: Comprehensive features include payment gateways, taxation, cart functionality, inventory management, and more.
User Experience: Although intuitive, it's specifically designed for e-commerce, which may pose a steeper learning curve for some.
Ease of Use: A Closer Look
Wix:
Wix's user-friendly nature is largely credited to its drag-and-drop interface. This feature allows for easy customization of elements on a webpage without any coding knowledge.
It's best suited for those who prioritize simplicity and a short learning curve.
Shopify:
Shopify's platform is constructed with the online store manager in mind. It is undoubtedly superior for comprehensive e-commerce needs.
When comparing shopify vs wix, There's a slightly steeper learning curve, especially for beginners, due to its extensive e-commerce-centric features.
Although both Wix and Shopify are easy to use, online stores should almost always be built through Shopify, especially if you plan on scaling it. On the other hand, Wix is much more preferable when you need a content-rich website with basic e-commerce functionality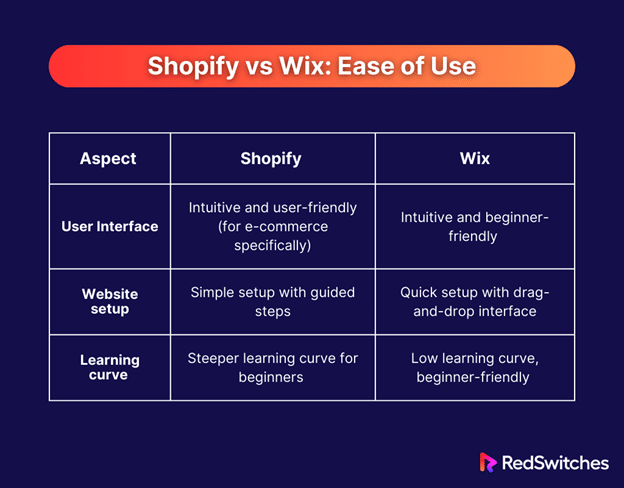 Wix vs Shopify: Templates, Design & Functionality
For businesses seeking a perfect blend of design and functionality in their website, the choice between Shopify vs Wix remains pivotal. Here's a detailed breakdown to aid your decision-making.
Design Flexibility and Customization
Wix:
Vast Design Choices: Wix boasts more than 800 design templates, giving beginners extensive flexibility.
Customization: With the drag-and-drop editor, users can modify templates to match their preferences.
Wix ADI: For those pressed for time, Wix offers an Artificial Design Intelligence (ADI) editor. This AI-driven tool crafts a website based on answers to a few simple questions.
Shopify:
Limited Free Designs: Shopify provides only 11 free design templates, albeit with some variations.
Premium Designs: Access to premium templates comes at a cost, ranging from $150 to $350 or more.
E-commerce Functionality: Purpose and Capability
Shopify:
Dedicated E-commerce Platform: Shopify is purpose-built for e-commerce, ensuring a holistic experience for online stores.
Robust Features: Its strength lies in providing a comprehensive e-commerce solution for businesses.
Wix:
E-commerce as a Feature: While Wix offers e-commerce capabilities, it's essentially an added feature and not its core strength.
Functional Limitations: Wix's e-commerce functionalities are more basic in comparison to Shopify.
Mobile Responsiveness: Ensuring User-Friendliness Across Devices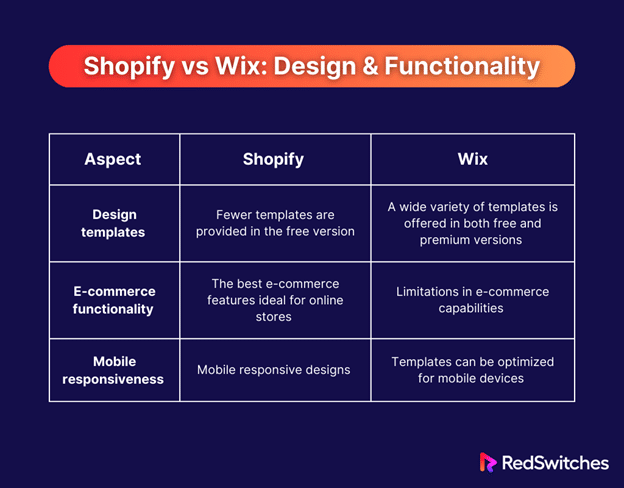 Wix:
Optimization: Wix templates can be tweaked to ensure they are mobile-friendly, enhancing user experience on handheld devices.
Shopify:
Natively Responsive: Shopify ensures all its designs are mobile-responsive, catering to the increasingly mobile user base.
When choosing Shopify vs Wix, understand that Shopify is entirely an e-commerce platform creation and management hub, whereas Wix merely offers that as a feature on the side.
Shopify vs Wix: Pricing & Value for Money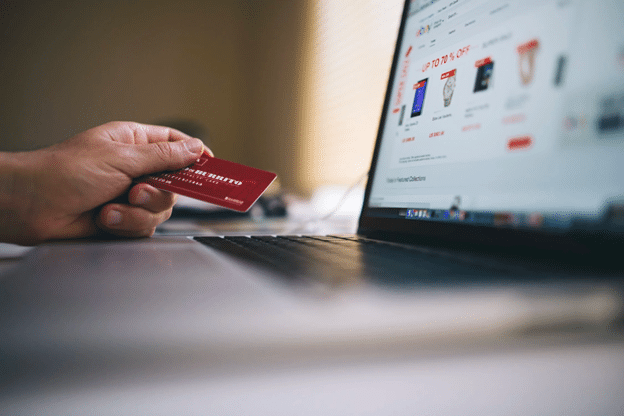 Credits: Pexels
Choosing between Wix and Shopify requires a deep dive into their pricing models, feature offerings, and your business needs. This comprehensive guide outlines the costs and benefits of each platform.
Wix: Pricing and Features Overview
Wix offers a range of plans tailored to different user needs. Here's a brief rundown:
Free Plan:
Features: Limited functionality with Wix branding.
Limitations: Lacks e-commerce features, potentially making sites look less professional.
Standard Plans:
Designed for: Users needing a professional website without e-commerce functionalities.
Features: Free custom domain, SSL certificate, up to 35 GB storage, VIP/Pro plans, a professional logo, and events calendar.
Pricing:

Combo: $16/month
Unlimited: $22/month
Pro: $27/month
VIP: $45/month
Business Plans:
Designed for: Users wanting to accept online payments.
Features: Online payments, free custom domain, 20-50 GB storage, unlimited product listings, abandoned cart recovery, and more advanced features with the Unlimited and VIP plans.
Pricing:

Business Basic: $27/month
Business Unlimited: $32/month
Business VIP: $59/month
Detailed Plan Breakdown:
| | | |
| --- | --- | --- |
| Plan | Pricing | Features |
| Free Plan | Free | Limited functionality, Wix branding |
| Combo | $16/month | Free custom domain, SSL certificate, up to 35 GB storage |
| Unlimited | $22/month | Combo features + more storage |
| Pro | $27/month | Unlimited features + professional logo, events calendar |
| VIP | $45/month | Pro features with priority support |
| Business Basic | $27/month | Online payments, free custom domain, 20 GB storage, unlimited product listings |
| Business Unlimited | $32/month | Business Basic features + more storage (35 GB), abandoned cart recovery |
| Business VIP | $59/month | Business Unlimited features + highest storage (50 GB), advanced features |

Shopify: Pricing and Features Overview
Shopify offers various plans catering to users who wish to infuse e-commerce functionalities into their sites:
Shopify Lite:
Pricing: $9/month
Features: Add e-commerce functionality to existing sites, Buy Buttons, accept credit card payments via Shopify POS app.
Detailed Plan Breakdown: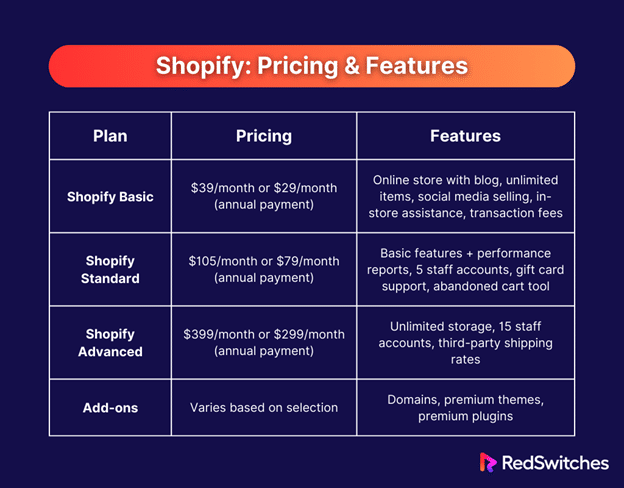 While Wix seems to be the more affordable option, it's essential to assess your primary needs. If you're gravitating towards e-commerce functionalities, Shopify offers a comprehensive suite tailored for online stores. In contrast, Wix provides a diverse range of plans catering to basic and business needs. The right choice ultimately depends on your business goals and budget.
Shopify vs Wix: Sales Features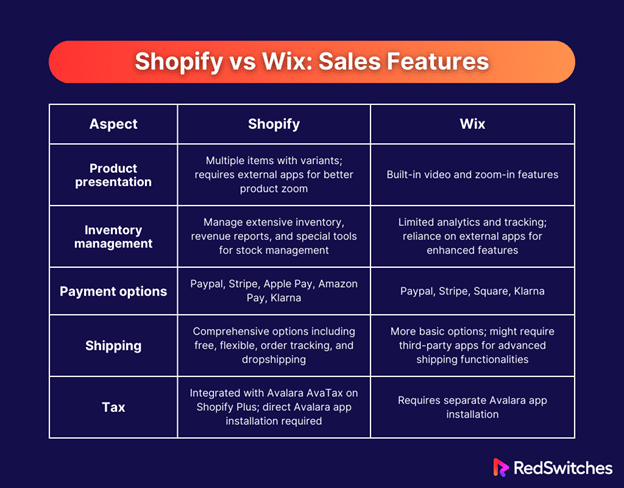 Deciding between Shopify vs Wix depends on your business size, goals, and requirements. Here's a structured guide to help you understand the strengths and limitations of each platform.
Ideal User Profile
Wix:
For Beginners: Wix is an ideal platform for startups or businesses with a limited online presence. It offers basic tools to kick-start your online store.
Shopify:
For Established Stores: If you're aiming for a complex online store with numerous products, Shopify's expansive toolset is tailored for you.
Key Features Comparison
Choosing Based on Scale and Functionality
Shopify:
Advantages: Offers enhanced control over sales features, making it ideal for those aiming to grow into a significant online marketplace.
Wix:
Advantages: Suitable for those content with a smaller online venture having limited sales functionality.
While this guide has provided an overview of Shopify vs Wix based on e-commerce functionalities, it's essential to delve deeper into other crucial areas, like SEO and marketing features, to make a comprehensive decision between Shopify and Wix.
Shopify vs Wix: SEO & Marketing Features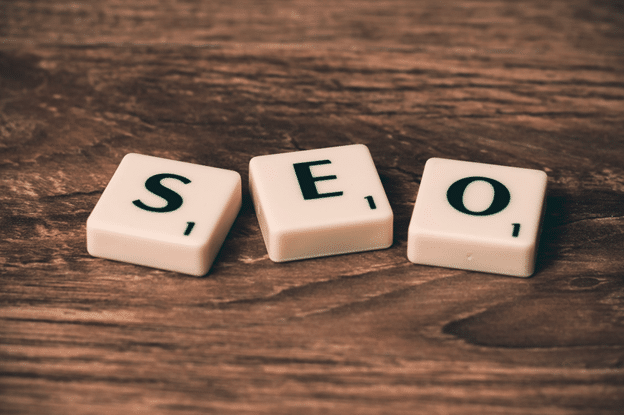 Credits: Pexels
Both Shopify and Wix are strong contenders in the digital arena. However, their marketing and SEO functionalities differ, tailoring each platform to specific business needs. Here's a comprehensive comparison to guide your choice.
SEO and Marketing Overview
Shopify:
Integrated Solutions: Shopify boasts in-house marketing tools, eliminating the need for third-party integrations. With over 8,000 available integrations, a solution for almost every marketing challenge is at your fingertips.
Ease of Use: Directly access all necessary SEO and marketing tools without needing to navigate away or subscribe separately.
Wix:
Wix Ascend: For a comprehensive SEO and marketing suite, users need to connect to Wix Ascend, which might require a separate subscription.
Extended SEO Options: Despite the added step, those seeking extensive keyword data might find value in Wix's offerings.
For businesses focusing intensely on e-commerce, Shopify's streamlined and extensive integrations may be more appealing. The platform ensures you can swiftly tackle any marketing or SEO challenge directly.
In contrast, Wix, with its slight detour to Wix Ascend, still provides robust tools, especially for those keen on blogging and in-depth keyword research. Choosing depends on your business's priorities and the weight you give to each functionality.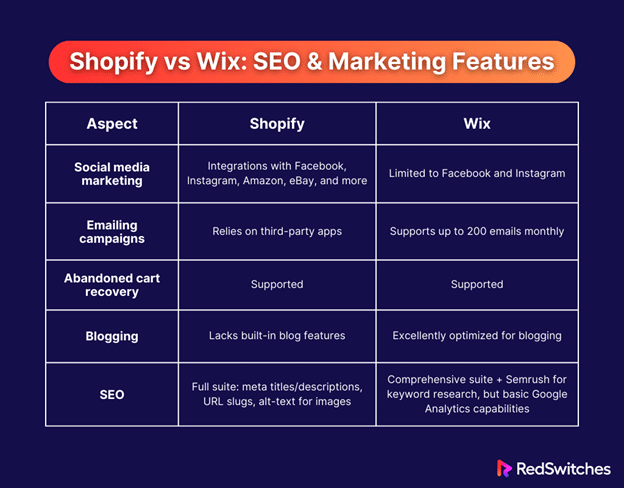 Shopify vs Wix: Integrations & App Store
Both Shopify and Wix offer app store integrations, enhancing the functionality of their platforms. However, the depth and breadth of their offerings differ significantly. Here's a comparison to guide your choice based on integration needs.
App Store Integrations Overview
Shopify:
Extensive Offerings: With over 8,000 integrations, Shopify's app store is diverse. This selection includes popular integrations like Google Analytics, Pinterest, and Kissmetrics.
Functionality: Beyond basic integrations, Shopify allows for advanced functionalities such as customer reviews, dropshipping, currency conversion, wishlists, and product reviews.
Wix:
Limited Scope: While Wix offers 500+ integrations, only 48 are e-commerce-specific. This limitation might hinder the growth of more ambitious online businesses.
Navigating the world of e-commerce integrations with Wix and Shopify is essential, but ensuring your platform runs seamlessly is equally crucial. With RedSwitches' bare metal servers, achieve the peak performance your business demands. If your technical needs are growing, it might be time to elevate your infrastructure. Elevate your online store's backbone today!
Shopify vs Wix: Security
In today's digital era, ensuring the security of your e-commerce platform is paramount. Both Shopify vs Wix understand this and offer robust security features. However, how do they stack up against each other? Let's delve into the security specifics of Shopify vs Wix.
Shopify's Security Credentials
Shopify stands out in several security aspects:
PCI DSS Compliance:
Shopify proudly boasts a Level 1 PCI DSS compliance. For e-commerce businesses, this is a gold standard, ensuring the utmost safety of customer payment data.
SSL Certificates:
All Shopify websites come equipped with free SSL certificates, a foundational security layer that encrypts data exchanges between websites and their visitors.
DDoS Protection:
In the face of DDoS attacks, which aim to flood a site with traffic and crash it, Shopify ensures resilience with its DDoS protection.
Fraud Prevention:
Shopify stands out with its various fraud prevention tools, including address verification and intricate fraud analysis.
Wix's Security Features
Wix is not far behind with its security offerings:
PCI DSS Compliance:
Like Shopify, Wix is also Level 1 PCI DSS compliant, offering a comparable level of payment security.
SSL Certificates:
Wix guarantees the safety of data exchanges on its platform with free SSL certificates for all websites.
DDoS Protection:
Wix ensures that its websites are safeguarded against potential DDoS attacks.
Security Monitoring:
Wix takes proactive measures with a dedicated team of security professionals monitoring the platform round-the-clock.
While both Shopify vs Wix present compelling security features, Shopify emerges as the winner. Its added layer of fraud prevention tools gives it an advantage over Wix. Moreover, with a long-standing reputation for security and a specialized security team, Shopify instills more confidence in those prioritizing security.
Shopify vs Wix: Customer Support
In the ever-evolving landscape of e-commerce, having reliable customer support is invaluable. Both Shopify and Wix are well-regarded platforms, but when it comes to customer support, differences emerge. Let's delve into the support specifics of "Shopify vs Wix."
Shopify's Support Credentials
Shopify is renowned for its comprehensive customer support:
24/7 Live Support:
Users can access live support around the clock, ensuring timely assistance irrespective of time zones.
Multiple Channels:
Shopify provides support via email, chat, and telephone, catering to users' diverse preferences.
Extensive Online Resources:
Their online help center is teeming with guides, FAQs, and tutorials, facilitating a self-help approach.
Active Community Forum:
An expansive forum allows users to engage with each other and Shopify staff, fostering a vibrant community-driven support ecosystem.
Wix's Support Offerings
Wix, while commendable, lags slightly behind in its support services.
Business Hours Support:
Phone support is available, but it's confined to business hours, which may not cater to global users effectively.
Support Channels:
Wix offers email support and callbacks, providing personalized assistance to its users.
Online Resources:
Wix has a dedicated help center replete with articles and tutorials, empowering users to troubleshoot independently.
Community Forum:
Although Wix maintains a community forum, it's observed to be less active compared to Shopify's
When contrasting the support offerings side by side, Shopify emerges as the clear winner. Its 24/7 accessibility, diverse communication channels, and vibrant community make it the go-to choice for businesses prioritizing reliable customer support.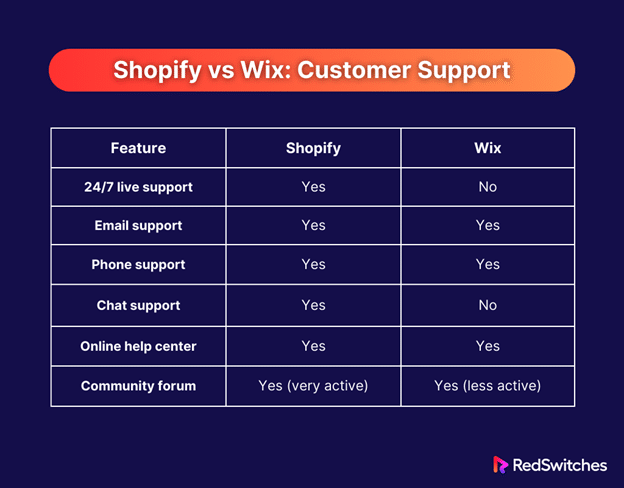 Shopify vs Wix: Stackability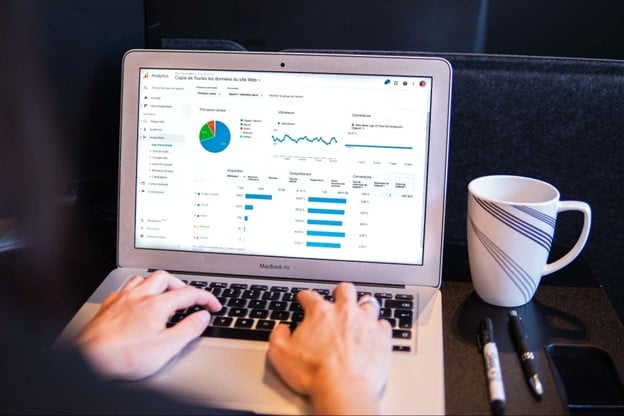 Credit: Unsplash
Stackability revolves around a platform's prowess to scale up, accommodating the evolving needs of an expanding business. The more stackable a platform is, the more adept it becomes in supporting large-scale operations.
In the realm of e-commerce, as businesses flourish, the platform's ability to grow with them—often termed as 'stackability'—becomes crucial. The comparison of "Shopify vs Wix" from a scalability standpoint presents discerning insights. Let's unpack the capabilities of each platform in this context.
Shopify's Scaling Capabilities
Being a platform tailored for e-commerce, Shopify is inherently designed to meet the specific demands of online retailers:
Purpose-Built for E-commerce:
As a dedicated e-commerce solution, Shopify inherently offers functionalities to support growing online businesses.
No Bounds on Offerings:
Unlimited products, bandwidth, and storage ensure that Shopify can handle surges in traffic and product listings seamlessly.
Advanced E-commerce Features:
From product variations to gift cards and abandoned cart recovery, Shopify's feature set is expansive.
Extensive Third-party Integrations:
Over 6,000 integrations mean that Shopify can interface with various third-party applications, enhancing its functionality.
Wix's Scaling Capacities
Wix, while an excellent generalist platform, has its limitations regarding stackability:
Multipurpose Website Builder:
Wix caters to a broad spectrum of website needs, encompassing blogs, portfolios, and online stores.
Limitations in Scalability:
Wix caps products at 5,000 and storage at 50GB, which could become restrictive for flourishing businesses.
Limited Advanced Features & Integrations:
Wix doesn't match Shopify's depth in e-commerce features or third-party integrations, potentially hampering seamless scalability.
Shopify or Wix: Is There An Ultimate Winner?
This table provides a summarized comparison of Shopify VS Wix across key dimensions. While Shopify is the most popular choice amongst eCommerce users, Wix also offers many key benefits, such as quick learning curve. In the end, depending on specific requirements, businesses can evaluate which platform aligns more with their objectives.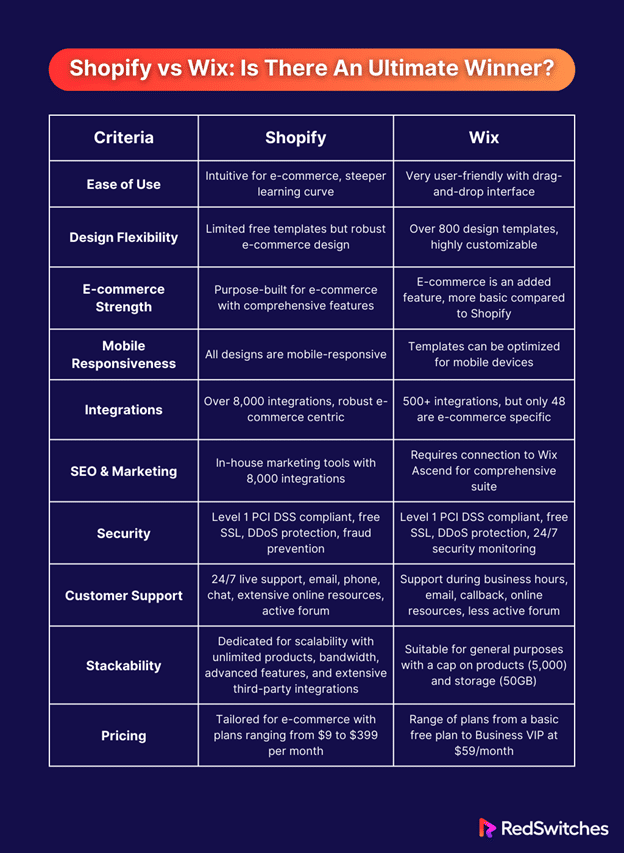 Final Thoughts
In conclusion, the battle of Shopify vs Wix for e-commerce users continues to be a closely watched rivalry, and each platform has its strengths and weaknesses according to the target audience.
Let's recap some key takeaways to help you make an informed decision for your online store:
Wix is known for its beginner-friendly drag-and-drop website builder, while Shopify offers much more robust e-commerce features.
Shopify offers many more tools and apps for integration for e-commerce platforms, while Wix wins for users who want free website templates.
Shopify is the go-to choice for businesses that plan to scale and overgrow. It can handle larger inventories and high traffic without hassle. However, Wix can be a better choice for smaller businesses that don't need to scale.
Wix is much more budget-friendly with lower entry-level pricing, while Shopify can be more expensive, especially when integrating its third-party apps.
Both platforms offer SEO and customer support, but Shopify's ecosystem is much better suited to large business owners.
Ultimately, your resolution to the Shopify vs Wix comparison will depend on your specific needs and overarching goals. If you are looking for a relatively straightforward, visually appealing website with basic e-commerce capabilities, Wix could be your answer.
However, if you are serious about online selling and want scalability and access to many e-commerce features, Shopify is the clear winner! Both platforms offer their unique merits, so be careful and make the right choice!
Think Wix and Shopify might not cut it? Looking for powerful bare metal server and dedicated servers that can meet your technical needs? RedSwitches can step in to save the day! Contact us to learn more about how you can take your e-commerce website to the next level.
FAQs
Q Is it easier to sell on Wix or Shopify?
While both platforms allow online selling, Shopify is purpose-built for e-commerce and offers more comprehensive sales tools, making it easier for extensive e-commerce operations. Wix, however, is simpler for those needing basic online selling features.
Q Do I need Shopify if I have Wix?
No, you don't necessarily need Shopify if you have Wix. Wix offers e-commerce functionalities, but if you want a more advanced and comprehensive e-commerce solution, considering Shopify might be beneficial.
Q Is Wix a Shopify competitor?
Yes, Wix is a competitor to Shopify in the website-building space, particularly in the e-commerce segment. However, while Shopify exclusively focuses on e-commerce, Wix caters to a broader range of website types, including e-commerce.
Q Is Wix good for online stores?
Yes, Wix is suitable for online stores, especially for small to medium-sized businesses or those who need a simple e-commerce setup. However, for more expansive and specialized e-commerce needs, platforms like Shopify might be more appropriate.
Q What is the difference between Wix and Shopify?
Wix and Shopify are both ecommerce platforms, but they have some key differences. Wix is a website builder with ecommerce features, while Shopify is specifically designed for online stores. Wix offers a drag-and-drop editor for customization, while Shopify provides more advanced tools and features for selling products online.
Q Which platform is better for building an online store, Wix or Shopify?
It depends on your specific needs and preferences. Wix is a great option if you want a user-friendly website builder with ecommerce features. Shopify is ideal for those who prioritize advanced ecommerce functionality and want a dedicated platform for selling products.
Q Do Wix and Shopify offer similar pricing plans?
Both Wix and Shopify offer pricing plans for ecommerce websites. Wix has a range of plans starting from basic to advanced, while Shopify offers three main plans: Basic Shopify, Shopify, and Advanced Shopify. The pricing for each platform can vary based on the specific features you require.
Q What are the advantages of using Wix for an ecommerce website?
Wix offers a user-friendly drag-and-drop editor, making it easy for beginners to create a customized website. It also has a wide range of templates and apps available in its app market. Wix provides integrated payment options and allows you to sell physical and digital products.
Q What are the advantages of using Shopify for an ecommerce website?
Shopify is specifically designed for online stores and provides advanced ecommerce features. It has a robust app store called Shopify App Store, offering a wide range of apps for various functionalities. You can sell products both online and offline with Shopify, and it also provides excellent customer support.
Q Can I sell products online using both Wix and Shopify?
Yes, both Wix and Shopify allow you to sell products online. They offer ecommerce functionality, including the ability to create product listings, manage inventory, and process payments. However, Shopify is generally considered more robust and scalable for larger ecommerce businesses.
Q Which platform has better ecommerce features, Wix or Shopify?
Shopify is known for its extensive range of ecommerce features. It provides advanced inventory management, order tracking, and integration with various shipping providers. While Wix also offers ecommerce features, Shopify's focus is specifically on providing comprehensive solutions for online stores.
Q Can I integrate third-party apps with Wix and Shopify?
Yes, both Wix and Shopify offer the ability to integrate third-party apps. Wix has its own app market where you can find and install various apps for additional functionalities. Similarly, Shopify has the Shopify App Store, which offers a wide range of apps for different ecommerce needs.
Q Which is the best ecommerce platform overall, Wix or Shopify?
The decision between Wix and Shopify ultimately depends on your specific requirements. If you prioritize ease of use and a user-friendly website builder, Wix may be the better choice. However, if you need advanced ecommerce features and scalability, Shopify is considered the leading platform for online stores.
Q Why do some people prefer Shopify over Wix?
Some people prefer Shopify over Wix because Shopify is solely focused on ecommerce and provides more advanced features tailored specifically for online stores. It has a wide range of themes, apps, and integrations that cater to ecommerce businesses of all sizes. Shopify also offers dedicated customer support for its users.