With over 58,000 free plugins available today, WordPress is among the most popular CMS (content management systems). Each plugin on WordPress includes unique features, pros and cons, and efficiency levels, with some pros outweighing the cons and vice versa.
Understanding every plugin's offerings and pros and cons and factoring in the pricing can help WordPress website owners decide which plugin to choose.
This blog will shed light on the best WordPress eCommerce plugins in 2023, exploring their pros and cons, features, and pricing to help you discover the best WordPress e-commerce plugin for your individual needs.
Table of Contents
What Is a WordPress eCommerce Plugin?
Before we shed light on the best WordPress e-commerce plugin, we must explore what a WordPress e-commerce plugin is.
A WordPress eCommerce plugin refers to a software add-on for WordPress sites. It is curated to transform a standard website into a fully functional online store, with features like listing products or services, managing inventory, and handling transactions.
It is the foundation of any eCommerce website running on WordPress, allowing site owners to provide a smooth and streamlined user experience.
What to Look for in a WordPress eCommerce Plugin for Your Site?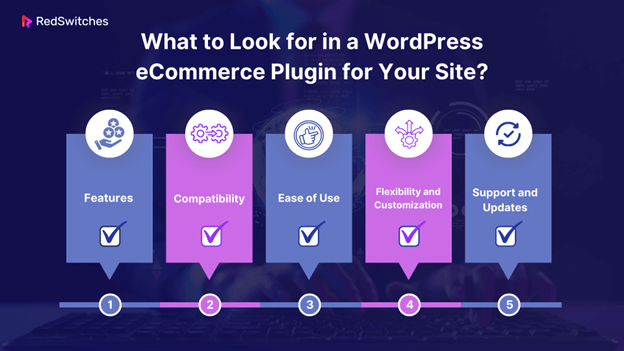 Picking the best WordPress eCommerce plugin is an important decision that dictates the entire trajectory of your online business. It's not only about adding a new tool. Instead, it involves integrating a system that aligns with your technical needs, business goals, and user expectations.
When selecting a WordPress plugin, many factors come into play, demanding consideration of several factors.
● Features
A plugin's features are its heartbeat. You want to search for plugins with robust features like comprehensive product listings, extensive security measures, and diverse payment gateways.
These features are indispensable for user satisfaction, data integrity, and smooth operation. Evaluating your business's unique needs before choosing can help you select a plugin that fits ideally with your website.
● Compatibility
Compatibility is a critical factor when selecting the best WordPress eCommerce plugin.
You must ensure that the chosen plugin aligns with your WordPress theme seamlessly so that the integration does not disrupt your website's visual coherence or existing functionalities.
The plugin should maintain your website's aesthetics and operational integrity, avoiding conflicts with other plugins and theme elements. Before downloading any plugin, conduct extensive testing with your theme. This can help mitigate any potential issues post-integration.
● Ease of Use
User-friendliness is a key feature that all WordPress website owners must prioritize when choosing a plugin, especially if they are new to the world of WordPress plugins. The user-friendliness of a plugin can significantly impact your overall workflow and experience.
Always choose plugins that include intuitive interfaces and uncomplicated settings. This helps minimize the need for extensive technical knowledge, training, and constant troubleshooting. A user-friendly plugin speeds up the setup process, reduces the learning curve, and allows you to focus more on business development and less on technicalities.
● Flexibility and Customization
Flexibility and customization are two essential features in an eCommerce plugin that empower you to tailor your online store according to your business model and overall vision.
Prioritize opting for plugins that provide a wide range of customization options, allowing you to add functionalities, modify layouts, and tweak settings to align with your brand identity and operational structure.
A flexible plugin will also feature scalability and adapt to your evolving business needs, enabling you to update and optimize your store as it expands and the market dynamics change.
● Support and Updates
Active support and ongoing updates are two integral factors that serve as the lifeblood of any software. Choose plugins that offer quick and responsive support, aiding you in resolving issues and optimizing performance on time.
Regular updates are essential to keep the plugin compatible with the constantly evolving WordPress versions and to incorporate new features and security enhancements. A well-supported and regularly updated plugin ensures the longevity of your online store and protects it against operational glitches and security issues.
Do you have yet to download WordPress? Refer to our guide, 'Simplify WordPress Installation with Docker Compose: A Comprehensive Tutorial,' for a smooth and effortless experience downloading WordPress.
Now that we have discussed what to look for in a WordPress plugin for your website, let's explore the list of 2023's best WordPress eCommerce plugins to find the best WordPress e-commerce plugin for your site.
Best eCommerce Plugins For WordPress in 2023
Below is a list of the best e-commerce WordPress plugins available today.
● WooCommerce
Credits: WooCommerce Website
When turning your WordPress site into a fully functional online store, WooCommerce stands out as the best WordPress ecommerce plugin. Its adaptability and extensive features make it a top choice for businesses of all sizes.
Pros vs Cons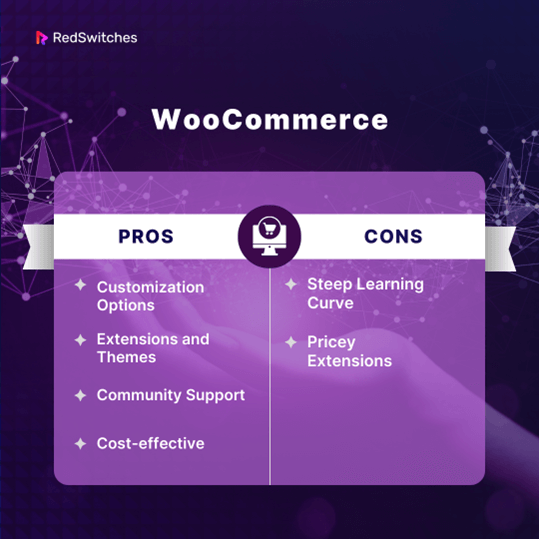 Pros
Extensive Customization Options: WooCommerce, the best WordPress e-commerce plugin, grants users unparalleled customization. Whether it is the product pages, checkout process, or the store's overall look, WooCommerce ensures that users can modify every aspect to align with their brand identity.
Massive Library of Extensions and Themes: WooCommerce is labeled the best e-commerce plugin for WordPress because it offers a vast collection of extensions and themes, enabling users to augment their store's functionality and appearance.
Excellent Community Support: One of the primary advantages of choosing WooCommerce is the strong community backing it. This community is a treasure trove of knowledge, offering solutions, advice, and support, which is especially helpful when encountering issues or seeking to optimize the store.
Cost-effective: WooCommerce offers free-of-cost core software, making it an affordable option for new businesses and startups who might be unable to afford the premium plans.
Cons
Steep Learning Curve for Beginners: For those new to eCommerce and WordPress, the plethora of options and settings in WooCommerce can seem overwhelming, necessitating significant time and effort to master the platform.
Pricey Extensions: While WooCommerce is free, many extensions are not. To access some specialized functionalities, users might need to invest in premium extensions, which can increase the overall cost of running the store.
Price
While WooCommerce offers a free version, it provides three pricing plans for users looking for advanced features, including:
Starter: $13.99
Plus: $17.99
Pro: $31.99
● Easy Digital Downloads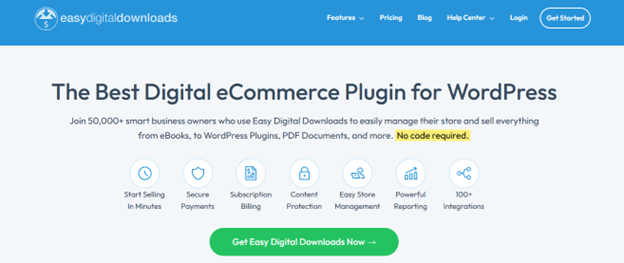 Credits: Easy Digital Downloads Website
Easy Digital Downloads is a streamlined solution tailored for those looking to sell digital products on their WordPress site. Its simplicity and focus on digital goods make it a favorite among content creators.
Pros vs Cons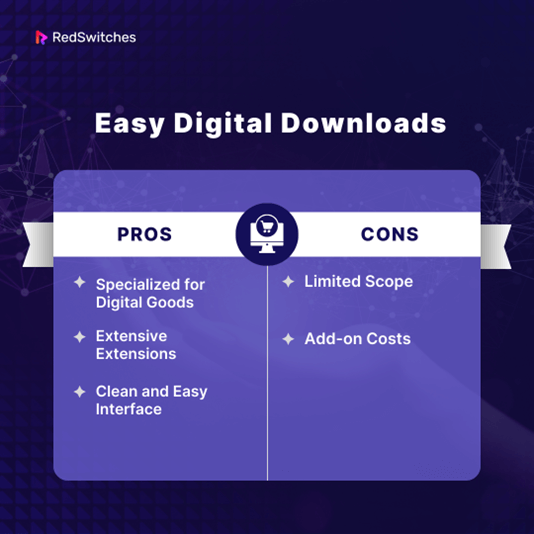 Pros
Specialized for Digital Goods: Easy Digital Downloads is primarily designed for selling digital products, making it the best WordPress e-commerce plugin for businesses dealing in eBooks, digital art, or music. This specialization ensures the plugin offers tailored features for handling digital goods effectively.
Extensive Extensions: To augment the core functionality, Easy Digital Downloads provides a variety of extensions. These extensions allow users to incorporate additional features, enhancing the eCommerce platform's overall functionality.
Clean and Easy Interface: The user-friendly design and experience provided by Easy Digital Downloads enable users to navigate and manage their digital products with ease. The clean interface reduces the learning curve for new users and allows efficient management of products, orders, and customer data.
Cons
Limited Scope: Since Easy Digital Downloads specializes in digital goods, businesses dealing in physical products may find it restrictive. The limited scope may require users to seek additional plugins or solutions to manage physical goods, potentially complicating the overall setup.
Add-On Costs: While the plugin offers essential features, accessing advanced functionalities often requires purchasing premium extensions. These add-on costs can quickly accumulate, impacting the overall budget, especially for small businesses.
Price
Easy Digital Downloads offers four pricing plans, including:
All Access Pass: $499/year
Professional (Most Popular): $299/year
Extended: $199/year
Personal: $99/year
● MemberPress

Credits: MemberPress Website
MemberPress is a comprehensive plugin designed to create memberships and restrict content access on WordPress websites. With its robust features, you can build an exclusive content platform with ease.
Pros vs Cons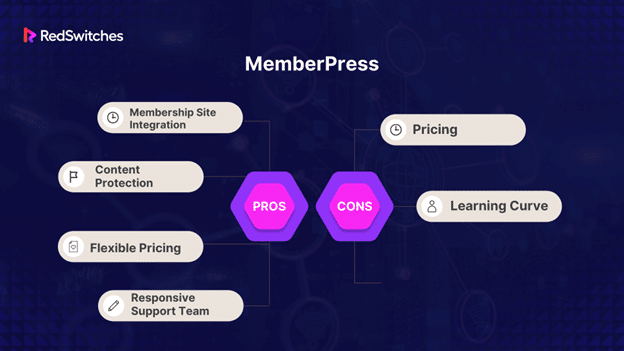 Pros
Membership Site Integration: MemberPress is the best WordPress e-commerce plugin for creating membership-based sites. It allows users to sell subscriptions and memberships and access premium content. This specialization makes it a preferred choice for businesses focusing on content-driven revenue models.
Content Protection: The plugin offers robust content protection features, allowing businesses to control access to their content efficiently. This feature ensures that only authorized users can access premium content, enhancing content security and value.
Flexible Pricing: MemberPress offers several pricing and subscription models, including recurring subscriptions, one-time payments, and trial options. This makes it suitable for all types of users.
Responsive Support Team: The MemberPress support team prioritizes responding to user queries within a few hours. This means you won't have to worry about fixing an issue alone or waiting long hours for answers to queries.
Cons
Pricing: The cost of using MemberPress can be a barrier for small businesses or startups with limited budgets. The pricing structure may require a careful evaluation of the return on investment.
Learning Curve: While MemberPress is feature-rich, mastering all the features and functionalities, especially the add-ons and integrations system, may require time and effort, especially for those new to membership sites.
Price
MemberPass offers four pricing plans, including:
Pro: $399.50/year
Plus (Most Popular): $299.50/year
Basic: $179.50/year
● BigCommerce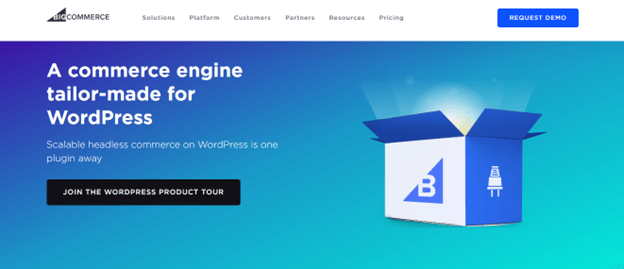 Credits: BigCommerce Website
BigCommerce offers a powerful SaaS ecommerce platform that integrates smoothly with WordPress. By leveraging its capabilities, businesses can scale and grow without compromising website performance.
Pros vs Cons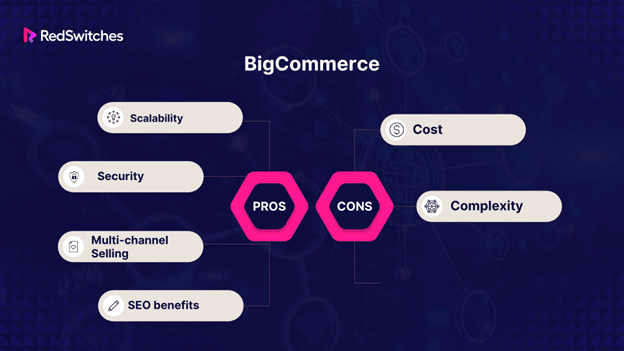 Pros
Scalability: BigCommerce is known as the best WordPress e-commerce plugin because it offers a scalable solution suitable for businesses of all sizes, from small startups to established enterprises. This scalability ensures the platform can adapt to increased demands and complexities as businesses grow.
Security: High-level security features and compliance standards offered by BigCommerce protect sensitive data and transactions. This helps foster customer trust and ensure compliance with regulatory requirements.
Multi-Channel Selling: The plugin enables businesses to sell across various platforms, including Amazon and eBay, expanding their reach and maximizing revenue opportunities.
SEO Benefits: BigCommerce is incredibly SEO-friendly, allowing users to take the necessary measures to boost their search engine ranking and visibility. It auto-populates SEO-friendly URLs for category and URL pages, allowing you to allocate more time toward optimizing other website areas.
Cons
Cost: The monthly fees and potential additional costs for extensions can be significant for businesses. Evaluating the cost against the value provided is crucial when considering BigCommerce.
Complexity: The array of features and options available in BigCommerce can be overwhelming for new users, requiring a considerable investment in time and learning to leverage the platform's capabilities fully.
Price
BigCommerce offers four pricing plans, including:
Standard: $29/month
Plus (Most Popular): $79/month
Pro: $299/month
Enterprise: This plan features custom pricing, meaning interested individuals must contact sales or call 1-866-991-0872 to learn more.
● Shopify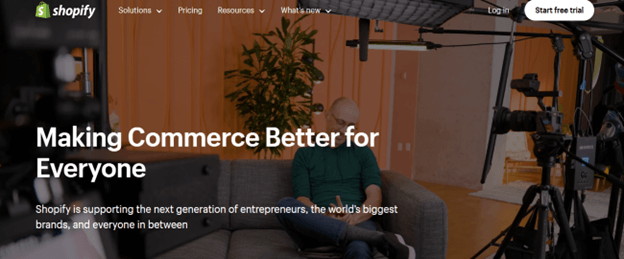 Credits: Shopify Website
Shopify is a renowned ecommerce platform that can be effortlessly integrated with WordPress for those looking to combine Shopify's robust selling tools with WordPress's flexible content management.
Pros vs Cons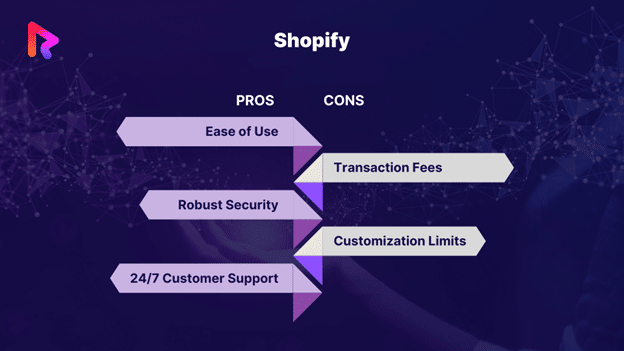 Pros
Ease of Use: Shopify is renowned as the best WordPress e-commerce plugin thanks to its user-friendly interface that allows even those with limited technical knowledge to set up and manage their online stores effectively.
Robust Security: Shopify features robust security features protecting the business. These features protect the security and privacy of customer data and ensure safe and secure transactions.
24/7 Customer Support: With round-the-clock support, users can resolve issues and get assistance promptly. This minimizes the likelihood of extended downtime and disruptions.
Cons
Transaction Fees: Using external payment gateways incurs additional fees. This can be a major drawback for startups or businesses on a budget, impacting their profitability.
Customization Limits: Compared to other plugins, Shopify offers limited customization options, which can be a constraint for businesses looking to create a highly customized user experience.
Price
New Shopify users can start for free for the first three days and avail $1/month for three months. Users who want to keep their subscription afterward can subscribe to any of the three pricing plans:
Basic (Most Popular): $25/month
Shopify: $65/month
Advanced: $399/month
● WPForms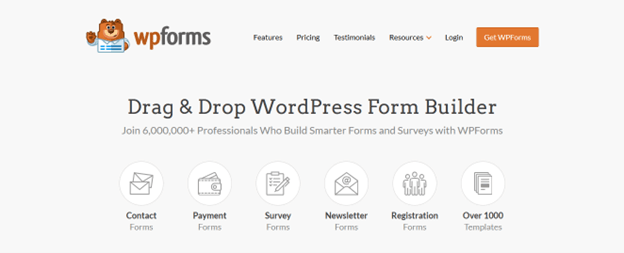 Credits: WPForms Website
WPForms offers an intuitive drag-and-drop form builder for WordPress, allowing users to create various forms without coding. Its user-friendly interface ensures smooth interaction for both creators and website visitors.
Pros vs Cons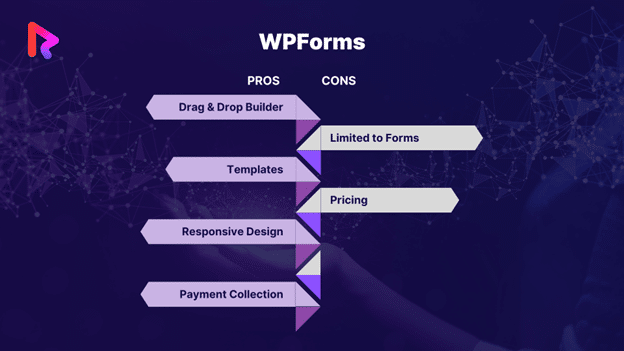 Pros
Drag & Drop Builder: WPForms provides an intuitive drag-and-drop builder, making form creation straightforward and accessible, even for those without coding skills.
Templates: The availability of pre-built form templates makes WPForms the best WordPress e-commerce plugin for form creation. These templates accelerate the form creation process, empowering users to implement forms quickly and efficiently.
Responsive Design: The mobile-friendly design ensures forms are accessible and functional across devices. This enhances user experience, engagement, and the likelihood of mobile users clicking off your online store due to issues like slow loading.
Payment Collection: WPForms users can conveniently and securely collect payments, donations, and online orders by integrating payment providers like Stripe and PayPal.
Cons
Limited to Forms: WPForms is primarily designed for creating forms, and businesses seeking extensive eCommerce functionalities like SEO or blogging will likely need to integrate additional plugins or solutions.
Pricing: The free version offers limited functionalities, and accessing the full range of features requires purchasing premium plans, impacting budget considerations, especially for small businesses.
Also Read: WordPress vs Wix: Which Is The Best Tool to Build a Website in 2023?
Price
WP Forms offers four pricing plans, including:
Elite: $299.50/year
Pro (Most Popular): $199.50/year
Plus: $99.50/year
Basic: $49.50/year
●  Cart66 Cloud

Credits: Cart66 Cloud Website
Cart66 Cloud offers a secure ecommerce solution for WordPress users, emphasizing the importance of security in online transactions. Its holistic approach makes it the best wordpress e-commerce plugin, catering to both digital and physical product sellers.
Note! WP EasyCart has acquired Cart66 Cloud.
Pros vs Cons
Pros
Security: Cart66 Cloud places a premium on transactional security, ensuring businesses and customers can conduct operations with peace of mind. The plugin ensures that every transaction is secure from potential threats by integrating all important security features, including secure payment gateways and encrypted data storage.
All-in-One Solution: Beyond just being a shopping cart, Cart66 Cloud serves as a holistic eCommerce solution. It offers a wide range of features and integrations, from managing products to streamlining shipping processes, providing businesses with a comprehensive platform to handle their online sales.
Email Marketing Integration: Cart66 Cloud offers seamless integration with various email marketing services for businesses keen on building and nurturing their customer base. This integration ensures businesses can engage with customers effectively, drive repeat purchases, and build loyalty.
Cons
Bare Minimum of What You Need for a Shopping Cart Plugin: Some users have shown their dissatisfaction with the features offered by Cart66 Cloud, stating that the platform offers the bare minimum of what you need for a shopping cart plugin and doesn't extend beyond that.
Limited Customization: Customization can be crucial for branding and user experience. Cart66 Cloud, while robust, might offer fewer customization options than some of its competitors, potentially limiting a business's ability to differentiate itself.
Price
Cart66 Cloud offers three pricing plans, including:
Free Plugin: (2% fees apply)
Pro Cart Plugin: $69/year
Premium Cart Plugin: $89/year
● Ecwid eCommerce Shopping Cart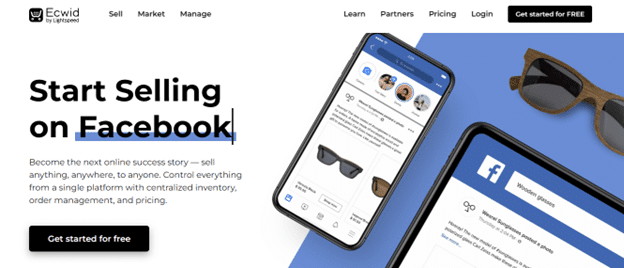 Credits: Ecwid eCommerce Shopping Cart Website
Ecwid eCommerce Shopping Cart, the best WordPress e-commerce plugin, delivers a hassle-free solution for those looking to add a shopping cart to their WordPress website. With its responsive design, shoppers enjoy a consistent experience across devices.
Pros vs Cons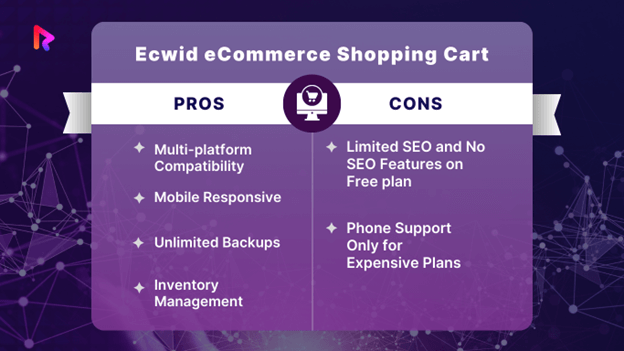 Pros
Multi-Platform Compatibility: Ecwid stands out as the best WordPress e-commerce plugin for its ability to integrate across multiple platforms, including websites, blogs, and social media platforms. This feature allows businesses to tap into various customer touchpoints, expanding their market reach.
Mobile Responsive: With a growing number of shoppers using mobile devices, Ecwid ensures a seamless mobile shopping experience. Its responsive design guarantees shoppers can browse, select, and purchase products effortlessly, regardless of their device.
Unlimited Backups: Data security and recovery are vital for any online business. Ecwid offers continuous data backup, ensuring businesses have secure access to their data and can recover it in unforeseen incidents.
Inventory Management: Ecwid helps ease the task of inventory management by allowing users to manage stock levels and orders. This helps reduce manual effort and avoid human errors.
Cons
Limited SEO and No SEO Features on Free Plan: Ecwid users have shown concern regarding the limited SEO offerings on the plugin and the availability of zero SEO features on the free plan.
Phone Support Only for Expensive Plans: Only expensive plan holders can access Ecwid phone support. This can be a significant drawback for free plan users.
Price
Besides a free plan, Ecwid offers three pricing plans for users looking for more advanced features:
Venture: $14.08/month
Business: $29.08/month
Unlimited: $82.50/month
●  WP Simple Pay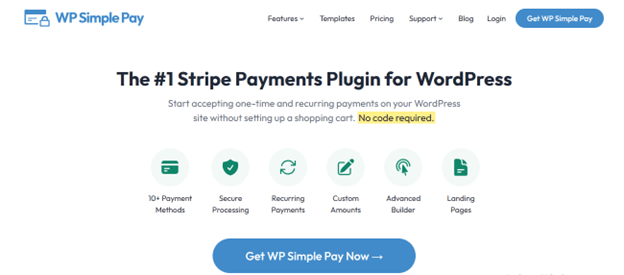 Credits: WP Simple Pay Website
WP Simple Pay simplifies the process of setting up payments on WordPress websites. Catering mainly to Stripe users, it eliminates the complexities of online transactions.
Pros vs Cons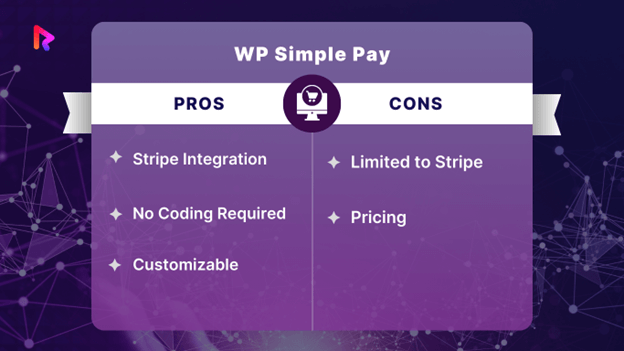 Pros
Stripe Integration: WP Simple Pay simplifies transactions by directly integrating with Stripe, enabling secure, fast, and efficient payment processing. This feature is especially beneficial for businesses that prefer Stripe as their payment processor due to its simplicity and reliability.
No Coding Required: WP Simple Pay's straightforward setup process wins it the title of the best WordPress e-commerce plugin. It is ideal for users with little to no coding knowledge. The easy-to-navigate interface means that users can configure the plugin without any hassle, making it a suitable option for individuals and small businesses.
Customizable: The plugin offers customization options for payment forms, allowing businesses to tailor the payment experience to align with their branding and customer experience goals, thus providing a seamless checkout process for users.
Cons
Limited to Stripe: The exclusivity of Stripe integration can limit businesses that want to offer multiple payment gateway options to their customers. This could influence the choice of businesses looking for more flexibility in payment options.
Pricing: While the plugin does offer free functionalities, the costs can accumulate when accessing premium features. This can be a significant consideration for businesses operating with constrained budgets.
Price
WP Simple Pay offers four pricing plans, including:
Elite: $299.50/year
Professional (Most Popular): $199.50/year
Plus: $99.50/year
Personal: $49.50/year
●  OptinMonster

Credits: OptinMonster Website
OptinMonster is a lead generation tool designed for WordPress, enabling businesses to capture and convert more subscribers. Its array of powerful features makes it the best WordPress e-commerce plugin for marketers.
Pros vs Cons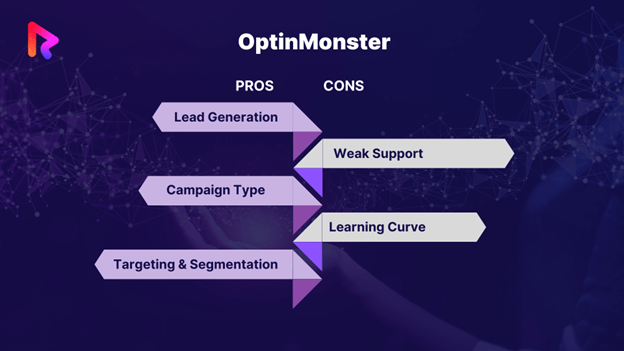 Pros
Lead Generation: OptinMonster stands out as a powerful lead generation tool. Its optimized features enable businesses to capture and convert leads effectively, thereby maximizing opportunities for revenue generation.
Campaign Types: OptinMonster emerges as the best WordPress e-commerce plugin thanks to campaign-related features like popups, floating bars, and more. These features empower businesses to create diverse and engaging campaigns to attract and retain visitors, ensuring a higher conversion rate.
Targeting & Segmentation: The tool allows precise targeting and segmentation, enabling businesses to tailor their campaigns to specific audience groups, thus enhancing the relevance and effectiveness of their marketing efforts.
Cons
Weak Support: Some users have raised concerns about the OptinMonsters support team, complaining about the support team's inability to answer queries and solve issues on time.
Learning Curve: The array of features offered by OptinMonster means that new users might need time to navigate and understand all the functionalities, potentially delaying the implementation of effective campaigns.
Price
OptinMonster offers four pricing plans, including:
Basic: $9/month
Plus: $19/month
Pro: $29/month
Growth: $49/month
● Schema Pro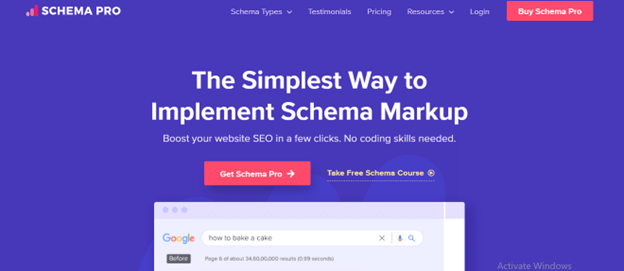 Credits: Schema Pro Website
Schema Pro is an integral tool for boosting a website's SEO through structured data. With its automated process, you can ensure your content is optimized for search engines.
Pros vs Cons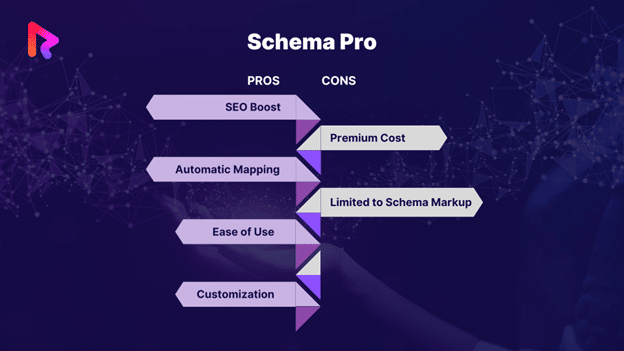 Pros
SEO Boost: Schema Pro, the best WordPress e-commerce plugin, significantly enhances SEO by integrating structured data, improving a website's visibility on search engines. By enabling the addition of rich snippets, it helps achieve higher click-through rates and draws more organic traffic.
Automatic Mapping: The plugin automatically maps schema properties with selected fields. This can significantly reduce the need for manual input and help boost accuracy.
Ease of Use: Schema Pro is designed to be user-friendly, making the setup process quick and straightforward. Thanks to its intuitive interface, even those with limited technical knowledge can efficiently utilize this plugin.
Customization: The plugin allows fine-tuning schema markup according to specific needs. This customization ensures the structured data aligns perfectly with the content, allowing for more accurate and effective SEO enhancements.
Cons
Premium Cost: While Schema Pro offers invaluable features, accessing its premium functionalities does come with an associated cost. This pricing may be a consideration for small businesses or individuals on a tight budget.
Limited to Schema Markup: The plugin is highly specialized and focuses exclusively on schema markup tasks. Those seeking a multi-functional SEO tool might find its scope somewhat restrictive.
Price
Schema offers two pricing plans, including:
Schema Pro: $67/year or $237/one-time (lifetime)
Growth Bundle: $187/ year or $937/one-time (lifetime)
● PushEngage

Credits: PushEngage Website
PushEngage allows WordPress website owners to engage with their audience through push notifications. Its capabilities ensure that businesses can re-engage and retain visitors effortlessly.
Pros vs Cons
Pros
Push Notifications: PushEngage shines as the best WordPress e-commerce plugin due to features like sending efficient push notifications – helping businesses keep their users engaged. Whether it's updates, alerts, or promotional content, push notifications ensure users stay connected and informed.
Beginner-friendly: PushEngage is incredibly easy to use and beginner-friendly. This means that even the least tech-savvy individuals without prior experience with marketing plugins can operate the plugin without difficulties.
Automation: The plugin offers automation features that allow businesses to set notification triggers based on user behavior or predefined conditions. This automated approach saves time and ensures timely communication with users.
Segmentation: PushEngage can segment subscribers based on location, interests, and behavior. Segmentation allows for more targeted and relevant notifications, improving user engagement and conversion rates.
Cons
Integration Issues: Some users have reported experiencing occasional difficulties when integrating PushEngage with certain platforms. These hiccups can impact the seamless functionality and user experience of the plugin.
Limited Free Version: While the availability of a free version can be counted as a pro, the inability of the free version on PushEngage to offer a diverse range of features is counted as a significant con by free version users.
Price
Besides a free plan, PushEngage offers three pricing plans, including:
Business: $9/month
Premium (Most Popular): $29/month
Growth: $49/month
Final Thoughts
Choosing the best WordPress eCommerce plugin requires considering several factors, like individual business needs, technical requirements, and budget. Whether you're selling digital goods, physical products, or subscriptions, a WordPress eCommerce plugin is available to meet your requirements.
Before deciding on the best WordPress eCommerce plugins listed above, assessing each plugin's pros and cons and pricing plans is vital to ensure you choose plugins that synergize well with your business goals and operational framework.
It is also important to remember that the performance of the plugins you download depends on the quality of your hosting service. A reliable, secure, and high-performing hosting service can boost the operational efficiency of the chosen plugin.
If you are looking for a reliable and reputed hosting service provider, we recommend RedSwitches. The provider is known for offering a secure, robust, and scalable hosting environment optimized for WordPress. RedSwitches can help you ensure that whichever eCommerce plugin you select operates at its peak.
With extensive security protocols, unparalleled customer support, and high availability, RedSwitches ensures that your eCommerce website is always accessible, secure, and ready to deliver the best user experience possible. So what are you waiting for? Get in touch with us today to learn more.
FAQs
Q What plugins do I need for WordPress eCommerce?
WooCommerce, Easy Digital Downloads, MemberPress, BigCommerce, Shopify, WPForms, Cart66 Cloud, Ecwid eCommerce Shopping Cart, WP Simple Pay, OptinMonster, Schema Pro, and PushEngage are some of the best WordPress E-commerce plugins that can be incredibly useful for individuals engaged in e-commerce.
Q Which is the best eCommerce solution with the WordPress?
WooCommerce is the best WordPress e-commerce plugin. It includes many features like extensive customization options, community support, and a massive library of extensions and themes.
Q Why is WooCommerce better than Shopify?
WooCommerce is better than Shopify due to its affordable pricing and extensive range of extensions, making it highly customizable and pocket-friendly. In comparison, Shopify has a more straightforward drag-and-drop interface.
Q Is WooCommerce free to use?
WooCommerce is a free-of-cost WordPress plugin. Users interested in using advanced features may have to subscribe to any of the three paid subscriptions offered by the platform.
Q What are the best WordPress eCommerce plugins in 2023?
The best WordPress eCommerce plugins in 2023 include WooCommerce, Easy Digital Downloads, Shopify, BigCommerce, Ecwid, WP eCommerce, and J2Store.
Q How do I choose the best eCommerce plugin for WordPress?
When choosing an eCommerce plugin for WordPress, consider factors such as your specific requirements, budget, level of technical expertise, integration with other platforms, customer support, and user reviews.
Q What is WooCommerce and why is it one of the best WordPress eCommerce plugins?
WooCommerce is a popular WordPress eCommerce plugin that allows you to create and manage an online store. It is highly customizable, offers a wide range of features, integrates well with other WordPress plugins and themes, and has a large community of users.
Q Can I use WordPress eCommerce plugins for both physical and digital products?
Yes, most WordPress eCommerce plugins support both physical and digital products. You can easily set up your store to sell products of any type.
Q Are there any free eCommerce plugins for WordPress?
Yes, several free eCommerce plugins are available for WordPress, such as WooCommerce, Easy Digital Downloads, and WP eCommerce. These plugins offer basic features and can be a good starting point for small businesses.
Q What are some popular WordPress eCommerce themes?
Some popular WordPress eCommerce themes include Storefront, Divi, Flatsome, OceanWP, Astra, and Avada. These themes are designed specifically for online stores and offer attractive designs and features.
Q Can I use WordPress eCommerce plugins with any WordPress site?
Yes, most eCommerce plugins for WordPress can be used with any WordPress site. However, it is important to check the compatibility of the plugin with your specific theme and other installed plugins.
Q What are some must-have features of a WordPress eCommerce plugin?
Some must-have features of a WordPress eCommerce plugin include a user-friendly interface, product management capabilities, secure payment gateways, shipping options, customizable templates, inventory management, and analytics.
Q Which is the most popular WordPress eCommerce plugin?
WooCommerce is the most popular WordPress eCommerce plugin, with millions of active installations worldwide. It is known for its flexibility, ease of use, and extensive plugin ecosystem.
Q Can I integrate third-party plugins with WordPress eCommerce plugins?
Yes, many WordPress eCommerce plugins offer integration with third-party plugins for additional functionality. Always check the documentation and compatibility of the plugins before integrating them into your store.