93% of organizations reported using a VPN in 2023. This number is unsurprising as internet users are exposed to privacy risks and data theft. While Ubuntu offers strong localized security, it cannot protect against online threats completely. You need one of the best VPN for Ubuntu for complete security online.
VPN is necessary as it protects a user's activities on the internet. It keeps you secure from interception by hackers, snoopers, and other malicious users. It does this in simple steps by encrypting data transmitted between your device and the internet. This way, it is impossible for anyone to access your information.
Aside from privacy, VPN offers anonymity to users, further keeping them safe. Ubuntu is one of Linux's most popular distributions. However, users may need help finding a compatible VPN which is easy to use and bug-free. Not to worry, this is your guide in choosing the best VPN for Ubuntu.
Table of Contents
What is Ubuntu?
Ubuntu is a popular open-source and free Linux-based operating system that can be used on a computer or a virtual private server (VPS). This widespread Linux distribution is known for its user-friendly interface and the effective updates released every six months.
Ubuntu is the world's most widely used Linux-based workstation platform due to its strong security, multiple software options, enhanced privacy, lightweight performance, and zero costing (since it's free). It is based on Debian, a Linux distro, and is suitable for servers, cloud computing, the Internet of Things (IoT), and desktop devices.
Why Use VPN with Ubuntu?
A Linux distro like Ubuntu is usually more secure as an operating system. However, that doesn't guarantee maximum security. It further encourages you to use one of the best Ubuntu VPNs available. Here are some advantages VPN offers when used with Ubuntu.
Online Security and Privacy: VPN encrypts your internet connection, making it difficult for hackers to intercept your data. This is crucial for protecting your online privacy. VPN gives you another layer of security, especially when using public Wi-Fi.
Bypass Geo-restrictions: VPNs allow you to access websites and services that might be restricted or blocked in your country. You can set your IP address to any location to watch any geo-locked content.
Hide User's IP address: VPNs can mask your IP address. This way, websites and online services cannot track your online activities. This enhances your anonymity while browsing.
Access to streaming services: When using the internet, streaming takes up a lot of data. As a result, your internet service provider (ISP) slows down or throttles your connection when you have a busy network, intentionally or unintentionally. The best VPN for Ubuntu can help bypass this throttling.
Best VPN for Ubuntu in 2023
While there are several VPNs for Ubuntu, the best Ubuntu VPN will have solid online security, speed, and no activity logs, among other features. Here is a list of the best VPNs with their benefits.
1. ExpressVPN – Best VPN for Ubuntu with a 30-Day Free Trial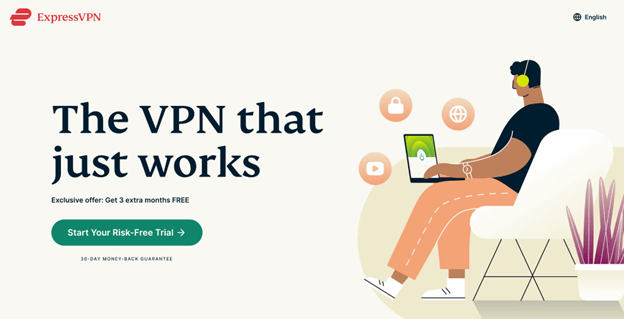 Credit: ExpressVPN
Express VPN is one of the best VPNs for Ubuntu. It offers a command-line interface on devices. Users testify of a much faster speed, top-notch privacy, and minimum to no log-taking. Currently, ExpressVPN is the best Netflix VPN with a track record for unblocking restricted sites.
One unique feature of ExpressVPN is that it does offer a 30-day free trial. It is a risk-free VPN trial that allows you to access all features. That's a lot of time to test and confirm the perks of this VPN. When you eventually subscribe to any of their plans, you get a 30-day money-back guarantee. The monthly plan costs $12.95, a 6-month plan costs $59.95, and a yearly plan costs $99.95.
ExpressVPN works not only on Ubuntu but also on Debian, CentOS, Fedora, and Kali. It is compatible with Android and iOS devices or as an extension for browsers on Linux. You can use this VPN on up to 5 devices simultaneously.
Also, it is easy to set up. However, if you experience any challenges, ExpressVPN has excellent customer support. You can email or chat live with their support team anytime, that is, 24/7; they got you covered.
ExpressVPN introduces a network kill switch for Ubuntu. The kill switch activates by default after some inactive period and notifies you whenever your VPN is disconnected.
2. Windscribe – Overall Best VPN for Ubuntu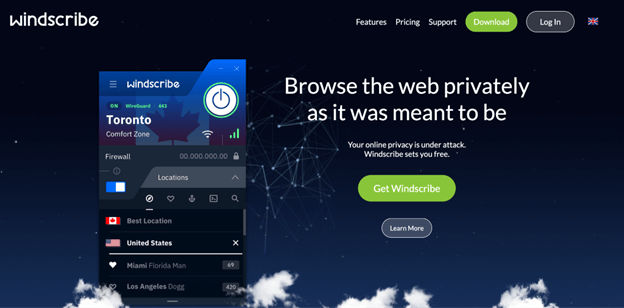 Credit: Windscribe
For a VPN to be a good one, it has to be highly secure with user-friendly features. Windscribe is one of the best VPNs. While it does not offer unlimited bandwidth, it is fast and secure. The free plan allows you to whoop 15 GB of free data.
It can be used on multiple devices and is easy to set up. It allows you to stream high-definition content with no buffering, a generous free plan. Also, Windscribe offers split tunneling that allows you to switch between encrypted and unencrypted connections. It has a kill switch that logs you out after a while of inactivity and protects you when the VPN connection drops suddenly. Combining all these benefits, Windscribe is the overall best Ubuntu VPN.
If you are in these 11 countries — the U.S., Canada, Hong Kong, UK, France, Germany, Norway, Switzerland, Netherlands, Romania, and Turkey- you can access Windscribe hassle-free. Besides privacy and security, Windscribe has an ad-blocker named ROBERT, available for free and paid users. The monthly plan costs $9 per month, while the annual plan costs $5.75 per month.
3. ProtonVPN – Best VPN for Ubuntu with Unlimited Bandwidth Credit: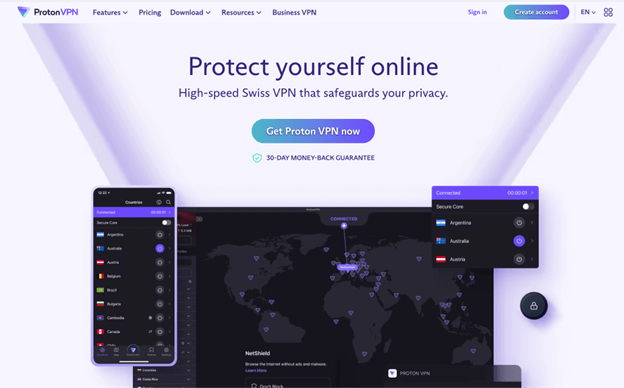 Credits: ProtonVPN
ProtonVPN is one of those best Ubuntu VPNs with an unlimited free plan. It has a command-line app for Ubuntu that shows the full list of servers and manages connections better. The privacy service is beyond par, with fast and secure connections and a strict zero-log policy.
ProtonVPN is known for its unlimited bandwidth that lets you stream for as long as you want. Even with the free plan, you have enough data. Subscribing adds four devices to the one that comes with the free plan. You can purchase the monthly plan at $9.99, while the one-time annual plan costs $5.99 monthly.
We cannot help but mention Proton's interface. The app has a black skin, and the options are intuitively placed for easy navigation.
ProtonVPN is compatible with operating systems like Ubuntu, Manjaro, CentOS, Debian, and Linux Mint. It has a custom DNS and DNS leak protection, with several servers in 68 countries. The only downside is that the free version of this VPN has only three servers located in Japan, the US, and the Netherlands.
4. Hide. Me – Best VPN for Ubuntu with Robust Security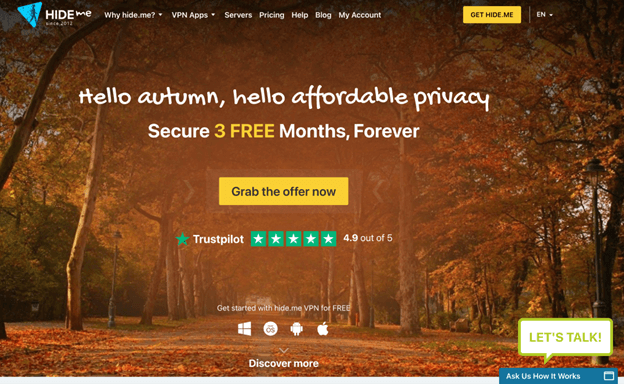 Credit: Hide.Me
hide.me is another best Ubuntu VPN services. It is fast, safe, and secure during use. For ease of usage, it has over 15 different settings for your optimization. While other VPNs lag, hide.me allows you to use the internet with unnoticeable lags.
The free version lets you enjoy most of the features of the paid version, excluding a few. After using 10 GB of bandwidth, you cannot select a server of your choice. hide.me chooses randomly from its servers across countries.
Some advanced features include the WireGuard security protocol. This protocol is only available on the paid version but for free users, OpenVPN, SSTP, and hide.me's proprietary SoftEther protocol for a secure connection.
Additionally, hide.me offers the kill switch and split tunneling features. The kill switch, called Stealth Guard, keeps you protected anytime you forget to connect to a server at startup. At $4.99 per month, you get 75 GB data transfer with 1 simultaneous connection.  At $9.99, you have unlimited data transfer with 5 simultaneous devices. However, if dissatisfied, you can always get the full amount back through their 30-day money-back guarantee.
5. TunnelBear – Best VPN  for Ubuntu with Fast Speeds and High-End Security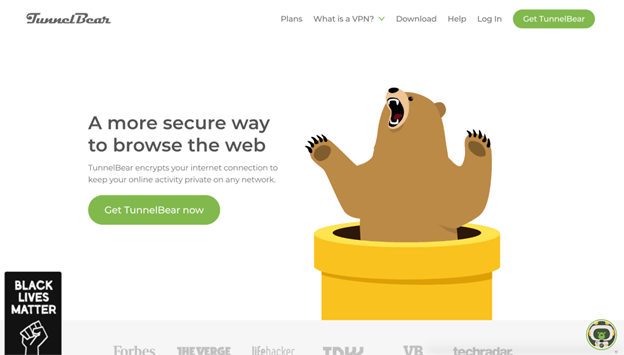 Credit: TunnelBear
TunnelBear is a secure VPN service for Ubuntu that uses standard encryption methods to keep your data private and secure. It has a considerable performance when it comes to speed and streaming services. TunnelBear does not log your activity throughout your use period.
Regarding security, TunnelBear goes high-end, using the standard AES-256 encryption with an SHA-256 hash for authentication. It is compatible with iOS, Windows, Android, and macOS devices. TunnelBear has about 3,000 servers in up to 48 countries.
TunnelBear, like other best Ubuntu VPNs, has a kill switch feature called VigilantBear. It protects your privacy during brief connection disruptions. You can choose between the one-year ($4.99 per month), 2-year ($4.17 per month), or the 3-year subscription ($3.33 per month). However, if you are unsatisfied with their service, you can request a refund while they analyze your request.
6. VPNBook – Best VPN with Powerful Unblocking for Streaming on Ubuntu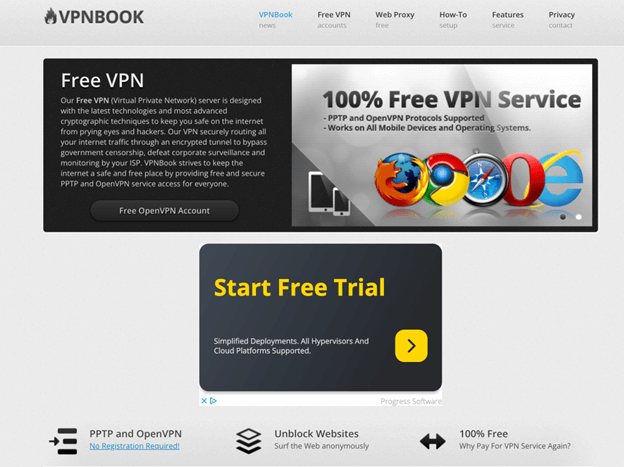 Credit: VPNBook
VPNBook is a free Switzerland-based VPN service. It offers free services with no paid versions, including VPN and web proxy access. VPNBook has a powerful unblocking feature. It can bypass the geo-blocks by different streaming platforms, including Netflix and Amazon Prime. Many reviewers have tested and backed up VPNbook's ability to prevent data leaks.
Aside from the secure connections and great speed, it has advanced security features. First, you can manually set up the PPTP (point-to-point tunneling), which is easy to install. The other option is to use VPN server accounts with OpenVPN software or Outline VPN that uses the powerful 256-bit AES encryption. VPNBook has 11 servers in 6 countries, including the US, Canada, Poland, France, and Germany.
How to Choose The Best VPN for Ubuntu?
The section above shows you some of the best VPNs. How do you choose the best Ubuntu VPN? It is a  crucial step to ensure online privacy and security. This section lists the key factors to consider when selecting a VPN for your Ubuntu system, helping you make an informed decision to safeguard your online activities effectively.
Security
The best VPN for Ubuntu safeguards your data and online activities from prying eyes and potential threats. Look for a VPN that employs robust AES-256 encryption, ensuring your data remains unreadable even if intercepted.
A strict no-logs policy is equally vital, as the VPN provider doesn't retain records of your online activities. Leak protection features, like DNS and IP leak protection, are also crucial to prevent accidental identity exposure.
Some of the best Ubuntu VPNs go further with additional security features like a kill switch, which disconnects your online activities if the VPN connection drops. Others add the multi-hop functionality, which routes your connection through multiple servers for anonymity.
Speed
A fast VPN ensures you can browse the web, stream content, and download files without significant slowdowns or buffering. The best Ubuntu VPN provides fast and steady connections. Several factors can influence VPN speed, including the server location. Choosing a server closer to you typically results in faster speeds. Secondly, Bandwidth limits imposed by the VPN provider can also impact speed. Also, network congestion during peak usage times can further slow your VPN connection.
Opt for a VPN with unlimited bandwidth and an extensive server network that actively manages its server capacity to reduce congestion. This way, you can enjoy a seamless and speedy online experience while using Ubuntu with your VPN.
Ability to bypass geo-blocks
The best Ubuntu VPN services bypass geo-blocks by employing a two-fold strategy: masking users' IP addresses and connecting to servers in different locations.
 VPNs mask your IP address by replacing it with one from their server network. If you connect to a server in the United States, your IP appears to be browsing from the US, regardless of location. Also, VPNs maintain servers in various countries and regions worldwide. When you connect to a server in a specific location, your device takes that server's identity. For instance, if you're in Europe and connect to a US server, you can access geo-restricted American content.
Look out for this feature in your VPN of choice. It enables users to access streaming platforms like Netflix, Hulu, or BBC iPlayer, websites that might be restricted due to copyright, licensing, or government regulations in certain countries or regions.
Torrenting
Torrenting is significant for Ubuntu users, as it's a popular method for downloading and sharing large files. However, torrenting can pose privacy and security risks, making VPN use particularly important.
VPNs enhance the privacy and security of torrenting activities on Ubuntu by masking your actual IP address and encrypting your internet connection. When you torrent without a VPN, your IP address is exposed to other users in the torrent swarm, potentially exposing you to legal action from copyright holders or malicious entities. This added layer of anonymity and security ensures that your Ubuntu-based torrenting remains private and protected from potential threats. Remember that the best Ubuntu VPN permits torrenting and offers high-speed, P2P-optimized servers to ensure a seamless experience.
Privacy
VPN enhances privacy by encryption, making it unreadable to anyone trying to intercept it. Additionally, it hides your actual IP address and replaces it with the IP of the VPN server you're connected to. This prevents websites, advertisers, and malicious actors from tracking your location or online behavior.
The best Ubuntu VPNs like ExpressVPN and Hide.me, ProtonVPN, and TunnelBear, among others, are built to ensure maximum privacy. So, when choosing a VPN for Ubuntu, thoroughly research each provider's privacy practices to ensure they align with your requirements, as privacy preferences can vary from person to person.
Streaming
For Ubuntu users who enjoy streaming, having a VPN that can unblock geo-restricted content and provide reliable connection speeds is a no-brainer. ExpressVPN, for example, offers lightning-fast speeds and a range of server locations, making it ideal for streaming on Ubuntu. It reliably unblocks popular streaming platforms like Netflix, Hulu, and Amazon Prime. ProtonVPN offers user-friendly apps and servers optimized for streaming. Others, like Windscribe, are known for unlimited simultaneous connections. It unblocks multiple streaming services and provides good connection speeds for streaming on Ubuntu.
When selecting a VPN for streaming, remember to choose one that reliably unblocks the specific streaming platforms you prefer, as access to content can vary among providers.
Conclusion
As one who uses Ubuntu, choosing the best VPN for Ubuntu involves considering a range of factors, including security, speed, geo-blocking capabilities, torrenting support, privacy measures, and streaming prowess. The best VPN services build in these features for your comfort. Here's a summary of the top VPNs for Ubuntu, highlighting their standout features:
ExpressVPN: ExpressVPN excels in security with AES-256 encryption, a strict no-logs policy, and leak protection. It offers lightning-fast speeds, making it perfect for streaming and torrenting. Also, it reliably bypasses geo-blocks on various platforms.
Windscribe: Windscribe is known for its multiple-device use capacity. It combines strong security features with high-speed and effective geo-unblocking capabilities. We consider it the overall best VPN for Ubuntu.
ProtonVPN: ProtonVPN offers unlimited bandwidth for robust security. Its attractive interface makes it a solid choice for beginners and streaming enthusiasts.
Hide.Me: Hide.Me stands out with its free version. Its free version allows you access to all essential features for security. Also, it has the kill switch and split tunneling ability.
Tunnelbear: Tunnelbear has a fast experience guarantee aside from its solid security features and streaming capabilities. It also has multiple servers in different countries.
VPNBook: VPNBook is powerful for its unblocking feature. It can bypass the geo-blocks by different streaming platforms. Above all, it is free for all Ubuntu users.
These best Ubuntu VPNs excel in multiple aspects. Depending on your needs and preferences, one of these VPNs will likely be an excellent fit for enhancing your online experience on Ubuntu.
Unlock Premium VPN Experience with RedSwitches
RedSwitches offers a premium VPN experience that complements the security aspects of cloud services. As an individual or a business owner, RedSwitches provides hosting solutions to enhance cloud security. When you need a VPN for your OS, we employ the best Ubuntu VPNs to make it nearly impossible for unauthorized entities to intercept or decipher your data.
RedSwitches also understands the evolving landscape of IT infrastructure. Our hosting solutions are designed to integrate both on-premises and cloud-based services seamlessly. It would be best to have a provider with this flexibility when transitioning to the cloud or maintaining a hybrid setup.
However, if you have any unclear details, RedSwitches offers round-the-clock support, ensuring you have assistance when needed.
FAQs
Q-1) What is the best free VPN for Ubuntu?
Some popular free VPNs for Ubuntu include ProtonVPN, Windscribe, and TunnelBear. Windscribe offers the overall best VPN experience. However, remember that free VPNs often have limitations such as data caps, slower speeds, and fewer server locations than paid options. Your choice should depend on your usage and priorities.
Q-2) Which VPN to use for Ubuntu?
When selecting a VPN for Ubuntu, it's essential to consider factors like security, speed, privacy, and compatibility. Some top VPNs that work well with Ubuntu include ExpressVPN, ProtonVPN, Windscribe, and Hide.me, TunnelBear and VPNBook. These providers offer native Linux applications or support OpenVPN, making them suitable for Ubuntu users.
Q-3) What is the fastest VPN for Ubuntu?
ExpressVPN is the best and fastest VPN for Linux and all popular platforms, especially Ubuntu users. This is because it delivers the reliable online security and privacy you deserve. It even has a 30-day free trial and a money-back guarantee for its great speed.
Q-4) Does Ubuntu need a VPN?
Absolutely. Every Ubuntu user needs a VPN. A VPN enhances your online security and privacy by encrypting your internet connection, which is valuable if you frequently use public Wi-Fi networks or want to access geo-restricted content. Ubuntu, on its own, cannot offer such high-end security.
Q-5) What is the #1 free VPN?
The #1 free VPN can vary depending on your priority criteria: speed, privacy, or server locations. We consider ProtonVPN, Windscribe, and VPNBook the top free VPNs. Remember to carefully read their terms and evaluate whether they meet your specific needs.