Ubuntu has long been appreciated in the tech community for its reliability and adaptability. As an open-source operating system, it seamlessly blends innovation with user-centric design. And with 13.6% of the world's servers powered by Linux, it's evident that many are turning to this robust platform, whether for potent dedicated servers or dynamic cloud solutions.
As we navigate through 2023, Ubuntu continues its tradition of growth, introducing a new batch of outstanding applications. This guide is your trusted resource, focused on spotlighting the "Ubuntu apps best" lineup for the year.
If you want to know how to install Ubuntu on Windows with WSL2, check out this game-changing guide!
Table of Contents
9 Best Apps for Ubuntu 2023
Whether you're an enterprise user or a discerning individual, these selections will elevate your Ubuntu experience to its peak potential. Dive in to discover and integrate the best that Ubuntu has to offer this year.
1. Google Chrome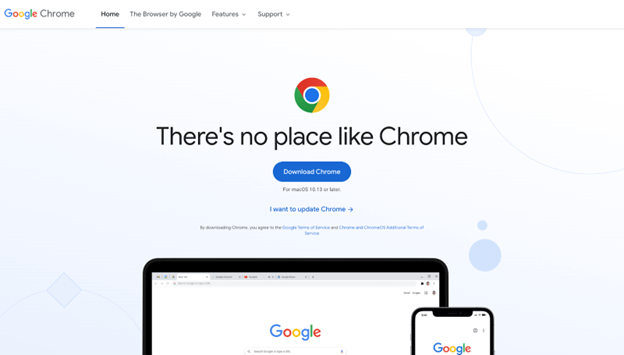 Credit: Google Chrome
For many Ubuntu users, selecting the right web browser is crucial, and Google Chrome frequently emerges as a top choice among the best apps for Ubuntu. There are compelling reasons for this preference.
Features:
Integration with Google Services: Chrome offers seamless integration with Google's array of services, including Gmail, Google Docs, and Google Drive. This ensures Ubuntu users can effortlessly transition across devices, maintaining synced work and personal content.
Cutting-Edge Performance: Chrome boasts its V8 JavaScript engine, ensuring quick webpage loading and efficient functioning of web apps. This, paired with Ubuntu's performance, promises a fluid browsing journey.
Unyielding Security: Google Chrome regularly updates its system, providing a fortified barrier against ever-changing online threats. This and Ubuntu's security guarantee users a secure online realm.
Chrome Web Store: Users can access an extensive array of extensions via the Chrome Web Store, enabling personalization of their browsing experience.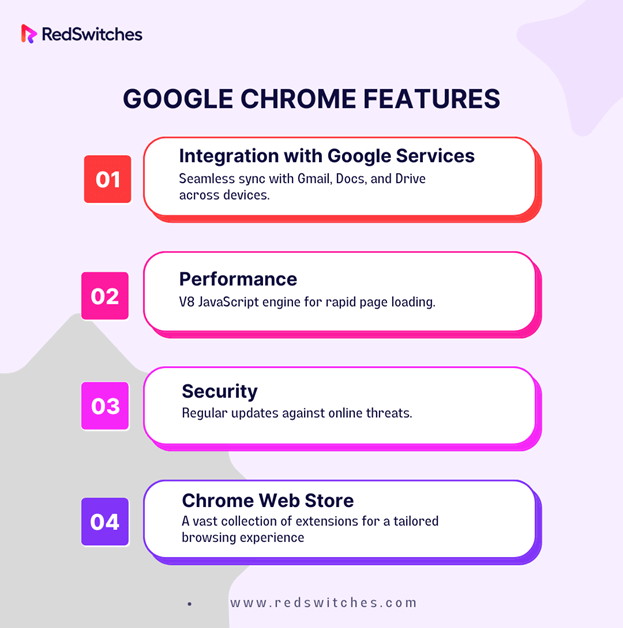 Pros:
Seamless Google service integration.
Lightning-fast performance.
Robust security features.
Extensive customization options via extensions.
Cons:
Chrome's memory consumption can be high, potentially slowing down other applications.
Data privacy concerns due to tight integration with Google services.
Availability
Google Chrome can be effortlessly downloaded from its official website, ensuring users get the latest version directly. The .deb package is available for Ubuntu users and can be easily installed using the software center or command-line instructions. This accessibility makes starting with Chrome on Ubuntu a breeze.
In summary, given its unparalleled speed, security, and adaptability, Google Chrome undeniably merits its reputation when scouting for the best apps for Ubuntu.
Are you curious about other browser options for your Linux Operating system? Check out this helpful guide on the best browsers available for Linux!
2. VLC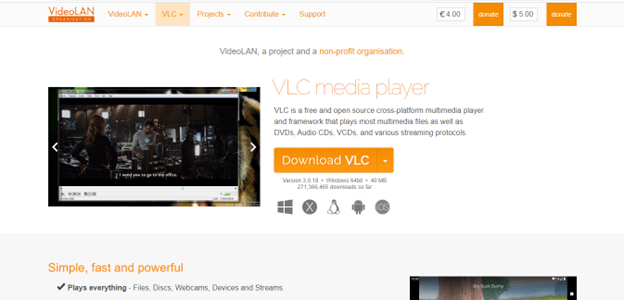 Credit: VLC
For any Ubuntu user, finding a media player that's both versatile and user-friendly can be a game-changer. VLC Media Player isn't just another name on the list; it's a standout in the realm of the best Ubuntu apps. So, what makes VLC tick?
Features:
Universal Playback: VLC's innate ability to seamlessly handle almost every media format is its crown jewel.
Expansive Settings: The player is designed for all, from novices seeking a plug-and-play experience to experts who love personalizing their playback nuances.
Keyboard-Friendly Controls: VLC's intuitive controls offer a hassle-free navigation experience for users who prefer keyboard shortcuts.
HDR Adaptability: Those exploring HDR content are in for a treat. VLC can beautifully render vibrant images even on non-HDR screens with just a few tweaks in the settings.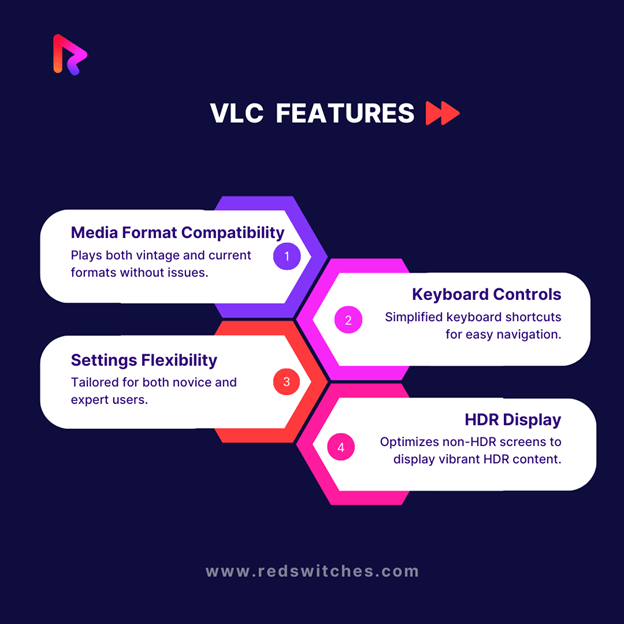 Pros:
Reliable performance even with challenging codecs, like 4K videos.
Superior to Ubuntu's default Video tool, particularly for high-demand content.
Comprehensive customization options to enhance viewing experiences.
Cons:
While an ace for video playback, VLC's audio file management and processing could be enhanced.
Some advanced settings feel overwhelming to new users.
Availability:
VLC supports various Ubuntu versions, including 18.04 "Bionic Beaver" and 16.04 "Xenial Xerus." Open the Ubuntu Software application for a graphical installation, search for 'vlc,' and install. Alternatively, terminal users can simply use sudo snap to install VLC.
3. Steam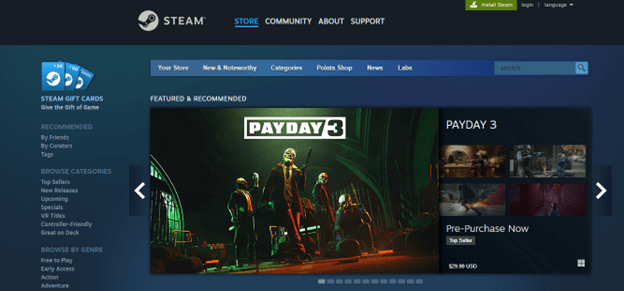 Credit: Steam
One name stands out for gaming enthusiasts venturing into the Linux universe: Steam. If you're thinking of dipping your toes into the rich gaming waters of Ubuntu, then Steam is your indispensable companion.
Features:
Established Dominance: Steam isn't a newbie. Originated by Valve, it's a reigning giant in the gaming distribution arena, serving players across Windows, macOS, and Linux.
Expansive Game Library: The platform boasts a vast library of Linux games, catering to nostalgic titles and contemporary hits.
Cross-platform Play: One of Steam's crown jewels is its ability to offer cross-platform accessibility. Purchase a game once, and you're free to enjoy it across multiple OS environments. For those transitioning from Windows, the magic lies in accessing any native Linux ports of games they already own.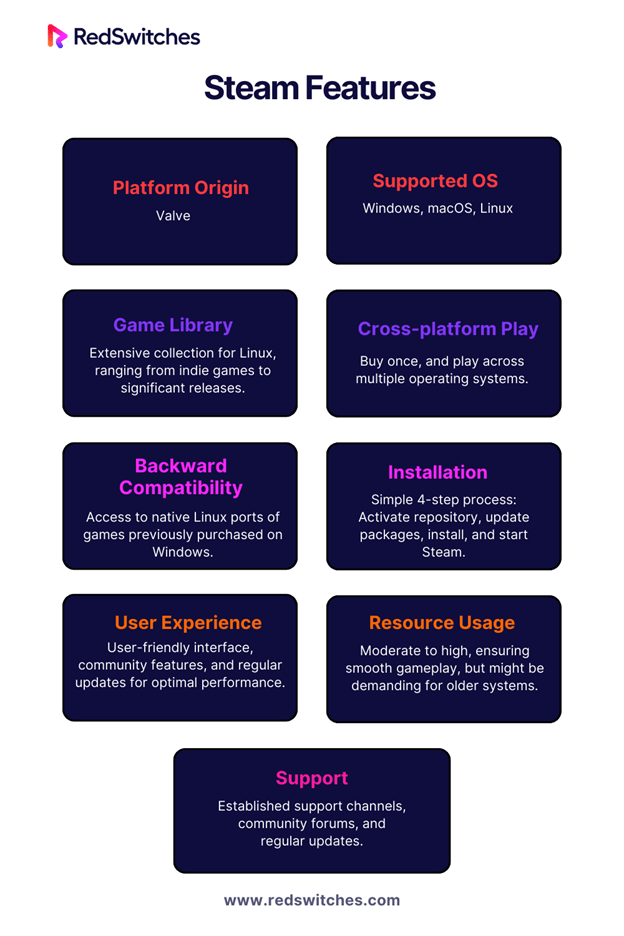 In the vast realm of the best software for Ubuntu, Steam is not just a name; it's an experience.
Pros:
A wide array of games spanning various genres.
Seamless transition for existing users with Windows game collection.
Assured quality and support due to its established reputation.
Cons:
It might require more system resources than lightweight alternatives.
The initial setup might be complex for new users.
Availability:
Getting Steam up and running on Ubuntu involves a few straightforward steps. Begin by activating the repository, followed by updating the package list. Install Steam next. Once installed, launch the platform, sign in, and dive into a universe of gaming adventures.
4. KDen Live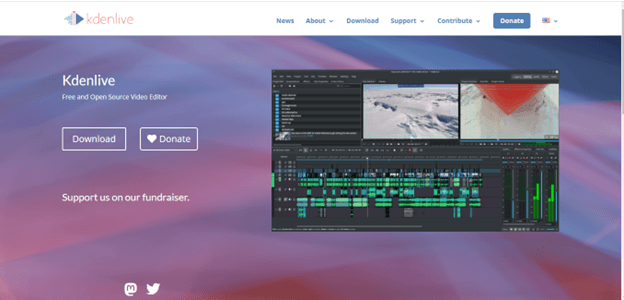 Credit: KdenLive
Are you venturing into the world of video editing on Ubuntu? Whether you're a budding filmmaker or just someone who wants to fine-tune a clip for a casual YouTube upload, Kdenlive has got you covered. Simplifying the intricacies of video editing, this tool is a beacon for beginners and seasoned pros.
Features:
User-Friendly Interface: Perfect for beginners looking to perform basic video editing tasks such as trimming and adding transitions.
Advanced Video Editing Tools: From keying and rotoscoping to intricate keyframe editing, Kdenlive is tailored for professionals who seek more than just the basics.
Export Profiles: Kdenlive ensures adaptability with various export profiles, enabling users to optimize their final video for multiple platforms.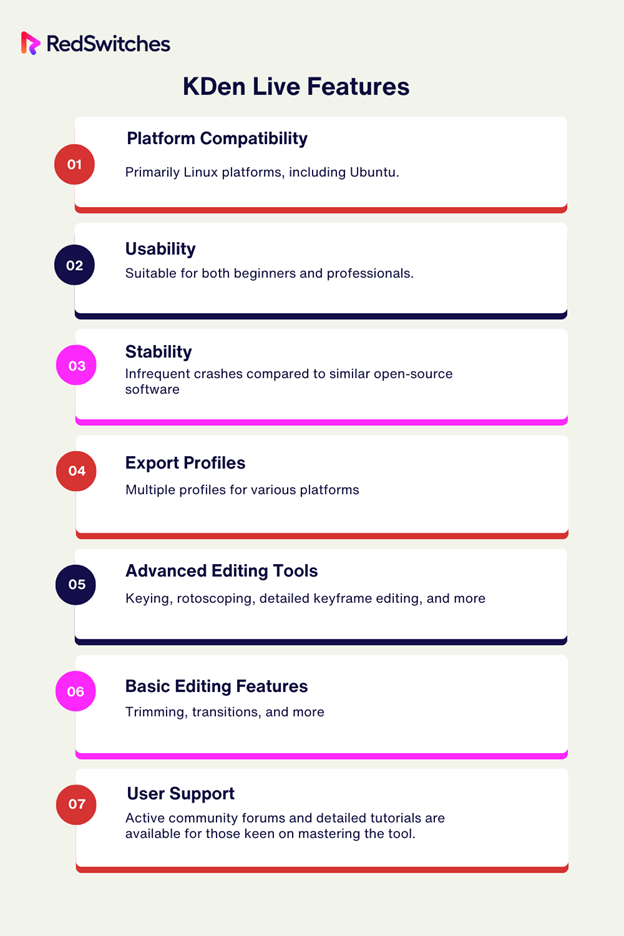 Pros:
Reliable Stability: Less frequent crashes mean you save time and effort, ensuring work hours are not wasted.
Versatile: It caters to novices and experts, allowing various editing tasks.
Optimized Exporting: Whether for YouTube, a digital portfolio, or a professional presentation, Kdenlive has an export profile suitable for you.
Cons:
Learning Curve: Mastering the plethora of advanced features might be initially challenging for users new to video editing.
Availability:
The Snap store is your best bet for a straightforward installation of Kdenlive on Linux OS. Developed by Canonical, Snaps provides the added benefit of universal compatibility across all Linux distributions, sidestepping the restrictions of specific app stores. To get Kdenlive via Snap, just use the command: $ sudo snap install kdenlive.
5. Gnome Desktop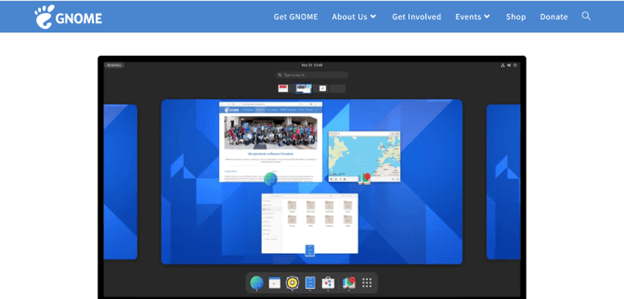 Credit: Gnome Desktop
If you're diving into Ubuntu, you've interacted with the Gnome desktop. While reliable and user-friendly, the standard settings tool might leave you wishing for more personalization options. Enter Gnome Tweaks, the best Gnome configuration editor for those wanting to tailor their experience.
Features:
Clear Two-Pane Window: Once the app is launched, the design ensures users have a clear understanding, with one side showing tweak categories and the other providing customization options.
Intuitive Process: Whether you're using a simple on/off slider, drop-down menus, or adjusting values, the process remains intuitive.
Extension Management: A perfect example is the ability to manage desktop icons via the Extensions section, providing straightforward customization.
Reset Option: If users feel they've made unintended changes, the tool offers a reset option through a simple right-click.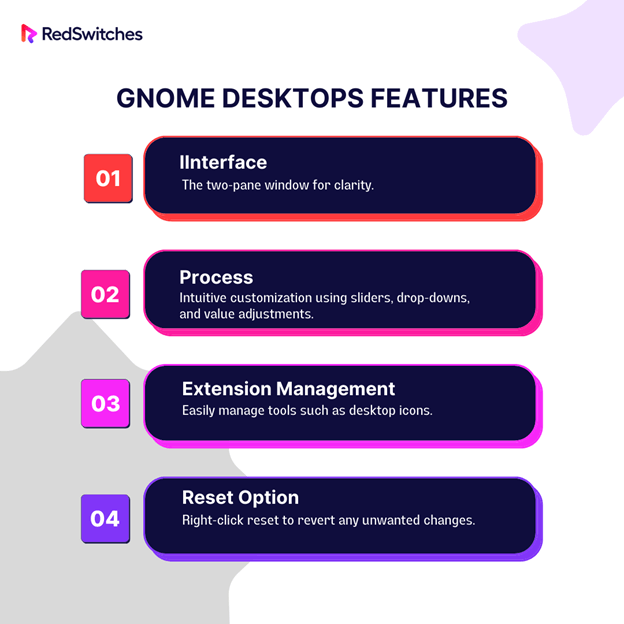 Pros:
User-friendly interface, ensuring ease of use.
Straightforward customization processes.
It provides a reset option, adding a safety net for changes.
Cons:
Advanced users might find its documentation needing more comprehensiveness.
For deeper customization of Gnome's functionalities, users may need to rely on other tools, like dconf-editor.
Availability:
For those eager to harness the capabilities of Gnome Tweaks, it's conveniently available in the Ubuntu Software app. Simply open the app, type "GNOME Tweaks" in the search bar, and access its detail page to commence the installation.
6. VSCode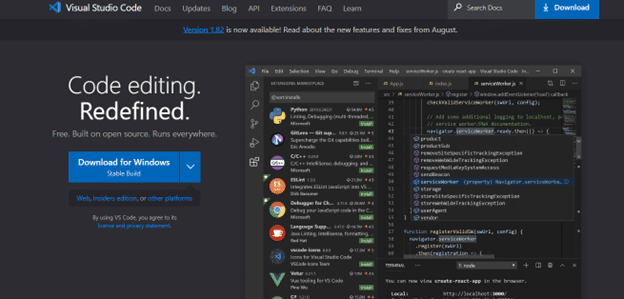 Credit: VS Code
Many choices might seem overwhelming when Ubuntu users search for a reliable code editor. Yet, one name often surfaces as a top recommendation in the vast realm of the best Ubuntu software: Visual Studio Code (VSCode). Developed by tech giant Microsoft, this open-source powerhouse is more than just another editor; it's a holistic developer environment.
Features:
Easy Installation: A simple terminal command does the trick.
Integrated Debugger: It simplifies debugging, allowing users to set breakpoints, inspect variables, and seamlessly peruse through code.
Git Integration: Commit, push, merge, and more, all from within the editor—no need to juggle between windows.
Enhanced Code Writing Tools: From syntax highlighting to auto-completion, VSCode adds a touch of ease to regular coding tasks.
Multi-Language Support: Whether Python, JavaScript, C++, or any other language, VSCode covers you.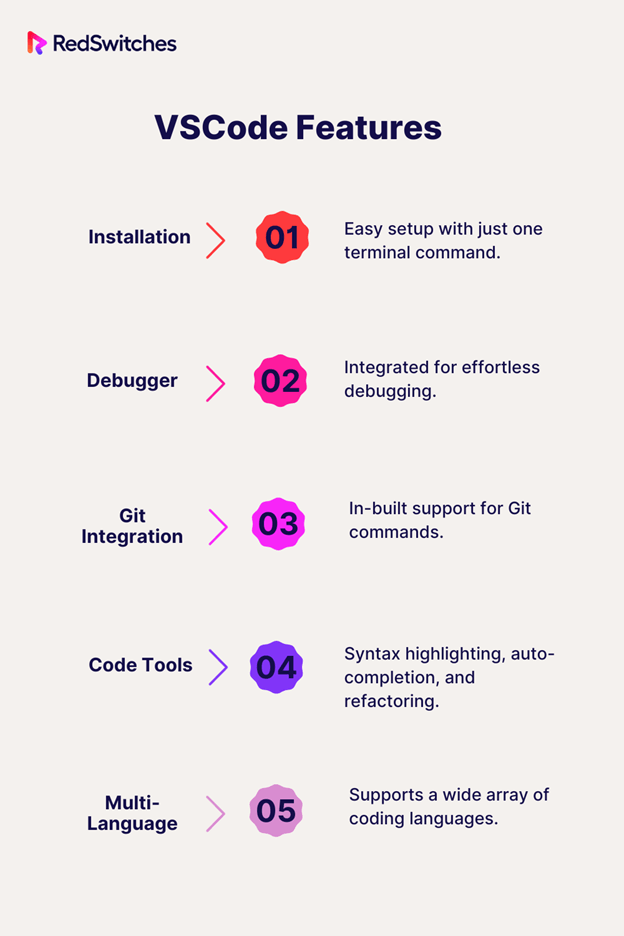 Pros:
Lightweight requirements, with only 1 GB of RAM (1.5 GB for VMs) and minimal storage needs.
Versatility in supporting various languages and file types.
Streamlined code management with in-built Git functionalities.
Cons:
For users familiar with other IDEs, there might be a learning curve.
While extensible, some features require additional extensions to be installed.
Availability:
Installing VSCode on Ubuntu is a breeze. Users can run it quickly with a simple terminal command: sudo snap install –classic code.
7. LibreOffice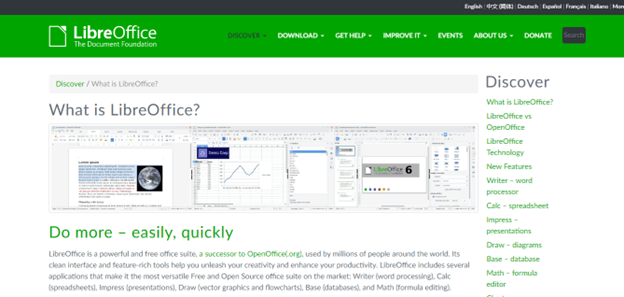 Credit: Libre Office
In the expansive universe of Ubuntu, selecting the right software can be akin to finding a needle in a haystack. But when it comes to office suites, LibreOffice, brought to us by the Document Foundation, shines bright. Arguably one of the Ubuntu best apps, it is the most formidable contender to the market heavyweight, Microsoft Office.
Features:
All-in-One Suite: Be it document creation with Writer, slideshow presentations with Impress, or spreadsheet calculations on Calc, LibreOffice has it all.
Niche Utilities: Apart from the conventional, LibreOffice provides tools like Base for database management and Math for crafting mathematical formulas.
Dual-Edition Approach: LibreOffice offers a community and an enterprise edition, catering to different user bases.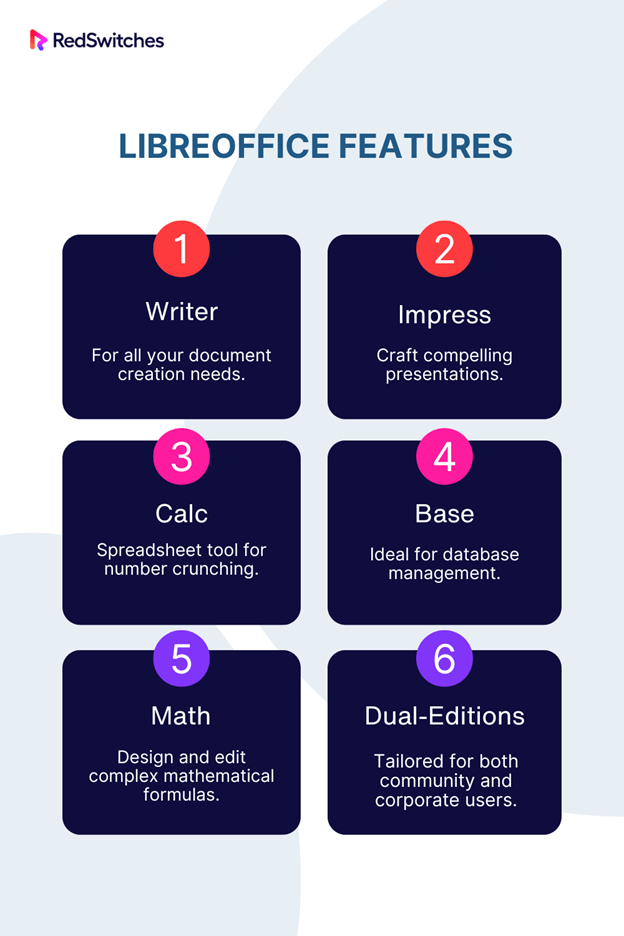 Pros:
Versatile suite with tools covering a broad range of office tasks.
The community edition is continuously updated with the latest features.
Enterprise edition offers reliability tailored for the corporate realm.
Cons:
While versatile, users migrating from other office suites might find a learning curve.
Some advanced features present in proprietary office suites might be lacking.
Availability:
LibreOffice can be effortlessly installed via the graphical user interface. Simply open the Ubuntu Software Center, search for LibreOffice, select the application, and hit 'Install.'
8. Flameshot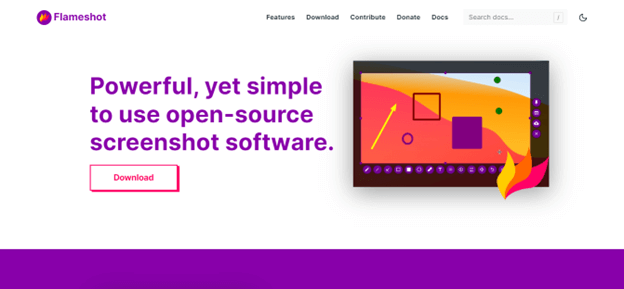 Credit: Flameshot
In today's digital landscape, screenshots have evolved from mere capture tools to essential mediums for conveying information, be it a quick tip, a glitch, or a moment worth sharing. And while Ubuntu offers myriad tools for this task, Flameshot stands out, carving its niche as a must-have among Ubuntu's best apps.
Features:
Advanced Annotation: Beyond merely capturing, Flameshot facilitates easy annotations, allowing users to clarify, emphasize, and communicate effectively through their images.
D-Bus Interface: An integrated D-Bus interface that enables control of the screenshot tool from other apps, enhancing inter-app communication and integration.
Personalization: Customize Flameshot to your heart's content. Change interface colors, rearrange buttons, set specific shortcuts, and define your save paths.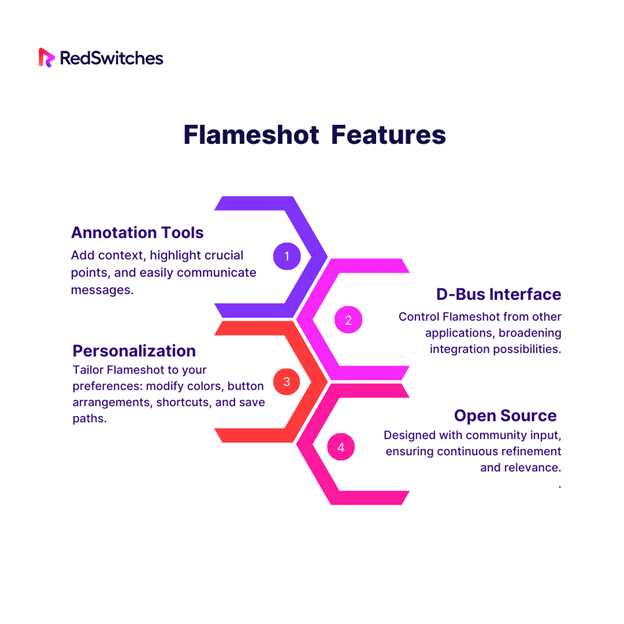 Pros:
Comprehensive annotation tools ensure clarity in screen captures.
The tool's flexibility allows for vast customization, ensuring it aligns with individual preferences.
D-Bus integration introduces a new horizon of possibilities, further cementing Flameshot's versatility.
Cons:
While Flameshot is rich in features, first-time users might find a slight learning curve.
The plethora of customization options can be overwhelming for some.
Availability:
Installing Flameshot on Ubuntu is a seamless process. A few quick terminal commands are all it takes to get this indispensable tool up and running.
9. Neofetch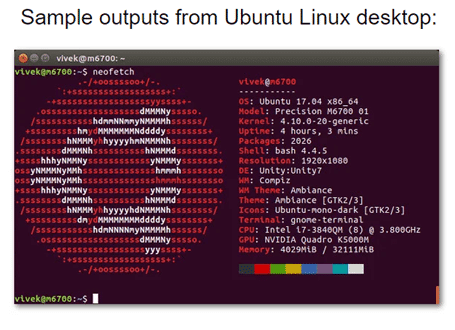 Credit: GitHub
Neofetch is a free tool you can use on your computer to quickly see important details like your operating system, how long your computer has been on, and more. It works with different types of computers and is easy to use.
Amid Ubuntu's vast array of tools and applications, Neofetch stands out, effortlessly securing its spot among the best programs for Ubuntu. But what makes Neofetch so special? Here are some unique features of Neofetch that rank it amongst our top 9 picks.
Features:
OS Logo Display: Detects and showcases logos from over 150 operating systems, adding a visual flair to system information.
Customization: An easily accessible configuration file allows users to decide the kind of information displayed and its presentation format.
Bash 3.2+ Compatibility: Developed using bash 3.2+, Neofetch is a testament to command-line efficiency.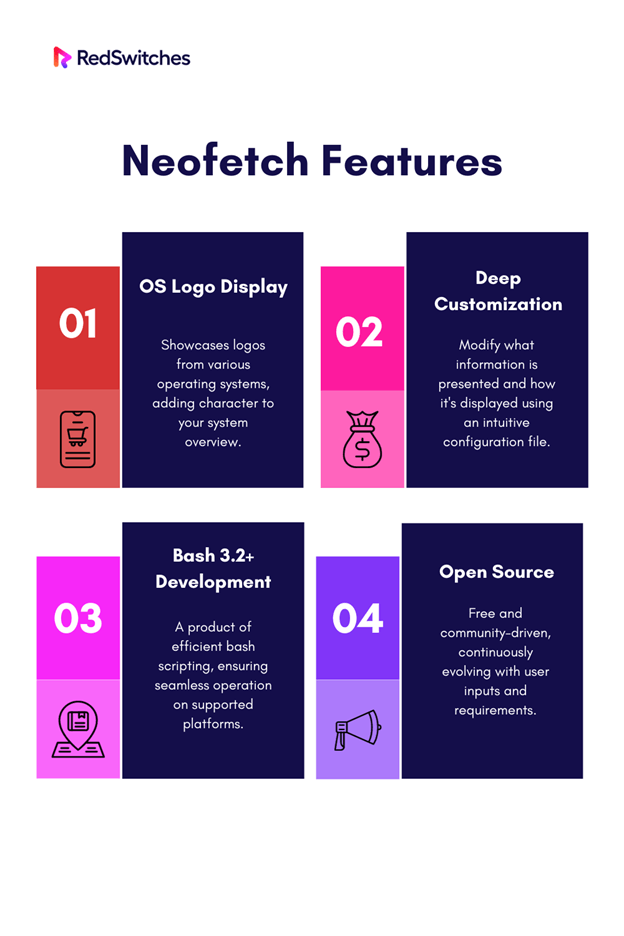 Pros:
Provides a comprehensive yet concise overview of crucial system statistics.
Customization options ensure that the tool caters to individual user preferences.
Support for a wide range of OS logos enhances the visual appeal.
Cons:
Being a command-line tool, it may not be everyone's first choice, especially for users who prefer graphical interfaces.
It may be overwhelming for beginners due to its many features and customization options.
Availability:
To utilize the Ubuntu Neofetch tool, open your command-line terminal and input the command neofetch. This will immediately display a detailed overview of your system's essential information. For instance, executing the command as shown cyberithub@ubuntu:~$ neofetch will present the system data seamlessly.
Conclusion
As we draw to a close on our exploration of Ubuntu apps best lineup in 2023, it's clear that the essence of an operating system isn't just in its code or user interface but in the potential it unlocks for every user. The right apps can transform your Ubuntu experience from mere functionality to true potential realization.
It's paramount to remember that even the finest apps require robust and tailored infrastructure to deliver their full potential. RedSwitches, with its profound expertise in Ubuntu-based hosting solutions, is perfectly positioned to empower your Ubuntu experience.
Should you seek guidance on harnessing the full might of Ubuntu or need infrastructure tailored to your distinct requirements, RedSwitches stands ready as your trusted ally.
We offer the best dedicated server pricing and deliver instant dedicated servers, usually on the same day the order gets approved. Whether you need a dedicated server, a traffic-friendly 10Gbps dedicated server, or a powerful bare metal server, we are your trusted hosting partner.
FAQs
Q-1) What are the essential criteria for selecting the best apps for Ubuntu in 2023?
The essential criteria include app compatibility with the latest Ubuntu release, a user-friendly interface, robust functionality, positive user reviews, and continuous developer support.
Q-2) How often should I update these apps on my Ubuntu system?
Regularly updating your apps ensures you benefit from the latest features and security patches. Check for updates at least once a month or enable enable automatic updates if the app supports them.
Q-3) What security measures should I consider when installing new apps on Ubuntu?
Always download apps from reputable sources, like the official Ubuntu Software Center or the app's website. Additionally, routinely check for and apply security patches and consider using a firewall and antivirus solution compatible with Ubuntu.
Q-4) How do these apps perform on older Ubuntu versions?
While most of the highlighted apps are developed to be compatible with recent Ubuntu versions, they often support older releases. However, for best performance and security, it's recommended to use apps with the latest Ubuntu version or check the app's documentation for version-specific guidelines.
Q-5) Can I use these apps commercially, or are they just for personal use?
Many of the apps designed for Ubuntu are open-source, meaning they can be used personally and commercially. However, always review the app's license agreement to ensure compliance, especially in a commercial setting.