Startups should consider all of their options when selecting a reliable hosting service for hosting their website.
That's because startups go through a growth period and they need hosting that can scale up with the business.
Consider hosting your website as an investment in your startup's growth and success. Cloud dedicated hosting offers numerous benefits that are ideal for startups.
Keep reading to discover all the benefits cloud dedicated hosting offers to startups and small businesses!
Key Takeaways
The best types of hosting for startups are shared hosting, dedicated hosting, and cloud dedicated hosting.

The best overall choice of hosting for startups is cloud dedicated hosting, because of its:

Automatic scalability

Utility pricing

Performance

Security

Quick creation and decommission

Data protection

Remote access
What Web Hosting Type is Best for Startups?
Assume you've created a website or web app for your startup and are ready to launch it online. To do so, you'll need to get web hosting.
In simple terms, web hosting is a platform that houses your web services and powers them.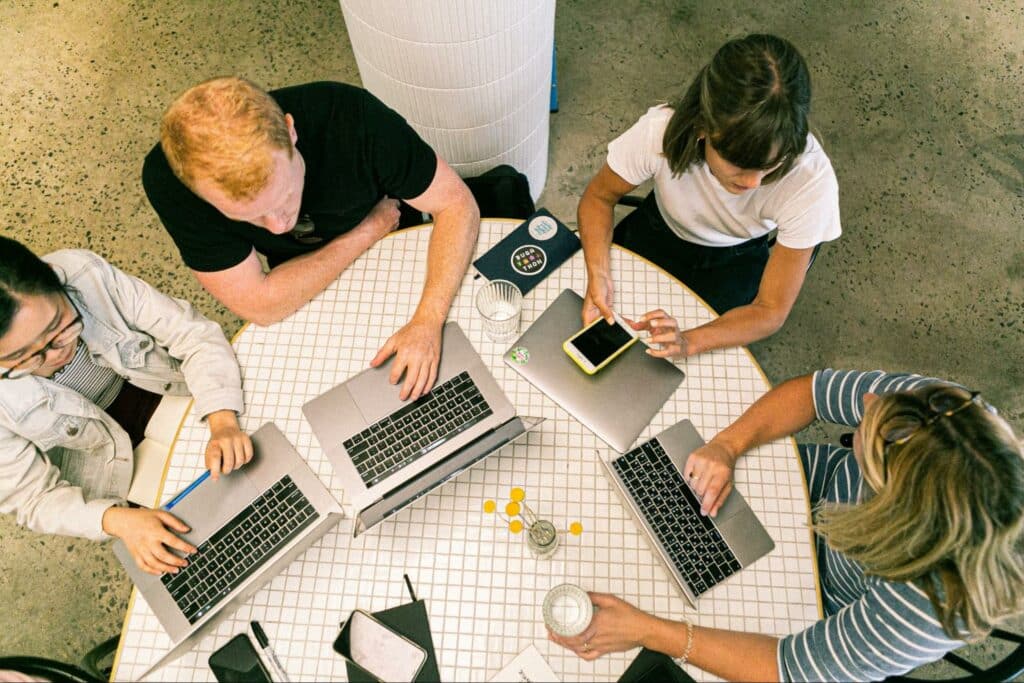 Ready to pick the best hosting type for your startup's solution and make it accessible to millions of people worldwide?
We've compiled a list of all the pros & cons of three main types of web hosting for startups:
#1. Shared Hosting
Shared hosting is used by hundreds of people or companies to host web services. It's the cheapest type of web hosting available, which makes it suitable for startups.
A shared server can benefit startups with small websites that wish to build an online presence. It's easy to get started with even if you don't have the technical knowledge to set up the server.
However, cheap shared hosting comes at a price. With shared hosting, all of its hardware is also shared between its users. As a result, there's a toll on the performance of everyone's hosted services, which isn't ideal for startups.
With shared hosting, you also get limited administrative rights and can't change all software configurations. Moreover, shared hosting isn't secure, because any user hosting on the same server can breach the security of your startup's website or web application if they receive a malicious attack.
#2. Dedicated Hosting
Dedicated servers are without a doubt the best type of web hosting, with considerable benefits over other hosting types.
A dedicated web server is not shared with other users, and its hardware is entirely dedicated to your hosted services. As a result, it is the fastest and the most secure web hosting for startups.
Dedicated servers are a great choice of hosting for startups because they can accommodate websites or web apps with growing user bases. Furthermore, you may fully customize a dedicated server, gain root access, configure custom security systems, and more.
However, this type of hosting is far more expensive than shared web hosting. The price of a dedicated server starts at $100/month. This doesn't make them ideal for startups.
Want to know more about how shared and dedicated servers compare? Take a look at our guide on the major differences between shared and dedicated servers!
#3. Cloud Dedicated Hosting
Cloud dedicated servers combine the power of dedicated servers with the flexibility of cloud computing, allowing you to have the best of both worlds!
Cloud dedicated servers offer all of the advantages of cloud computing while running on single-tenant hardware dedicated solely to your startup's hosted services.
Powered by bare-metal servers, cloud hosting allows you to use as many resources from a network of servers as needed. This feature enables flexible scaling for the startup's hosted services and allows startups to grow easily.
Therefore, cloud dedicated servers are the ideal hosting solution for startups. Let's get into all of the benefits cloud dedicated hosting brings.
7 Top Benefits of Cloud Dedicated Hosting for Startups
Today, more and more startups are opting for cloud dedicated hosting because it allows for faster growth!
Here's a list of the top 7 benefits of cloud dedicated hosting that you could use to your advantage and scale your startup to unforeseen heights:
#1. Automatic Scalability
A business does not always remain the same; it might grow and shrink. You cannot always predict the growth of your startup and plan the computing resources your hosted services will require.
Traditional hosting services, such as shared or dedicated hosting, do not support automatic scaling. They require physical upgrades if you wish to scale up available resources.
Cloud dedicated hosting offers automatic scaling for your startup's hosted services. Automatic scalability allows for websites and web apps to have a seamless transition to using more computing resources such as higher bandwidth or more CPU power. This allows your website or app to grow without interruption.
The high level of flexibility that cloud dedicated hosting has can give your startup a significant competitive edge.
#2. Utility Pricing
One of the biggest reasons why startups are switching to cloud dedicated hosting is cost-effectiveness.
The utility-based pricing model of cloud hosting for startups is ideal when you're on a budget.
Cloud hosting is cost-effective because you don't pay monthly for dedicated server hardware that goes unused while you're waiting to scale your startup. And, you don't have to spend thousands of dollars upfront to buy a physical dedicated server
Instead, for cloud hosting, you only pay for the resources you use, and you get billed by the hour.
#3. Performance
Instead of cutting costs with shared hosting while you are growing your startup, you can use cloud dedicated hosting.
Shared hosting doesn't offer satisfactory performance for most businesses. However, cloud dedicated hosting offers the high performance of a dedicated server without the high upfront cost.
Using cloud dedicated hosting can significantly improve your startup's website or web app performance, rather than using shared hosting.
#4. Security
It is essential to safeguard your startup's website or web app against various security risks such as viruses, malware, and hardware failure.
No hosting provider can ensure your website's security 100% of the time, but cloud dedicated hosting comes close.
Cloud dedicated hosting offers the high security of dedicated servers because it is a single-tenant hosting solution.
Cloud dedicated hosting also comes with features like data mirroring, which helps keep your data secure by storing it on different devices. It means that even if one copy of the data gets damaged, you don't lose it as the backup is always stored on other servers.
#5. Quick Creation and Decommission
With the help of cloud dedicated hosting, you can easily create new server instances to host databases, websites, virtual machines, and more.
What's more, the new server instances you create are immediately available for use.
Then, when you're done using a server instance and you no longer need it, you can easily decommission it.
On the other hand, it takes much longer to set up and provision new dedicated servers. And, you cannot terminate them instantly, as you might be locked in a contract for months or even a year!
#6. Data Protection
Any company faces the risk of data loss, which is why a solid disaster recovery strategy is essential for your startup.
When using hosting, it is critical to have backup copies of your data in case you experience data loss. One of the best strategies you could use for backing up your data is the 3-2-1 data backup strategy.
When using cloud dedicated web hosting, data backups are automated, and disaster recovery is typically included!
#7. Remote Access
Last but not least, another benefit of cloud dedicated hosting is remote accessibility. When using cloud hosting, you can access it from virtually anywhere. All you need to access your hosting is a computer and a reliable internet connection!
You can access all your hosted files remotely, as well as make any changes to your server configuration.
Meanwhile, it's not as convenient to access a physical dedicated server that is located in your office. You'll have to physically go to your office and access the server.
Get Cloud Dedicated Web Hosting From RedSwitches
Launching a website or web service with your startup? If so, RedSwitches has the ultimate cloud dedicated hosting solution for you!
Our hosting servers are powered by top-quality, branded hardware, which ensures lightning-fast speeds and hosting reliability. With our hosting packages, we also include:
24/7/365 technical support

Unmetered bandwidth options

Unlimited upgrade choices

On demand IPMI/KVM access

A custom, intuitive control panel

20+ global data center locations

A choice of 1Gbps & 10Gbps uplinks
We offer server plans at prices as low as $100 per month, for which you can pay via Bitcoin, Apple Pay, PayPal, or your favorite payment method!
Send us a message so our team can pick the best hosting solution for your business!
Hosting for Startups FAQ
#1. What is startup cloud hosting?
Cloud dedicated web hosting is a single-tenant infrastructure that acts as an isolated public cloud and allows you to host your own web services on the internet. 
#2. What are the three most popular types of web hosting?
Shared hosting

Virtual Private Hosting (VPS)

Dedicated (bare-metal) hosting
#3. What is the best type of hosting for ecommerce?
The best type of hosting for ecommerce is scalable hosting, as it allows you to scale the server resources up or down to accommodate surges in traffic during holiday periods, promotions, sales, etc.
#4. What is the best type of hosting for startups?
If you're launching a startup, the solution you should opt for is cloud dedicated hosting, as it offers automatic scaling, high performance as a dedicated server, high security, and more. Most importantly, this hosting solution is cost effective, as you only pay for the resources you use.
Related Articles
More From RedSwitches