Shared servers and dedicated servers are two of the most popular types of web hosting.
Dedicated servers are typically priced higher than shared servers.
When you notice the difference in price tags, you might wonder: do I need a dedicated server for my website?
But the truth is, dedicated servers win over shared servers anytime when it comes to website performance.
Let's find out why you might need a dedicated server for hosting your website instead of a shared one.
Read on to learn more about:
What Is a Dedicated Server?
A dedicated server is a hosting solution with hardware resources dedicated to one user. This means that the user gets to enjoy the server's CPU, internet connection, RAM, and storage, all to themselves.
A dedicated server is often referred to as a bare-metal server. This single-tenant hosting solution gives you the best website hosting experience you can buy.
Shared servers, on the contrary, have multiple tenants hosting their web services on the same hardware.
Dedicated servers offer great performance and reliability. Since no other users take up the server's available resources, they have a great speed, reliability, and security advantage over shared servers.
You'll need a dedicated server if you begin to experience slow loading speed or website crashes.
Shared Servers vs Dedicated Servers
Dedicated servers greatly outperform shared servers. Here's a pros and cons summary to help you decide whether you should get a dedicated server: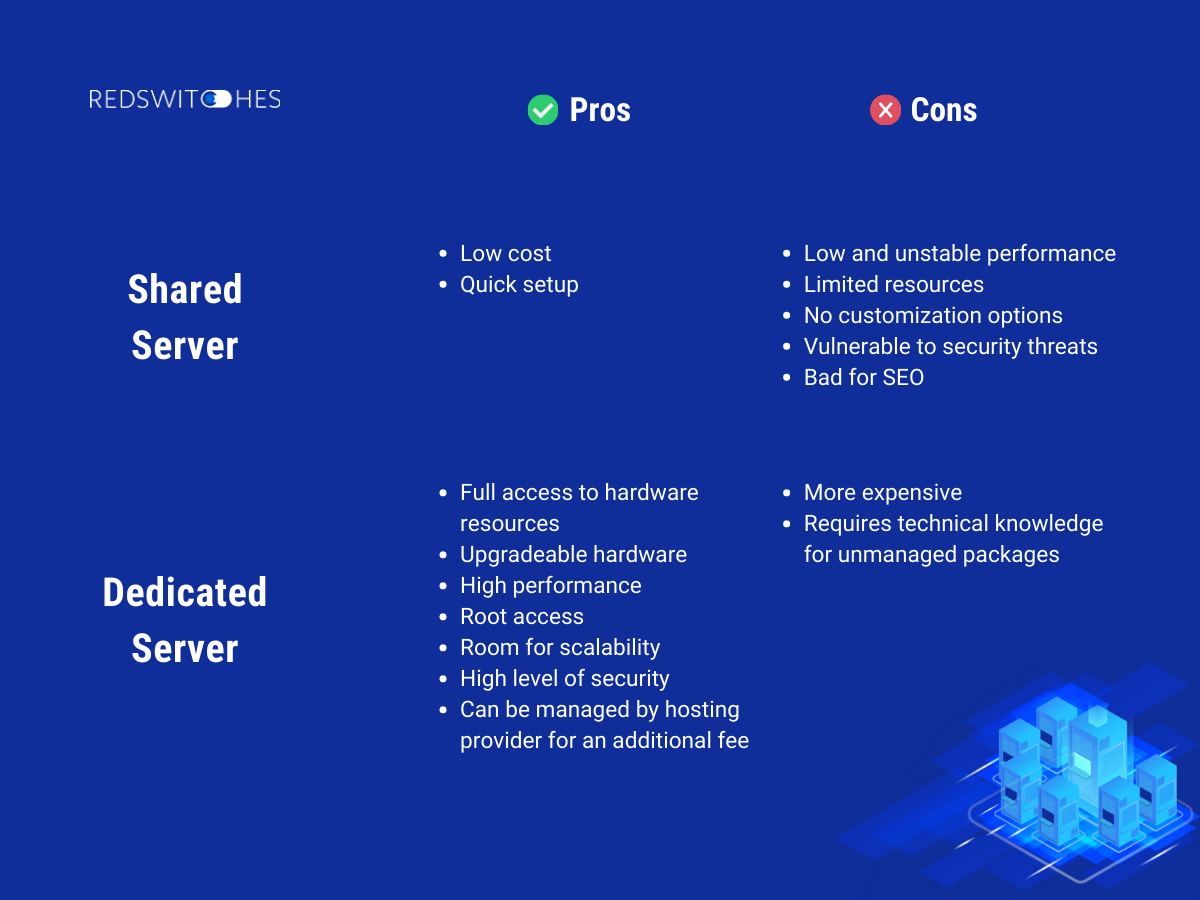 Still not sure which one to pick? Check out our complete guide breaking down all the differences between shared and dedicated servers.
What Are Dedicated Servers Used For?
Dedicated servers are used for hosting web services that demand continuous high performance. They are perfect for offering fast and stable service for businesses that serve many clients.
From start-ups to enterprises, dedicated servers are fit for different use cases. They are often used for hosting large-scale e-commerce websites and internal software. Dedicated servers are also used for email and backup services.
More specific use cases include hosting SaaS apps, customer portals, and CRM platforms. The list goes on, but what all use cases have in common is that they must perform fast, and keep users' sensitive data private. You'll definitely need a dedicated server to meet these requirements.
Check out our expert's guide to find the perfect dedicated server type  for your business.
Do I Need a Dedicated Server for My Website?
Now for the million-dollar question – do I need a dedicated server for hosting my website? The short answer is yes – you'll benefit a ton from the enhanced performance dedicated servers offer. But why? Let's dive deeper to find out.
The #1 reason website owners switch from shared to dedicated hosting is poor website performance.
Shared servers are used by many users at a time. In periods of high incoming traffic, all hosted web services will be affected. For example, if only one of your neighbors on a shared server experiences a spike in traffic, your website's loading speed will immediately be affected. That's because shared servers usually have a limited amount of bandwidth.
A slow-loading website can in turn upset your visitors and make them leave. This increases your website's bounce rate, which negatively impacts SEO. You even risk losing profit if your website goes down completely.
You'll definitely need a dedicated server for your website if you want to keep your customers satisfied. This especially applies if your customer base is expanding rapidly.
The #2 reason is security!
You can rest assured knowing your website security won't be affected by other users by choosing dedicated server hosting. With a dedicated server, you will get the best performance and highest level of security for your website.
If, for example, you are using a shared server, and some of your neighbors bring in malware, you'd also have to deal with it.
When you don't share your property (in this case your hosting server) with any neighbors, your website is guaranteed to be more secure.
A dedicated server for your website will definitely give you more peace of mind because no one can attack it through unprotected neighbors.
There are many more reasons why you'd want to switch to a dedicated server. To find out more, check out these 5 reasons why you need a dedicated server!
5+ Benefits of Using a Dedicated Server for Website Hosting
There are tons of benefits of using dedicated servers. Let's explore in detail why you might need one:
1. Better Website Performance
Dedicated servers offer the best performance for hosting your website. That is because you get access to the full power of the hardware you're seeing on the spec sheet.
At any moment, you're getting the full potential of your CPU, GPU, RAM, and all other hardware you're paying for. And if you outgrow your hardware, you can easily upgrade your dedicated hosting as you wish.
You can simply ask your hosting provider for an upgrade, and they will have it ready for you instantly. That's because dedicated servers are tailored to your needs, instead of the other way around.
This makes dedicated servers an optimal solution for hosting your website. You won't have to worry about having a slow website loading time no matter how many customers you've attracted to your site. A dedicated server will handle over 100K monthly site visitors without ever breaking a sweat.
4. Improved Security
You definitely need a dedicated server to make sure that your website is secure against malware and DDoS attacks.
Shared servers host numerous users on the same hardware. All of them open a gateway for malware to come in. A single user can therefore breach the security of the entire server.
On the contrary, dedicated servers offer enhanced security. Since you have full control over your dedicated hosting, you are free to set up your security system. Thus, you ensure your website is safe. And luckily, there are no other users besides you on a dedicated server.
Even if you don't have the technical expertise to manage your dedicated server's security, don't worry. Hosting providers also offer managed dedicated servers. They will take care of your website's security without you having to touch anything.
Additionally, dedicated servers hosting plans often include DDoS protection.
3. High Uptime
No one likes visiting a website only to see it crash. It drives visitors away, and leaves a bad impression.
Naturally, you'd want your website to be up and running all the time. That's where dedicated servers come in. Dedicated servers will ensure that your website is always up and you're not losing out on revenue.
And even in the rare cases when a hardware failure might occur, dedicated server providers have the capacity to get them back online in a timely manner.
The same cannot be said about shared servers, which will crash the moment you hit your limits. Then, your hosting provider has to figure out a way to get the server back up, which can take unnecessarily long.
4. Better Scalability
Dedicated server hosting can support you in scaling your business. You won't have to worry about your website crashing as you get more visitors.
For example, if you're running an e-commerce website and you are about to scale up, you should expect sporadic increases in traffic.
If you're hosting your website on a shared server, you're out of luck. You will have to switch to a better plan to support higher traffic. But, you cannot accurately predict the growth in traffic you're about to experience.
If you're using a dedicated server to host your website, you're good to go. A dedicated server gives you the freedom to upgrade its hardware as your business is growing. Even if you didn't foresee a massive increase in traffic coming your way, you can easily upgrade your dedicated server to accommodate the new visitors.
5. Beneficial for SEO
If you're serious about scaling up your business, you're probably also doing SEO to boost organic traffic to your website. Dedicated servers can help you on your way to ranking higher on search engines.
When using a dedicated server, you get your own dedicated IP address. And if we look back at shared servers, we are reminded that they host many different users. Thus, all of them share one IP address.
So, imagine if just one of your neighbors on a shared server hosts a website that is spammy, or contains adult content. Your website will likely be penalized alongside your bad neighbor, and it won't rank high on the SERPs.
You should definitely get a dedicated server to avoid getting in these kinds of situations. You'd want to stay away from the negative impact on your SEO at all costs.
6. Dedicated Technical Support
Dedicated servers are typically more expensive than shared hosting. However, for the extra price you pay, you get a support team of expert engineers behind it.
If your website is experiencing any issues, your hosting provider will be there to assist you. Their engineers will be available to connect with you at any time, and cooperate with you.
And for an additional small fee, you can even get a fully managed dedicated server. Your hosting provider will take care of your dedicated server, while you focus on growing your business.
RedSwitches Cheap Dedicated Servers for Website Hosting
Get the best dedicated servers for hosting your website from RedSwitches today!
At RedSwitches, we offer powerful dedicated servers at affordable prices. We only use top-quality branded hardware, and give you lots of options for upgrading.
Our blazing fast bare-metal servers offer your website the best performance and security. We have data centers all over the world, allowing for optimal network coverage.
With RedSwitches, you'll get DDoS protection and generous bandwidth with any hosting package you choose.
And for an extra layer of security, at RedSwitches you can also pay for your dedicated server with Bitcoin!
And if you want a customized hosting solution, just drop us a message and one of our dedicated hosting experts will be in touch with you shortly.
Dedicated Server Website Hosting FAQ
#1. Are Dedicated Servers Better Than Shared Servers?
Yes, dedicated servers outperform shared servers by a mile. Dedicated servers give you exclusive access to hardware resources. Therefore, they are much faster than shared servers.
And even though dedicated servers cost more, the price is worth it for the enhanced performance and complete control you get.
#2. Is It Worth Hosting a Website on a Dedicated Server?
It's totally worth it to get a dedicated server and future-proof your website.
Hosting a website on a dedicated server is more expensive than using a shared server. But, in the long run, the benefits are definitely worth the price difference.
Dedicated hosting servers can handle large amounts of incoming traffic. They will ensure your website is up and running consistently. Moreover, they are much more secure than shared hosting, and can be beneficial when doing SEO.
#3. Is a Dedicated Server Right For My Business?
Dedicated servers are a great option for startups, enterprises, and many other businesses in between. Everyone can benefit from the advantages that come with using a bare-metal server.
No matter the size of your business, hosting your web services on a dedicated server is highly recommended!
Key Takeaways
And that's a wrap! At the beginning of this article, you might have been asking yourself if you really need a dedicated server for your website. By now, all the benefits of using a dedicated server for hosting your website should have convinced you. Let's quickly recap what we covered:
A dedicated server, or bare-metal server, is a type of web hosting that serves only one user. It gives you exclusive access to all hardware resources of a server.
Dedicated hosting offers better performance, uptime, and security than shared servers do. They also allow for scalability, and are more favorable if you're doing SEO.
You'll definitely want a dedicated server if you're planning to scale your business in the future.
When using dedicated servers, you can upgrade your hardware as your business grows. This allows you to welcome more future users to your website.