Free file hosting services are essential for individuals and companies in the digital world. These services are crucial in our increasingly digital environment because they offer a safe and effective means to store, share, and access content. For people, file hosting services provide a practical way to protect priceless memories, documents, and personal data, making it simple to access and share with loved ones. 
Meanwhile, these services let businesses create collaborative workspaces, back up their data, and easily access crucial files from anywhere, promoting productivity and boosting competitiveness. 
This blog article will discuss free file hosting services in detail.
Let's begin.
Table Of Contents
Exploring Free File Hosting Solutions
In this section of our blog article, we will explore the free file hosting solutions, their definitions, and the best free file hosting solutions.
What Is Free File Hosting?
You may have frequently found yourself in a position when you needed to send a vital document or file to a buddy who lives abroad. An inadequate alternative to sending a flash drive or an email is free file hosting, also known as "cloud storage."
Many providers are available today, and almost all provide free file hosting. Free file hosting allows you to share files over the internet, upload them, and let users download them.
5 Best Free File Hosting Sites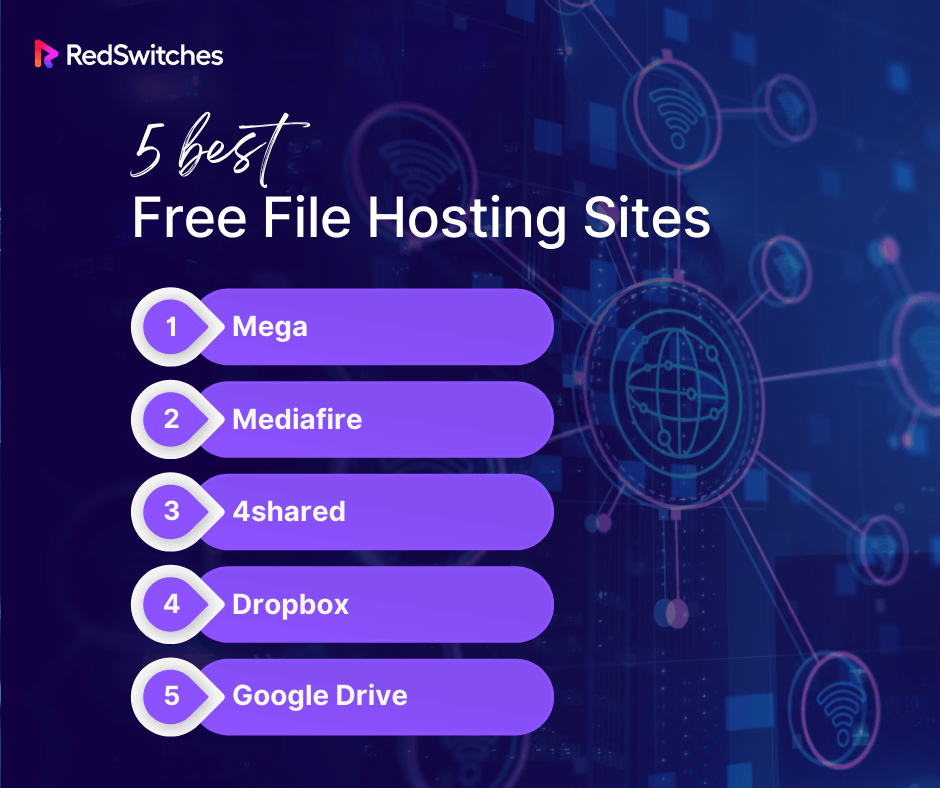 You must think about free hosting sites; let's discuss the best free file hosting sites.
1- Mega
Mega is an excellent CDN. You can temporarily download, upload, and share files without creating an account. However, your data will be gone if you don't register for a free account on it before your session expires. 
50 GB of storage is available once you sign up for a free Mega account. Their users are not subject to file size restrictions, but Mega has a 10 GB bandwidth cap.
The 500 GB and 2 TB of bandwidth included in Mega's premium plan can be recovered after a 30-minute break. It implies that you can only utilize your 500 GB a limited number of times and also permits data sharing, which is not feasible without purchasing an expensive plan.
2- Mediafire
One of the oldest websites for hosting files is MediaFire. It is renowned for offering the most essential services and clear file management. 
When you register on the website, you are given 10 GB of free space. When a sign-up is successful, they boost the available capacity to 50 GB. This only occurs if you recommend Mediafire to your friends/colleagues or post on social media and request as much sharing as possible from your peers.
In addition, MediaFire gives you ad-supported downloads and boundless file uploads. One of the top free file hosting services is Mediafire, thanks to the provided 50 GB of storage capacity. However, the total size of your backup is only 4 GB.
3- 4shared
The online storage and file hosting website 4shared is a property of New IT Solutions Ltd. Users can keep their text, music, video, photo, and other files on 4shared and share them with others if they so choose.
It is renowned for its search function, which allows visitors who are not enrolled to browse through files uploaded by other 4shared members.
4- Dropbox
Dropbox is yet another name on the list of free file-sharing services. Even though Dropbox is well known for offering large amounts of free storage, it only provides 2 GB of storage space for downloads and uploads. But even so, it is known to be dependable and straightforward for both storage and accessible synced files. You can get up to 18GB more space by recommending the service.
Despite the 20GB bandwidth restriction, your online file can be streamed. The full range of OS systems the service supports is the most notable aspect of its free plan. Increasing storage space to 1TB (Terabyte) is a premium option. However, none of the accounts offer an infinite option.
5- Google Drive
Another well-known name on the list of websites offering free online file hosting services is Google Drive. You can save your online files and data using this cloud-based file-hosting storage service. Your laptop, computer, smartphone, or tablet can provide easy access to them wherever you are.
There are many advantages to using Google Drive as a file hosting service. It enables you to take a backup of your information and makes it simple to share your online files from anywhere. You already have 15 GB of free Google Drive storage if you already have a free Google account.
Pros and Cons of Free File Hosting Services
Let's discuss the benefits and drawbacks of each Free file hosting service.
Pros
Free To Use
The cost savings are the most evident advantage of free web hosting services. Individuals and small businesses can create an internet presence without incurring upfront charges or regular subscription fees.
Easy To Set Up
Free web hosting providers frequently offer intuitive user interfaces and ready-made themes, making it simple for newcomers to set up their websites swiftly. These providers frequently include content management systems or streamlined website builders requiring little technical knowledge.
No Monthly Fees
Since Free file hosting services are free to use, and there are no monthly fees.
Cons
Limited Resources
Free web hosting providers frequently include restrictions on resources like email accounts, bandwidth, and storage space. The performance of your website may be greatly impacted by these restrictions, particularly as it expands or gets busier. 
There can be limitations on the kinds of files you can upload or the resources allotted by the server for your website.
Advertisements
Many hosts place adverts on your website to recoup the costs of providing free hosting. These advertisements could appear as text links, pop-ups, or banners, among other formats. 
If the ads are irrelevant or low-quality, they may ruin the user experience and reflect poorly on your company.
Exploring Paid File Hosting Solutions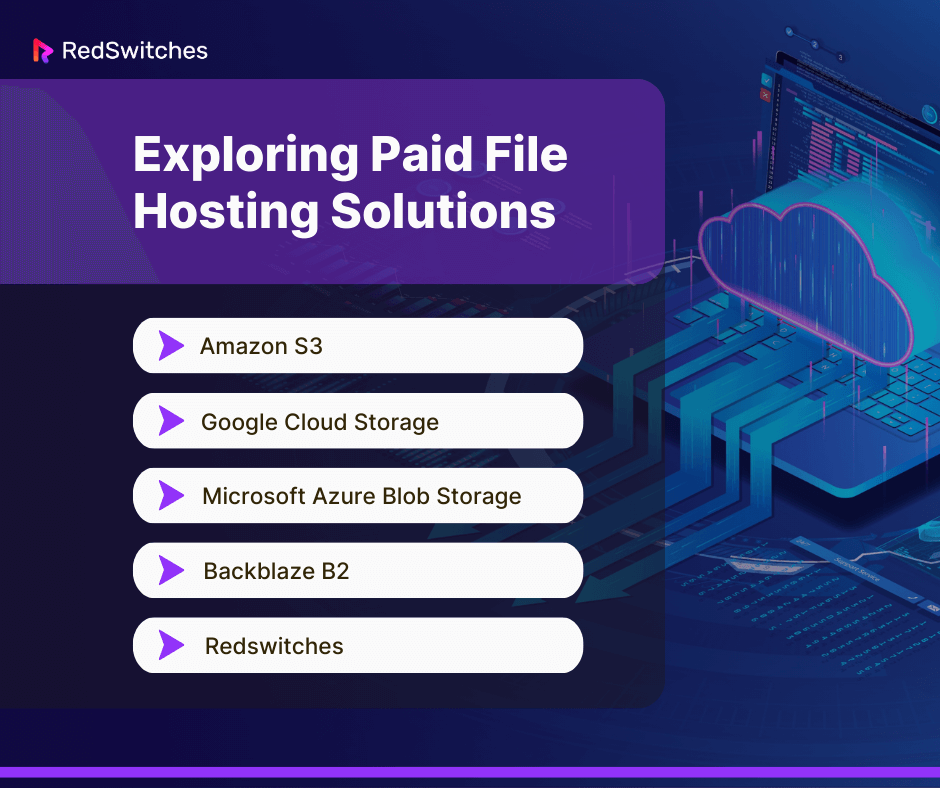 After discussing the free file hosting solutions, it's time to explore the Paid file hosting services.
1- Amazon S3
A public cloud storage resource offered by the Simple Storage Service (S3) platform of Amazon Web Services (AWS) is an Amazon S3 bucket. It offers object-based storage, where data is kept in S3 buckets as separate entities known as objects rather than files.
Like file folders, Amazon S3 buckets can store, retrieve, backup, and access things. A unique identity for the object, the object's content or data, and the object's descriptive metadata, which includes the object's name, URL, and size, make up each object's three primary parts.
2- Google Cloud Storage
A cloud-based object storage platform called Google Cloud Storage is made available by Google Cloud. It makes it simple to create and expand apps that need data storage by allowing developers to store and retrieve data in the cloud.
A cloud-based object storage platform called Google Cloud Storage is made available by Google Cloud. It makes it simple to create and expand apps that need data storage by allowing developers to store and retrieve data in the cloud.
3- Microsoft Azure Blob Storage
Azure Microsoft's cloud-based object storage solution is called Blob Storage. Large-scale unstructured data storage is where blob storage excels. 
Through HTTP/HTTPS, users or client programs can access objects in Blob Storage from anywhere globally. The Azure Storage REST API, Azure PowerShell, Azure CLI, or an Azure Storage client library can all be used to access objects in Blob Storage.
4- Backblaze B2
The Backblaze B2 Cloud Storage service keeps your files in the cloud. Users can download files at any time using browser-compatible URLs or APIs.
Backblaze B2 provides simple, dependable, and inexpensive object storage.
5- RedSwitches
Our bare metal servers are fantastic for businesses' high-volume public or private file storage needs.
Personalize Your Storage
You can choose from the most recent PCI Grade NVMes to High-Capacity SATA for all your file, database, or media storage needs.
Pros and Cons of Paid File Hosting Services
Now, look at the Pros and Cons of Paid file hosting services.
Pros
More Storage
Paid file hosting services often provide significant storage capacity compared to free options. This additional capacity is crucial for people and companies who need to store a lot of data.
More Bandwidth
Paid services frequently offer larger bandwidth allotments, resulting in quicker and more effective file uploads and downloads. This is essential for users who routinely transfer huge files or host content accessed by numerous users.
No Advertisements
Most premium file hosting services do not show consumers advertisements. Without interrupting adverts, this guarantees a cleaner and more professional user experience.
Superior Security
Paid services frequently provide upgraded security features, including strong encryption, safe access controls, and regular backups. These features aid in safeguarding your information from unauthorized access, data breaches, and data losses.
Cons
Ongoing Costs
The ongoing expense is one of the main disadvantages of paid file hosting services. Users must consistently pay for their chosen plan, which can be quite pricey over time. Budgeting is necessary to account for these ongoing expenses.
Technical Knowledge Required
Initial setup and configuration of some premium file hosting services may require technical knowledge. This can entail setting up encryption, creating access limits, or connecting the service with current systems. While many systems have user-friendly interfaces, sophisticated customization may require technical expertise.
Free FTP Hosting for File Transfer
This section of our article will discuss the Best free FTP hosting for file transfer.
Free FTP Hosting Explained
The File move Protocol (FTP) is a standard communication protocol that moves data from server to client on a computer network. In a client-server architecture, FTP uses different control and data connections between the client and the server.
Top Six Free FTP Hosting Services
So, let's discuss the top six Free FTP hosting services.
1- A2 Hosting
The developer-friendly FTP hosting platform A2 Hosting offers lightning-fast performance. A2 Hosting provides highly dependable VPS plans with Turbo plan options for FTP services.
The speed at which pages load is 20 times faster with Turbo services. All of the plans have Root Access, and accounts are instantly activated. You can choose between FTP client software like Smart FTP, Filezilla, etc., from the A2 Hosting team, which immediately delivers FTP connection details in the welcome email.
2- Hostinger
The web hosting service Hostinger is user-friendly for beginners and simple to set up. It includes a bespoke control panel called hPanel out of the box and provides an FTP account by default.
You can also apply custom user restrictions and manage unlimited FTP accounts. It enables the free transfer of websites using a website migration tool. With the aid of the LiteSpeed Web server, Hostinger also offers the fastest possible website loading time.
3- Hostpapa
HostPapa is a hosting service that provides storage, dependable apps, and tools that are easy to use. It facilitates the creation of websites, supports e-commerce, and allows for one-click publishing.
With this hosting, you can establish infinite FTP accounts and access them from Hostpapa's cPanel. To access the FTP accounts icon, choose My cPanel from the list of options. It offers instructions on using different FTP software programs and lets you download them.
4- Bluehost
Popular for its WordPress hosting, Bluehost is a strong hosting platform. Its FTP hosting offers SFTP (Secure File Transfer Protocol) for all its tiers. With this hosting, WordPress can be installed with only one click, allowing you to start immediately.
All hosting plans from Bluehost come with unlimited FTP accounts, and within 30 days of signing up, WordPress migration is free. It offers access to free and premium website themes and a free domain for all its users for a year.
5- Siteground
A platform called SiteGround was created using the Premium Google Cloud infrastructure. This makes SiteGround a quick, safe, and dependable hosting platform. Thanks to the capability of the Google Cloud infrastructure, this hosting also offers high levels of redundancy.
With this service provider, you receive a user-friendly interface, many tools, and simple website maintenance. You will obtain the most recent version of PHP connection, cutting-edge protocols, and compression algorithms because SiteGround offers all the latest technology. 
You can also use your preferred site builder to create websites like Weebly, WordPress, etc.
6- Ultrahost
Ultahost is a platform that offers super-quick, safe, and user-friendly website hosting features. You get a free cPanel license and a page load time that is 20 times faster. The servers can manage a tenfold increase in traffic while maintaining a constant website speed.
Any operating system can be installed, and moving your website over is simple and cost-free. It makes caching, database queries, and your website faster by using NVme SSDs. 
There is no overselling or CPU, RAM, or other resource sharing because Ulta Host provides dedicated resources.
Hosting Your Own File Hosting Server
A usual question that users always ask: What if we do self-hosting? Is it beneficial? So, in this section, we will discuss the benefits of Self-hosting.
Benefits of Self-Hosting
Let's look at the advantages of Self-hosting.
Total Control of Data
A license or a copy of the program is needed to use self-hosted software. In comparison to cloud computing or SaaS (software-as-a-service) infrastructure, there is stronger data protection because the program is licensed and utilized on the premises of an individual or an organization. As a result, the organization has control over what happens to the data and can keep it entirely. 
Due to their increased privacy concerns, highly regulated businesses like healthcare benefit the most. Such businesses are hesitant to embrace cloud computing. 
Upholds Data Security
Self-hosted software places an organization's computers and data on its own grounds. Therefore, they are in charge of managing and maintaining the software. This is very advantageous when the ITops team has access to critical data through backup and disaster recovery tools in the occurrence of a cybersecurity threat. 
Self-hosted software is ideal for businesses handling sensitive information, such as legal, medical, and financial sectors. These businesses are subject to strict cybersecurity laws and frequently host their data locally rather than using a data center some distance away. 
Allows Customization
In comparison to cloud computing, on-premise software offers an infinite number of customization options. The customization that self-hosted solutions offer makes all the difference for big businesses with complicated IT requirements. It is beneficial in specialized manufacturing sectors, where you may tailor the software to meet certain needs. 
Less Reliance on Vendors
There is less reliance on the provider because you have direct control over the deployment and can alter the on-premise software. You get independence and dependability for long-term planning as a result. However, the complexity of a unique deployment suggests that you would need a specialized IT team of consultants and implementation experts. 
Upgrade Whenever You Want
Constant software updates are accepted as typical in today's quickly evolving computer world. However, none of these updates are necessary for your business to run well. Self-hosted software gives you the freedom to choose whether to distribute updates because not all changes are substantial. 
The software developer's updates may be deployed whenever you choose.
Steps To Host Your Own File-Hosting Server
After discussing the merits of self-hosting, it's time to look at the steps required to host your file-hosting server.
Selecting Hardware
After that, pick a hardware item (or several items if you wish to create a multi-server personal cloud), ensuring it is compatible with the storage platform you intend to employ.
Small-scale storage requirements might be met by a device as basic as a spare laptop or PC. But you might require a more potent device, like a small business server, to store big amounts of data (at least multiple terabytes).
Setting up Software
On the host server, the storage platform may have already set up most of your network settings for you in some circumstances. In other instances, you'll have to set up the network yourself by making sure the appropriate ports are accessible and that any devices you use to access your cloud are aware of the IP address or hostname of the cloud server.
 If you want to allow access to your private cloud server from outside the local network, you might also need to change the firewall and router settings.
You might need to adjust the router connected to your home network and/or other networked devices to configure some settings.
Security Precautions
When hosting files, especially when handling user data, security is paramount. The following are crucial security precautions to keep your files and user data safe:
Setting up a firewall permits you to manage incoming and outgoing network traffic. Use a tool like iptables (Linux) or Windows Firewall (Windows) to limit access to necessary ports and services.

Strong user authentication procedures should be used to ensure that only individuals with permission to access the files can do so. Use strong password policies and think about two-factor (2FA) authentication.
RedSwitches – Your Top File Hosting Provider
We have examined free and paid options in this thorough investigation of file hosting services. We've identified the top free file hosting websites, carefully considered their advantages and disadvantages, and exposed some potential advantages of using paid file hosting services. 
Additionally, we've highlighted the best free FTP hosting options for individuals looking for certain features. We even laid out how to deploy self-hosting for DIY enthusiasts. 
RedSwitches is the best option for individuals looking for high-end file hosting services. Your decision about free, paid, or self-hosting ultimately depends on your unique requirements and priorities in file sharing and storage.
We offer the best dedicated server pricing and deliver instant dedicated servers, usually on the same day the order gets approved. Whether you need a dedicated server, a traffic-friendly 10Gbps dedicated server, or a powerful bare metal server, we are your trusted hosting partner.
FAQs
Q-1) Are the free file hosting services safe for my files?
Depending on your platform, the security of your files on free hosting services varies. There is always some risk, even with the security precautions that reputable services usually have in place. Studying the terms and conditions, privacy policy, and user evaluations is crucial to comprehend the service's security procedures.
Q-2) What is file hosting?
File hosting is a service that allows users to store and share files on the internet. It provides a platform for users to securely upload and store their files, making them accessible from anywhere with an internet connection.
Q-3) What is the difference between file hosting and file sharing?
File hosting focuses on securely storing files, while file sharing emphasizes the ability to share those files with others. File hosting provides a platform for users to upload and store their files, while file sharing allows users to share those stored files with specific individuals or groups.
Q-4) What are the benefits of using a file hosting site?
Using a file hosting site offers several benefits. It allows you to store and access your files from anywhere with an internet connection, making it convenient for remote work or travel. It also provides a backup for your important files, protecting them against data loss. Additionally, file hosting sites often offer collaboration features, allowing multiple users to work on the same file simultaneously.
Q-5) What are the best free file hosting services?
Some of the best free file hosting services include Dropbox, Google Drive, OneDrive, Box, and MediaFire. These platforms offer a generous amount of free storage and have user-friendly interfaces. They also provide reliable file syncing and sharing capabilities.
Q-6) Is there a cloud storage service that provides unlimited storage?
While most cloud storage services offer limited storage space, some services provide unlimited storage. Some examples include pCloud and Zoolz. These services generally require a subscription but offer unlimited storage for your files.
Q-7) Can I upload large files to a file hosting site?
Yes, most file hosting sites allow you to upload large files, but there may be limitations on the file size. It is recommended to check the specific file hosting site's guidelines or terms of service for information on file size limits.
Q-8) How secure is file sharing?
File sharing can be secure if you choose a reputable hosting service that prioritizes user privacy and data protection. Look for file hosting services that offer encryption for stored files and secure file sharing options. Using good password practices and being cautious when sharing files with others is also essential.
Q-9) Are there any free file hosting websites available?
Yes, there are several free file hosting websites available. Some popular options include Dropbox, Google Drive, OneDrive, and MediaFire. These sites offer free storage plans with limited space but can be upgraded to paid plans for additional features and storage.
Q-10) What is the best cloud storage platform for file sharing?
The best cloud storage platform for file sharing depends on your needs and preferences. Some popular options include Dropbox, Google Drive, OneDrive, and Box. These platforms offer a combination of storage space, file syncing, collaboration features, and ease of use.
Q-11) Can I share any type of file using a file hosting service?
Generally, you can share any file using a file hosting service, including documents, images, videos, and more. However, it is important to check the file hosting service's terms of service, as some services may have restrictions on certain types of files, such as copyrighted content or executable files.
Q-12) Can I use a free version of a file hosting service, or is a subscription required?
Many file hosting services offer free versions with limited storage space and features. These free versions are suitable for personal use and provide basic file storage and sharing capabilities. However, if you require additional storage space or advanced features, you may need to subscribe to a paid plan.