Did you know there were approximately 332.99 million SMEs (small-to-medium enterprises) worldwide in 2021 – slightly more compared to 2019 when there were 328.5 million? The number of SMEs is growing as the years pass, increasing the need for reliable email hosting for small business owners. 
In the era of digital communication, it is vital to have a reliable email server for business, regardless of size. It professionally presents your business and ensures your communications are secure and easily accessible. 
With a wide range of options available, it can be challenging to choose the right one. In this guide, we've compiled the 15 best email hosting for small business models in 2023 to help streamline and simplify decision-making for you.
Table Of Contents
What is Email Hosting?
Before we dive into the list of the best websites for email hosting for small business models, it is essential to discuss what email hosting is. 
Email hosting refers to a service provided by hosting companies dedicated to hosting email servers. Instead of relying on free email services, users can have their custom domain email addresses, like '[email protected].' This primarily benefits businesses by offering a more professional appeal than generic email addresses.
Wondering whether free hosting is better than paid hosting or vice versa. Read our informative blog, 'Free Hosting vs Paid Hosting: Advantages and Disadvantages.'
Why Do You Need Email Hosting?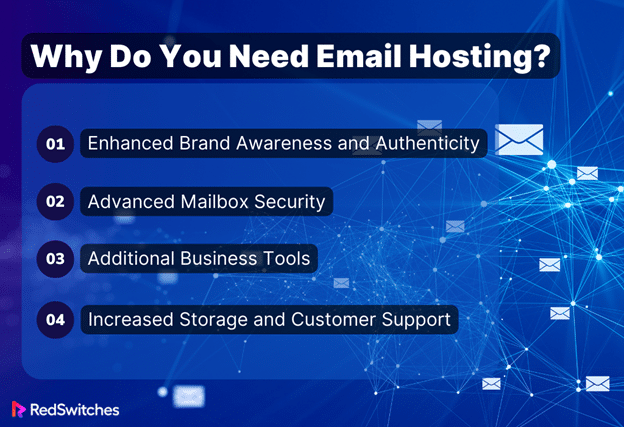 Since businesses can also operate with free email services, small business owners new to the world of entrepreneurship may question why they need paid email hosting. This is because many people may be unaware of the several benefits of email hosting services for small businesses, including: 
1. Enhanced Brand Awareness and Authenticity
Every email you send serves as a representative of your brand. Using an email address linked to your domain helps set you apart from the competition and establishes authority. This is where the importance of email hosting for small business owners comes in. This small detail can significantly impact a potential partner or client's perception of your professionalism and legitimacy. 
When compared to generic email addresses, the difference is palpable. A custom domain email indirectly yet powerfully communicates that your business invests in its image and has a solid digital foundation. Over time, this conscious branding choice can enhance trustworthiness, fostering stronger relationships with clients and partners.
2. Advanced Mailbox Security
Security threats are a common issue businesses face today. Big and small businesses have become targets for malicious cyber activities like Malware, phishing, Distributed Denial-of-Service (DDoS) attacks, and SQL injection.
This is where email hosting for small business models comes to the rescue. Apart from standard SSL encryption, which ensures your emails remain confidential during transit, dedicated email hosting services deploy robust spam and malware filters. This proactive approach ensures unsolicited or potentially harmful emails don't reach your inbox. 
With the constantly changing threat landscape and data breaches costing businesses $4.35 million, these hosting services serve as a safety net by prioritizing regular security updates and patches, ensuring your communications remain uncompromised. Backup services can safeguard your critical business information in the unlikely event of data loss.
3. Additional Business Tools
Beyond just email, hosting providers bundle their email services with extra tools to optimize business operations. 
Calendar and scheduling tools aid in streamlining appointments, ensuring no important meeting is overlooked. Task management systems clarify project progress, enabling teams to function cohesively. Comprehensive contact management solutions ensure every stakeholder detail is just a click away. 
With the growing ecosystem of business apps and services, integration capabilities allow businesses to create a synergized digital workspace.
4. Increased Storage and Customer Support
Emails today carry substantial attachments like presentations, high-resolution images, or extensive reports. With their limited storage, free email services often don't support these demands, forcing users to manage their inboxes tediously. 
This is where email hosting for small business owners shines. These services are tailored especially for business needs, offering expansive storage options and eliminating the constant worry of maxing out your email capacity.
Besides storage, the quality of customer support is a critical element when running a business. Dedicated email hosting ensures you're not just another ticket in the queue if problems arise. 
Also Read: Big Data, Big Solutions: Exploring A Storage Dedicated Server.
Different Types of Email Hosting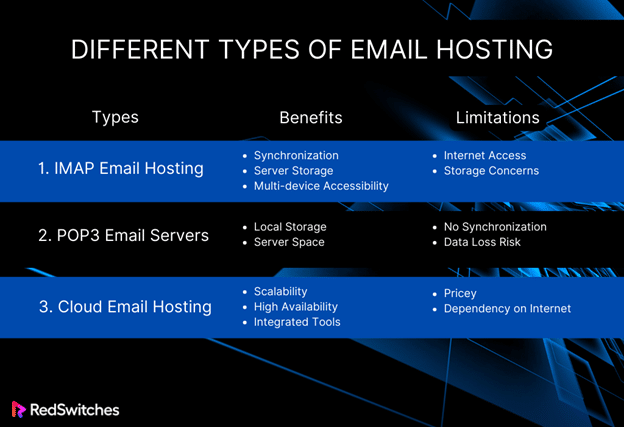 When choosing email hosting for small business, you will come across the following types of email hosting:
1. IMAP Email Hosting
IMAP (Internet Message Access Protocol) is a popular email hosting for small business owners that holds your email on the server. Unlike other protocols, Internet Message Access Protocol allows several devices to use the same mailbox, making it incredibly handy in today's multi-device era.
When you read, discard, or flag an email on a device, the alterations reflect on all devices synced with the account. This consistency makes IMAP ideal for users who need email access from different devices or locations.
Benefits
Synchronization:

Alterations made on one device are shown across all devices.

Server Storage:

Emails are stored on the server, offering a backup if one device fails.

Multi-device Accessibility:

Conveniently access your emails from any location.
Limitations
Internet Access:

IMAP demands Internet access to view all emails.

Storage Concerns:

IMAP may consume substantial server storage if not managed well.
2. POP3 Email Servers
POP3 (Post Office Protocol version 3) is among the earliest email retrieval protocols introduced. Unlike IMAP, which syncs emails across devices, POP3 downloads the email from the server to the device. After being downloaded, the email usually gets deleted from the server.
This means if you access your email from different devices, every device will download and store its own copy of the email. POP3 is an effective method for users who want their emails stored on their devices instead of on a remote server.
Benefits
Local Storage:

Emails are downloaded and held on the user's device.

Server Space:

Frees up server space as emails are deleted after download.
Limitations
Absence of Synchronization:

Lack of synchronization across devices.

Data Loss Risk:

Risk of data loss if the local device malfunctions.
3. Cloud Email Hosting
Cloud email hosting, often chosen as the preferred email hosting for small business owners, represents a modern evolution in the world of communication. By leveraging the robust capabilities of cloud computing, it allows emails to be securely stored on cloud servers. This form of hosting caters to the dynamic needs of businesses, offering them flexibility in accessibility and storage.
With the integration of various tools like collaboration platforms, advanced security measures, and calendars, cloud email hosting serves as the ideal email hosting for small business models. 
Benefits 
Scalability:

Easily adjust

storage

and features as per your needs.

High Availability:

Cloud servers ensure your email system remains online, even if one server faces issues.

Integrated Tools:

Comes bundled with various business tools to enhance productivity.
Limitations
Pricey:

It can be more expensive than traditional hosting methods.

Dependency on Internet:

Uninterrupted internet access is paramount with cloud email hosting. Any downtime or connectivity issues can disrupt access to emails.
Now that we have discussed what email hosting is, why you need email hosting for small business, and types of email hosting, let's explore the 15 best email hosting for small business owners. 
Expand your knowledge about cloud computing by reading this informative blog: A Concise Guide To Cloud Computing Architecture: 13 Components You Should Know. 
15 Best Email Hosting for Small Businesses in 2023
Below is the list of the 15 best email hosting for small business models. 
1. Google Workspace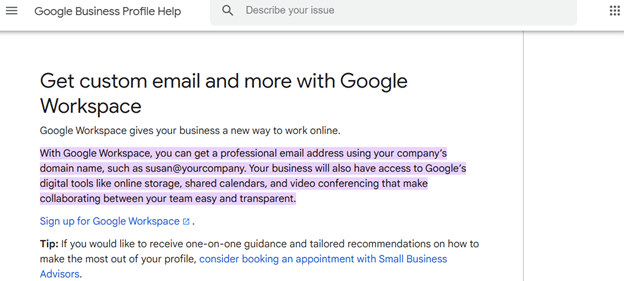 Credits: Google Workspace Support 
Google Workspace is at the forefront when it comes to the best email hosting for small business models. It is renowned for its reliability and ability to offer more than just an email platform.
Key Feature
Google Workspace bridges the gap between individual productivity tools to create a unified system. Its email functionality smoothly integrates with other productivity-enhancing tools like Google Sheets, Drive, Docs, and Meet.
This offers a centralized platform for businesses where all communication, documentation, and scheduling can happen, enhancing efficiency and promoting collaboration. 
Pros and Cons
Pros
Holistic Integration

: One of the standout features is its seamless integration with many other Google services. This interconnectivity ensures that users can switch between different tasks effortlessly.

Top-Tier Security

: Security is paramount when it comes to digital communication. Google Workspace ensures users' data integrity and security with features like two-factor authentication, making unauthorized access incredibly challenging.

Abundant Storage

: With Google Drive, users are assured generous storage capacities. This is particularly beneficial for businesses that manage large volumes of data.
Cons
Cost Factor

: Google Workspace's pricing may concern startups or micro-businesses. While its features are comprehensive, it might be slightly pricey for businesses on a tight budget.

Learning Curve

: Google's suite, while user-friendly, can be a tad overwhelming for those unfamiliar with its range of services. Some training might be required to harness its full potential.
Price
Google Work Space offers tailored solutions for various needs. The platform's four pricing plans make it a competitive choice for email hosting for small business models. 
Business Starter:

$6/year 
Business Standard:

$12/year
Enterprise:

Interested individuals can learn more about the custom pricing

here

. 
2. Titan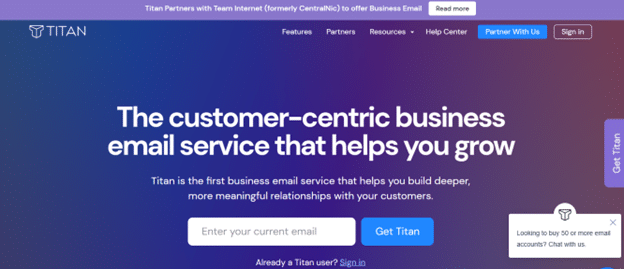 Credits: Titan Website
Titan has emerged as a strong contender in the list of the best email hosting for small business models. While it may not have the extensive suite of tools like Google, its business-centric approach makes it a worthy consideration.
Key Feature
Titan stands out for its focus on business requirements. Recognizing the unique needs of professional communication, Titan has honed features like calendar scheduling, sophisticated email categorization, and advanced search functionalities to ensure businesses can communicate efficiently and finesse.
Pros and Cons
Pros
Business at its Core

: Titan's design principle revolves around business use, making its features exceptionally relevant and beneficial for professional communication.

Meticulous Email Management

: With advanced search and categorization features, managing emails, even in high volumes, becomes an organized and streamlined task.

Steadfast Reliability

: Uptime is critical in today's fast-paced business environment. Titan ensures consistent reliability, ensuring businesses remain connected without hiccups.
Cons
Integration Hiccups

: While Titan shines in its email services, it falls short when it comes to third-party integrations, which can be a concern for businesses using various software tools.

Lacks Collaboration Tools

: Titan lacks an integrated suite of collaboration tools, including document editors or presentation software.
Price
Titan offers two pricing plans, including:
Titan Business Pro:

$2.00/monthly 
Titan Business Premium:

$2.45/monthly 
3. Fastmail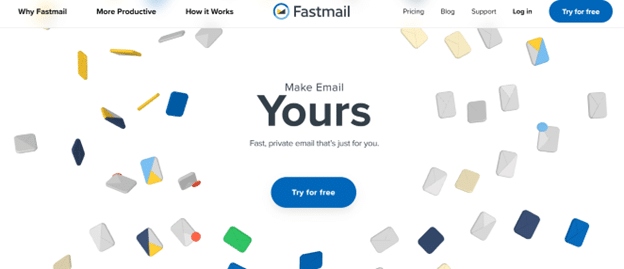 Credits: Fastmail Website 
Fastmail stands out as a beacon for privacy advocates in the world of email hosting for small business models. Catering primarily to users prioritizing data security, Fastmail makes significant strides to ensure your data remains yours.
Key Feature
Fastmail offers peace of mind in an era where data breaches are becoming common. Their strict policy against selling or reading user data sets them apart from other providers offering email hosting for small business owners. 
One distinctive feature they offer is the provision of disposable email addresses. These can be used when signing up for online services or subscriptions, adding an extra layer of privacy and ensuring your primary email remains uncluttered.
Pros and Cons
Pros
Unwavering Commitment to Privacy

: Their steadfast approach to data protection is commendable. 

Custom Domain Integration: Businesses can brand their email addresses, such as '[email protected]', offering a more professional appearance.
High-Speed Infrastructure

: Fastmail lives up to its name, offering rapid email deliveries and minimal downtime.
Cons
Lesser-Known

: Being a niche provider focusing on privacy, Fastmail might lack the widespread recognition of some more prominent players.

Storage Limitations

: Their basic plans offer limited storage, which might necessitate upgrades as your business grows.
Price
Fastmail offers three pricing plans, including: 
4. Zoho Workplace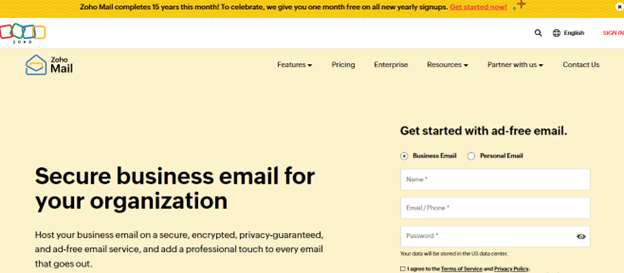 Credits: Zoho Workplace Website 
Zoho Workplace is more than just an email hosting service. It's a holistic workspace solution designed to cater to various business needs, all integrated seamlessly under one umbrella.
Key Feature
Zoho transcends the boundaries of typical email providers by offering an expansive suite of tools. Whether you're drafting a document, creating a presentation, or managing your team's tasks, Zoho Workplace will have a tool to simplify and streamline your tasks.
Pros and Cons
Pros
Extensive Toolset

: Zoho Workplace ensures businesses have all the tools they need to operate, including word processing, spreadsheets, etc. 

Budget-Friendly

: Cost-effectiveness is critical when picking

email hosting for small businesses

. Zoho offers competitive pricing that won't break the bank.

Security is Paramount

: Regular updates and a strong emphasis on infrastructure security make Zoho Workplace the ideal provider of

email hosting for small business owners

.
Cons
Integration Hurdles

: While Zoho offers many tools, integrating with external, non-Zoho applications can sometimes be less than smooth.

User Interface Concerns

: Though packed with features, the interface can feel slightly complex, especially for those new to the Zoho ecosystem.
Price
Zoho Workplace offers three email hosting plans, including: 
5. Microsoft 365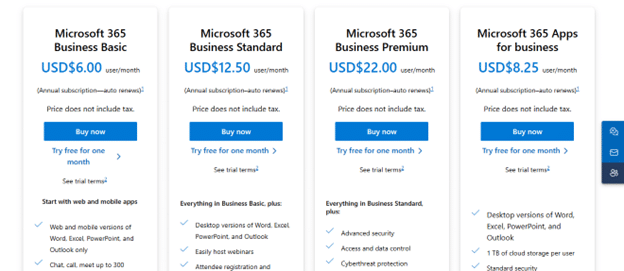 Credits: Microsoft 365 Website
Microsoft 365 often tops the list when businesses consider adopting a comprehensive communication solution. It's more than just an email hosting service, a productivity powerhouse.
Key Feature
Beyond its sophisticated email capabilities, Microsoft 365 stands out for integrating effortlessly with a wide range of Office applications, including Excel, Word, PowerPoint, and more. This seamless integration ensures businesses have all the tools they need to collaborate, share insights, and communicate effectively, all under one unified platform.
Pros and Cons
Pros
Reliability:

Leveraging Microsoft's vast and robust infrastructure, Microsoft 365 promises high uptime, ensuring business continuity.

Collaborative Tools:

The suite's integration with Microsoft Teams, SharePoint, and OneDrive transforms how businesses collaborate. Everything is possible within the Microsoft ecosystem, whether it's a team chat, shared documents, or a virtual meeting.

Advanced Security:

With rising cybersecurity threats, Microsoft 365's built-in security measures are a boon. From malware to spam filtering, the platform safeguards business communications.
Cons
Expensive:

Although Microsoft 365 offers a wide range of features, its pricing can be higher than basic email solutions.

Learning Curve:

The extensive features might seem daunting for businesses that require straightforward email functionalities.
Price
Microsoft 365 Business Basic:

$6.00/month

Microsoft 365 Business Standard:

$12.50/month

Microsoft 365 Business Premium:

$22.00/month

Microsoft 365 Apps for Business:

$8.25/month
6. Amazon WorkMail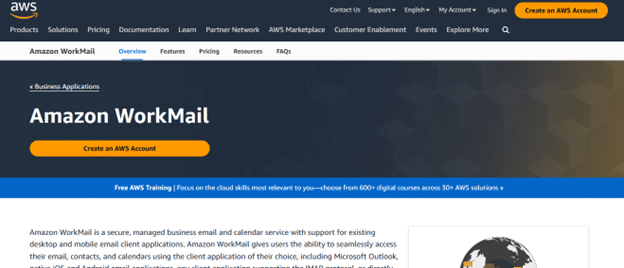 Credits: Amazon WorkMail Website 
Amazon, the technological behemoth, brings its expertise to the table with Amazon WorkMail – offering email hosting for small business owners.
Key Feature
Email is not just about communication; it's also about organization. Considering this, Amazon WorkMail offers managed calendaring. This feature creates a calendar event while integrating seamlessly with existing calendaring solutions. WorkMail makes every task highly intuitive and integrated.
Pros and Cons
Pros
Secure:

Leveraging Amazon Web Services' renowned infrastructure, WorkMail promises top-tier data protection, ensuring business communications remain confidential and protected.

Easy Migration:

Transitioning from another email service? Amazon WorkMail ensures this process is smooth, reducing the typical pains associated with migration.

Integration with other AWS Services:

One of WorkMail's strong suits is its ability to integrate effortlessly with other AWS offerings. Whether it's storage solutions or advanced AI tools, businesses can extend their email functionalities seamlessly.
Cons
Abscence of Extensive Advanced Features:

While it offers a wide range of features, tech aficionados might find advanced features in short supply compared to its competitors.

Extended Customer Support Response Times During Peak Hours:

While Amazon's customer support is comprehensive, there can be instances where response times are slower than expected, especially during peak times.
Price
Amazon WorkMail doesn't charge any upfront fees. It costs $4.00/per month and includes 50 GB of mailbox storage for every user. Interested users can also start a 30-day free trial.
7. Postmark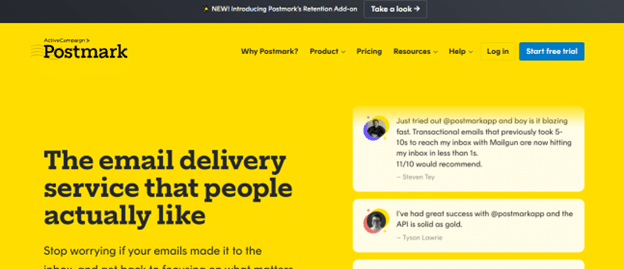 Credits: Postmark Website
Postmark has carved a niche in the bustling world of email communication. Its speed and reliability set it apart from competitors. 
Key Feature
If there's one thing that Postmark is best known for, it's its blazing-fast email delivery speeds. Postmark assures businesses that their important emails will land in the recipient's inbox almost immediately, minimizing delays that could otherwise affect customer communication or business transactions.
Pros and Cons
Pros
Detailed Analytics:

Postmark offers an in-depth look into every email sent, letting businesses track open rate bounces and even pinpoint delivery issues. This data enables companies to refine their email strategies for better engagement.

Template Management:

Postmark's intuitive tools simplify creating and managing email templates. Whether it's newsletters, transactional emails, or promotional campaigns, designing them becomes a breeze.

Developer-friendly:

Postmark offers a broad range of APIs. These ensure businesses can weave Postmark seamlessly into their existing infrastructures, from CRM systems to web applications.
Cons
Not Suitable for Large Businesses:

Although Postmark shines in transactional emails, businesses looking for a comprehensive email hosting solution might find it lacking.

Expensive:

Postmark's pricing can get hefty for businesses that send out many emails.
Price
Postmark features a unique pricing system where the subscription cost you have to pay is calculated according to the number of emails you send monthly. Below is a breakdown of the pricing system:
100 emails:

$0 (Free Developer Tier)

10,000 emails:

$15.00/month 

50,000 emails:

$55.00/month 

125,000 emails:

$115.00/month 
The more emails you send, the higher you have to pay. Interested individuals seeking email hosting or small business can visit the Postmark website for further details on pricing. 
8. IceWarp

Credits: IceWarp Website
Communication is multifaceted, and in recognizing this, IceWarp offers features that cater to every dimension of business communication.
Key Feature
IceWarp transcends the boundaries of traditional email solutions. Beyond emails, it envelopes team chats, making team coordination smooth. It also includes voice and video calls, helping diminish distance in the corporate world. With office document editing tools, it's truly a holistic platform, streamlining various operations under a single banner.
Pros and Cons
Pros
Multi-platform Support:

IceWarp ensures users can access their emails, calendars, and documents seamlessly across various devices and operating systems, enhancing flexibility and productivity.

Flexible Deployment:

IceWarp delivers incredible flexibility. Depending on your business's scale, security requirements, and preferences, you can opt for cloud hosting or an on-premises solution.

Affordable:

High functionality doesn't necessarily mean high costs. IceWarp is an excellent example since it offers various features without burning a hole in your pocket.
Cons
Learning Curve:

As with all comprehensive platforms, there's a learning curve associated with IceWarp, which some users might find challenging.

Outdated User Interface:

While it offers many features, its user interface could benefit from a modern facelift to keep up with sleeker, contemporary designs.
Price
Icewarp offers three pricing plans, including: 
Startup Package:

$1.50/month (Ten Users Package)

 
Business:

$3.50/month

(Minimum Ten Users) 
Corporate:

$2.60/month

(From 1000 Users) 
9. Intermedia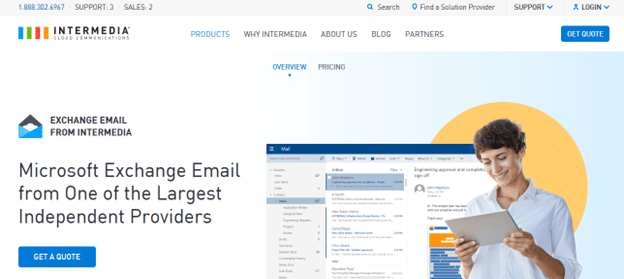 Credits: Intermedia Website
Intermedia stands out for its robust features designed with modern businesses in mind. It's not just about sending and receiving emails; it's about integrating various functionalities that make daily business operations smoother and more efficient.
Key Feature
Intermedia's SecuriSync is more than just an email feature. It's an integrated backup and file-sharing solution that ensures your important data is accessible and safe. Whether you're sharing files with a colleague or retrieving a backup of critical business data, SecuriSync simplifies the process. This means less time navigating complicated systems and more time focusing on core business activities. 
Pros and Cons
Pros
Unified Experience:

No more juggling between platforms. With Intermedia, you get an all-in-one cloud-based solution that incorporates email, voice, backup, and other essential services.

High Availability:

Intermedia ensures business continuity with a 99.999% uptime. They also back their promise with a financial Service Level Agreement (SLA), showing their commitment to reliability.

24/7 Support:

Technical glitches can occur at the most inopportune times. With round-the-clock expert support, you're never left in the lurch.
Cons
Intermedia's pricing might be steep for some small and medium businesses (SMBs) just starting out.

While Intermedia offers a plethora of features, integrating third-party apps can sometimes be a complicated affair.
Price
Intermedia offers four pricing plans, including:
$7.94/user/month

$10.44/user/month

$11.44/user/month

$15.44/user/month
10. Rackspace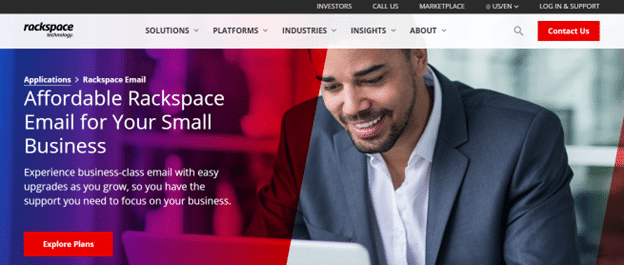 Credits: Rackspace Website 
Rackspace is a name synonymous with reliability in the hosting world. They've managed to carve a niche for themselves in the world of email hosting with affordability, features, and support.
Key Feature
What sets Rackspace apart from many competitors is its commitment to customer support. Known as 'Fanatical Support,' Rackspace ensures that businesses, regardless of size, receive assistance whenever they face challenges. It's not just about solving problems; it's about ensuring a smooth email experience.
Pros and Cons
Pros
Affordable:

Rackspace offers competitive pricing specifically tailored to cater to the needs of small businesses. Even startups with budget constraints can easily subscribe to their pricing plans without worrying about it becoming a financial burden.  

Hybrid Options:

Rackspace provides the unique capability to combine its email service with Microsoft Office 365 for businesses that require diverse features. This gives a more versatile communication solution.

Security Measures:

Rackspace protects businesses through its premium anti-spam and anti-virus measures, which keep unwarranted threats at bay.
Cons
Outdated Webmail Interface:

Some users might find the webmail interface slightly outdated, especially compared to modern UI designs.

Absence of User-friendliness and Intuitiveness in Migration Tools:

Some users have reported dissatisfaction with the Rackspace migration tools. These tools could lack user-friendliness and intuitiveness for some users.
Price
Rackspace offers three email hosting plans, including: 
$2.99/user/month

$3.99/user/month

$6.99/user/month
Note! Interested individuals can avail of free trials on all three plans offered by Rackspace. 
11. Sendgrid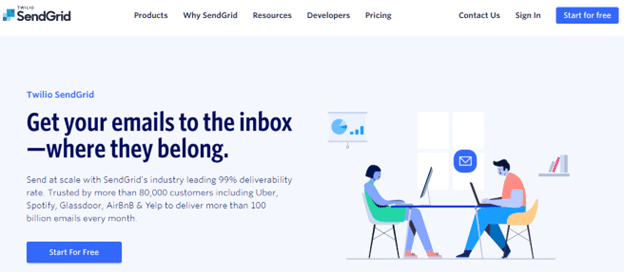 Credits: Sendgrid Website
In an era where email communication remains a business linchpin, SendGrid offers reliable cloud-based email hosting for small business owners. It expertly manages and ensures the daily delivery of many transactional and marketing emails. 
Key Feature
At the heart of SendGrid's offerings is its Dynamic Content Rendering. This standout feature empowers businesses to integrate an additional layer of personalizing their communication. Instead of a one-size-fits-all email, SendGrid analyzes individual preferences, recipient behavior, and demographics to produce bespoke content. 
This ensures that every email a user opens feels customized for them, boosting engagement and fostering a stronger connection between brand and customer.
Pros and Cons
Pros
Unwavering Reliability:

SendGrid boasts impressive deliverability rates, ensuring crucial business emails land in the recipient's inbox, not the spam folder.

Insightful Analytics:

Understanding email performance is pivotal. SendGrid provides comprehensive analytics, shedding light on open rates, click-through rates, and more, empowering businesses to refine their strategies.

Flexibility and Scalability:

Whether you're a budding startup sending out your first newsletter or a large enterprise with extensive email campaigns, SendGrid's infrastructure is designed to scale your needs seamlessly.
Cons
Setup Hurdles:

SendGrid's initial setup may appear daunting for users new to email solutions or non-tech-savvy users.  

Cost Implications:

While SendGrid offers a powerful set of features, as email volumes grow, the associated costs can escalate, which might be a concern for budget-conscious businesses.
Price
Besides a free plan, Sendgrid offers three pricing plans, including:
Essentials:

Starts at

$19.95/month
Pro:

Starts at

$89.95/month
Premier:

Interested individuals can learn more about the custom pricing

here
12. Mailgun
Credits: Mailgun Website
Mailgun has positioned itself as a frontrunner in email delivery, labeled as the best email hosting for small business models. It is specifically tailored for developers aiming to integrate robust email functionalities into their applications seamlessly. 
Key Feature
One of Mailgun's standout features is its commitment to ensuring emails reach their destination. The email hosting solution ensures all emails land in the recipient's inbox. Mailgun has crafted a system that expertly maneuvers around spam filters with the help of smart routing and meticulous monitoring algorithms. 
Pros and Cons
Pros
Comprehensive Analytics Dashboard:

Mailgun's analytics dashboard is not just about numbers. Instead, it offers insightful metrics, providing a clear picture of email engagements, delivery rates, and open rates. This aids businesses in refining their strategies and improving their email campaigns over time.

Developer-Friendly Integration:

Mailgun offers effortless integration capabilities. Its API is designed to be compatible with many programming languages, making it easy for developers to embed email functionalities without issues.

Advanced Email Validation:

With Mailgun's advanced email validation tools, businesses can ensure they're sending messages to legitimate email addresses, reducing bounce rates and maintaining the hygiene of their email lists.
Cons
Steep Learning Curve for Novices:

While Mailgun offers advanced functionalities for seasoned developers, novices or users without a profound technical background may find it overwhelming initially.

Cost Implications at Scale:

Although Mailgun offers competitive pricing, as businesses grow and their email volume increases, the expenses can also rise. Businesses need to factor in these expenses, especially sending extensive emails.
Price
Besides a free trial, Mailgun offers three pricing plans, including: 
Custom:

Interested individuals can learn more about the custom pricing

here
13. Neo Space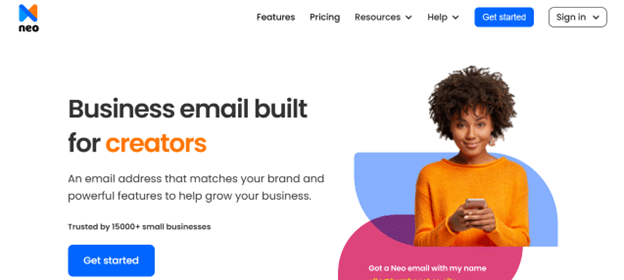 Credits: Neo.space Website 
Neo emerges as a beacon of change in the realm of email hosting for small business models. The platform's approach extends beyond updating systems. It focuses on reimagining the entire business journey. 
Key Feature
One of the key features of Neo that makes it the best email hosting for small business models is its email + calendar feature. The platform offers a fusion of efficient email and calendar management, empowering businesses to stay on top of their projects. This combination ensures that companies have all the essential digital tools at their fingertips, ready to engage, convert, and retain customers.
Pros and Cons
Pros
Efficiency from the Get-Go

: The platform's design prioritizes a smooth setup process, ensuring businesses can begin their digital initiatives without issues.

Reinventing Email Communication

: Neo elevates a business's email capabilities, allowing businesses to enjoy efficient communication like never before. 

Holistic Business Tools

: Neo offers tools that streamline the often tedious task of scheduling meetings while bolstering a company's marketing strategies with robust capabilities.
Cons
Offline Limitations

: One area where Neo currently falls short is its inability to provide offline functionalities. This can be a limitation for businesses in areas with intermittent internet connectivity.

Emerging Player

: As Neo is a newer entrant in the digital tools market, potential users might find fewer reviews and testimonials. This also means the platform is built with the latest technological insights and practices.
Price
Neo offers two pricing plans, including: 
Business Starter:

$1.99/month
Business Plus:

$3.99/month
14. Canary Mail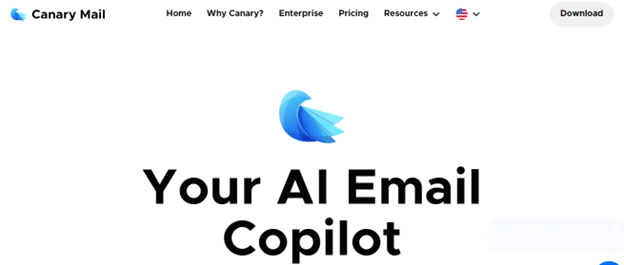 Credits: Canary Mail Website 
Canary Mail thanks to its blend of aesthetic design, top-notch security measures, and user-centric features. While modern design captures immediate attention, what sets Canary Mail apart is its strong focus on user privacy and data protection. 
Key Feature
Its end-to-end encryption capability is the most prominent feature of Canary Mail. Unlike standard encryption, which might only secure data during transmission, end-to-end encryption ensures that your emails are encrypted on your device and are only decrypted on the recipient's device. This means that not even the service provider can read the content of the emails, offering an extra layer of security against potential data breaches.
Pros and Cons
Pros
Smart Filters:

Email organization is streamlined with Canary Mail's smart filters. These filters categorize emails so users can focus on what's crucial, improving productivity.

Natural Language Search:

With Canary's natural language search, digging through a cluttered inbox becomes easier. Whether you remember just a fragment of information or an attachment's name, the powerful search tool fetches results in seconds.

Integration with Popular Apps:

Expanding its utility, Canary Mail doesn't operate in isolation. It syncs effortlessly with popular applications, ensuring users benefit from a cohesive and integrated experience.
Cons
Limited Free Version:

Canary Mail's commitment to superior features comes at a cost. Although a basic free version is available, users might need to opt for the premium version to experience its full potential.

Adaptation Curve:

Transitioning to Canary from conventional email platforms may demand adjustment. Its distinctive features and design elements might take some getting used to, especially for those entrenched in more traditional email interfaces.
Price
Besides a free plan, Canary Mail offers two pricing plans, including:
15. Runbox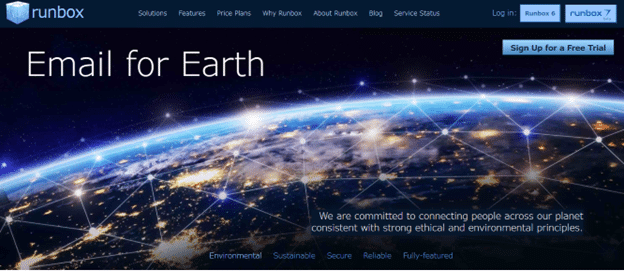 Credits: Runbox Website
Runbox, with its emphasis on stringent privacy measures, sets itself apart in the vast landscape of email hosting for small business owners. In an era where data breaches and cyber threats are common, Runbox provides users with the peace of mind they seek regarding email communication.
Key Feature
One of the defining features of Runbox is its unwavering commitment to data security, exemplified by its provision of end-to-end encryption. This means that from the moment an email is sent until it is received, it remains encrypted. This ensures confidentiality and establishes that the email content remains unaltered and can only be accessed and read by the intended recipient.
Pros and Cons
Pros
Unwavering Focus on Privacy

: The primary selling point of Runbox is its commitment to user privacy and ensuring unparalleled data security.

Eco-conscious Operation

: In a world grappling with environmental concerns, Runbox makes a responsible choice by powering its servers using hydroelectricity, reducing the carbon footprint.

Clean User Experience

: Runbox provides an ad-free interface, allowing users to focus solely on their emails and remain free from the hassles of dealing with continuous ad popups. 

Efficient Email Handling

: The platform boasts comprehensive search features, making locating specific emails in an instant an achievable reality.
Cons
Out-dated User Interface:

Runbox's user interface might be slightly archaic for users accustomed to contemporary designs.

Absence of Important Features and an All-in-One Solution Model:

Modern businesses often seek holistic solutions. Without built-in tools like a calendar or collaboration features, it might make Runbox less appealing for those seeking an all-in-one solution.
Price
Runbox offers a free trial on all their accounts. Users can skip the free trial and subscribe to their chosen plan once the account is created. Email Hosting costs approximately $4.95/month, and all subscriptions (new) come with a 60-day money-back guarantee. 
Also Read: How To Choose The Right Dedicated Server-hosting Provider. 
Final Thoughts
Choosing the right email hosting service is an investment in your business's communication and credibility. Every service mentioned above can be a suitable email hosting for small business models. These hosting providers offer unique features to cater to the varying needs of small businesses. Selecting one that aligns with your operational requirements and budget is essential. 
If you need help deciding which service to use for website and email hosting for small business, or require further assistance, consider checking out RedSwitches – one of the best hosting giants available today. Our range of hosting services and dedicated customer support might just be what your business needs. Get in touch with us today for more information. 
FAQs
Q. Is there free email hosting for small businesses?
While some providers like Runbox offer free tiers or trial periods, they often come with limitations in terms of storage, features, or the number of users. Businesses should consider investing in a paid service to benefit. 
Q. What is the best email server provider for small businesses?
The best email server provider depends on the business's needs. Microsoft 365 or Google Workspace might be ideal for comprehensive office suite integrations. Providers like Zoho Workplace or Titan also offer cost-effective solutions with excellent features, ideal for small businesses on a budget.
Q. How do I get an email domain for my small business?
Many reputable email hosting providers provide domain registration. You can register your desired domain, and the provider will take you through the setup process to link it to your email hosting.
Q. How do I host a business email?
Choose a reputable email hosting provider, sign up for their service, and follow their setup instructions. Most providers offer intuitive dashboards or control panels to manage your email accounts, set up forwarding, and configure other settings.
Q. Is Google email hosting free?
No, Google Workspace is not free. While Google does offer free email through Gmail, Google Workspace provides added features, integrations, and a domain-specific email address, which come at a cost.