Did you know there are over 26 million ecommerce websites worldwide, with more being designed daily? The increasing number of websites means a higher demand for online stores and increased ecommerce sales.
In 2022, retail ecommerce sales were expected to go over 5.7 trillion U.S. dollars globally – and this figure is expected to grow to new heights by the end of 2030.
With the rise of ecommerce websites and sales, people are looking for the best ecommerce websites. While there are hundreds and thousands of stellar ecommerce websites, only a few rank in the list of the best ecommerce websites.
In this blog, we have compiled a list of the top ecommerce websites in the world.
Table of Contents
Let's begin!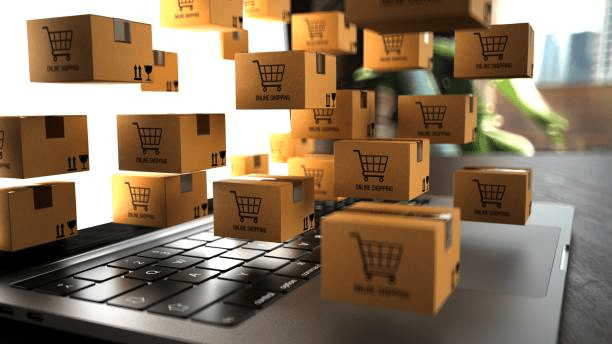 Credit: iStock
What are eCommerce Websites?
Before we dive into the best ecommerce websites, it is vital to understand what ecommerce sites are.
Ecommerce websites are platforms that facilitate purchasing and selling goods and services online. They can be of any size, ranging from online giants selling various categories and niches of products to niche or small-scale sites focusing on specific categories of products and services.
The key benefit and reason behind the popularity of these platforms is convenience. They allow consumers to shop anywhere, anytime. Customers often benefit from a more comprehensive selection and better prices than physical stores.
Features of the Best Ecommerce Websites
Below is the list of the top 12 features of the best ecommerce websites:
1. Mobile Optimization
Did you know that global mobile ecommerce will be worth $2.2 Trillion in 2023? With most modern consumers frequently shopping using smartphones, mobile optimization has become the number one feature of the best ecommerce websites.
The best ecommerce website will feature quick loading times, easy navigation, and mobile-responsive designs that adapt to different screen sizes.
2. Advanced Search Capabilities
Intuitive search functions are also among the top features of the best ecommerce websites. Features like auto-suggestions, filters, and voice search allow users to find their desired products without hassle. These features empower website owners to offer a smooth user experience to all visitors.
3. Personalized User Experiences
AI and machine learning have enabled platforms to offer personalized shopping experiences. Today's best ecommerce websites have robust AI capabilities,  including personalized product recommendations, browsing history reminders, and targeted promotions based on user behavior.
4. Efficient Checkout Process
Several studies have proven that streamlined checkout processes reduce cart abandonment rates. This is why all top-tier ecommerce sites often include efficient checkout processing features like guest checkout options, multiple payment gateways, and an easy-to-navigate checkout page.
These features help reduce the checkout time and add a new layer of convenience to the online shopping experience.
5. Robust Security Features
With rising cyber threats, including hacking attempts, DDoS attacks, and injection attacks, the best ecommerce websites prioritize security. This includes implementing SSL certificates, two-factor authentication, and regular security audits to protect customer data and build trust.
6. Augmented Reality (AR) Integration
AR has transformed the online shopping experience, especially in the fashion and home decor sectors. Now, customers can 'try on' products or see how furniture will look in their space before purchasing.
AR Integration can transform an ecommerce website's performance, allowing website owners to reduce returns and enhance user experience.
7. Interactive Product Displays
Interactive product displays have become a common feature of the best ecommerce websites. This includes high-quality images, 360-degree product views, and video demonstrations. These displays give customers a holistic understanding of a product or service, allowing them to make informed purchasing decisions.
8. Seamless Integration with Social Media
With the growing influence of social commerce, the best ecommerce platforms offer seamless integration with platforms like Instagram, TikTok, and Pinterest. This offers benefits to both ecommerce website owners and customers. It allows users to shop directly from social media posts and increases conversion rates.
9. Efficient Customer Support
Customer support features have become indispensable in today's ecommerce landscape. Live chatbots, 24/7 customer support, and easy return policies enhance the user experience and increase customer loyalty.
10. Sustainable and Ethical Shopping Options
More consumers are becoming conscious shoppers, prioritizing sustainability and ethical production. Leading platforms are leveraging this to their advantage by highlighting such products. Some of the best ecommerce websites also have dedicated sections for eco-friendly and ethically-produced items.
11. User Reviews and Testimonials
Most customers go over user reviews and testimonials before purchasing a product or service. Users may become skeptical about shopping from a platform if it lacks this insightful data.
This is why the best ecommerce websites have genuine user reviews and testimonials, helping boost SEO and instill trust and confidence in potential buyers.
12. Subscription and Loyalty Programs
Subscriptions and loyalty programs are common in top-ranking ecommerce sites. Offering subscription boxes or loyalty programs incentivizes repeat purchases and helps retain customers in the long run.
How to Start Your Own eCommerce Website
As discussed above, the popularity and demand of ecommerce sites have made them a highly profitable choice for aspiring entrepreneurs. But how does one navigate the process of creating such platforms? Below are the essential steps involved in kickstarting your own ecommerce website.
Are you eager to kickstart your very own ecommerce venture? Before diving in, the first crucial step is selecting a dependable hosting service. Here, we'll walk you through five essential steps to help you choose the right web host.
1. Identify a Niche
The first step in starting your ecommerce platform is deciding what you'll sell. Ask yourself, are you passionate about handpainted pieces? Or are handmade soaps your passion?
Deciding on a niche will offer direction and help identify your target audience. Experts recommend choosing something you're passionate about or have expertise in. This will empower you to give your all into creating your ecommerce store and allow you to curate the best products or services.
Through your expertise, you can also offer valuable insights to your customers and ensure your products and services are up to the mark in terms of quality.
2. Choose a Platform
The ecommerce platform you choose has the potential to bridge the gap between your ecommerce store ranking among the best ecommerce websites. It serves as the backbone of your ecommerce store. You will find a wide range of platforms, all catering to different needs:
Shopify: Versatile and user-friendly, suitable for beginners.
WooCommerce: A free WordPress plugin offering immense customization capabilities but may have a steeper learning curve.
BigCommerce: Known for its scalability and extensive built-in features.
Magento: Customizable and powerful, best suited for large corporations or individuals with web development prowess.
Also Read: 16 Tips on How to Increase Your Server Speed & Performance.
3. Design Your Site
Website design is a critical and often overlooked aspect of website building. When building a website, novices usually focus on creating a functional website that does the job.
Although they manage to get a website up and running, they overlook some critical elements that might keep them from making their ecommerce site a success. To ensure you design the best ecommerce website, you must prioritize incorporating some important elements.
The simple way to achieve this is to prioritize a layout that is:
User-Friendly: Focus on intuitive navigation and a simple design. Avoid clutter and ensure clear product listings.
Mobile-Optimized: Ensure your website is responsive and easy to navigate on all screen sizes, especially mobile phones.
Visually Appealing: Use quality images, maintain a consistent and appealing color scheme, and ensure your branding stands out.
4. Set Up Payment Gateways
An essential component of an ecommerce website is the ability to process transactions smoothly and safely while ensuring data privacy. Depending on your target audience, offer a variety of secure payment methods:
PayPal: Widely accepted worldwide, easy to integrate, and trusted by consumers.
Stripe: Provides flexibility and can handle recurring payments.
Credit Card Payments: Ensure PCI compliance and consider integrating solutions like Braintree or Square.
5. Implement Security Measures
Trust is one of the most important elements in the online shopping experience. When creating an ecommerce website, safeguarding customer data from threats should be a top priority. While implementing SSL certificates is a good start, consider incorporating best practices, including:
Regular security audits.
Two-factor authentication for user accounts.
Secure and regularly backed-up hosting.
Do you have yet to build a clear understanding of the different types of web hosting services? Read our informative guide: Understanding the different Types of Web Hosting Services: A Comprehensive Guide.
6. Market Your Website
Most beginners believe they must build a website to get their online store up and running and on the journey to success. Unfortunately, it's not that simple. Building the website is just the beginning. You must follow several best practices to drive traffic and sales, including:
SEO (Search Engine Optimization): Optimize your website for search engines to increase organic traffic. Conduct keyword research, backlinking, etc.
PPC (Pay-Per-Click) Advertising: Invest in ads (like Google Ads) to increase your chances of appearing at the top of search results.
Social Media Marketing: Engage with potential customers on platforms like Twitter, Facebook, Instagram, or Pinterest. Offer promotions and discounts, showcase products, and build a community around your brand.
Now that we have discussed what an ecommerce website is, the features of the best ecommerce websites, and how to create an ecommerce site, let's explore the best ecommerce websites to offer you some inspiration.
20 Best eCommerce Websites in 2023
Below is a list of the top ecommerce websites of 2023:
1. Amazon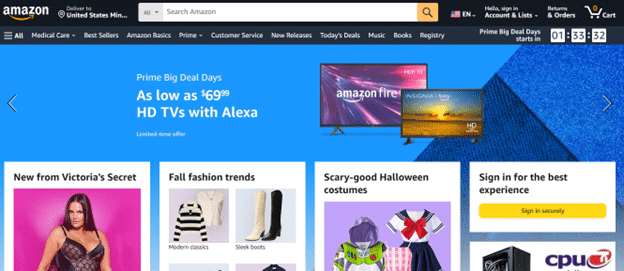 Credits: Amazon Website
Did you know Amazon reached approximately 514 billion USD in net sales revenue in 2022? Over the years, Amazon has made an evident reputation in the ecommerce world and stands number one in the list of the best ecommerce websites.
What Can You Find Here?
Amazon's product offerings are incredibly comprehensive. The platform includes hundreds of millions of products spanning different niches and categories, including homeware, digital content and devices, beauty, books, electronics, fashion, and more.
With specialized subsections for handmade goods, groceries, and even B2B sales, it's safe to say that Amazon has ingrained itself in nearly every facet of the consumer market.
Pros and Cons
Pros
Massive Product Variety: Amazon's extensive inventory covers a broad range of categories, ensuring that almost any product a consumer wants is available on their platform.
Reliable and Convenient Shipping: With services like Amazon Prime, customers can benefit from fast and often free shipping and other perks like same-day or two-day delivery in many locations.
User Reviews and Insights: Customers can read numerous reviews from other buyers before purchasing, making the decision-making process more informed.
Amazon Services and Integrations: Beyond shopping, Amazon offers various services like Amazon Music, Amazon Video, Kindle, and integrations with devices such as Alexa-enabled smart devices.
Cons
Overwhelming Product Selection: The sheer volume of products, especially when including third-party sellers, can sometimes be overwhelming and make it difficult for users to choose a product.
Pricing Concerns: While Amazon often offers competitive prices, it's not always the most affordable option. The platform's dynamic pricing model can sometimes result in fluctuating product prices.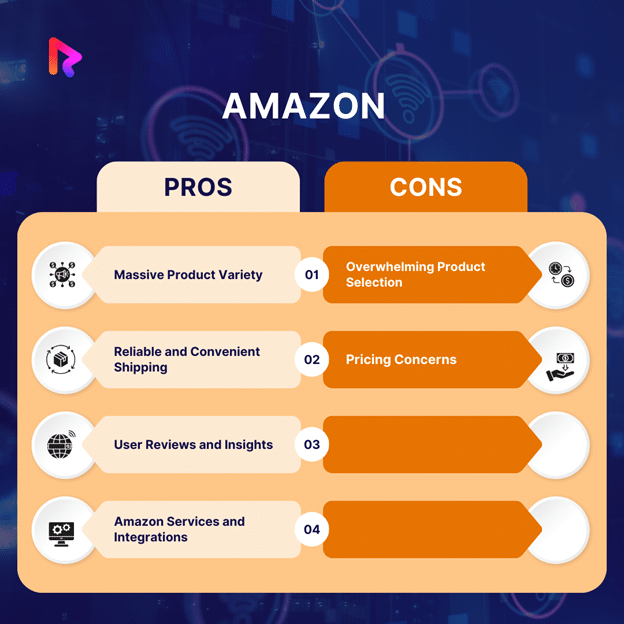 2. Target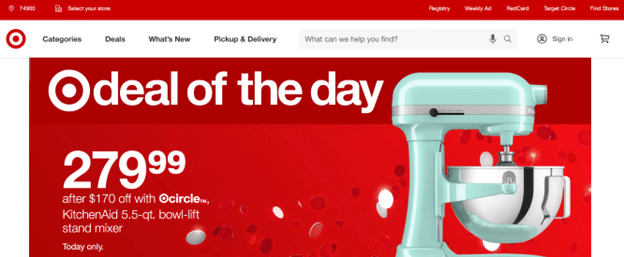 Credits: Target Website
Target Corporation is known among the largest discount retailers in the US and the globe based on sales. The premier brick-and-mortar retailer has maintained its relevance and thrived in the digital age by launching one of the best ecommerce websites.
What Can You Find Here?
Target's online platform boasts the diverse product range available in its physical stores. Users can explore various categories, including fashion, toys, electronics, and home essentials. The retailer has also collaborated with various designers and brands to introduce exclusive product lines, giving them an edge in the market.
Pros and Cons
Pros
Intuitive Website Design: Target's online platform is user-friendly, making navigation, product search, and online buying effortless for shoppers.
Exclusive Collaborations: Target frequently partners with designers and brands to offer exclusive product lines and collections, giving shoppers unique choices they can't find elsewhere.
Competitive Pricing and Discounts: With loyalty programs like the RedCard, shoppers can avail of consistent discounts and special promotions, ensuring good value.
Brick-and-Mortar Convenience: The presence of physical Target stores across the country allows for easy in-store pickups, immediate returns, and the option to physically browse products before purchasing.
Cons
Limited International Presence: Target predominantly operates in the U.S. Unlike competitors, it limits its global reach for international shoppers.
Shipping Times: While Target has significantly improved its delivery times, it can sometimes lag behind other dedicated online retailers with faster shipping options.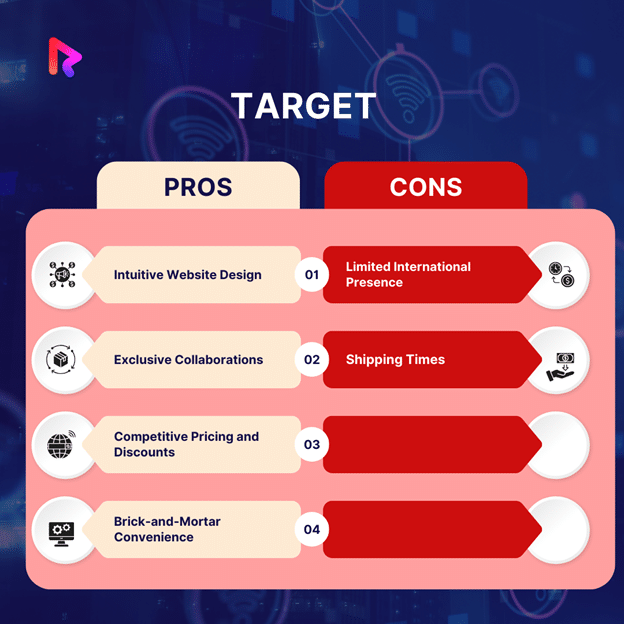 3. Craigslist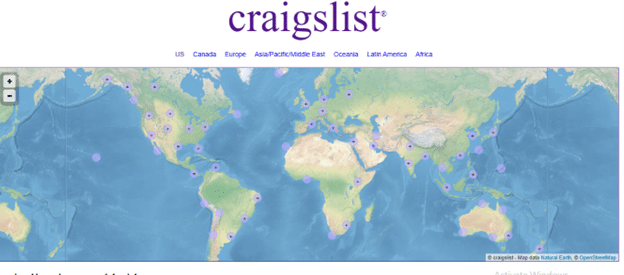 Credits: Craigslist Website
Craigslist shines as a pioneer in the digital classified ads space. It is one of the best ecommerce websites for buying or selling goods and services.
What Can You Find Here?
From furniture and freelance services to housing and jobs, Craiglist boasts vast categories covering almost anything you might need. It is counted among the best ecommerce websites for job search and second-hand items.
Pros and Cons
Pros
Broad Reach: With a presence in numerous cities globally, Craigslist provides a vast audience for listings, especially for localized sales and services.
Versatility: The platform covers various categories, from job and housing listings to selling items or offering services.
No Fees for Most Listings: Most posts on Craigslist, especially for individual sellers and services, are free, making them accessible for anyone to use.
Simplicity: The straightforward design and ease of posting make the platform incredibly user-friendly, even for those not particularly tech-savvy.
Cons
Lack of Security: Transactions are often done in person and cash, posing potential safety risks. The platform lacks a formal payment system and dispute resolution.
Outdated Interface: Compared to other modern ecommerce platforms, Craigslist's website design hasn't evolved much over the years, making it feel less user-friendly to new users accustomed to more contemporary designs.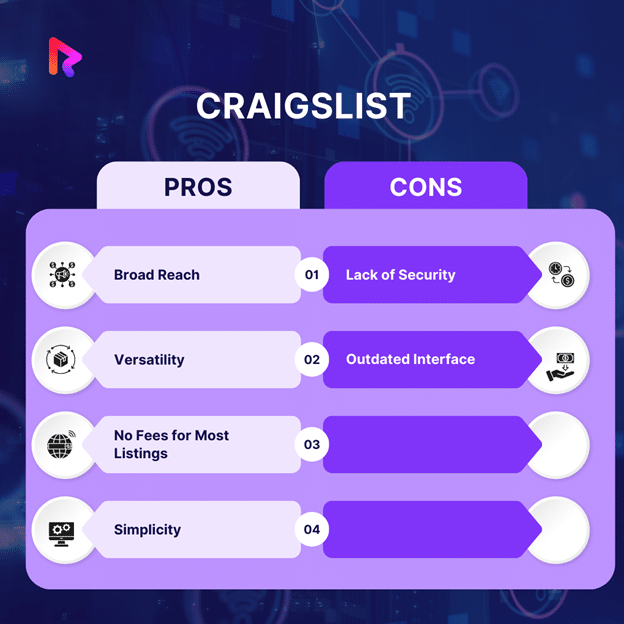 4. Macy's

Credits: Macy's Website
Macy's, the renowned American department store, has transitioned gracefully into the digital age. It offers many online products in varying categories.
What Can You Find Here?
Macy's is one of the best ecommerce websites due to its ability to serve as a hub for almost all types and categories of products, ranging from apparel and beauty to fashion and home decor. They also frequently feature designer collections, seasonal specials, and exclusive products.
Pros and Cons
Pros
Diverse Product Range: Macy's offers an extensive selection of products, from clothing and accessories to home goods and cosmetics, catering to various tastes and needs.
Frequent Sales and Promotions: Macy's is known for its regular sales events, such as the "One Day Sale," providing significant discounts and offers to shoppers.
Loyalty Program: The "Star Rewards" program rewards loyal customers with benefits, special offers, and exclusive discounts.
User-Friendly Online Experience: Macy's website and app are designed for easy navigation, with features like product filters, customer reviews, and an efficient checkout process.
Cons
Pricing: While Macy's offers a range of products across different price points, some items can be priced higher than discounts or specialized retailers.
Shipping Delays: Some customers have reported delays in shipping and delivery times during peak sales periods or holidays.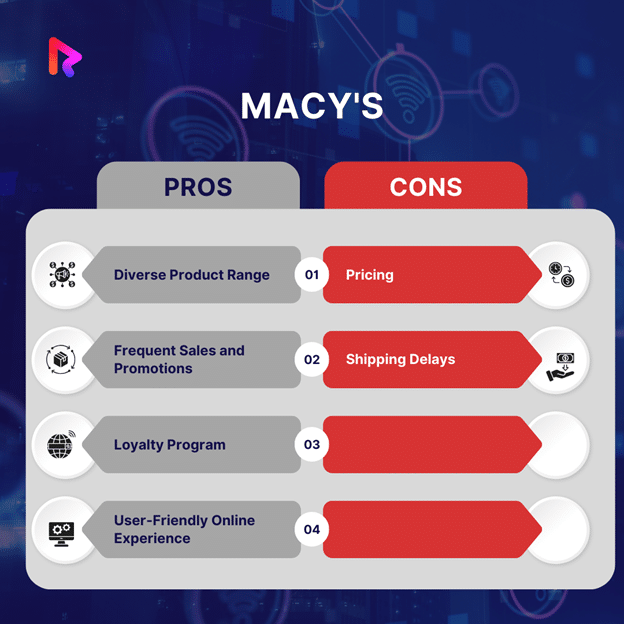 5. Best Buy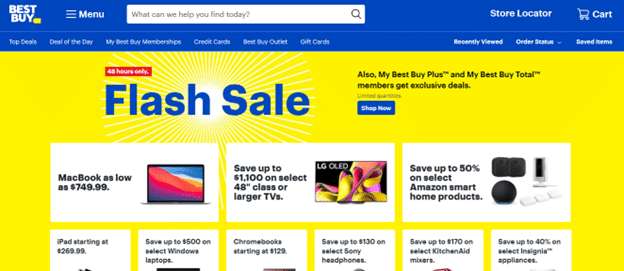 Credits: Best Buy Website
Best Buy, often known as the tech enthusiast's paradise, has made considerable strides online. It is among the best ecommerce websites for tech products.
What Can You Find Here?
Best Buy sells products for tech enthusiasts and electronics tailored to meet modern, everyday demands. They have a comprehensive collection of laptops, cameras, televisions, smartphones, smart home devices, etc., catering to various users.
Best Buy also houses a comprehensive range of household appliances, from refrigerators and ovens to washing machines, ensuring homes run efficiently.
Pros and Cons
Pros
Extensive Product Selection: Best Buy offers a wide range of electronics, appliances, and related accessories, making it one of the best ecommerce websites for tech enthusiasts.
Expert Advice: Their in-store "Geek Squad" provides technical support, installations, and repairs, ensuring customers get expert advice and assistance with their purchases.
Price Match Guarantee: Best Buy has a price match policy where they'll match the price of a product if a customer finds it cheaper at a qualifying competitor.
Frequent Deals and Promotions: Best Buy regularly runs sales, especially around holidays and events, offering customers opportunities to get products at discounted prices.
Cons
Inconsistent Customer Service: While many have positive experiences, some customers have reported inconsistent levels of customer service across different store locations.
Stock Limitations: For highly sought-after products or during major sales events, items can go out of stock quickly, leading to potential wait times or needing to search multiple locations.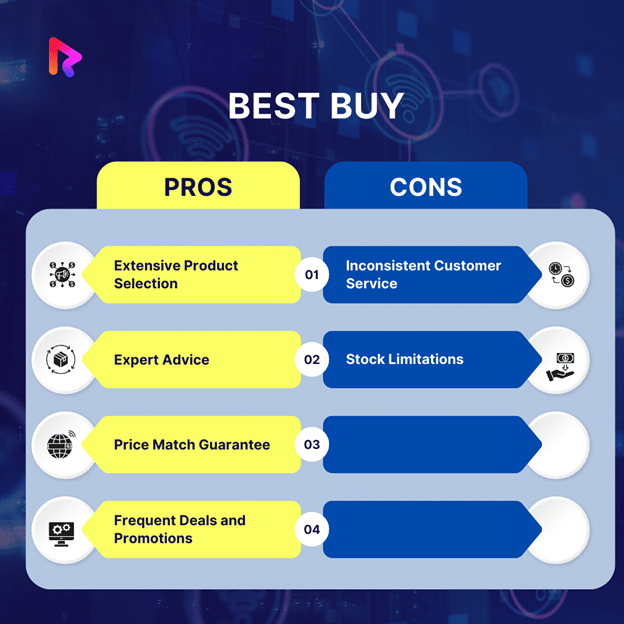 6. eBay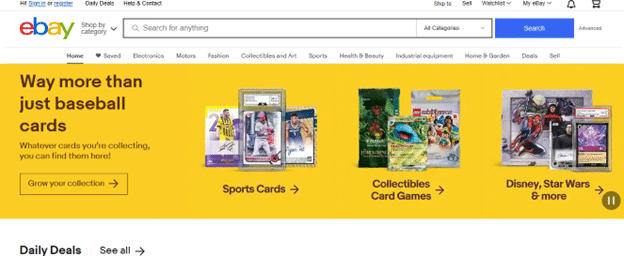 Credits: eBay Website
eBay is another of the best ecommerce websites counted among the world's largest online marketplaces. It offers a unique blend of auction-style listings and traditional online shopping experiences.
What Can You Find Here?
eBay covers almost every category imaginable. Many renowned small to large businesses run their storefronts on the platform. You can find almost every product category on eBay, from vintage collectibles like old coins, sports items, and industrial equipment to the latest gadgets, motors, and home and garden products.
Pros and Cons
Pros
Global Reach: eBay is one of the world's largest online marketplaces, connecting sellers with buyers from all over the globe.
Versatility: It caters to various items, from collectibles and vintage products to brand-new electronics and fashion.
Auction Format: The auction-style listing allows sellers to get a higher price for in-demand items and buyers the chance to grab potential bargains.
Buyer and Seller Protections: eBay has established systems and policies, like the Money Back Guarantee, to protect buyers and sellers from fraud.
Cons
Fees: Selling on eBay involves various fees, including listing and final value fees, which can accumulate and affect profit margins.
Competition: Due to its vast number of users, sellers might struggle to stand out or compete in categories saturated with similar products.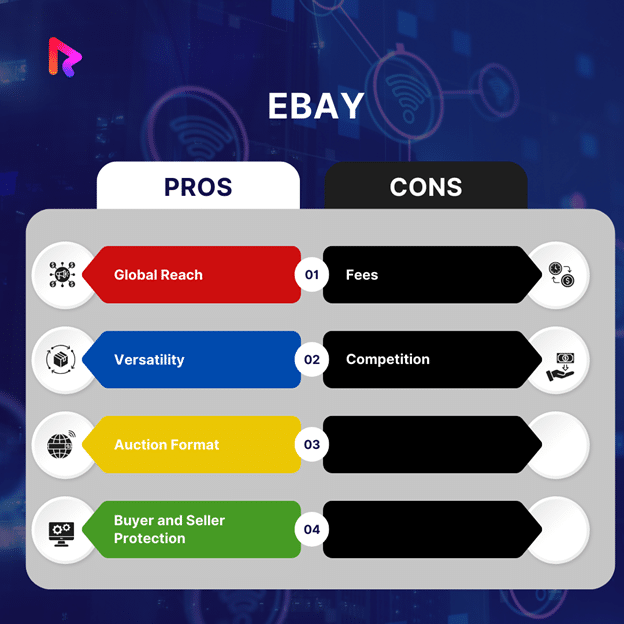 7. Walmart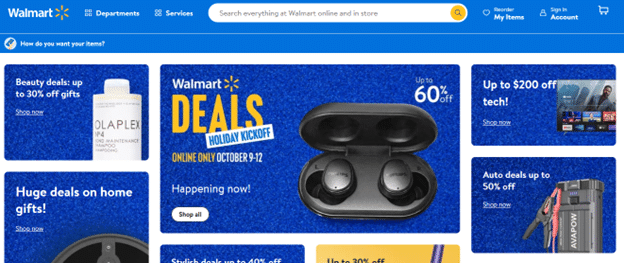 Credits: Walmart Website
Walmart, a name synonymous with vast retail outlets, has also solidified its position among the best ecommerce websites. The ecommerce site expands beyond its brick-and-mortar roots, offering a comprehensive shopping experience combining variety and convenience.
What Can You Find Here?
Walmart's online store is a one-stop shop for every need, including electronics, home appliances, auto parts, furniture, fashion, beauty products, and groceries. The website offers exclusive online deals, pickup and delivery services, and a seamless return policy.
Pros and Cons
Pros
Vast Product Range: Walmart offers various products, from groceries and home goods to electronics and fashion, making it a one-stop-shop for many consumers.
Price Match Guarantee: Walmart is known for its commitment to providing low prices, and its price match guarantee ensures customers get the best deals.
Omnichannel Shopping Experience: With its online platform and numerous brick-and-mortar stores, Walmart provides a seamless omnichannel shopping experience.
Robust Return Policy: Walmart's return policy is generous. It allows customers to return items bought online to physical stores, making the return process hassle-free and convenient.
Cons
Product Quality Variance: While Walmart offers a range of products at different price points, some consumers have raised concerns over the quality of certain lower-priced items.
Website and App Navigation: With such a vast inventory, some users find Walmart's website and app less intuitive and more cluttered than specialized eCommerce platforms.
8. Etsy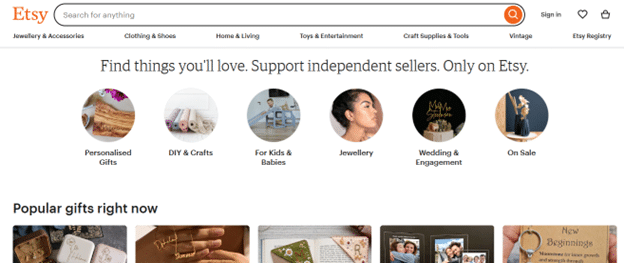 Credits: Etsy Website
Etsy emerges as a hub for craftsmanship and creativity. It's counted among the best ecommerce websites for one-of-a-kind, handmade, and vintage items, allowing individual artisans from across the globe to display and sell their creations to a worldwide audience.
What Can You Find Here?
Etsy is a one-stop shop for handcrafted jewelry, art pieces, vintage finds, and customized clothing. It is known for selling personalized gifts, birthplace decor, craft supplies, apparel, and crafts and supplies. Every shop tells its own story, adding a touch of uniqueness to the shopping experience.
Pros and Cons
Pros
Unique Offerings: Etsy is renowned as one of the best ecommerce websites for its extensive range of handcrafted, vintage, and unique items. This makes it the go-to platform for shoppers looking for unique products unavailable on mainstream ecommerce websites.
Supports Small Businesses and Artisans: By providing a platform for individual creators and small-scale entrepreneurs, Etsy empowers local craftsmanship and promotes independent businesses.
Personalization and Custom Orders: Many sellers on Etsy offer personalized items or accept custom orders, allowing shoppers to obtain bespoke products tailored to their specifications.
Secure Transactions: Etsy offers secure payment methods and has policies to protect buyers and sellers, ensuring safe and reliable transactions.
Cons
Variable Quality: Given the wide range of individual sellers, the quality of products can vary. While many items are of high quality, there's always a chance of coming across lower-quality items.
Shipping Costs and Times: Since Etsy sellers are located worldwide, shipping costs can sometimes be higher, and delivery times can vary greatly, especially for international orders.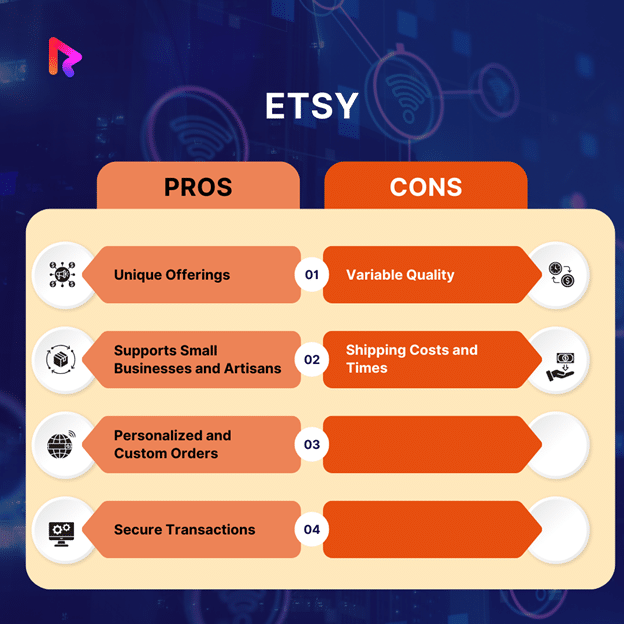 9. Wish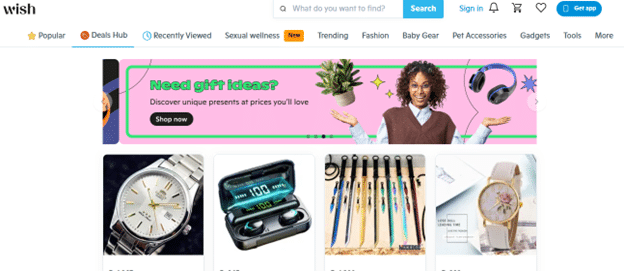 Credits: Wish Website
Wish has become a common household name, often regarded among the best ecommerce websites by users. It is known for its vast range of products at incredibly affordable price tags. Wish connects global shoppers directly with hundreds and thousands of merchants, ensuring competitive pricing.
What Can You Find Here?
The range of products on Wish is broad. An extensive collection of items, from the latest beauty, fashion, and home items to tech gadgets, toys, and sports equipment, makes Wish one of the best ecommerce websites for everyday buyers. The platform is famous for its flash sales, offering excellent discounts on selected products.
Pros and Cons
Pros
Affordability: Wish offers a vast collection of products at low price tags, making it attractive for budget-conscious shoppers.
Diverse Product Range: Wish provides a vast range of items, ensuring there's something for every buyer and no one leaves the store disappointed.
Flash Sales: Regular flash sales and deals provide even better discounts, making it enticing for shoppers to grab products at a fraction of their original price tag.
User-Friendly Interface: The Wish app and site are designed to be intuitive, with clear product descriptions, effortless navigation, and a straightforward checkout process.
Cons
Shipping Duration: Due to the global nature of its merchants, shipping times can be lengthy, and customers might have to wait for extended periods to receive their orders.
Inconsistent Product Quality: Since Wish is a marketplace with multiple sellers, the product quality can vary. Some users have reported receiving items that didn't match the product description or were lower quality.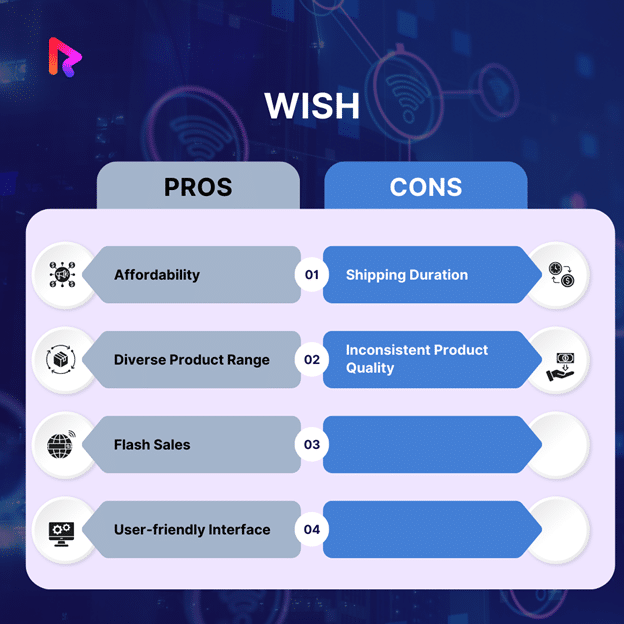 10. The Home Depot
The Home Depot is among the best ecommerce websites catering to many users, from DIY enthusiasts and professional contractors to homeowners.
What Can You Find Here?
The Home Depot's online platform is a go-to store for home improvement and construction products. From lumber, power tools, and appliances to home decor, gardening supplies, and lighting solutions, it's a one-stop shop for all home-related needs.
Pros and Cons
Pros
Extensive Product Selection: Home Depot's online store offers a never-ending range of products. This extensive product selection allows users to find everything they need for their homes without visiting a physical store.
In-depth Product Information: Each product on the Home Depot site comes with detailed descriptions, specifications, Q&A sections, and reviews. This abundance of information helps customers make informed purchasing decisions.
Convenient Store Pickup Options: Home Depot offers a 'Buy Online, Pick Up in Store' option for users who want the convenience of online shopping but need their items promptly.
Dynamic Search and Filter Options: Home Depot's ecommerce platform has a robust search functionality with multiple filters. This allows users to narrow their product search based on customer ratings, brand, and price.
Cons
Site Navigation Issues: Some users have reported issues navigating the website due to its extensive product collection. Although the search and filter feature is helpful, many products and categories can sometimes be overwhelming, resulting in navigation challenges.
Shipping Delays and Issues: While Home Depot generally has a reliable shipping system, there have been instances where customers received the incorrect products, faced delivery delays, or encountered problems with third-party delivery services.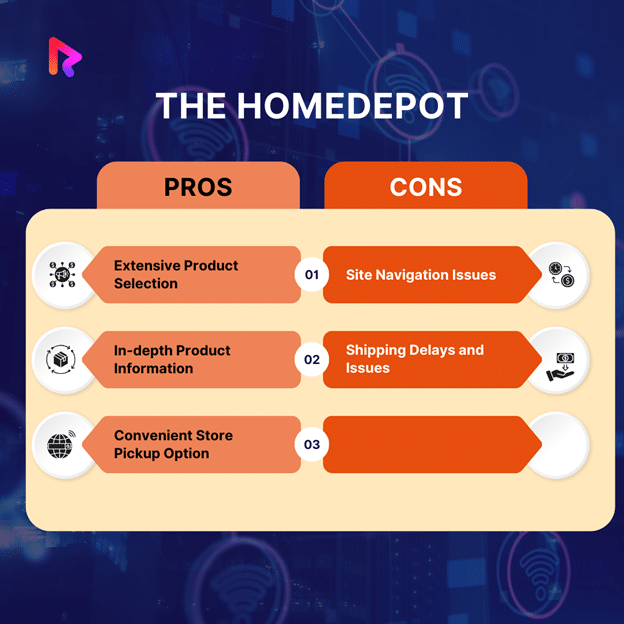 11. Alibaba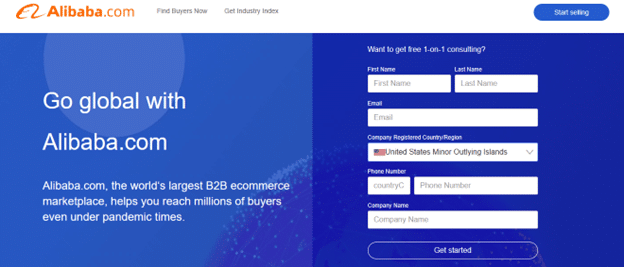 Credits: Alibaba Website
Founded in 1999, Alibaba has grown exponentially into one of the best ecommerce websites. It is known among the world's largest ecommerce platforms, especially for global wholesale trade.
What Can You Find Here?
Alibaba mainly caters to businesses. It offers products, from finished goods to raw materials, in almost every potential category. It's among the best ecommerce websites for sourcing products in bulk from manufacturers, especially from Asia.
Pros and Cons
Pros
Cost-Effective: Since many suppliers are wholesalers or manufacturers, the prices on Alibaba can be competitive. This offers an opportunity for businesses to purchase goods at a lower cost.
Trade Assurance: Alibaba's Trade Assurance protects customers by ensuring suppliers meet the contract terms. These terms include shipping deadlines and product quality.
Secure Payment Methods: Alibaba offers several safe payment methods, including telegraphic transfer, credit cards, and their secure Alipay system.
Supplier Verification: Alibaba has a verification system where third-party companies check and verify suppliers. This helps in distinguishing genuine suppliers from potential fraudsters.
Cons
Potential for Scams: Similar to all large platforms, Alibaba is not immune to scams. While the platform has measures to tackle this, buyers must remain vigilant, read reviews, and use Alibaba's secure payment methods.
Minimum Order Quantities: Many suppliers have MOQs, which means buyers might have to buy products in bulk. This might not be suitable for those looking for limited quantities.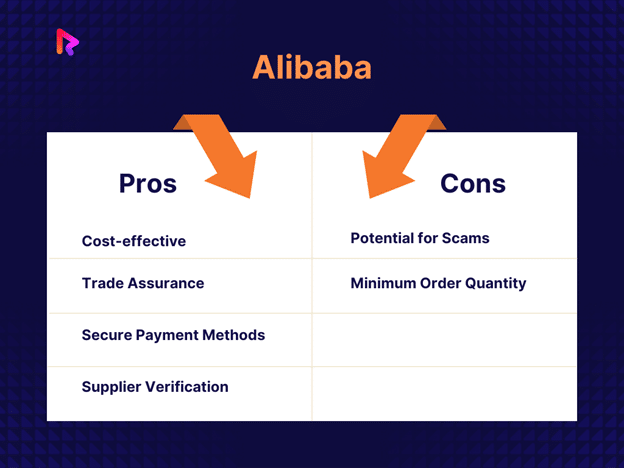 12. IKEA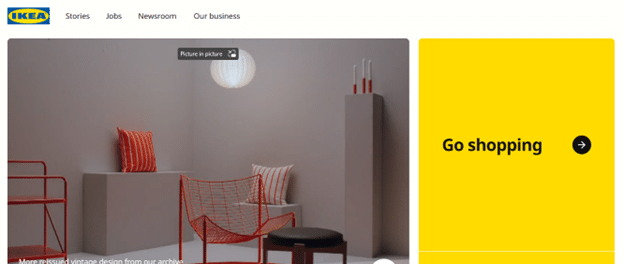 Credits: IKEA Website
Founded in Sweden, IKEA has carved out a niche as one of the world's most recognizable and cherished furniture brands. Over the years, its blue and yellow symbol has become synonymous with functional, modern, and reasonable home furnishing.
What Can You Find Here?
While IKEA started as a mail-order sales business, it became a global furniture pioneer. The brand offers a wide range of home accessories, including decor, lighting, cooking & eating, home textiles, pet accessories, storage & organization, gardening & plants, etc.
Pros and Cons
Pros
User-Friendly Interface: IKEA's ecommerce site is intuitive and easy to navigate. Products are well-categorized, and the efficient search function allows users to find what they want.
Extensive Online Catalogue: The website offers an expansive range of products, mirroring what's available in their physical stores. Users can access various items, from furniture to home accessories.
Detailed Product Information: Each product listing on the site provides detailed information, including dimensions, materials, assembly instructions, and customer reviews. This helps customers make informed decisions about their purchases.
Planning and Visualization Tools: The ecommerce site provides various planning tools for spaces like kitchens, offices, or wardrobes. Some regions also have access to the IKEA Place AR app, which allows users to visualize how a piece of furniture would look in their space.
Cons
Shipping Costs: One common gripe among customers is the shipping cost, especially for larger items. While the prices of IKEA products are generally affordable, the shipping fees can sometimes be a significant added expense.
Availability Issues: Sometimes, products in physical IKEA stores may not be in stock online, or certain items might be exclusive to specific regions. This can be a limitation for those relying solely on the ecommerce platform for shopping.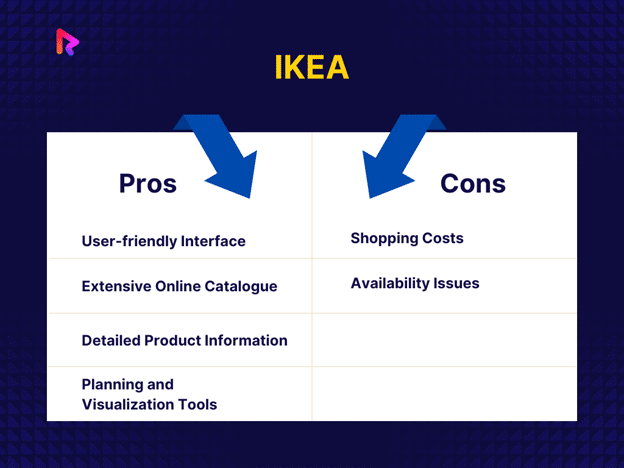 13. Zulu Longines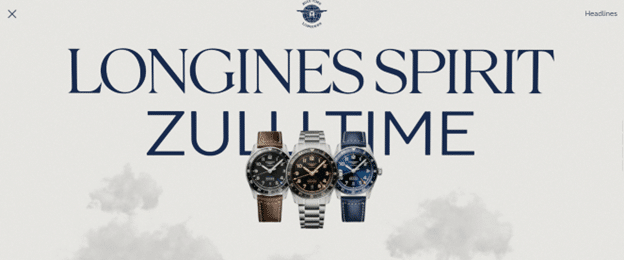 Credits: Zulu Longines Website
Zulu Longines is among the best ecommerce websites for luxury watches and accessories. Zulu Longines watches are Swiss-made and manufactured with the highest quality materials.
What Can You Find Here?
On the Zulu Longines ecommerce site, you will find a comprehensive collection of luxury men's and women's watches. The seller also displays a vast collection of accessories on their website, including straps and eyewear.
Pros and Cons
Pros
Scroll-triggered Animations: Visitors see moving objects, including the world map and planes, as they scroll through the Zulu Longines homepage. This enhances the user experience.
Personalized shopping via AI-driven recommendations: The ecommerce site leverages AI to offer personalized recommendations to users. This streamlines the shopping experience, allowing users to quickly find what they are looking for.
Exclusive Collections: Zulu Longines holds exclusive collections that watch collectors may not find elsewhere. This makes the ideal site for individuals looking for one-of-a-kind pieces.
Premium Quality Assurance: The ecommerce site prides itself on quality assurance. Customers can rest assured that they will receive premium-quality products.
Cons
Longer Shipping Times for Exclusive Items: Customers have reported a delay in shipping exclusive items. This can be a significant drawback for customers demanding swift delivery.
Higher Price Point: While Zulu Longines sells premium products, their prices can be slightly higher than other time-piece dealers.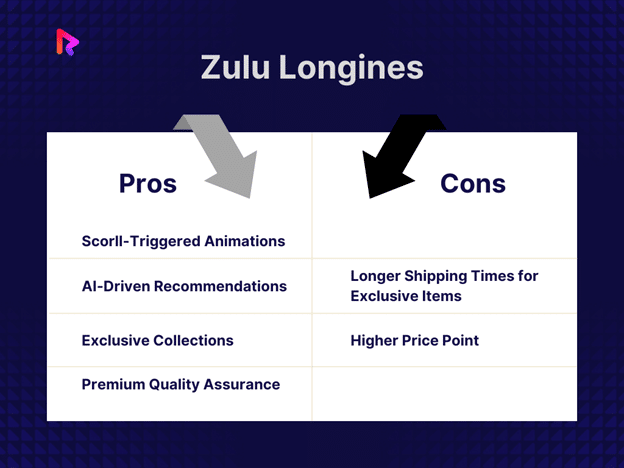 14. Europa Eyewear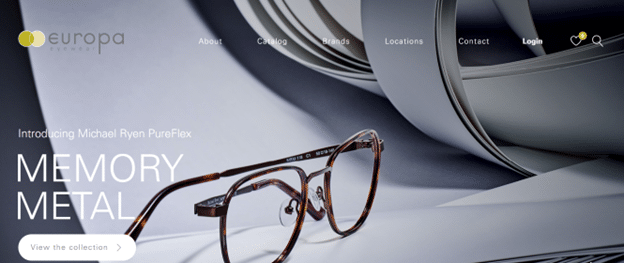 Credits: Europa Eyewear Website
Europa Eyewear has become a prominent name in the optical ecommerce landscape, offering a fusion of style and clarity.
What Can You Find Here?
Europa Eyewear features an extensive range of bespoke glasses and sunglasses. Whether you're looking for trendy frames, sunnies, or prescription eyewear that make a bold fashion statement, Europa Eyewear has everything you need.
Pros and Cons
Pros
Diverse Collection: Europa Eyewear's extensive assortment caters to all preferences and styles, from classic aviators to chic cat-eyes.
High-Quality Materials: All products displayed on the website are crafted using high-quality materials, ensuring durability and comfort.
Virtual Try-On: This feature allows customers to make informed decisions, reducing the hassle of returns and exchanges.
Prompt Customer Service: Prompt customer service agents ensure all queries and concerns are addressed timely, ensuring a smooth shopping experience.
Cons
Premium Pricing: Given the brand positioning and quality, some products might seem expensive to budget-conscious shoppers.
Limited Physical Presence: The lack of physical stores could be a major drawback for shoppers who prefer trying on glasses in person.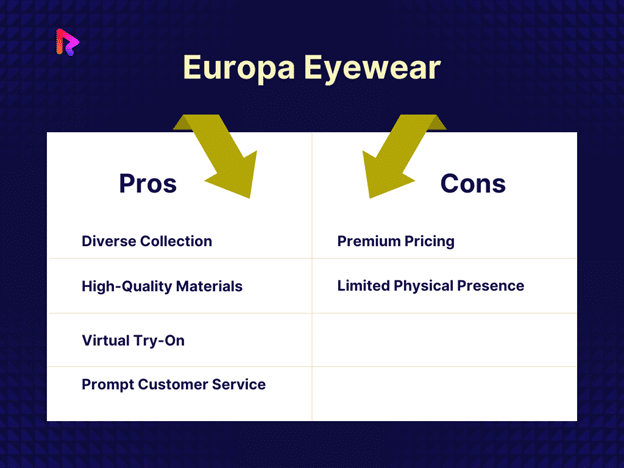 15. Zeuss

Credits: Zeuss Website
Zeuss is a well-known seller of personalized weight loss, skin, and hair care treatments. It ranks among the best ecommerce websites for individuals seeking personalized self-care treatments.
What Can You Find Here?
Visitors will find two dedicated sections for both males and females on Zeuss. Both sections feature three categories, including body, skin, and hair. Each category includes information on different personalized treatment plans.
Pros and Cons
Pros
Personalized Prescriptions: Zeuss offers personalized skin, hair, and weight loss treatments. Each pricing plan differs, with most plans featuring an expert consultation. This is ideal for individuals seeking something more than competitors' standard treatments.
Expert Consultations: Customers can access online consultations with skincare, haircare, and weight loss experts to tailor their product choices.
Transparent Ingredients: Zeuss fully discloses product ingredients and ensures customers know exactly what they're ingesting or applying to their skin or hair.
Cons
High Pricing: Since Zeuss offers personalized skin, hair care, and weight loss plans, their products come at a steeper price than mainstream brands.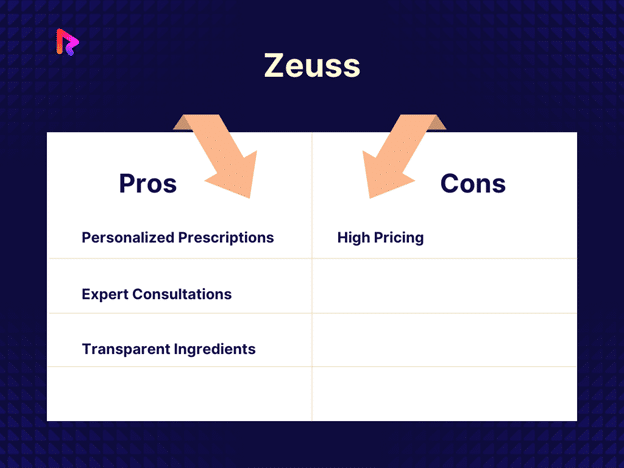 16. Black Star Pastry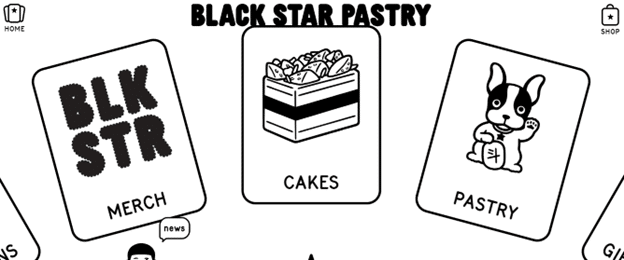 Credits: Black Star Pastry
Black Star Pastry is among the best ecommerce websites known for its unique and visually appealing cakes. It has ventured into the online world to bring delicacies to customers' doorsteps.
What Can You Find Here?
You will find a variety of sweet delicacies at Black Star Pastry, including cakes, pastries, drinks, and other specials. The website also sells merch and gift cards.
Pros and Cons
Pros
Convenience: Customers no longer need to visit the store in person. They can browse and order their favorite desserts from the comfort of their homes.
Broader Audience Reach: People from areas without a physical Black Star Pastry location can now enjoy their offerings.
Scheduled Deliveries: Ideal for planning. Customers can schedule their orders in advance, Whether for a birthday, anniversary, or celebration.
Detailed Product Descriptions: The online platform can provide customers with detailed ingredient lists, nutritional information, and serving suggestions.
Cons
Taste Expectations: Some customers may find the product doesn't meet their taste or appearance expectations without the chance to sample or see in person.
Delivery Challenges: Delicate pastries can be damaged in transit, potentially affecting the presentation and quality of the product.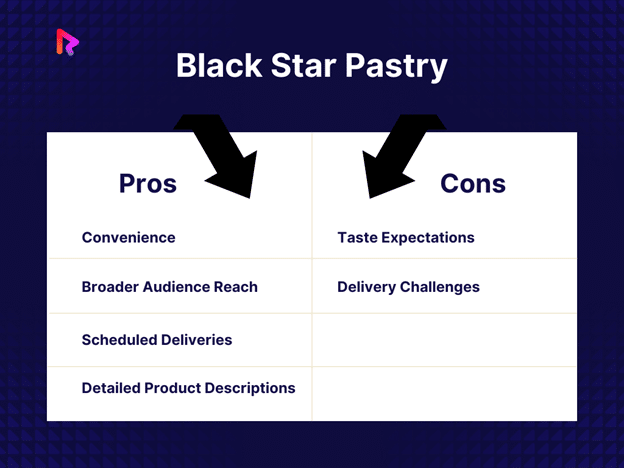 17. Crate & Barrel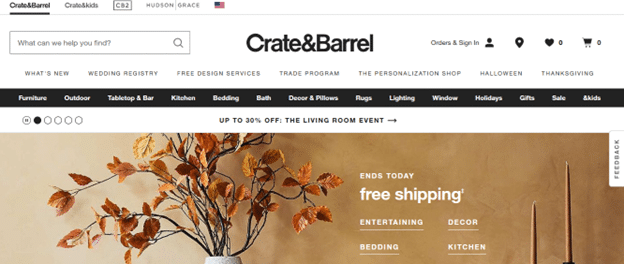 Crate & Barrel stands out among the best ecommerce websites for interior designers, homeowners, and everyday consumers. Founded in 1962, this American chain of retail stores has expanded its offerings from physical stores to an online platform.
What Can You Find Here?
Crate & Barrel offers an extensive collection of home furnishings divided into different categories on their website. The categories include everything from indoor and outdoor furniture, bedding, lighting, and windows to decor & pillows, tabletop, and bar-related goods.
Pros and Cons
Pros
Quality and Durability: Crate & Barrel is known for its premium products. Customers can expect durability and longevity, whether it's a tabletop or a glassware set.
Unique Designs: The brand frequently collaborates with renowned designers and artisans, offering unique pieces that can't be found elsewhere.
Eco-Friendly Options: Crate & Barrel has focused on sustainability, offering eco-friendly products and ensuring responsible sourcing.
Comprehensive Collections: Beyond individual pieces, they offer entire collections for rooms, allowing customers to achieve a cohesive look.
Cons
Premium Pricing: Crate & Barrels products might be on the pricier side compared to competitors. This might be a major drawback for consumers seeking affordable home furnishings.
Stock and Availability: Popular items can sometimes be out of stock, and there can be extended wait times for certain pieces, especially custom furniture.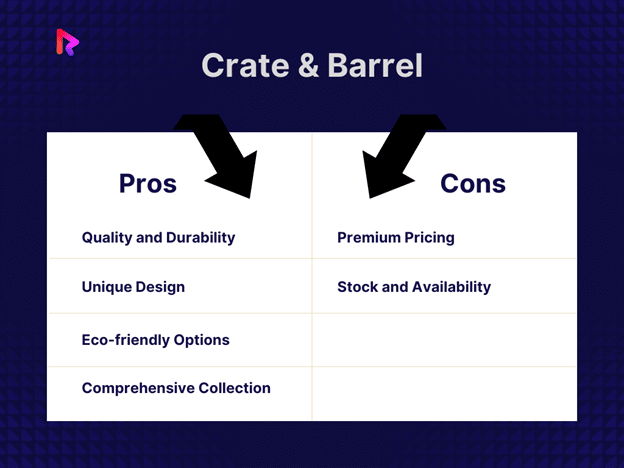 18. Nike

Credits: Nike Website
Nike has transformed from a small shoe company – established in 1964 – to a global shoe brand that symbolizes motivation, athleticism, and the relentless pursuit of excellence. Besides selling its products in stores, the shoe retailer began offering them online in 1999.
What Can You Find Here?
Nike is known for its flagship athletic shoes, spanning the categories of running shoes to trendy streetwear, professional athletic gear, and even digital wearables. The brand continuously expands its horizon to cater to professional athletes, sports lovers, and everyday wearers.
Pros and Cons
Pros
High-quality, Durable Products: Nike has built its reputation on the back of products that don't just look good but stand the test of time. Their shoes are high-quality and durable, offering value for money.
Regular Releases of Limited-Edition Items: Nike is the go-to store for sneakerheads, with frequent drops of exclusive and limited-run items. Collectors will frequently find limited edition items in the store.
Customizable Options for Various Products: With the Nike By You platform, customers can personalize various products, tailoring them to their color and style preferences.
Extensive Sports-Specific Gear: Nike caters to a wide range of sports, from basketball to soccer, offering specialized gear tailored for performance in each.
Cons
Premium Pricing: Nike's top-tier products and limited editions come with a hefty price tag that might not be accessible to everyone.
Sizing Inconsistencies: Depending on the product line or category, customers sometimes find discrepancies in sizing when ordering online.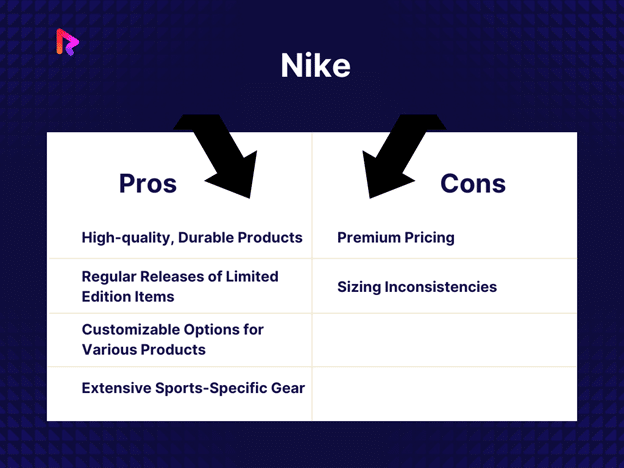 Also Read our 9 Point Checklist for Choosing Best WordPress Hosting Service.
19. Thesus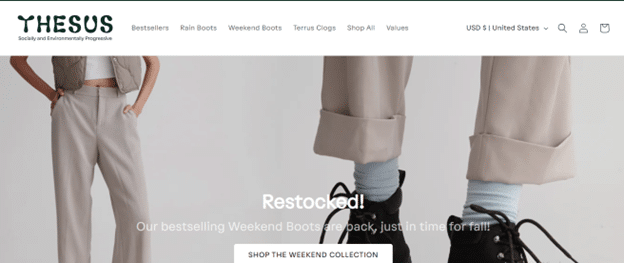 Credits: Thesus Website
Integrating commerce with conscience, Thesus transforms online shopping by putting sustainability and social responsibility at the forefront.
What Can You Find Here?
Thesus extends beyond an average ecommerce platform. Besides offering a range of products, it produces items based on ethical practices. Each product listing carries a detailed account of its environmental and social footprint.
Pros and Cons
Pros
Ethical Shopping: Thesus enables consumers to make informed purchases that align with their values, promoting sustainability and fair trade.
Transparency: The website features detailed product descriptions to ensure customers are well-informed about their purchases' impact on the environment and society.
Wide Range: Despite being an ethical marketplace, there's no compromise on variety. Thesus offers a wide range of footwear across different categories.
Community Initiatives: A percentage of the profits from sales often goes back to community projects, further emphasizing their commitment to positive change.
Cons
Availability: Given the niche nature of the platform, some products might be available in limited quantities.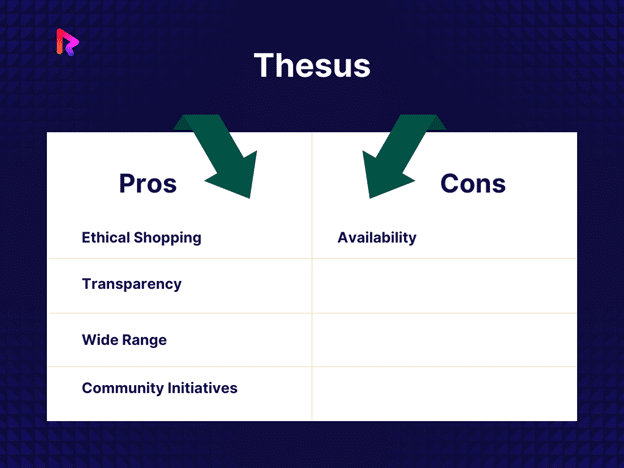 20. AliExpress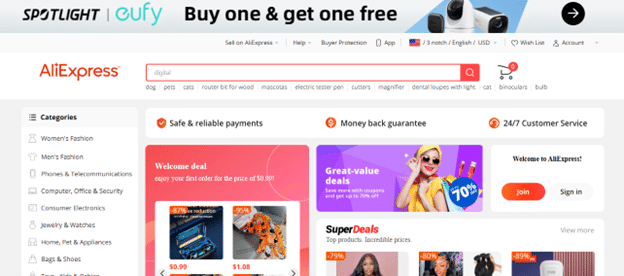 Credits: AliExpress Website
Stemming from China's ecommerce giant, Alibaba Group, AliExpress has expanded its reach globally, becoming one of the best ecommerce websites for online shoppers seeking variety and value. The platform features an extensive range of products from international sellers and manufacturers.
What Can You Find Here?
AliExpress features products spanning a vast range of categories. Whether it is the latest tech gadgets, fashion items, home decor gems, or industrial parts you are looking for, this marketplace has everything you need.
Its model allows sellers from diverse backgrounds to list their products, ensuring a continuously changing catalog that taps into global trends and niche interests.
Pros and Cons
Pros
Everything for Everyone: AliExpress offers various products across countless categories, from fashion to electronics, home goods, and more. This allows it to cater to the needs of almost every visitor.
Competitive Pricing: Many products are available at lower prices than on other platforms, often because you buy directly from manufacturers or wholesalers.
Buyer Protection: AliExpress has a system to protect buyers. This includes refunds for products that are not received or not as described.
Global Shipping: The platform caters to customers worldwide, offering various shipping options, including free shipping for many items.
Cons
Shipping Times: Due to the global nature of the platform, shipping can sometimes be lengthy, especially for users opting for non-premium shipping options.
Quality Inconsistency: Given the many sellers, product quality can be hit or miss. It's essential to check reviews and seller ratings before purchasing any product.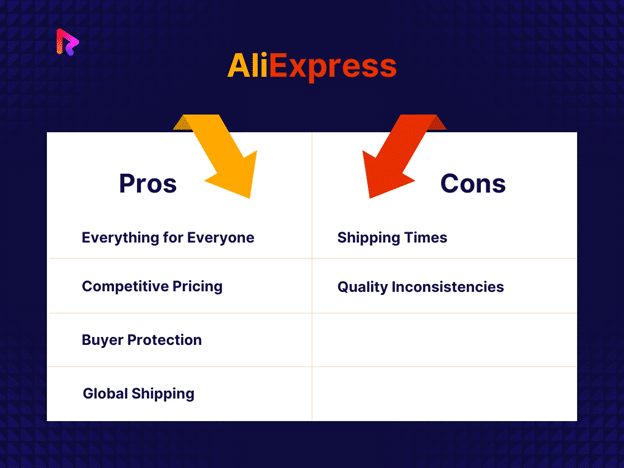 Final Thoughts – Best Ecommerce Websites
As ecommerce continues its unwavering growth, staying updated with the top platforms becomes essential for consumers and businesses. The 20 best ecommerce websites discussed above display the diversity and strength of online marketplaces and set the benchmark for innovation, user experience, and product variety.
Choosing a robust web hosting service provider is crucial for businesses inspired to create or improve their online presence. RedSwitches offers tailored hosting solutions to meet the demands of the constantly evolving ecommerce realm. Here are a few other reasons why you should choose RedSwitches as your go-to Hosting Service Provider:
Quick Start:

Servers are set up on the same day.
Standard servers are ready within 4-8 hours, regardless of location.
Fast-tracked processes for specialized configurations.
24/7 Expert Support:

Round-the-clock professional assistance.
Communicate with skilled engineers anytime, from anywhere.
Powerful Hardware Options:

A range of robust CPUs available, including Intel's Quad-Core E-2274G and AMD's 64 Cores EPYC 7742P.
Suitable for diverse applications and varying workloads.
Continuous Monitoring:

24×7 system checks by proficient engineers.
Prompt resolution of hardware and software hitches.
Top-Tier Security Measures:

Routine virus scans and real-time system surveillance.
Advanced protection against DDoS attacks.
Global Server Locations:

Premium data centers are spread across Europe, USA, Australia, and Asia.
Ensure quick and consistent performance for demanding applications.
Flexible Infrastructure:

Infrastructure options range from 2 to 100 servers.
Fully managed solutions to cater to rigorous workloads.
Clear and Consistent Pricing:

Fixed-cost options for primary servers.
Optimal CPU performance value compared to leading cloud hosting providers.
Comprehensive Managed Services:

In-house DevOps not required.
Free server management with all our offerings, backed by our team of expert engineers.
So what are you waiting for? Get in touch with us today to learn more.
FAQs
Q. Which eCommerce website is best?
Amazon ranks number one among the best ecommerce websites. It is one of the world's largest ecommerce platforms, selling a wide range of products.
Q. What is the biggest eCommerce platform?
Amazon is the biggest ecommerce platform. On average, users spend approximately 00:07:01 minutes on the website, viewing over 9.52 pages per visit.
Q. Is Shopify the best eCommerce platform?
Shopify is one of the leading ecommerce platforms praised for its user-friendly interface, wide range of features, and scalability. Although many consider it the best due to these features, ease of setup, and comprehensive support system, the 'best' ecommerce website often depends on the specific needs and preferences of the user.
Q. Which country is no 1 in eCommerce?
China is number one in ecommerce. It boasts a total online sales volume of $1,538 billion in 2022, holding 26.07% of the worldwide ecommerce market share.
Q. What business can I start online?
You can start any business online, from subscription boxes and freelance services to selling digital products like software, e-books, or courses.