In an age where digital boundaries are dissolving, the global reach of websites has become more crucial than ever. Every site owner aims to communicate effortlessly with a diverse audience, transcending language barriers.
Central to this mission is finding the best WordPress translation plugin. With the web hosting market's revenue set to skyrocket, projecting a remarkable 22.55% growth rate by 2028, amassing a volume of US$345.00bn, leveraging such a plugin is no longer just an option—it's a necessity.
As you navigate through this article, we'll demystify the realm of WordPress translation plugins, ensuring you select a tool that resonates with your site's essence and seamlessly captures the nuances of global dialects.
Dive in and discover the power of genuine linguistic connection!
Table of Contents
What Is a Translation Plugin?
In the vast and diverse realm of the digital world, a translation plugin connects different cultures, languages, and communities. At its core, a translation plugin is a software tool integrated into a website to translate its content into multiple languages automatically or semi-automatically. This innovative tool uses either machine translation, human translation, or a blend of both to render web content into various languages, making it accessible and comprehensible for a global audience.
Why Use a WordPress Translation Plugin?

Expanding Global Reach
Businesses, bloggers, and educators aspire to engage with a global audience in today's interconnected world. A translation WordPress plugin ensures that language barriers don't hinder this engagement, allowing content to resonate with readers from different linguistic backgrounds.
Enhanced User Experience
Imagine a Spanish-speaking visitor landing on an English-centric website and instantly seeing a version tailored to their language preference. With a WordPress translate plugin, you offer an enriched, personalized user experience, increasing the likelihood of prolonged site visits and engagement.
SEO Benefits
A multilingual website stands a better chance at ranking in search engines for non-English queries. A WordPress multiple-language plugin ensures that each translated version of your website is indexed by search engines, amplifying your global SEO strategy.
Economical and Efficient
Hiring professional translators can be costly, especially for extensive websites. A multi language WordPress plugin offers a cost-effective alternative, providing rapid translations without the hefty price tag of professional services.
Competitive Edge
In a digital marketplace where businesses vie for attention, offering content in a reader's native language can give you a distinct advantage. It highlights your brand's commitment to inclusivity and global outreach.
In conclusion, as the digital landscape becomes increasingly global, the importance of translation tools cannot be overstated. Choosing the right WordPress multiple language plugin is not just about breaking language barriers but building bridges of understanding, trust, and engagement in a multilingual world.
A robust hosting infrastructure is essential to bolster your online presence in this global arena. Check out RedSwitches' dedicated server hosting solutions
Best WordPress Multilingual Plugins for 2024
The digital age has ushered in many advancements, and among these, the ability to communicate seamlessly across linguistic borders stands out. As we venture into 2023, the demand for multilingual websites continues to surge. Businesses, bloggers, and webmasters strive to cater to a global audience, making the role of translation tools paramount.
Whether you want to expand your brand's reach, enhance user engagement, or simply offer content in multiple languages, the right WordPress translation plugin can be your linchpin to success. But with many options available, which WordPress plugin for multiple languages should you invest in this year? This section deepens into the top contenders, helping you decide on your multilingual aspirations. Let's explore the pinnacle of translation solutions for WordPress, ensuring your content resonates globally.
1. TranslatePress
Credit: TranslatePress
In the evolving digital landscape of 2023, ensuring your website communicates effectively across linguistic boundaries is no longer optional but essential. Enter TranslatePress, heralded as one of the best translation plugin WordPress solutions available today.
Key Feature
Visual Translation Interface: One of TranslatePress's standout features is its intuitive front-end visual translation interface. This means you can see the changes in real-time, making the translation process more user-friendly. It seamlessly translates entire pages, encompassing outputs from shortcodes, forms, and even intricate page builders.
Automatic Translation: TranslatePress integrates with Google Translate and DeepL for automated translation. You can instantly auto-translate and then manually refine the content to ensure accuracy.
SEO-Friendly: With TranslatePress, your multilingual content is optimized for search engines, ensuring content ranks appropriately in multiple languages.
Language Support: The plugin supports an impressive roster of 132 languages, catering to almost every region worldwide.
Dynamic Strings Support: TranslatePress is designed to fully support dynamic strings (gettext) frequently added by WordPress, plugins, and themes.
Image Translation: A unique feature where users can translate images directly from the translation interface. This ensures different images can be shown for different language versions of a website.
Customizable Language Switcher: Tailor the language switcher to match your site's aesthetics or functional needs.
GPL & Self-hosted: This means you retain ownership of your translations indefinitely.
Pricing
TranslatePress offers three tiered plans:
Personal Plan: Priced at €7.99/month (billed at €89/year), this plan is optimal for individual sites.
Business Plan: At €13.99/month (billed at €169/year), this is tailored for businesses managing up to three sites.
Developer Plan: Best suited for developers at €22.99/month (billed at €269/year), it offers support for unlimited sites.
All the plans come with a 15-day money-back guarantee and are billed annually with an auto-renewal feature. Subscriptions can be canceled anytime. Importantly, your site retains all its functionalities even after the license expires.
Dive into our comprehensive guide on "Understanding the different Types of Web Hosting Services" to ensure your multilingual site performs at its peak.
2. WPML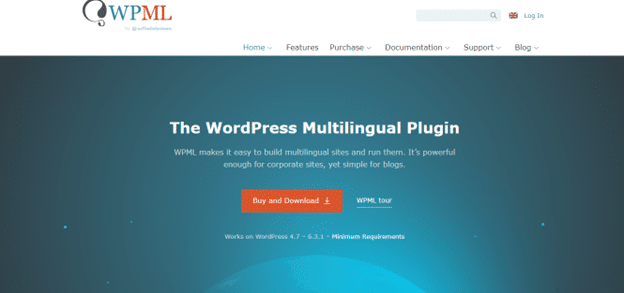 Credit:WPML
If you're navigating the vast seas of the best WordPress translation plugins, WPML is a beacon, a comprehensive solution for every multilingual endeavor.
Key Feature
Able to Integrate With Every Theme or Plugin: WPML stands out for its unparalleled compatibility. Unlike other plugins, WPML can flawlessly integrate with every theme or plugin that uses the WordPress API. This unmatched adaptability ensures that users can leverage WPML with any chosen themes or plugins without agonizing over potential compatibility issues. This is further backed by full support from WPML's team, ensuring timely website delivery without hitches.
Comprehensive Translation: WPML not only allows for the translation of pages and posts but extends its capabilities to custom types, taxonomy, menus, and even theme-specific texts.
Automatic Translation: Users can automatically translate their entire site through renowned services such as Google, DeepL, or Microsoft, with a promising accuracy rate of around 90%.
Centralized Control: WPML offers a unified dashboard where users can decide on the content to be translated, select translators, and specify target languages.
Multilingual SEO Capabilities: WPML prioritizes multilingual SEO, giving users absolute control over URL structures, allowing them to set SEO meta information for translations, aptly link translations, and ensure sitemaps incorporate the right pages.
Extensive Compatibility: Works harmoniously with popular themes, plugins, and page builders, making it a favorite among developers and site authors.
Pricing
WPML's pricing is structured to cater to different needs:
Multilingual Blog: Tailored for WordPress blogs with multilingual aspirations, priced at €39.
Multilingual CMS: A complete solution for multilingual WordPress sites at €99.
Multilingual Agency: Crafted for agencies envisioning multiple multilingual sites, available at €199.
All the mentioned pricing plans come with the assurance of full support, free updates spanning a year, and a customer-friendly 30-day money-back guarantee.
Got your site translated but want to delve deeper into website fundamentals? Don't miss our enlightening article, "What Is a Website? Explore Its 4 Components.
3. Polylang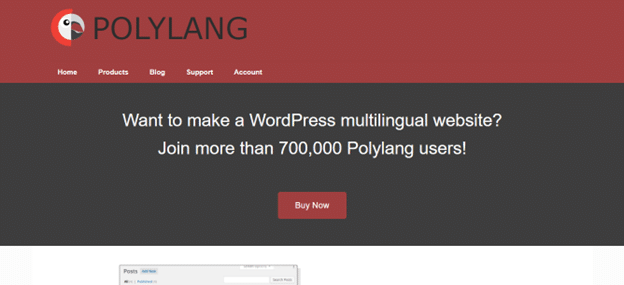 Credit: Polylang
With the rise of globalization, offering content in multiple languages has become paramount. Among the gamut of translation plugins available for WordPress, Polylang shines brightly, catering to those who seek a comprehensive solution for creating multilingual websites.
Key Feature
Flexible Language Integration: Polylang is integrated seamlessly with WordPress, utilizing its built-in core features. This ensures not only stability but also efficient performance for your website. Moreover, with Polylang, you can feature from just a single extra language to an impressive ten or more, tailoring to diverse user needs.
Translate an array of elements, From posts, pages, and media to categories, post tags, and custom post types.
Dynamic Language Settings: Set language through the URL's language code or employ distinct sub-domains or domains per language.
RTL Scripts & RSS Feeds: Comprehensive support ensuring a wide reach.
No Automated Translations: Polylang values quality over automation, ensuring translations retain the original message's authenticity.
Pricing
Polylang provides a diverse range of packages tailored to different needs:
Polylang Business Pack: Harness the prowess of Polylang Pro to set up a multilingual WooCommerce shop. This package is priced starting at 139.00€.
Polylang for WooCommerce: Specifically designed to make WooCommerce multilingual, this option is available starting at 99.00€.
Polylang Pro: For those seeking a comprehensive solution, Polylang Pro combines the best Polylang with additional features and premium support. It's available starting at 99.00€.
Polylang: Recognized as the most popular multilingual plugin on the WordPress repository, Polylang offers many remarkable features without any costs.
Choose the package that aligns best with your requirements and elevate your website's multilingual capabilities.
In summary, if you're scouting for the best translation plugin WordPress offers, Polylang's blend of simplicity, flexibility, and comprehensive features makes it a top contender in the best multilingual plugin WordPress sphere. Choose Polylang and bridge the language gap effortlessly.
4. Weglot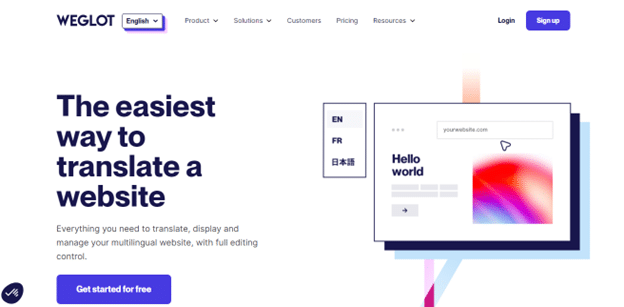 Credit: Weglot
In the fast-paced digital world, presenting content in multiple languages is paramount. Weglot emerges as a top contender in the realm of the best translation plugin WordPress users can utilize. By streamlining the translation process and providing a user-friendly interface, Weglot makes website localization an efficient endeavor.
Key Feature
Seamless Integration: One of the standout features of Weglot is its adaptability. Regardless of your CMS, web tools, or technologies, integrating Weglot is a breeze, requiring no intricate development steps.
Automatic Content Detection: Say goodbye to tedious manual translation. Weglot's powerful system instantly scans, detects, and translates text, images, and SEO metadata.
Collaborative Translation Dashboard: A centralized dashboard where you can manage translations, assign tasks to translators, or even order professional translation services.
Proven Impact: Trust in numbers; users have experienced an impressive 400% spike in traffic and a 20% hike in conversion rates with Weglot.
Versatility: Weglot isn't just another free translation plugin WordPress provides; it's a comprehensive solution compatible with numerous CMSs and web tools.
Pricing
Weglot has crafted its pricing tiers considering varied needs:
Free Carbon Footprint Plan: Ideal for starters, allowing translations for up to 2,000 words in a single language.
Starter: Priced at €99/year, you can translate up to 10,000 words in one language.
Business: At €190/year, translate up to 50,000 words across three languages.
Pro: For €490/year, enjoy translations for up to 200,000 words in five languages.
Advanced & Extended: For businesses aiming higher, these plans, priced at €299/month and €699/month, respectively, cater to extensive translation needs, with word limits of 1,000,000 and 5,000,000.
Weglot's commitment to providing an efficient and comprehensive translation solution makes it the best WordPress language translation plugin for many users, whether looking for a free starter package or an expansive enterprise solution.
Maximizing your translated site's performance? After choosing the best WordPress translation plugin, ensure your site runs seamlessly with optimal server specs. Dive into our comprehensive article, "How To Pick the Right Dedicated Server Specs [Ultimate Guide].
5. MultilingualPress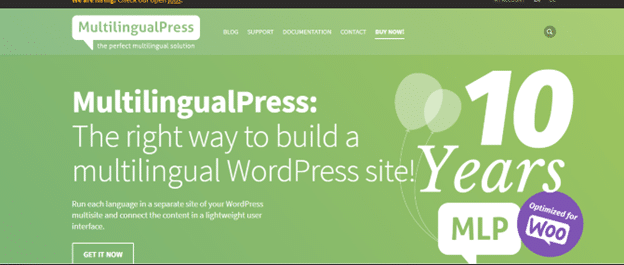 Credit: Multilingual Press
In the ever-evolving digital landscape, having a multilingual website has become a necessity rather than a luxury. Catering to a global audience requires tools that seamlessly integrate multiple languages, ensuring content remains consistent and comprehensible across all versions. MultilingualPress rises to the challenge, making it a contender for the best translation plugin WordPress enthusiasts recommend.
Key Feature
Performance-Driven Architecture: One of the standout features of MultilingualPress is its ability to deliver multilingual content without any performance drop. Unlike other WordPress translation plugins, it ensures that only the necessary language or content version is loaded for a site, eliminating unnecessary overhead and guaranteeing speedy page loads.
Efficient Translation Management: MultilingualPress allows each language to run on a distinct site within a WordPress multisite setup, and its intuitive user interface facilitates easy content linking and management.
Automatic Translation: With WP Auto Translate, content translation is streamlined, offering both efficiency and consistency.
Compatibility: Whether it's the widely-used Advanced Custom Fields Plugin or WooCommerce, MultilingualPress ensures smooth integration and operation.
Data Security: A unique fault tolerance feature is built into the plugin, ensuring data preservation even when prior post versions are deleted.
Pricing
MultilingualPress is the best WordPress translation plugin that offers a versatile pricing structure to cater to different needs:
Standard: At $99.00 (including VAT), it supports up to 3 languages, is suitable for a single multisite, and comes with a year's worth of updates and premium support.
Pro: Priced at $299.00 (including VAT), this plan caters to larger sites, supporting up to 6 languages and 3 multisites, with annual updates and premium support.
Agency: The Agency plan is available for the heavy hitters at $599.00 (including VAT). It offers support for a whopping 18 languages, can be used across 9 multisites, and, like the other plans, comes with a year of updates and top-tier support.
MultilingualPress offers a compelling mix of features and performance that's hard to beat for those looking for the best WordPress translation plugins.
6. Translate WordPress with GTranslate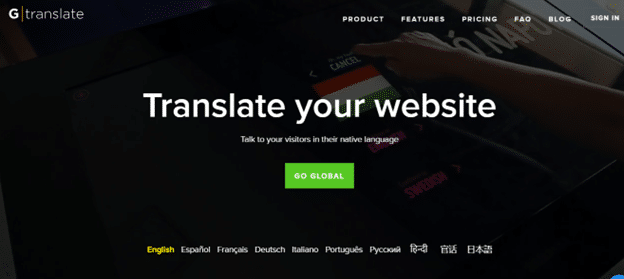 Credit: Gtranslate
Navigating the vast realm of website translation can be daunting, but GTranslate effortlessly claims the title as the best WordPress translation plugin enthusiasts can rely upon. Established in 2008, GTranslate has continuously refined its offerings to adapt to the ever-evolving digital landscape.
Key Feature
Google-Backed Translation Engine: GTranslate harnesses the power of Google Translate's automatic translation service, making WordPress sites multilingual. With a staggering 103 languages at your disposal, it ensures that your website resonates with over 99% of the internet populace.
Versatile Translation Modes: While Google's machine translation is a hallmark feature, GTranslate doesn't solely depend on it. The plugin hides Google's top frame post-translation, provides real-time website translation, handles post and page translations, and even handles themes and plugin translations. Its compatibility extends to WooCommerce, ensuring online shops don't miss out on global customers.
Advanced Functionality for Premium Users: The paid version brings multilingual SEO to the forefront for those looking for a more robust solution. It introduces neural machine translations, exuding near human-like translation quality. Integration with Yoast SEO, URL translations, and manual corrections in translations further bolster its credentials as a top WordPress plugin language
Pricing
GTranslate's pricing model caters to various needs:
Startup Plan: At a monthly rate of $19.99, this plan covers essential features such as neural translation and search engine indexing.
Business Plan: Priced at $29.99 monthly, it builds upon the Startup's offerings with URL translation.
Enterprise Plan: For a monthly $39.99, users benefit from all previous features,
complemented by custom domains and manual translation edits.
In an ocean of multi-language plugin WordPress options, GTranslate has successfully anchored itself as a reliable, efficient, and comprehensive solution for global outreach.
7. Multilanguage Translation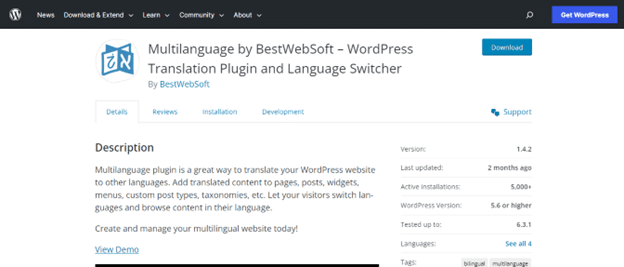 Credit: Multilanguage Translation
In the realm of website localization, the WordPress translation plugin market is crowded, yet Multilanguage stands out as an impeccable solution tailored for those with pre-translated content. Rather than being a generic tool, Multilanguage facilitates an intuitive integration of user-provided translations, making it exceptionally resourceful for businesses and individuals alike.
Key Feature
User-Centric Design for Custom Translations: While Multilanguage does extend support for Google's automatic translations, its true prowess lies in seamlessly incorporating user-provided translations. Be it for posts, pages, categories, menus, or tags, the plugin simplifies integrating custom translations, ensuring precision and authenticity.
Editor Compatibility: Multilanguage is compatible with Gutenberg and the Classic Editor, ensuring a seamless editing experience.
Customizable Language Switcher: Tailor the language switcher to match your website's aesthetics.
Optimal Search Functionality: Empowers users to perform website searches in their preferred translated language.
Localized Admin Dashboard: Transforms the WordPress admin dashboard, offering a localized experience.
Pro Features: The Pro version augments the plugin's capabilities for those pursuing advanced functionalities. This includes translation for WordPress taxonomies, compatibility with page builders, adaptability for custom fields, and the ability to modify language slug positions.
Pricing
Affordability meets functionality with Multilanguage. The base version is free, serving the foundational translation needs. The Pro upgrade is available for advanced users and businesses, starting at a modest $43 annually, presenting a suite of enhanced features for comprehensive website localization.
In conclusion, Multilanguage is not just another WordPress translation plugin. It is a meticulously crafted solution, emphasizing user-specific translations and ensuring it is a WordPress localization plugin.
8. Google Website Translator
Credit: Google Website Translator
Navigating the myriad options in the WordPress translation plugin realm can be daunting. Here's a deep dive into the Google Website Translator by Prisna, an open-source software designed to make your website speak multiple languages seamlessly.
Key Feature
User-friendly and Efficient: Google Website Translator stands out for its straightforwardness. Thanks to its integration with Google Translate, users can effortlessly implement it to translate their website's content into over 100 languages automatically.
No Word Limitations: This one offers unlimited translations, unlike plugins that cap word count.
Performance-Centric: It's not just about translations; website performance is paramount. Being lightweight, the plugin ensures your website's speed remains unhampered.
Google Translate API: Capitalizing on the robustness of Google's technology, it employs the Google Translate API for accurate translations.
Customizable Language Switcher: With the option to choose which languages appear, users can display the language switcher via a sidebar widget or an inline shortcode.
Selective Translation with Shortcode: The shortcode feature is a boon for webmasters who don't want their entire site translated. It allows machine translations for designated pages.
Pricing
The best things in life are free, they say. The Google Website Translator resonates with this, offering its comprehensive features at no cost.
In conclusion, while the Google Website Translator by Prisna packs a punch in many areas, potential users must weigh its pros against its limitations, especially if SEO is a primary concern. However, for those seeking a simple, no-cost solution, it is a worthy contender in the free WordPress translate plugin arena.
9. Google Language Translator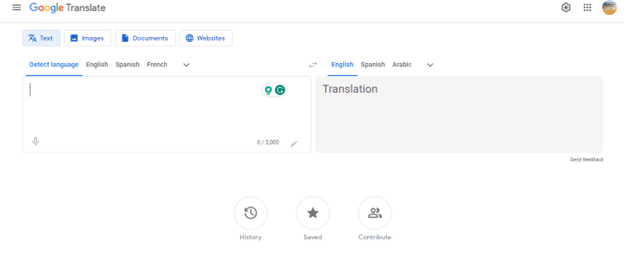 Credit: Google
In the ever-growing realm of WordPress translation plugins, the Google Language Translator stands out as effective and efficient. Developed by Prisna, this open-source software caters to a broad audience looking to transform their websites into multilingual platforms without hassle.
Key Feature
Automatic Content Translation: Its seamless integration with Google Translate's automatic translation service sets this plugin apart. Once installed, it can instantly translate your site's content, theme defaults, and other plugins, ensuring accessibility to a global audience.
Extensive Language Support: With over 100 languages, the plugin ensures your content reaches over 99% of internet users.
Widget and Shortcode Utility: Whether you prefer a sidebar widget or embedding translations using a short code, Google Language Translator has you covered.
Lightweight Design: Recognizing the importance of site speed, the plugin is designed to be lightweight, ensuring that adding translations doesn't bog down your site.
Search in Translated Language: The plugin translates content and ensures the website search function operates in the chosen translated language.
Pricing
The allure of the Google Language Translator lies in its affordability. The plugin can be freely accessed and utilized. However, for those looking to expand its capabilities, there's a premium license available for a one-time fee of $50. This investment unlocks additional features, ensuring an enhanced user experience.
In conclusion, the Google Language Translator encapsulates what every WordPress translation plugin should aim for – simplicity, efficiency, and comprehensiveness. Its features, combined with its affordability, make it an ideal choice for website owners.
10. Loco Translate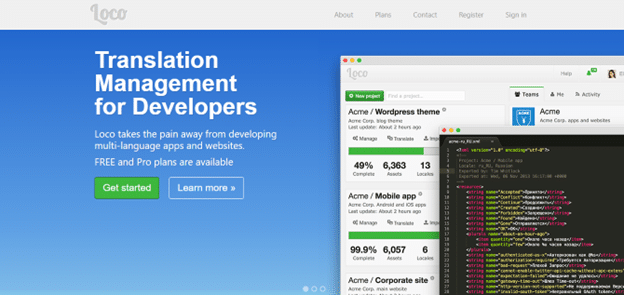 Credit: Loco
Amidst a sea of WordPress translation plugins, Loco Translate emerges as a powerful and user-friendly solution. Let's explore its features, functionality, and how it stands out.
Key Feature
In-Browser Editing: The standout feature of Loco Translate is its ability to let users edit WordPress translation files directly within the browser. This means no hassles with downloading, editing offline and re-uploading.
Developer Tools: Loco Translate is not just for site owners. It offers Gettext/localization tools, aiding developers in extracting strings and generating templates.
Built-in Translation Editor: Say goodbye to third-party tools. With Loco Translate, you can directly edit translations from the WordPress admin dashboard.
Integration with Translation APIs: To aid in more accurate translations, Loco supports integration with well-known services like DeepL, Google, and more.
Comprehensive PO Features: From comments and references to plural forms, the plugin has robust support for PO functionalities, complemented by a source view with clickable code references.
Pricing
Budget-friendly and flexible – Loco Translate is free for primary use, with up to 2,000 translations. For those seeking more advanced features:
Pro Version: Priced at $5.95/month, it offers unlimited translations, advanced role management, and the luxury of machine translation.
Business & Agency Plans: Tailored for more significant needs, these are priced at $19.95/month and $29.95/month, respectively, adding features like unlimited translators and full API integrations.
Automatic Translate Addon: An enticing offer for those specifically looking for auto-translations, it's priced at $29.00/year for one website. Plus, there's a limited-time 10% discount on lifetime licenses.
Loco Translate might be ideal for those searching for an efficient and comprehensive WordPress translation plugin. Whether you're a developer or a website owner, its range of features promises to cater to all your translation needs.
11. Lingotek Translation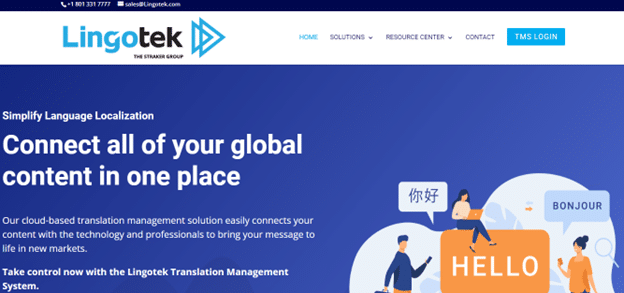 Credit: Lingotek Translation
In today's globalized digital age, ensuring your website speaks to a diverse audience is paramount. Enter Lingotek, a leading WordPress translation plugin that offers an integrated solution for creating and managing a multilingual site.
Key Features
Automatic Translation with Microsoft: One of the highlights of Lingotek is its automatic translation capability, powered by the commercial API for Microsoft Translator. This ensures that your content is not just translated but done so with accuracy and context in mind.
Lingotek Workbench: Beyond merely translating, Lingotek grants you control over the translation process. With a limit of 20,000 processed words, users can upload content to the Lingotek system and edit it at any point using the intuitive Lingotek Workbench.
Integrated Translator Community: You no longer need to scour the internet for reliable translators. Lingotek offers a direct connection to a thriving translator community. Whether hiring a professional or a bilingual employee, all can be managed directly from your WordPress dashboard.
Automated File Transfer: The strength of Lingotek lies in its seamless integration. The plugin automates the file transfer between your WordPress site and the Lingotek community, ensuring no content is lost in translation.
Transparent Process: With Lingotek, you're never in the dark about the translation progress. The transparent process allows you to monitor every step from initiation to completion.
Pricing
The icing on the cake? Lingotek is entirely free! This ensures that quality translation services are accessible to everyone, from individual bloggers to large corporations.
In essence, Lingotek offers a holistic approach to website translation. Its comprehensive features and ease of use make it a must-have for anyone looking to make their WordPress website truly global.
12. Lokalise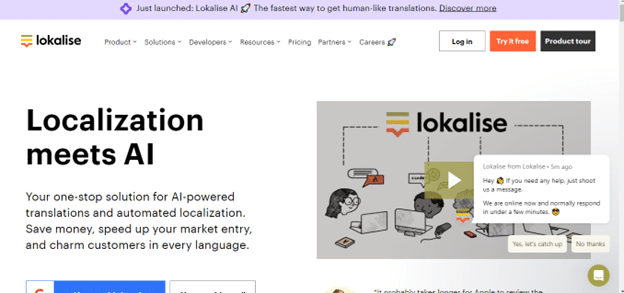 Credit: Lokalise
In an era where agility in product development is pivotal, Lokalise emerges as a premier WordPress translation plugin, facilitating businesses to create globally resonant products easily and precisely.
Key Features
AI-Powered Translations: At its core, Lokalise leverages advanced AI to ensure context-aware translations that are accurate and aligned with the nuances of the target audience.
Collaborative Workspace: The platform fosters teamwork by providing a unified workspace where teams can collaborate, assign tasks, and track real-time progress. This ensures a transparent localization workflow, promoting accountability and efficiency.
Parallel Localization: With Lokalise, you're not waiting till the end. Localize your product in tandem with the development cycle. Plus, with Adobe XD, Figma, and Sketch plugins, translations can commence right from the design phase.
Quality Assurance Tools: Lokalise goes beyond translation. With built-in tools like translation memory, machine translation, and quality checks, it ensures the translations are accurate and consistent across the board.
Pricing
Lokalise believes in giving its users a taste of its capabilities. It offers a comprehensive 14-day trial with no credit card commitments.
Post-trial, Lokalise offers a tiered pricing structure:
Start Plan: At $120/month (annual billing) or $140/month (monthly billing), this includes 10 seats with additional seats at incremental costs.
Essential Plan: Priced at $230/month (annual billing) or $270/month (monthly billing), it also includes 10 seats with provisions for adding more.
Pro Plan: For larger teams, this plan at $825/month (annual billing) or $990/month (monthly billing) offers 15 seats with expansion options.
Final Thoughts
Choosing the right WordPress translation plugin is critical in making your website truly global. The right plugin translates your content and ensures that the cultural nuances and subtleties are appropriately addressed, providing visitors with an authentic experience regardless of their native language.
But having the best translation tool at your disposal is just half the battle. Your hosting provider's efficiency, speed, and reliability are equally crucial in delivering a seamless multilingual experience to your audience. This is where RedSwitches comes into the picture. With their robust and high-speed hosting solutions, your translated website will load quickly and smoothly, regardless of your audience is location. After all, what good is a well-translated site if it takes ages to load or experiences downtime?
Take the leap, go global, and let RedSwitches be the backbone of your multilingual WordPress website. Discover how RedSwitches can elevate your global presence today!
FAQs
Q. How do I enable translation in WordPress?
In WordPress, you can enable translation by installing and activating a translation plugin from the WordPress plugin repository. Once activated, follow the plugin's instructions to set up and manage translations.
Q. Is there a free auto-translate plugin for WordPress?
Yes, there are several free auto-translate plugins for WordPress. One popular choice is "Google Language Translator," which uses Google Translate to translate your website content automatically.
Q. Does WordPress have a translation feature?
WordPress doesn't have a built-in translation feature but supports multilingual capabilities through plugins. By installing a translation plugin, you can easily make your website multilingual.
Q. Which is the best translation plugin for WordPress Elementor?
TranslatePress" and "WPML" are among the best translation plugins that are fully compatible with the Elementor page builder, allowing users to translate their Elementor-built sites seamlessly.
Q. What is the importance of having a multilingual website?
Having a multilingual website allows you to reach a wider audience and cater to users who speak different languages. It can also improve the user experience and make your website more accessible to a global audience.
Q. What are multilingual plugins for WordPress?
Multilingual plugins for WordPress are tools that enable you to translate your website into multiple languages. These plugins offer features and functionality to manage the translation process and display the translated content on your website.
Q. How can I translate my WordPress website using multilingual plugins?
To translate your WordPress website using multilingual plugins, you first need to install and activate a suitable plugin. Then, you can configure the plugin settings, add the languages you want to support, and start translating your content. The plugin will provide options to manage translations for different pages, posts, and other elements of your website.
Q. Are there any free multilingual plugins available for WordPress?
Yes, there are free versions of multilingual plugins available for WordPress. These free plugins offer basic translation features and are a good starting point for small websites or those on a limited budget. However, they may have limitations compared to premium plugins.
Q. What are some popular multilingual plugins for WordPress?
Some popular multilingual plugins for WordPress include WPML (WordPress Multilingual Plugin), Polylang, and Weglot. These plugins offer comprehensive translation capabilities and are widely used by website owners.
Q. Can multilingual plugins translate the content of my WordPress themes and plugins?
Yes, multilingual plugins can translate the content of your WordPress themes and plugins. They provide options to manage translations for all elements of your website, including themes, plugins, and custom content.
Q. Can I simultaneously translate my WordPress website into multiple languages using multilingual plugins?
Yes, multilingual plugins allow you to simultaneously translate your WordPress website into multiple languages. You can add multiple languages to your website and translate content for each language individually.
Q. Do multilingual plugins offer manual and automatic translation options?
Many multilingual plugins offer manual and automatic translation options. You can manually translate your content or choose automatic machine translation to translate large amounts of content faster.
Q. Are there any SEO plugins that work well with multilingual plugins?
Yes, there are SEO plugins that work well with multilingual plugins. Plugins like Yoast SEO and All in One SEO Pack are compatible with multilingual plugins and provide additional SEO features to optimize your translated content.
Q. Is there a free version of a multilingual plugin for WordPress that I can try?
Yes, you can try a free version of a multilingual plugin for WordPress. Some popular free options include Polylang and TranslatePress. These plugins offer basic multilingual functionality and can be a good starting point for translating your website.