With the internet available in almost every remote area, daily surfing on the website has seen significant growth. Most users want to own the website at a cheaper cost, but unfortunately, finding reasonable prices is a bit challenging. 
For both people and companies, creating a website is a significant undertaking. It functions as a digital marketplace, providing priceless knowledge, goods, and services to a large audience worldwide. However, starting a website project without fully grasping its financial ramifications can result in unforeseen costs and difficulties in the future.
In this blog, we will answer the most asked question, i.e., how much do websites cost?
We will examine the various aspects that affect website costs, illuminating the elements in the overall budget. When you finish reading this blog, you'll understand how much a website costs and how to make wise choices to match your spending plan with your project objectives.
Table Of Contents
Factors Affecting Website Cost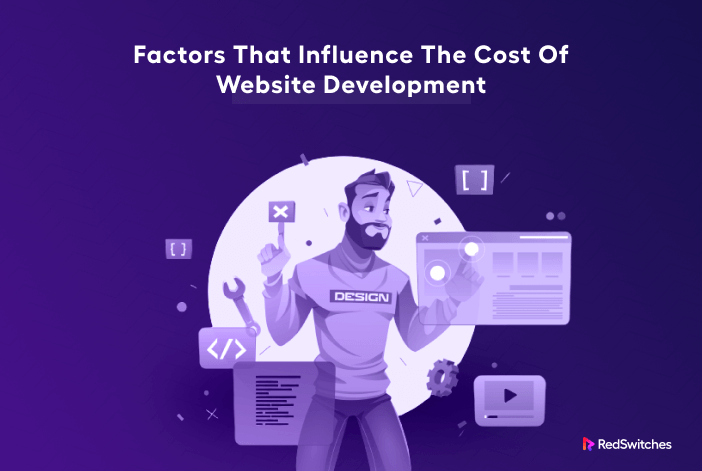 Before jumping on our core question i.e. how much do websites cost Firstly, let's understand the factors that affect the website cost. We will take into account every essential factor one by one.
Type of Website
Web development offers a broad range of options. The approaches we undertake when developing an e-commerce website or an application are distinct from those we take when, for example, starting a personal blog.
The common content management system, WordPress, is what you need for a blog project, but for an e-commerce website, a PrestaShop or Magento expert will better satisfy your needs. Lastly, your organization might need to build a custom website due to its business plan. The developer will then have to begin from zero when writing code.
Design
Design is one of the phases that most affect the price of website development. The developer will design the website per your requirements while maximizing its user experience if you have templates ready. Engaging a web UI/UX designer might be preferable if you want a distinctive design. Therefore, the cost of your website or mobile app development project will be slightly more than if you choose an already finished, albeit customized, website template. The price of building a website might increase by a factor of two or three when an outstanding design is realized.
Page Fees for Websites
Five hundred separate pages can be found on one website. It should come as no surprise that the price of website creation rises as the number of pages does. Remember that each product on an e-commerce website has its page.
Systems for Integrated Payments
For customers to feel confident making purchases, your website must be safe. Although the payment service provider sets up and manages most security measures, you are still in charge of entering the user's personal information. Therefore, you either use SSL to encrypt your website or change the website URL from HTTP to HTTPS.
Types of Websites and Their Costs
This section of our blog will discuss the types of websites, their costs, and more.
Company Websites
This website tries to portray the corporate side of your entire company. It is said to be a varied website type. It conveys the basic categories of goods and services a company provides. To improve the user experience for your clients, you can improve the functionality of these websites. 
They can quickly register on the website and download any necessary documentation. These websites serve to establish a brand identity. The website will serve as the channel for potential customers to obtain your contact information whenever they conduct an internet search for the goods or services offered by your business and request more information. 
Average price.
Monthly range: $10 to $100+.
Portfolio Websites
These websites help to highlight the talents of creative people like authors, painters, designers, etc. They fall under the umbrella of brochure websites, where adding galleries is simple. Building a portfolio website entails presenting examples of prior work to the appropriate clients. 
Any imaginative person, such as a graphic designer or a photographer, can create this website. On the other hand, some hire web designers to build a website where they may showcase their abilities. Based on their profession, it is an alternative to a business website that many exceptional professionals employ. 
Costs range from nothing to $30 per month on average.
E-Commerce Platforms
E-commerce websites are made with the purpose of making online sales. They come with features like shopping carts, payment gateways, secure checkout processes, and product catalogs. E-commerce platforms are necessary for companies who want to grow and sell their goods internationally.
E-commerce websites can be made using various systems, including self-hosted ones like WooCommerce (for WordPress) and hosted ones like Shopify and BigCommerce.
An e-commerce website's price can vary greatly depending on its complexity, the quantity of goods and services it offers, the platform it uses, and any extra features needed. Here are some price ranges for various e-commerce website types:
Basic E-commerce Website: The setup costs for a small-scale e-commerce website with a restricted product selection and basic functionality might range from $500 to $5,000. This price range covers the creation of the website as well as its foundational features.
Medium-Sized Online Business Website: The price range for a medium-sized online store with a reasonable amount of products, extra features like user accounts, product search, and payment gateway integration is $5,000 to $25,000. Depending on how intricate the design is and what adjustments are needed, the cost may change.
Determining the Website Requirements
A successful project depends on clearly defining the objectives and goals of your website. What do you hope to accomplish with your website? Is it to present your portfolio, make money online, get leads for your company, or give your audience helpful content? Knowing your objectives will help you make better judgments later in development.
Establishing clear objectives lets you prioritize features and capabilities, ensuring your website achieves its main goal effectively. A more focused and effective online presence will result from matching your website's design and functionalities with your aims, whether they seek to boost sales, raise brand awareness, or improve user engagement.
Approaches for Building a Website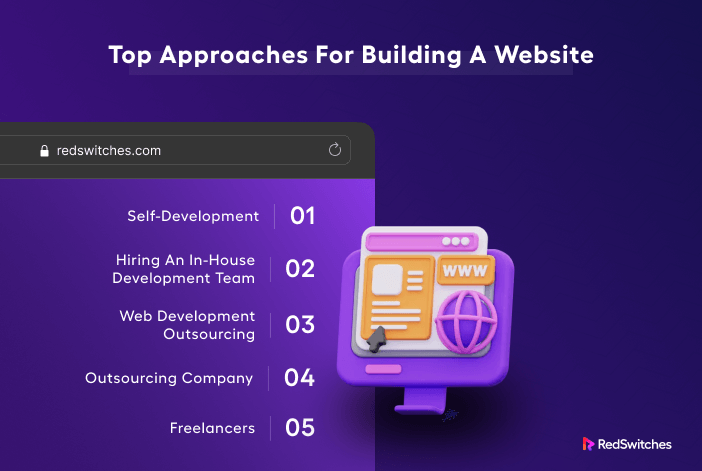 There are two approaches to building a website: you can do it yourself or by hiring a professional. In this section, we will discuss both approaches along with the pros and cons of each.
DIY With Website Builders
Pros
Cost-effective:

Subscription plans offered by website builders are frequently reasonable, making them a desirable choice for anyone on a tight budget.

Ease of Use:

Website builders are made simple to use, enabling people with little to no technical skills to develop a simple website easily.

Templates and customization:

Most website builders choose templates and themes that may be altered to match your brand's aesthetic.
Website builders take care of server upkeep, security patches, and backups, sparing you the burden of handling technical matters.
Scalability Problems:

A website builder's limitations may become clear when your website expands and needs more complicated functionality.
Cons
Limited modification:

Website builders allow for some modification, but these alternatives may be few compared to professional growth.

Advanced features and functionalities might not be available or need third-party integrations, which can increase prices.

Design and branding:

Using pre-designed templates can make achieving a distinctive and expert design difficult.

Scalability Problems:

A website builder's limitations may become clear when your website expands and needs more complicated functionality.
Hiring Professionals
Advantages
Customization and Flexibility:

Experts can build a fully customized website that matches your needs and branding.
Advanced Functionality:

To improve user experience and address corporate objectives, web developers can implement complicated features and functionalities.
Scalability and Performance:

A scalable and high-performance website that can accommodate growing traffic and user demands can be built by experts.
SEO and optimization:

Web designers can enhance your website's visibility and rating by optimizing it for search engines.
Cons
Higher Costs:

Hiring specialists can be more expensive up front than website builders.
Time-consuming:

Compared to using website builders' pre-designed templates, creating a custom website from scratch could take longer.
Technical Knowledge Necessary:

If you lack technical knowledge, you must rely on the skills of web developers and designers.
Cost Breakdown of Various Website Components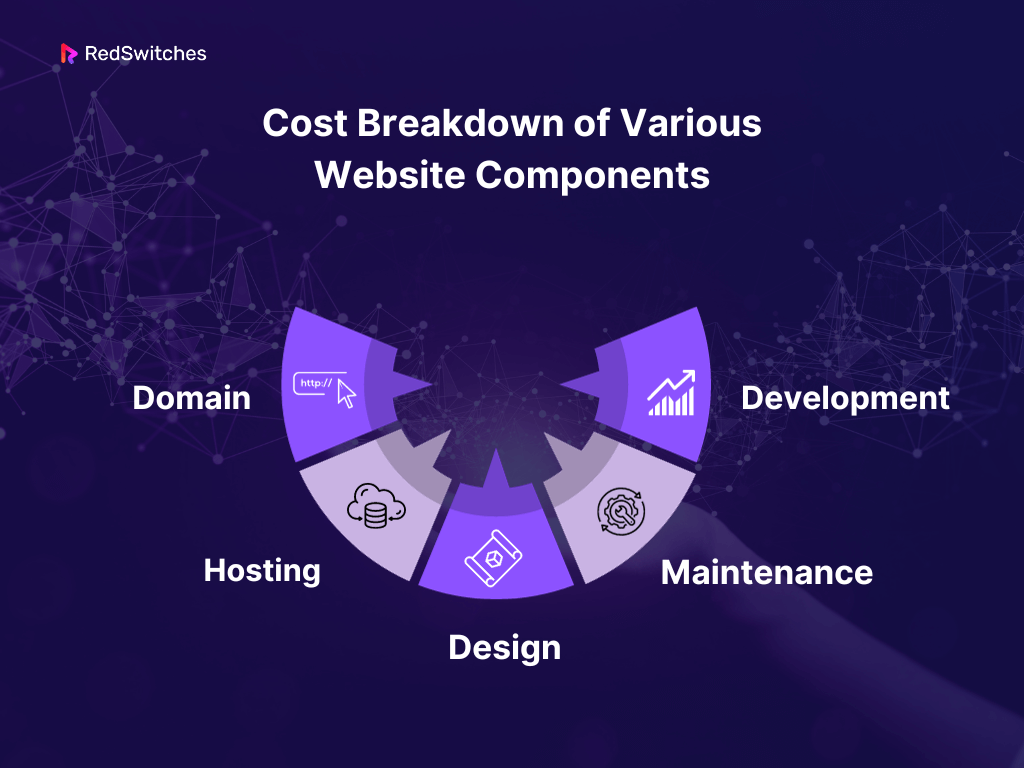 After discussing the approaches for building a website, it's time to jump into the cost breakdown of various website components.
This section will further answer our core question of how much do websites cost. Let's discuss each component separately.
Domain Cost
The price of a domain name is usually an annual charge that depends on the domain name and its extension (e.g. ,.com ,.org ,.net, etc.) and can range from a few dollars to several hundred dollars.
Hosting Cost
Depending on the type of hosting service selected, hosting costs can vary greatly. While dedicated hosting or cloud hosting can cost hundreds to thousands of dollars per month, shared hosting is the most economical, ranging from a few dollars to $20 per month.
Design Cost
Website design expenses can vary greatly depending on your needs and the designer's experience. For a straightforward template-based design, prices might range from a few hundred dollars to several thousand for a unique website.
Development Cost
The complexity of the website, the number of features and functionalities, and the developer's experience all affect how much it costs to design a website. While large-scale, specialized websites might cost tens of thousands of dollars; basic websites may just cost a few thousand.
Maintenance Cost
Maintenance fees can change depending on the size, complexity, and amount of assistance needed for the website. It may take the form of a yearly agreement or a monthly cost.
Budgeting Tips and Cost-Saving Strategies
Effective budgeting is essential when starting a website project to avoid unforeseen costs while constructing a high-quality and secure website. Setting specific objectives and prioritizing features that support those aims are essential steps in achieving this. 
Finding budget-friendly choices without sacrificing quality can be facilitated by thoroughly studying and comparing domain registrars, hosting companies, design studios, and development teams. 
Open-source platforms and templates can reduce design and development expenses, and outsourcing some work to firms or freelancers can be less expensive than recruiting full-time employees.
However, having a scalable website that expands with your business means you won't need to start over when your requirements change. A carefully thought-out content strategy keeps your website interesting and current, improving user experience and search engine rankings.
You may balance cost-effectiveness and quality by judicious investments in critical areas while eliminating superfluous costs. The outcome will be a successful website that satisfies your company objectives and wows your visitors.
Hidden Costs
Awareness of unanticipated expenses when working on a website project is essential because they could affect your budget. Membership fees or usage-based charges associated with third-party integrations, such as APIs and services, may increase costs. 
Customizations or alterations made to the original concept during development may result in higher costs and longer development times. 
Hiring experts or buying licenses to produce high-quality content for your website, including photographs, videos, and written pieces, may be necessary, raising the cost of content creation. 
Your hosting plan may need to be upgraded as your website expands to handle more traffic, resulting in higher monthly or yearly costs. 
Conclusion
We learned about the vital question of how much do websites cost.
We discussed the types of websites, the factors affecting website cost, determining the website requirements, and DIV vs. hiring professionals. 
When you work with us, you can access various hosting options designed to meet your needs, providing seamless performance, top-notch security, and dependable support. They are the perfect option for organizations and individuals due to their affordable price and adaptable package options.
To secure the best website performance in this situation, aligning with reputable and competent hosting providers is essential. As a significant participant in the hosting sector, RedSwitches stands out as a symbol of excellence and dependability. 
We offer the best dedicated server pricing and deliver instant dedicated servers, usually on the same day the order gets approved. Whether you need a dedicated server, a traffic-friendly 10Gbps dedicated server, or a powerful bare metal server, we are your trusted hosting partner.
FAQs
Q. How much do websites cost to develop in 2024?
The cost to develop a website in 2024 can vary depending on several factors, such as the complexity of the website, the features and functionalities required, the platform or technology used, and the expertise of the web developer or agency. The average cost can range from a few hundred to thousands of dollars.
Q. Is website development cheaper for small businesses?
website development costs can generally be more affordable for small businesses than larger enterprises. This is because smaller businesses usually require simpler websites with fewer features and functionalities, which can result in lower development costs. However, the actual cost may still vary based on the specific requirements of the small business.
Q. How much does website design cost?
The cost of website design can vary depending on various factors, such as the complexity of the design, the number of pages, the need for custom graphics or illustrations, and the expertise of the web designer. On average, website design costs can range from a few hundred to several thousand dollars.
Q. What is the cost of building a small business website?
The cost to build a small business website can vary based on factors such as the complexity of the website, the number of pages, the need for e-commerce functionality, and the project's scope. The cost can range from a few hundred to a few thousand dollars.
Q. How much does it cost to maintain a website?
The cost to maintain a website can vary depending on factors such as the size of the website, the frequency of updates, the need for security measures, and the complexity of the maintenance tasks. On average, website maintenance costs can range from a few hundred to a few thousand dollars annually.
Q. Can I use a website builder to build my website?
Website builders are a popular option for building websites, especially for small businesses and individuals with limited technical knowledge. Website builders like Wix, Weebly, and Squarespace provide easy-to-use interfaces and pre-designed templates that allow you to create and customize your website without coding or web design skills. However, it's important to note that using a website builder may have limitations in terms of customization and scalability compared to custom-built websites.
Q. What is the average cost of building a website?
The average cost of building a website can vary depending on factors such as the complexity of the website, the number of pages, the need for custom features, and the expertise of the web developer or agency. The average cost can range from a few hundred to several thousand dollars.
Q. How much does it cost to develop an e-commerce website?
The cost to develop an e-commerce website can vary depending on factors such as the number of products, the complexity of the online store, the need for payment gateways and inventory management systems, and the expertise of the web developer or agency. The average cost can range from a few thousand to tens of thousands of dollars.
Q. How can I make a website for free?
There are several options to make a website for free. You can use website builders like Wix or WordPress.com, which offer free plans with limited features and options. You can also consider using platforms like Blogger or Tumblr, which allow you to create an essential website or blog for free. However, it's important to note that free websites may have limitations regarding design options, customization, and domain names.
Q. What are the costs associated with website maintenance?
Website maintenance costs include hosting and domain renewal expenses, security and updates, content updates and changes, backup and recovery services, and technical support. The exact costs can vary depending on the size and complexity of the website and the specific maintenance services required.