Did you know that in 2021, retail e-commerce sales reached a whooping 5.2 trillion U.S. dollars worldwide? Experts have forecasted this figure to grow by 56 percent, reaching approximately 8.1 trillion dollars by 2026.
The e-commerce industry has experienced remarkable growth in recent years, and the trend shows no signs of slowing down.
With WordPress being the internet's most sought-after CMS (content management system), business owners are turning to it and leveraging features like WordPress themes for online stores to create their e-commerce sites.
So, if you plan on creating your e-commerce online store or giving your existing e-commerce store a facelift, read this blog for the top 13 WordPress e-commerce themes 2023.
Table of Contents
What is a WordPress eCommerce Theme?
Before diving into WordPress (wp) eCommerce themes, we must discuss 'what a WordPress store theme is.
E-commerce WordPress themes determine the overall aesthetics and layout of your WordPress site. These themes, also known as e-commerce WordPress templates, are specifically designed to support the features and functionality needed for an online store.
This includes shopping carts, product listings, checkout processes, and much more. The suitable WordPress e-commerce template will beautify your store, attract visitors to spend more time on your site, and offer an intuitive shopping experience for your customers.
Why Do We Need an eCommerce Theme for WordPress?
It is common for individuals new to the world of WordPress themes to question, 'Why do we need a WordPress template for eCommerce.' The answer to this is simple.
The functionality and design of your online store are critical in determining its success. Although your products and services are undoubtedly important, presentation and user experience are equally vital.
Let's explore the necessity of choosing a suitable eCommerce theme for your online store.
Professional Appearance
When users visit an online store, they determine its credibility within seconds by looking at small details like aesthetics, quality of the content, etc. A clean and professional look can help distinguish between a sale and a swift exit.
Professionally designed WordPress shopping themes look good and build trust and reliability, allowing new visitors to trust the website enough to place an order. Customers are more likely to purchase from a reputable and well-maintained website.
Optimized User Experience = Engagement Boost = Higher Conversions
A WordPress product theme or e-commerce theme is crafted with the end-user in mind.
This helps ensure the user experiences minimal friction from product discovery to checkout. The less friction is from product discovery to checkout, the higher the chances are of a customer placing an order on a WordPress e-commerce site.
An optimized user experience also means users spend more time on your website, reading descriptions, exploring products, and making purchases.
SEO Benefits
In the vast world of the online marketplace, visibility is half the battle. This is where SEO comes in. Well-coded eCommerce themes are designed with SEO-friendly structures. They are made with best practices set by search engines in mind.
This compatibility ensures clean and efficient coding, faster page loading speeds, and optimal website performance – all influencing search rankings.
Many e-commerce themes also come integrated with schema markup, enhancing the website's visibility in SERP. The combined effect? A significant boost in organic traffic and, by extension, potential sales.
Reduction in Bounce Rate
Reducing the bounce rate is the principal aim of every WordPress site owner, and a carefully chosen template can help one achieve this.
An e-commerce theme for WordPress is usually built with a purposeful design in mind. It features intuitive layouts, clear calls-to-action, and easy navigation to keep users engaged.
This reduces the likelihood of users leaving without purchasing, helping boost conversion rates and profits.
Speed Optimization
Slow-loading sites are bad for business. They deter users from sites and result in a negative shopping experience.
Speed-optimized themes retain users by ensuring quick page loads, which is crucial for maintaining user interest.
Page load speed is also a critical ranking factor for search engines. A fast-loading site can help you rank your site higher in the search results, giving you an edge over competitors.
Mobile Adaptiveness
Mobile e-commerce sales make up approximately 60% of all e-commerce sales worldwide.
With a significant percentage of users shopping on mobile, a mobile-responsive website design is crucial to ensure you don't lose potential customers.
By leveraging a mobile-optimized theme, you can ensure that users have a smooth and hassle-free shopping experience, regardless of the size of their device.
Security
E-commerce sites are an online business's foundation for managing sensitive data, including client names and addresses, credit card information, and transaction histories. Cybercriminals frequently target these websites because of the importance of this information.
WordPress e-commerce themes are mainly designed with security as a top priority since they recognize the critical necessity for solid protection. They include heightened security methods, support for SSL certificates, and safeguards against widespread online threats like SQL injections and cross-site scripting.
These themes undergo periodic security reviews and upgrades, protecting the website against ever-evolving online dangers. This helps protect the e-commerce site and build trust among customers.
What to Look For in a Paid or Free WordPress eCommerce Theme?
With countless paid and free WordPress storefront themes available today, it can be challenging to determine which theme would be most suited for your WordPress site.
It is important to remember that the theme you choose can significantly impact your shop's success. Yet, with countless options available, how do you pick the best one?
Let's explore the essential criteria when choosing a WordPress eCommerce theme.
1. Mobile Responsiveness
As discussed above, today, most online shopping occurs through mobile devices. Your chosen theme must adapt to different screen sizes, catering to smartphone, tablet, and desktop users.
2. Speed and Performance
Online shoppers can be impatient. A delay of even a few milliseconds in page loading can cause cart abandonment. This makes it critical for your WordPress theme to be optimized for speed.
When browsing WordPress e-commerce themes, focus on lightweight themes. Themes that are not stuffed with unnecessary features perform best.
Interested in learning how to optimize speed and performance? Read out the blog '16 Tips on How to Increase Your Server Speed & Performance'.
3. Compatibility with Plugins
WordPress doesn't feature built-in eCommerce features. Instead, users must use e-commerce plugins, like WooCommerce, to enjoy e-commerce features.
Before settling on a theme, ensure it's fully compatible with your chosen eCommerce plugin. This compatibility ensures that you can utilize all the plugin's features without hitches, thus providing an optimal shopping experience for your customers.
Interested in WordPress backup-based plugins? Read our informative blog 'How to Backup WordPress Site in Three Easy Ways (Manual + Plugins + WebHost).
4. Customizability
Your e-commerce store should reflect your brand's identity. This is where customizability comes in.
When browsing WordPress e-commerce themes, pick a theme that can effortlessly adjust colors, layouts, fonts, and other design elements.
A theme with a built-in drag-and-drop builder is ideal for those without coding knowledge.
5. SEO-Friendliness
SEO (Search engine optimization) is critical for attracting organic traffic to your online store. An SEO-friendly WordPress theme follows best coding practices, is coded well, and is structured to make it easier for search engines to crawl and index.
Integrate this with your own on-page and off-page SEO efforts to boost your store's visibility in SERP (Search Engine Results Page).
6. Regular Updates and Support
The constantly changing digital landscape demands theme updates to ensure compatibility with the latest WordPress version, new features, and improved security.
Good customer support can also be a lifesaver when facing technical issues. This makes it essential to always choose themes that offer quick support and frequent updates.
7. Built-in Features and Functionalities
Although you can add various functionalities to your site through plugins, having built-in features can be beneficial. Look for WordPress e-commerce themes with a quick view, wishlists, and other eCommerce-specific features.
Important Note! Remember to keep your plugins balanced. Excessive built-in features can bloat the theme, impacting performance.
8. User Reviews and Ratings
User reviews and ratings can prove invaluable when choosing between WordPress e-commerce themes.
Study user reviews and ratings before purchasing a theme or downloading free e-commerce WordPress templates. They can provide firsthand information on the theme's performance, support quality, and potential issues.
9. Price
While free WordPress e-commerce templates can be enticing, premium themes often come with better support, added functionalities, and regular updates.
Remember that the most pricey theme isn't always the best. It is important to weigh its features against its price to determine its value to ensure you get the best theme.
Now that we have discussed what to look for in WordPress e-commerce themes, let's explore the best WordPress store themes.
Best eCommerce WordPress Themes
Below is the list of the top 13 WordPress e-commerce themes available today:
1. Astra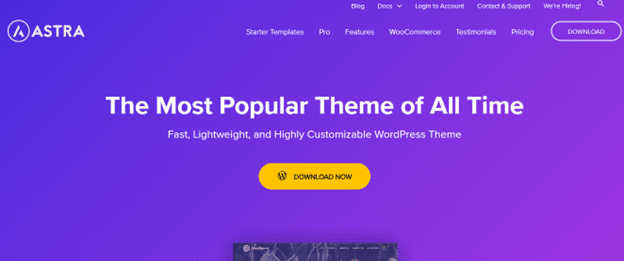 Credits: Astra Website
Key Feature
Astra is a game-changer in the world of WordPress e-commerce themes, mainly due to its remarkable focus on performance.
The theme loads in less than 0.5 seconds, offering users a seamless experience. Its lightweight framework doesn't bog down your website with unnecessary code, setting it apart from other WordPress themes.
Astra also demands less than 50KB resources than other WordPress e-commerce themes and follows all coding best practices to ensure that every code is optimized.
Price
Astra offers three pricing plans, including:
Astra Pro: $47/annual or $227 (one-time)/Lifetime
Essential Bundle: $137/annual or $677 (one-time)/Lifetime
Growth Bundle: $187/ annual or $677 (one-time)/Lifetime
User Review
Astra is a simple, fully customizable & fast theme that I can wholeheartedly recommend to all Elementor users. I love the fact that it comes with dozens of pre-built sites that were built using Elementor and that can be used to create a full website with one click. – CMO Elementor (Source)
2. Jevelin
Credits: Jevelin Website
Key Feature
Jevelin's one-click install demos make it the top contender among the best WordPress e-commerce themes. Jevelin is the ideal theme for individuals wishing to kickstart their online store without wasting hours on setup.
Its standout feature is a wide range of pre-made demos that allow users to get a professional-looking online store up and running quickly.
The demos on Jevelin are made with a priority on high quality, following all the best e-commerce practices. They are also fully customizable, ensuring businesses can alter the design to resemble their brand image and aesthetics.
Price
Jevelin WordPress theme is available on the ThemeForest marketplace for $59.
User Review
It's a great theme. I love it! 🙂
Thanks – Vncsnvs (Source)
3. Divi

Credits: Elegant Themes Website
Key Feature
Divi is one of the WordPress e-commerce themes that has transformed how WordPress users design their websites. At the heart of this transformation is the Divi Builder – a one-of-a-kind drag-and-drop tool that offers endless possibilities.
E-commerce website owners can leverage this tool to create custom checkouts, product pages, and more without writing a single line of code.
The intuitiveness of the Divi Builder ensures that even users with little to no technical background can design their online store according to their vision. This flexibility serves as a significant benefit in the ever-evolving digital marketplace.
Price
Divi is a product offered by Elegant Themes. The provider doesn't offer a pricing plan only for the Divi theme. Instead, they have membership plans that give you access to all their products, including the Divi theme, Divi Builder plugin, Bloom, Extra, and Monarch plugin.
Below are the pricing plans for Elegant Themes:
Yearly Access: This plan generally offers access to all themes and plugins, updates, and premium support for a year at $89/year.
Lifetime Access: This plan offers lifetime access to all current and future products, updates, and support with a one-time fee of $249.
User Review
"I started out not knowing anything about websites but after using Elegant Themes Divi! Not only is the theme easy to create incredible websites, if for any reason you get stumped and need help the support team is the best. Quick to respond and will go above and beyond to assist you with your project. I couldn't be happier that I chose Elegant Themes!!" – Jessica Pena (Source)
4. Webify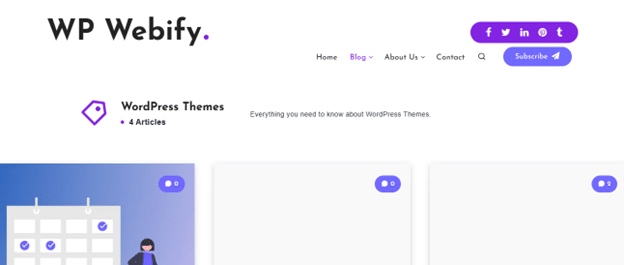 Credits: WP Webify Website
Key Feature
Webify sets itself apart from other WordPress e-commerce themes by breaking away from the traditional concept of fixed demos. Instead, it features a modular system, its standout feature, that allows users to pick elements from various demos and combine them to create a unique design for their online store.
This is incredibly beneficial for businesses looking to give a distinct look to their e-commerce site but don't have the resources to build a theme from scratch.
By leveraging Webify, they can ensure their store stands out from the competition, offering a shopping experience that's uniquely theirs.
Price
Webify is available on the ThemeForest marketplace for $59.
User Review
"Great theme! It's clean, light, and fast with flexible design. Easy to install and work with. The support team is very responsive and helpful, even on weekends. Can't wait for new updates!" – Design3ox (Source)
5. Kalium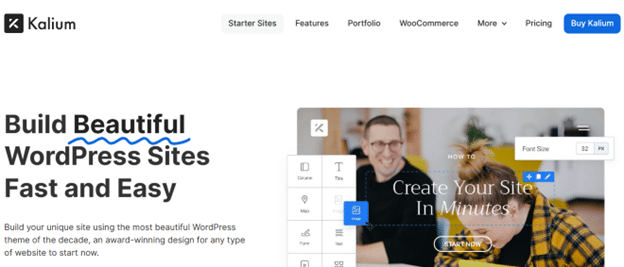 Credits: Kalium Website
Key Feature
Kalium is among the best WordPress e-commerce themes since it goes the extra mile by bundling premium plugins with the theme. Plugins like WPBakery Page Builder and Slider Revolution can significantly enhance the user experience offered by an e-commerce store.
These tools can help store owners create attractive product sliders, engaging landing pages, and more. The best part is that users don't need to spend extra to access these premium tools, which can be great news for new and small businesses that might be on a budget.
By offering them as part of the package, Kalium serves as one of the top WordPress e-commerce themes, ensuring store owners have everything they need to create a top-notch online shopping platform.
Price
Kalium offers two pricing plans, including:
Starter: $69 per license
Professional: $90.38 per license
Note! Kalium offers a 40-day Money-back guarantee. Individuals who might not be happy with the theme can get their money back up to 40 days after purchase.
User Review
"Kalium won't simply showcase your work. It will do so in a way you always hoped to achieve. This creative, multipurpose WordPress theme is well organized and quite simple to use and maintain, in addition to being a source of a large number of visually stunning starter sites." – Codrops (Source)
6. Uncode

Credits: Uncode Website
Key Feature
The key feature that makes Uncode shine as one of the best WordPress e-commerce themes is its Adaptive Images System.
Ensuring images load appropriately in the age of multiple devices with varying screen sizes and resolutions is crucial to website design. Uncode removes the guesswork by automatically detecting your visitor's screen size and dynamically delivering the most appropriately sized image.
This ensures an optimal visual experience and saves loading times and unnecessary data usage. This feature can significantly impact user experience and potential sales for e-commerce platforms, where product imagery is pivotal.
Price
Uncode is available on the ThemeForest marketplace for $59.
User Review
"I've used many themes so far, but Unicode beats all of them IMHO and the new update is mind-blowing! You can use it to create any kind of design, any kind of site. It's a wonderful solid theme with tons of options and settings. I'm very happy with that! A big thank you!" -Stars-q (Source)
7. Woostify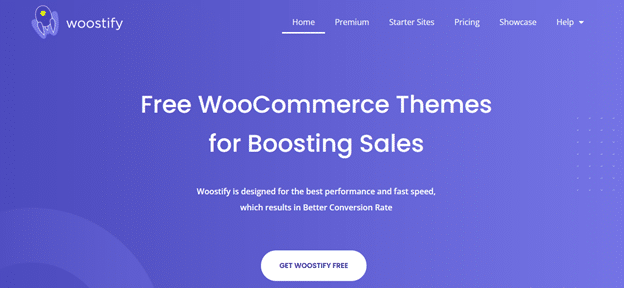 Credits: Woostify Website
Key Feature
Woostify prides itself on being crafted exclusively for WooCommerce, the most popular eCommerce plugin for WordPress. This focus translates into features that streamline the online shopping experience.
Functions such as wishlist support allow users to save their favorite products for later. The product quick view feature facilitates a brief overview without navigating away from the current page.
The optimized checkout process reduces potential friction points, aiming to improve cart conversion rates.
Price
Woostify offers three pricing plans, including:
Woostify Personal: $49/year or $99/Lifetime
Woostify Professional: $79/year or $159/Lifetime
Woostify Agency: $129/year or $299/Lifetime
Note! Woostify offers a 14-day Money-back guarantee. Individuals who might not be happy with the theme can get their money back up to 14 days after signing up.
User Review
"Would like to say a big thanks and thumbs up for you guys running this here. Some critical things that needed adding like the filters and such on mobile versions are already implemented within just a few days. Keep this up guys!" – Kevin Gans (Source)
8. Botiga
Credits: WordPress Website
Key Feature
The key feature of Botiga, one of the best WordPress e-commerce themes, lies in its minimalist design approach. By stripping away the unnecessary elements and distractions, it places the spotlight squarely on your products.
This design philosophy ensures visitors' attention remains on what's essential – the items you're selling. Botiga provides a clean canvas that enhances rather than competes with the product offerings of brands that appreciate understated elegance and want their products to attract visitor's attention.
Price
Botiga is one of the best free e-commerce WordPress themes available. It also includes a premium version that costs $69 per year or a $99 yearly subscription.
User Review
"Great Theme, Good Support." – Goldcakes (Source)
9. ShoppingCart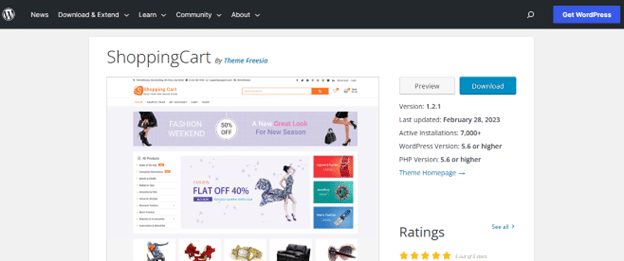 Credits: WordPress Website
Key Feature
ShoppingCart's key feature lies in its ability to extend beyond just listing products. Instead, it showcases them. Its design philosophy focuses on presenting items in all their glory.
Features like the zoom-in capability allow potential buyers to inspect product details closely, while options like color selection previews give a tangible feel, mimicking an in-store experience. Such detailed product displays can be pivotal in influencing purchasing decisions, especially for products where details matter.
Price
ShoppingCart offers three pricing plans, including:
Personal: $59
Business: $79
Developer: $99
User Review
"It's an amazing theme for shopping websites and especially for non programmer. best." -Awan Khan (Source)
10. OceanWP

Credits: OceanWP Website
Key Feature
Ocean WP is one of the best themes for individuals looking for WordPress e-commerce themes free of cost. It includes a diverse range of features tailored for modern websites. Among its many attributes, the Native Cart Popup is a standout feature and game-changer for e-commerce sites.
Instead of redirecting users to a separate cart page every time they add an item, this feature displays a sleek popup showcasing the added items. This streamlines the shopping process, reducing unnecessary page loads. This can enhance user experience and ensure all visitors and shoppers leave your e-commerce site happy.
Price
OceanWP is one of the best free eCommerce WordPress themes. It also offers premium extensions and a core bundle to boost functionality. This means you can download the basic theme free of cost and then decide whether to purchase additional features depending on your needs.
User Review
"I downloaded the OceanWP template as a starting point for my new business websites. I liked it so much that I decided to purchase an OceanWP Personal Extensions Bundle license with 3-month Priority Support. The template works and looks great. What's even better is Marko (my contact on their support team) has been incredibly helpful in assisting me in getting my website to do all the things I need it to do." – John Ritchie (Souce)
11. Ultra (Themify)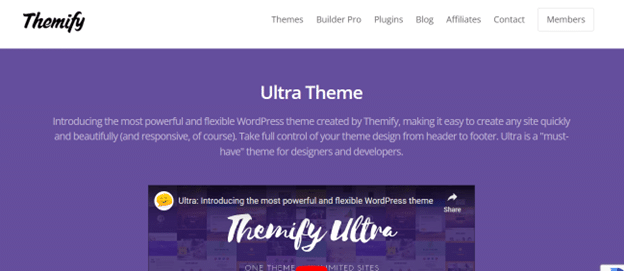 Credits: Ultra Website
Key Feature
One of the significant challenges in establishing an online store is the design phase. This is where Ultra stands out among the best WordPress e-commerce themes. Its key feature is that it simplifies the design phase by offering a plethora of pre-made skins and demo sites tailored to fit different business niches.
Ultra has a skin for every e-commerce business in any niche, whether fashion, technology, arts, or other services. Every skin or demo reflects a unique design sensibility, ensuring your e-commerce site won't look like another cookie-cutter website.
The import process is also streamlined. With a few clicks, you can set up your website to look exactly like the demo and customize it further to match your brand's identity.
Price
Ultra offers three pricing plans, including:
Single Themes: $59 (one year support and updates)
Master Club: $89 (42 Themes with Photoshop Files + 24 Builder addons + 11 Plugins + 5 PTB addons)
Lifetime Club: $249 (42 Themes with Photoshop Files (Lifetime Access) + 11 Plugins + 5 PTB addons + 24 Builder addons)
Note! Ultra offers a 30-day Money-back guarantee. Individuals who might not be happy with the theme can get their money back up to 30 days after signing up.
User Review
"It's exactly what I was looking for!" – Andrew Misplon (Source)
12. Blocksy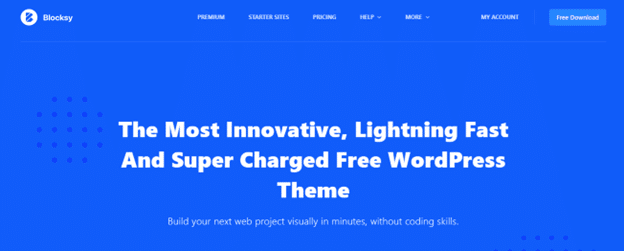 Credits: Creative Themes Website
Key Feature
Blocksy's primary advantage is its flawless integration with the Gutenberg editor, WordPress's innovative content editor. For unfamiliar users, Gutenberg allows you to design and structure your content using blocks, making it incredibly intuitive to create visually appealing layouts without deep coding knowledge. Blocksy not only supports this but enhances it.
The theme offers various customization options that leverage the block-based design. Whether it's the header, footer, or any part of the content, you can easily tweak every element's design and layout. Blocksy also provides several custom blocks, adding to the range you have at your disposal.
Price
Blockysy, the best free WordPress theme for eCommerce, can be downloaded free of cost. Users looking for added functionalities can also download the following premium versions:
Personal: $49/year (one site license) or $149
Professional: $69/year (five site licenses) or $199
Agency: $99/year (unlimited site licenses) or $299
User Review
"Pretty much everything you could ask for without sacrificing speed. – Eduard (Source)"
13. Elementor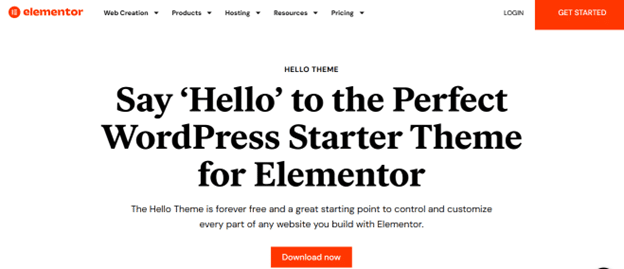 Credits: Elementor Website
Key Feature
Elementor's most prominent feature that makes it stand out among the best WordPress e-commerce themes is its intuitive drag-and-drop editor. This feature allows users to easily create and design pages by dragging elements (like text, videos, images, and widgets) onto their page and position them as desired.
With real-time preview, users can instantly see the changes they make, accelerating the web design process and allowing for complete customization of the site's layout, design, and overall appearance. This feature is especially beneficial for those lacking any coding background, as it offers an easy-to-use interface for crafting professional-looking websites.
Price
Although the Elementor theme is free, users can avail of additional paid commercial upgrades or support through payments.
User Review
"Light and easy to customize theme." – Parveensultana (Source)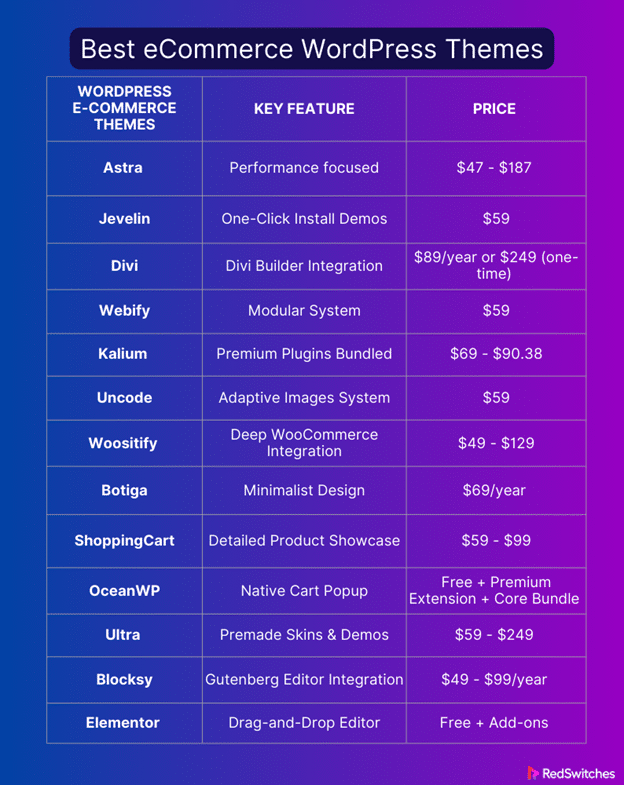 Final Thoughts
Choosing WordPress e-commerce themes goes beyond aesthetics. It plays a significant role in how visitors perceive your brand and navigate your site and how smooth the shopping experience is.
A well-selected theme can boost the functionality of your e-commerce store, making it easier for customers to browse, choose, and purchase products or services. It can also help improve load times and ensure the site looks equally impressive on types and sizes of devices.
The best WordPress e-commerce themes discussed above tick all the boxes of the essential elements to look for when selecting a theme. Yet, it is important to remember that even the most well-designed e-commerce site can malfunction if not hosted on a reliable platform.
Website speed, uptime, and security are paramount to an online store's success. Choosing a reputable hosting provider is as important as selecting a suitable theme.
We recommend RedSwitches for those looking for reputable web hosting solutions tailored for WordPress. We offer optimal performance, top-notch security, and dedicated support to ensure your online store runs smoothly 24/7. So what are you waiting for?
Contact us today to learn more.
FAQs
Q. What is a WordPress eCommerce theme?
A WordPress eCommerce theme is a pre-designed template crafted for online stores and businesses selling products or services online. These themes integrate seamlessly with e-commerce plugins, offering tailored layouts and features for shopping carts, product displays, checkout processes, and payment gateways.
Q. What is the best WordPress theme for eCommerce?
Astra ranks number one among the best WordPress themes for e-commerce. The theme's standout feature is its focus on performance.
Q. Is WordPress good for eCommerce?
WordPress serves as a robust and flexible platform for e-commerce. It includes a wide range of themes and plugins and caters to businesses of all sizes. It also provides customization options, SEO benefits, and payment gateways and services integration.
Q. What top 5 features are a must for any eCommerce site?
Mobile responsiveness, performance, compatibility with plugins, SEO-friendliness, and customizability are the top five features of any e-commerce site.
Q. What is the importance of having a good ecommerce WordPress theme?
Having a good ecommerce WordPress theme is crucial for the success of your online store. A well-designed theme helps you create an attractive and user-friendly ecommerce website that can effectively showcase your products and encourage visitors to make purchases.
Q. What is the difference between a free and a premium WordPress ecommerce theme?
A free WordPress ecommerce theme is available for download and use without any cost, while a premium theme requires a one-time payment to access its features and support. Premium themes often offer more customization options, better design quality, and dedicated customer support.
Q. Can I use a free ecommerce WordPress theme for my online business?
Yes, you can definitely use a free ecommerce WordPress theme for your online business. There are many high-quality free themes available that offer essential ecommerce features and a professional design. However, if you have specific requirements or want advanced features, you might want to consider a premium theme.
Q. Which is the best ecommerce WordPress theme for 2023?
Determining the best ecommerce WordPress theme for 2023 is subjective as it depends on individual preferences and business needs. However, some popular choices for the year include [[H2TERMS]].
Q. What should I look for in a WordPress ecommerce theme?
When choosing a WordPress ecommerce theme, it's important to consider factors such as responsiveness, design quality, customization options, compatibility with ecommerce plugins like WooCommerce, page speed, customer reviews, and updates and support from the theme developer.
Q. Can I switch to a different WordPress ecommerce theme after setting up my online store?
Yes, you can switch to a different WordPress ecommerce theme even after setting up your online store. However, it's recommended to thoroughly test the new theme and take proper backups to avoid any loss of data or disruption in your business.
Q. How do I install a WordPress ecommerce theme?
To install a WordPress ecommerce theme, log in to your WordPress dashboard, go to Appearance > Themes, click on the "Add New" button, and then either upload the theme file or search for the theme in the WordPress.org theme directory. Once the theme is installed, click on "Activate" to make it active on your website.
Q. Is integrating the WooCommerce plugin with my WordPress ecommerce theme necessary?
Integrating the WooCommerce plugin with your WordPress ecommerce theme is not necessary, but highly recommended. WooCommerce is one of the most popular ecommerce platforms for WordPress, and integrating it with your theme provides you with powerful ecommerce features, secure payment gateways, and a wide range of extensions to enhance your online store.
Q. Can I customize the design of my WordPress ecommerce theme?
Yes, you can customize the design of your WordPress ecommerce theme. Most themes offer built-in customization options such as color schemes, font styles, layout settings, and widget areas. Additionally, you can use WordPress's built-in customizer or install a page builder plugin to make more advanced design changes.
Q. Is it possible to switch from a different ecommerce platform to WordPress?
Yes, it is possible to switch from a different ecommerce platform to WordPress. However, the process might involve migrating your products, customer data, and order history to the new platform. It's recommended to consult with a professional or use migration plugins or services to ensure a smooth transition.