30% of the global population spends at least 32 hours per month online. 92% spend their online hours reading emails, visiting social media, and using search engines. So finding the best browsers for Linux can help make your day smoother.
However, there's no perfect browser. The best Linux web browser depends on your preferences and needs. Like Windows, Linux has many web browsers, but what's the best option for you?
With many options available, choosing a browser that suits your requirements and aligns with your operating system is essential. Professionals are now moving activities to the cloud, meaning browsers are the most used applications on the OS.
Chrome and Microsoft Edge are the most popular in the Windows OS community. This post will explore the best web browsers for Linux, highlighting the factors to consider and how different browsers interact with the OS.
Table of Content
Why the Choice of Browser Matters for Linux Users
When it comes to operating systems, Linux is the open-source champion. This UNIX-based OS is known and loved for its robustness, security, and flexibility. It has garnered a loyal user base worldwide, particularly among developers and others requiring compatible software.
The best browsers for Linux perform excellently and align with the values and philosophy of the Linux community. This is critical because Linux users often desire freedom, customization, and privacy.
Furthermore, all Linux users, from ardent open-source advocates to performance enthusiasts and privacy-minded individuals, look to enhance their overall browsing experience.
Essential Factors to Consider When Choosing the Best Browsers for Linux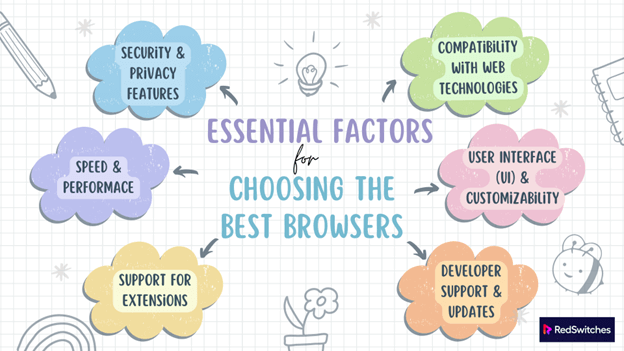 There are several key factors to remember when selecting the best Linux web browser to ensure a seamless and tailored browsing experience. Below are the top aspects to consider.
Security and Privacy Features
Top-notch security and privacy are some things that draw many people to Linux OS. Therefore, a fitting browser should have enhanced security and privacy settings. This includes robust security options such as solid encryption, malware blocking, and phishing protection.
Speed and Performance
For efficient web navigation, a browser needs to be fast and responsive. The best type is a browser optimized for Linux and applies hardware acceleration to render pages smoothly.
Support for Extensions
A rich selection of add-ons and extensions is vital for a website's enhanced functionality. A great Linux browser has a thriving extension ecosystem with various tools and features to boost its potential.
Compatibility with Web Technologies
Web technologies are continually evolving, and a browser built for Linux should support the latest web standards and features. This will make accessing modern web content easier and give you a superb browsing experience.
The best web browser for Linux should also have robust developer tools and experimental features or flags that allow you to assess upcoming web technologies.
User Interface (UI) and Customizability
A user-friendly interface is essential in a browser, allowing customization to suit individual preferences. A great Linux browser should have numerous themes, extensions, and the potential to customize UI aspects.
Developer Support and Updates
Consistent updates and robust developer support are essential for handling security vulnerabilities and enhancing overall performance. The Linux best browser has a track record of timely updates and active development communities.
Review of the Best Browsers for Linux in 2023
Below are the linux best browser options in 2023.
Vivaldi – Improved Experience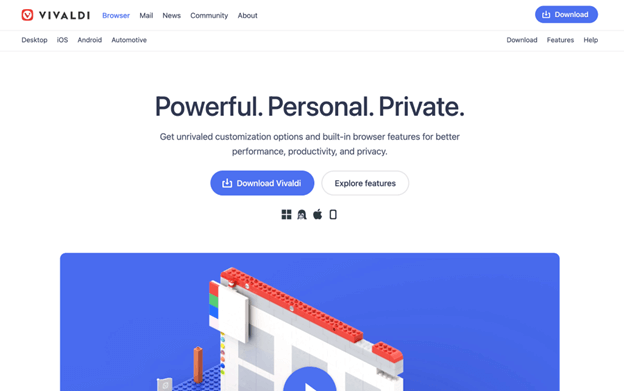 While it's still fairly new, Vivaldi has established itself as one of the best browsers for Linux. The aesthetically-pleasing browser was released by Vivaldi Technologies in 2015.
It is a freeware program incorporating an Opera-like interface with a Chromium-open-source platform. It is not that big a surprise that the software is reminiscent of Opera Browser, as its parent company's co-founder had also previously co-founded Opera Software.
Vivaldi is developed on web technologies such as React.js, Node.js, HTML5, and several NPM modules. Although it may have a learning curve, it is one of the neatest and feature-rich Linux browsers. Its top features include:
A minimalistic interface. The browser comes with a simple UI with modest fonts and icons. Its color pattern constantly switches to match the design and background of the website being visited. The browser also allows you to customize interface aspects, such as start pages, the address bar, tab positioning, and theme.
Web panels. After adding a website to the web panel, the browser opens a vertical window and loads the website. This means you only have to make one click to get to your favorite website.
Third-party services. You can enable Google Phishing & Malware protection and resolve some navigation errors with the help of Google DNS. Blocking ads on Abusive Sites and Broadcast IP for Best WebRTC Performance is easy. This is essential when dealing with websites that use WebRTC technology to unmask IP addresses, as it blocks such invasion of privacy.
Three levels of blocking. You can choose between Block Tracker & Ads, Block Trackers, and No Blocking. However, blocking trackers and ads is the safest and most secure option.
A neat sliding scale. Vivaldi's browser has a mini slider at the bottom right corner of any page you visit. This feature lets you easily and comfortably zoom in and out of any website.
Firefox – The Open-Source Champion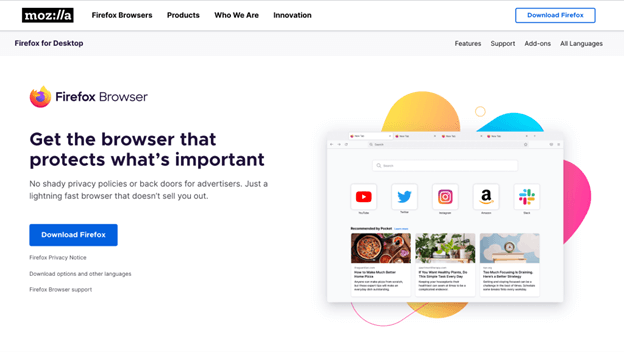 As one of the best browsers for Linux, Firefox is available for all major operating systems, including Android, Windows, Linux, and OS X.
Its popularity is particularly immense among Linux communities since it ships with many of the OS's distros. It is mainly written in CSS, JavaScript, C++, XUL, C, and XBL and released under MPL2.0 license.
Firefox uses SpiderMonkey, Quantum, and Gecko web engines in all the platforms that support it, except for iOS's latest iteration, which does not have Gecko. Its top features include:
Great customization: Firefox has a vast library of extensions and add-ons and a wide range of personas and themes. It also has multiple tab management options and an extensive range of preferences and settings.
Superb performance: Besides having the best JavaScript performance, Firefox is the most memory-efficient of the mainstream browsers.
Enhanced security: Firefox's parent company is known for its enhanced security standards. Its open-source nature also means that its community can quickly identify and resolve vulnerabilities.
Support for numerous standards: HTML4, HTML5, XML, APNG, SVG, XHTML, and countless other syntaxes work greatly on Firefox.
Chrome – Speed and Extensive Support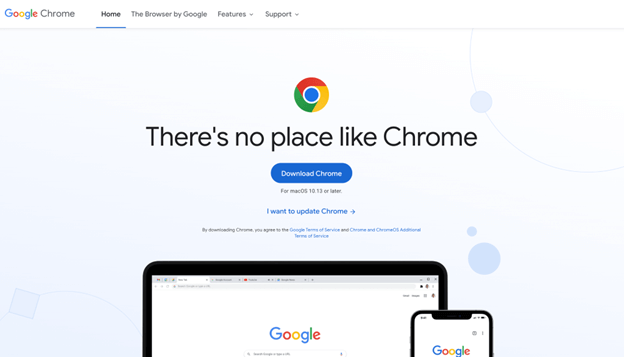 Touted as the most popular browser in the PC and smartphone market, Chrome is a freeware application created by Google. Developed initially to compete with Mozilla's Firefox and Microsoft's Internet Explorer, the browser currently holds more than half the market share of web browsers.
Chrome's forked from Chromium, whose code is structured with certain add-ons. The browser is written in C++ and is available in most mainstream operating systems, including Linux, Windows, OS X, iOS, and Android.
The top features of Chrome that make it one of the best browsers for Linux include:
Bookmarking: A straightforward bookmarking system allows you to save your favorite websites for swift access. You can create bookmark bars, organize the bookmarks into folders, and easily manage your saved links.
Great speed: Chrome uses the V8 JavaScript engine, which optimizes JavaScript performance, resulting in superfast load speeds.
Massive extensions library: The readily available Chrome Web Store is a huge catalog of extensions and plugins that enhance functionality. These range from password managers and ad blockers to entertainment extensions and productivity tools.
Integrated Flash Player and PDF Viewer: A built-in Flash Player and PDF viewer are available in Chrome. They come in handy as you can access multimedia content and view PDF documents without installing a separate plugin.
Interconnectedness with other Google Apps and services: Chrome readily integrates with the company's other applications and services since it is part of the Google ecosystem. For instance, you can access your Google Calendar, Photos, Gmail, and others directly from the browser.
Cross-device sync: After signing into your account on any device, you can access your settings, passwords, browsing history, and even open tabs. This leads to a continuity in the browsing experience and enhanced productivity.
Chromium – Open-Source Alternative to Chrome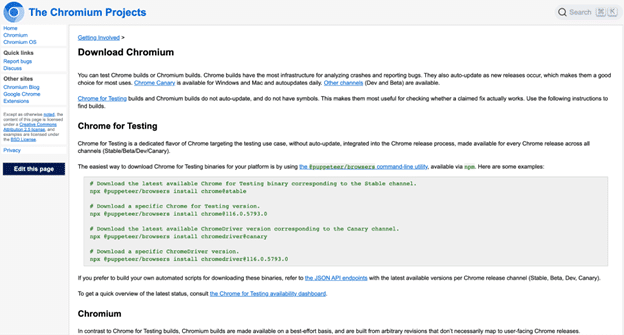 Chrome and Chromium are similar in so many ways, which is why Chromium is popularly known as Chrome's open-source alternative. This open-source nature allowed Google to fork its browser from Chromium and add a few proprietary features.
Chromium is also the base for many other web browsers, some of which have been discontinued, such as Rockmelt and Flock. The active ones include Yandex, Vivaldi, Epic, Dartium, and Opera.
The top features of Chromium as one of the best browsers for Linux include:
Open-source nature: Since it is an open-source browser, Chromium perfectly embodies the philosophy of the Linux community. It is transparent, allows for collaboration, and enhances user control over the software. You can assess the code, contribute to the project, and ensure the browser meets your requirements.
Enhanced privacy: A strong focus on privacy and security is one of the things Chromium is widely known for. Its developer community constantly scrutinizes its open-source code, helping to spot and fix vulnerabilities quickly. It also allows you to control individual websites' permissions, customize privacy settings, and manage website data.
Support for numerous syntaxes: Chromium complies with multiple web standards, including JavaScript, HTML5, CSS3, and more. This leads to seamless interaction with modern web content and smooth rendering. The support for numerous syntaxes also ensures compatibility with multiple web applications and websites.
History and session management: You can effectively manage your browsing history with options to view, clear, and search. This applies to cookies and cached data too. After closing your browser, you can restore previous browsing sessions to continue from where you left off.
Brave – Privacy-Centric Browsing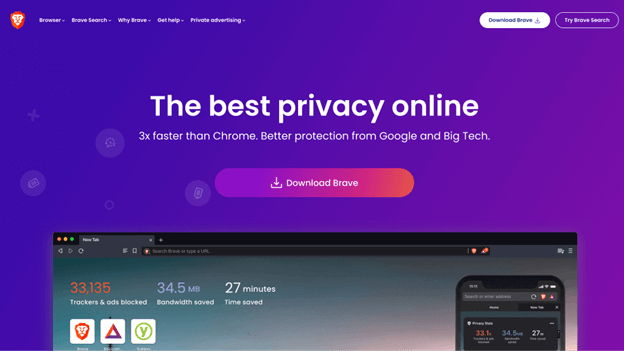 Being a Chromium-based browser, Brave resembles Chrome in several ways, such as being built on Java V8. However, it is focused on delivering an ad-free browsing experience and enhanced privacy. Its top features include:
Privacy protection: Brave's primary goal is to offer users enhanced privacy. This is why it blocks ads, cookies, and website trackers, by default, for a more private and secure browsing experience. You can also further fine-tune the privacy settings to control how your information is being handled.
Built-in ad blocker: A built-in ad blocker keeps out intrusive advertisements, enhancing privacy and speeding up web page loading" for higher readability.
HTTPS everywhere: The Brave browser automatically upgrades website connections to HTTPS to ensure data is encrypted between you and various websites. This prevents data tampering and eavesdropping, thereby enhancing your privacy and security.
Brave rewards: This unique opt-in program allows you to earn cryptocurrency tokens for browsing and receiving ads via push notifications" for higher readability. You can also send these Basic Attention Tokens (BAT) to content creators or transfer them to your bank.
Great speed and performance: Since it is built on Chromium and uses Java J8, Brave shares Chrome's speed and performance advantages. Its privacy and ad-blocking features further contribute to quicker page loading times.
Secure and synced wallet: Whether you want to manage your BAT or transact with other Ethereum-based assets, Brave has a secure crypto wallet. You can effectively sync it across several devices.
Tor integration: "Private Tabs with Tor" is a built-in Tor integration that enables private browsing in the Brave browser. Accessing the Tor network directly allows for greater privacy and anonymity.
Opera – Innovation and User-friendly Features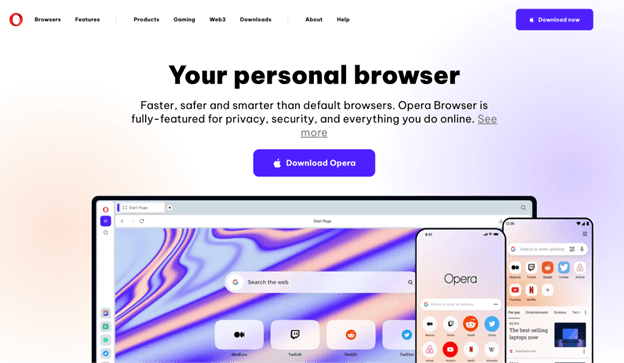 While it is yet to garner a huge market share, Opera Browser has been around for quite a while (since 1995). The application is written in C++ and is available for all major operating systems, including Windows, iOS, OS X, Android, and Linux. Its earlier versions used a search engine known as Presto, but it currently uses Google's fork of WebKit, Blink.
Opera Browser's top features include:
A focus on privacy: Some of Opera's capabilities include tracking protection and a built-in ad blocker. The browser also has a free, integrated Virtual Private Network (VPN), which allows for secure and anonymous browsing, mainly when using public Wi-Fi.
Enhanced browsing capabilities: To enhance your browsing experience, Opera comes with various capabilities, such as support for mouse gestures. It also has a sidebar that offers quick access to extensions, history, and bookmarks for streamlined navigation.
Speed Dial: Opera was the first browser to introduce the Speed Dial feature. This capability displays visual thumbnails of your favorite websites when you open a new tab. You can add or remove Speed Dial websites to ensure you can access your favorite websites and content much quicker.
Tabbed browsing: Like other major browsers, Opera supports tabbed browsing. This allows you to open several web pages in one browser window. Hence, you can avoid cluttering the desktop with many windows and quickly switch between tabs.
Download manager: Managing your downloaded files is easy with Opera Browser's user-friendly interface. You can monitor and manage ongoing downloads, see the progress of downloads, and access downloaded files directly from the application.
Page zooming: Opera has a page zooming capability to make content more readable and visually appealing. You can increase or decrease SVG, Flash, and Java as per your requirements.
Microsoft Edge – Premium Web Experience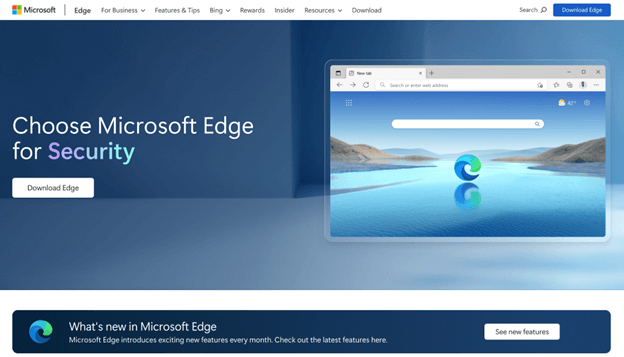 Microsoft introduced Edge when releasing Windows 10 in 2015, marking a clear shift in its web browser strategy. The browser was developed from scratch using a new rendering engine, EdgeHTML (and later Blink). This tool was designed to be more modern, efficient, and in line with current web standards.
As Internet Explorer's successor and upgrade, Edge caught on instantly and captured  a significant market share, even overtaking Firefox. The top features of this best browser for Linux include:
Privacy-focused capabilities: You can use Edge's built-in tracking prevention to choose between three tracking options (Strict, Balanced, and Basic). The browser also has an InPrivate browsing mode that prevents local storage of cookies, history, and site data.
Great customization: It is easy to tailor your web experience with Edge, as the browser offers a high level of customization. You can have quick links to your favorite websites, custom backgrounds, and content on the new tab page.
A rich selection of extensions: Microsoft Edge has a well-stocked Add-ons Store. The extensions available in the store allow you to enhance their functionality, depending on your needs.
Efficiency capabilities and great speed: Edge is high-speed and efficient since it uses Blink, Chrome's rendering engine. Microsoft also continually improves and optimizes the browser to ensure faster load times and smoother page rendering.
Microsoft's culture of security innovation: With a solid commitment to user safety and extensive cybersecurity experience, Microsoft has designed Edge with a significant focus on security. The company releases regular updates and patches to handle vulnerabilities and emerging threats swiftly. Furthermore, Microsoft's threat intelligence and security research help to identify and mitigate potential security risks.
How Choosing the Right Browser Can Enhance Linux Server Management
Choosing the best browsers for Linux can significantly improve the efficiency and effectiveness of Linux server management. The OS is popular for its versatility and robustness, making it an industry standard for running web servers, applications, and other demanding workloads. It is important to have a fast and responsive browser to prevent lagging or slow-loading interfaces.
Since you need seamless server management across multiple devices, having a browser compatible with various platforms is essential. This allows you to manage your server from a desktop, laptop, tablet, or smartphone.
Furthermore, a majority of server management tools and interfaces are web-based. Your browser has to be fully compatible with these web interfaces. It should also support many useful extensions, such as VPNs and password managers, to ensure enhanced productivity and functionality.
A specific browser's reliability and stability also influence Linux server management. Servers often run for extended periods without interruption, requiring frequent monitoring and management. A reliable and stable browser with low memory consumption lowers crash rates and offers a consistent experience during extended server management sessions.
Conclusion: Best Browsers for Linux
There are numerous browsers for Linux in 2023, but the ultimate choice depends on a user's needs and priorities. If you are looking for top-notch security and privacy, Brave, Chromium, and Firefox are some of the top options.
These Linux best browsers have excellent functionalities for protecting your privacy and enhancing safety. Chrome is one of the best choices if you need a superfast browser. It is also a great option if you want interconnectedness with your other Google Apps and Services to increase your productivity.
Overall, the best Linux browsers should support your business functions and enhance productivity while giving you maximum privacy and security. RedSwitches offers a wide range of server solutions for businesses of all sizes.
Our servers are readily compatible with all the best browsers for Linux and are built to offer enhanced security and scalability. Check out our resources to learn more about our server options.
FAQs
Q. What Browser Is Best on Linux?
The best Linux browser largely depends on your specific needs and preferences. The top options include Chromium, Brave, Vivaldi, Chrome, and Mozilla.
Q. Which Browser Is Faster in Linux?
Generally, Chrome and Mozilla Firefox are known to have great speeds on Linux. However, the speed of a Linux browser can vary depending on web content, extensions, and hardware.
Q. What Browser Is Faster in Ubuntu?
Since Ubuntu is a Linux distribution, Chrome and Firefox are generally considered to be some of its fastest browsers. However, the speed of any browser on Ubuntu can vary, depending on the hardware the OS is installed on, web content, and extensions.
Q. Which Linux Chrome Is Best?
The official version of Chrome for all Linux distros is Google Chrome. It is the best version if you need the full set of features and official support from Google.
Q. Is Chrome or Firefox Faster in Linux?
Both browsers have significantly incredible speeds, which can vary depending on the specific system and tasks. Some benchmarks slate Chrome as the faster option, but Firefox is popular for its efficiency and resource-friendliness.
Q. Does Chromium Offer the Same Features as Google Chrome on Linux?
Since Chrome is based on the open-source Chromium project, Google Chrome and Chromium share many features. However, Chrome has several proprietary additions, such as codecs and a Flash Player, make it unique.
Please rephrase to "The Brave browser automatically upgrades website connections to HTTPS to ensure data is encrypted between you and various websites."
Rephrase it to "captured"
Rephrase it to "The extensions available in the store allow you to enhance their functionality, depending on your needs."