Navigating the vast sea of WordPress plugins can often feel like exploring the cosmos – limitless and overwhelming. Specifically, the journey can be even more daunting if you're looking for the ideal WordPress chatting plugin. But why is that? The numbers speak for themselves: With an astonishing 60,000 free plugins populating the WordPress Plugin Directory and a further 5,000+ premium plugins awaiting discovery on platforms like CodeCanyon, it's clear that choices are aplenty. And let's not forget the myriad of third-party sources contributing to the whopping estimation of over 15,000 paid WordPress plugins.
But here's the silver lining: amidst this expansive universe, there is a perfect WordPress chatting plugin tailored just for you. Our mission? To illuminate your path by pinpointing the very best in the market. Whether you're an e-commerce mogul aiming to ramp up sales, a blogger seeking to forge deeper connections, or simply a site owner aiming to enhance user engagement, the right chat plugin can be a game-changer.
So, buckle up as we journey into chat plugins, deciphering the features, costs, and usability, ensuring you'll have found your perfect WordPress chat plugins companion by the end.
Table of Contents
What Is WordPress Live Chat?
Navigating the digital landscape of today's world, we often encounter a little chat box popping up at the bottom corner of many websites. This is the magic of live chat – an immediate, real-time communication tool. But when it's integrated into the world's most popular content management system, WordPress, it becomes even more powerful. Let's dive deep into understanding what live chat on WordPress is all about.
Introduction to Live Chat
Live chat is an online communication method that allows visitors on a website to have real-time conversations with customer support representatives or website administrators.
Real-time Interaction: Unlike emails or form submissions that might take hours or days for a response, live chat offers immediate feedback.
WordPress Live Chat Integration
WordPress Chat Plugin: For a WordPress website, integrating live chat functionality requires using a WordPress chatting plugin. These plugins are designed to embed the live chat feature onto your WordPress site seamlessly.
Customizability: Most live chat plugins for WordPress offer many customization options – from the design and location of the chatbox to automated greeting messages and more.
Integrating Live Chat on Your Website
Easy Setup: Most WordPress chatting plugins offer easy installation processes – typically, you'd install and activate the plugin, customize the chatbox to your liking, and voila, it's live!
Compatibility: Before choosing a WordPress chatting plugin, ensure it's compatible with your version of WordPress and other plugins to prevent any conflicts.
Real-time engagement can make or break a website's success in today's fast-paced digital age. With live chat WordPress integrations, website administrators can offer timely support and create meaningful connections, resolve queries, and drive conversions. With the myriad of WordPress chat plugin options, every website can find its perfect chat companion.
Why Use a WordPress Chat Plugin?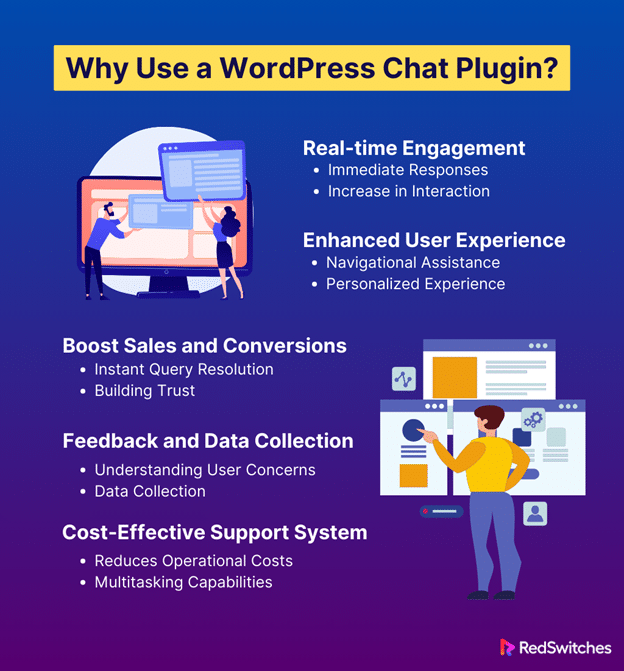 In the digital era where immediacy is not just appreciated but expected, website owners find themselves in the constant pursuit of improving user engagement and experience. One of the game changers in this domain has been integrating chat systems on websites. But why should one specifically consider a WordPress chatting plugin for their website? Let's break it down.
Real-time Engagement
Immediate Responses: A WordPress chatting plugin allows site owners or customer representatives to address queries in real time, reducing user wait times and increasing satisfaction levels.
Increase in Interaction: Websites with a live chat feature often see a higher level of user interaction, as visitors feel they have an accessible channel for communication.
Enhanced User Experience
Navigational Assistance: New visitors might need guidance navigating your website or understanding certain features. A chat plugin ensures they get the help they need promptly.
Personalized Experience: Many chat plugins can be tailored to greet users with personalized messages or offer support based on their browsing pages.
Boost Sales and Conversions
On-the-Spot Query Resolution: Potential customers often have purchase-related questions. Addressing them immediately can mean the difference between a sale and an abandoned cart.
Building Trust: A live chat function can lend credibility to your site. Visitors often feel more at ease making a purchase if they know support is readily available.
Insightful Feedback and Data Collection
Understanding User Concerns: Regular interactions can give insights into common questions or pain points, enabling you to refine your content, products, or services.
Data Collection: Some chat plugins offer analytics, helping you understand user behavior, peak chat times, and more, which can be invaluable for marketing strategies.
Cost-Effective Support System
Reduces Operational Costs: A WordPress chatting plugin can often be more cost-effective than setting up phone support, especially for small to medium businesses.
Multitasking Capabilities: Unlike phone calls, where agents can handle one user at a time, chat systems often allow for multitasking, letting agents handle multiple queries simultaneously.
Power Your WordPress Chat Plugin with Unmatched Speed! Choose our dedicated server hosting to ensure the best performance for your WordPress chat plugins and offer seamless interactions for your users.
The Best WordPress Chatting Plugins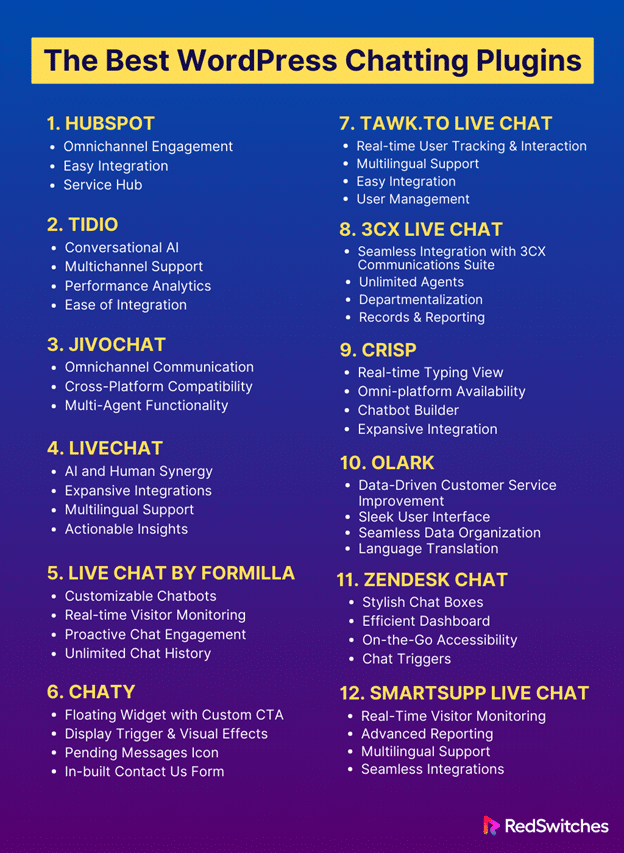 In the vast universe of WordPress tools and add-ons, pinpointing the ideal solution for your needs can be challenging. When facilitating real-time interactions on your website, the stakes are even higher. As you dive into this section, we've curated a list of the crème de la crème in WordPress chatting plugins. Whether you're a budding blogger or an e-commerce titan, the perfect chatting companion for your site awaits. Let's unravel the best of the best together.
HubSpot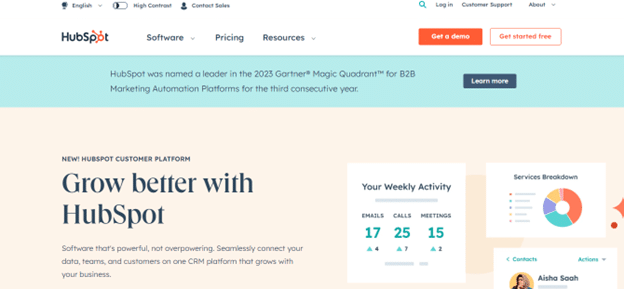 Credit: Hubspot
HubSpot, a renowned name in the digital marketing sphere, has crafted an all-in-one solution for WordPress users: The HubSpot All-In-One Marketing – Forms, Popups, Live Chat WordPress plugin. Bridging the gap between powerful marketing tools and your WordPress site, this plugin emerges as a versatile choice for those seeking seamless integration and functionality.
Key Feature:
Omnichannel Engagement
What truly sets HubSpot apart is its commitment to omnichannel engagement. With the WordPress live chat plugin by HubSpot, businesses can indulge in real-time interactions with their audience through chat and across various channels like email, chatbots, and website forms. This holistic approach ensures no customer query goes unanswered, enhancing user satisfaction and trust.
Other Features:
Easy Integration: The integration is a breeze once you meet the basic requirements, such as using a WordPress.org install or being on the WordPress.com Business plan. The plugin installation process is straightforward, ensuring even the least tech-savvy individuals can get it up and running.
Service Hub: Beyond just the live chat plugin WordPress functionality, HubSpot's Service Hub brings an arsenal of tools for outstanding customer service. Every interaction is meticulously logged, tracked, and made available for analysis, ensuring businesses can continually refine their customer service strategies.
Pricing:
Regarding cost, HubSpot offers flexibility to cater to various business needs and budgets.
Starter Plan: A free plan, albeit with limited features, perfect for businesses just dipping their toes into the world of digital engagement.
Professional Plan: Priced at $800 per month, this plan elevates the feature list, offering more advanced tools for businesses seeking growth.
Enterprise Plan: For the giants in the industry, the Enterprise plan, priced at $3,200 per month, brings the entirety of HubSpot's feature set to the table, ensuring no stone is left unturned in your digital marketing endeavors.
Choosing a WordPress chatting plugin can be daunting, given the many options available. However, with HubSpot's robust feature set, ease of integration, and flexible pricing, it firmly establishes itself as a top contender for anyone serious about enhancing their WordPress site's interactivity and user engagement.
Tidio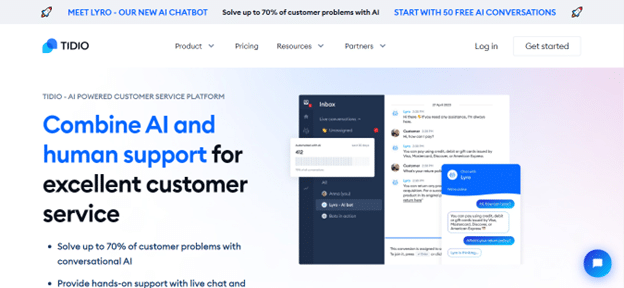 Credit: Tidio
In the crowded space of digital customer service tools, Tidio emerges as a beacon for businesses seeking a blend of efficiency and innovation. Offering both live chat and AI-driven chatbots, this WordPress chatting plugin aims to redefine how businesses engage with their audience in real time.
Key Feature:
Conversational AI
Setting Tidio apart from many in its category is its adept use of Conversational AI. With the capability to resolve up to 70% of customer problems, Tidio's chatbots are more than just reactive tools; they're proactive problem solvers. The platform boasts an impressive range of 35+ pre-defined chatbot templates, expertly designed to generate leads and combat cart abandonment. It is arguably the best chat plugin for WordPress for businesses focused on sales conversions.
Other Features:
Multichannel Support: Tidio's Multichannel feature consolidates communications across various platforms—WhatsApp, Messenger, Instagram, email, and live chat—into a singular, manageable panel.
Performance Analytics: Data-driven strategies are at the core of business growth. Tidio provides comprehensive analytics to assess team performance, allowing for improvements based on tangible insights.
Ease of Integration: Recognizing the diverse tools businesses utilize, Tidio ensures compatibility by allowing quick connections with numerous e-commerce tools and platforms in under 5 minutes.
Pricing:
Free Plan: Catering to startups and small businesses, Tidio offers a free plan with essential features such as live chat and email integration.
Paid Plans: For businesses seeking advanced functionalities, Tidio offers three paid plans—Communicator, Chatbots, and Tidio+. Pricing begins at $25 per month for the Communicator plan, $29 for Chatbots, and a premium of $394 for Tidio+, ensuring a plan for every business need.
Tidio is not just another WordPress chatting plugin; it's a holistic customer service solution. If you're searching for the best chat plugin for WordPress, Tidio's blend of advanced features and user-friendly design makes it a top contender.
JivoChat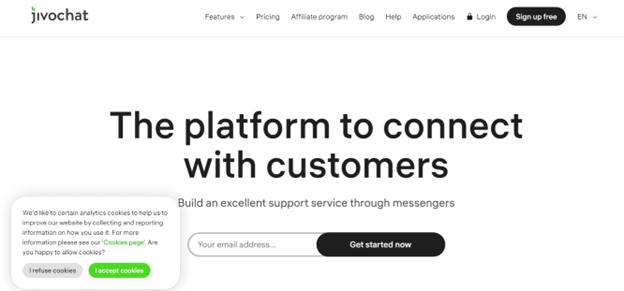 Credit: JivoChat
In the digital landscape, where instant communication can often decide between a sale and an abandoned cart, JivoChat bridges the gap. A WordPress chatting plugin that promises more than just real-time communication, JivoChat is designed to transform casual website visitors into loyal customers.
Key Feature:
Omnichannel Communication
JivoChat is not just a regular chat tool. It offers users a comprehensive approach to online communication. Whether through live chat on your website, Facebook interactions, voice services, email, or even mobile, JivoChat ensures you're always in touch, no matter the platform. Additionally, directly connecting WhatsApp to JivoChat amplifies its versatility, catering to the modern consumer's preference for messenger-based communications.
Other Features:
Cross-Platform Compatibility: JivoChat stands out with its seamless operation across various platforms, from desktop OS like Windows, Mac, and Linux to mobile devices via its dedicated iOS and Android apps.
Multi-Agent Functionality: A standout feature allows up to five agents to engage customers simultaneously for free, ensuring no query goes unanswered.
Pricing:
BASE (Basic): Businesses can access essential features at no cost, making it perfect for startups and small-scale operations.
PRO (Professional): Priced at $19 per agent monthly (when billed annually), this plan offers advanced Jivo features to enhance support and boost sales.
VIP (Enterprise): For larger enterprises with ten or more agents, the VIP plan costs $38 per agent per month and offers a comprehensive suite of Jivo features. Additional functionalities, such as WhatsApp connectivity, Telephony Plus, and Videocalls, can also be incorporated, with pricing varying based on the specific add-on.
JivoChat stands tall as a WordPress chatting plugin that understands the nuances of modern online communication. Its features and flexible pricing make it a formidable tool for businesses to enhance their online customer engagement.
LiveChat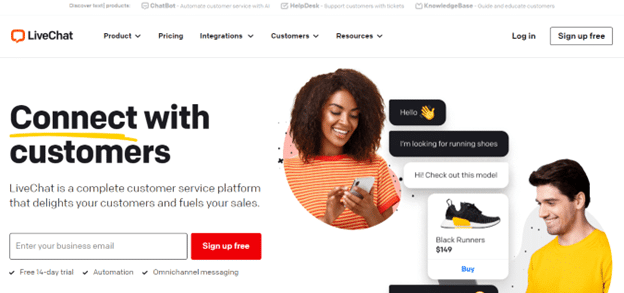 Credit: LiveChat
LiveChat stands out prominently due to its unmatched ability to integrate seamlessly with multiple communication platforms. Whether by email, Messenger, WhatsApp or even SMS, this tool ensures that businesses always maintain close contact with their customers. Additionally, its unique capability to showcase products and embed a purchase button directly in the chatbox amplifies its value, allowing potential clients to buy instantly during their chat sessions.
Key Feature
AI and Human Synergy:
By perfectly combining AI-driven chatbots and human agents, LiveChat ensures customers always receive tailored assistance. Furthermore, intuitive triggers ensure chats get routed to the right department, be it sales or support.
Other Features:
Expansive Integrations: LiveChat boasts over 200 tools in its app marketplace and provides an unparalleled integrative experience.
Multilingual Support: LiveChat breaks down language barriers by supporting over 45 languages, ensuring global audiences are catered to effectively.
Actionable Insights: Informed decision-making becomes intuitive with LiveChat's comprehensive reporting and analytics tools.
Pricing:
LiveChat's pricing tiers cater to businesses of varying sizes:
Starter ($16/mo): Best suited for small businesses or individual proprietors.
Team ($33/mo): Crafted for dedicated support teams.
Business ($50/mo): Ideal for expansive customer service departments.
Enterprise (Custom pricing): Tailored exclusively for large corporations.
(Note: Prices are optimal for annual billing, reflecting a discount.)
For businesses seeking a robust WordPress chatting plugin, LiveChat emerges as an undisputed choice, bringing both efficiency and versatility.
Live Chat by Formilla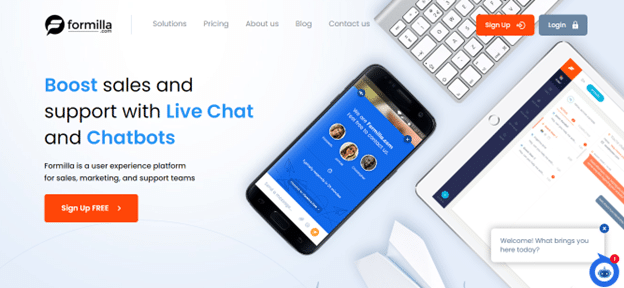 Credit: Formilla
Amidst the vast sea of chat room plugins for WordPress, Formilla has established itself as a premium choice for businesses wanting to offer real-time customer engagement.
Key Feature:
Customizable Chatbots
What makes Formilla a standout choice in the live chat plugin for WordPress arena is its ability to deploy customizable chatbots. These AI-driven chat agents can be tailored to automate sales and support tasks around the clock, ensuring customers get instant responses. In contrast, your human agents focus on more intricate issues.
Other Features:
Real-time Visitor Monitoring: Formilla gives businesses a bird's eye view of their site's live traffic. This not only gives insights into user behavior but also helps in proactively addressing potential customer queries.
Proactive Chat Engagement: Understanding user behavior is critical in today's digital world. Formilla's proactive chat feature can initiate dialogues based on user activities like browsing patterns and site duration.
Unlimited Chat History: Formilla ensures businesses never lose touch with past conversations. Premium to Growth plans provide unlimited chat history access, making revisiting previous customer interactions and gaining insights easier.
Pricing:
Standard: Free for one agent, this plan covers the basics from unlimited live chats to custom branding.
Premium: At $13.99 monthly for one agent, this plan dives deeper into advanced functionalities like AI chatbots and unlimited chat history.
Professional: Priced at $39.99 monthly for two agents, it includes real-time monitoring, file sharing, and more.
Growth: For businesses looking for the full package, the Growth plan at $59.99 monthly for two agents offers an exhaustive list of features, including unlimited messaging options.
Formilla isn't just another WordPress chatting plugin. With its robust suite of features, it ensures businesses can not only communicate effectively but also leverage AI's power to streamline operations and enhance customer satisfaction.
Chaty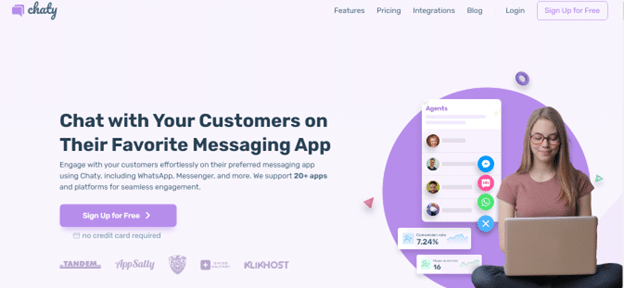 Credit: Chaty
In the bustling world of live chat plugins for WordPress, Chaty offers a versatile chat experience that seamlessly integrates with multiple social networks and platforms.
Key Feature
Floating Widget with Custom CTA:
Chaty's standout feature is its floating chat widget that ensures constant user engagement. Combined with a customizable call-to-action (CTA), this feature ensures visitors have a direct communication channel, enhancing user experience and interaction.
Other Features:
Display Trigger & Visual Effects: Decide when the chatbox displays and choose from 8 visual effects to engage users.
Icon Customization: Personalize the chat experience with customizable icons.
Pending Messages Icon: This secondary CTA draws users to engage.
Versatile Connectivity: Chaty allows for connections to multiple channels, enabling visitors to use chat apps from various social networks and platforms.
In-built Contact Us Form: Provides another communication layer for users wanting a more traditional contact method.
Pricing:
Chaty is accessible with a free version for those wanting to test the waters. A Pro version is available for businesses looking to utilize Chaty's full potential, starting at $49 per year.
Optimize Your WordPress Chat Experience! Understanding your web hosting type can make a significant difference in how your chat plugins perform. Dive into our comprehensive guide on web hosting services to ensure your WordPress chat offers the best user experience.
Tawk.To Live Chat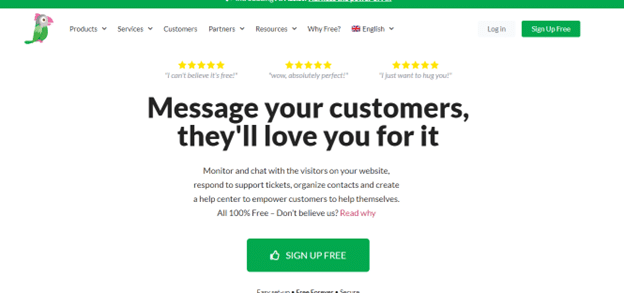 Credit: Tawk.To Live Chat
Online interactions dominate customer relationships, so a reliable WordPress chatting plugin becomes paramount. In this space, Tawk.to has carved a niche for itself, offering businesses a robust platform to enhance user engagement.
Key Feature:
Real-time User Tracking & Interaction:
What truly sets Tawk.to apart is its ability to monitor users in real time. Businesses can track the user's journey throughout the site and initiate timely interactions, making the visitor's experience personalized and impactful.
Other Features:
Conversation Logging: Maintain a log of all conversations, ensuring every interaction is available for future reference.
Multilingual Support: With support for over 45 languages, Tawk.to ensures businesses can cater to a global audience without any communication barriers.
Easy Integration: Whether you prefer adding a line of JavaScript or using a WordPress plugin, Tawk.to ensures seamless integration.
Mobile Apps: Stay connected with your visitors on the go with dedicated apps for both Android and iOS.
User Management: From banning to unbanning users and providing canned responses, Tawk.to gives businesses complete control over chat interactions.
Renowned Clientele: A testament to its prowess, Tawk.to is trusted by leading brands like Adidas, Chevrolet, and Domino's Pizza.
Pricing:
While Tawk.to takes pride in offering its essential services completely free, businesses looking for a more branded experience can remove the "Powered by Tawk.to" watermark for a fee of $15 per month. Furthermore, in a unique proposition, businesses can hire chat support representatives directly from Tawk.to at just $1 per hour.
For businesses exploring a comprehensive yet cost-effective WordPress chatting plugin, Tawk.to stands out as an excellent choice, balancing features with affordability.
Simplify your WordPress chat with top plugins! After setting up WordPress via Docker Compose, elevate user engagement. Dive into our guide, then discover the leading chat solutions for WordPress.
3CX Live Chat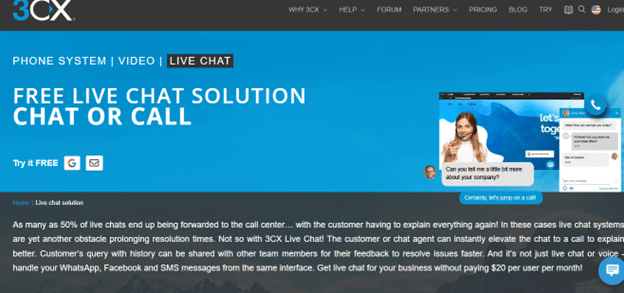 Credit:  3CX Live Chat
In the expanding universe of WordPress chatting plugins, 3CX Live Chat has distinguished itself with many features, ensuring businesses can maintain robust and dynamic interactions with their website visitors.
Key Feature:
Seamless Integration with 3CX Communications Suite:
While 3CX Live Chat functions effectively as a standalone solution, its potential is truly unlocked when integrated with the 3CX Communications Suite. This synergy allows businesses to elevate the chat experience by adding voice and video capabilities, ensuring comprehensive communication.
Other Features:
Unlimited Agents: Scale your customer support without any restrictions. With 3CX Live Chat, businesses can have as many agents as needed to cater to their customer base.
Departmentalization: Streamline your customer queries by setting up specific departments, ensuring visitors always reach the right agent.
Offline Messaging: Even when your agents are unavailable, ensure customers can leave messages, keeping the communication loop intact.
Chat Customization: The chat interface can be tailored to match the brand aesthetics, from color schemes to adding logos and photos.
Records & Reporting: Keeping track of past interactions is vital. 3CX Live Chat maintains chat records and provides enterprise-level reporting for analytical insights.
Engagement Boosters: From automatically popping up the chatbox to engage visitors to integrate surveys and polls within the chat, 3CX Live Chat ensures user engagement remains high.
Pricing:
3CX Live Chat prides itself in providing a feature-rich experience at zero cost. The plugin is entirely free, ensuring businesses, regardless of size, can offer an enhanced chat experience to their visitors.
3CX Live Chat is not just another live chat plugin for WordPress free. Its extensive feature set and cost advantage make it a top contender for businesses offering a comprehensive chat experience.
Crisp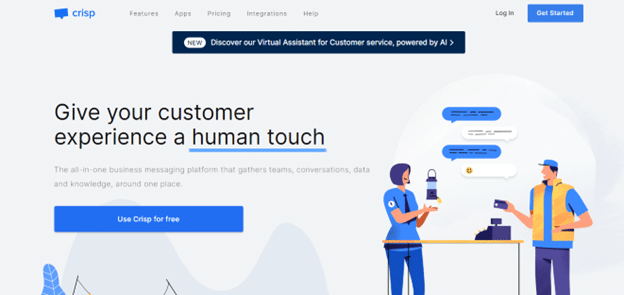 Credit: Crisp
Amid the myriad of WordPress chatting plugins, Crisp emerges as a top-tier choice for businesses keen on offering real-time interactions, boosting their email lists, and generating leads.
Key Feature:
Real-time Typing View:
One of Crisp's standout features is the ability for businesses to view what their visitors are typing in real-time. This reduces wait times, allowing agents to anticipate queries and respond promptly, leading to more efficient and meaningful interactions.
Other Features:
Conversation Tags: Every conversation can be tagged, which aids in building a segmented and effective contact list.
Omni-platform Availability: Whether you're on the move or stationed at your desk, Crisp's desktop and mobile apps ensure you're always connected.
Instant Notifications: Real-time notifications ensure no query goes unnoticed, leading to higher customer satisfaction.
Chatbot Builder: Automate basic interactions with a customizable chatbot, enhancing the user experience, especially during off-hours.
Team Inbox: Collaboration becomes effortless with a shared team inbox, ensuring seamless handoffs and comprehensive support.
Expansive Integration: Beyond the standard chat interface, Crisp can be integrated with platforms like Slack, Messenger, Telegram, and more. This multi-channel approach ensures you're always where your customers are.
Pricing:
While Crisp offers a formidable set of features in its free version, businesses can unlock its full potential with the pro version, priced at $25 per month. This version brings to the table advanced functionalities, including chat triggers, customization, and canned responses, making it worth the investment.
Crisp isn't just another WordPress chatting plugin; it's a holistic solution designed for businesses that understand the value of real-time customer interaction in today's digital landscape.
Olark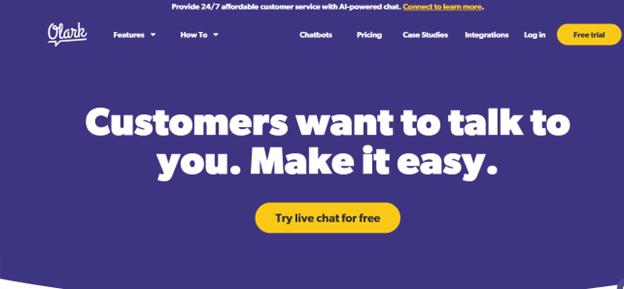 Credit: Olark
In the expansive universe of WordPress chatting plugins, Olark might not be the first name you hear. Still, its capabilities make it a force to be reckoned with, especially for businesses keen on intertwining impeccable customer service with their sales strategy.
Key Feature:
Data-Driven Customer Service Improvement:
Olark's standout functionality is its ability to harness past interactions. By analyzing previous chats, businesses can pinpoint areas of improvement, ensuring every subsequent interaction is better than the last.
Other Features:
Sleek User Interface: Beyond its robust functionalities, Olark brings one of the most aesthetically pleasing chat interfaces to the table, enhancing the user experience.
Targeted Support: By creating comprehensive user profiles, Olark allows businesses to offer precise, tailored support, setting the stage for potential sales opportunities.
Seamless Data Organization: Whether you prefer to manage data within Olark or integrate it with your CRM, the plugin offers flexibility, ensuring businesses can access and analyze customer interactions effortlessly.
Language Translation: Language can often be a barrier in a global marketplace. Olark mitigates this by offering chatbox translations, ensuring communication remains seamless irrespective of language differences.
Route to Right Agents: To ensure the expert in that area addresses each query, Olark facilitates chat routing, ensuring every interaction is handled by the most suitable agent.
Pricing:
Olark provides a free version, offering businesses a taste of its capabilities. For those keen on harnessing the full spectrum of its features, the Pro version is available at a competitive price of $29/month.
Secure Your Site and Optimize User Engagement! Once you've got your WordPress site backed up and safe, ensure your visitors have the best communication experience. Learn to backup seamlessly and then elevate your user interactions with the best chat plugins for WordPress.
Zendesk Chat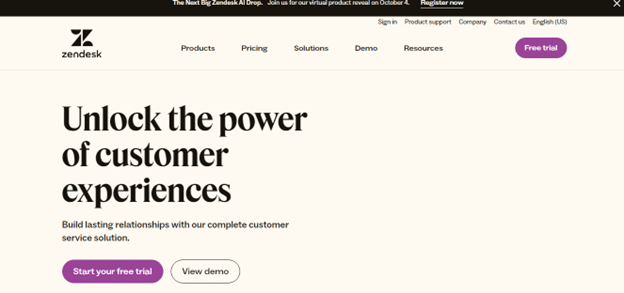 Credit: ZenDesk
In WordPress chatting plugins, Zendesk Chat has carved a niche, offering an exquisite balance of aesthetics and functionality, making it a favorite among many WordPress users.
Key Feature:
Stylish Chat Boxes:
Zendesk Chat stands out with its beautiful, professional-grade chat boxes. With many customizable layouts and themes, businesses can ensure the chat interface aligns seamlessly with their brand aesthetics.
Other Features:
Efficient Dashboard: The Zendesk external dashboard isn't just about responding to messages. It's an analytics powerhouse, providing insights on chat performances, visitor behaviors, and chat history.
On-the-Go Accessibility: With dedicated apps for both Android and iPhone, businesses can ensure they're always connected, addressing visitor queries from anywhere.
Chat Triggers: Available in the premium plan, chat triggers offer businesses the ability to auto-launch chats based on specific conditions, ensuring proactive engagement.
Pricing:
Zendesk Chat offers commendable flexibility when it comes to pricing. The free subscription permits one chat agent to manage unlimited chats (though one at a time), making it a viable choice for smaller websites. The premium plans start at $19 monthly for businesses seeking enhanced functionalities.
For those searching for a WordPress chatting plugin that marries design brilliance with robust functionalities, Zendesk Chat emerges as a top contender. Whether you're a small blog or a large e-commerce platform, its scalable features ensure every visitor interaction is seamless and memorable.
Ready to make the right hosting choice for your needs? Dive into our comprehensive guide, and then take action! Don't settle—choose the best. Click here to start your journey!
Smartsupp Live Chat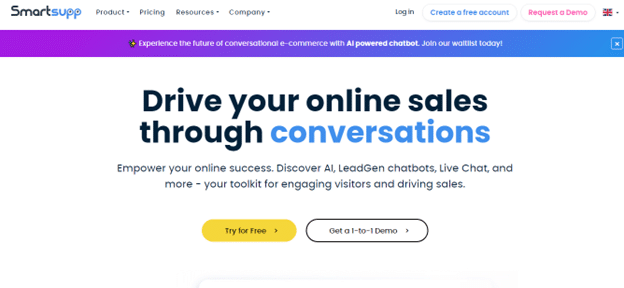 Credit: Smartsupp Live Chat
In the ever-expanding universe of WordPress chatting plugins, Smartsupp Live Chat carves its own niche, offering a unique amalgamation of live chat functionality, chatbots, and advanced reporting tools.
Key Feature: 
Real-Time Visitor Monitoring:
What sets Smartsupp apart is its real-time monitoring capability. The plugin doesn't just let you interact; it offers a deeper insight into visitor behavior, letting you understand your website's most popular areas.
Other Features:
Advanced Reporting: Dive into comprehensive reports to make data-driven decisions.
Proactive Messaging: Capitalize on opportunities by nudging potential customers with attractive offers or promo codes.
Video Recordings: Review visitor interactions to identify and rectify potential bottlenecks in the user journey.
Multilingual Support: Engage a global audience with support for seven languages, including English, Spanish, and German.
Seamless Integrations: From connecting with Facebook to offering a multi-channel experience, Smartsupp ensures you're where your customers are.
Pricing:
Smartsupp's pricing spectrum is designed to cater to a diverse clientele:
Standard Plan: Ideal for freelancers and personal websites at $15/month.
Pro Plan: Catering to businesses with more comprehensive needs at $72/month.
Ultimate Plan: Tailored for businesses requiring a bespoke solution, starting from $2,000/year.
Every plan comes with a 14-day free trial. The free plan, ideal for starters, offers service for one agent and up to 100 monthly conversations.
Smartsupp Live Chat isn't just another WordPress chatting plugin. It's a comprehensive solution that acknowledges the importance of real-time insights, proactive engagement, and seamless integrations in today's digital era.
Final Thoughts
Navigating the vast sea of chat plugins for WordPress can be overwhelming. With many options at your disposal, each boasting unique features and benefits, the decision-making process can be daunting. However, the crux remains: a robust chat plugin can redefine your user engagement, streamline customer support, and amplify conversions.
This brings us to the integral role of your hosting environment. A chat plugin, no matter how advanced, will be rendered ineffective if the hosting backend doesn't support its functionality with the required speed, uptime, and security.
That's where RedSwitches enters the frame. As a premium hosting company, we understand the intricacies of maintaining optimal site performance. Our hosting solutions are tailor-made to ensure your chosen chat plugin operates seamlessly, offering visitors an unparalleled chat experience.
Choose RedSwitches for Premium WordPress Hosting Today!
FAQs
Q Does WordPress have a chat plugin?
Yes, many chat plugins are available for WordPress, like Tidio, HubSpot, Smartsupp Live Chat, and many others mentioned in this article. You can find them in the WordPress plugin directory.
Q What are the best WordPress live chat plugins for 2023?
Yes, there are many free chat plugins available for WordPress. Some popular free chat plugins include:
to Live Chat
Live Chat Unlimited
Formilla Live Chat
Pure Chat
Chaport
Q How do I create a chat in WordPress?
You can install and activate a chat plugin to create a chat in WordPress. Once the plugin is activated, you will need to configure it. This typically involves creating a chat account and adding the chat widget to your website.
Q How do I use chat plugins in WordPress?
Once configured your chat plugin, you can chat with your website visitors. You must simply log in to your chat account and start a conversation.
Q Is the LiveChat plugin free?
The LiveChat plugin is not free. However, it does offer a 14-day free trial. After the free trial, you must purchase a subscription plan to continue using the plugin.
Q What are the benefits of using live chat plugins?
Some benefits of using live chat plugins are:
– Improved customer satisfaction and support
– Increased customer engagement
– Better lead generation and conversion rates
– Cost-effective customer support solution
– Real-time communication
– Customizable chat window
Q How do I choose the best live chat plugin?
To choose the best live chat plugin, consider the following factors:
– Compatibility with your WordPress website
– Features and functionality
– Ease of use
– Customizability
– Performance and speed
– Customer support
– Pricing and affordability
Q Can I use live chat plugins on WordPress?
Yes, you can use live chat plugins on WordPress. There are many plugins available specifically designed for WordPress websites that offer live chat functionality.
Q Are there any free live chat plugins for WordPress?
Yes, there are free live chat plugins available for WordPress. Some popular free options include WP Live Chat Support, Tawk.to Live Chat, and Sendinblue.
Q How do I install a live chat plugin on WordPress?
To install a live chat plugin on WordPress, follow these steps:
Login to your WordPress dashboard
Go to "Plugins" > "Add New"
Search for the live chat plugin you want to install
Click on "Install Now" button next to the plugin
After installation, click on "Activate" to activate the plugin
Configure the plugin settings as per your requirements
Q Can I customize the appearance of the live chat window?
Yes, most live chat plugins offer customization options to match the appearance of the chat window with your website's theme. You can customize colors, chat window size, position, and chat button design.
Q Are live chat plugins compatible with mobile devices?
Yes, live chat plugins are designed to be compatible with mobile devices. Most plugins offer responsive designs that adapt to different screen sizes and provide a seamless live chat experience on mobile devices.
Q Can I use live chat plugins to chat with visitors on my WordPress site?
Yes, you can use live chat plugins to chat with visitors on your WordPress site. Once a live chat plugin is installed and configured, you can view and respond to chat messages directly from your WordPress dashboard or from a separate chat dashboard provided by the plugin.