Digital security has never been more crucial. A recent report by Cision found that 74% of global internet users feel they have lost control over how personal data is collected and used. In fact, over half of all public-facing Linux servers contain at least one serious vulnerability attackers can exploit to infiltrate user systems and steal private information. This only amplifies your need for the best VPN for Linux systems.
By obscuring online identity and encrypting internet traffic, virtual private networks (VPNs) help level the digital security playing field for Linux and beyond. With an estimated 1.5 billion VPN users globally in 2023 alone, finding the best VPN tailored for Linux has arguably never been more important.
Read on as we explore the top options and evaluate features to help you safely regain control in today's treacherous online landscape.
Table of Contents
What is Linux?
Linux is a free and open-source operating system that is highly customizable and runs on a wide range of devices, from smartphones and tablets to computers and servers. At its core, Linux is an operating system kernel that was first developed in 1991 by Linus Torvalds. The fundamental program allocates system resources and facilitates interactions between hardware and software.
You can customize your Linux experience by selecting from thousands of additional free and open-source software applications. Different Linux distributions bundle the kernel with other useful software as a complete operating system. The open-source nature of Linux gives anyone the freedom to use, study, share, modify, and improve its source code, allowing for rapid innovation and availability across various computing platforms.
Why Use VPN with Linux?
Everything from our browsing history to banking details is up for grabs online. Ensuring your privacy and security should be a top priority. Whether you're using Linux for work, school, or personal activities, a virtual private network (VPN) can be precious for boosting your online confidentiality.
Here are some key reasons to use the best VPN for Linux.
1. Enhance Your Security and Browsing Privacy
When you connect to the internet without a VPN, your internet service provider (ISP) can see and sell records of every website you visit. A VPN encrypts and anonymizes your internet traffic so that no one, including your ISP, can snoop on your online activities.
With a VPN enabled, your data is securely tunneled through an encrypted server. The best VPN for Linux protects sensitive information like usernames, passwords, banking details, and more as you browse and stream content.
2. Bypass Geo-Restrictions of Content
Depending on your location, streaming sites like Netflix maintain regional catalogs of TV shows and movies. However, you can modify your online location to access content anywhere with a VPN. Are you living abroad and want to watch shows only available in your home country? No problem. Are you curious about what shows other nations can view? Switch servers and browse away. Having the best VPN for Linux lets you bypass geo-restricted content, so you're free to watch whatever you want, wherever you happen to be.
3. Remain Anonymous with a Hidden IP Address
Each device connected to the internet is assigned a unique IP address that can reveal your physical location. However, when you connect to the internet through a VPN server, you borrow the server's IP address instead of using your own. This means all your traffic appears to be coming from the server's location rather than your own, making it difficult for websites, advertisers, or hackers to track your real-world whereabouts. A VPN shields your actual IP address for complete online anonymity.
4. Access Censored or Restricted Sites
Some countries censor or restrict access to certain websites and internet services for political reasons. Using a VPN allows you to bypass such censorship by routing your traffic through an encrypted server in a region where the site or service is accessible. Whether you want to access blocked social media, news outlets, or other types of websites when traveling abroad or within your own country. A VPN gives you freedom and power over your internet experience.
Best VPNs for Linux in 2023
Linux users have a wide variety of excellent VPN options to choose from. Here, we evaluate the top VPN services compatible with Linux systems based on criteria like speed and performance, privacy features, number of server locations, value for money, and ease of setup and use.
We break down the best VPN for Linux users in 2023 to help you find a great VPN to suit your unique needs and budget.
1. NordVPN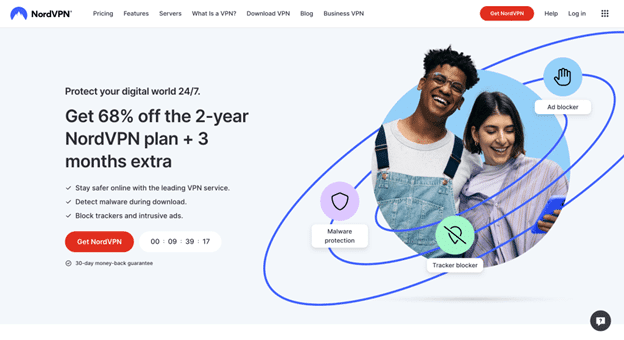 Credit: NordVPN
NordVPN is one of the best Linux VPNs worldwide, with over 12 million users. As one of the top-rated VPN providers, it has proven to be an excellent choice for Linux users seeking a secure and user-friendly virtual private network.
Top Features
Ranked as the best VPN for Linux, NordVPN has many great useful features. Here are the top ones.
Encryption: NordVPN utilizes AES-256-GCM encryption, which is military-grade and incredibly secure. This encryption scrambles user data and keeps online activity private from hackers and third parties.
No-logging policy: NordVPN has a strict no-logging policy verified by independent third-party audits. This means the service does not track or store user browsing history, connection logs, bandwidth usage, or activity data, providing peace of mind.
Wide protocol support: NordVPN supports VPN protocols like IKEv2/IPSec, OpenVPN, and NordLynx, which offers maximum speed and security. Linux users have flexibility in protocol selection.
Simultaneous connections: Users can secure up to 6 devices simultaneously on one NordVPN account. This allows Linux users to dynamically protect multiple devices, including phones, laptops, and desktops.
Fast speeds: Thousands of worldwide servers mean fast connections anywhere. NordVPN sets no limits on bandwidth usage for unlimited streaming and downloading. Servers are optimized for secure web browsing, P2P sharing, and streaming HD or 4K video content.
2. Surfshark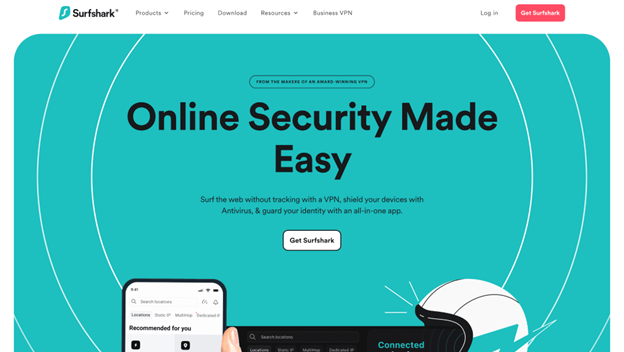 Credit: Surfshark
Surfshark is a popular VPN provider known for its simplicity, speed, and security. Over the past few years, it has rapidly gained popularity as the best Linux VPN that works across various devices and platforms, including Linux.
 Top Features
Here are the top features that make Surfshark the best VPN for Linux.
Unlimited simultaneous connections: Surfshark lets you connect unlimited devices to your account simultaneously. This is useful for households or shared users on Linux systems.
No-logs policy: Surfshark does not track or store user activity logs, ensuring user privacy and anonymity. This stealth-like privacy is important for users browsing on Linux.
Kill switch: This feature automatically shuts off internet access if the VPN connection fails or drops, keeping browsing activity private. The kill switch ensures no data passes unencrypted on a Linux computer.
Whitelisted apps: You can whitelist certain apps to avoid using the VPN, allowing you to use services that may be blocked when connected through a VPN. This gives users more flexibility on Linux.
1,700+ servers: Surfshark is distributed across 65 countries, allowing you to choose servers in different regions for better speeds or access geo-blocked content. The wide server selection optimizes the experience on Linux.
3. ExpressVPN
Credit: ExpressVPN
ExpressVPN is one of the most full-featured and widely-used VPN services for Linux users. It is among the best Linux VPNs trusted by over 3 million users worldwide. ExpressVPN aims to deliver fast connections, powerful security features, and intuitive apps across all major platforms, including Linux.
Top Features
Here are some of the top features that make ExpressVPN the best VPN for Linux.
Speed: ExpressVPN's network includes over 3,000 servers worldwide, ensuring fast connections and minimal speed reduction. Server locations are specifically optimized for activities like streaming and gaming.
Privacy: Military-grade AES-256 encryption and a strict no-logs policy keep user activity and connections private from third parties, even ExpressVPN.
Apps: Native ExpressVPN apps are available for major Linux distros like Ubuntu, Debian, and Arch for easy setup and use. The apps can automatically connect to the fastest available server on startup for optimal performance.
Device Support: Accounts allow for connecting three devices simultaneously so that the same account can be used on a Linux computer, phone, tablet, and more simultaneously without any issues.
4. CyberGhost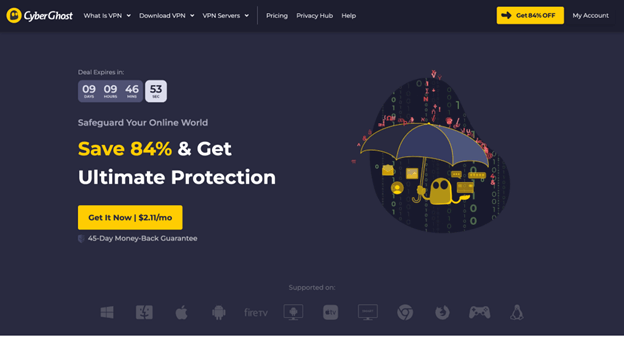 Credit: CyberGhost
CyberGhost is one of the most popular VPN service providers, with over 38 million users worldwide. CyberGhost has provided secure, private connectivity for over 15 years as one of the original VPN innovators.
Top Features
CyberGhost has many useful features that rank it as the best VPN for Linux user experience.
Wide device support: CyberGhost works on all major operating systems, including Linux, Windows, iOS, and Android. You can install it on up to 7 devices simultaneously.
No activity logs: It has a strict no-logs policy to ensure your online privacy is never compromised. Your browsing activity and data are never logged.
Over 6,700 servers: CyberGhost has one of the largest global server networks, with over 6,700 servers across 90 countries. This allows you to manually select servers for optimal performance or to watch geo-restricted content.
256-bit AES encryption: Military-grade AES 256-bit encryption is used to secure all your internet traffic when connected to a CyberGhost server. This protects you from network surveillance and theft of sensitive data.
Easy to use interface: The intuitive CyberGhost interface for Linux makes connecting to servers quick and simple. Advanced features are also easily accessible.
5. PrivateVPN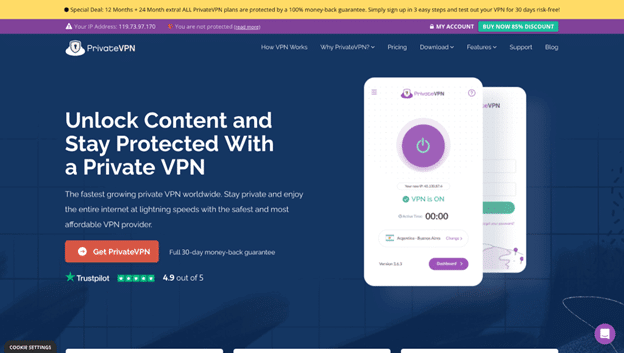 Credit: PrivateVPN
PrivateVPN is a popular VPN provider known for its strong focus on privacy and security. Founded in 2010, it has servers located in over 30 countries worldwide. With apps for all major platforms, including Linux, PrivateVPN provides an easy way to anonymize online activity and bypass censorship when using Linux systems.
Top Features
As one of the best Linux VPNs, PrivateVPN offers many powerful features, including the following.
Encryption: PrivateVPN uses AES-256 encryption to protect users' data from hackers and snooping third parties. AES-256 is considered very secure.
No logging: The service claims to keep no activity or connection logs that could potentially link traffic back to a user. This enhances user privacy and anonymity.
Kill switch: This feature automatically blocks internet access if the VPN connection drops, preventing the leak of private IP addresses. Kill switches ensure users stay protected even if the VPN disconnects unexpectedly.
OpenVPN and IKEv2/IPSec protocols: PrivateVPN supports the widely used OpenVPN protocol for features like perfect forward secrecy. It also uses the robust IKEv2/IPSec protocols for an additional layer of security.
Unlimited bandwidth: With no limits on how much data can be transferred, users can stream, download, or browse without worrying about exceeding usage allowances. This is great for power users.
User-friendly apps: The Linux VPN app provides an easy connection with just one click. Additional features like automatic location selection and kill switches are integrated for convenience.
6. Private Internet Access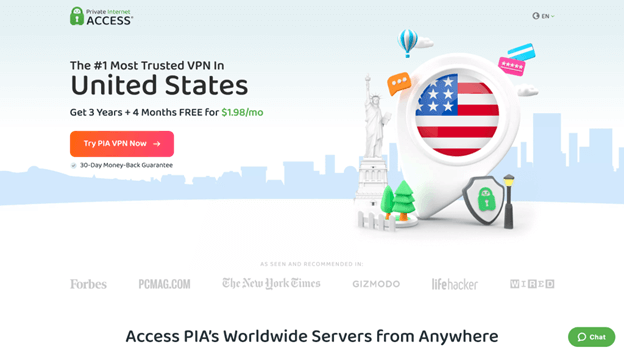 Credit: Private Internet Access
Private Internet Access is one of the most popular VPN services for Linux users. It has servers located worldwide, allowing you to browse the web from any location securely. Many regard it as the best VPN for Linux systems.
Top Features
These are some of the top features offered by Private Internet Access.
No-logs policy: PIA does not track or store any logs of user activity or online behavior, ensuring complete anonymity. This is vital for those concerned about privacy.
Works on multiple devices: The VPN can be installed and used on various operating systems like Windows, Mac, Android, iOS, and Linux. You can have simultaneous connections across different devices on different platforms.
Fast speeds: Despite encoding and encrypting your internet traffic, PIA maintains high speeds without significant performance drops. You can stream, download torrents, or browse the web quickly.
Kill switch: The kill switch automatically shuts down internet access if, for some reason, the VPN connection disconnects to prevent any leaks. Your original IP is always protected from being exposed.
Wide server coverage: Private Internet Access has over 3,300 servers in more than 75 countries worldwide. This makes it the best VPN for Linux in terms of speed. You can appear to be browsing from any location and access region-locked content.
7. ProtonVPN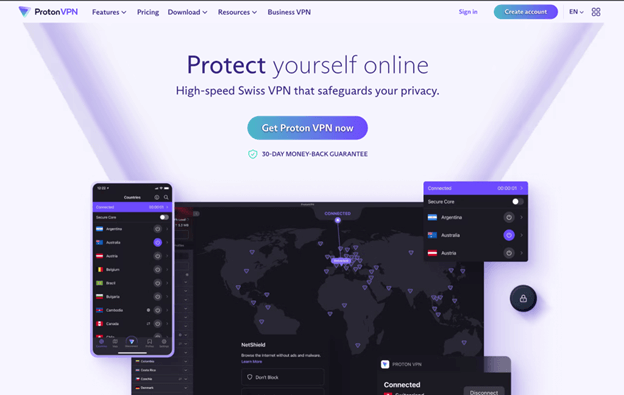 Credit: ProtonVPN
VPN services have become essential tools for keeping our online activity private and secure in the modern connected world. With the rise of remote work and heightened online surveillance, choosing a reliable VPN provider is essential. ProtonVPN is a solid option that works seamlessly on Linux.
Top Features
Below are some top features you will enjoy when choosing ProtonVPN as your best Linux VPN service.
Easy-to-use apps: ProtonVPN has officially supported open-source apps for Linux that are easy to install and use. Just connect with one click to encrypt all your internet traffic.
Military-grade encryption: Your data is secure with ProtonVPN thanks to 256-bit AES encryption, the gold standard for privacy. This is the same level of encryption governments and banks use to protect highly sensitive information.
Zero logs policy: ProtonVPN maintains a strict no logs policy verified by independent third-party audits. The company does not track or store any activity data like IP addresses, connection times, or browsing history that intelligence agencies could request.
Multiple server locations: ProtonVPN servers are spread across over 50 countries worldwide. This allows you to mask your true location and access geo-restricted content. Connect to faster servers for optimal streaming and downloading speeds.
Simultaneous connections: You can connect up to 10 devices simultaneously to the VPN. This is useful to secure all your smart home devices, streaming boxes, laptops, phones, and more under one account.
8. Mullvad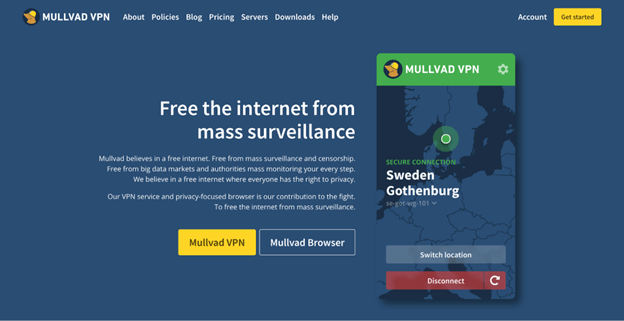 Credit: Mullvad
Mullvad is a top-recommended VPN service for Linux users due to its strong privacy protection, transparency, and excellent performance. Its watertight privacy features, transparent business model, and outstanding performance make it an ideal choice for those seeking a secure VPN for Linux computers and devices. Its no-nonsense approach to privacy without user-logging or data collection combined with superb usability has won praise from privacy experts.
Top Features
These are the features that Mullvad offers to its VPN users.
No logging: Mullvad does not track or store any activity logs. It has a strict no-logging policy verified by independent audits, ensuring your online privacy is fully protected.
VPN Kill Switch: Mullvad has a VPN kill switch that will automatically shut down your internet connection if the VPN unexpectedly disconnects to prevent data leaks.
IPv6 leak protection: It tunnels and encrypts all your IPv6 traffic in addition to IPv4 to prevent network information leaks, which enhances your online anonymity. This makes it rank on top in terms of the best VPN for Linux IP protection.
Open source apps: The Mullvad VPN client applications for Linux, Windows, and smartphones are all open source, allowing the code to be inspected by anyone for potential privacy and security issues. This enables users to verify that nothing clandestine is happening behind the scenes.
Customizable settings: You have flexible options to tweak your VPN connection, like choosing from over 500 servers in over 40 countries to connect from and selecting the protocol (OpenVPN, WireGuard) and port number.
No bandwidth limits: Mullvad does not limit how much data you can transfer over their VPN, which is ideal for high bandwidth activities like video streaming or torrenting.
9. IVPN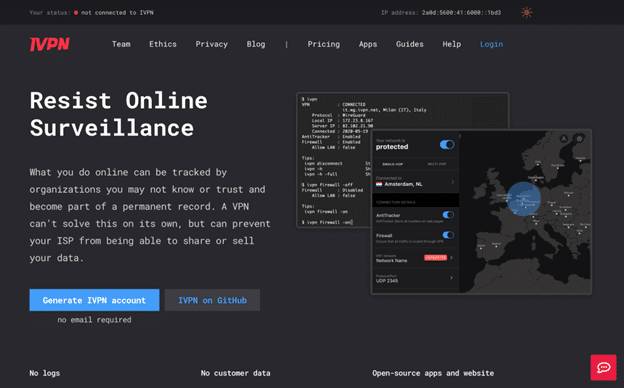 Credit: IVPN
IVPN is a highly respected VPN provider known for its strong stance on privacy and transparency. Founded in 2011, IVPN has grown to support over 40,000 users across 80 countries.
Top Features
IVPN is arguably the best Linux VPN server in terms of security policies. Here are its top features
Strict no-logging policy: IVPN does not store connection logs, usage logs, or online activity logs. This ensures users' online privacy is well protected.
Open-source apps: IVPN releases the source code of its proprietary apps like the VPN kill switch. This allows independent reviewers to check that there is no suspicious code or backdoors.
Multi-hop connections: IVPN offers multi-hop connections that pass user traffic through multiple countries to better mask online activities from potential snoopers, including ISPs and governments.
Kill switch feature: The IVPN kill switch blocks all internet traffic if the VPN connection drops, ensuring the original IP address is never exposed. This is useful, especially for Linux users, as connections may sometimes disconnect inadvertently.
Works on Linux: IVPN provides native OpenVPN apps for major Linux distros like Ubuntu, Debian, Fedora, Arch, and their variants. This ensures seamless integration within the Linux environment for always-on VPN protection. IVPN also supports WireGuard VPN protocol on Linux for faster speeds.
Intuitive apps: The IVPN apps for Linux come with an intuitive keyboard-driven interface and good documentation, ensuring easy setup and use for beginners and advanced users alike.
10. TorGuard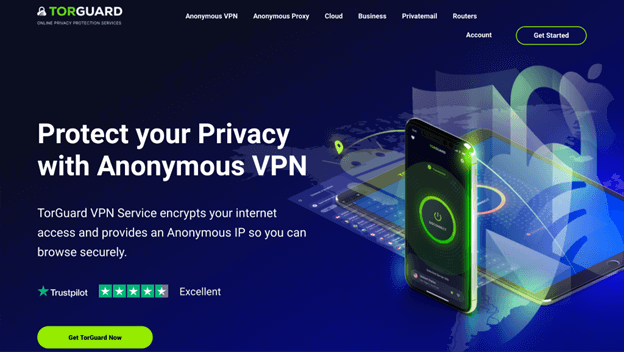 Credit: TorGuard
TorGuard is one of the most full-featured VPN services for Linux users seeking top-notch privacy and security. As one of the original VPN providers founded in 2008, TorGuard has grown to support over 3,000 servers in 50+ countries worldwide.
Top Features
TorGuard offers some of the best VPN for Linux features – including the following.
Wide server coverage: TorGuard has an extensive global network of over 3,000 servers across 50 countries. This comprehensive server coverage means better speeds and enables access to content from any location.
Multi-protocol support: It supports the most common VPN protocols, including OpenVPN, IKEv2, IPSec, and SSH. This broad protocol support ensures compatibility with firewalls and provides a secure connection to the VPN.
Strong encryption: TorGuard uses AES-256 encryption to keep your data and online activity private and secure. AES-256 is currently considered uncrackable and provides a very high level of protection.
Kill switch policy: Their kill switch policy automatically shuts down internet traffic if your connection to the VPN drops, keeping your real IP address fully private. This is a crucial security feature for maintaining privacy.
Simultaneous connections: You can have up to 5 simultaneous connections, whether on different devices or locations, perfect for protecting multiple devices simultaneously.
Conclusion
After putting several VPNs to the test on Linux, NordVPN stood out as the best Linux VPN. Its insane speeds and a wide array of features were outstanding. From the automatic kill switch preventing accidental leaks to the double encryption wrapping my data in even more security. NordVPN also keeps you safely connected to over 5,500 worldwide servers.
However, NordVPN isn't the only heavy hitter. ExpressVPN consistently delivers lightning-fast speeds on all Linux machines. With its strict no-logging policy and military-grade encryption, you can stream, browse, and download with total peace of mind. Also, ProtonVPN, though donation-based, is super simple to use and great for quick torrenting or accessing blocked sites.
Ultimately, any of these top VPNs is a steal for unlocking your full internet freedom on Linux. They fill a real need since basic VPN functionality isn't built right in like it is on other platforms. So, investing a few bucks goes a long way toward securing your connection and shielding your online activities from snoops by using one of the best VPN for Linux.
Enjoy the Ultimate VPN Experience with RedSwitches
Security has never been more paramount as organizations continue their digital transformation journeys and adopt public and hybrid cloud approaches. RedSwitches understands your need for robust yet seamless security across platforms. Our hosting solutions integrate flawlessly with leading clouds like Microsoft Azure and AWS to implement a zero-trust network architecture with granular access control and advanced encryption.
Whether you need a private network connection between cloud regions or to securely connect remote teams and devices, RedSwitches provides virtual private networking capabilities surpassing traditional VPNs.
Our software-defined perimeter technology enforces security policies consistently on any network. Contact us today and say goodbye to patchwork security and hello to complete visibility and control over your hybrid infrastructure. 
FAQs
Q-1) What is the best VPN to use in Linux?
One of the best VPNs to use in Linux is NordVPN. It has widespread server coverage, strong encryption, and works well with all Linux distros. NordVPN apps are open-source and configurable via the command line for advanced users. It also performs well for torrenting and streaming.
Q-2) Is there a good free VPN for Linux?
ProtonVPN offers an excellent free VPN service for Linux but is more limited than paid plans. The free version only allows connecting to a small selection of servers and has data limits. However, it still provides basic anonymity and bypassing of geo-restrictions without spending money.
Q-3) Is there a VPN in Linux?
All major Linux distributions like Ubuntu, Debian, and Fedora have built-in OpenVPN support, allowing users to connect to any OpenVPN-based VPN services. Users can also install VPN apps from various commercial VPN providers for a more user-friendly experience.
Q-4) Which VPN is the strongest for Linux?
ExpressVPN is considered one of the most robust VPNs for Linux due to its bank-grade encryption, no logging policy, and clean traffic network. It uses industry-standard AES-256 encryption and 4096-bit RSA keys, making it very secure for banking and online shopping on Linux.
Q-5) Which VPN is faster for Linux?
For the fastest speeds on Linux, a good option is ExpressVPN. It offers unlimited data on five simultaneous connections, and its network is optimized for speed. Plus, it has many global servers, ensuring you always find a nearby high-performance server.