Do you enjoy playing Valheim, the very popular survival game from Scandinavia? 
Would you like to run your own gaming server for your buddies to play for some additional cash? Although setting up a Valheim server might appear difficult, it's much simpler than you imagine.
Valheim has been incredibly popular recently as a survival RPG based in a world inspired by Norse legends. 
The game's official servers can occasionally be unreliable and ruin the fun of playing the survival game with friends. Setting up your own server can be helpful in this situation. It not only offers a more stable gameplay environment, but it also lets you personalize the game to your preferences.
You're in luck if you want to launch your own Valheim server. We'll walk you through each stage of the procedure in this article. You can learn everything you need to know to set up your own Valheim server hosting. 
So let's get going!
Table Of Contents
What is Valheim?
Valheim is a survival game set in an open world, based in the tenth realm of Norse mythology. As a Viking warrior who has recently suffered death, you find yourself transported to Valheim by a huge crow.
Your ultimate goal is to restore order to the realm by defeating mythical bosses in order to gain favor with Odin. You start out with no equipment and must survive the harsh environment by gathering resources, mining, constructing structures, and crafting tools to progress in the game.
Popular Game Features
Valheim has gained a huge following because of the following features:
Explore vast, randomly generated worlds with endless possibilities, each having its own distinct environments in the form of woods, mountains, and seas.

Machines, armor, food, and beverage, as well as bench crafting

Build structures like rafts, Viking warships, wooden shacks, and castles.

Summon and vanquish mighty Norse mythological and legendary bosses.

Cooperative 2–10 players – Play alone or with up to ten pals.

Dedicated player-administered servers that provide you complete control over your virtual environment, mods, and online players.
How Valheim Multiplayer Works 
Valheim has a very polished multiplayer environment that supports great gameplay and lets the players experience the game mechanics and storyline(s) in a smooth well-built manner.
You have the ability to transfer any character and their belongings from one game to another, which preserves skill advancements, but be aware that if you don't retrieve any lost items before logging out, they will remain lost across all worlds. 
It's important to note that the foes become tougher each time a new participant joins the game. On the other hand, when a player departs, the challenges become less arduous. This is something to consider if you and your friends become separated while embarking on expeditions.
If your aim is to play Valheim with a basic multiplayer setup, there's no need to worry about creating a dedicated server. There are three alternatives for playing with friends and acquaintances in this mode.
You can start a private or a public server (community server) directly in the game.

You can join a community server together with friends (without a password, or a password is known to all players).

You create and host (or rent) your own Valheim dedicated server.
Starting your own custom server in Valheim is the easiest way to play with friends. Just create a server, give it a name and a Seed for the world, start the server, and invite friends through the Steam friends list.
If you opt for a community server in Valheim, you don't have to host it yourself. However, you won't have control over the map seed. Be aware that other players may join, and the server could shut down without warning.
Hosting your own dedicated Valheim server gives you greater flexibility with hardware and full control over the map seed and player access. You can also run the server continuously, allowing your friends to play even when you're not available.
What is a Valheim Server?
Valheim lacks official multiplayer servers, so ordinary multiplayer involves a temporary server automatically set up by the game on the host player's PC or console. However, this has drawbacks: the host must be logged in, friends must be re-invited, and performance can be impacted while running the game and server simultaneously.
Dedicated Valheim servers can be set up on customized machines to address these issues. This approach offers advantages such as hosting and playing on separate devices for better performance. Friends can join without constant re-invites, and gameplay continues even when the host is offline, with time paused to preserve builds.
Mainly, dedicated servers will need the following to run things properly:
Internet bandwidth: Professional broadband providers should easily support hosting a Valheim server. According to Valve, the recommended bandwidth is around 53.4 Kbit/s of upload speed per player for Steam source games. An upload speed of one to two Mbit/s should be sufficient. 
However, some players may face lag issues due to default upload speed limitations set by their providers. You should check with your internet provider to remove the restriction in such cases.
CPU: Valheim is not particularly demanding on processor performance, so most server setups are not likely to reach their performance limits. A two-core processor with 2.8 GHz should suffice for most online adventures on both Windows and Linux server systems. However, if the provider utilizes virtualized cores with lower GHz, it is recommended to use a four-core processor or an appropriate number of virtualized cores. Additional CPU power would be very helpful if you plan to allow more than five players or enable advanced video features. 
RAM: In many Valheim servers, RAM is the crucial performance component. While minimal setups with two gigabytes of RAM or four gigabytes of RAM (for systems with a graphical user interface) may be sufficient, they can lead to issues during extended sessions. Eight gigabytes of RAM is a safer long-term option for a recommended server size of three to five players. If your budget permits and you anticipate six to ten players regularly joining your adventure simultaneously, upgrading to 16 gigabytes is advisable. 
Hard disk: Hard disk space requirements for Valheim are minimal in the current version. A storage space of approximately one to two gigabytes is typically enough for the Valheim program files. An additional three gigabytes of space is needed for a standard installation of a dedicated server through Steam. Therefore, having at least five gigabytes of hard drive space will adequately accommodate Valheim. 
Additionally, consider the memory requirements of the operating system, such as 32 GB for Windows Server 2016 or 25 GB for Ubuntu Server (20.04). If you plan on regular backups of your Valheim server, make sure to factor in storage space accordingly.
How to Set Up a Valheim server in 7 easy steps
If you're new to creating a gaming server, here are ten steps to guide you through setting up a Valheim Dedicated Server:
Step 1: First, login into your dedicated server. We are using a Windows server here.
Step 2: Download the Steam installer from the official website and run the installer to install Steam on your server.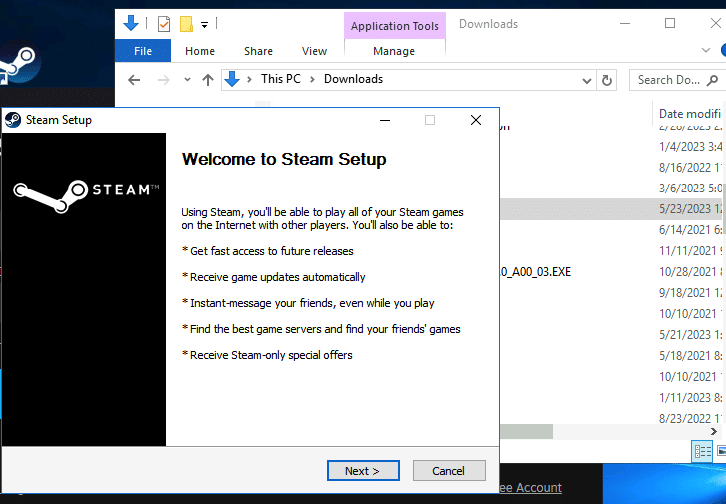 Step 3: Now, let's install Valheim via Steam
Launch Steam and navigate to the LIBRARY tab. 

Use the search bar to find Valheim and select it.

Click on the blue INSTALL button.

Follow the installation wizard instructions to install Valheim on your server.
Please note that this step is optional and only required if you intend to play the game directly from the dedicated server instead of your PC.
Step4: Install Valheim Dedicated Server
Open Steam and go to the LIBRARY tab.

Use the search bar to find "Valheim Dedicated Server" and select it.

Click on the blue INSTALL button.

Follow the setup wizard instructions to install Valheim Dedicated Server on your server.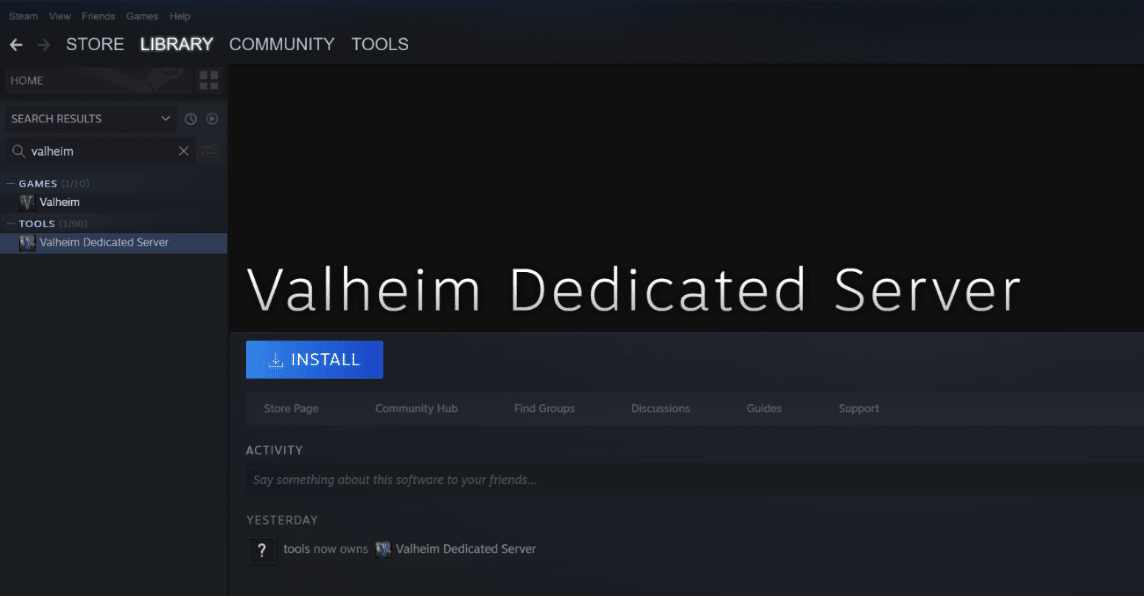 Step 5: Configure Valheim Dedicated Server Settings
Open Windows Explorer and navigate to 
C:\Program Files(x86)\Steam\steamapps\common\Valheim dedicated server\
Locate the start_headless_server.bat file and open it with a text editor like Notepad.

Look for the final line of code, which should be: valheim_server -nographics -batchmode -name "My server" -port 2456 -world "Dedicated" -password "secret" -crossplay.

Update the values for -name and -password with the desired server name and password you want to share with your friends who will join the game.

Save the changes to the start_headless_server.bat file.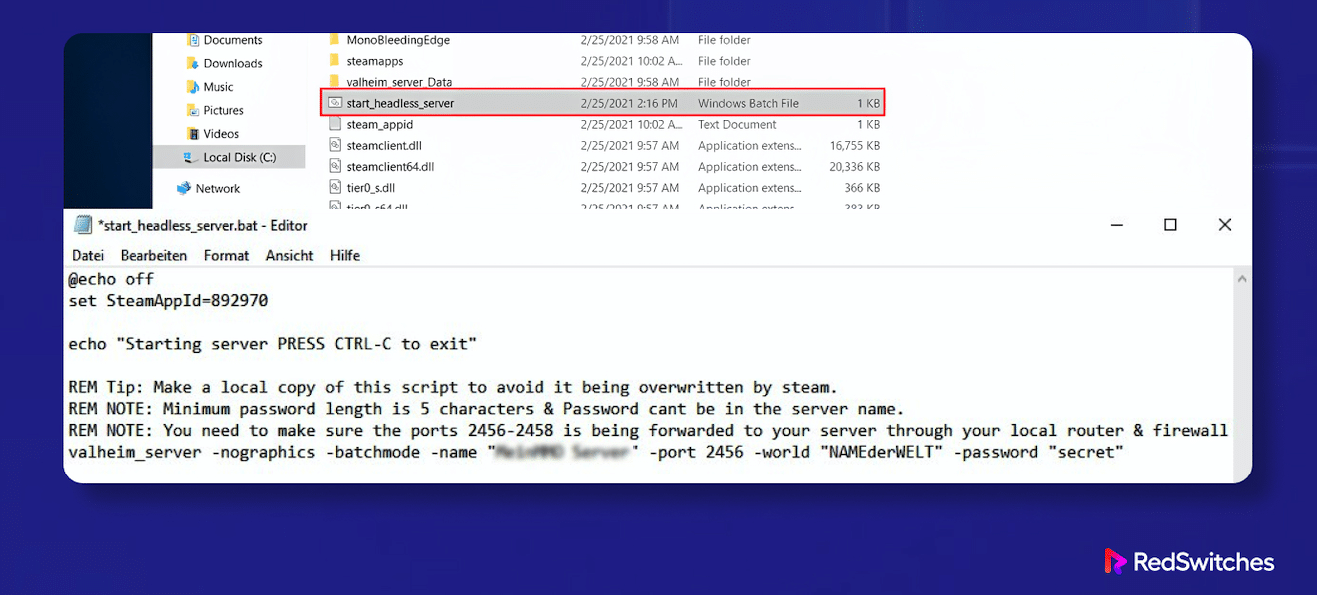 By following these steps, you can update the server name and password for your Valheim Dedicated Server, ensuring that you can share the correct information with your friends to join the game.
Step 6: Launch Valheim Server
Go to the Steam library, type "Valheim Dedicated Server," and select it in the search bar.
Click on the green LAUNCH button to run the server.
A command prompt will appear, and after a short moment, you will see a line similar to this: 
"Session 'Server Name' with join code ###### and IP ##.##.##.##:2456 is active with 0 player(s)."
Please take note of the join code mentioned in the line; you will need it for the next step.
Step 7: Configure the Firewall
If you do not receive the "Session is active" message in the previous step, it may be necessary to configure your server's firewall by opening ports 2456 and 2458. If you find this task challenging, you can seek assistance from your hosting provider, who can help you with the firewall configuration. Feel free to contact them for assistance. It's important to note that this step is optional and may vary depending on your hosting provider and firewall configuration.
That's it. Your Valheim dedicated server is ready to use. If you haven't modified the privacy settings, your dedicated server should appear on Valheim's Community Server list within approximately 15 minutes.
How to Join a Valheim Server
To join a Valheim dedicated server, follow these steps:
Select the character you want to use.

Go to the "Join Game" tab > Choose "Join IP".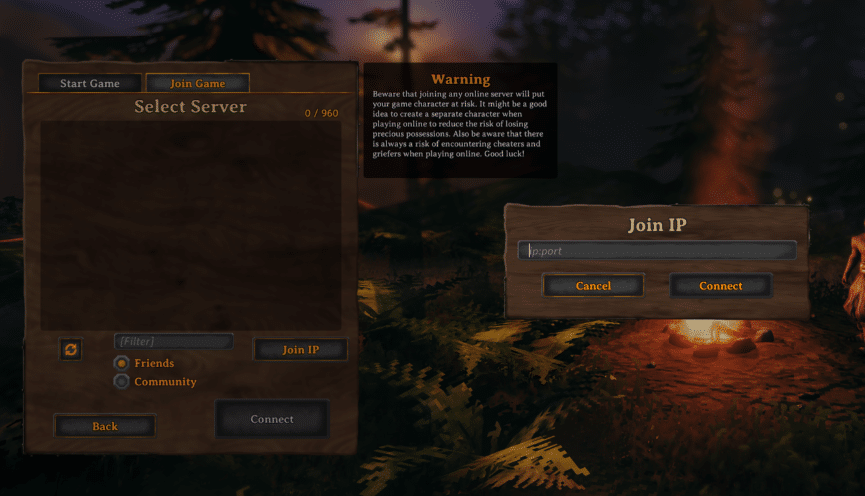 Depending on your location in relation to the host machine, enter the following information:
If you're on the same network as the host machine, enter the IPv4 Address and the Port, separated by a colon.

If you're not on the same network as the host machine, enter the External IP Address and the Port, separated by a colon.
To allow your friends to join the server, you will need to provide them with two additional, very important pieces of information:
The password you configured during step 5.

The join code you received during step 6.
And there you have it! With the information provided, you have everything you need to start and enjoy playing on your dedicated server in Valheim. Gather your friends, embark on epic adventures, and create your own thriving Viking world. Have a fantastic time exploring Valheim!
Conclusion
In recent times, online multiplayer games like Valheim have gained immense popularity, allowing players from around the world to connect and play together. Choosing a reliable Valheim server hosting provider is recommended to ensure smooth gameplay without interruptions or lag.
Running a dedicated gaming server offers several advantages, including complete control over access and the ability to customize the game according to your preferences. 
By following these recommendations and selecting the right hosting solution, you can enjoy an optimal Valheim multiplayer experience, connecting with players worldwide and creating unforgettable gaming moments.
If you're in need of a dedicated gaming server, Redswitches has the perfect solution for you. Our dedicated servers offer extensive customization options, robust DDOS protection specifically designed for gaming, and a 100% power and network uptime guarantee with a 10Gbps uplink. Contact us today, and our team will assist you in setting up your ideal gaming server.
FAQs
Q-1) What are the minimum system requirements for setting up a Valheim dedicated server?
Minimum requirements for a Valheim dedicated server:
OS: Windows 7 or higher, or Linux
CPU: Dual-core 2.8 GHz or higher
RAM: 4 GB
Storage: 5 GB available space
Internet: Broadband with 1-2 Mbps upload speed
Q-2) What software do I need to set up a Valheim dedicated server?
To set up a Valheim dedicated server, you will need to download the Valheim dedicated server software available on Steam.
Q-3) How do I port forward for a Valheim dedicated server?
To port forward for a Valheim dedicated server, access your router's settings, find the port forwarding section, add a new rule for port 2456 (UDP), enter the local IP of the server computer, save changes, and restart your router and Valheim server.
Q-4) Can I set up a Valheim dedicated server on a cloud hosting platform?
Yes, Valheim dedicated servers can be set up on cloud hosting platforms. Choose a provider that meets the game's system requirements and offers sufficient resources for your player count. Configure settings and install required software/plugins for optimal performance.
Q-5) How many players can join a Valheim dedicated server?
A Valheim dedicated server can support up to 64 players simultaneously. However, the recommended maximum player count for a smooth gameplay experience is around 10-15 players. Remember that server performance may vary depending on factors such as hardware, internet connection, and mods/plugins.