When you buy a server from a provider, you get a server management panel where you can manage the various server management operations.
Many people assume that these server management panels are for inexperienced new users who have little experience in server management.
In fact, experienced sysadmins also prefer working with these panels to speed up task execution.
You can find several great web admin panels, and choosing the right option that fits your requirements could become a challenge for many users.
This article introduces InterWorx and cPanel, two popular server management panels. We'll start with an introduction and then go into the benefits and challenges of using these panels.
Let's start with the introductions.
Table of Content
InterWorx
InterWorx is a modern control panel that was first released in the early 2000s.
You get a user-friendly and responsive interface that provides access to the necessary configuration tools for websites, domains, and web servers.
InterWorx also simplifies secondary tasks, such as installing CMS on a server. For instance, InterWorx uses Softaculous to help install WordPress in just a few minutes. During the process, InterWorx and Softaculous take care of all steps, including downloading the preferred version, unpacking the files, and setting up the required directory structure.
The UI is neatly segmented into sections that present relevant tools in an organized manner. In addition, there's a search bar that you can use to quickly find the option you need.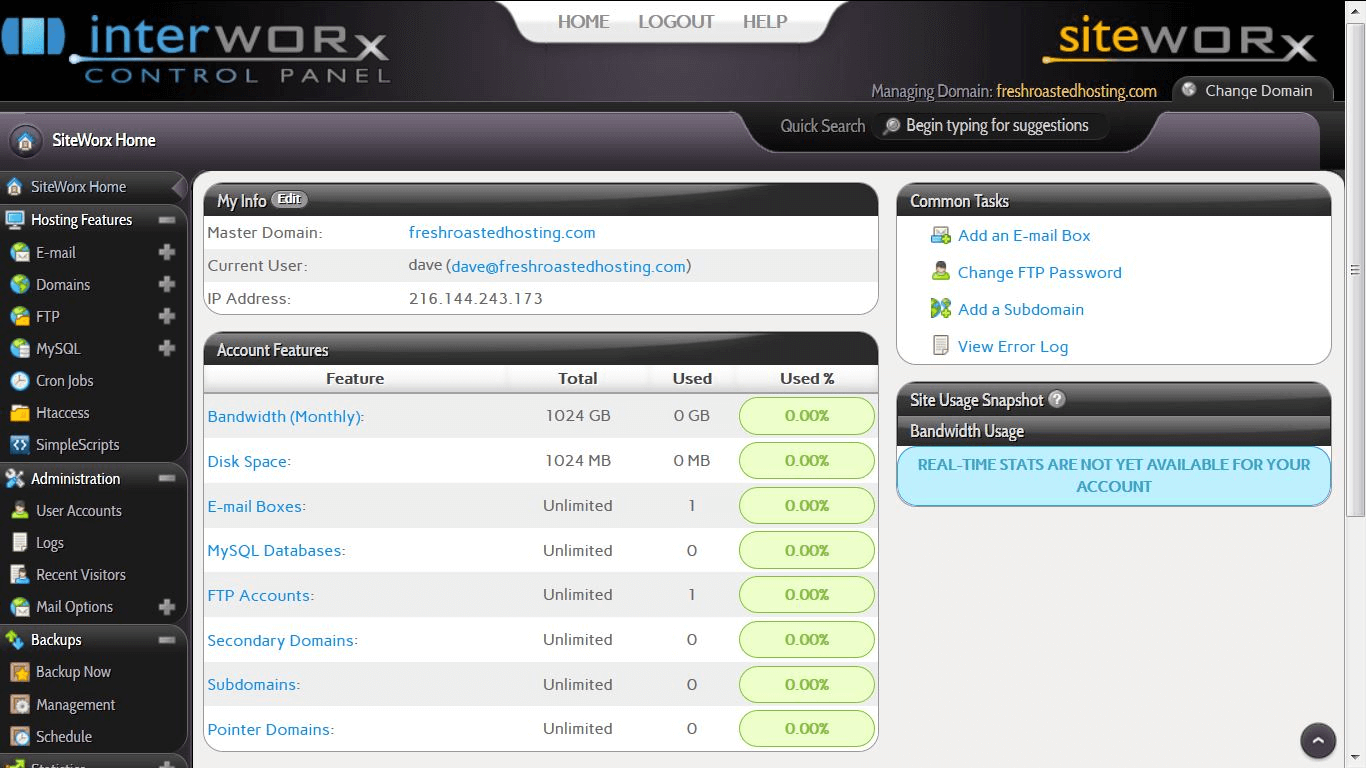 If your server provider provided the InterWorx panel, you could access it by browsing http://yourserver.com:2443 or https://yourserver.com:2443. For security reasons, the server provider might change the URL structure or the port. So, it's always a good idea to ask the provider for the exact URL and credentials.
InterWorx comes in two flavors: NodeWorx and SiteWorx. Let us discuss the following.
Advantages of InterWorx
InterWorx is cost-effective when compared to other options on the market

A single license unblocks all features.

InterWorx is a great option for clusters because of the multi-server support

You can create multiple admin accounts that have all or specific privileges enabled

SiteWorx account users can create multiple control panel access accounts that grant each user their own set of access rights and features.
Disadvantages of InterWorx
InterWorx doesn't support Windows servers.

No UI option to remove PHP modules.

No support for NodeJS, Ruby on Rails, server-side Java, and Docker.

InterWorx supports a smaller collection of third-party apps.
NodeWorx
This is the web-based management interface for administrators who use it to configure, manage, and keep an eye on server configuration settings. Since this is the root panel, admins can manage multiple SiteWorx accounts from their NodeWorx account.
NodeWorx Features
NodeWorx offers a range of benefits, including,
Admins can create multiple SiteWorx accounts with varying limited permissions from their NodeWorx account

You can use customizable templates for streamlining task delivery

NodeWorx is used to create reseller accounts

Admins can manage all system services from a single location

Manage multiple PHP versions.

Access to detailed server logs and monitoring.
SiteWorx
SiteWorx is a control panel for end users (website owners and account managers). They use SiteWorx to access and manage email boxes, databases, and other website features.
SiteWorx Features
Like NodeWorx, SiteWorx also offer benefits, such as:
Admins can create multiple accounts with specific permissions to cater to the requirements of individual users

Admins can add a secondary domain with a different PHP version than the primary domain

You can create multiple email addresses with Webmail access

See detailed account usage statistics

Get a file manager for managing the website content.

Manage databases with PHPMyAdmin.
WHM-cPanel
Web Host Manager (WHM) is another very popular management panel.
WHM is a server-level tool that's a great option for managing all the hosting accounts hosted on a server. The first version came out in 1996 and it has since been enhanced with the features server and website administrators need for efficiency and productivity.
While WHM works at the server level, cPanel is used for individual hosting accounts. Server administrators can add and manage multiple cPanel accounts on the server.
WHM and cPanel are known for their familiar UI that presents various management options and features in neatly-defined sections. These sections cover email inboxes, files & directories, databases, and security related features.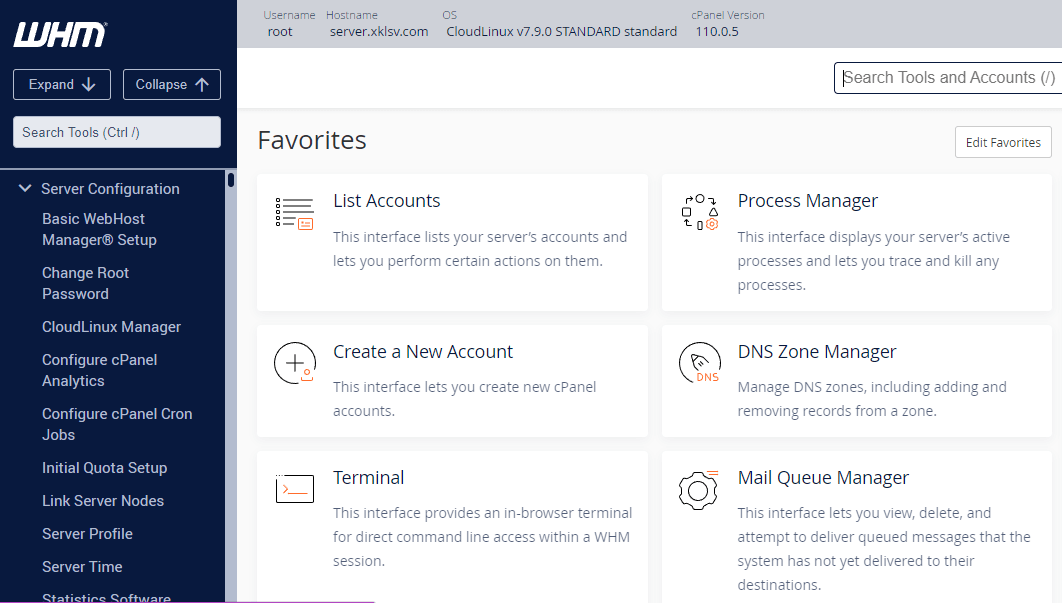 cPanel, in particular, is a very popular control panel for shared hosting solutions because of its flexibility and easy customization. Administrators can create multiple cPanel accounts and allocate specific access rights and privileges to each account.
cPanel simplifies file upload/download, email box management, domain management, database set up and management, and viewing of website statistics.
To log in to the WHM, just browse to the URL
http://yourserver.com:2086. For servers with SSL, use https://yourserver.com:2087.
Enter the username and password and you will be logged in to WHM.
Similarly, to login to the cPanel, browse to the URL http://yourserver.com:2082. For servers with SSL certificates, use https://yourserver.com:2083.
Advantages-of-cPanel
cPanel is a very popular control panel that has a huge user base

WHM/cPanel supports a wide variety of third-party apps

cPanel can handle essential server administrative tasks through its UI.

Supports and works with NodeJS, Ruby on Rails, server-side Java, and Git.
Disadvantages of cPanel
High cost due to per-account licensing.

Have different license types with restricted access to certain features.

No support for an unlimited account license.

Windows support is not available.

Docker is not supported.

The reseller and server administration Interface is available in English language only

Limited multi-server support for clustering
Given the recent changes in prices, many users started questioning whether cPanel is a good fit for their budget. However, we recommend that you take all the benefits cPanel brings to the table.
Price should not be the prime consideration in the InterWorx vs cPanel decision.
InterWorx vs cPanel – A Quick Comparison
Now that you have a clear understanding of the advantages and drawbacks of InterWorx and cPanel, we'll now compare the two excellent control panels on some common criteria. The idea is to present the differences so that you can pick the panel that best fits your requirements.

The adage "a picture is worth a thousand words" accurately reflects InterWorx's user interface. The responsive design is incredibly fluid and user-friendly, giving the impression that you are using a refined product.
On the other hand, many users consider cPanel's UI to be challenging. For instance, if you're a newbie server admin, there's no clear answer to set up a feature or add a specific add-on.
Installation of SSL Certificates
SSL certificates are a must-have for hardening server security and giving the right impressions to search engines.
Both control panels have a straightforward process for installing SSL certificates. For instance, InterWorx's installation process is based on the following four easy steps where you have on-screen help if you get stuck at any point.
Start by generating the key in a single click.

CSR generation.

Import SSL certificate.

Install the certificate.
In the InterWorx vs cPanel debate, users comment that InterWorx has a simpler process, thanks to the easy-to-use GUI.
Backup
Both cPanel and InterWorx offer on-demand backup services. The challenge is how they manage automated backups.
InterWorx makes scheduling backups simple for anyone. Similarly, cPanel also offers simple automated backup management.
Administrator-Accounts
InterWorx allows you to create multiple accounts easily and provides the necessary permissions. On the other hand, cPanel only allows you to create one account.
Services
When discussing InterWorx vs cPanel, you should consider the list of supported services so that you can find the best solution for your needs.
InterWorx has a limited range of supported services that include email, FTP, DNS, MySQL, and PHP.
cPanel has a long list of supported applications that include NodeJS, Ruby on Rails, server-side Java, and Git version control.
Cost
InterWorx is better priced and offers user-friendly licensing options. So, if budget is your concern, you could opt for it as your control panel.
cPanel, on the other hand, requires a substantial payment because it has an account-based licensing approach.
Since InterWorx enables you to host a range of accounts on the server without paying additional fees, it's the more cost-effective option of the two.
Supported-OS
cPanel supports all popular Linux distros, including CentOS, AlmaLinux, Red Hat Enterprise Linux, Amazon Linux, and FreeBSD.
InterWorx supports a similar lineup of OS that includes CentOS and Red Hat Enterprise Linux.
Conclusion
InterWorx vs cPanel is an ongoing debate in server administration because both panels offer all the features admins need to manage their servers and individual hosting accounts.
Without any doubt, cPanel dominates the market because numerous organizations provide substantial support for this control panel. If an issue occurs, users can get quick support from the various online forums. Compared to InterWorx, cPanel excels at what it does because it is fast and has a rich feature set.
InterWorx users favor it primarily because of its user-friendly interface.
We suggest you evaluate your requirements and choose the best panel that fits your requirements.
FAQ
Q. How to install InterWorx?
Login as root into the server's command line using SSH or the terminal.
Run the installer after downloading it.
sh <((curl -sL updates.InterWorx.com/InterWorx/7/install.sh))
Another way to install InterWorx is to download and run the installer with no prompt
sh <((curl -sL updates.InterWorx.com/InterWorx/7/install.sh)) -l.
Q. How can you log in to InterWorx?
Open the browser and browse the server IP and port 2443 and /SiteWorx
Example: https://xx.xx.xx.x:2443/SiteWorx
Q. Why is cPanel popular?
Because of its simple GUI, cPanel is often the preferred control panel for users with all skill levels. cPanel is the industry standard for control panels for Linux-powered servers.
Q. What are the limits of Shared and Reseller hosting in cPanel?
There can only be 25 concurrent processes per cPanel installation for shared and reseller plans. The 25 concurrent process limit is often enough for the majority of websites. Since the processes are created and killed quickly, there's no issue of process overload.