In the landscape of Linux distributions, Ubuntu stands out as a popular choice for users who value innovation and versatility. Over 40 million Linux users are Ubuntu users. Ubuntu combines the power of open-source environments with functionality and customization. At its core, the terminal is a fundamental control panel allowing users to navigate their computer operations. Therefore, you must find the best terminal for Ubuntu.
The terminal is a command center that can help users provide instructions and customize their experience. This can help build a computing environment that reflects your unique needs and preferences. With the right terminal, you make your environment look and work exactly how you want.
In this article, we will help you understand Linux terminal emulators. We will also help you choose the best Ubuntu terminal for your needs. By the end of this article, you will be equipped with everything you need to elevate your digital experience.
Table of Contents
What is a Linux Terminal Emulator?
A Linux terminal emulator facilitates functionality and control over your operating systems. Its key significance is its role as a tool to bridge the gap between users and their operating systems and software. It provides users with a Command-Line Interface (CLI) to access and interact with operating systems. This can make interactions with underlying systems more direct and powerful.
The terminal emulator software industry is expected to grow to a market value of $2.48 billion by 2030, with a CAGR of 10.5%. A terminal emulator is like a translator communicating your commands into the computer's language. It converts text-centric instructions into actions the operating system can understand and execute. This direct form of communication is what makes Ubuntu so powerful.
Modern terminal emulators also provide various features and tools to optimize user experiences. Some of the best Ubuntu terminals can provide users with customization options and keyword shortcuts. This can promote efficiency, personalization, and the ability to manage multiple workflows simultaneously.
These robust features can allow users to personalize the appearance of their operating systems, terminal behavior, colors, and fonts. Keyboard shortcuts can speed up various tasks and accelerate different day-to-day processes. As we help you find the best terminal emulator for Ubuntu, remember that your choice of terminal emulator can be crucial.
10 Best Terminals for Ubuntu
Are you searching for the best Ubuntu terminal? In this section, we will discuss various types of terminals. We will highlight their key strengths, features, capabilities, and limitations.
Understanding the various types of terminals will help you find the best Ubuntu terminal for your needs and preferences. Terminal emulators are much more than just tools for running commands. They can be strategic tools for tailoring your digital workspace to reflect your unique needs.
Here is a list of the top 10 best Terminals for Ubuntu:
1) Tilda
Tilda is one of the best terminals for Ubuntu, offering various distinct features. Its drop-down functionality and innate flexibility make it a powerful tool, allowing users to tailor experiences and behaviors
Tilda's drop-down functionality enables users to execute commands and instructions more precisely. This can allow you to manage numerous workloads without overly cluttering your screen.
Installing Tilda on your Ubuntu system is also extremely straightforward, allowing users to choose their preferred installation method. Users can either use the graphical package manager or the command line. The graphical package manager is hassle-free and seamless, while the command line can allow users to take a more hands-on approach.
2) Guake
When trying to select the best terminal for Ubuntu, Guake stands out as a powerful choice. Guake is famous for its simplicity, functionality, and user-friendliness. It is a robust and highly customizable terminal emulator that can boost productivity.
Guake's drop-down terminal window distinguishes it from other tools by allowing users to improve efficiency and facilitate unobtrusive experiences. Guake also has intuitive keyboard shortcuts that can streamline interactions with the terminal. These shortcuts can empower users to efficiently navigate the interface, execute commands, and manage numerous terminal tabs. This can significantly improve overall productivity.
Guake is also known as one of the best Ubuntu terminals because of its customization and search features. This allows users to tailor their environments and efficiently locate specific commands according to their preferences.
3) Cool Retro Term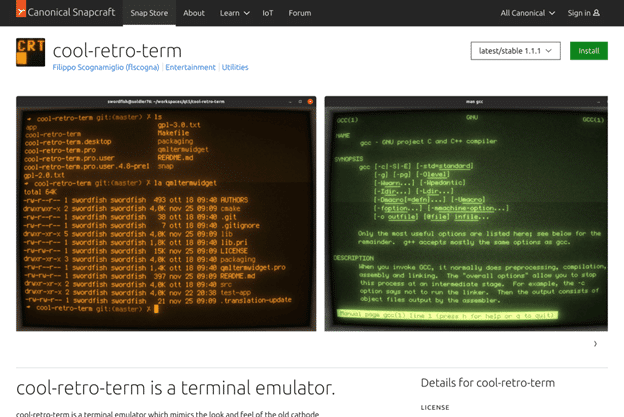 Credit: Snapcraft
For users who value visually captivating experiences, Cool Retro Term may be the best terminal for Ubuntu. It utilizes a nostalgic interface that mimics the look and feel of old cathode ray terminals.
Cool Retro Term is equipped with seamless and practical emulation of classic CRT monitors. This unique visual aesthetic indicates Cool Retro Term's commitment to innovation and attention to detail.
This terminal emulator also empowers to build unique terminal experiences using different color schemes and background images. This can allow users to personalize their digital workspaces to match their style and preferences. Overall, Cool Retro Term enables users to combine the benefits of modern commands with a visual aesthetic from the past.
4) Terminology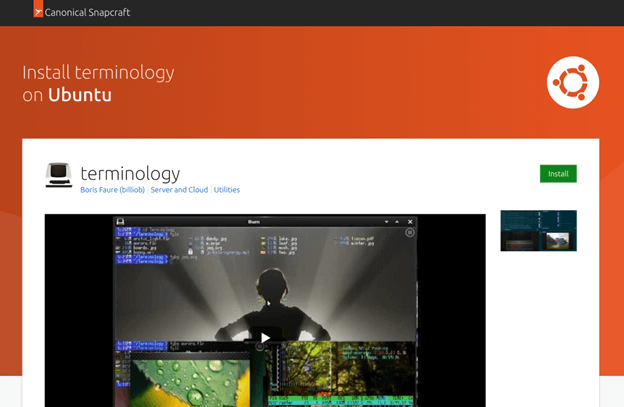 Credit: Snapcraft
Terminology is one of the best Ubuntu terminals for beginners and experienced Linux users. It seamlessly combines user-friendliness with advanced customization tools. This can provide users with complete control over their user experiences.
Terminology supports multiple tabs and windows, effectively facilitating multitasking and overall productivity. This allows users to manage various tasks without cluttering their workspace. It also has an intelligent layout engine, optimizing terminal views and offering captivating visual effects. Its built-in file manager can also simplify file navigation within the terminal, accelerating day-to-day workflows.
Therefore, this terminal strikes a critical balance between productivity and customization.
5) Terminator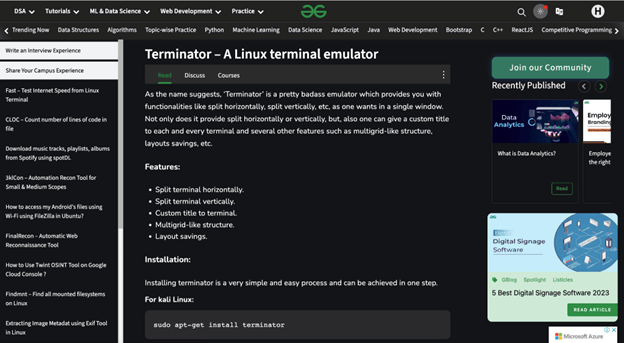 Credit: GeeksforGeeks
Terminator is one of the best Ubuntu terminals. It is popular for its efficiency and versatility. It has powerful features that can provide users with a dynamic and customizable experience.
Its customizable appearance allows you to customize the terminal's aesthetics and appearance according to your preferences. Therefore, you can tailor your interface to whether you prefer a modern, traditional, or sleek design. One of the biggest benefits of Terminator is its support for multiple terminal windows. This can enable users to manage various tasks simultaneously in their dedicated terminal. Therefore, it's an invaluable asset for users with workloads that may require multitasking from their Linux environment.
Terminator's commitment to user-friendly efficiency, practicality, and customization make it one of the best terminal for Ubuntu.
6) Sakura
Credit: GitHub
Sakura can provide users with a lightweight and straightforward terminal experience.
The simplicity of its design makes it one of the best terminal for Ubuntu. Sakura follows a minimalistic approach to its design. This ensures that users can handle the complexity. Its lightweight design also ensures that it does not consume excessive system resources. Therefore, it is ideal for systems requiring efficient and effective resource allocation.
Sakura supports multiple tabs, making it the best Ubuntu terminal for users who work on multiple tasks simultaneously. This feature lets you quickly switch between tasks without cluttering your operating system. This terminal also allows you to configure key bindings to match your preferences, enhancing efficiency and simplicity.
7) Yakuake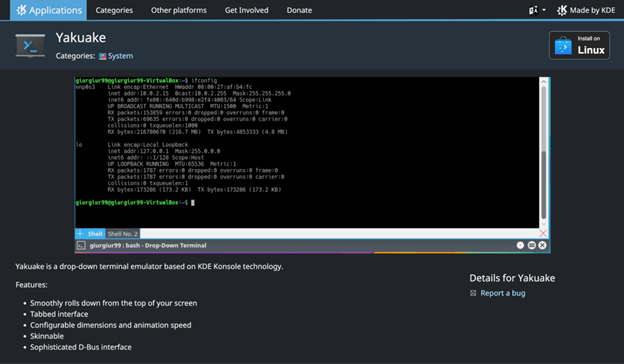 Credit: Yakuake
In Ubuntu's terminal emulators, Yakuake is a highly intuitive choice. It is most known for its drop-down terminal functionality and accessibility.
'Its drop-down terminal primarily serves as an available window that can be opened with just one keystroke. This level of convenience can be valuable for performing day-to-day tasks more efficiently and ensuring that workspaces are clear. Yakuake also supports configurable dimensions and animation speed. This can be beneficial for adjusting the structure of your operating system to fit your needs and preferences.
Furthermore, Yakuake has a D-Bus interface that can be integrated with other enterprise applications and solutions. This can automate various organizational tasks or control the terminal using other applications.
8) Konsole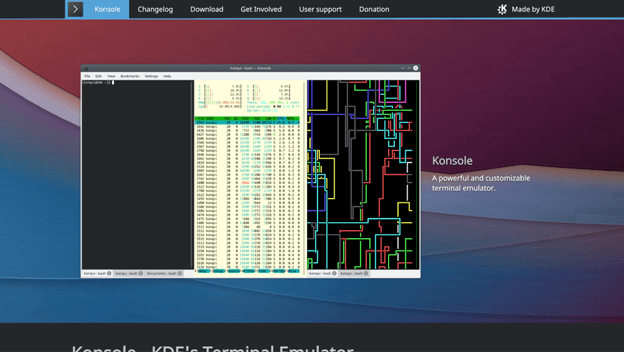 Credit: Konsole
Konsole may be the best terminal for Ubuntu for users utilizing a KDE desktop environment. Konsole is a default terminal emulator that can elevate command-line experiences.
This terminal is known for its wide variety of interactive and dynamic features for users in the KDE ecosystem. Users can customize and personalize almost every aspect of Konsole, such as themes, colors, and fonts. This ensures the terminal environment is aligned to individual preferences and requirements.
Konsole also supports split views, allowing users to divide terminal windows into multiple panes. Users can also save and restore terminal sessions, ensuring that workloads are never lost. Users can quickly reboot or close terminals at their convenience without compromising productivity. This is especially beneficial for those who have complex and large projects.
9) Deepin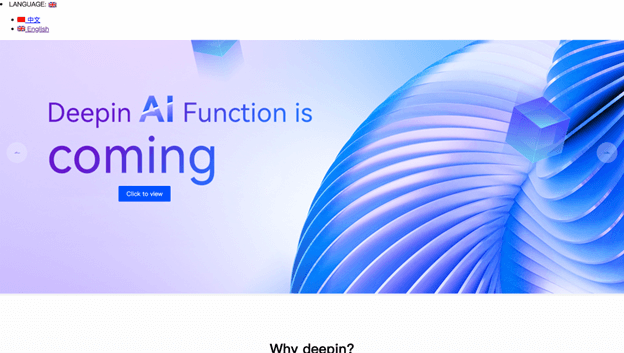 Credit: Deepin
Deepin is one of the best terminal for Ubuntu for users that appreciate a balance between sleek interfaces and productivity.
One of the most significant benefits of Deepin is its compatibility with different Linux distributions and desktop environments. This means this terminal can enhance your command-line interactions regardless of your preferred environment. It also gives users access to tools needed to execute commands and manage their systems effectively. It benefits power users and developers who require a seamless and efficient experience.
Deepin terminal also has a Quake mode, which allows you to minimize the terminal to the system tray and restore it. It also supports a wide variety of different plugins, which can be leveraged to access additional features.
10) Alacritty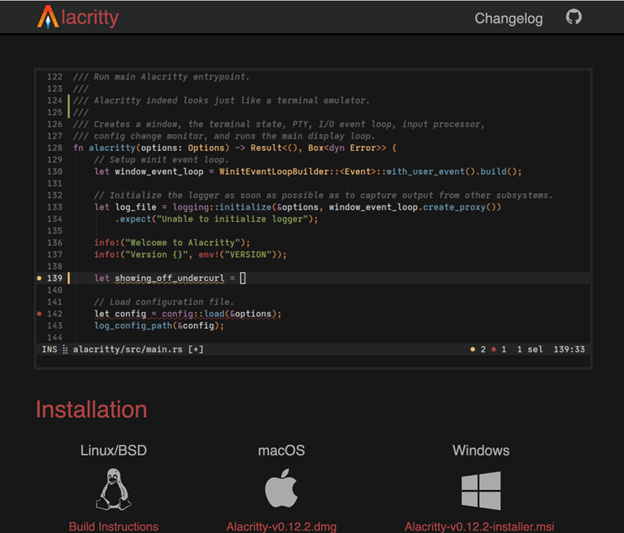 Credit: Alacritty
Alacritty represents a more modern and streamlined approach to terminal management. It is popular for its simplicity, efficiency, and powerful features.
One of the biggest advantages of Alacritty is its true color support. Thai feature ensures that colors are accurately represented on users' terminals. This can enhance visual experiences for workloads that rely primarily on color coding, such as data analysis and programming. Alacritty is also equipped with GPU-accelerated rendering. This means that graphics hardware can render text and graphics quickly. This can result in a highly responsive terminal even when managing resource-intensive processes.
Alacritty can combine modern features and performance-oriented design to provide users with efficient and responsive experiences.
Final Takeaway
Exploring the best Ubuntu terminals can help you understand their unique strengths, capabilities, and features. These terminal emulators are not just windows to the command line. They can be gateways to enhancing your overall productivity, efficiency, and customization.
Ubuntu users have a wide selection of different terminal emulators available to them. This can allow you to fine-tune your experience by selecting a terminal emulator that suits your exact preferences and requirements. The right choice can make your overall experience more seamless, faster, and enjoyable.
As you continue to explore these terminal emulators, consider factors such as your workflows, preferences, and requirements. Each option has unique capabilities, making it the ideal choice for users with different needs. By selecting the best terminal for Ubuntu with careful consideration for the context of your workloads, you can enhance your overall user experience.
Double the Power of Your OS with RedSwitches
While selecting a terminal emulator for enhancing your Ubuntu experience, it is essential to consider your broader ecosystem. Security and reliability are extremely crucial factors to consider, especially when integrating with cloud solutions and tools.
RedSwitches offers powerful and robust hosting solutions that seamlessly integrate with various cloud platforms such as Azure, AWS, and hybrid environments. By enhancing the security and performance of your infrastructure, you can access the complete potential of your Ubuntu operating system. This also ensures that your data and operations are safeguarded against potential threats.
Contact RedSwitches now to learn more about the different types of Ubuntu terminals and how you can leverage them to optimize your OS experiences.
FAQs
Q1. What is the main terminal in Ubuntu?
The default terminal in Ubuntu is the GNOME terminal. This is the primary command-line interface for users in the GNOME desktop environment.
Q2. Is Xfce terminal good?
The Xfce terminal is a reliable choice for users of the Xfce desktop environment. It provides a straightforward, seamless, and efficient terminal experience with powerful features.
Q3. What is the best coding terminal?
The best coding terminal depends primarily on your individual preferences and requirements. Popular choices for coders and developers include Terminator,  Alacritty, and Konsole. This is typically due to its high levels of efficiency and customization options.
Q4. Is Terminator Terminal good?
Terminator is popular due to its customizable appearance, multiple windows support, keyboard shortcuts, and more. Therefore, it is a powerful choice among Linux users.
Q5. Is Ubuntu and Linux terminal the same?
Ubuntu is a Linux distribution. The Linux terminal is a part of the Linux operating system. Ubuntu uses the Linux terminal for command-line interactions.