Assume you've had a fantastic idea for an online business and have even come up with the correct name. There's just one problem: the domain name you desire is already taken. This is when domain brokers come into play. Domain brokers specialize in arranging the purchase and sale of domain names. 
They operate as go-betweens for the domain owner, who may be prepared to sell the domain, and potential purchasers, such as you, who are anxious to obtain that perfect web address. Domain brokers play an essential role in assisting individuals and organizations in acquiring the digital real estate they require by negotiating, valuing, and navigating the complex world of domain ownership. 
In this blog article, we will explore who domain brokers are, what they do, and the industry's top domain brokers. Lets kickstart.
Table Of Contents
Understanding Domain Brokers and Their Services
In the first section, we will try to understand what domain brokers are and their services. First, start with the definition.
What Are Domain Brokers?
A domain broker is a person or corporation who specializes in purchasing and selling domain names. Typically, domain brokers have a portfolio of domains that they offer to purchasers. They may also assist buyers in locating the best domain for their requirements.
Domain brokers play a significant role in the domain name industry. They assist in the matching of buyers and vendors and provide a helpful service. They can also assist in negotiating transactions and obtaining the best pricing for their clients.
Brokers may also charge a listing fee. The seller pays a one-time charge to have their domain listed on the broker's website.
Services Offered by Domain Brokers
Now, we will briefly discuss the services the domain brokers offer.
Domain Valuation and Appraisal
Domain valuation services assist buyers and sellers in determining the true worth of a domain.
These experts have a thorough awareness of market trends, keyword relevance, and industry-specific aspects that determine the value of a domain. They help clients accurately evaluate the value of a domain by conducting detailed analyses, assuring fair transactions, and educated negotiations.
Domain Acquisition
Domain brokers are experts at locating and securing domain names for their clients. Brokers use their industry connections and negotiation abilities to interact with the current owner when a desired domain is currently owned by someone else. 
They attempt to get the domain at the best feasible price through intelligent dialogue and thorough bargaining, saving clients time and effort.
Domain Selling and Marketing
Domain brokers provide vital marketing services to customers wishing to sell their domain names. They write attractive listing descriptions, find possible buyers in specific markets, and use intelligent marketing techniques.
This increases the domain's visibility, attracting potential purchasers and increasing the probability of a successful sale at an ideal price point.
Types Of Domain Brokers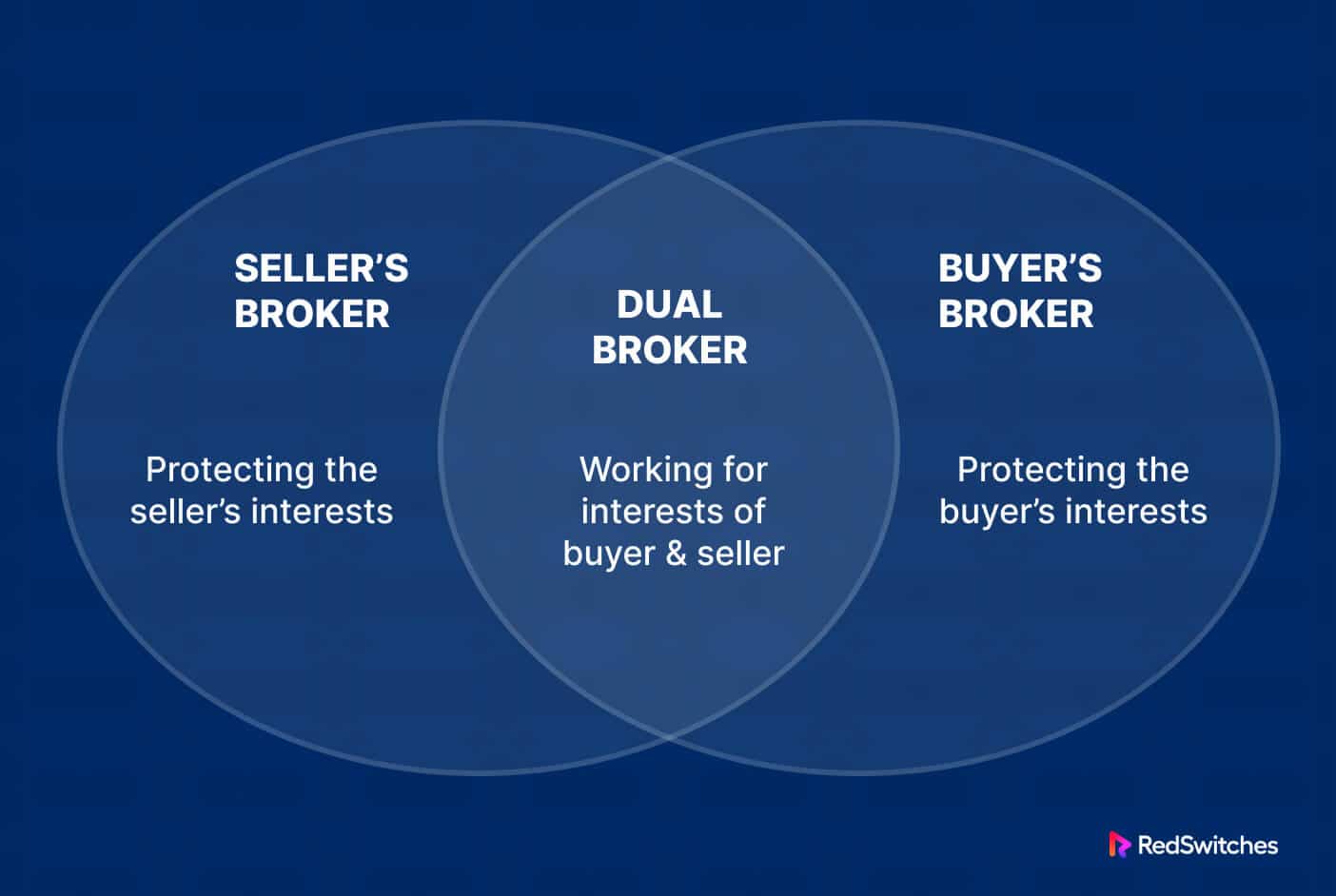 Domain brokers are typically classified into two types:
Domain buyer brokers: These professionals represent you as a buyer and can assist you in finding the appropriate domain and negotiating a fair price for it.
Domain seller brokers: These individuals will assist you in assessing your domain and selling it for a high price, frequently exceeding your initial target price.
Unveiling Top Domain Brokers
In this blog section, we will discuss the criteria for selecting a domain broker and the top domain brokers in the industry.
Criteria for Selecting a Domain Broker
Before selecting the right broker, we must know some essential information that needs to be kept in mind. We will uncover the criteria for choosing the right broker for your needs.
Kindly Check if the Company Has Been Around for a Few Years
Companies can only survive in the long run if they are good at what they do. Years of expertise in the domain sector are a vital indicator of a reputable broker.

On their websites, most domain brokers display how long they have been in business.

If a domain broker has been in business for five years or longer, this is a solid sign that they are stable, reliable, and, most importantly, trustworthy.
Examine the Domain Broker's Reputation
Your goal is to purchase and sell your domain for a fair price.

Finally, if a domain broker is skilled at their job, they will be able to execute this effectively.

Brokers with a solid reputation will have a trail of positive web reviews. This is the greatest technique to assess their previous work.
Make Sure Payment Methods Are Genuine
If you own:
Large deals exceeding $10,000

Several distinct deals

You must ensure your broker's payment mechanism can readily manage the transactions.
Top Domain Brokers in the Industry
This section of our blog article will look at the top-level domain brokers in the domain industry. We will divide it into three different sections. Let's start.
Broker A: Expert Domain Mediators( vpn.com)
VPN.com provides superior domain brokerage services to both buyers and sellers. Whether you're looking to buy a domain name that isn't for sale or waiting for a million-dollar offer on one you already own, VPN.com has you covered. 
Surprisingly, VPN.com's own domain name exemplifies how this broker works. 
The domain was purchased for more than $1 million by the company's founder and CEO in 2019, making it the seventh-largest domain transaction of that year. When they first showed interest, the domain was not yet for sale. The transaction was completed after a diligent effort. 
Broker B: Pioneers in Premium Domains( Brannans)
Brannan's is a domain broker who specializes in assisting businesses in purchasing and selling premium domains. Premium domains are easy to remember, often only one or two words long, and are followed by ".com" rather than ".us" or ".biz." 
Premium domains have greater visibility and brand clarity, making them very desirable. 
Brannan's has delivered over 10,000 premium domains and will assist you in obtaining one, even if it is not presently for sale. Brannans brokers have a success record of more than 95%. 
As of this writing, some of Brannan' premium domains include Meme.com, Bulldogs.com, and Batteries.com. 
Broker C: Global Domain Negotiators (Sedo)
Sedo is the world's largest domain trading marketplace. It has 19 million monthly domain offerings, 4 million parked domains, and 3,500 domain purchases. It has operated for over 20 years and was created to assist individuals in buying, selling, and parking their domains.
Sedo is the appropriate broker for people who want to swap domains with a global audience. It has over 2 million customers in over 150 countries. 
Its primary employment bases are in the United States and Germany, with collaborations worldwide. Sedo is involved in every second global domain transaction and has sold over 700,000 domains. 
The Domain Brokerage Process
After discussing the top-level domain brokers in the industry, in this section of our blog, we will uncover the working procedure of the Domain Brokerage process.
Consultation With the Client
The domain brokerage procedure begins with an extensive client consultation. During this step, the domain broker meets with the customer to learn about their individual goals, needs, and budget. This conversation establishes the groundwork for the rest of the process, ensuring the broker understands the client's goals for acquiring or selling a domain name.
Domain Research and Sourcing
The domain broker will conduct extensive domain research and sourcing after the consultation. When a client wants to buy a domain, the broker searches the market for available domains that match the client's branding and objectives. 
The broker evaluates market trends and identifies potential buyers interested in the domain for individuals wishing to sell it.
Valuation and Negotiation
After identifying prospective domain matches, the domain broker performs extensive assessment and appraisal. Considerations include domain length, keyword relevancy, market demand, and previous sales data. Armed with this knowledge, the broker enters into talks. They negotiate with domain owners to get favorable prices for buyers. For sellers, they work with potential purchasers to get the best price for the domain.
Transfer and Transaction
After successful negotiations, the domain broker manages the acquisition and transfer process. This includes creating contracts, guaranteeing legal compliance, and allowing secure payment options. The broker guarantees a smooth transfer of ownership for domain buyers by working with domain registrars to update registration details. 
Advantages of Working With Domain Brokers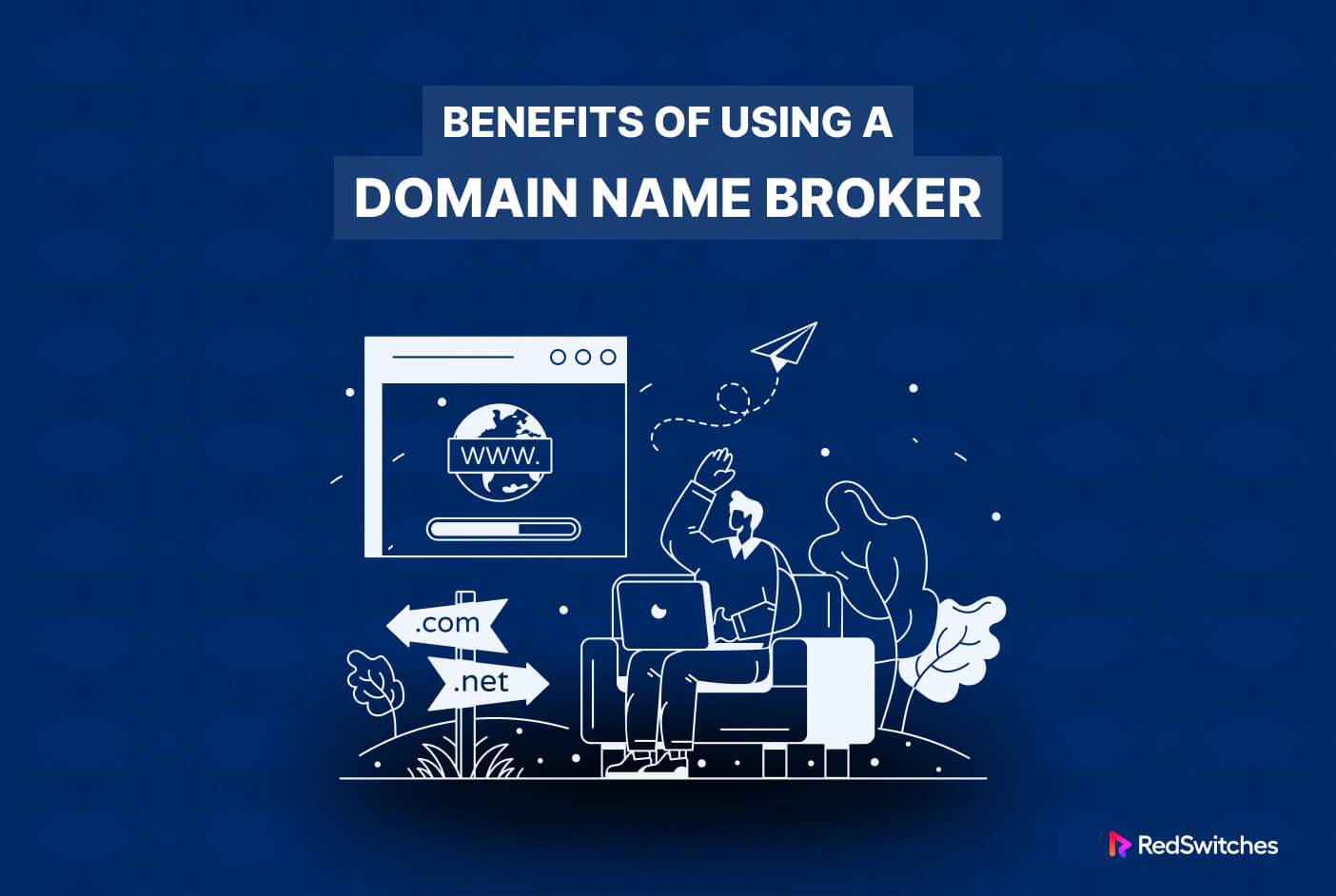 Let's discuss in detail the advantages of working with domain brokers.
Extensive Experience
When purchasing a domain, you will want one that will benefit your company and help it grow. One of the advantages of employing a broker is that the specialists have a plethora of industry experience.
A skilled broker will understand the market, provide vital advice, and assist you in avoiding typical pitfalls and errors. This will save you time and money while also ensuring you reap the benefits of the domain name.
Improved Negotiation Skills
Like other businesses, domain name brokerage entails a tremendous bit of negotiating. If you don't comprehend the worth of a certain name, you can wind up paying more or receiving less for the product. 
As an end user, it is best to concentrate on your primary business and delegate the sale procedure to experts who understand the fair market worth of domains. This increases the potential of finding a prospective buyer and the transaction.
Maintain Your Anonymity
One of the most noticeable advantages of working with a competent domain broker is that it protects your identity as a client. Certain entrepreneurs and brand managers attempt to contact the domain owner directly. However, most of these domainers will research to determine the contact's position and level of interest. 
A skilled domain broker will simplify obtaining the domain name you desire without revealing your identity, which will help you prevent future problems.
Better Decision-Making
A domain purchase or sale is a severe and significant transaction. However, most purchasers are zealous regarding specific domain names or keywords.
Networks and Relationships
Some major domain owners have had solid ties with reputable domain brokers in the industry for a long time. These brokers, too, have enormous mailing lists. 
This implies that the specialists can assist potential buyers in tapping into available domain names and securing their brands at a reasonable cost. Brokers who know some of the top buyers in the domain industry can assist domain sellers in selling their assets swiftly and at a reasonable price.
Conclusion
To summarize, domain brokers play an essential role by providing helpful services to people navigating the domain market. Choosing the appropriate broker is critical, and we've investigated the industry's leading players. 
These brokers contribute knowledge and experience that can substantially impact the success of domain sales. With the seamless collaboration of domain brokers and RedSwitches, businesses may get the appropriate domain and ensure a strong online presence with top-tier hosting services.
FAQs
Q: What do domain brokers charge?
A: Typically, domain brokers charge a commission or a portion of the final transaction price. Because the actual fee can vary greatly, it's critical to negotiate and clarify the fee structure with the broker before using their services.
Q: Can domain brokers assist with domain dispute resolution?
A: Some domain brokers specialize in domain dispute resolution and can aid in circumstances where domain ownership is in dispute. They can advise and possibly mediate between parties.
Q: Is there any risk in utilizing a domain broker?
A: While domain brokers can be pretty advantageous, certain hazards include dealing with unethical brokers or having difficulty finding the ideal fit. Due diligence and research are required.