The digital realm of gaming has never been this invigorating. In recent years, the global video game market has surged to an astonishing revenue of $396.2 billion, a testament to this entertainment medium's exponential growth and unyielding allure.
With nearly 2 billion individuals identifying as mobile gamers and a substantial share of internet users engaging in video gaming across various devices, the demand for robust, efficient, and transformative computing capabilities has skyrocketed. Enter the best AMD CPU for gaming – where engineering marvel meets gaming passion.
This article will guide you through the best AMD processors designed to amplify your gaming rig, ensuring an unparalleled experience in this ever-evolving digital playground.
Table of Contents
Why Are AMD CPUs the Best for Gaming?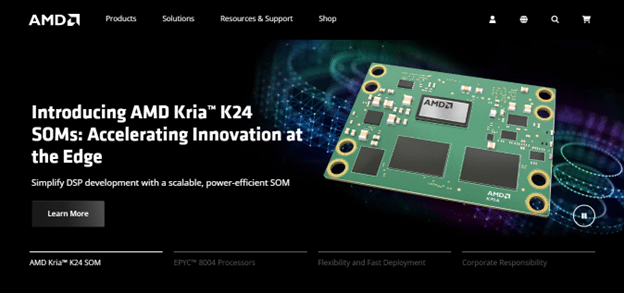 Credit: AMD
In the world of gaming, enthusiasts constantly seek an edge. Hardware often distinguishes between an enjoyable, immersive experience and a frustratingly subpar one. Over the years, AMD has cultivated a reputation for raw power and innovative solutions catering to gamers. But what exactly makes AMD CPUs the go-to choice for gaming enthusiasts?
1. Mastering the Heat: Enhanced Thermals
Heat and Gaming: At the core of performance lies an intrinsic challenge—heat. CPUs and GPUs, particularly the heavy hitters, draw significant energy. This energy manifests as heat, which, if unmanaged, can throttle performance, diminishing the gaming experience.
The Threat of Thermal Throttling: When components like CPUs and GPUs are pushed to their limits, they generate excessive heat. If this heat is not efficiently dissipated, thermal throttling occurs, where these components reduce power consumption to prevent damage. This results in a dip in performance, something every gamer dreads.
AMD's Advantage: An AMD Advantage-certified computer with superior thermal designs stands tall. These machines are crafted to maximize power drawn from GPU and CPU without compromising performance. This is achieved through efficient cooling systems, ensuring your machine remains at optimum performance, free from the constraints of thermal throttling when maintained well.
2. Silent Yet Deadly: Optimized Desktop Acoustics
The Noise Challenge: With power often comes noise, significantly when cooling solutions are incorporated to manage the heat. When pushed to its limits, a gaming rig might sound more like a roaring jet than a serene machine if not designed well.
Breaking Immersion: Nothing breaks the immersive gaming world faster than external distractions. Imagine the growling noise of your CPU fan competing with the adrenaline-pumping soundtrack of your favorite game. It's not just a buzzkill; it's a gaming sin.
AMD's Solution: Enter the AMD Advantage. When you invest in a desktop PC with AMD's seal of approval, you're not just getting raw power but a promise. A promise that even under maximum load, your rig will neither overheat nor sound like it's about to launch into space.
3. An Illuminating Gaming Ambiance: Ambient Lighting
More than Just Aesthetics: Beyond raw power and performance, gaming is also about the ambiance. A machine with ambient lighting doesn't just look good; it sets the mood, drawing you deeper into the gaming universe.
AMD's Foresight: Recognizing the importance of aesthetics in gaming, the best AMD CPU for gaming often incorporates tasteful ambient lighting, enhancing your gaming environment's look and feel. The result? An immersive gaming session where your rig isn't just a machine but an extension of the game itself.
Who Should Use AMD Processors?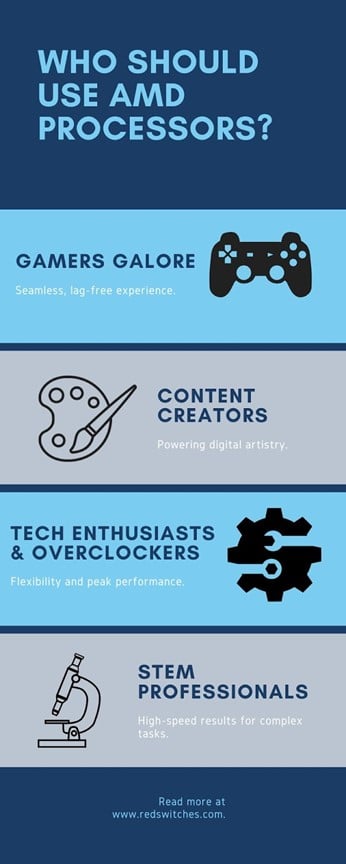 Navigating the labyrinth of the best AMD CPU for gaming can often feel daunting. Amidst the myriad of brands, specifications, and marketing jargon, AMD has consistently emerged as a beacon of reliability and performance. But who precisely stands to benefit the most from these AMD processors?
1. Gamers Galore:
With a reputation for delivering pixel-perfect performance, the best AMD CPU for gaming is a gamer's dream. Whether diving into the expansive universes of the latest RPGs or battling it out in high-intensity FPS arenas, AMD ensures a seamless experience free from lags or stutters. Ready to take your gaming to the next level? Dive into our blog: 'Crafting Your Gaming Realm: A Guide on How To Rent a Minecraft Server.
2. Content Creators:
The digital realm is brimming with artists, video editors, and 3D modelers. These modern-day magicians, who blend creativity with technology, will find AMD processors provide the computational muscle and multitasking prowess essential for bringing their visions to life.
3. Tech Enthusiasts & Overclockers:
Those who love tinkering (Experimenting with technology to learn, innovate, or create), optimizing, and pushing their systems to the edge will appreciate the flexibility and overclocking potential of the best AMD processor for gaming. For these individuals, an AMD processor isn't just a piece of hardware; it's a challenge to be mastered.
4. Professionals in STEM (science, technology, engineering, and math) Fields:
Scientists, engineers, researchers, and data analysts often grapple with complex computational tasks. From running simulations to processing vast data sets, AMD processors deliver consistent, high-speed results, streamlining workflows and enhancing productivity.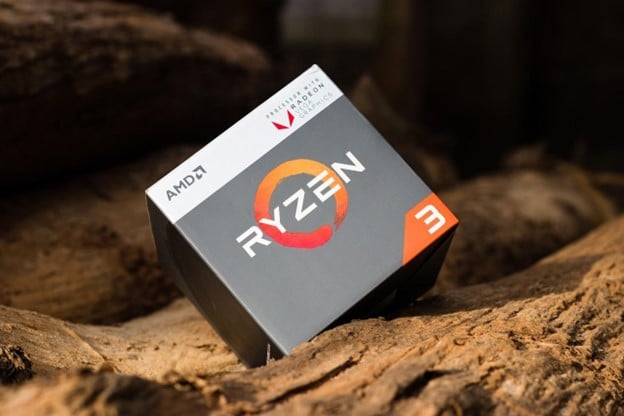 Credit: Pixabay
In essence, AMD processors cater to a broad spectrum of users. Whether you're a gaming enthusiast needing a good AMD CPU for gaming, a digital artist painting your next masterpiece, or a researcher decoding the mysteries of the universe, AMD offers the power and reliability to elevate your computing journey.
Best AMD CPUs For Gaming in 2023
As the sun rises on another year of technological innovation, the gaming landscape is amidst a transformative phase where the lines between virtual and reality blur subtly. Central to this metamorphosis is the best AMD CPU for gaming. A titan in the semiconductor industry, AMD has, for decades, been synonymous with pushing boundaries and redefining the contours of computing excellence. Their relentless pursuit of perfection and a deep understanding of the gaming community's pulse has consistently produced powerful and best AMD processors for gaming PCs. As we venture deeper into 2023, let's decode the best AMD CPU for gaming, spotlighting the crème de la crème of gaming CPUs that promise to redefine immersive experiences for gamers worldwide.
AMD Ryzen 7 5800X3D
The ebb and flow of the semiconductor war is relentless, with AMD's Ryzen 7 5800X3D emerging as a notable player in a fiercely competitive field. Standing tall against Intel's Alder Lake entrant, the Core i9-12900K, the 5800X3D seeks to compete and redefine gaming expectations.
Need help to choose between Intel and AMD for your next project? Get clarity with our comprehensive comparison in 'Intel vs. AMD: Select The Right CPU For Your Projects.' Make informed decisions!
Let's dive deeper into what makes this best AMD CPU for gaming a remarkable force in the gaming realm.
The Gaming Gauntlet
Facing Intel's Giant: With the Core i9-12900K geared towards hardcore PC enthusiasts, AMD's 5800X3D has its work cut out, challenging Intel's dominance head-on.
Impressive Stand: While it might not throw the knockout punch, the fact that the 5800X3D can hold its own and occasionally outpace its competitor is commendable.
Gaming Excellence: For gaming enthusiasts, the 5800X3D, despite being a tier below the Ryzen 9s, emerges as a compelling contender in AMD's roster.
Performance Dynamics
For the Gamers: Undoubtedly, the 5800X3D shines brightest in gaming scenarios. Its architecture tweaks and enhancements yield visible performance benefits.
Content Creators' Perspective: Delving beyond gaming, content creators might find the enhancements, especially from the 3D V-Cache, bringing it to par with its competitors rather than surpassing them.
Cost vs. Performance: Given its slightly diminished non-gaming prowess, the 5800X3D is ideal for gamers seeking an affordable boost, especially those already on the AM4 platform.
A Closer Look: Specs & Features
Process: 7nm
Socket: AM4
Cores: 8
Threads: 16
Base frequency: 3.8GHz
Boost frequency: 4.7GHz
L3 cache: 32MB + 64MB (3D V-Cache) for a total of 100MB
TDP: 105W
PCIe: 4.0
Max RAM: 128GB Dual-Channel DDR4-3200
Unlocked: No
Pros:
A robust 96MB pool of L3 cache.
Features eight efficient "Zen 3" CPU cores.
Offers SMT support for enhanced multitasking.
Cons:
It is slightly higher than Intel's Alder Lake and older Ryzen 7 chips.
In most scenarios, the gaming performance doesn't correspond to the price increment.
The chip is not unlocked, limiting overclocking opportunities.
Unlock the power of the next-gen best AMD CPU for gaming! Dive deep into our blog: 'Ryzen 5800X: A Great Choice For Desktop Systems,' and discover why it's a game-changer for enthusiasts.
Top Review
Best Customer Review

"The AMD Ryzen 7 5800X3D introduces new 3D V-Cache technology that delivers on its lofty promises with incredible Ryzen 9-like gaming performance. It even takes a huge swing at Intel's latest behemoth, the Core i9-12900K, and manages to land some serious blows. It's non-gaming performance doesn't benefit at all from the new 3D V-Cache tech, however, so this is strictly a gamer's CPU." (Source: TechRadar)
Worst Customer Review
"It's still not the CPU I'd recommend, however. At $450, it's too costly compared with the price crash of higher-spec Ryzen 5000-series processors, and in sole gaming terms, we still struggle with the idea of overspending on a CPU when your GPU has far more say on final performance figures." (Source: PC Gamer)
AMD Ryzen 5 5600
The world of good AMD processors for gaming witnessed a seismic shift with the advent of AMD's Zen 3 series. Among these, the Ryzen 5 5600X notably shone as a beacon for gamers across the globe. It wasn't just the number of cores that made it stand out — though it didn't boast the expansive core count of heavyweights like Ryzen 9 5950X or the 5900X — but its sheer prowess in gaming scenarios. This chip remained unchallenged as the gamer's first choice for an impressive year and a half, that is, until the storm named Intel's Alder Lake arrived, challenging AMD's long standing dominion.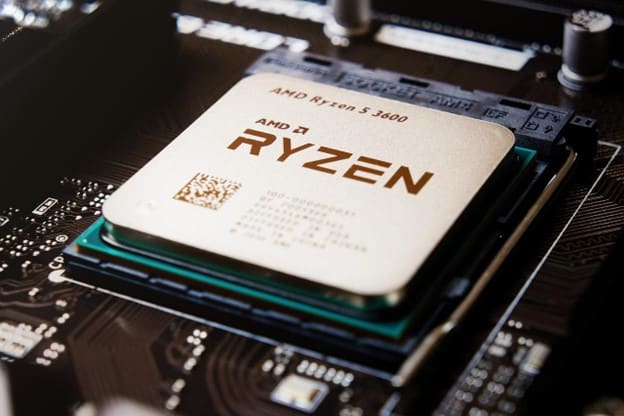 Credit: Pixabay
Strategically Responding to Intel's 12th Gen:
The Ryzen 5 5600 isn't just another chip. It's a statement. A statement that AMD intends to compete head-to-head with Intel's 12th Gen arsenal. But it's not alone; the chip is bolstered by its siblings, the cache-rich Ryzen 7 5800X3D, Ryzen 5 5500, and Ryzen 7 5700X.
Barring the 5800X3D with its unique attributes, the others serve as budget-conscious alternatives to their pricier predecessors. AMD's intention to undercut Intel's pricing without compromising performance speaks volumes about its market strategy and commitment to its users.
Diving Deeper into the Ryzen 5 5600:
A Reflection of Its Predecessor: While it may resemble the Ryzen 5 5600X in numerous aspects, what sets the 5600 apart is its tantalizingly attractive price point — just $159. It's a miracle that AMD managed this without compromising too much on performance.
Clock Speeds: With a 3.5GHz base clock and a boost ceiling of 4.4GHz, it trails the 5600X by a mere 200MHz. This difference might be barely perceptible to the average user in real-world scenarios.
Tech Specifications at a Glance:
Memory & Connectivity: DDR4 support ensures compatibility with a wide array of motherboards, and PCIe 4.0 offers the potential for ultra-fast storage and graphic card connectivity.
Cache: A generous 32MB L3 cache is built-in, allowing for swift data access and improved multitasking capabilities.
Cooling: The package is sweetened with the Wraith Stealth, more fabulous — known for its efficiency and whisper-quiet operations.
Manufacturing & Power: Leveraging the cutting-edge 7nm TSMC production process, this chip promises performance and energy efficiency, all within a 65W TDP envelope.
Top Reviews
Best Customer Review
"All in all, the Ryzen 5 5600 is a fantastic budget upgrade if you have an older AM4 system. The motherboard being used here is an ASRock B450M A/C R-2.0.
I have just upgraded the RAM now, too, and endeavor to see the performance difference with faster-clocked RAM versus the older RAM speeds on the 5600 that were same as what the Ryzen 7 1700 was running at." (Source: Amazon)
Worst Customer Review
"This CPU is pretty god for the price as long as you keep in mind this is a medium-end CPU at best. When making a complete build or buying a new GPU, ALWAYS ensure this CPU is not holding it back. This CPU was throttling my 1080Ti, and I could never get its full speed!" (Source: Amazon)
AMD Ryzen 9 7950X3D
The Ryzen series has always been AMD's showcase of innovation and performance. The AMD Ryzen 9 7950X3D, launched in February 2023, is no exception. Tailored primarily for the gaming community, this chip incorporates AMD's groundbreaking 3D V-Cache technology and offers compelling features.
Background and Positioning
The 7950X3D was introduced as AMD's answer to the competition, bringing forth a novel 3D V-Cache technology. This unique approach allows for an additional L3 cache stack over the existing one, taking the total L3 cache to an impressive 128MB, effectively doubling its non-3D V-Cache counterpart.
Technical Specifications
Core Configuration: With a 16-core, 32-thread setup, it's built for multitasking and high-performance gaming.
Clocking Speeds: A solid base of 4.5GHz and a peak turbo boost 5.0GHz.
Power Metrics: It comes with a TDP of 120W but can surge up to 162W during intense tasks.
Future-Proof Tech: Fully compatible with PCIe 5.0 and DDR5 memory, ensuring it syncs with upcoming technological trends.
Performance Highlights
Undoubtedly a beast in gaming, the 7950X3D consistently outperforms rivals like Intel's Core i9-13900K.
High Frame Rates: Leads the pack with remarkable frame rates across many gaming benchmarks.
Smoother Gameplay: Thanks to the massive L3 cache, players can expect a reduced frame time variance, resulting in smoother experiences.
Next-Gen Compatibility: Designed to work seamlessly with PCIe 5.0 and DDR5 memory, it's a chip made for the future.
Pros & Cons:
Pros:
Dominating Performance: For gaming enthusiasts, this chip offers unparalleled performance metrics.
Cache-Centric Approach: The 128MB L3 cache is a game-changer in reducing frame time inconsistencies.
Latest Hardware Support: PCIe 5.0 and DDR5 support ensures it won't be obsolete soon.
Cons:
Pricing: Premium performance comes with a premium price tag.
Relative Clock Speeds: It has slightly reduced clock speeds compared to its non-3D V-Cache version.
Niche Specialization: While a powerhouse in gaming, it might need to catch up in specific productivity tasks compared to more specialized CPUs.
Top Reviews
Best Customer Review
"To conclude, the AMD Ryzen 9 7000 7950X3D is a game-changer. It underscores AMD's commitment to pushing the boundaries of what's possible in consumer-grade processors. This CPU is a stellar choice if you're in the market for uncompromised performance. Highly recommended!" (Source: Amazon)
Worst Customer Review
"I returned the 7950x3D and AM5 build due to all the issues and bought a 13900k. It ended up being cheaper, was rock solid and stable, and gave me more consistent and better performance for my work. As a long-time AMD user, it's sad that Intel is giving the better overall product, but I am far more happy with my i9-13900k than with my 7950x3D." (Source: Amazon)
AMD Ryzen 7 5700G
In an era dominated by dedicated GPUs, the AMD Ryzen 7 5700G is an intriguing choice for gaming enthusiasts among the best AMD CPU for gaming. Released in April 2021, this APU (accelerated processing unit) combines efficient processing with integrated graphics tailored for those on a tight budget or facing GPU scarcity.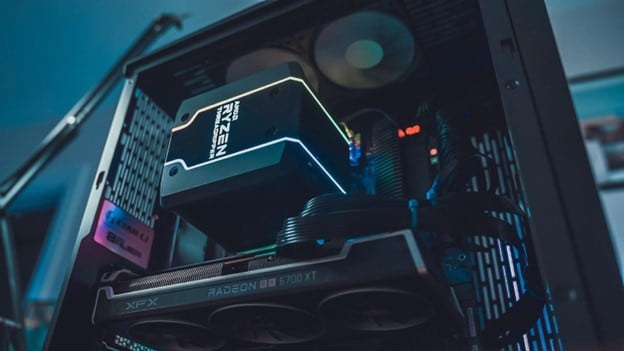 Credit: Unsplash
Background and Market Positioning
The 5700G was introduced as part of AMD's Zen 3 lineup, primarily targeting gamers who can't afford or access dedicated GPUs. Its integrated Vega 8 graphics present a solution for moderate 1080p gaming without breaking the bank.
Technical Specifications
Core Configuration: An 8-core, 16-thread structure, ensuring it's ready for heavy-duty tasks.
Clocking Metrics: Starting at a 3.8GHz base and boosting up to 4.6GHz.
Graphics Integration: Features the Vega 8 graphics, eliminating the need for a standalone GPU for casual gaming.
Compatibility: Designed for future trends, supporting PCIe 4.0 and DDR4 memory.
Performance Insights
For its category, the 5700G stands out in gaming:
Budget-Friendly: A cost-effective solution, especially when juxtaposed with its counterparts.
1080p Gaming: Achieves medium to high settings on most titles at this resolution.
No Extra GPU Needed: This is an obvious cost-saving, particularly for those on a tight budget.
Pros:
Economical: A compelling price-performance ratio for integrated graphics solutions.
Moderate Gaming: Handles a majority of games decently at 1080p.
Future-Proof Tech: Ensures longevity with PCIe 4.0 and DDR4 memory support.
Cons:
Graphics Limitations: While decent, it can't replace the performance of a dedicated GPU.
Power Draw: Tends to be power-hungry during peak gaming sessions, surpassing some competitors.
Top Reviews
Best Review:
"With the APUs of the 2000 and 3000 series, aka "Raven Ridge" and "Picasso," AMD has repeatedly developed inexpensive processors with a fast graphics unit in the last few years. Based on Zen 3, the "Cezanne" series now follows and raises the bar again with the Ryzen 5 5600G and Ryzen 7 5700G." (Source: NotebookCheck)
Worst Review:
"If you accept lower fidelity and a limited selection of titles, AMD's Ryzen 7 5700G brings unbeatable 1080p and excellent 1280×720 gaming to iGPUs. However, its less expensive sibling, the Ryzen 5 5600G, is better." (Source: Tom's Hardware)
AMD Ryzen 7 7700
With the fast-paced evolution of gaming technologies, AMD continues to solidify its position with the Ryzen 7 7700 as the best AMD cpu for gaming. Launched in September 2023, this CPU is designed to cater to the demands of modern gamers and power users.
Background and Market Positioning
Born from AMD's advanced Zen 4 architecture, the 7700 promises to elevate gaming experiences, especially targeting resolutions like 1080p and 1440p. Its prowess is evident in its ability to smoothly run games on high to ultra settings and even drive high refresh rate monitors.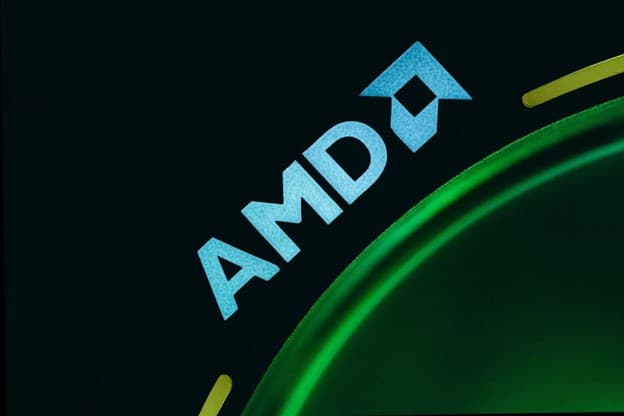 Credit: Unsplash
Technical Specifications
Core Configuration: Armed with 8 cores and 16 threads, it's tailored for the challenges of contemporary gaming titles.
Clocking Speeds: Starting at a robust 4.5GHz base and scaling up to 5.0GHz on boost, handling intense workloads becomes second nature.
Future-Proof Tech: With support for PCIe 5.0 and DDR5 memory, it's geared to synergize with the next generation of gaming components.
Performance Insights
The Ryzen 7 7700 stands out as best AMD CPU for gaming for several reasons:
Gaming Mastery: From high to ultra settings, its performance remains unwavering, even catering to high-refresh-rate setups.
Power Efficiency: Despite its prowess, it boasts a modest TDP of 65W, hinting at AMD's commitment to energy efficiency.
Latest Tech Compatibility: In sync with the future, its PCIe 5.0 and DDR5 support ensure you're always ahead in the gaming curve.
Pros & Cons:
Pros:
Stellar Gaming Performance: Most titles are no match for its capabilities.
Efficient Power Design: Packs a punch without guzzling excessive power.
Cutting-Edge Tech Support: Fully equipped with PCIe 5.0 and DDR5 memory compatibility for future gaming demands.
Cons:
Pricing Hurdle: Commands a higher price than its predecessors.
Upgradation Costs: Transitioning necessitates an investment in an AM5 motherboard and DDR5 memory.
Top Reviews
Best Customer Review
"Whether handling demanding applications or indulging in immersive gaming, the Ryzen™ 7 7700 delivers unmatched performance, making it an ideal choice for those seeking top-tier processing power." (Source: Amazon)
Worst Customer Review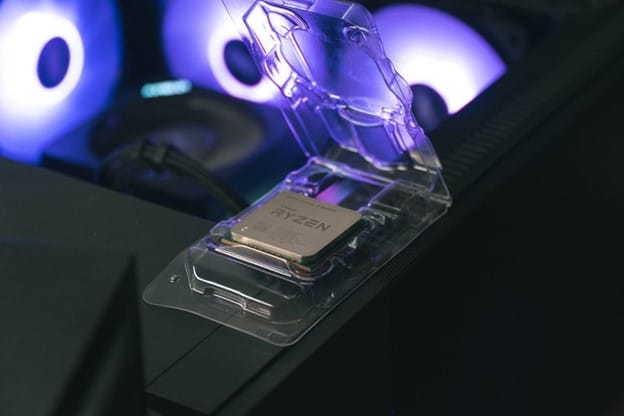 Credit: Unsplash
Conclusion – What is the Best AMD CPU for 2023?
As we've delved deep into the specifications, features, and gaming performance of various AMD CPUs released in 2023, the question arises: which one takes the crown of being the best AMD CPU for gaming?
AMD Ryzen 7 5800X3D is the Top Pick: Out of all the AMD CPUs released in 2023, the Ryzen 7 5800X3D stands out as the best AMD CPU for gaming.
Innovative 3D V-Cache Technology: The 5800X3D boasts groundbreaking 3D V-Cache technology, elevating gaming performance and ensuring smoother gameplay experiences.
Balanced Performance: This CPU provides a harmonious blend of power, efficiency, and price, making it a top choice for many users.
Future-Proofing Capabilities: The 5800X3D's compatibility with the latest tech ensures users will be included as innovations emerge.
Superior to Other Models: While CPUs like the Ryzen 7 7700 and Ryzen 9 7950X3D have strong points, the 5800X3D offers the most well-rounded package.
Ideal for Various Users: Whether you're a gamer, content creator, or seeking a high-performance everyday PC, the 5800X3D meets and often exceeds expectations.
While the advancements in the best AMD CPU for gaming have been nothing short of revolutionary, it's pivotal to remember that the true potential of these processors can only be unlocked when paired with the right hosting solutions.
RedSwitches, a frontrunner in the managed cloud ecosystem, is perfectly poised to complement these new-gen CPUs. With our vast range of offerings, including Dedicated Servers, Bare Metal Servers, and VPS, we ensure that every aspect of your tech stack is optimized for peak performance.
Whether you're a gaming enthusiast eager to experience the best of what the AMD Ryzen 7 5800X3D offers or a tech enterprise looking to harness its computational prowess, make sure you're paired with the best in cloud solutions. Discover RedSwitches' tailored hosting solutions today and ensure your tech journey is seamlessly powerful.
FAQs
Q. Which AMD Ryzen is the best for gaming?
As of 2023, the AMD Ryzen 7 5800X3D is the best for gaming due to its unique 3D V-Cache technology and impressive performance.
Q. Is the Ryzen CPU better for gaming?
Yes, Ryzen CPUs, especially from the Ryzen 7 and Ryzen 9 series, have consistently proven to offer excellent performance for gaming.
Q. Do gamers prefer Intel or AMD?
Preferences vary based on individual needs. While AMD's Ryzen series has gained immense popularity among gamers for its performance and value, some still prefer Intel for its consistent performance and optimization in certain games.
Q. What is the best AMD CPU for gaming in 2023?
The best AMD CPU for gaming in 2023 is the AMD Ryzen 9 7950X3D. It offers exceptional gaming performance and is one of the fastest gaming processors on the market.
Q. Which is better for gaming, AMD Ryzen or Intel Core?
AMD Ryzen and Intel Core processors can deliver excellent gaming performance. However, AMD Ryzen processors often offer better value for money and are preferred by many PC gamers.
Q. What are the top picks for the best CPUs for gaming?
The top picks for the best CPUs for gaming include the AMD Ryzen 7 5800X3D, Ryzen 9 7950X3D, and Intel Core i5-13600K. These processors offer powerful gaming performance and are highly recommended for gamers.
Q. Can you recommend a budget CPU for gaming?
If you're on a budget, the AMD Ryzen 5 5600X is an excellent choice for gaming. It offers great performance at an affordable price point.
Q. Which AMD processor is best for gaming in 2023?
The AMD Ryzen 7 5700G is one of the best processors for gaming in 2023. It provides excellent gaming performance and is highly recommended for gamers.
Q. How does the gaming performance of the Ryzen 7 7800X3D compare?
The Ryzen 7 7800X3D offers exceptional gaming performance and is one of the fastest AMD processors for gaming. It is an excellent choice for high-end gaming.
Q. Can you recommend the best CPU for budget gaming?
The AMD Ryzen 5 5600X is highly recommended for budget gaming. It offers great performance at an affordable price point, making it an excellent choice for budget-conscious gamers.
Q. Is AMD Ryzen better than Intel for gaming?
Gamers often prefer AMD Ryzen processors for their better value for money and excellent gaming performance. However, Intel processors offer competitive gaming performance and are popular among gamers.
Q. What is the best CPU for gaming in 2023?
The best CPU for gaming in 2023 depends on your specific requirements and budget. However, some top choices include the AMD Ryzen 9 7950X3D, Intel Core i9-13900K, and AMD Ryzen 7 5800X3D. These processors offer exceptional gaming performance and are highly recommended for gamers.