Do you know that as of 2023, over 84% of individuals worldwide desire enhanced online privacy?
With cyber threats on the rise, protecting sensitive data has become paramount since finding proper protection is not as easy in this evolving digital age. However, using Virtual Private Networks (VPNs) can help you safeguard your data from prying eyes.
This list of best VPN for Linux will help encrypt your internet connection, ensuring anonymity and protecting sensitive information. This comprehensive guide highlights the significance of VPNs for Linux while emphasizing benefits like secure data transmission, bypassing restrictions, and safe browsing on public networks.
Additionally, you'll gain insight into how VPNs elevate the Linux server experience, from game hosting to business servers. So, let's dive in and find the best Linux VPN that suits you perfectly!
Table of Content
Why Do Linux Users Need a VPN?
Online privacy and security are more critical than ever in the current digital age, where cyberattacks and data breaches are frequent. For Linux users, choosing the best VPN for Linux is not just a matter of preference. It requires a vital step toward ensuring a protected online experience. Let's explore the compelling reasons why Linux enthusiasts should embrace a reliable VPN:
Ensuring Online Privacy: Linux users benefit significantly from a VPN's ability to safeguard their online activities. A VPN creates an encrypted tunnel between the user's device and the VPN server. It effectively conceals their IP address and internet traffic from prying eyes.
This means ISPs, governments, and other malicious entities cannot monitor or track their online behavior. With online privacy being a fundamental right, a VPN becomes an essential tool for Linux users to maintain their digital autonomy.
Securing Data: Linux users often handle sensitive information, whether personal data, proprietary code, or confidential business files. This data could be susceptible to hacking attempts or unauthorized access without proper protection.
A robust VPN employs top-tier encryption protocols, such as AES-256, to secure data transmission. This ensures that even if someone intercepts the data, it remains indecipherable and protected from potential threats.
Bypassing Geographical Restrictions: The internet is not uniform, and content availability often varies depending on one's geographical location. Linux users may face frustrating barriers while accessing websites, streaming services, or online platforms restricted to specific countries.
By connecting to the best VPN for Linux servers in another region, users can virtually change their IP address and bypass these restrictions. For instance, if a website is only accessible from the United States, connecting to a US-based VPN server will grant users access as if they were physically present in the US.
Safe Browsing on Public Networks: Public Wi-Fi networks, often found in coffee shops, airports, and hotels, may seem convenient, but they pose significant security risks. These networks are vulnerable to hackers and cybercriminals who can intercept data transmitted.
Linux users can shield themselves from such threats by using a VPN. The VPN's encryption ensures that all data transmitted through the public Wi-Fi network remains secure and inaccessible to potential eavesdroppers.
The importance of a VPN for Linux users cannot be overstated. It protects their online privacy, secures sensitive data, and grants access to unrestricted content. Using the best VPN for Linux allows users to confidently explore the vast digital realm while maintaining the utmost security and anonymity.
Key Considerations in Choosing the Best VPN for Linux
Protecting your online data has become crucial in the rapidly developing digital world of 2023. Finding the best VPN for Linux is essential for users, not simply a luxury. Making the best pick might be difficult with so many VPN choices accessible. Do not worry, though, since this thorough article explores the essential criteria to consider when choosing a VPN.
1. Compatibility and Ease of Use
The best VPN for Linux should be compatible with various Linux distributions to ensure seamless integration with your system. Compatibility paves the way for a smooth experience, enabling you to protect your online activities without technical hiccups.
A VPN that supports multiple Linux distributions offers versatility, accommodating users with different setups and preferences.
2. Security Features
Security should be a top priority when selecting the best VPN for Linux in 2023. A suitable VPN should offer robust security features to safeguard your online activities and protect sensitive data.
3. Server Locations and Speed
When seeking the best VPN for Linux, the number and locations of servers are vital in determining the VPN's speed and overall performance. A well-distributed network of servers ensures faster connection speeds, increased stability, and the ability to bypass geographical restrictions.
4. Pricing and Support
Pricing and customer support are two essential factors to consider when navigating the world of Linux VPNs in 2023. Getting value for your money and access to reliable support can significantly impact your VPN experience.
Review of the Best VPNs for Linux in 2023
For Linux users seeking ultimate online protection and unrestricted access, sourcing for the best VPN for Linux is paramount. This review section reveals the top VPNs 2023, each offering distinct features and benefits tailored to your specific requirements. We've got you covered, whether it's seamless browsing, secure connections, or bypassing geo-restrictions. Most Linux users have been asking, What's the best VPN for Linux? Here are the finest VPN contenders: ExpressVPN, NordVPN, CyberGhost, Surfshark, and more. Delve into their features, pros, cons, and pricing to make an informed decision and elevate your Linux VPN experience.
1. ExpressVPN – Feature-rich and User-friendly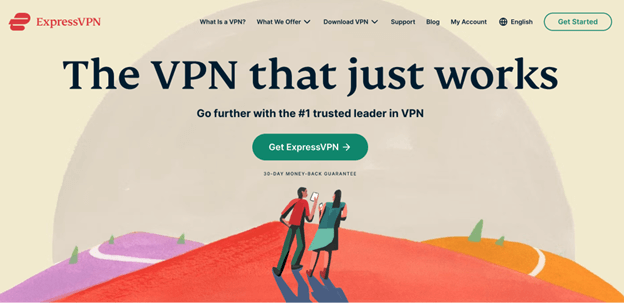 ExpressVPN is a virtual private network (VPN) service that provides users with a secure and encrypted connection to the internet. Its VPN works by routing the user's internet traffic through a remote server in a different location.
ExpressVPN effectively masks the user's IP address and encrypts their data, making way on our best VPN for Linux list. This process enhances online privacy and security. It makes it difficult for hackers, ISPs (Internet Service Providers), or other malicious entities to track or monitor users' online activities.
Essential Qualities That Make ExpressVPN Unique
TrustedServer Technology: ExpressVPN employs TrustedServer technology, ensuring that no data is ever stored on the server's hard drive. Instead, all data resides in volatile memory, automatically erased every time the server is powered off and on. This innovative approach enhances user privacy and security, as no data is retained on the servers.
Private DNS: The VPN operates its private DNS on each server, independently encrypting DNS queries to eliminate exposure to third parties. This not only strengthens security but also improves connection speeds for users.
Ad Blocker and Threat Manager: ExpressVPN includes an ad blocker called Threat Manager. This feature effectively blocks sites from utilizing intrusive trackers, resulting in an ad-free and seamless browsing experience without unwarranted tracking.
Kill Switch for Added Protection: ExpressVPN's Network Lock serves as a kill switch, halting all online activity if the VPN connection drops unexpectedly. This feature prevents the exposure of the user's IP address and data, ensuring continuous protection.
Split Tunneling Options: With split tunneling, ExpressVPN allows users to choose which traffic goes through the VPN and which accesses the internet directly. This feature, available on all supported devices, allows for customized data routing based on user preferences.
Pros:
ExpressVPN's TrustedServer technology ensures data privacy by not retaining data on servers.
This VPN has a Private DNS, which enhances security and boosts connection speeds.
ExpressVPN's Ad Blocker (Threat Manager) provides an ad-free browsing experience.
Network Lock (Kill Switch) adds an extra layer of protection against data exposure.
Split tunneling allows customizable internet traffic routing.
24/7 customer support and a 30-day money-back guarantee provide peace of mind.
Cons:
ExpressVPN limits simultaneous connections to five devices compared to some competitors.
ExpressVPN has limited functionality for business use, requiring a dedicated business VPN tier.
ExpressVPN Pricing and Plans
ExpressVPN may not be the most budget-friendly option, but it is the best VPN for Linux in terms of features. Its pricing plans offer excellent value for the array of features and performance they provide. Users can choose from three subscription plans based on the monthly, six months, or annual commitment length.
All subscriptions include 24/7 customer support and a 30-day money-back guarantee, allowing users to test and evaluate the VPN risk-free.
2. NordVPN – Strong Security with Speed
NordVPN is a highly regarded VPN service known for its robust security features, impressive speed, and wide range of capabilities. With over 14 million customers globally, NordVPN has become popular among VPN users. NordVPN is seen as the best Linux VPN by many Linux users.
Essential Qualities That Make NordVPN Unique
Double VPN for Enhanced Security: NordVPN's double VPN feature routes your internet traffic through two servers, encrypting your data twice. This advanced level of encryption adds an extra layer of security. This makes it highly challenging for anyone to intercept or decipher your online activities.
No-Logs Policy: NordVPN maintains a strict no-logs policy, ensuring it does not store any information about your online activities. This commitment to user privacy means that your browsing history, connection timestamps, and IP addresses are not recorded.
Obfuscated Servers: NordVPN's obfuscated servers are designed to bypass internet restrictions and VPN blocking in countries with stringent censorship. By disguising VPN traffic as regular internet traffic, these servers enable users to access the internet freely and privately, even in restrictive regions.
P2P Support: NordVPN provides dedicated P2P servers for fast and secure file sharing. This feature allows users to engage in peer-to-peer file-sharing activities while ensuring their data remains protected and anonymous.
CyberSec Technology: NordVPN's CyberSec feature blocks malicious websites, intrusive ads, and harmful software. By providing additional protection against cyber threats, NordVPN helps safeguard your devices from potential online dangers.
NordLynx (WireGuard Protocol): NordVPN utilizes the NordLynx protocol based on WireGuard technology. This protocol ensures fast and efficient connections while maintaining strong encryption, resulting in optimal speed and security.
Pros:
Double encryption, strict no-logs, and obfuscated servers ensure top-notch security and privacy.
5,600+ servers in 85 locations are installed for fast, stable connections and geo-unblocking.
Fast speeds, strong encryption, and smooth browsing with WireGuard-based implementation.
Live chat and email assistance are available for users.
30-day risk-free trial for refunds if unsatisfied.
Cons:
Relatively expensive monthly plan; cost-effective with longer subscriptions.
NordVPN allows only six simultaneous connections, while some competitors offer multiple subscriptions.
NordVPN Pricing and Support
NordVPN provides 24/7 customer support via live chat and email, offering three subscription plans: $12.99 monthly, $4.99 annual, and $3.49 two-year plans. With advanced security features, NordVPN is a worthwhile investment for Linux users seeking a reliable VPN.
NordVPN's pricing may be slightly higher than some competitors. However, its quality of service and advanced security features makes it a worthwhile investment for Linux users seeking a trustworthy VPN.
3. CyberGhost – Versatile and Affordable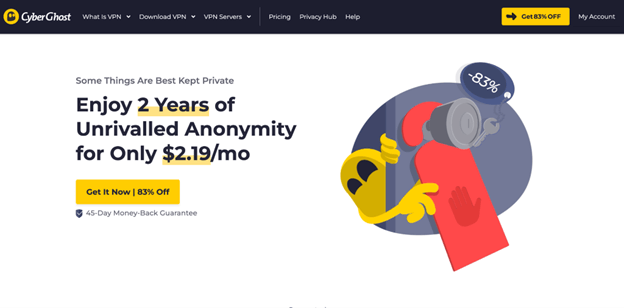 CyberGhost is known as one of the best VPN for Linux, which is why it boasts more than 38 million users. CyberGhost has its headquarters in Bucharest, Romania. With its competitive pricing, advanced encryption algorithms, and user-friendly features, CyberGhost is a popular choice for individuals and small businesses.
Essential Qualities That Make CyberGhost VPN Unique
No-logs Policy: CyberGhost VPN follows a strict no-logs policy, ensuring user activities and personal information are not recorded or stored.
Wi-Fi Protection: CyberGhost VPN offers automatic Wi-Fi protection, encrypting data using public Wi-Fi networks and enhancing security.
Automatic Kill Switch: The automatic kill switch feature disconnects the device from the internet if the VPN connection is lost, preventing data exposure.
Simultaneous Connections: Users can connect up to seven devices simultaneously under a single subscription, providing flexibility and convenience.
Unlimited Bandwidth and Traffic: CyberGhost VPN operates at high speeds, allowing users to browse, stream, and work without buffering or lag.
Pros:
CyberGhost VPN offers affordable pricing plans, making it accessible to many users.
Users can enjoy reliable and fast internet speeds while using CyberGhost VPN.
Users can add a dedicated IP address for an additional fee, providing enhanced security and access to specific features.
CyberGhost includes ad-blocking abilities, offering a more streamlined and ad-free browsing experience.
CyberGhost offers other security features, such as antivirus protection, for enhanced safety.
Cons:
CyberGhost offers a 24-hour free trial, which may require more time for users to test the service thoroughly.
Compared to some competitors, CyberGhost VPN has fewer server locations available.
CyberGhost Pricing and Plans
CyberGhost VPN offers $12.99/month, $6.99/6 months, and $3.99/year subscription plans. However, discounts may apply to two-year plans.
4. Surfshark – Reliable Performance on a Budget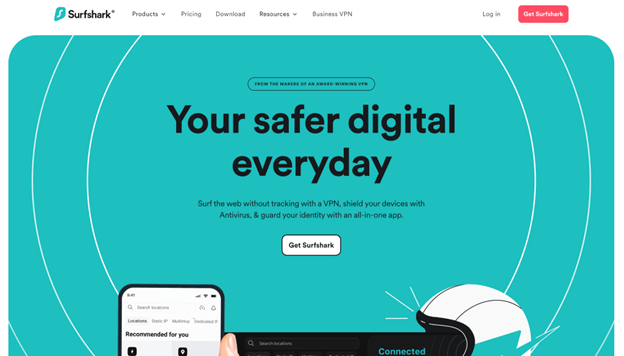 Since its 2018 introduction, Surfshark VPN has grown rapidly in popularity among users seeking a trustworthy and reasonably priced virtual private network (VPN) service. It is a compelling alternative for safeguarding online connections since it promises quick speeds and cutting-edge privacy technologies.
Surfshark provides a user-friendly experience focusing on privacy and security, with over 3,200 servers in 100 locations, unlimited simultaneous device connections, and Linux support.
Essential Qualities That Make Surfshark VPN Unique
Unlimited Simultaneously Connected Devices: Surfshark allows users to connect unlimited devices to their VPN account, providing exceptional value for households and users with multiple devices.
MultiHop: Surfshark's MultiHop feature enables users to connect to two different VPN servers simultaneously. However, this adds an extra layer of security by concealing their actual location more effectively.
Kill Switch: The Kill Switch feature automatically disconnects the internet connection if the VPN connection drops, preventing any data leaks and ensuring continuous privacy protection.
Camouflage Mode: This feature hides the fact that the user is using a VPN from their internet provider, further enhancing online privacy.
Dedicated IP (Not available for new users): While Surfshark doesn't currently offer dedicated IP addresses, it's worth noting that this feature was previously known for some users.
Search Feature (Available as part of Surfshark One): Surfshark's Search feature blocks ads and malware, providing additional protection against potential phishing attempts.
Multifactor Authentication (2FA): Surfshark offers two-factor authentication as an extra layer of security for users' accounts.
Pros:
Users can protect all their devices with one Surfshark subscription, offering excellent value for households.
With over 3,200 servers in 100 countries, Surfshark provides seamless access to geo-restricted content and faster connections.
Surfshark's plans start at $2.49 per month, making it an affordable option for users on a budget.
Surfshark's intuitive apps and easy setup ensure a hassle-free VPN experience for users, including those on Linux.
The service offers 24/7 customer support through live chat and email, ensuring prompt assistance for users.
Cons:
Surfshark does not provide a dedicated IP option. This limits its usefulness for some specific use cases, such as remote workers and small business owners.
Compared to competitors, Surfshark's month-to-month plan is slightly pricier, but its longer-term plans offer better value.
Pricing and Plans
For different customer demands, Surfshark provides adjustable pricing and options. Subscriptions with annual billing of $59.76 cost $3.99 monthly, while monthly subscriptions start at $12.95. Two years and a free extra month are included in the introductory package.
5. PrivateVPN – Beginner Friendly with Fast Speed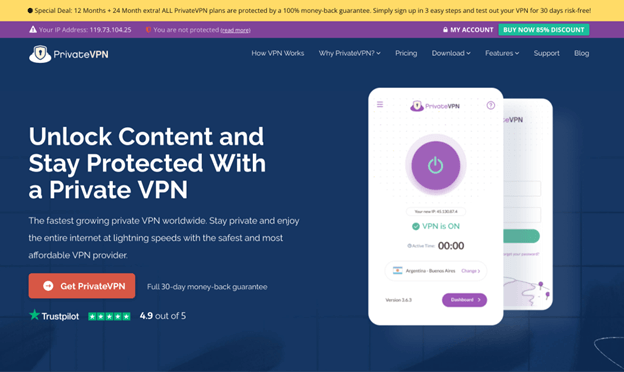 PrivateVPN is an underdog that deserves notice. Despite being introduced in 2013, it has quietly prospered despite frequently being overshadowed by more well-known competitors. Upon closer examination of PrivateVPN's essential attributes, it is a powerful contender. It competes with even the most renowned VPN providers, establishing itself as a legitimate rival. This thorough evaluation seeks to clarify what makes PrivateVPN stand out from the competition and if it lives up to the hype.
Essential Qualities That Make PrivateVPN Unique
10 Simultaneous Device Connections: PrivateVPN allows users to connect up to 10 devices simultaneously with a single subscription, offering convenience and flexibility.
Server Count and Countries: PrivateVPN operates over 200 servers in 63 countries, providing decent global coverage.
AES-256 Encryption: As one of the best VPN for Linux, PrivateVPN employs AES-256 encryption. This currently is the highest level of encryption available to secure user traffic and data.
Multiple Protocols: PrivateVPN supports five protocols, including OpenVPN, L2TP, IPsec, WireGuard, and IKEv2, offering options for different security preferences.
Kill Switch: PrivateVPN features an instant kill switch that activates if the VPN connection drops, ensuring data protection during such instances.
Money-Back Guarantee: PrivateVPN offers a 30-day money-back guarantee, allowing users to request a refund if they are unsatisfied with the service.
Pros:
PrivateVPN stands out as one of the most budget-friendly VPN services, making it an attractive option for cost-conscious users.
PrivateVPN offers a free version, offering a taste of its features for those looking to try the service without committing.
PrivateVPN boasts a user-friendly interface, making it easy for beginners and seasoned VPN users to navigate and operate.
PrivateVPN adheres to a strict no-log policy, enhancing user privacy by not retaining identifying information or activity logs.
PrivateVPN has robust security protocols and encryption standards, protecting users' data.
Cons:
PrivateVPN's server network is relatively limited compared to some competitors, which might impact connection options for specific regions.
PrivateVPN does not offer a split tunneling feature unlike other VPNs. This, however, may limit users' ability to control which traffic goes through the VPN.
Pricing and Plans
PrivateVPN offers three billing options for its users. The monthly plan is $9.99 per month. The three-month plan costs $6 per month, while the three-year plan costs only $2 per month. The 3-year plan stands out as a cost-saving option, making it one of the cheapest monthly subscriptions available compared to its competitors.
6. ProtonVPN – User Privacy Focused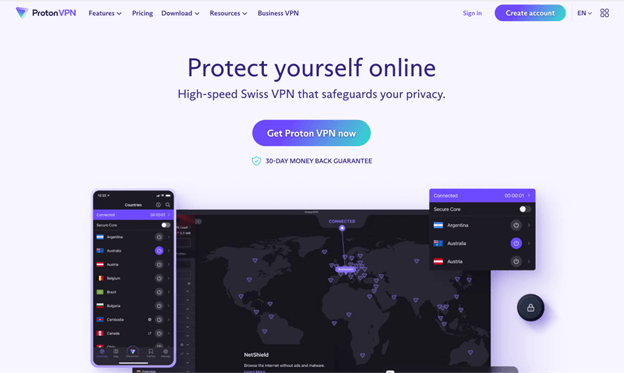 ProtonVPN is a virtual private network created by the company behind ProtonMail as a cybersecurity service. ProtonMail offers the best VPN for Linux regarding privacy and access to geo-restricted material. ProtonVPN guarantees private and secure browsing with over 2900 servers across over 65 nations.
This VPN lets users stream content on platforms like Netflix, Amazon Prime Video, Disney+, Hulu, and more.
Essential Qualities That Make ProtonVPN Unique
Anonymous Browsing: ProtonVPN blocks your IP address, protecting your online activities from hackers, advertisers, and government agencies. It holds minimal user information and allows sign-ups using anonymous ProtonMail email accounts.
DNS Protection Measures: ProtonVPN encrypts DNS queries, preventing third-party DNS providers from monitoring your online activities and ensuring no DNS leaks.
Always-On Kill Switch: The built-in kill switch feature activates during internet interruptions, ensuring your IP address and DNS queries remain hidden.
Strong Protocols: ProtonVPN uses robust protocols like Stealth, Secure Core, NetShield, OpenVPN, and WireGuard to secure internet communications and bypass firewalls.
Multi Factor Authentication: Extra security is provided through two-factor authentication, which requires verification during the login process.
Pros:
A free plan is available with no monthly data limit.
Bonus privacy tools, including the VPN accelerator, are included in the paid plan for increased speed.
Open-source apps are subject to public auditing.
Based in Switzerland, benefitting from Swiss privacy laws.
Robust security measures ensure users' identities stay hidden.
Cons:
Lack of live chat support, relying on an online knowledge base.
There are limited features in the free plan, such as ad-blocker and P2P support.
Access to servers in only three countries and one device connection is included in the free plan.
Pricing and Plans
ProtonVPN offers a free plan and paid tiers, providing better speed and security features. The paid plans include VPN Plus, which allows 10 devices and access to additional features like an ad-blocker and P2P support.
ProtonVPN provides a free plan for users who want to experience the basics of their VPN service without paying. Although the free plan has some limitations, it still offers a glimpse into the security and privacy features of ProtonVPN.
ProtonVPN offers three subscription plans: the 1-month plan, the 1-year plan, and the 2-year plan. The 1-month plan is 11.49 euros per month. Alternatively, the 1-year plan is discounted to 5.99 euros per month and billed annually at 71.88 euros. The 2-year plan is highly cost-effective, priced at 4.99 euros per month and billed at 119.76 euros every 2 years. This option offers a significant discount of 156 euros (57% OFF). ProtonVPN guarantees customer satisfaction with a 30-day money-back guarantee.
7. PureVPN – Powerful for Linux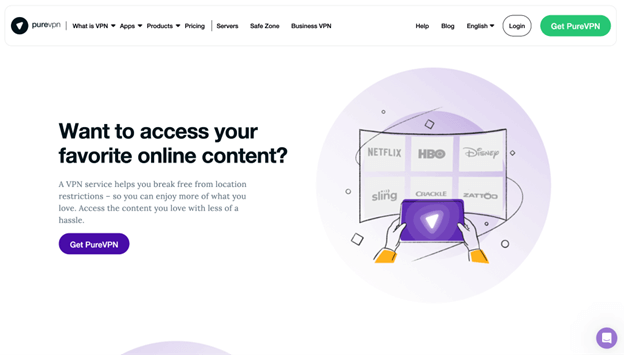 Millions of people use PureVPN, a well-known VPN service run by GZ Systems Ltd. With a server network spanning more than 70 nations, it provides a private and secure online experience while getting around geo-blocks. PureVPN offers an excellent solution emphasizing security, a user-friendly design, and an affordable price.
Essential Qualities That Make PureVPN Unique
Server Count and Countries: PureVPN runs an extensive network of 6,500 servers in 78 countries. Users get reliable connectivity and various IP options for secure internet browsing. Server ping details at the point of connection help users choose the fastest server location.
No-Log Policy and Headquarters: PureVPN maintains a strict no-log policy, meaning it does not collect user-identifiable data related to VPN usage. It does not track or store browsing activity, original IP, outgoing traffic, connection timestamps, or any other personal information. PureVPN's headquarters in the British Virgin Islands offer additional privacy advantages, as the region has no data retention laws and operates under a separate legal jurisdiction from the UK.
Kill Switch: PureVPN's built-in kill switch is a buffer to maintain user privacy and security. If the VPN connection drops, the kill switch automatically turns off the internet connection, preventing exposure of the user's actual IP address and personal data.
Split Tunneling: PureVPN offers split tunneling for Linux, Android, and Windows applications. This feature allows users to direct selected device or application traffic through the encrypted VPN tunnel while other traffic operates through the ISP's IP address. Split tunneling offers flexibility and security for accessing VPN-restricted and local services concurrently.
Encryption and Privacy: PureVPN employs top-tier AES-256 encryption, ensuring robust security for user data. It offers multiple tunneling protocols, including WireGuard, OpenVPN (UDP/TCP), IPSec/IKEv2, SSTP, and L2TP/IPSec. This guarantees military-grade encryption on all VPN servers.
Pros:
PureVPN offers the widest and best Linux VPN servers. It boasts an impressive network of over 6,500 servers in 78 countries, providing users with reliable and fast connections across the globe.
PureVPN strictly adheres to a no-log policy, ensuring user data and online activities are not recorded, enhancing user privacy and anonymity.
With top-tier AES-256 encryption and multiple tunneling protocols, including WireGuard and OpenVPN, PureVPN offers robust security to protect user data from unauthorized access.
PureVPN's split tunneling feature allows users to choose which traffic goes through the VPN tunnel and which remains on the regular internet. It creates room for flexibility and optimizing bandwidth usage.
PureVPN offers flexible payment plans, including cost-effective one- and two-year plans. The service frequently provides exclusive deals, making it a budget-friendly option.
Cons:
Some users may experience slow connections or difficulties connecting to servers in distant locations.
Unlike competitors, PureVPN does not offer RAM-only servers that erase all data upon reset.
PureVPN does not offer a free version, and users need to subscribe to a plan to access its services. This may be a drawback for those seeking a trial before committing to a paid plan.
Pricing and Plans
PureVPN offers flexible payment options for its users, including monthly, one-year, and two-year plans. Users can choose between the Standard Plus and Max Plans. The Standard Plan costs £8.82 per month, while the one-year plan costs £3 per month, billed upfront at £36.16. The two-year plan offers significant savings, costing £1.85 per month. The Plus Plan provides additional features for £12.85, while the one-year plan costs £4 per month, with a total upfront payment of £48.25.
How Using VPNs Can Enhance Linux Server Experiences
Using the best Linux VPNs can significantly enhance the Linux server experience. A VPN can offer improved security for game server hosting by creating an encrypted connection between players and the server. This safeguards against DDoS attacks and ensures data privacy.
A VPN can help bypass geo-restrictions, enabling players from different regions to access the game server seamlessly. Moreover, a VPN provides a secure remote access solution for business servers, allowing employees to connect to the server from any location while protecting sensitive data. VPNs assist businesses with anonymity and cyber-threat protection. The best Linux VPNs encrypt data transmission, ensuring security and confidentiality.
Using a VPN optimizes the Linux server experience by ensuring uninterrupted connections, enhanced security, and improved access to resources regardless of geographical location. With these advantages, VPNs have become indispensable tools for Linux server users. Seeing how it offers a seamless and secure server experience for gaming and business applications.
Conclusion
This comprehensive guide explores the importance of safeguarding online privacy and security. It explains how a VPN creates a secure tunnel to protect sensitive information while answering questions like "What's the best VPN for Linux in 2023."
Remember, choosing the best VPN for Linux is subjective and depends on individual needs and preferences. Nevertheless, despite the myriad options available, RedSwitches stands out as a reliable server provider. We offer seamless experiences in terms of security and privacy. Our robust services enable users to confidently navigate the digital world without compromising sensitive data.
As you venture into the world of VPNs, we encourage you to explore RedSwitches' server options or seek personalized advice based on your unique business needs. Remember, the best VPN for Linux is the one that aligns perfectly with your requirements, and with RedSwitches by your side, you can traverse the virtual realm with confidence and peace of mind.
FAQs
1. What is the best VPN to use in Linux?
NordVPN is considered one of the best VPNs due to its strong reputation for security and privacy. With its AES-256 encryption, no-log policy, and vast network of servers worldwide, NordVPN offers reliable protection and high-speed connections. This is the best VPN Linux users should ideally choose when seeking top-notch online security and anonymity.
While other VPNs like PureVPN, ExpressVPN, Surfshark, and CyberGhost are also reputable and offer excellent services. Choosing one over the other ultimately depends on individual needs and preferences. Users should consider server locations, encryption standards, speed, customer support, and pricing to choose the best server for their requirements.
2. Which VPN is free for Linux?
ProtonVPN offers a free plan for Linux users. It provides essential security features and access to servers in three countries. While it has limitations compared to the paid plans, ProtonVPN's free option still ensures privacy. It protects your online activities without costing a dime.
3. Does Linux need a VPN?
A VPN can improve security and privacy on Linux. Thus, the answer is yes. Even though Linux is widely regarded as secure, a VPN offers additional security by encrypting your internet traffic. It also protects critical information and enables anonymous browsing—especially on public networks or while accessing geo-restricted content.
4. Can you get a VPN on Linux?
Yes, you can quickly get a VPN on Linux. Many reputable VPN providers offer native Linux clients, making installation and setup straightforward. With the best Linux VPN server, you can enjoy enhanced online security and privacy, ensuring an unrestricted browsing experience.