Basilis is an active member of the WordPress and Product Community. He has led several SaaS/PaaS products. Currently leading an agency that unleashes scalability and growth for various products.
We are pleased to have him and would love to hear his views on WordPress and what motivated him to continue the journey.
Ashmal: Hi Basilis, thank you for joining the RedSwitches interview series. Well, I know you very well! 😀 However, let's start with getting to know you a bit. When and how did you start your career? And any insights you'd like to share about your professional career?
Basilis: Thank you so much for having me. Appreciate the time this takes. Yeah, we met at one of our previous jobs where we worked for almost two awesome years! Well, for those of you who may not know me:
I have been running a Product / Growth Agency for 13 years now. I'd say that I have been into WordPress for almost the same time (it used to be called B2, did you know that?)
At the moment, in addition to being a consultant, I am also working as a full-time employee. This combination allows me to learn more and implement strategies at scale.
There are differences between doing consultation and being a full-time employee. The ideas about scaling a product are much different.
As a consultant, you suggest almost the same experiments as a full-time employee. However, when you're consulting, you also need to figure out how to achieve them with success and without risking the biggest rule that companies have: Always be customer obsessed.
Ashmal: You have been building products, websites and developing product growth strategies for years now. How do you begin, what plans and your aim, and what technologies are you working on these days?
Basilis: I have implemented many different strategies – some were winners, others, not so much!
What I always do, though, is document. I keep track of the wins and losses. That has helped me come up with a framework that allows me to create an actual product strategy that is properly prioritized and can scale fast. I am lucky enough to have worked with some really amazing engineering teams, which is a major part of my success.
Now when it comes to sites, I believe a lot in NoCode solutions and using APIs' to build things fast. For instance, I'd suggest NoCodeAPI and its marketplace of services.
When it comes to WordPress, I am a fan of Elementor and Gutenberg. I know these products still have a long way to go, but at least they're heading in the right direction.
Ashmal: As a WordPress developer, which projects do you usually like to work on? How do you manage those projects, and what is your development workflow?
Basilis: One of my best projects was NinjaOutreach, which was eventually also published on Elementor's site as a case study.
We have been working on that for a long time, and it really helped us achieve something wonderful on WordPress. I do not think there is another site like that. It features Instagram API Integration, runs completely serverless on top of a React-based theme, and has 55M pages on WordPress.
For me, it was a huge win. The results were incredible because we built a system like none other, and we achieved a winning performance on the website. All of that wouldn't be possible without WordPress being so "decoupled."
Ashmal: What challenges did you face working with top WordPress Enterprise Agencies and clients, and how did you tackle them?
Basilis: I think the main issue at this stage is that Enterprise Agencies have a lot of choices, but they do not understand that choice doesn't always mean quality.
Yes, cheap solutions are out there, but with what other costs? What will be your site speed and performance? What about conversions? Messaging?
Building a Product (because a site is eventually a product ) means that you must have a full 360 view of everything.
Ashmal: Website optimization plays an important role in Google Rankings. How do you manage store performance, and what's your take on the hosting solutions?
Basilis: Before I go into store optimization, let me suggest Shopify. From a performance perspective, it has managed to do what WooCommerce & WordPress couldn't (at least, yet!)
It is not just the infrastructure but also how things are done. For example, Shopify properly handles all the queries, requests, etc., allowing you to have a kick-ass store by default.
On the other hand, WooCommerce requires a LOT of optimization. There are tools like Relay Cache that work with Object Cache PRO, btw, I believe every hosting provider should install and use them on their infrastructure and offer to their clients. WooCommerce needs all this extra customization to bring it to a level where it can function well.
I have worked on projects where we have been running WooCommerce on a Cluster solution with LiteSpeed, and the results were amazing. But again, the amount of customization the project required to be able to handle things the right way was too much.
Hosting, for me, will soon be a commodity. Infrastructure will play " some " role, but solutions that provide EDGE cache will play the biggest role.
Ashmal: Let's discuss new product development, design challenges, and opportunities in the coming years. Has ChatGPT changed the game for you? 
Basilis: I have already been playing with these tools a lot, and I am working on a huge database about how to use "prompting" properly for our clients. I believe that tools with AI as a core component will surely replace products without AI.
I am working on a small experiment for fellow Product Managers. I'll announce something soon, so follow me on Twitter 😀
Ashmal: Please highlight some of your significant achievements, particularly in the context of business growth?
Basilis: That is a bit tough because we need to define what growth is related to.
I can tell you, for example, that with WPRemote, we have increased traffic by 200% in 3 months by using AI and implementing a great content strategy.
With a company like NoCodeAPI, we have doubled the revenue in two months, with some growth hacks and focusing a lot on converting the vision to actual product growth.
With Cloudways, WordPress Safe updates runs on hundreds of WordPress Installations daily and updates WordPress without errors.
Multiple factors define success. For me, success has always been a specific North Star: Impact. The Impact you have on customers, on internal and external organizations, on shareholders, and so on.
Ashmal: Your thoughts on open-source projects.
Basilis: I love open source. I think everyone in our industry does. I also love the projects that take open source and move them towards ideas like " Use this Addon on top as Paid " or " Host on our Cloud ".
Open source is a way to take a project and lead growth on top of it. It is a solution for driving revenue through multiple aspects.
Ashmal: Any tips you want to share with newbies who want to tap into the tech industry?
Basilis: Study. Learn, and then Study again. And never stop learning. Absorb details and information like crazy!
Buy 20 books on any topic, for example Psychology, learn everything, and then pick another topic. Get 20 books, study, and repeat.
This is the process I have done and something that I keep doing through topics such as Psychology, Business, Money, Product Design! Anything you can imagine and need to know – just go through this process.
Do not be afraid to experiment and try new things. Absolutely follow the trends, but also try to differentiate and create something unique of your own.
Ashmal: Apart from work, how do your days look alike? Please share your workstation feel with our community.
Basilis: That is a secret that I do not share – but I can share what I would like this to be! Here it is – a lovely wood-based office in a backyard. While this is hard, as I live in a city – it still is a great dream 😉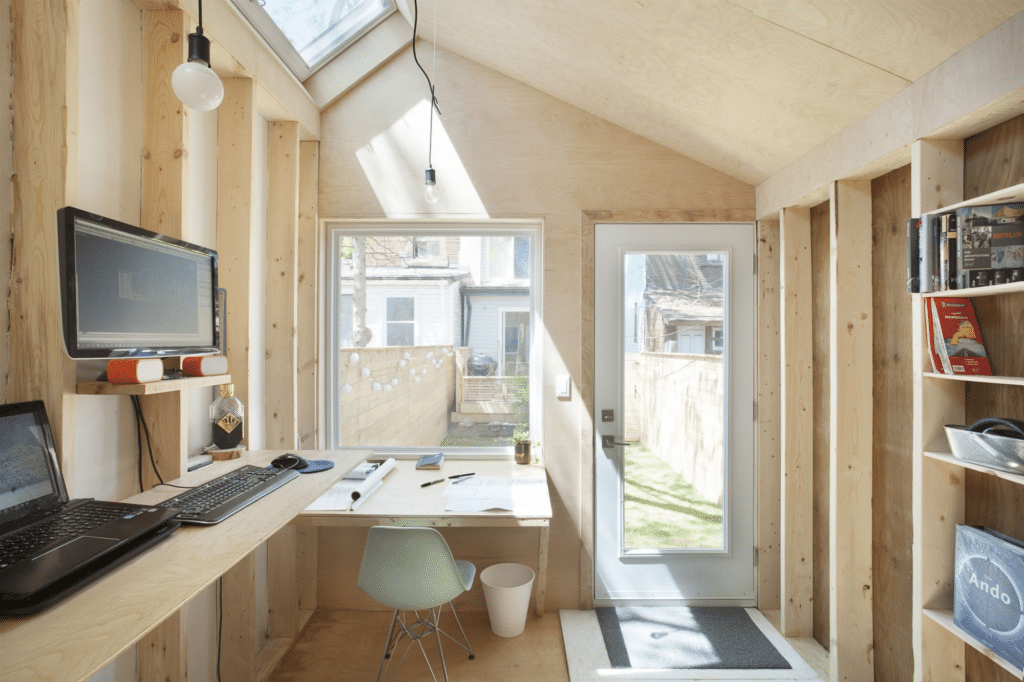 Let's Do A Rapid Fire!
| S.no | Ashmal | Basilis |
| --- | --- | --- |
| 1 | Tea or Coffee | Funny to say, as I get older I should say tea, but oh man, I am addicted to coffee. |
| 2 | Traveling or Movie | Movies |
| 3 | Mountains or Beaches | Mountains |
| 4 | SaaS or PaaS | Depends on the Persona and your target |
| 5 | VPS or Dedicated Servers | Depending on cases and targeting, Dedicated in most cases. |
Thank you Basilis, once again. It was amazing speaking to you. Cheers!